Syria: a labyrinth of ruin
The conflict and resulting destruction in Syria has been going on since 2011 and no foreseeable end is in sight.
Over a quarter million deaths have occurred and half of the entire population has been displaced, with millions of refugees travelling to other countries, from regional neighbors to various European countries, driven asunder by ISIS. Various state actors have their own personal agendas and each posits a solution unique to its own interests. Is there a way out of this quagmire and how feasible is it to implement it?
The United States and Western Europe have no desirable options in combatting ISIS, nor for that matter do they have a comprehensive plan outside of an adherence to a parochial binary platform in which a thriving democracy must somehow be implemented and all the undesirable factions removed. Not only is this at best problematic, it is not working. The United States insists that the only solution is to remove Assad from power, that his continued presence makes it difficult, if not impossible to end the civil war. Washington has made their position on Assad clear with President Obama reiterating policy by recently stating, "Let's remember how this started, Assad reacted to peaceful protest by escalating repression and killing and in turn created the environment for the current strife." Assad's violent reaction against a democratic movement, one of the ideological cornerstones of American core values and a lynchpin in directing American foreign policy, further eroded what little legitimacy he had with Washington thus necessitating his removal in their eyes.
The insistence by the White House that Assad needs to be removed from power in order to facilitate the destruction of ISIS is short-sighted at best and realistically counter-productive. The air campaign led by the Americans has done very little to stop the ISIS advance within Syria. Current gains within Syria in the last few weeks show this to be the case. Since ISIS captured Palmyra in central Syria this summer they have progressed in their advance on Damascus. Recently they captured the town of al-Qaratayn which now extends their reach considerably and places their forces within 30 kilometers of the M5, the arterial highway that links Damascus with those other parts of Syria still under government control. In the case of Palmyra, they captured it fairly easily because of the Americans refusal to engage ISIS with a single munition because the area was defended by government forces. American reluctance was surely increased by their recognition that Palmyra was a place in the past associated with severe repression by the Assad regime, its notorious prison there was the site for hundreds of executions of political dissidents and accounts of brutal torture still echo within the Syrian community that surrounds the region. That fact aside, witness American involvement in defending the Kurdish city of Kobani, in which at least one thousand air strikes were conducted to defend the city, helping the Kurds to eradicate ISIS forces that were besieging the city at the time.
While there is continued American reluctance to assist the forces of Assad in any way, the following scenario is realistically possible. If ISIS is able to sever the M5 or even control a stretch of the highway it will most certainly cut off the only arterial connection that Damascus has in logistically supporting the other areas in Syria that it currently controls. If this happens it will most likely lead to the collapse of the regime. The impending collapse of the Assad government will remove the primary combatant against ISIS who will then seize Damascus. ISIS, whose efficiency at wholesale destruction resembles that of a plague of locusts, will waste no time in eradicating whole swaths of the population they identify as government supporters, apostates and other categorical definitions deemed incompatible with ISIS ideology. Up to 20 million people presently live in government controlled areas and the collapse of the government would lead to a refugee crisis that will dwarf the current one underway in Europe, with potentially up to five million more people fleeing across the Syrian border.
For months the U.S. has focused on the training of a moderate force which can counter ISIS gains or at least impede further progress by the barbaric organization. This is simply wishful thinking. Recently it was announced by Under Secretary of Defense for Policy, Christine Wormuth, that there are only four or five fighters left from the first group of 54 Syrian fighters that had been trained by the U.S. as part of a $500 million program to combat ISIS with only one hundred lined up for additional training. Half a billion dollars and the immediate result is less than half a dozen fighters. After reports of U.S. trained rebels defecting and turning over their U.S. supplied equipment to hostile factions such as al- Qaeda, the Pentagon suspended the program to train and equip Syrian opposition forces in September of this year.
While there are certain parallels with the American intervention in Iraq in the past decade, the difference with Syria is that the stakes are higher, not only for regional players but on the worldwide stage as well. Weapons of mass destruction (primarily those of a chemical composition such as sarin) will be the most coveted spoils of the collapsed state. A recent French intelligence report concluded that Syria most likely possessed more than one thousand tons of various chemical agents that could be, or were already, militarized for use. International consensus is that Syria has employed the use of chemical weapons on its enemies and also that captured stockpiles have been utilized by ISIS as well in counter-strikes. The fact that the dispersal range for chemical weapons invariably harms more of the civilian population that its military target is irrelevant to both sides. If Syria falls, it will be up to those states which have the means to destroy or eradicate the chemical stockpiles, a procedure that is both at times unreliable as well as fraught with danger. The only semblance of order comes from the hated Assad regime, but order it is nonetheless and the prospects for its internal collapse leading to a bloody and protracted civil war involving a myriad of players are great.
But what would happen if Assad was ousted by force, either through direct intervention by the Coalition forces formed against him or by succumbing to ISIS and other rebel factions? There will be a security vacuum. We have seen this before in other failed states, both as a result of outside intervention and in those with internal collapse.
If Assad is ousted a plethora of scenarios are possible, none of them appealing save some isolated regional imbalances of power that will favor one state over the other. The possibilities are as follows. The collapse of the regime will result in a Syria that is overrun by extremists. Even if the extremists left behind along with ISIS (such as the al-Nusra Front and Ahrar al-Sham) end up in conflict with one another, the fact remains that ideologically they share the same goals; the various factions will eventually merge, either through combat or through assimilation and ISIS will be in a better position to exert its will. The most likely scenario is a protracted civil war reminiscent of the one experienced by Lebanon's sectarian conflict in the 1980's which lasted well over a decade and involved multiple actors both politically, ideologically, and religiously motivated. Such a protracted conflict could produce hundreds of thousands of casualties. The inherent danger in this potential scenario, however, is much greater here than it was in Lebanon. Because the civil war in Syria is divided among Sunni-Shiite lines (along with other manifested hostilities to minority classifications such as Christians, Kurds, etc.), the possibility of the conflict spreading to other neighboring countries (Iraq, Jordan, Lebanon, and possibly even Turkey) with the same sectarian demographic is certainly worryingly possible. The consequences of such an inter-regional conflagration could be catastrophic to both the U.S. and Europe's long term strategic and economic interests and would lead to massive regional instability.
The possibility of such a scenario does have a potential silver lining in that it would make Iran more susceptible to American demands because of the distinct possibility of the erosion of the Hezbollah-Syria-Iran axis if Assad falls. However, the United States so far have refused to recognize this possibility and insists on negotiating on issues that simply are more important to them than they are to Iran (the much maligned nuclear deal for example). As Iran and its various proxies groan under the mounting casualties and loss of equipment, Washington could use these setbacks as leverage to keep Iran somewhat more compliant during future negotiations.
There is one regional actor, however, whose fortune could improve if said scenario develops; Israel will lose no sleep if Hezbollah is weakened significantly, certainly possible if Assad falls and Iran loses its key political and geographical intermediary between them and Lebanon. Hezbollah has already lost hundreds of fighters in its attempt to bolster the Baathist regime, and has refocused strenuous efforts to prevent penetration into Lebanon from ISIS and other rebel forces such as the al-Nusra Front, which have penetrated into Lebanon on several occasions.
Israel is in a unique position in that there are indeed a few scenarios that may be advantageous in regards to their own security. Although current thinking within Israeli leadership is that the devil you know is better than the one you don't, based on the assumption that they know Assad realizes the limits to imposed aggression against the Israeli state while ISIS doesn't, the possibility exists that a collapse of Syria will bring about a more stable security on their Northern border with Lebanon. Syrian collapse, coupled with weakening Iranian support, will inevitably result in a weakened Hezbollah. Compounding the problem is that Hezbollah is already engaged with ISIS and other numerous rebel factions and has suffered hundreds of casualties. The concern that ISIS would further encroach into Lebanon is not held as being realistically probable because of the current Israeli belief that the present international coalition against ISIS would increase substantially if such a takeover was even possible. Indeed, it is one of the few instances in which the major Sunni powers in the Middle East, Russia, and the United States would be united in stopping further ISIS encroachment. Furthermore, those areas in which Syria has an active role in encouraging international condemnation of Israel, primarily the return of the Golan Heights, would effectively cease. Most likely this would result in Israel's permanent claim to the Golan Heights going widely unchallenged in light of a fractured and collapsing Syrian state.
It could even be rationally argued that an ISIS presence within Lebanon would be easier for the Israelis to deal with that Hezbollah, which has the backing and logistical support provided by both Syria and Iran and whose actions are primarily decided upon by Tehran. Key differences also include the regional aspirations of ISIS as opposed to Iran's sweeping objective to incorporate Hezbollah into their goal in becoming a major actor within the Middle East. This isn't to say that Israel would prefer ISIS, whose irrational actions, cruelty, and opposition to adhere to even the slightest diplomatic protocol, make them difficult to predict and as a result very dangerous. One thing is for certain – ISIS doesn't have the extensive capabilities that Hezbollah is afforded as a result of being backed by moderately strong state (Iran).
The Russian argument that Assad should stay in power for the time being is fast becoming the only valid argument in play. Russian entry into the conflict changes the dynamics of the current crisis considerably. Russia and Syria have had a bilateral relationship dating back to a non-aggression pact signed in April of 1950. With the advent of the Cold War, the ties between the two countries deepened both economically and militarily in reaction to the various wars and conflicts that erupted across the region over the last several decades, to the point that the Syrian port of Tartus was Russia's only Mediterranean naval base until the widening civil war resulted in Russia evacuating its naval personnel from the region. The United States has been using Syrian air space to lead a campaign of air strikes against ISIS, and an increased Russian presence raises the prospect of the Cold War superpower foes encountering each other on the battlefield – something that neither side relishes for obvious reasons.
The Kremlin has made no secret of its disdain in removing "legitimate institutions" via the imposition of democratic reform backed by American support. Putin, who in his recent U.N. address cited Iraq and Libya as prime examples of the dangers of forced democratization, stated that, "Rather than bringing about reforms, an aggressive foreign interference has resulted in a flagrant destruction of national institutions and the lifestyle itself. Instead of the triumph of democracy and progress, we got violence, poverty, and a social disaster." Addressing "those who've caused the situation," specifically those in the West who tried to export democracy through "revolutions," Putin said he's temped to ask, "Do you realize now what you've done?" To Putin the power vacuum created in several countries of the Middle East and North Africa has led to anarchy with growing numbers of extremists eager to radicalize areas outside of their borders including those countries where they originated from.
There are no "rational actors" in this conflict, and none that could even remotely be considered as providing reasonable expectations in participating in peace negotiations should Assad fall. In addition, the Kremlin has steadfastly maintained that at least Assad is more predictable than non-state actors, especially considering the fact that most of the rebel factions (those relevant outside of ISIS) don't have a reasonable hierarchy in which one spokesman can represent and control the multi-tentacled factions.
Putin has ulterior motives as well, motives that he believes (with some merit) are a distinct possibility, that the jihadists fighting in Syria would inevitably spread their militant ideology to the soft underbelly of Russia, from the predominantly Muslim regions under direct Russian control to the secular but overwhelmingly Muslim republics. Russia has long had problems with Islamic insurgencies, dating back centuries, and the Kremlin is keen on removing any possibility of incubation via returning jihadists. This is especially true with the increasing number of Chechnyans who are fighting with ISIS and have made no secret of their desire to attack Russia and "liberate" Chechnya and the Caucasus from Russian influence. Omar al-Shishani, Isis' Chechen military commander, has repeatedly stated that Russia is their next target. The Kremlin is also acutely aware that the majority of ISIS fighters from non-Middle East countries are from Russia. Russian Deputy Foreign Minister Oleg Syromolotov announced recently that over 2000 Russians are currently fighting with the Islamic State (ISIS/ISIL/IS) terrorist group. Calling the figures "alarming," Syromolotov added that they are constantly monitoring growing calls by ISIS leaders to carry their jihad to the Northern Caucasus and in Central Asia.
Russian's sudden demonstrative action in getting directly involved in Syria will have the intended effect of giving them even greater leverage within the Middle East, something that has not been attainable for the Kremlin since Egypt abandoned them for the Americans in the late seventies. In the eyes of those in the Middle East, the Russian desire to actively engage the crisis in a way that the Americans are not willing to do has increased their presence substantially. Since taking on a larger role, Israeli Prime Minister Benjamin Netanyahu, Palestinian Authority President Mahmoud Abbas, Jordan's King Abdullah II, and Egyptian President Abdel Fattah al-Sisi have all met with Putin. In essence, Middle East leaders are detecting America's regional decline and Moscow's rise – and are planning accordingly.
While both Washington and Moscow have repeatedly stated that their primary enemy is ISIS, Russia steadfastly supports Assad, while the Americans state that his continued (though diminished) rule is untenable and makes the current situation worse. Oddly enough, both the United States and Russia have the same goal in mind, changing the balance of power on the ground, they just happen to be backing different sides. As both sides continue to pour in material and support (complete with corresponding air campaigns), there is a chance that the combatants will grow exhausted and some sort of compromise acceptable to both sides will occur. But before that point is reached, hundreds of thousands will have to die, as neither side is willing to entertain any idea of stopping the fighting short of their respective goals.
Meanwhile the slaughter continues.
Saudi Arabia's Entertainment Plans: Soft Power at Work?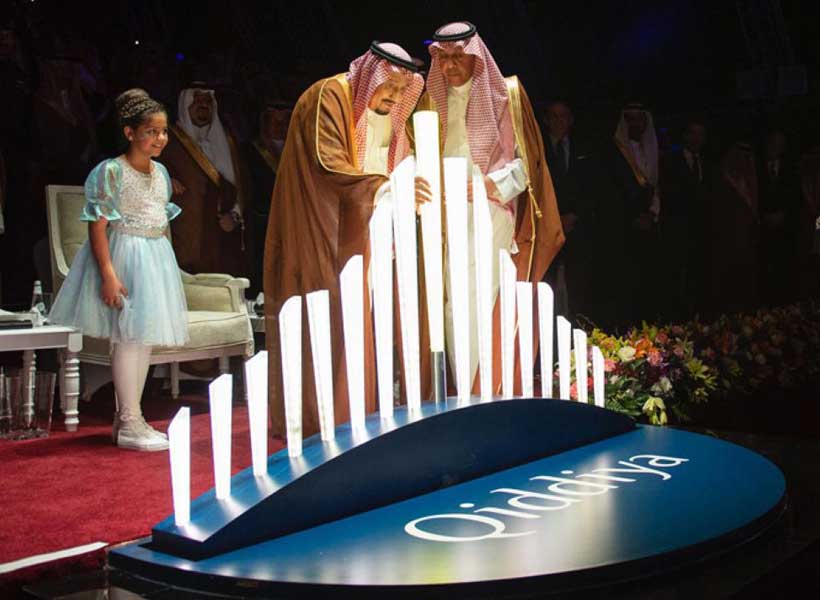 Saudi Arabia recently broke ground on its ambitious "entertainment city" known as Qiddiya, near Riyadh. The splashy launch, attended by 300 dignitaries from around the world, highlights a frequently overlooked aspect of Saudi Arabia's Vision 2030 plan: the entertainment industry as a growing economic sector. As the kingdom diversifies its economy away from reliance on petro fuels, Crown Prince Mohammed bin Salman has been keen to showcase the increasing openness of his country, promoting festivals, concerts and sports events and ending the country's 35-year ban on cinemas.
These projects are partially intended to bolster the economy and attract FDI—but not only. Saudi Arabia is also playing catch-up with other regional actors, such as Qatar and the UAE, in terms of cultural output and cultural participation. With Qiddiya and the other cultural projects in the works, Saudi is now carving out a road for itself to become a regional culture hub.
Thefirst phase of Qiddiya, which includes high-end theme parks, motor sport facilities and a safari area, is expected to be completed in 2022.  Saudi officials hope the park will draw in foreign investment and attract 17 million visitors by 2030; the final phase of the project is expected to be completed in 2035, by which point the entertainment resort will be the largest in the world, dwarfing Florida's Walt Disney World.
Beyond these financial incentives, however, the Qiddiya project is Saudi Arabia's answer to events like the Dubai Expo 2020 or the Qatar World Cup 2022 and suggests that the kingdom is trying to position itself as the next big destination for lucrative events – which also add to the idea that entertainment, culture, and innovation are key to Saudi Arabia's economic vision and success.
Vision 2030's emphasis on entertainment raises a key question: is Riyadh attempting to increase its soft power across the region in a constructive and proactive way?  The answer to that question is yes.
In the immediate future, Qatar and the UAE will remain the region's foremost entertainment and cultural hubs.  From Qatar's Islamic Museum of Art, which famous architect I.M. Pei came out of retirement to design, to Dubai's theme parks, including a $1 billion behemoth which is the world's largest indoor theme park, these two Gulf states are demonstrating their prowess to develop an arts and culture scene.  In Doha, Qatar is exemplifying its unique outlook towards world affairs by emphasizing humanitarianism and fourteen centuries of history.  Qatar is also hosting the World Cup in 2022, intended to bring Doha center-stage in the sports world. Abu Dhabi's Louvre has been referred to as "one of the world's most ambitious cultural projects", while advertisements throughout the emirate insist that the museum will cause its visitors to "see humanity in a new light".
Despite these Gulf states' head start on developing vibrant entertainment sectors, there is still room for Saudi Arabia to offer something new. For one thing, some of its neighbors are dealing with trouble in paradise: Qatar's once-strong economy is under increasing strain as the UAE, Saudi Arabia, Bahrain and Egypt boycott it; meanwhile, the company which owns many of Dubai's largest theme parks lost $302 million in 2017.
The Qiddiya project also represents a particular vision that's distinct from neighboring countries' cultural programs. Qiddiya is designed to mix desert heritage and the ethos of the past with the technological advances of the future. The intended result is to be a fusion between aspirations and building on those achievements from desert to post-modernity, on a colossal scale.
The project is crafted both to satisfy domestic demand—it includes plans to build 11,000 homes to serve as vacation homes for Riyadh residents— and to compete directly against Saudi Arabia's neighbors in the Gulf. With two-thirds of the Saudi population under the age of 35, building a thriving entertainment sector is particularly important.
The kingdom is hoping to use its idea of mixing the past with the future in Qiddiya to significantly alter the flow of tourist revenues in the Gulf. The UAE, Qatar and Bahrain rely on tourists from the Gulf and beyond for essential cash inflows—including the $30 billion a year Saudis spend on tourism abroad every year. By providing new entertainment options in-country for Saudi Arabia's citizens and residents, who pay more than any other country's citizens while on vacation, Riyadh aims to redirect some of this overseas tourism spending back into the kingdom. It's set up concrete goals to this effect, hoping to increase domestic spending on culture and entertainment from about three percent of household income to six percent. Saudi Arabia also likely hopes that Qiddiya will attract significant international tourism as well—one senior official tied the park's creation to the goal of making Riyadh one of the top 100 cities in the world to live.
Of course, it is likely to be a long wait before the kingdom itself starts producing the cultural output that will make it a real entertainment hub; after all, Saudi public schools still do not teach music, dance and theater, and the kingdom lacks music and film academies. But by taking the first steps of embracing the vast economic potential of the entertainment sector, the kingdom may well be on its way there.
Israel, Ukraine, and U.S. Crack Down Against Press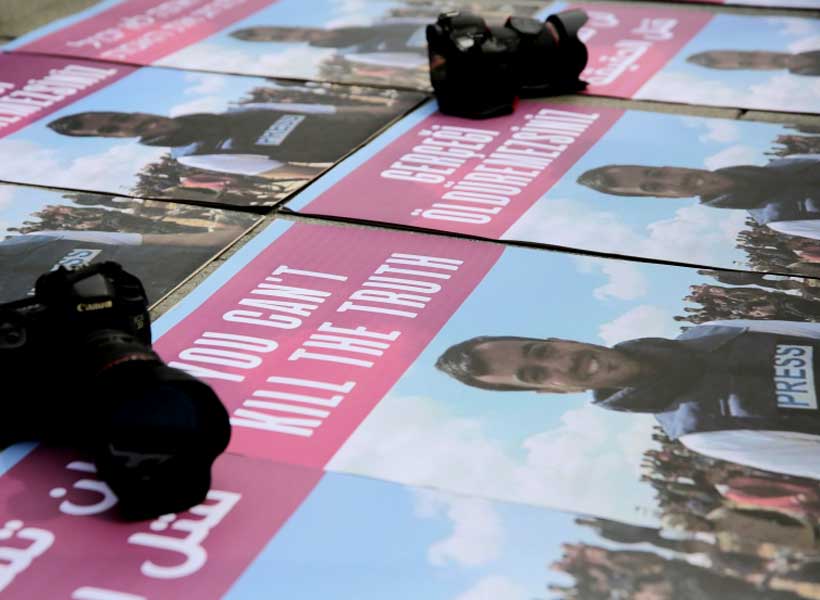 On Wednesday, May 16th, Russian Television reported recent crackdowns against the press, on the part of both Ukraine's Government and Israel's Government. One headline story, "9 journalists injured by Israeli gunfire in Gaza 'massacre', total now over 20", reported that Israel had shot dead two journalists:
"Yaser Murtaja, 31, a cameraman for Palestinian Ain Media agency, died on April 7 after he was shot by Israeli forces the previous day while covering a protest south of the Gaza Strip. He wore a blue protective vest marked 'PRESS'."
And:
"Ahmad Abu Hussein, 24, was shot by Israeli forces during a protest in the Gaza strip on April 13. He died from his injuries on April 25. He was also wearing a protective vest marked 'PRESS' at the time."
The other 18 instances were only injuries, not murders, but Israel has now made clear that any journalist who reports from the Palestinian side is fair game for Israel's army snipers — that when Palestinians demonstrate against their being blockaded into the vast Gaza prison, and journalists then report from amongst the demonstrators instead of from the side of the snipers, those journalists are fair game by the snipers, along with those demonstrators.
Some of the surviving 18 journalists are still in critical condition and could die from Israel's bullets, so the deaths to journalists might be higher than just those two.
Later in the day, RT bannered "Fist-size gunshot wounds, pulverized bones, inadmissible use of force by Israel in Gaza – HRW to RT" and presented a damning interview with the Israel & Palestine Director at Human Rights Watch.
The other crackdown has been by Ukraine. After the U.S. Obama Administration perpetrated a very bloody coup in Ukraine during February of 2014, that country has plunged by every numerical measure, and has carried out raids against newsmedia that have reported unfavorably on the installed regime. The latest such incident was reported on May 16th by Russian Television, under the headline, "US endorses Kiev's raid on Russian news agency amid international condemnation". An official of the OSCE (Organization for Security and Cooperation in Europe) stated there: "I reiterate my call on the authorities to refrain from imposing unnecessary limitations on the work of foreign journalists, which affects the free flow of information and freedom of the media." An official of the CPJ (Committee to Protect journalists) stated: "We call on Ukrainian authorities to disclose the charges and evidence they have against Vyshinsky or release him without delay. … We also call on Ukrainian authorities to stop harassing and obstructing Russian media operating in Ukraine. The criminalization of alternative news and views has no place in a democratic Ukraine." However, as reported by RT, Ukraine's Prosecutor-General called the editorial policy of the anti-regime RIA Ukraine "anti-Ukrainian" in nature, amounting to "state treason." So, the prosecutor is threatening to categorize and prosecute critical press under Ukraine's treason law.
The U.S. regime is not condemning either of its client-regimes for their crackdowns. (It cites Ukraine's supposed victimhood from "Russian propaganda" as having caused Ukraine's action, and justifies Israel's gunning-down of demonstrators and of journalists as having beeen necessary for Israel's self-defense against terrorism.) In neither instance is the U.S. dictatorship saying that this is unacceptable behavior for a government that receives large U.S. taxpayers funds. Of course, in the U.S., the mainstream press aren't allowed to report that either Israel or today's Ukraine is a dictatorship, so they don't report this, though Israel clearly is an apartheid racist-fascist (or ideologically nazi, but in their case not against Jews) regime, and Ukraine is clearly also a racist-fascist, or nazi, regime, which engages in ethnic cleansing to get rid of voters for the previous — the pre-coup — Ukrainian government. People who are selected individually by the installed regime, get driven to a big ditch, shot, with the corpses piling up there, and then the whole thing gets covered over. This is America's client-'democracy' in Ukraine, not its client-'democracy' in Israel.
May 16th also was the day when the U.S. Senate Intelligence Committee voted 10 to 5 to approve as the next CIA Director, Gina Haspel, the person who had headed torture at the CIA's black site in Thailand where Abu Zubaydah was waterboarded 83 times and blinded in one eye in order to get him to say that Saddam Hussein was behind the 9/11 attacks; and, since then, Zubaydah, who has never been in court, has been held incommunicado at Guantanamo, so that he can't testify in court or communicate with the press in any way. "The U.S. Government has never charged Zubaydah with any crime." And the person who had ordered and overseen his torture will soon head the agency for which she worked, the CIA.
Whether the U.S. regime will soon start similarly to treat its own critical press as "traitors" isn't clear, except that ever since at least the Obama Administration, and continuing now under Trump, the U.S. Government has made clear that it wants to seize and prosecute both Edward Snowden and Julian Assange for their journalistic whistleblowing, violations of "state secrets," those being anything that the regime wants to hide from the public — including things that are simply extremely embarrassing for the existing rulers. Therefore, the journalistic-lockdown step, from either Israel, or Ukraine, to U.S., would be small, for the United States itself to take, if it hasn't yet already been taken in perhaps secret ways. But at least, the Senate Intelligence Committee is strongly supportive of what the U.S. Government has been doing, and wants more of it to be done.
JCPOA in Post-US Exit: Consequences and Repercussions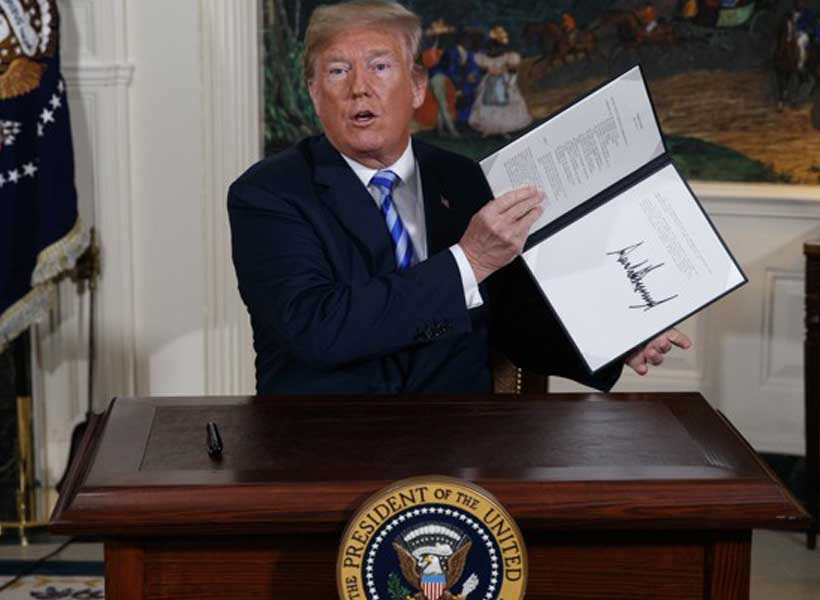 The Joint Comprehensive Plan of Action (JCPOA) or otherwise known as the Iran nuclear deal signed by the P 5+1 in 2015 was widely hailed as a landmark achievement made possible by sincere dialogue and diplomacy. Indeed, the agreement is to a greater extent an achievement of the nuclear non-proliferation regime that helped checked the increasingly disturbing power symmetry in the Middle East which in return has managed to contain the transformation of low intensity conflicts into all out wars. A relative stability is the hallmark which resulted from JCPOA in the Middle East which is extremely volatile region of the world. A vital question is: how these achievements are going to be affected by the US withdrawal from it?
The US withdrawal from JCPOA will adversely affect the aforementioned three areas of its accumulative achievement with variant degree. First, it has negative consequences for the norm that negotiated settlements in international arenas has the potential and lasting credibility to minimize violence or other coercive means led by war. The momentum and confidence the diplomatic means have garnered in post- JCPOA scenario will come to the crushing halt. The sealed and mutually agreed upon agreements in international arena especially in which the US is the potential party, will come under extreme scrutiny leading to an environment of gross trust deficit. Therefore, on the first instance this withdrawal has negative lasting consequences for the diplomatic norms in itself.
Secondly, US exist from the deal does not augur well for the nascent nuclear non-proliferation regime. This regime has a dearth of good precedents like the JCPOA which has deterred a nation from acquiring and operationalizing nuclear weapons as is the case with Iran. Keeping in view this backdrop of this institution, JCPOA has been its glaring example wherein it has managed to successfully convince a nation to not pursue the path which leads towards the nuclear weapons. Therefore, the US withdrawal has shaken the confidence of the non-proliferation regime to its core. It has engendered a split among the leading nations who were acting as sort of de facto executive to enforce the agreements on the nuclear ambitious states. Therefore, this US withdrawal has undoubtedly far reaching repercussions for the non-proliferation as an institution. This development may affect the nature and its future development as an institutional mechanism to deter the recalcitrant states to change their course regarding the nuclear weapons.
Thirdly, in relation to the above mentioned negative consequences on diplomacy and nuclear non-proliferation regime, the US withdrawal from the deal has far serious security ramifications for the volatile and conflict ridden Middle East. It has multiplied the prospects of all-out war between Iran and its regional rivals on one hand and Iran and Israel on the other hand. Just tonight the announcement of Trump exiting JCPOA and the Israeli aggression on Syrian military bases substantiates the assertion that there exists a correlation between this US withdrawal and the Zionist regime`s regional hegemonic designs. It has extremely positive message for the Saudi Arabia. The impulsive and overambitious Crown Prince Muhammad bin Salman (MBS) went on extended tours in the US and Europe to convince Western leadership that Iran should be contained.  Therefore, element of stability in the region – contained low intensity conflicts – got serious motivation to turn into all-out-wars  with non-exclusion of nuclear options at the disposal of Zionist regime in the Middle East. The Middle Eastern region with this exit of the US is going to observe substantial turmoil in the months to come which will have some extra regional ramifications.
As a conclusion it could be argued that the US exit has some far reaching repercussions for the diplomatic norms, non-proliferation regime and above all for the volatile Middle Eastern region. All these ramifications resulted from the US withdrawal will also in return have some serious consequences internally and externally. The status of the US as the sole super power of the world will be diminished with this decision. It will create an unbridgeable gap in the West. Henceforth, the EU foreign will be more autonomous, integrated and autonomous in her conduct.