Syria: a labyrinth of ruin
The conflict and resulting destruction in Syria has been going on since 2011 and no foreseeable end is in sight.
Over a quarter million deaths have occurred and half of the entire population has been displaced, with millions of refugees travelling to other countries, from regional neighbors to various European countries, driven asunder by ISIS. Various state actors have their own personal agendas and each posits a solution unique to its own interests. Is there a way out of this quagmire and how feasible is it to implement it?
The United States and Western Europe have no desirable options in combatting ISIS, nor for that matter do they have a comprehensive plan outside of an adherence to a parochial binary platform in which a thriving democracy must somehow be implemented and all the undesirable factions removed. Not only is this at best problematic, it is not working. The United States insists that the only solution is to remove Assad from power, that his continued presence makes it difficult, if not impossible to end the civil war. Washington has made their position on Assad clear with President Obama reiterating policy by recently stating, "Let's remember how this started, Assad reacted to peaceful protest by escalating repression and killing and in turn created the environment for the current strife." Assad's violent reaction against a democratic movement, one of the ideological cornerstones of American core values and a lynchpin in directing American foreign policy, further eroded what little legitimacy he had with Washington thus necessitating his removal in their eyes.
The insistence by the White House that Assad needs to be removed from power in order to facilitate the destruction of ISIS is short-sighted at best and realistically counter-productive. The air campaign led by the Americans has done very little to stop the ISIS advance within Syria. Current gains within Syria in the last few weeks show this to be the case. Since ISIS captured Palmyra in central Syria this summer they have progressed in their advance on Damascus. Recently they captured the town of al-Qaratayn which now extends their reach considerably and places their forces within 30 kilometers of the M5, the arterial highway that links Damascus with those other parts of Syria still under government control. In the case of Palmyra, they captured it fairly easily because of the Americans refusal to engage ISIS with a single munition because the area was defended by government forces. American reluctance was surely increased by their recognition that Palmyra was a place in the past associated with severe repression by the Assad regime, its notorious prison there was the site for hundreds of executions of political dissidents and accounts of brutal torture still echo within the Syrian community that surrounds the region. That fact aside, witness American involvement in defending the Kurdish city of Kobani, in which at least one thousand air strikes were conducted to defend the city, helping the Kurds to eradicate ISIS forces that were besieging the city at the time.
While there is continued American reluctance to assist the forces of Assad in any way, the following scenario is realistically possible. If ISIS is able to sever the M5 or even control a stretch of the highway it will most certainly cut off the only arterial connection that Damascus has in logistically supporting the other areas in Syria that it currently controls. If this happens it will most likely lead to the collapse of the regime. The impending collapse of the Assad government will remove the primary combatant against ISIS who will then seize Damascus. ISIS, whose efficiency at wholesale destruction resembles that of a plague of locusts, will waste no time in eradicating whole swaths of the population they identify as government supporters, apostates and other categorical definitions deemed incompatible with ISIS ideology. Up to 20 million people presently live in government controlled areas and the collapse of the government would lead to a refugee crisis that will dwarf the current one underway in Europe, with potentially up to five million more people fleeing across the Syrian border.
For months the U.S. has focused on the training of a moderate force which can counter ISIS gains or at least impede further progress by the barbaric organization. This is simply wishful thinking. Recently it was announced by Under Secretary of Defense for Policy, Christine Wormuth, that there are only four or five fighters left from the first group of 54 Syrian fighters that had been trained by the U.S. as part of a $500 million program to combat ISIS with only one hundred lined up for additional training. Half a billion dollars and the immediate result is less than half a dozen fighters. After reports of U.S. trained rebels defecting and turning over their U.S. supplied equipment to hostile factions such as al- Qaeda, the Pentagon suspended the program to train and equip Syrian opposition forces in September of this year.
While there are certain parallels with the American intervention in Iraq in the past decade, the difference with Syria is that the stakes are higher, not only for regional players but on the worldwide stage as well. Weapons of mass destruction (primarily those of a chemical composition such as sarin) will be the most coveted spoils of the collapsed state. A recent French intelligence report concluded that Syria most likely possessed more than one thousand tons of various chemical agents that could be, or were already, militarized for use. International consensus is that Syria has employed the use of chemical weapons on its enemies and also that captured stockpiles have been utilized by ISIS as well in counter-strikes. The fact that the dispersal range for chemical weapons invariably harms more of the civilian population that its military target is irrelevant to both sides. If Syria falls, it will be up to those states which have the means to destroy or eradicate the chemical stockpiles, a procedure that is both at times unreliable as well as fraught with danger. The only semblance of order comes from the hated Assad regime, but order it is nonetheless and the prospects for its internal collapse leading to a bloody and protracted civil war involving a myriad of players are great.
But what would happen if Assad was ousted by force, either through direct intervention by the Coalition forces formed against him or by succumbing to ISIS and other rebel factions? There will be a security vacuum. We have seen this before in other failed states, both as a result of outside intervention and in those with internal collapse.
If Assad is ousted a plethora of scenarios are possible, none of them appealing save some isolated regional imbalances of power that will favor one state over the other. The possibilities are as follows. The collapse of the regime will result in a Syria that is overrun by extremists. Even if the extremists left behind along with ISIS (such as the al-Nusra Front and Ahrar al-Sham) end up in conflict with one another, the fact remains that ideologically they share the same goals; the various factions will eventually merge, either through combat or through assimilation and ISIS will be in a better position to exert its will. The most likely scenario is a protracted civil war reminiscent of the one experienced by Lebanon's sectarian conflict in the 1980's which lasted well over a decade and involved multiple actors both politically, ideologically, and religiously motivated. Such a protracted conflict could produce hundreds of thousands of casualties. The inherent danger in this potential scenario, however, is much greater here than it was in Lebanon. Because the civil war in Syria is divided among Sunni-Shiite lines (along with other manifested hostilities to minority classifications such as Christians, Kurds, etc.), the possibility of the conflict spreading to other neighboring countries (Iraq, Jordan, Lebanon, and possibly even Turkey) with the same sectarian demographic is certainly worryingly possible. The consequences of such an inter-regional conflagration could be catastrophic to both the U.S. and Europe's long term strategic and economic interests and would lead to massive regional instability.
The possibility of such a scenario does have a potential silver lining in that it would make Iran more susceptible to American demands because of the distinct possibility of the erosion of the Hezbollah-Syria-Iran axis if Assad falls. However, the United States so far have refused to recognize this possibility and insists on negotiating on issues that simply are more important to them than they are to Iran (the much maligned nuclear deal for example). As Iran and its various proxies groan under the mounting casualties and loss of equipment, Washington could use these setbacks as leverage to keep Iran somewhat more compliant during future negotiations.
There is one regional actor, however, whose fortune could improve if said scenario develops; Israel will lose no sleep if Hezbollah is weakened significantly, certainly possible if Assad falls and Iran loses its key political and geographical intermediary between them and Lebanon. Hezbollah has already lost hundreds of fighters in its attempt to bolster the Baathist regime, and has refocused strenuous efforts to prevent penetration into Lebanon from ISIS and other rebel forces such as the al-Nusra Front, which have penetrated into Lebanon on several occasions.
Israel is in a unique position in that there are indeed a few scenarios that may be advantageous in regards to their own security. Although current thinking within Israeli leadership is that the devil you know is better than the one you don't, based on the assumption that they know Assad realizes the limits to imposed aggression against the Israeli state while ISIS doesn't, the possibility exists that a collapse of Syria will bring about a more stable security on their Northern border with Lebanon. Syrian collapse, coupled with weakening Iranian support, will inevitably result in a weakened Hezbollah. Compounding the problem is that Hezbollah is already engaged with ISIS and other numerous rebel factions and has suffered hundreds of casualties. The concern that ISIS would further encroach into Lebanon is not held as being realistically probable because of the current Israeli belief that the present international coalition against ISIS would increase substantially if such a takeover was even possible. Indeed, it is one of the few instances in which the major Sunni powers in the Middle East, Russia, and the United States would be united in stopping further ISIS encroachment. Furthermore, those areas in which Syria has an active role in encouraging international condemnation of Israel, primarily the return of the Golan Heights, would effectively cease. Most likely this would result in Israel's permanent claim to the Golan Heights going widely unchallenged in light of a fractured and collapsing Syrian state.
It could even be rationally argued that an ISIS presence within Lebanon would be easier for the Israelis to deal with that Hezbollah, which has the backing and logistical support provided by both Syria and Iran and whose actions are primarily decided upon by Tehran. Key differences also include the regional aspirations of ISIS as opposed to Iran's sweeping objective to incorporate Hezbollah into their goal in becoming a major actor within the Middle East. This isn't to say that Israel would prefer ISIS, whose irrational actions, cruelty, and opposition to adhere to even the slightest diplomatic protocol, make them difficult to predict and as a result very dangerous. One thing is for certain – ISIS doesn't have the extensive capabilities that Hezbollah is afforded as a result of being backed by moderately strong state (Iran).
The Russian argument that Assad should stay in power for the time being is fast becoming the only valid argument in play. Russian entry into the conflict changes the dynamics of the current crisis considerably. Russia and Syria have had a bilateral relationship dating back to a non-aggression pact signed in April of 1950. With the advent of the Cold War, the ties between the two countries deepened both economically and militarily in reaction to the various wars and conflicts that erupted across the region over the last several decades, to the point that the Syrian port of Tartus was Russia's only Mediterranean naval base until the widening civil war resulted in Russia evacuating its naval personnel from the region. The United States has been using Syrian air space to lead a campaign of air strikes against ISIS, and an increased Russian presence raises the prospect of the Cold War superpower foes encountering each other on the battlefield – something that neither side relishes for obvious reasons.
The Kremlin has made no secret of its disdain in removing "legitimate institutions" via the imposition of democratic reform backed by American support. Putin, who in his recent U.N. address cited Iraq and Libya as prime examples of the dangers of forced democratization, stated that, "Rather than bringing about reforms, an aggressive foreign interference has resulted in a flagrant destruction of national institutions and the lifestyle itself. Instead of the triumph of democracy and progress, we got violence, poverty, and a social disaster." Addressing "those who've caused the situation," specifically those in the West who tried to export democracy through "revolutions," Putin said he's temped to ask, "Do you realize now what you've done?" To Putin the power vacuum created in several countries of the Middle East and North Africa has led to anarchy with growing numbers of extremists eager to radicalize areas outside of their borders including those countries where they originated from.
There are no "rational actors" in this conflict, and none that could even remotely be considered as providing reasonable expectations in participating in peace negotiations should Assad fall. In addition, the Kremlin has steadfastly maintained that at least Assad is more predictable than non-state actors, especially considering the fact that most of the rebel factions (those relevant outside of ISIS) don't have a reasonable hierarchy in which one spokesman can represent and control the multi-tentacled factions.
Putin has ulterior motives as well, motives that he believes (with some merit) are a distinct possibility, that the jihadists fighting in Syria would inevitably spread their militant ideology to the soft underbelly of Russia, from the predominantly Muslim regions under direct Russian control to the secular but overwhelmingly Muslim republics. Russia has long had problems with Islamic insurgencies, dating back centuries, and the Kremlin is keen on removing any possibility of incubation via returning jihadists. This is especially true with the increasing number of Chechnyans who are fighting with ISIS and have made no secret of their desire to attack Russia and "liberate" Chechnya and the Caucasus from Russian influence. Omar al-Shishani, Isis' Chechen military commander, has repeatedly stated that Russia is their next target. The Kremlin is also acutely aware that the majority of ISIS fighters from non-Middle East countries are from Russia. Russian Deputy Foreign Minister Oleg Syromolotov announced recently that over 2000 Russians are currently fighting with the Islamic State (ISIS/ISIL/IS) terrorist group. Calling the figures "alarming," Syromolotov added that they are constantly monitoring growing calls by ISIS leaders to carry their jihad to the Northern Caucasus and in Central Asia.
Russian's sudden demonstrative action in getting directly involved in Syria will have the intended effect of giving them even greater leverage within the Middle East, something that has not been attainable for the Kremlin since Egypt abandoned them for the Americans in the late seventies. In the eyes of those in the Middle East, the Russian desire to actively engage the crisis in a way that the Americans are not willing to do has increased their presence substantially. Since taking on a larger role, Israeli Prime Minister Benjamin Netanyahu, Palestinian Authority President Mahmoud Abbas, Jordan's King Abdullah II, and Egyptian President Abdel Fattah al-Sisi have all met with Putin. In essence, Middle East leaders are detecting America's regional decline and Moscow's rise – and are planning accordingly.
While both Washington and Moscow have repeatedly stated that their primary enemy is ISIS, Russia steadfastly supports Assad, while the Americans state that his continued (though diminished) rule is untenable and makes the current situation worse. Oddly enough, both the United States and Russia have the same goal in mind, changing the balance of power on the ground, they just happen to be backing different sides. As both sides continue to pour in material and support (complete with corresponding air campaigns), there is a chance that the combatants will grow exhausted and some sort of compromise acceptable to both sides will occur. But before that point is reached, hundreds of thousands will have to die, as neither side is willing to entertain any idea of stopping the fighting short of their respective goals.
Meanwhile the slaughter continues.
Iran Policy toward Nagorno-Karabakh Conflict
Nagorno-Karabagh is located inside the Azerbaijani territory that, with the other seven districts around it, has been occupied by Armenian forces between 1988-1994. According to the published data, Occupied areas include 20 percent of Azerbaijani land. With the help of other pro-Armenian countries such as Russia and Iran during the first war murdered more than 30 thousand Azerbaijani people and displaced approximately one million people from their homeland by the Armenian troops. Armenian army burned homes and schools and destroyed other buildings and facilities while invading and seizing Azerbaijani villages, towns, and cities. Now the question arises among political and military experts: how did poor Armenia occupy so much land? It is a mountainous country with no natural resources and always challenges social issues like poverty. The answer to this question is straightforward. We should not forget Iran's role in that conflict that was one of the main actors to support the Armenian government to reach its goal in Nagorno-Karabakh. In a current war commenced between Armenia and Azerbaijan over Nagorno-Karabakh – which is internationality recognized as Azerbaijani land- on September 27, assessments show that Iranian aid, especially logistical assistance to Armenia, continues more than ever.
Since 1992 the Iranian government developed relations and cooperation in different aspects, particularly political, military, and economic fields. Multilateral aids have sustained and strengthened Armenia against its internal problems and the Republic of Azerbaijan. To shipment, Iran uses the Nourduz border terminal to transfer Iranian food and products to Armenian people. In 1994, after Jabrayil district occupation and truce between two countries, Iranian trucks were carrying the aid to Nagorno-Karabakh via the Khudafarin steel bridge. At that time, to avoid the Turkish people agitation in that area, security forces ordered the electric power outage, then the convoy was moving to occupied regions. Tehran's different types of aids to Yerevan have been continuing since Armenia's independence from the past Soviet Unions. For instance, Iran sends Armenia military equipment, oil, gas, food, and sanitary stuff to fortify it against the Republic of Azerbaijan. Every day tens of trucks ship Iranian aids to Armenia from Nourdouz customs. Recently, different footages captured by peoples from the roads show that Iranian trucks are sending Russian made military trucks and equipment to Armenia. When the critics and objections rose, Iran ministry of foreign affairs spokesman "Saeed Khatibzadeh" denied shipping the military equipment and trucks to Armenia and justified which they were the Russian trucks; we transferred them based on our agreement. But the footages released by the Azerbaijan defense ministry demonstrated the military trucks and equipment that had been taken by the Azerbaijan army as the trophies in liberated regions. According to registered data, a Russian airlifter IL-76MD flew recently over Iran to deliver Russian military hardware and weapons to Armenia.
Interestingly, along with the Islamic Republic of Iran officials, the vast majority of Iranian nationalists defend occupier Armenia versus Azerbaijan. They distort the reality and spread the rumors against Azerbaijan in newspapers, websites, state tv, radio channels, and social media. For example, most of those groups to justify supporting Armenia blame Turkey to stimulate Azerbaijan to start a war and claim Turkey has mobilized the extremist Islamic groups and sent them to Karabakh. They have not represented any document for their claim so far, and it has remained only on the accusation level. It is quite evident in the Iranian National Front statement about the Nagorno-Karabagh conflict. Also, Azariha is the news and analysis website affiliated with Pan-Iranism circles, which corporates closely with the Revolutionary Guards and the Ministry of Intelligence in Tabriz city defend Armenia and spread hate speech and false content against Azerbaijan. In fact, the hostility of Iranian officials and Persian nationalists to Turkish culture and identity in the region has led them to unite against Azerbaijan over the Nagorno-Karabakh war.
Iran's aid to Armenia sparked a new wave of protests between Azerbaijani Turks that comprise almost one-third of Iran's population. Despite governmental repression, on two different dates, on October 1 and October 18, thousands of Azerbaijani Turks came to streets in various cities like Tabriz, Zanjan, Urmia, Ardabil, and Tehran, and demonstration was held to protest Iranian state policies against Azerbaijan by supporting Armenia. The demonstrations were peaceful, and protesters demanded that Iran should stop transiting Russian military Trucks and military supplies to Armenia. From the beginning of the current battle on September 27, the Iranian security forces have arrested over 200 Azerbaijani Turk protesters. The majority of them were tortured during detention and in solitary confinement. In contrast, every year, Iranian authorities support and mobilize Armenian in Tehran against Turkey on April 24. Nobody from Armenian has been arrested so far. However, despite the existing state restrictions and suppression, Iran's aid to Armenia and supporting that country by pan-Iranians at individuals and groups levels have caused severe divergence between Azerbaijani Turks and the Persian community throughout the country. Meanwhile, the present conflict between Azerbaijan and Armenia for the liberation of seized districts has strengthened Azerbaijani Turks' solidarity in Iran with the Republic of Azerbaijan that Tehran's biased policy to fortify Armenia is one of the main reasons.
Because of the Azerbaijani Turks' existing high population in northwestern provinces, Iran Islamic Republic has always looked as a potential menace for its national security. For this reason, Iranian authorities' preference is the Republic Azerbaijan with drowning in problems and crises that war is one of them. However, powerful and developed Azerbaijan versus Iran with traditional society and secluded government can lead to a tendency towards independence among Azerbaijani Turks, which is not pleasant for the Iranian government. In fact, Ideological interests do not determine Iran's policy towards Azerbaijan with most Shiite Muslims and its support for Christian Armenia; rather, it is based on conspiracy theories. Iranian officials and Persian nationalists suppose that sovereign Azerbaijan is a threat to Iran's territorial integrity and national security. They think that strong and victorious Azerbaijan may encourage Azerbaijani Turks to stand up to the Iranian regime and fight for the independence and secession of their areas from Persian domination.
Moreover, another reason for acting Iran against Azerbaijan stems from a strategic partnership with Israel. Considering this fact, the Iranian government and Persian media spread rumors against two countries cooperating, like spying on Israeli intelligent service using Azerbaijani land against Iran. This accusation is an excuse in Iran's hands to weaken Azerbaijan and justify its support for Armenia. By magnifying this cooperation, they want to cover up the main reason to consider which modern Azerbaijan is the main threat to Iran's national security. Whereas other countries such as Russia, Georgia, and China have good relations with Iran and Israel, the Islamic republic does not accuse and does not reprimand.
Overall, Iran Islamic Republic has been supporting Armenia against Azerbaijan since the collapse of the former Soviet Union. On the other hand, attractive and strong Azerbaijan can motivate Azerbaijani Turks to fight against negative assimilation policy and discrimination in Iran. So far, Iran has tried to prevent Azerbaijanis' solidarity on both sides of the border by supporting Armenia and weakening Azerbaijan. Despite the atmosphere of suffocation and oppression in Iran, Iranian nationalists' behavior and the government's hostile policies against Azerbaijan in the current war with Armenia brought the Azerbaijani Turks in Iran and the Republic of Azerbaijan closer together and deepened the ethnic cleavages in Iran. This solidarity and empathy between Azerbaijanis have been unprecedented during the last century. Therefore, Iranian officials should understand that without considering Azerbaijani Turks' demands, they cannot achieve lasting national security in Iran. The continuation of Iran's current policies against Azerbaijan and the awakening and awareness of Azerbaijanis in Iran may lead to destructive consequences against territorial integrity and stability.
What is the public sphere today in Turkey?
The concept of public sphere, which was started to be examined in Europe in the 1960s, has different meanings according to different perspectives, as a definite definition cannot be made today, and this situation creates important discussion topics about the use of such spaces.
Long debated the definition of public space in Europe, in Turkey also began to affect 1980"l year. After the 1980 coup, some communities, which were kept out of sight, fearing that the Republic project would be harmed, demanded the recognition of their ethnic and cultural identities. Thus the concept of the public sphere in Turkey, especially since the early 1990s to be addressed in various academic publications, use and began to discuss political issues.
Especially in the past years, the public sphere debates on the headscarf issue were discussed from various angles. The debate started with Prime Minister Erdogan's criticism of President Ahmet Necdet Sezer, who did not invite his wife to a NATO dinner, saying "Dolmabahçe is not a public space", and the President of the Council of Higher Education, Prof.Dr. Erdoğan Teziç; He responded by emphasizing that the public sphere is not a " geographical definition " but a functional concept.
Before defining the public sphere, the understanding that shows that the definition of space in the Ottoman Empire was shaped as less private, private, very private and very very private is still one of the biggest reasons for the definition of the public sphere. While expressing, it reminds that he entered the Ottoman literature in a different way in the 19th century. Thinkers who indicate the association of the public sphere with the state in general express it as the sphere that is related to the state, not the "public". "When you say 'public', the state comes to mind immediately; We mean something like government administration, its organs, organizations, officials, or activities, an official domain that is owned or run under state control. However, as Habermas said, the public sphere is above all the sphere in which the public opinion is formed in our social life ".
As citizens of the city, we observe that some projects have spread to the spaces defined as public space due to the fact that today's public space and public space concepts have not been defined precisely and construction activities have increased due to the anxiety of rent.
Erdogan's Calamitous Authoritarianism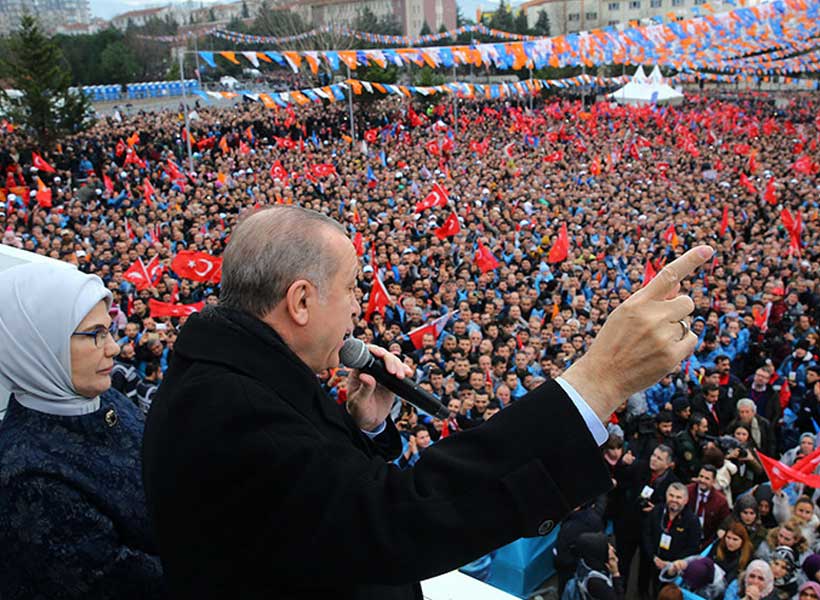 Turkey's President Erdogan is becoming ever more dangerous as he continues to ravage his own country and destabilize scores of states in the Middle East, the Balkans, and North Africa, while cozying up to the West's foremost advisories. Sadly, there seems to be no appetite for most EU member states to challenge Erdogan and put him on notice that he can no longer pursue his authoritarianism at home and his adventurous meddling abroad with impunity.
To understand the severity of Erdogan's actions and ambitions and their dire implications, it suffices to quote Ahmet Davutoglu, formerly one of Erdogan's closest associates who served as Minister of Foreign Affairs and subsequently Prime Minister. Following his forced resignation in May 2016 he stated "I will sustain my faithful relationship with our president until my last breath. No one has ever heard — and will ever hear — a single word against our president come from my mouth."
Yet on October 12, Davutoglu declared "Erdogan left his friends who struggled and fought with him in exchange for the symbols of ancient Turkey, and he is trying to hold us back now…. You yourself [Erdogan] are the calamity. The biggest calamity that befell this people is the regime that turned the country into a disastrous family business."
The stunning departure of Davutoglu from his earlier statement shows how desperate conditions have become, and echoed how far and how dangerously Erdogan has gone. Erdogan has inflicted a great calamity on his own people, and his blind ambition outside Turkey is destabilizing many countries while dangerously undermining Turkey's and its Western allies' national security and strategic interests.
A brief synopsis of Erdogan's criminal domestic practices and his foreign misadventures tell the whole story.
Domestically, he incarcerated tens of thousands of innocent citizens on bogus charges, including hundreds of journalists. Meanwhile he is pressuring the courts to send people to prison for insulting him, as no one can even express their thoughts about this ruthlessness. Internationally, Erdogan ordered Turkish intelligence operatives to kill or smuggle back to the country Turkish citizens affiliated with the Gülen movement.
He regularly cracks down on Turkey's Kurdish minority, preventing them from living a normal life in accordance with their culture, language, and traditions, even though they have been and continue to be loyal Turkish citizens. There is no solution to the conflict except political, as former Foreign Minister Ali Babacan adamantly stated on October 20: "… a solution [to the Kurdish issue] will be political and we will defend democracy persistently."
Erdogan refuses to accept the law of the sea convention that gives countries, including Cyprus, the right to an Exclusive Economic Zone (EEZ) for energy exploration, while threatening the use of force against Greece, another NATO member no less. He openly sent a research ship to the region for oil and gas deposits, which EU foreign policy chief Josep Borrell called "extremely worrying."
He invaded Syria with Trump's blessing to prevent the Syrian Kurds from establishing autonomous rule, under the pretext of fighting the PKK and the YPG (the Syrian Kurdish militia that fought side-by-side the US, and whom Erdogan falsely accuses of being a terrorist group).
He is sending weapons to the Sunni in northern Lebanon while setting up a branch of the Turkish Cooperation and Coordination Agency (TIKA) in the country—a practice Erdogan has used often to gain a broader foothold in countries where it has an interest.
While the Turkish economy is in tatters, he is investing hundreds of millions of dollars in the Balkans, flooding countries with Turkish imams to spread his Islamic gospel and to ensure their place in his neo-Ottoman orbit. Criticizing Erdogan's economic leadership, Babacan put it succinctly when he said this month that "It is not possible in Turkey for the economic or financial system to continue, or political legitimacy hold up."
Erdogan is corrupt to the bone. He conveniently appointed his son-in-law as Finance Minister, which allows him to hoard tens of millions of dollars, as Davutoglu slyly pointed out: "The only accusation against me…is the transfer of land to an educational institution over which I have no personal rights and which I cannot leave to my daughter, my son, my son-in-law or my daughter-in-law."
Erdogan is backing Azerbaijan in its dispute with Armenia (backed by Iran) over the breakaway territory of Nagorno-Karabakh, which is inhabited by ethnic Armenians and has been the subject of dispute for over 30 years.
He is exploiting Libya's civil strife by providing the Government of National Accord (GNA) with drones and military equipment to help Tripoli gain the upper hand in its battle against Khalifa Haftar's forces. Former Foreign Minister Yasar Yakis said in February 2020 that "The unclear Turkish foreign policy by Erdogan may put Turkey in grave danger due to this expansion towards Libya."
He is meddling in the Israeli-Palestinian conflict in an effort to prevent them from settling their dispute unless Israel meets Palestinian demands. He granted several Hamas officials Turkish citizenship to spite Israel, even though Hamas openly calls for Israel's destruction.
He betrayed NATO by buying the Russian-made S-400 air defense system, which seriously compromises the alliance's technology and intelligence.
He is destabilizing many countries, including Somalia, Qatar, Libya, and Syria, by dispatching military forces and hardware while violating the air space of other countries like Iraq, Cyprus, and Greece. Yakis said Turkey is engaging in a "highly daring bet where the risks of failure are enormous."
Erdogan supports extremist Islamist groups such as the Muslim Brotherhood and Hamas, and an assortment of jihadists, including ISIS, knowing full well that these groups are sworn enemies of the West—yet he uses them as a tool to promote his wicked Islamic agenda.
He regularly blackmails EU members, threatening to flood Europe with Syria refugees unless they support his foreign escapades such as his invasion of Syria, and provide him with billions in financial aid to cope with the Syrian refugees.
The question is how much more evidence does the EU need to act? A close look at Erdogan's conduct clearly illuminates his ultimate ambition to restore much of the Ottoman Empire's influence over the countries that were once under its control.
Erdogan is dangerous. He has cited Hitler as an example of an effective executive presidential system, and may seek to acquire nuclear weapons. It's time for the EU to wake up and take Erdogan's long-term agenda seriously, and take severe punitive measures to arrest his potentially calamitous behavior. Sadly, the EU has convinced itself that from a geostrategic perspective Turkey is critically important, which Erdogan is masterfully exploiting.
The EU must be prepared take a stand against Erdogan, with or without the US. Let's hope, though, that Joe Biden will be the next president and together with the EU warn Erdogan that his days of authoritarianism and foreign adventurism are over.
The views expressed are those of the author.