Global Firepower in the Caspian: A Comparative Analysis
The following compilation, piggy-backing on the overwhelming positive response given from the last edition of the Caspian Project where Caspian littorals were compared within various cross-indexes covering corruption, utilizes the hard work done by GlobalFirepower.com to analyze and rank the world's militaries today.
Using unique databases that allow for comparison and stand-alone analyses, Global Firepower tried to ascertain a country's potential conventional war-making capabilities across the traditional tri-ad of land, air, and sea. Nuclear capability was wisely taken out of the accounting as it would clearly skew any opportunity for real comparison and objective war-making analysis. Peripheral, but no less important, factors like financial stability, natural resources, foreign debt, oil reserves, and geography were also taken into account. In all, over fifty factors were compiled and measured in order to arrive at a final 'Power Index' in which a specific nation would receive its overall ranking. As the below data will show, the Caspian region holds quite a diversity in terms of military power and war-making capacity. A baseline rival is given for comparison by using the United States:
Overall Firepower Rankings Index (out of 126 countries total):

1. United States (0.1661)

2. Russia (0.1865)

23. Iran (0.7619)

63. Azerbaijan (1.5211)

66. Kazakhstan (1.6197)

90. Turkmenistan (2.3069)

MANPOWER RANKINGS

Active Military Manpower (out of 126 countries total):
Manpower 'Fit' for Military Service (out of 126 countries total):
Active military personnel are those units that are 'ready-to-fight.' These forces will naturally be the first to be committed to an actual combat situation.
Wars come down to manpower, a population's ability to be 'fit for duty' and actually assist in the warmaking effort. This statistic is used to further refine a country's ability to do battle.

2. United States (1,400,000)

4. Russia (766,055)

8. Iran (545,000)

49. Kazakhstan (49,000)

61. Azerbaijan (67,000)

89. Turkmenistan (22,000)

3. United States (120,022,084)

9. Russia (46,812,553)

14. Iran (39,566,497)

58. Kazakhstan (6,438,168)

76. Azerbaijan (3, 740,000)

100. Turkmenistan (2,252,187)

Active Reserve Military Personnel (out of 126 countries total):
War time resources dictate the need for reserve personnel. These numbers often favor countries that have a large base population, large defense budget, and fairly 'adventurist' approach to foreign policy.

4. Russia (2,485,000)

8. Iran (1,800,000)

11. United States (1,100,000)

24. Kazakhstan (378,000)

27. Azerbaijan (300,000)

72. Turkmenistan (35,000)

LAND SYSTEMS
Tanks
Armored Fighting Vehicles

1. Russia (15,398)

3. United States (8,848)

17. Iran (1658)

27. Turkmenistan (712)

47. Azerbaijan (314)

48. Kazakhstan (300)

1. United States (41,062)

2. Russia (31,298)

40. Turkmenistan (1,941)

44. Kazakhstan (1,613)

45. Azerbaijan (1,590)

53. Iran (1,315)

Multiple Launch Rocket Systems

The MLRS is a tracked or wheeled vehicle mounting a rocket launching system atop its hull. The MLRS offers a devastating physical and psychological effect on the enemy in a war-time situation.

1. Russia (3,793)

5. Iran (1,474)

6. United States (1,331)

12. Kazakhstan (393)

18. Azerbaijan (191)

30. Turkmenistan (110)

AIR SYSTEMS
Total Aircraft Strength
Fighter/Interceptor Strength

1. United States (13,892)

2. Russia (3,429)

24. Iran (471)

41. Kazakhstan (233)

63. Azerbaijan (121)

82. Turkmenistan (72)

1. United States (2,207)

3. Russia (769)

18. Iran (137)

25. Kazakhstan (96)

59. Turkmenistan (24)

63. Azerbaijan (18)

Serviceable Airports/Infrastructure

1. United States (13,513)

5. Russia (1,218)

21. Iran (319)

56. Kazakhstan (96)

97. Azerbaijan (37)

108. Turkmenistan (26)

SEA SYSTEMS

Total Naval Power

The listing below includes battleforce ships made up of aircraft carriers, frigates, destroyers, corvettes, torpedo boats, patrol boats, amphibious support craft, landing craft. Auxiliary vessels are included, but landlocked nations were not penalized and excluded from the listing overall.

3. United States (473)

4. Iran (397)

5. Russia (352)

55. Azerbaijan (47)

87. Kazakhstan (15)

102. Turkmenistan (4)

Destroyers
Submarines

1. United States (62)

4. Russia (12)

Iran (0)

Kazakhstan (0)

Azerbaijan (0)

Turkmenistan (0)

1. United States (72)

4. Russia (55)

5. Iran (32)

27. Azerbaijan (4)

Turkmeinsta (0)

Kazakhstan (0)

Mine Warfare

1. Russia (34)

13. United States (11)

22. Iran (7)

23. Azerbaijan (7)

Turkmenistan (0)

Kazakhstan (0)

WAR FINANCIALS
Annual Defense Budget
External Debt (weighted as a negative factor on the Power Index)

1. United States ($577,100,000,000)

3. Russia ($60,400,000,000)

33. Iran ($6,300,000,000)

54. Azerbaijan ($3,185,000,000)

59. Kazakhstan ($2,435,000,000)

103. Turkmenistan ($200,000,000)

1. United States ($15,680,000,000,000)

17. Russia ($714,200,000,000)

24. Turkmenistan ($428,900,000,000)

39. Kazakhstan ($131,300,000,000)

77. Iran ($15,640,000,000)

88. Azerbaijan ($9,552,000,000)

Reserves of Foreign Exchange and Gold
Proven Oil Reserves (Barrels per Day)

5. Russia ($515,600,000,000)

17. United States ($150,200,000,000)

30. Iran ($68,060,000,000)

51. Kazakhstan ($29,340,000,000)

54. Turkmenistan ($22,350,000,000)

67. Azerbaijan ($13,080,000,000)

4. Iran (154,600,000,000)

8. Russia (80,000,000,000)

12. United States (20,680,000,000)

19. Azerbaijan (7,000,000,000)

41. Turkmenistan (600,000,000)

75. Kazakhstan (30,000,000)
What the above compilations show is both anticipated and surprising: Russia and the United States regularly compete with each other for supremacy at the top of many indexes. However, the United States does not capture the top spot in every category and of course has the damning praise of having far more external debt than any other global rival. While it will be a very long time before anyone can even hope to challenge America in air power, there was far greater competition seen in this Caspian analysis than one would expect within both land and naval systems for war-making. Also an interesting side-statistic, the financial strength indicators of foreign currency/gold and oil reserves clearly show far more global competition than most people would probably expect. Iran hits both high and low across the indexes and it will be most fascinating to see how the impact of the JCPOA nuclear accord alters those rankings for the Islamic Republic in the coming future. The fact that Azerbaijan, Kazakhstan, and Turkmenistan regularly occupied the lower third of the Global Firepower indexes is not a surprise, all things considered. But what should be noteworthy to researchers and analysts alike is how much their respective positions changed and altered within that bottom third across all categories. There is clearly no one Caspian 'lesser leader' once you get past Russia and Iran. Given the ancient and profound adage that 'all politics are local' the above rankings show that the internal dynamics and competition between the smaller Caspian littorals should remain hotly contested and ever-changing for a long time into the future. This analysis covering the Caspian in specific shows just how multi-faceted, multi-layered, and highly complex war will always be. Consequently, it will also always be unpredictable. Perhaps that alone is the greatest reason to avoid it.
Rafale: A national tragedy or just plain stupidity?
In other countries, it would have been a badge of shame for the Government, Bureaucracy, Defense Industry and the citizenry as a whole. In India, it has become an ugly no-holds-barred slugfest like none other. Endless discussions, numerous debates and multitudes of expert opinions have pervaded the national discourse on just one topic these days. Apparently, the topic on which everyone in India and apparently a few abroad, have become an expert is Dassault Rafale. Every moment, new facts, truths, half-truths, and blunt lies are being tossed about in the Print, Television & Social Media and apparently, some so-called experts have started a smear campaign to malign the name of the Prime Minister, labeling him as a chor (thief) and much more. What is the whole issue about? Pick any hundred shouting at the very top of their voices and ask them about the issue. Not one would be able to go beyond the generality and much-used catchphrases like Scam, Ambani-Adani, Modi, France. Most, if not all, detractors of the defense deal have a half-baked understanding of the fighter aircraft in general and would be unable to differentiate between an interceptor and an air-superiority fighter in any literature. Conversely, the supporters of the deal, in their standard fashion, have built walls of ignorance so high that it puts even Mount Everest to shame. While most (though not all) of the questions of the detractors are logical and valid, tagging every detractor as an Urban Naxal while ignoring his line of questioning won't work. It's time for the supporters and detractors of the deal to gain a meaningful insight into the entire deal and then form an opinion on the issue.
The entire fiasco has its roots way back in 2001 when the Indian Air force had projected a requirement for 126 (seven squadrons of 18 aircrafts each) aircraft. The strength of the IAF was starting to fall. It has last acquired an aircraft (Mirage-2000) in the 1980s and the acquisition of the Sukhois (-30MKI) was starting to gain steam. The initial requirements were for a 20-ton class fighter aircraft with medium role capability which would fill the multi-role niche between the heavy-hitter Sukhoi Su-30MKI (an air superiority fighter) and the MiG-21/Tejas (a smaller multi-role interdictor). Apparently impressed by the Mirage 2000s bomb lugging capability at high altitudes during the Kargil War, the IAF was keen to acquire the Mirages and had quietly made up its mind to acquire the same until the French Aerospace industry and Rafale, in particular, threw a spanner in their works. However, the French aerospace industry was winding down Mirage 2000 production due to lack of orders and preparing for the manufacture of the Rafale aircraft. Apparently, the French Air Force needed it Rafales faster (point to be noted- the Rafale is the next iteration of the Mirage-2000 fighter and the current mainstay fighter of the French Air Force). The Mirage production line was shutting down and the French could only keep it open if India gave a firm order. But we are Indians, have we ever committed to anything without first bargaining and comparing the hell out of it?
Hence, Requests for Information (RFI) were issued in 2004. In the formative years of the tendering, aircraft in the running were: Mirage 2000-5 Mk.2 (Dassault, France), F-16C/D (Lockheed Martin, USA), MiG-29OVT (Mikoyan, Russia), and JAS 39 Gripen (Saab, Sweden). Preliminary estimates pegged the costs in the neighborhood of INR 55,000 crore (US$8.6 billion), making it India's single largest defense deal. However, the 20-ton MTOW (maximum take-off weight) limit requirement was later removed and this limit was revised to 24-tons. Given the protracted nature of the tendering and the past governmental acquisition timelines, Dassault replaced the Mirage 2000-5 with the Rafale and the MiG Company placed MiG-35 in instead of the prototype MiG-29OVT. The Eurofighter consortium entered the Typhoon into the competition. Not wanting to be outdone, the Boeing F/A-18E/F Super Hornet also joined the tendering. Given the vagueness of the clauses, all aircraft, single engine or double and both light and heavy became a part of the fray.
As per one defense analyst, this deal meant that The Indian Air force was comparing every four-wheel vehicle from a Maruti 800 and a tractor when it just needed a jeep.
The Indian government had initially planned to buy the first 18 aircraft directly from the manufacturer. The remaining fighters will be built under license with a transfer of technology (ToT) by HAL. After an intensive and detailed technical evaluation by the IAF, in 2011, the competition has reduced the bidders to two fighters — Eurofighter Typhoon and Dassault Rafale. On 31 January 2012, it was announced that Dassault Rafale won the competition due to its lower life-cycle cost. The deal has been reported to cost US$28–30 billion in 2014. However, the French refused to provide any guarantees for the 108 aircraft that would be manufactured by HAL. The deal went back to the chopping block and the fleet strength of the IAF continued to deplete at alarming rates. A report commissioned under the erstwhile UPA slammed the HAL's practices and there were some serious differences between HAL and Dassault on the various fronts.
In light of this, on April 10, 2015, Prime Minister Modi declared: 'Keeping in mind the critical operational necessity of fighter aircraft in India, I have discussed with the president (of France) the purchase of 36 Rafale fighters in 'fly-away condition' at the earliest through an inter-governmental agreement.' However, the Congress party alleges that the Modi government, in buying 36 Rafales for €7.8 billion ($9.2 billion or Rs 58,000 crore/Rs 50 billion), paid more than what Dassault had quoted in the MMRCA tender but a full breakdown of figures is essential as the total cost of a fighter contract includes — besides the cost of the aircraft — costs related to technology transfer, spare parts, weapons and missiles, added-on equipment and maintenance costs. Moreover, the same aircraft Rafale has also be bought by the Governments of Egypt and Qatar.
A closer look at the costs shows that the contracted price averages out to €91.7 million (Rs 686 crore/Rs 6.86 billion) per Rafale which includes the purchase of 28 single-seat fighters, for €91.07 million (Rs 681 crore/Rs 6.81 billion) each; and eight twin-seat fighters, each priced at €94 million (Rs 703 crore/Rs 7.03 billion). That puts the cost of each of the 36 fighters at €91.7 million (Rs 686 crore) — totaling up to €3.3 billion.
Besides this, the IAF will pay €1.7 billion for 'India-specific enhancements', €700 million for weaponry such as Meteor and SCALP missiles, €1.8 billion for spare parts and engines, and €350 million for 'performance-based logistics', to ensure that at least 75 percent of the Rafale fleet remains operationally available (our Sukhoi serviceability is an abysmal 50%). We are paying extra for the India specific enhancements that were earlier not the part of the generic aircraft selected via the MMRCA process. Also, while such a direct comparison is not right, prima facie the IAF is paying more or less the same as the EAF and the QAF. The Egyptian air force has paid €5.2 billion for 24 fighters and is reportedly considering buying 12 more, a 'fully loaded cost' of €217 million per Rafale. Similarly, the Qatar air force has paid out €6.3 billion for a similar number of aircraft, with a 'fully loaded cost' of €262 million per fighter.
The opposition Congress is arguing that by reducing the buy from 126 aircraft for which a sum of (520-700 crores per aircraft, varying in every speech) to just 36 aircraft (700-1600 crores), the present dispensation is causing a scam of epic propositions. There are also serious concerns about the offer being made to Reliance instead of HAL to partner with the deal. While concerns about the apparent lack of Reliance's experience in making aircraft is genuine, this is no excuse to mock and needlessly criticize a perfectly valid deal. One Congress legislator had even claimed that he would make a better plane than Reliance and mockingly flew a paper plane in the august presence of elected public representatives. Wish making fighter jets was only that simple. However, they seem to forget that Reliance is not going to manufacture any aircraft. It is just a part of an Indian Consortium which will be benefitted by offsets as part of the deal. Why Reliance? Yes, this is a question that needs to be asked and should be answered. The choice was primarily dictated by Dassault's need to gain a foothold in Indian Markets and tap the rich moolah in the pockets of Indian Industrialists. Given the tie-up between Tata ASL and Lockheed Martin & Pilatus, Honeywell and HAL, Adani and Elbit Systems of Israel and Mahindra taking a heavy plunge in the aviation industry with its acquisition of Gipps Aerospace, Dassault was wary of being caught napping and needed a partner that would be accommodative for them and assertive for others. Reliance Group fit the bill perfectly and while many have been accusing the govt. for crony capitalism, the Dassault-Reliance tie-up is one of survival.
Many have also lamented that private industries are being promoted at the cost of public institutions. Well, only HAL can be blamed for this mess. Not only has HAL chronically underperformed over the years and hamstrung the IAF's expansion plans (read Sukhoi SU-30MKI) by its ineptitude, it is also overcharging the Indian Tax-payer for basic jets like the domestic Tejas. Recent estimates show that the much-hyped Tejas (named by our former PM Atal Bihari Vajpayee during his regime) is still facing teething troubles even after 2 decades in testing & production and the costs have ballooned exponentially over the years. It is being reported that each Tejas will cost between 460-480 crores per platform which is significantly higher than other fighters for its niche (read JF-17, FC-1) and certainly not making sense in any way. It's an irony that people accusing the present dispensation of allowing private players to siphon taxpayers' money are either unaware or simply don't care that the public sector undertaking is just as expensive (if not more) with the added downside of inefficiency and lethargy. It must also be pointed out that HAL Dhruvs (a light helicopter) manufactured by the PSU have had serious doubts raised about their capability and a South American nation has mothballed all its Dhruvs after a significant no. of them crashed within a short span of time. It is only logical that any foreign manufacturer would be hesitant to partner with HAL. If there is indeed something wrong in this deal, it is the sorry state of affairs at HAL and the government must take immediate steps to resolve it.
On an ending note, defense procurements in India and around the globe have always been shrouded in mist and with good reason. Given the stringent security clauses, unique modifications and country-specific costing, it is near impossible to compare figures across the board, unlike the Big Mac Index. While everyone has the right to an opinion, it should be exercised with caution and should never be misused. The fleet strength of the IAF is rapidly depleting and the Rafales are needed. The opposition is being hypocritical by painting its inability to close a deal in a decade (remember, Saint Antony of the "You can't be accused of corruption if you do nothing" fame) as a done deal and conveniently forgetting the facts and reports, it had itself prepared. The Government, on the other hand, is doing a poor job by its high on rhetoric and low on facts media reporting. The deal is tough and not easily understandable for all because it is meant to be that way. Having a simple analogy to substitute for this deal is hilarious and plainly, uncalled for. Something must be left to the experts and not brought down to the floor. We are, after all, buying a Mach 2 capable fighter plane, not the bhaziya-tamatar of everyday use. While common sense should prevail on this issue of national importance and the cacophony should subside, it is highly unlikely in the coming days and the slugfest will continue. Meanwhile, the only casualty in this conflict will be the Indian Air Force and its brave pilots, who continue to fly old and unsafe planes for the foreseeable future to come.
Indo-US 2+2 Strategic Dialogue: Threat for Regional Stability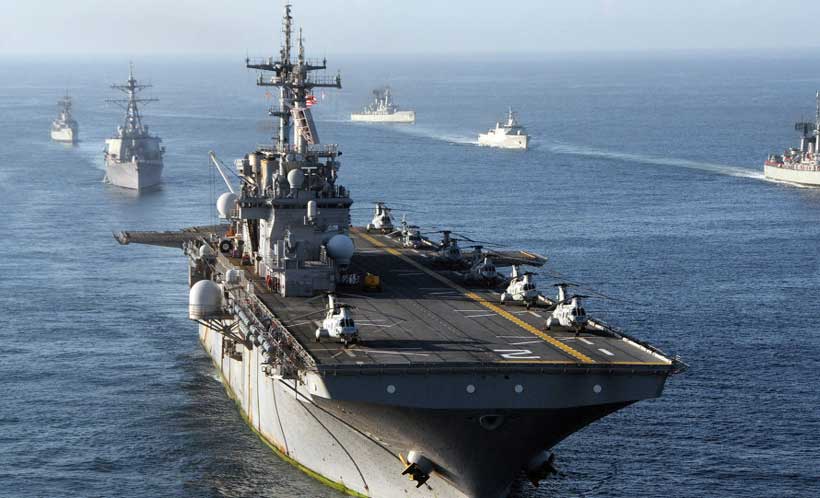 The Strategic Status of the Asia-Pacific Region is rising due to its significant role in the global economy. It has the third-largest body of water in the world and comprising of dynamic sea lanes. The sea lanes in the Indian Ocean are considered among the most strategically important in the world. According to the Journal of the Indian Ocean Region, more than 80 percent of the world's seaborne trade in oil transits through the Indian Ocean choke points, with 40 percent passing through the Strait of Hormuz, 35 percent through the Strait of Malacca and 8 percent through the Bab el-Mandab Strait.
US Interests in South Asia, especially tilted towards India for a decade is to secure its supremacy in the utmost Geo-Strategic and Geo-Economic region. The US wants to contain China and Russia who are spreading influence across Asia, notably in Pakistan, Southeast Asia, and the Indian Ocean. Consequently, the US has recognized India as Major Defense Partner with changing dynamics of security in regional and global great game.
On 6 September 2018, India and the United States of America have documented a new two plus two (2+2) Ministerial dialogue to enhance strategic coordination between them to expand their supremacy in the Indo-Pacific region. U.S. strategy in the Indo-Asia–Pacific is to advocate the US and India to work more closely together on maritime infrastructure in the Indian Ocean to balance China's Belt and Road Initiative (BRI).  It is in the national interests of US to assist India in building up its capacity in the increasingly important Indian Ocean Maritime Sphere and to sale American weapons and the transfer of sophisticated technologies to India.
The recent 2+2 dialogue joint statement is focused on 'strengthen Defense ties and promote Security cooperation' while Commercial Dialogue is now separated from that. External Affairs Minister Sushma Swaraj, Defense Minister Nirmala Sitharaman, US Secretary of State Mike Pompeo and US Defense Secretary James Mattis revitalized the deliberate engagement on cross-border terrorism, India's bid for membership of the Nuclear Suppliers Group.
Both democratic states shared interest to work more closely in Afghanistan, for the developments in the Asia Pacific, Indian Ocean and also in the Middle East (West Asia). Along with India, the US is enhancing its ties with Japan and Australia. The Quadrilateral Dialogue between India, US, Japan, and Australia significantly boosted security and defense cooperation, as evidenced by enhanced bilateral ties, regular trilateral dialogues, and expanded military exercises. The Quad is to boost basic incentives, levels of engagement, and as an instrument to balance against a strengthening Chinese role in the Indo-Pacific region vary for each of the grouping's members.
The USA has used India to revive its Pacific Command. To strengthen their mutual relations, US Foreign and Defense Ministers offered India for tri-Services joint exercise with the United States off the eastern coast of India in 2019.  The US will train Indian Air, Land and Naval Forces. They will assist India to boost their various sectors and grow the bilateral trade to $500-600 billion from the current $125 billion with a good strategy under a specified time. US Department of Defense will help them to address the procedural complexities and facilitate Indian companies to join the manufacturing supply chains of US defense companies.
Subsequently, in the 2+2 meeting, the two countries successfully maintained a mechanism. They agreed to set up a direct hotline between the foreign and defense ministers which includes the signing of Communications Compatibility and Security Agreement (COMCASA) and Basic Exchange and Cooperation Agreement (BECA).  The COMCASA will facilitate India to obtain critical defense technologies from the US, and access critical communication network to ensure interoperability between the US and the Indian armed forces. Indo-US also laid the foundation of agreement for mutual logistics support, the Logistics Exchange Memorandum of Agreement (LEMOA), which will be fully operationalized over the past few months. US recognized India STA-1 status which will make it easy for Indian and US companies to trade in Military hardware, while many technological items will not require licenses either. They agreed to work together regarding the entry of India in the Nuclear Suppliers Group (NSG). Superpower has made an exception for India.
But on the other hand, both countries are compelling Pakistan to 'do more' to eradicate terrorism and diminish the safe heavens of terrorist's organizations. US and India must overlook that the real terror in region is emanating from US and India Strategies as India is introducing dangerous weaponry in the region. The Indian military modernization and indigenization is emanating threats for peace and stability of the region. India rigid stance on Kashmir, violating LoC and modernization of dangerous weapons is making conflict-prone South Asia more vulnerable to uncertainty.
Pakistan has defensive policies, and to counter threats originate from India is overcome by Strategic Partnership with China and Russia. Pakistan decision makers gave a proposal of Strategic Restraint Regime to India for maintaining the deterrence stability in South Asia. Pakistan as a responsible nuclear state is more concentrating on China Pakistan Economic Corridor (CPEC) and Belt and Road Initiative for the economic prosperity of the region.
Unfortunately, the India-US convergence of interest to contain China and their Regional Hegemonic designs have instigated arms race in the region. For the sake of their dangerous national interest, regional peace and stability cannot be compromised. Such discriminatory Alliances and Partnerships instigates instability and undermine global Non-Proliferation Regime.
Instead of such perilous partnerships, new Economic Alliance and Partnerships should be introduced which can rehabilitate economic prosperity and resolute the deep-rooted conflicts. Superpowers should play their constructive role for Economic incentives of all developing South Asian state.
Pakistan's Defense Day: Why nuclear weapon capability was inevitable?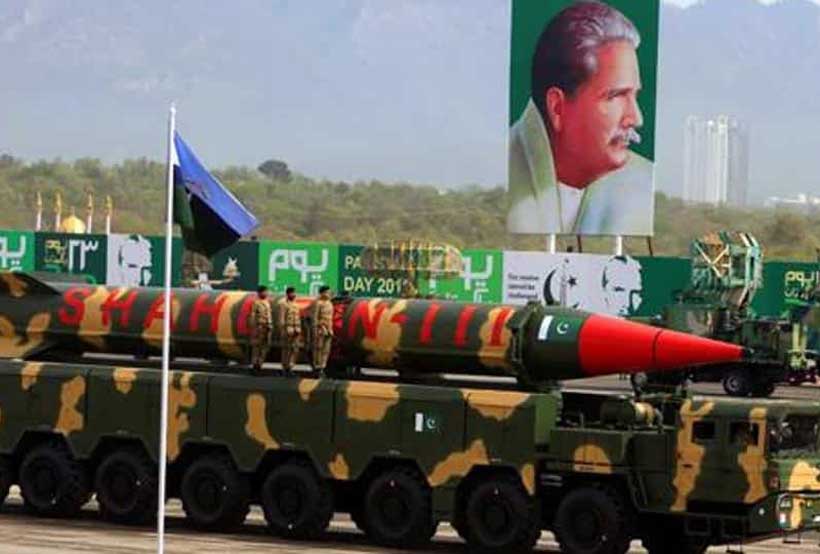 Six September is known as Defense Day (Youm-e-Difa) of Pakistan. It is celebrated every year with full devotion to give tribute to the martyrs who sacrificed their lives for the defense of Pakistan during second war between India and Pakistan in 1965. Though on 6 September 1965, Pakistan's forces played a vital role in nation's defense but at the same time, the war has fundamentally changed the strategic thinking and security landscape of region. To understand the emerging strategic landscape of South Asia, it is necessary to study bilateral relations of India and Pakistan.
Relations between these two major powers of South Asia have remained hostile since independence. Historical disputes, contested boundaries, and disturbed balance of power forced India and Pakistan to search for counterweights through improved relations with other major powers of the world. Consequently, India's more offensive policies and its objective to acquire "status of hegemonic power" in South Asia has consistently undermined Pakistan's efforts to maintain "Balance of Power" and "peace" in the region. The enduring rivalry between India and Pakistan has developed a "classic insecurity trap" in the military preparations of both states.  India's initiation of nuclear weapon program in 1960 and its expanding capabilities as potential proliferator added nuclear dimension to Pakistan's security calculations in early 1960. The turning point came in the mid-1960s after India acquired a research reactor (1960) and built a reprocessing plant in 1964.Same year, in response to China's nuclear test, an intensive debate initiated in Indian Parliament and public circle for "nuclear bomb".
Paradoxically, the 1965 war triggered the new demand in India for Nuclear bomb. Homi Babha's statement was carefully noted by officials in Pakistan in which he claimed that "India could build a nuclear weapon within twelve and eighteen months". India's quest of nuclear capability and war of 1965played vital role in making Pakistan realize that the state has to diversify its security measures and relying only on conventional capability is not sufficient to maintain state's security. Therefore, Pakistan's security concerns acquired nuclear dimension.  The war of 1971 appears to have additional stimulus for Pakistan's decision makers to favor the pursuit of a nuclear weapon capability option for Pakistan. In the wake of 1971 war, Prime Minister Zulfiqar Ali Bhutto gave a decisive flip to country's nuclear program. In 1972, PM Zulfiqar Ali Bhutto stated that, "We(Pakistan) will eat grass, even go hungry, but we will get one of our own (Atom bomb)…. We have no other choice". Furthermore, Pakistan's need for nuclear weapon capability was impelled by multiple factors including wars of 1965 and1971 between India and Pakistan; inadequate conventional capabilities to counter India's threats and India's first nuclear weapon test in 1974.  Hence, Pakistan detonated its nuclear weapon on 28 May 1998 in response to India's second series of nuclear weapon test on 11 and 13 May, 1998.
These factors show that Pakistan did not initiate the nuclearization of South Asia; actually India's adversarial nature, offensive mindset of its policymakers and its inability to accept the existence of Pakistan as independent state continue to be the major hurdles in the way of establishing peaceful cooperative relations on the basis of equality. Pakistan's nuclear weapon capability has played central role in countering any kind of external aggression through operational preparedness of the strategic forces. Though nuclear weapon capability has prevented the war between India and Pakistan by maintaining deterrence equilibrium but on this defense day it is inevitable to understand that 'Defense' is not limited to direct military clashes or borders security. Now defense of the state has much more meaning, obligations and complexities. Therefore, Pakistan should formulate a pragmatic policy that can counter 'cruel and protracted tactics' employed by the country's adversaries to undermine its security from within. One effective tool could be the art of fourth or fifth generation warfare, more commonly known as 5GW which is more decentralized, fluid and is strategically calculated to engage the enemy on all fronts. As Sun Tzu stated, "supreme excellence consists in breaking the enemy's resistance without fighting".