A Europe Created out of Necessity – Is Identity an Impossibility?
In principle identity can be established, reinforced, developed based on: force or grand political deeds like state building; common values, or shared history; tangible results achieved at federal (pan-European) level, grand stories, or a common enemy.
This paper intends to investigate whether the European Union as an economic-political-technocratic construct that was established out of necessity, i.e.: to avoid war in Europe, can be at all a basis of any identity building in Europe.
The EU has several features that merit serious criticism, nevertheless at present the EU is pretty much all we have. Admittedly the Union is a rather spiritless project – it was probably meant to be different at the outset, but political reality has overridden major attempts to render it more spiritual and less politico-economic. Still I think this is the only robust and tangible locus where any development of European identity can take place at this point. I argue therefore that the immediate discarding of the EU as a faulty construct is probably not the right attitude.
The question is how to use the EU with its robust political, economic reality to unleash the societal and cultural forces that help reinforce the feeling of Europeanness in European societies. One has to be made clear from the outset: there is no European identity in European souls and minds (or hardly any). So it is to be constructed. Why? Again: out of necessity, i.e.: to avoid that the worst traits of Europeans prevail again, moreover – and this is important for the purpose of this paper – to save the EU as a project of historical reconciliation between the often belligerent peoples of Europe. In my view these two things are the two sides of the same coin in 2015.
If we consider the EU as an agent of European identity building having in mind the list of potential sources of identity construction as identified earlier, the channel of "force" fortunately, and that of a "grand story" is unfortunately out of the question. The EU is a democratic, pacifist construct and has neither the intension nor the potential to coerce people or democratically elected governments under an empire. International geopolitical reality also excludes this entirely. The democratic establishment a United States of Europe á la USA is also very unrealistic at this point – due to a great extent to lack of sense of Europeanness in Europe's societies.
The EU has no major mythology or a grand story to tell. There never was a heroic war to be fought against a common enemy to establish the Union, rather the opposite: European nations fought suicidal civil wars against each other in the 20th century annulling Europe's global supremacy. The EU never had the grand "constitutional moment" like the USA did, some quarter of a millenium ago. When I tell my students that historically speaking the war and not peace is the rule in Europe (the bloodiest continent of all) and a seventy year interval of peace like the one we are experiencing on the old continent seems like an anomaly, they do not seem to understand. Flawless markets and robust consumer protections rules do not qualify as a grand story either.
As far as common values as agents of European identity building are concerned, hopes are also subdued. The EU is claimed to be built and in fact it is on values that significantly overlap with the major western or European values, but these are common sense matters for contemporary Europeans – as citizens of their respective member states -, the EU has nothing to add to it to forge a pan-European identity.
Two channels seem to be in store for identity building in Europe: a common enemy and results of modern integration. The first can be forceful but it is dangerous and almost certainly counter-productive for the pan-European idea as it will definitely fall prey of nationalistic political agendas. The second (already tried by the Brussels elite several times under the label of 'Europe of results') is questionable when effectiveness is concerned. But it seems the only realistic and workable option at hand.
The policy of reducing mobile phone roaming fees and facilitating passport-free travel (which is under threat these days anyway) and selling it to people as 'Europe of results' has not been working and will never work. The policy of Europe of results needs to be seriously revamped, the EU thoroughly explained to citizens to make them understand that they have a choice other than defensive and suicidal nationalism.
Having said this getting European societies on board is a sine qua non condition for any major reform in the EU. It is also evident that major reforms are necessary to guarantee Europe's stability and – in the long run probably – its very existence. The popular sentiment and political agendas that question the usefulness of European integration and sometimes even the basic European values are on the rise. European institutions and member states suffer to counter these rising anti-European and in some cases anti-democratic tendencies that will pose significant risks to European integration in the medium-term. One major factor of popular disenchantment is that people know very little about the Union and the role it plays in their life.
Contrary to the trendy perception of our time on the Union, modern Europe has achieved an awful lot over the course of the last two decades: the single market, the single currency, the reunification of Europe, the accession of twelve new poor member states and above all peace, stability and wealth. One source of the problem is that the European project has always been characterized by a top-down approach and has never managed to entice much interest from the media. Even though the Brussels press corps number several thousands, most correspondents report European affairs through a national prism. Election campaigns for the European Parliament focus almost exclusively on domestic issues. The political elites of member states concentrated on domestic issues even when communicating European policies, and just because the same questions interest the public in most countries does not mean that there is a European approach or even as much as a European public opinion. Euroscepticism flourishes all over Europe; chauvinism, efforts to protect prosperity, the democratic deficit, the incomprehensible nature of the European project and the lack of a true European identity have all contributed. Nevertheless, the majority — though only just — of Europeans approve of integration; mainstream political forces are to some degree or other pro-European in all member states. The EU therefore should overhaul its communication and open up to a much wider public debate and participation. In this respect Europe's new "Erasmus generation" can be a decisive factor.
European identity is a concept broader than European Union identity. This was vividly demonstrated by the statement of eurosceptic Czech President Vaclav Klaus in May 2009, when he claimed that the EU defeated Europe when the Czech Senate ratified the Lisbon Treaty. Undoubtedly, European identity is the privilege of national elites that have been pressing ahead with European integration for half a century. European identity has not become part of the thoughts, feelings and lives of average Europeans. Values that we hold to be European — such as liberty, equality before the law or the rule of law — are in fact the result of centuries of social development and do not undermine national identities. There are no truly pan-European values or pan-European reflexes perceptible in daily life. The feeling of belonging to a nation remains much more important than that of being European. The European Union is a community of nations and not a nation comprised of federal territorial units (states, with some exaggeration) like the United States of America. In a situation like this, European identity can benefit immensely from negative self-definition: defining what we Europeans are not. But it has its limits and also its dangers.
Europe has been in search of a self-identity for a long time. The first natural self-definition was on the common basis of Christianity. European values, which set this continent and culture apart from others, began to take shape with the Enlightenment. In "The Spirit of the Laws", Montesquieu analyses Europe as a unified community in detail, comparing it with Asia. He comes to the conclusion that the preconditions for liberty exist only in Europe but not in Asia. Bronislaw Geremek, an outstanding European humanist of the 20th century, believed that Europe was built on a dual identity. European identity is partly rooted in medieval Christianity as a unifying force. In the 13th century, a united European community formed around religion as the central organizing principle. It was created by Rome as the center of power. Universities mushroomed continent-wide, teaching the common culture in a common language (Latin) and thereby creating the first European elite. The Europe-wide network of churches and cathedrals shared a common architectural style, a uniform liturgy and a uniform calendar. Christianity was the first supranational, pan-European cross-border culture. Geremek suggests that the second European community — lasting from Erasmus of Rotterdam to the Enlightenment — was the Republic of Letters (Respublica literaria) bonded together by knowledge rather than by faith. This was clearly an elitist and loose identity bond, just like today (replace scholars with EU-enthusiasts in Brussels). As modern languages gained ground and Latin lost its importance, the religious nature of culture was weakened. Observation, analysis and a belief in reason and science pushed religious faith to the background. European academics maintained extensive and lively relations with each other. Montesquieu famously said that Europe is a nation composed of many nations. The evolution of the European identity, or should we call it a supranational culture, has its roots partly in Christianity and partly in science.
As said earlier, modern, post-war European integration is a political undertaking which in its origins was motivated chiefly by a desire to secure a stable and pacific Germany and developed as an elite project. As a result, the "mental unification" of European citizens has never materialized; a spontaneous common identity has never formed. Europe as a concept has never found its place in people's daily lives, or their choices of values. Modern Europe was created to put an end to the eternal enmity between France and Germany. It was clear that the only way to prevent war between these two powers was to make it economically unprofitable. But guaranteeing peace on the continent will not make people feel European. European identity will not evolve by itself; every tradition must start somewhere but traditions only survive if the common experiences, principles and myths originate from the people. And for traditions to turn into an identity, a bottom-up approach is needed. Naturally, political leaders still have a huge role to play in paving the way for the evolution of a European identity. But Europe is an immensely heterogeneous continent and is growing ever more diverse with successive enlargements. Europe's history is one of bloody wars and hostilities. Europe does not have a common language; the modern lingua franca is English. (But this is perceived now globally the language of the global culture and of its steamroller empire, the USA rather than of the United Kingdom.)
In 2015 the European Union has a remarkably charged political agenda in a turbulent world. Russia is more and more assertive, there is a probably prolonged military crisis in Ukraine, political and military situation is escalating in Europe's southern and south-eastern neighbourhood with imminent impact on Europe's societies. Europe is under the shock of a refugee crises which is unprecedented in scope and very difficult to manage. The spectre of Grexit reflects the fact that there are fundamental flaws in the Euro project as far as its long-term sustainability is concerned which necessitates further political and economic policy reforms at EU level. Brexit on the other-hand (although the UK's case is admittedly extreme) is a clear indication of popular disenchantment from the idea European integration. The above factors indeed hinder coordinated action to counter the ever-stronger popular sentiment and well-articulated political agendas that question the usefulness of European integration and sometimes even the basic European values. European institutions and member states suffer to focus and face these challenges including the rising anti-European and in some cases anti-democratic tendencies that will pose significant risks to European integration in the medium-term.
Endless complaining about the remoteness of the EU has led us nowhere and clearly no ineffective and underfinanced communication campaigns are the solution either. Instead the following actions need to be considered to create more user-friendly profile for the European Union:
•Create post of European (Eurozone) speaker position in national parliaments (who preferably does not bear the host country's nationality) with the right of intervention if European issues debated (T) (C);
•Introduce the instrument of European referendum – one single pan-EU referendum on the same day counted as a whole on key EU issues;
•Replace low-profile bureaucrats at the top of EU Representations, create high profile EU presence in capitals;
•If a project is financed by 51% EU it should be inaugurated by EU representative;
•Increase Erasmus spending by at least five times;
•Introduce preferably mandatory European values curriculum at elementary and secondary schools;
•Finish with national party lists at EP elections, vote on pan-European platform same day all across EU;
•Create a special channel of national parliaments at EP – as MEPs are less and less national, MPs should have a vehicle which is visible and effective to intervene at EP debate. This must be much stronger an instrument than ad-hoc invitations; an institutionalised and permanent solution is preferable;
•Elect President of the European Commission or the European Council directly by citizens;
•Promote EU values abroad (joint EU cultural and political institutes – having in mind Alliance Francaise, Goethe Institut, etc);
•Facilitate national public and political debates on new European reform initiatives such as the recent one (June 2015) by the German and French economy ministers.
•Run EU joint teams (or individual Olympians) in up to 10 percent of Olympic sports by the 2024 Olympic Games;
•Support language teaching and learning;
•Set up national offices of the Court of Justice to deal local legal matters with EU relevance more promptly and transparently;
•Support Europe-related news broadcasting by national broadcasters. Euronews (in a significantly enhanced quality) minutes in local channels.
The agenda proposed above is a "Europe of results turbocharged" i.e.: a much more comprehensive in scope and bolder in approach than previous attempts proposed and managed by European technocrats and which were marred by timidity, inefficient communication and member state disinterest. As a result the earlier attempts could never reach the hearts and souls (not even the minds) of Europeans. One thing has to be made clear: it is not only the EU that needs its citizens but also the other way around in a more and more unpredictable and instable world. Unfortunately this has never been properly explained to European people. European leaders will have to understand and accept to things: the first is that bold steps will have to be taken to present Europe as a locus and community of results, rather than of crisis in order to reinforce the sense of Europeanness – which is inevitable for the alliance of European peoples to survive in the long run. The second is that to base pan-European identity building on fear of others, by choosing a common enemy will not work. These things normally get out of control easily and will certainly reinforce nationalistic and anti-European member state agendas – which is the last thing the EU needs.
Europe tells Biden "no way" to Cold War with China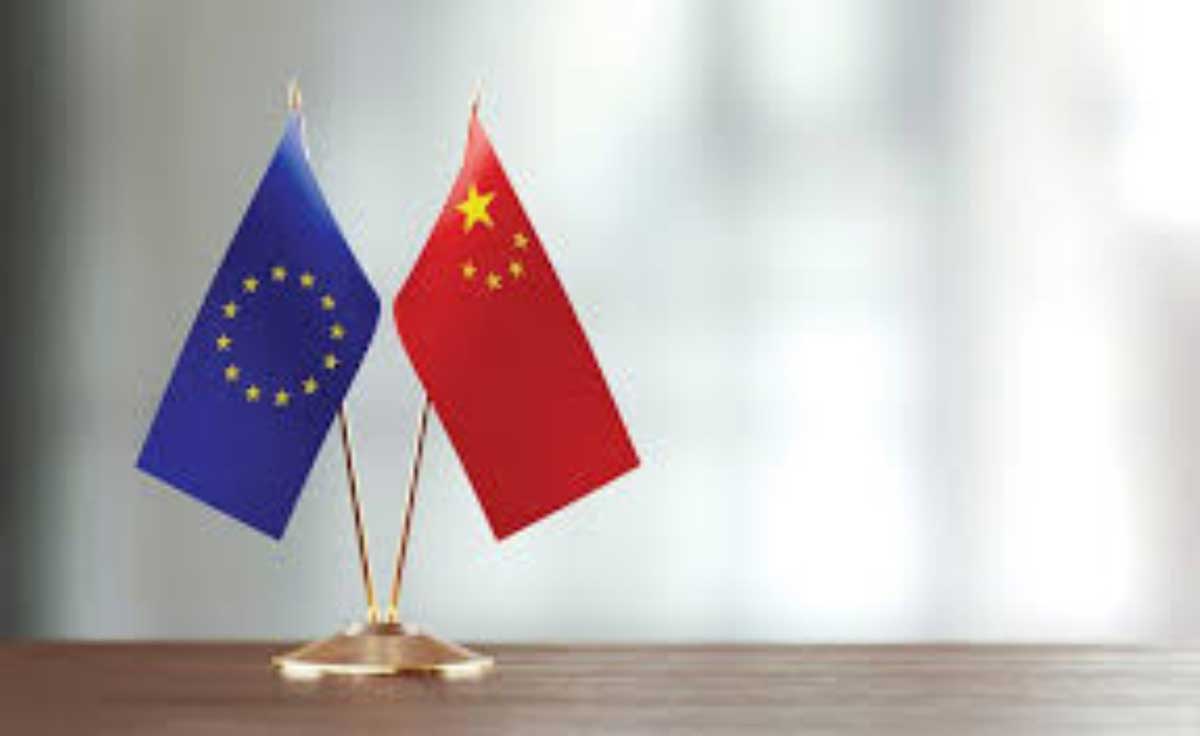 Amidst the first big transatlantic tensions for the Biden Administration, a new poll shows that the majority of Europeans see a new Cold War happening between the United States and China, but they don't see themselves as a part of it.
Overwhelmingly, 62% of Europeans believe that the US is engaged in a new Cold War against China, a new poll just released by the European Council on Foreign Relations found. Just yesterday US President Joe Biden claimed before the UN General Assembly that there is no such thing and the US is not engaging in a new Cold War. So, Europeans see Biden's bluff and call him on it.
The study was released on Wednesday by Mark Leonard and Ivan Krastev at the European Council on Foreign Relations and found that Europeans don't see themselves as direct participants in the US-China Cold War. This viewpoint is most pronounced in Bulgaria, Hungary, Austria, Portugal and Italy, according to the study. The prevailing view, in each of the 12 surveyed EU member states, is one of irrelevance – with respondents in Hungary (91%), Bulgaria (80%), Portugal (79%), and Austria (78%) saying that their country is not in a conflict with Beijing.
Only 15% of Europeans believe that the EU is engaged in a Cold War against China. The percentage is so low that one wonders if there should even be such a question. It is not only not a priority, it is not even a question on the agenda for Europeans. Even at the highest point of EU "hawkishness", only 33% of Swedes hold the view that their country is currently in a Cold War with China. Leonard and Krastev warn that if Washington and Brussels are preparing for an all-in generational struggle against China, this runs against the grain of opinion in Europe, and leaders in Washington and Brussels will quickly discover that they "do not have a societal consensus behind them".
"The European public thinks there is a new cold war – but they don't want to have anything to do with it. Our polling reveals that a "cold war" framing risks alienating European voters", Mark Leonard said.
The EU doesn't have the backing of its citizens to follow the US in its new Cold War pursuit. But unlike the views of the authors of the study, my view is that this is not a transatlantic rift that we actually have to be trying to fix. Biden's China policy won't be Europe's China policy, and that's that, despite US efforts to persuade Europe to follow, as I've argued months ago for the Brussels Report and in Modern Diplomacy.
In March this year, Gallup released a poll that showed that 45% of Americans see China as the greatest US enemy. The poll did not frame the question as Cold War but it can be argued that Joe Biden has some mandate derived from the opinion of American people. That is not the case for Europe at all, to the extent that most of us don't see "China as an enemy" even as a relevant question.
The US's China pursuit is already giving horrible for the US results in Europe, as French President Macron withdrew the French Ambassador to the US. The US made a deal already in June, as a part of the trilateral partnership with the UK and Australia, and stabbed France in the back months ago to Macron's last-minute surprise last week. Max Boot at the Council on Foreign Relations argues that it is Macron that is actually arrogant to expect that commitments and deals should mean something: "Back in February, Macron rejected the idea of a U.S.-E.U. common front against China. Now he complains when America pursues its own strategy against China. What's French for chutzpah?" What Boot does get right is that indeed, there won't be a joint US-EU front on China, and European citizens also don't want this, as the recent poll has made clear.
The US saying Europe should follow the US into a Cold War with China over human rights is the same thing as China saying that Europe should start a Cold War with the US over the bad US human rights record. It's not going to happen. You have to understand that this is how ridiculous the proposition sounds to us, Europeans. Leonard and Krastev urge the EU leadership to "make the case for more assertive policies" towards China around European and national interests rather than a Cold War logic, so that they can sell a strong, united, and compelling case for the future of the Atlantic alliance to European citizens.
I am not sure that I agree, as "more assertive policies" and "cold war" is probably the same thing in the mind of most Europeans and I don't think that the nuance helps here or matters at all. Leaders like Biden argue anyway that the US is not really pursuing a Cold War. The authors caution EU leaders against adopting a "cold war" framing. You say "framing", I say "spin". Should we be in engaging in spins at all to sell unnecessary conflict to EU citizens only to please the US?
"Unlike during the first cold war, [Europeans] do not see an immediate, existential threat", Leonard clarified. European politicians can no longer rely on tensions with China to convince the electorate of the value of transatlantic relations. "Instead, they need to make the case from European interests, showing how a rebalanced alliance can empower and restore sovereignty to European citizens in a dangerous world", Mark Leonard added. The study shows that there is a growing "disconnect" between the policy ambitions of those in Brussels and how Europeans think. EU citizens should stick to their sentiments and not be convinced to look for conflict where it doesn't exist, or change what they see and hear with their own eyes and ears in favor of elusive things like the transatlantic partnership, which the US itself doesn't believe in anyways. And the last thing that should be done is to scare Europeans by convincing them they live in a "dangerous world" and China is the biggest threat or concern.
What the study makes clear is that a Cold War framing against China is likely to repel more EU voters than it attracts, and if there is one thing that politicians know it is that you have to listen to the polls in what your people are telling you instead of engaging in spins. Those that don't listen in advance get the signs eventually. At the end of the day it's not important what Biden wants.
Germany and its Neo-imperial quest
In January 2021, eight months ago, when rumours about the possibility of appointment of Christian Schmidt as the High Representative in Bosnia occurred for the first time, I published the text under the title 'Has Germany Lost Its NATO Compass?'. In this text I announced that Schmidt was appointed to help Dragan Čović, the leader of the Croatian HDZ party, to disrupt the constitutional structure of Bosnia-Herzegovina and create precoditions for secession of the Serb- and Croatian-held territories in Bosnia and the country's final dissolution. I can hardly add anything new to it, except for the fact that Schmidt's recent statements at the conference of Deutsche Atlantische Gesellschaft have fully confirmed my claims that his role in Bosnia is to act as Čović's ally in the latter's attempts to carve up the Bosnian Constitution.
Schmidt is a person with a heavy burden, the burden of a man who has continuously been promoting Croatian interests, for which the Croatian state decorated him with the medal of "Ante Starčević", which, in his own words, he "proudly wears" and shares with several Croatian convicted war criminals who participated in the 1992-1995 aggression on Bosnia, whom Schmidt obviously perceives as his ideological brethren. The question is, then, why Germany appointed him as the High Representative in Bosnia?
Germany's policy towards Bosnia, exercised mostly through the institutions of the European Union, has continuously been based on the concept of Bosnia's ethnic partition. The phrases that we can occassionaly hear from the EU, on inviolability of state boundaries in the Balkans, is just a rhetoric adapted to the demands by the United States to keep these boundaries intact. So far, these boundaries have remained intact mainly due to the US efforts to preserve them. However, from the notorious Lisbon Conference in February 1992 to the present day, the European Union has always officially stood behind the idea that Bosnia-Herzegovina should be partitioned along ethnic lines. At the Lisbon Conference, Lord Carrington and Jose Cutileiro, the official representatives of the then European Community, which has in the meantime been rebranded as the European Union, drew the maps with lines of ethnic partition of Bosnia-Herzegovina, along which the ethnic cleansing was committed, with 100.000 killed and 1,000.000 expelled, so as to make its territory compatible with their maps. Neither Germany nor the European Union have ever distanced themselves from the idea they promoted and imposed at the Lisbon Conference as 'the only possible solution' for Bosnia, despite the grave consequences that followed. Nor has this idea ever stopped being a must within their foreign policy circles, as it has recently been demonstrated by the so-called Janša Non-Paper, launched a couple of months ago, which also advocates the final partition and dissolution of Bosnia-Herzegovina. Such a plan is probably a product of the powerful right-wing circles in the European institutions, such as Schmidt's CSU, rather than a homework of Janez Janša, the current Prime Minister of Slovenia, whose party is a part of these circles, albeit a minor one. To be sure, Germany is not the original author of the idea of Bosnia's partition, this author is Great Britain, which launched it directly through Lord Carrington at the Lisbon Conference. Yet, Germany has never shown a will to distance itself from this idea, nor has it done the European Union. Moreover, the appointment of Schmidt, as a member of those political circles which promote ethnic partition as the only solution for multiethnic countries, testifies to the fact that Germany has decided to fully apply this idea and act as its chief promoter.
In this process, the neighbouring countries, Serbia and Croatia, with their extreme nationalist policies, can only act as the EU's proxies, in charge for the physical implemenation of Bosnia's pre-meditated disappearance. All the crimes that Serbia and Croatia committed on the Bosnian soil – from the military aggression, over war crimes, ethnic cleansing and genocide, up to the 30 year-long efforts to undermine Bosnia's sovereignty and territorial integrity – have always had a direct approval and absolute support of the leading EU countries. During the war and in its aftermath, Great Britain and France were the leaders of the initiatives to impose ethnic partition on the citizens of Bosnia-Herzegovina, and now Germany has taken up their role. In such a context, the increasing aggressiveness of Serbia and Croatia can only be interpreted as a consequence of the EU's intention to finish with Bosnia for good, and Schmidt has arrived to Bosnia to facilitate that process. Therefore, it is high time for the citizens of Bosnia-Herzegovina to abandon any ilussions about the true intentions of the European Union and reject its Trojan Horse in the form of the current High Representative.
Should there be an age limit to be President?
The presidential elections in Bulgaria are nearing in November 2021 and I would like to run for President of Bulgaria, but the issue is the age limit.
To run for President in Bulgaria a candidate needs to be at least 40 years old and I am 37. I am not the first to raise the question: should there be an age limit to run for President, and generally for office, and isn't an age limit actually age discrimination?
Under the international human rights law standard, putting an age limit is allowed in the context of political participation under the right to vote and the right to run to be elected. Human Rights Committee General Comment No.25 interpreting the International Covenant on Civil and Political Rights states that an age limit has to be based on objective and reasonable criteria, adding that it is reasonable to have a higher age requirement for certain offices. As it stands, the law says that having an age limit for president is not age discrimination, but is 40 actually a reasonable cut-off? National legislations can change. We need to lower the age limit and rethink what's a reasonable age for President, and not do away with all age limits.
We have seen strong leaders emerge as heads of state and government who are below 40 years of age. Sanna Marin, Prime Minister of Finland, became Prime Minister at 34. Sebastrian Kurz, the Prime Minister of Austria, was elected at 31. Jacinda Ardern, Prime Minister of New Zealand, assumed her position at 37. So perhaps it is time to rethink age limits for the highest offices.
The US has plenty of examples where elected Senators and Congressmen actually beat the age limit and made it despite the convention. The age limit for Senator in the US is 30 years old. Rush Holt was elected to the US Senate at 29. In South Carolina, two State Senators were elected at 24 years old and they were seated anyways. The age limit for US president is 35 years old.
In Argentina, the age cut-off is 30. In India, it is 35. In Pakistan, it is 45 years old. In Turkey, it is 40 years old. Iceland says 35 years old. In France, it is 18.
Generally, democracies set lower age limits. More conservative countries set the age limit higher in line with stereotypes rather than any real world evidence that a 45 year-old or 55 year-old person would be more effective and better suited to the job. Liberal countries tend to set lower age limits.
40 years old to be a President of Bulgaria seems to be an arbitrary line drawn. And while it is legal to have some age limits, 40 years old seems to be last century. Changing the age limit for president of Bulgaria could be a task for the next Bulgarian Parliament for which Bulgarians will also vote on the same date as they vote for President.