Putin Said to Plan Islamic State Strike With or Without U.S.
Welcome to the Caspian Daily, where you will find the 10 most important things you need to know on Caspian Sea Region. We appreciate ideas, reports, news and interesting articles. Send along to Caspian[at]moderndiplomacy.eu or on Twitter: @DGiannakopoulos
1Russian diplomacy has shifted into overdrive as Putin seeks to avoid the collapse of the embattled regime of Bashar al- Assad, a longtime ally who's fighting both a 4 1/2 year civil war and Sunni extremists under the banner of Islamic State. Putin's proposal, which Russia has communicated to the U.S., calls for a "parallel track" of joint military action accompanied by a political transition away from Assad, a key U.S. demand, according to a third person. The initiative will be the centerpiece of Putin's one-day trip to New York for the United Nations General Assembly on Sept. 28, which may include talks with President Barack Obama. Bloomberg
2Russia threatens US with nuclear arms 'counter-measures'. Russia has threatened to take "countermeasures" if the United States goes ahead with the deployment of a new type of nuclear weapon to bases in Germany, raising fears of a return to a Cold War style arms race in Europe. The Kremlin said plans reported by German media for the US to upgrade its nuclear weapons arsenal in the country would be "a serious step towards raising tension" in Europe. "Unfortunately, in the case of these plans – and we can say with certainty that they are moving towards realisation – this can lead to a violation of the strategic balance in Europe," said Dmitry Peskov, Vladimir Putin's spokesman. The Telegraph
3OSCE Minsk Group Co-chairs' advanced negotiations with Azerbaijan and Armenia on Karabakh conflict settlement helped reduce tensions along the contact line, James Warlick, the U.S. Co-chair said Tuesday, September 22. In an interview with Azerbaijani news agency Trend, Warlick commented on Minsk Group's work aimed at resolving the Nagorno Karabakh conflict. Warlick said the co-chairs look forward to the Azerbaijani and Armenian Foreign Ministers' meeting at the UN General Assembly to continue the dialogue on presidential level.
4Kazakhstan is keen on strengthening the position in traditional markets for exporting grain – Azerbaijan, Iran, Afghanistan and Central Asian countries such as Kyrgyzstan, Tajikistan, Turkmenistan, Uzbekistan. Kazakhstan is also interested in increasing grain export to the promising markets, including Europe and Turkey, where there is a constant demand for high-protein and durum wheat. Kazakhstan is among the world's major grain exporters. In 2011, the country had a record harvest of nearly 27 million tons of grain in net weight. Kazakhstan exported 8.7 million tons of grain in 2013-2014 marketing year.
5Turkmenistan Pushes Ahead on TAPI Pipeline. "As the United States Congress prepares to deliberate on the agreement reached between Iran and the permanent members of the United Nations Security Council plus Germany (P5+1) over Iran's nuclear program, a small flurry of statements were released in mid-September announcing that construction on the long-stalled Turkmenistan-Afghanistan-Pakistan-India (TAPI) natural gas pipeline would commence in December 2015. Facing the impending prospect of competition from Iran's unfettered participation in global natural gas markets, Turkmenistan has adopted a new policy orientation to expedite TAPI's construction" The Diplomat
6India is ready to invest more than $15.2 billion to build projects in Iran including taking up full-scale development of Chabahar Port if Tehran offers better terms including cheaper gas, Shipping Minister Nitin Gadkari said on Wednesday. India is one of the few countries that continued trade links with Iran, isolated by Western countries against its nuclear programme. New Delhi is Tehran's second biggest oil client after Beijing. "We are ready to make a huge investment in Iran and this is mainly linked to gas pricing offered by Iran … Gas price is a crucial issue," Mr Gadkari told a news conference.
7The State Oil Fund of Azerbaijan (SOFAZ) and Mitsubishi UFJ Trust and Banking Corporation have jointly acquired landmark retail property Kirarito Ginza in Tokyo, Japan for 52.3 billion Japanese yen (nearly $444.24 million). This is SOFAZ's first real estate investment in Japan. The property was purchased from Elliott Advisors Asia Limited and Orix Corporation. Kirarito Ginza is located in Chou Avenue, Ginza, which is the most prestigious retail location in Japan. The property was built in 2014 and is one of the very few trophy assets recently completed in Ginza area.
8What Iran's Nuclear Deal Means for Oil Prices. From early 2016, Western sanctions on Iran will start to wind back. At that point, Iran's oil production will increase. As will the amount of supply it forces onto global markets. That's either good or bad, depending on your point of view. For already depressed oil prices, it's a disaster. Especially for the governments that rely on oil to underwrite budgets. At the same time, low oil prices will help the global readjustment to slowing growth. Low prices, for the foreseeable future, will help weather concerns about the global economy. Not surprisingly, Iran will be the biggest winner from this development. Daily Reckoning
9The housing sector has had a positive impact on the construction industry in Kazakhstan, according to the Ranking.kz analytical service. Kazakh construction companies have added an all-time high of roughly 719,000 cubic meters of new residential property in August. This amounts to a 30.5 percent increase in new residential property compared to last August, adding 3,259 apartments and 2,391 single-family houses on a turnkey basis. The top three areas for housing construction are Astana, Almaty and the Almaty region, while the highest growth rate was seen in East Kazakhstan, West Kazakhstan, and the Akmola region.
10The Azerbaijani Accounting Chamber became a full member of the Working Group on the Public Debt of the International Organization of Supreme Audit Institutions (INTOSAI). The working group defines the main issues for the preparation of procedures and obligations in connection with the audit and evaluation of state debt obligations. It is engaged in the exchange of experience with the research groups, international organizations and similar bodies of other countries involved in public debt, and so on. INTOSAI brings together the supreme audit institutions of the UN member-states. It was founded in 1953. It includes more than 180 national supreme audit institutions.
Poland must make urgent legislative reforms to combat foreign bribery
Poland must make urgent progress on carrying out key recommendations of the OECD Working Group on Bribery that remain unimplemented, more than four years after its Phase 3 evaluation in June 2013.
Poland still needs to take urgent steps to ensure companies can be held responsible for foreign bribery, even if the persons who perpetrated the offence are not convicted. In addition, Poland must increase the fines for companies in order to ensure foreign bribery is punishable by effective, proportionate, and dissuasive sanctions.
The Working Group is disappointed by Poland's failure to take measures to ensure that the "impunity" provision in the Penal Code that applies to foreign and domestic bribery cannot be applied to the bribery of foreign public officials. This provision allows perpetrators of bribery to automatically escape punishment by notifying the law enforcement authorities of the offence before the authorities learn about it from other sources.
In the context of ongoing reforms, Poland should also ensure that appropriate measures are in place to protect from retaliatory or disciplinary action private and public sector employees who report suspected acts of foreign bribery in good faith and on reasonable grounds.
The Working Group reviewed a report submitted by Poland on its progress in implementing these outstanding recommendations at its plenary meeting on 13-15 March 2018. The Working Group requested that Poland provide a written report on further progress in addressing these concerns in December 2018, at which time the Group will consider additional measures in the absence of significant progress.
Solving the e-waste problem in Latin America
The United Nations Industrial Development Organization (UNIDO), the Ministry of Environment of Ecuador (MAE) and the Global Environment Facility (GEF), have officially presented a project which will provide policy advice to 13 Latin American countries to help them solve the e-waste problem in the region.
The initiative addresses the proper disposal and recycling of electrical and electronic waste by adopting a circular economy approach  in Argentina, Bolivia, Chile, Costa Rica, Ecuador, El Salvador, Guatemala, Honduras, Nicaragua, Panama, Peru, Uruguay and Venezuela.
The inauguration was attended by Ecuador's Minister of Environment, Tarsicio Granizo,  UNIDO's Director of Environment, Stephan Sicars,   representatives of national authorities, and ambassadors and representatives of the 13 countries participating in the project.
Sicars pointed out that there are still many challenges that remain for e-waste recycling. "The policies have to be, not only suitable for each individual country, but also sufficiently harmonious to prevent unnecessary, as well as ensuring protection of human health in recycling activities and safeguarding the environment from toxic releases
Meanwhile Granizo emphasized the need to reduce the production of waste and added that "it is necessary to promote national and regional policies that allow community work to be able to deal with the adequate management of electrical and electronic waste, which present a challenge that cannot be addressed only from the national level".
This initiative will start on 5 June 2018 and will last for five years. During its execution, US$$ 9.5m will be invested, assisting the 13 participating countries both technically and financially, and providing advice on policies, business, legislation, technology and awareness-raising.
IsDB Prize for Women's Contribution to Development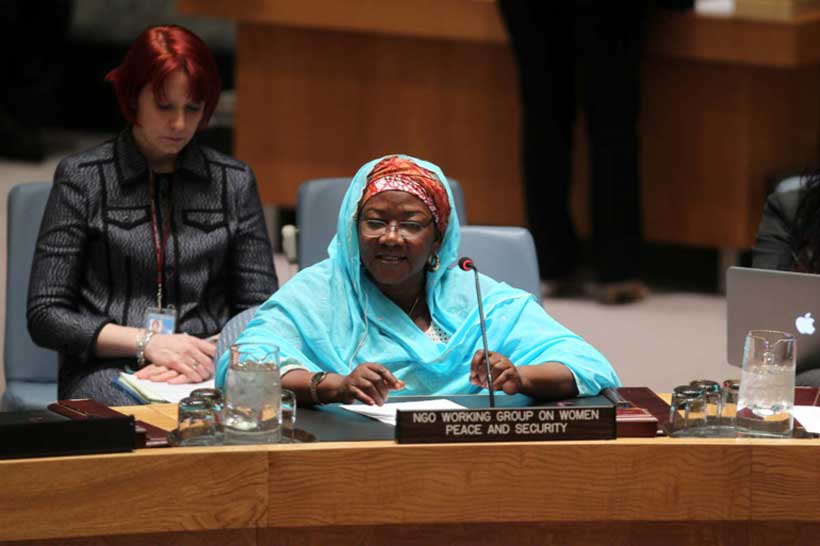 The Islamic Development Bank (IsDB) has announced the winners of the 13th edition of IsDB Prize on Women's Contribution to Development.
Mrs. Hamsatu Nashe Alamin, founder of the Network of Civil Society Organisations for Peace in Borno and Yobe, Northeastern Nigeria, and Mrs. Rehma Kasule, founder of Century Entrepreneurship Development Agency (CEDA) in Uganda are the winners of the Prize for the individual category. Each winner will receive US$25000 to support their community work.
A Togo based NGO, (Groupe de réflexion et d'action, Femme, Démocratie et Développement) won the organization category award. The NGO will receive US $100,000 to support its activities. The award will be given in Tunis during the Annual Meeting of the IsDB Group Board of Governors from 1st to5th April 2018.
According to IsDB President, Dr. Bandar Hajjar, "I am confident that this prize will energize the winners to continue working hard in order to change lives in their communities. Building partnership with NGOs and civil society organizations is one of the pillars of the President's 5-year program (P5P)."
"I am humbled that the little l am doing for the voiceless communities of North Eastern Nigeria is being independently, and in a transparent international manner, identified, recognized and rewarded by this esteemed Islamic financial institution." Mrs. Alamin stated.
She added that "this is indeed an eye opener for Muslim women, and particularly those of us living in conflict ridden and marginalized worlds to come out and play our part, for the reward now is right here at our doorsteps; for me, this is just the beginning."
Speaking on the award, Mrs.  Kasule stated: "This award is a symbol of the blessings that I receive for the sacrifices to make the world a better place. This Award is not for me, it is for the dedicated youth ambassadors and mentors,  and  the  young  women  in  post-conflict communities  that keep dreaming despite the challenges that surround them."
"I will use the prize to produce peace edutainment messages and strengthen interreligious dialogue in schools. I am more energized to take up bold and innovative steps to promote peace education for the youth. I thank IsDB for this honour." She concluded.