Diplomacy came first, now it's money's turn
Welcome to the Caspian Daily, where you will find the 10 most important things you need to know on Caspian Sea Region. We appreciate ideas, reports, news and interesting articles. Send along to Caspian[at]moderndiplomacy.eu or on Twitter: @DGiannakopoulos
1Two months after Iran and six world powers signed a landmark nuclear agreement, foreign companies are seeking to secure a foothold in an economy bigger than Thailand's and oil reserves rivaling those of Canada. With the nuclear accord all but certain to overcome domestic opposition in Iran and the U.S., scores of foreign investors are visiting Tehran to scour foropportunities to expand into one of the largest untapped frontier markets in the world. The agreement curbs Iran's nuclear program in return for easing sanctions that have crippled its economy and cut off its banks from the international financial system."Iran is a country that has great potential and hasn't been tapped," Sowmya Rajagopalan, an analyst at market researcher Frost & Sullivan in Chennai, India, who estimates the size of Iran's healthcare industry at about $30 billion. "They want to grow economically, to be able to cater to their population, and also to export to African countries and other neighboring countries." Bloomberg
2Satellite photos taken in mid-September and obtained by IHS Jane's show Russian forces developing two additional military facilities near Syria's Mediterranean coast, Rob Munks, editor of IHS Jane's Intelligence Review, said on Tuesday. Munks said the previously undisclosed work was taking place at a weapons storage facility and a military base north of Latakia, suggesting Russia is preparing to place troops at both locations. Russia has been dramatically increasing its forces at an air base south of Latakia, a stronghold of Syrian President Bashar al-Assad, including positioning combat planes and helicopters as well as tanks and accommodation blocks.
3Pentagon officials planning for war with Russia – just in case. "For the first time since the Cold War ended, American officials are preparing contingency plans for war with Russia, Foreign Policy magazine reported Friday.The respected U.S.-based publication quoted current and former Pentagon officials who said the Department of Defense had begun to revisit long-abandoned strategies for armed conflict with the powerful nation. It comes five years after then-Defense Secretary Robert Gates dismissed any need for inclusion of battle with Russia in the Pentagon's long-term defense plan, and months into a heavy arms buildup near Russia's border in Eastern Europe" Chron.com
4Azerbaijan was in the spotlight of OSCE's Human Dimension Implementation Meeting (HDIM) that kicked off Monday, September 21 in Warsaw, Contact.az reports.At the meeting, the official representative of Azerbaijan and a number of NGO leaders characterized the criticism as "biased," citing human rights abuses in Western Europe and the United States. They noted, in particular, the intolerance towards migrants and pressure on journalists.Although European politicians focused on a large-scale refugee influx from the Middle East and Asia to EU, more attention was paid to the human dimension of overriding principles: freedom of expression and freedom of information and the press.
5Astana-2 conference. Representatives of the Syrian opposition will hold a fresh round of consultations in the Kazakh capital, Astana, on October 2-4, a prominent opposition politican said Tuesday. "During a meeting with President Nazarbayev, I asked him about hosting a new round of talks in Astana," Randa Kassis, head of the Movement of the Pluralistic Society, told Sputnik. The conference will be mediated by Kazakh Deputy Foreign Minister Askar Musinov and director of the French Center for Political and Foreign Affairs Fabien Baussart.
6How will Greek election impact Azerbaijan's TAP project ? The second appearance of the radical left party, however, may greatly differ from the first one. In particular, this concerns the economy and energy projects, including the main point of contact between Greece and Azerbaijan. Therefore, the main question arises. What should be expected from the Greek election towards the Azerbaijani energy projects? Maksim Tsurkov – Trend
7Launching the new Women in Business program in Kazakhstan, the EBRD is providing a local currency credit line for women entrepreneurs which will be on-lent via Bank CenterCredit, one of the EBRD's partner banks in Kazakhstan. The 3.7 billion tenge financing package will support female entrepreneurship and participation in the economy by helping women-led small and medium-sized enterprises (SMEs) to access finance, know-how and advice.
8In Turkmenistan and Uzbekistan, the Legacy of Soviet Rule Endures. "Turkmenistan's first president, Saparmurat Niyazov, made the same smooth transition from Communist Party first secretary to president, keeping a tight lid on his country of 5.1 million while cultivating a bizarre cult of personality. Before he died in 2006, he ordered the construction of his own mausoleum, next to a giant mosque, now guarded by the same kind of goose-stepping soldiers who keep watch over Lenin's tomb on Red Square in Moscow" Celestine Bohlen, The New York Times
9Leading international publishing and research firm The Business Year (TBY) has recently appointed Anna Matskevits as CountryManager for The Business Year: Azerbaijan 2016.This annual publication, being developed in collaboration with the Administration of the President of Azerbaijan, aims to highlight the ongoing economic development and showcase the most exciting investment opportunities in the country.The 2016 edition will highlight the growing contribution of Azerbaijan's non-oil sector and the important roles that technology and industry play in the Azerbaijan economy. This special edition of TBY will also be showcasing the Formula One Grand Prix, which will take place in Baku in the summer of 2016. This huge event, coming a year after the success of the 2015 European Games in Baku, will attract racing aficionados from all over the world.
10Azerbaijan is leading the region in fixed broadband Internet, says a report from the International Telecommunication Union. The country is in 52th place among 189 countries in fixed broadband internet, according to the ITU report. The "State of broadband 2015" report, published on September 22, provides data on the telecom industry for 2014. Azerbaijan has improved its position by six points from 2011. ITU said that there are 19.8 Internet connections for every 100 people in Azerbaijan.
"It looks like most of them were shot in the head…"
"The New York Times" confirmed the location of the farmhouse by comparing the aerial video of the episode with satellite imagery of Makiivka, Luhansk. A series of videos that surfaced on social media last week has ignited a debate over whether Ukrainian forces committed war crimes as they tried to capture a group of Russian soldiers who were then killed.
The videos show the grisly before-and-after scenes of the encounter earlier this month, in which at least 11 Russians, most of whom are seen lying on the ground (photo), appear to have been shot dead at close range.
The videos, detailed below and whose authenticity has been verified by "The New York Times", offer a rare look into one gruesome moment among many in the war.
The videos were first circulated by Ukrainian news and social media channels that used them to laud the military prowess of their armed forces and publicize their heroic retaking of territory lost to Russia early in the war.
In Russia, however, the videos prompted a fierce response among Russian commentators, who urged the government to seek an international investigation.
"We are aware of the videos, and we are looking into them," Marta Hurtado, a spokeswoman for the U.N. Human Rights Office, told Reuters. "Allegations of summary executions of people hors de combat should be promptly, fully and effectively investigated, and any perpetrators held to account."
Under international law, the French term "hors de combat" refers to people who are "outside of combat" because of their surrender, being unarmed, unconscious or otherwise unable to defend themselves.
"It looks like most of them were shot in the head," Dr. Rohini Haar, a forensic expert and faculty member at the University of California at Berkeley's School of Public Health, said in an interview. "There are pools of blood. That indicates that they were just left there dead. There appears to have been no effort to pick them up or help them."
Dr. Haar noted that when they surrendered, the Russian soldiers had been lying down, apparently unarmed, with their arms outstretched or behind their heads. "They're considered hors de combat, or noncombatants — effectively prisoners of war," Dr. Haar said.
The Rome Statute, the international treaty that established the International Criminal Court, could prosecute this under several of its articles if Ukraine were a party to the treaty, Dr. Haar said, including Article 8b (vi), which says, "Killing or wounding a combatant, who, having laid down his arms or having no longer means of defense, has surrendered at discretion" is a violation of the laws of international armed conflict.
…It is absolutely clear that the killers from the Ukrainian army vilely shot Russian soldiers who were captured by them.  The goal is simple and clear – to raise the level of hatred between the Russians and Ukrainians, cause more bloodshed. This inhuman act resembles very much a well-known British slogan: "Divide and rule".
International Affairs
Marjorie Taylor Greene: "We're going to audit what's happening in Ukraine"
House Republicans critical of U.S. assistance to Ukraine during its war with Russia introduced a privileged resolution to audit the funds allocated by Congress. The resolution is being led by Rep. Marjorie Taylor Greene (photo) (R-Ga.) and backed by a group of GOP lawmakers.
The resolution, which calls for preserving administration documents and communications related to Ukraine funding distribution, speaks to other criticisms among some Republican lawmakers who support aid to Ukraine but say more oversight is needed.
The Biden administration has provided more than $20 billion in military assistance to Kyiv, as well as about $10 billion in humanitarian assistance and about $13 billion in economic assistance. President Biden has called for Congress to earmark $37.7 billion in additional funding for Ukraine.
Greene introduced the bill as a privileged resolution, meaning it will be referred to the relevant committee, where members will have 14 business days to either reject it, or approve it for a vote on the House floor.
Greene said she is prepared to reintroduce the resolution in the next Congress when Republicans hold the majority.
"I'll introduce this resolution again, but I'll also be calling for a full audit. We voted 'no' to send money over there, but we're also going to audit what's happening in Ukraine."
International Affairs
Overnight blasts near Ukraine nuclear plant are 'playing with fire!'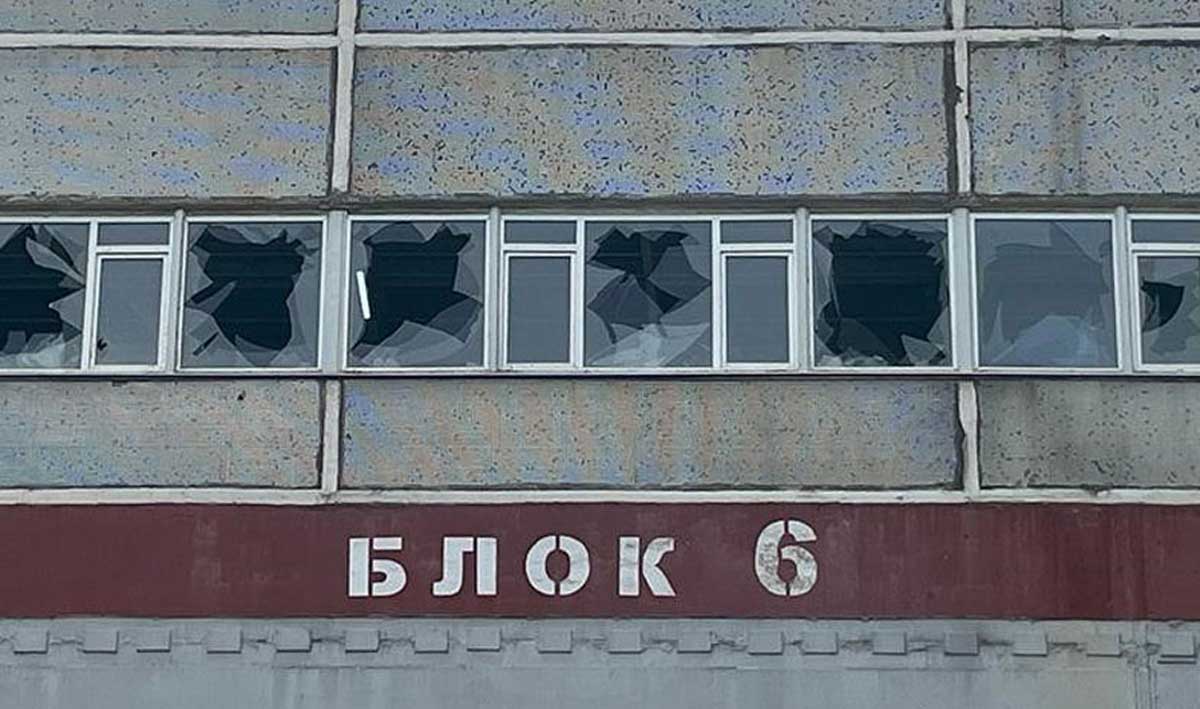 Powerful explosions shook the area of Ukraine's Zaporizhzhya Nuclear Power Plant (ZNPP), "abruptly ending a period of relative calm" at the facility, the head of the UN nuclear watchdog agency said on Sunday.In a statement issued by the International Atomic Energy Agency (IAEA), Director General Rafael Mariano Grossi said that that blasts yesterday evening and again this morning further underlined "the urgent need for measures to help prevent a nuclear accident there".
"As I have said many times before, you're playing with fire!".
Renewed shelling
In what appeared to be renewed shelling near and at the site of Europe's largest nuclear power plant, IAEA experts on the ground reported that more than a dozen blasts were heard within a short period of time in the morning local time.
The IAEA team were also able to see some of the explosions from their windows.
"The news from our team yesterday and this morning is extremely disturbing", said Mr. Grossi.
Citing information provided by plant management, the IAEA team said there had been damage to some buildings, systems, and equipment at the site, but noncritical for nuclear safety and security.
"Explosions occurred at the site of this major nuclear power plant, which is completely unacceptable", he added. "Whoever is behind this, it must stop immediately".
According to news reports, Russian and Ukrainian nuclear energy authorities each blamed the other side's forces for the strikes – triggering fears of a serious nuclear accident. So far, there have been no reports of any radiation leaks at the Russian-occupied plant.
Nuclear-free zone
The IAEA experts said that there were no reported casualties, and they are in close contact with site management.
Meanwhile as they continue to assess and relay updates on the situation, the IAEA chief renewed his urgent appeal that both sides of the conflict agree to implement a nuclear safety and security zone around the ZNPP as soon as possible.
In recent months, he has been engaging in intense consultations with Ukraine and Russia on establishing a zone – but, so far, no agreement has been reached.
"I'm not giving up until this zone has become a reality", said Mr. Grossi. "As the ongoing apparent shelling demonstrates, it is needed more than ever".
Gambling with lives
Even though there was no direct impact on key nuclear safety and security systems at the plant, the senior UN official said, "the shelling came dangerously close to them".
"We are talking metres, not kilometres. Whoever is shelling at the Zaporizhzhya Nuclear Power Plant, is taking huge risks and gambling with many people's lives".
The IAEA team of experts plan to conduct an assessment of the shelling impact on the site tomorrow.