Diplomacy came first, now it's money's turn
Welcome to the Caspian Daily, where you will find the 10 most important things you need to know on Caspian Sea Region. We appreciate ideas, reports, news and interesting articles. Send along to Caspian[at]moderndiplomacy.eu or on Twitter: @DGiannakopoulos
1Two months after Iran and six world powers signed a landmark nuclear agreement, foreign companies are seeking to secure a foothold in an economy bigger than Thailand's and oil reserves rivaling those of Canada. With the nuclear accord all but certain to overcome domestic opposition in Iran and the U.S., scores of foreign investors are visiting Tehran to scour foropportunities to expand into one of the largest untapped frontier markets in the world. The agreement curbs Iran's nuclear program in return for easing sanctions that have crippled its economy and cut off its banks from the international financial system."Iran is a country that has great potential and hasn't been tapped," Sowmya Rajagopalan, an analyst at market researcher Frost & Sullivan in Chennai, India, who estimates the size of Iran's healthcare industry at about $30 billion. "They want to grow economically, to be able to cater to their population, and also to export to African countries and other neighboring countries." Bloomberg
2Satellite photos taken in mid-September and obtained by IHS Jane's show Russian forces developing two additional military facilities near Syria's Mediterranean coast, Rob Munks, editor of IHS Jane's Intelligence Review, said on Tuesday. Munks said the previously undisclosed work was taking place at a weapons storage facility and a military base north of Latakia, suggesting Russia is preparing to place troops at both locations. Russia has been dramatically increasing its forces at an air base south of Latakia, a stronghold of Syrian President Bashar al-Assad, including positioning combat planes and helicopters as well as tanks and accommodation blocks.
3Pentagon officials planning for war with Russia – just in case. "For the first time since the Cold War ended, American officials are preparing contingency plans for war with Russia, Foreign Policy magazine reported Friday.The respected U.S.-based publication quoted current and former Pentagon officials who said the Department of Defense had begun to revisit long-abandoned strategies for armed conflict with the powerful nation. It comes five years after then-Defense Secretary Robert Gates dismissed any need for inclusion of battle with Russia in the Pentagon's long-term defense plan, and months into a heavy arms buildup near Russia's border in Eastern Europe" Chron.com
4Azerbaijan was in the spotlight of OSCE's Human Dimension Implementation Meeting (HDIM) that kicked off Monday, September 21 in Warsaw, Contact.az reports.At the meeting, the official representative of Azerbaijan and a number of NGO leaders characterized the criticism as "biased," citing human rights abuses in Western Europe and the United States. They noted, in particular, the intolerance towards migrants and pressure on journalists.Although European politicians focused on a large-scale refugee influx from the Middle East and Asia to EU, more attention was paid to the human dimension of overriding principles: freedom of expression and freedom of information and the press.
5Astana-2 conference. Representatives of the Syrian opposition will hold a fresh round of consultations in the Kazakh capital, Astana, on October 2-4, a prominent opposition politican said Tuesday. "During a meeting with President Nazarbayev, I asked him about hosting a new round of talks in Astana," Randa Kassis, head of the Movement of the Pluralistic Society, told Sputnik. The conference will be mediated by Kazakh Deputy Foreign Minister Askar Musinov and director of the French Center for Political and Foreign Affairs Fabien Baussart.
6How will Greek election impact Azerbaijan's TAP project ? The second appearance of the radical left party, however, may greatly differ from the first one. In particular, this concerns the economy and energy projects, including the main point of contact between Greece and Azerbaijan. Therefore, the main question arises. What should be expected from the Greek election towards the Azerbaijani energy projects? Maksim Tsurkov – Trend
7Launching the new Women in Business program in Kazakhstan, the EBRD is providing a local currency credit line for women entrepreneurs which will be on-lent via Bank CenterCredit, one of the EBRD's partner banks in Kazakhstan. The 3.7 billion tenge financing package will support female entrepreneurship and participation in the economy by helping women-led small and medium-sized enterprises (SMEs) to access finance, know-how and advice.
8In Turkmenistan and Uzbekistan, the Legacy of Soviet Rule Endures. "Turkmenistan's first president, Saparmurat Niyazov, made the same smooth transition from Communist Party first secretary to president, keeping a tight lid on his country of 5.1 million while cultivating a bizarre cult of personality. Before he died in 2006, he ordered the construction of his own mausoleum, next to a giant mosque, now guarded by the same kind of goose-stepping soldiers who keep watch over Lenin's tomb on Red Square in Moscow" Celestine Bohlen, The New York Times
9Leading international publishing and research firm The Business Year (TBY) has recently appointed Anna Matskevits as CountryManager for The Business Year: Azerbaijan 2016.This annual publication, being developed in collaboration with the Administration of the President of Azerbaijan, aims to highlight the ongoing economic development and showcase the most exciting investment opportunities in the country.The 2016 edition will highlight the growing contribution of Azerbaijan's non-oil sector and the important roles that technology and industry play in the Azerbaijan economy. This special edition of TBY will also be showcasing the Formula One Grand Prix, which will take place in Baku in the summer of 2016. This huge event, coming a year after the success of the 2015 European Games in Baku, will attract racing aficionados from all over the world.
10Azerbaijan is leading the region in fixed broadband Internet, says a report from the International Telecommunication Union. The country is in 52th place among 189 countries in fixed broadband internet, according to the ITU report. The "State of broadband 2015" report, published on September 22, provides data on the telecom industry for 2014. Azerbaijan has improved its position by six points from 2011. ITU said that there are 19.8 Internet connections for every 100 people in Azerbaijan.
UN launches global plan to strengthen protection of internally displaced persons
With multiple crises forcing millions of people away from their homes, United Nations agencies, Governments and partners have launched a set of measures to strengthen protection of internally displaced persons as well as find solutions to address their problems.
"Addressing the protection needs of the forcibly displaced and seeking solutions to their plight contribute to greater stability for countries and whole regions," said Filippo Grandi, the UN High Commissioner for Refugees, in a news release announcing the three-year Plan of Action.
"The consequences of our failure to resolve internal displacement can be devastating," he stressed.
The framework, formally called the Plan of Action for Advancing Prevention, Protection and Solutions for Internally Displaced People (2018-2020), calls on all relevant actors to step up efforts to prevent, respond to and resolve internal displacement.
It also proposes concrete activities to strengthen the participation of internally displaced persons in decisions concerning them, and expand national laws and policies on internal displacement as well as actions to improve data collection and analysis on displacements globally.
By the end of 2016, more than 40 million people were displaced within their own countries due to insecurity or rights violations. An additional 24 million were driven from their homes due to disasters. Every year, an estimated 15 million people are also displaced by development projects.
Bold and ambitious steps needed
Given this complex conundrum, "bold and ambitious" steps are needed, underscored Cecilia Jimenez-Damary, the UN Special Rapporteur on the human rights of internally displaced persons.
"The Plan of Action seeks to galvanize a strategic dialogue, concerted action and adequate resources to address the plight of the internally displaced, while engaging them in the decisions that affect them," added the independent expert.
In the same vein, Mark Lowcock, the UN Under-Secretary-General for Humanitarian Affairs committed that the Organization will continue to work with affected Governments and displaced persons to ensure that their needs are addressed.
Leave no one behind
"The international community has pledged to leave no one behind," stressed Mr. Lowcock, who is also the UN Emergency Relief Coordinator, noting that this promise must extend to all those displaced.
The Plan of Action was drafted under the leadership of the Special Rapporteur, the Office for the Coordination of Humanitarian Affairs (OCHA) and the Office of the UN High Commissioner for Refugees (UNHCR).
Its launch coincides with the 20th anniversary of the Guiding Principles on Internal Displacement, widely accepted as being the global standard for protecting and assisting internally displaced people.
UN Environment designates Chinese idol Wang Junkai as National Goodwill Ambassador
Singer and Actor Wang Junkai, or Karry Wang, best known for his leading role in the box office blockbuster film Miracles of the Namiya General Store and the hit single "KarryOn" was designated as UN Environment Goodwill Ambassador today in a ceremony in Beijing.
In his role as goodwill ambassador, Wang will connect with China's youth on some of the most urgent
environment issues of their generation, including pollution, air quality, wildlife protection, ecosystems, and more.
As a young actor and singer, I greatly appreciate UN Environment giving me this opportunity to be National Goodwill Ambassador. We youth have the responsibility to protect our environment and secure our future, and I am looking forward to learn from and work with the UN family on key environmental issues. Youth are no longer merely onlookers when it comes to environmental action, nor should they be. I will spare no effort to do everything I can to take care of our earth, and I invite everyone to join me in generating a wave of positive action.
It's inspiring to hear a strong and determined voice of Chinese youth on environmental issues. When young people set their mind to change, incredible things can be accomplished," said Erik Solheim, head of UN Environment. "We're very excited to work with Wang Junkai to create even more awareness about environmental issues and, more importantly, the solutions to these challenges."
The 18-year old performer is a superstar of the highest ranks in Asia. Known for his leading role in the film Namiya General Store, top roles in various TV series – among which "Finding Soul" and "Qingyun Zhi " – and solo music career, he has amassed more than 40 million followers on Weibo, the Chinese version of Twitter. Both in China and the rest of South-East Asia, Wang has been one of the leaders of the online conversation on the environment.
In 2016, Wang widely shared the #wildforlife Campaign, reaching 400 million viewers. A year later, he publicly spoke out on the urgent need to protect endangered wildlife, naming them the "superstars of the planet."
Beyond drawing attention to wildlife, he called upon his followers to pledge to reduce their e-waste, with the hashtag #beatpollution. Within 24 hours, his post was retweeted by 1.67 million times and more than 400,000 followers signed the pledges.
New Solar Project to Restore Electricity to Over One Million Yemenis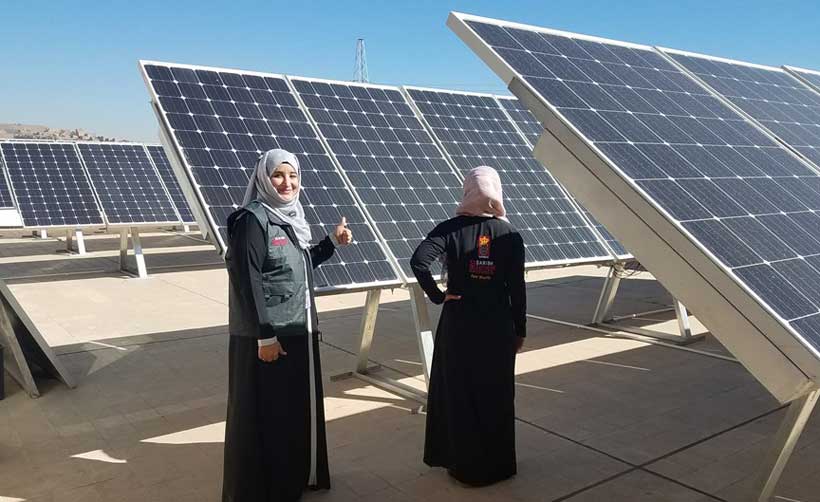 The World Bank announced today a new project to finance off-grid solar systems in Yemen to power vital basic services, and improve access to electricity for vulnerable Yemenis in rural and outlying urban areas.
Funded by a US$50 million grant from IDA, the World Bank's fund for the world's poorest countries, the new project will rely on the commercial solar market, which has grown despite the conflict, providing further support to the local economy and creating jobs.
Solar power has proved to be the most immediate solution for severe energy shortages in Yemen. A booming solar industry has developed driven by the private sector, but the costs have put the technology beyond the reach of public facilities and the most vulnerable populations.
The Yemen Emergency Electricity Access Project will work with the current solar supply chain and the existing network of microfinance institutions, to finance and deliver off-grid solar systems to rural and peri-urban areas. The aim is to restore or improve access to electricity to 1.4 million people, around half of them women. The project will also fund solar power for critical infrastructure, such hospitals, schools, water corporations, and rural electricity providers.
"The lack of electricity in Yemen has had a devastating impact on Yemenis and the provision of services," said Dr. Asad Alam, World Bank Group Country Director for Yemen, Egypt, and Djibouti. "While responding to immediate need, the project will contribute to building a more inclusive and sustainable solar market in Yemen through targeted financing to the private sector which will expand its reach to the poor and vulnerable."
The project will be implemented in partnership with the United Nations Office for Project Services (UNOPS) and in collaboration with the local private sector, including Micro Finance Institutions, solar equipment suppliers and technicians. Working with the Yemeni private sector will help create hundreds of jobs.
"Investing in solar will make Yemen's electricity more resilient, reduce the dependence on fuels for critical service facilities, and create jobs in the private sector," said Joern Torsten Huenteler, World Bank Energy Specialist and Task Team Leader of the project, "What Yemenis need today more than ever is a quick and innovative energy solutions to help ease the crisis."
With this new financing, IDA emergency grants to Yemen issued since July 2016 have totaled US$1.183 billion.
These projects have been prepared – and are being implemented – in partnership with Yemeni institutions and UN organizations such as the United Nations Development Program, the United Nations Children's Fund, the World Health Organization, the United Nations Food and Agriculture Organization, and the United Nations Office for Project Services.