China: Team Players or Team Captains?
As China, projected to be the dominant state of the next century, continues to grow exponentially, many regional and global powers are concerned about China's economic, political and military trajectory.
China's global laundry list does lend to concern: its long history of isolation; 30 years of communist rule under Mao Zedong; relationships with unsavory regimes; policy towards Taiwan; involvement in the Korean War; insistence on clinging to its communist one-party rule; activity in Africa and South America; negative attitudes towards human rights; and isolated incidents like Tiananmen square in 1989 have all contributed to the international community's mistrust of China, making many suspicious about the country's future intentions. While some are not as pessimistic about China's future, the unique relationship between China and the United States has been a source of confusion and quiet discord. Because they are clearly headed in two different directions – despite their economic dependence on one another – many analysts find themselves wondering whether the increasing competition between the two global powers will cause disruption to the current international order. Is Chinese foreign policy really based on an attempt to increase Chinese influence within the international sphere? Is it really an effort to upset the global balance?
From a realist perspective, China's foreign policy is based on three assumptions about how the world works: survival in a competitive and anarchist environment; acquiring and safeguarding its own self-interests at any cost; and ensuring it has the necessary control and resources it needs to maintain the appropriate balance of power. To remain relevant on the world stage, China has departed from its traditional foreign policy of isolation and self-imposed alienation to one that has allowed itself to adapt to the modern world, transform economically into a prosperous and industrious society, and ultimately, emerge as an elite global power.
China's newest incarnation of foreign policy was first introduced in 2005 and is built around an idea dubbed "harmonious world" by former President Hu Jintao. The idea behind this new policy is about lasting peace and common prosperity in a world where "all civilizations should coexist and accommodate each other." Chinese leaders expressed the desire to "close the wealth divide and ease growing social tensions," both internationally and domestically, by implementing four distinct features: embracing multilateralism, economic cooperation, preserving diversity through equality and democracy, and reforming the UN in a rational way when necessary. China, however, has not yet matched these lofty ideals with explicit courses of action.
China's leaders have claimed they believe it is morally wrong to interfere with the domestic affairs of another sovereign country, that interventions are historically unsuccessful, and that it is in no position to criticize others because, domestically, it is similar to many other "developing" countries. Militarily, China appears to be more concerned about keeping the "barbarians" out rather than encroaching on the territory of others, South China Sea controversy notwithstanding. This theory does have some merit because China indeed lives in a rough global neighborhood. In any case, Beijing is no doubt aware that these practices are causing friction between China and the United States. However, its need to sustain a rapidly growing economy and maintain rising standards of living for its immense population – by obtaining precious resources like oil, metals, and water – may be the most powerful driver behind China's foreign policy than anything else.
China still embraces the Marxist/Leninist model of authoritarian rule and the Chinese Communist Party (CCP) is the only political party allowed within China. Its authority is basically unchallenged. Even though China has abandoned the formal socialist economy so characteristic of old communist societies and has embraced a "controlled" Western-style system of capitalism, China's government has made it clear that any organized challenge to its one-party rule will not be tolerated. While many Chinese people are experiencing a new degree of personal, economic, cultural, and intellectual freedom, it is understood – to the concern of the United States – that these new freedoms are contingent on whether the party's jurisdiction and power remains unchallenged.
Perhaps China's leaders are motivated to reform their foreign policy in an effort to reclaim what they view as their rightful place among world powers, a position that slipped precipitously during Mao's reign. Maybe the harmonious world foreign policy is an attempt to appeal to the United States and other international actors and to prove it has no intention of challenging the existing U.S.-centric international system. Perhaps the constant threat of economic sanctions serves as a reminder that China is vulnerable due to its reliance upon the markets of more advanced countries. It may be the case that the country fears a resurrection of an American containment policy. Despite all of these plausible perspectives, it is more than likely that Chinese foreign policy is heavily shaped by its concern that it is not yet a true global power, much less a global leader. This is self-imposed inferiority concern seems to hold great sway within influential corridors in Beijing.
While the United States does, at times, express anxiety about China's future intentions, it no longer regards China as a bitter enemy. Since the Cold War the two have become close trading partners and have become dependent on one another economically. Despite these economic, military and political ties the two countries share, the United States simultaneously holds deep reservations about China's relentless economic growth which is partly fueled by China's economic espionage activities and theft of intellectual property. Paradoxically, despite fears that China might one day become a more aggressive and expansionist international player, the United States finds itself frustrated with China's unwillingness to become a more "responsible stakeholder" in the international community. It is not so much, therefore, that America does not want an active China on the global stage so much as one that listens to the directing of the United States as concerns the entire play.
China's distrust of these paradoxical American attitudes stems from the viewpoint that the United States is often defined by the terms containment and double standards. It is a widely-held belief among the Chinese that the U.S. wants to weaken China by obstructing its economic and military development and that it plays by two differing sets of rules. They feel America fails to live up to its own standards by promoting 'interventionist democratization' abroad, continues the war on terror, and critiques human rights conditions in other states. Needless to say, this apprehension creates an unclear partnership that is expected to continue deep into the future. History tells us that as a state increases in power and influence, the temptation to expand its dominion in order to modify the international system in accordance with its own set of interests becomes irresistible. Certainly, China has the potential to use its wealth, military assets, and sheer manpower to become the next global colossus. It is only natural the current global colossus might take issue with this.
While it remains highly unlikely that China will use its vast reserves to flood world markets, call in the many loans in which it has invested, or decide to stop financing American debt, the fact that the international community has to even worry about this possibility is highly disconcerting. While it is not yet clear in what direction China's leadership wishes to move, those in favor of the so-called 'Pax Americana' can for now take a collective sigh of relief: while China focuses on its own domestic growth and stability, the status quo shall continue to rule.
Russia and the end of North Korea's Tong-mi bong-nam strategy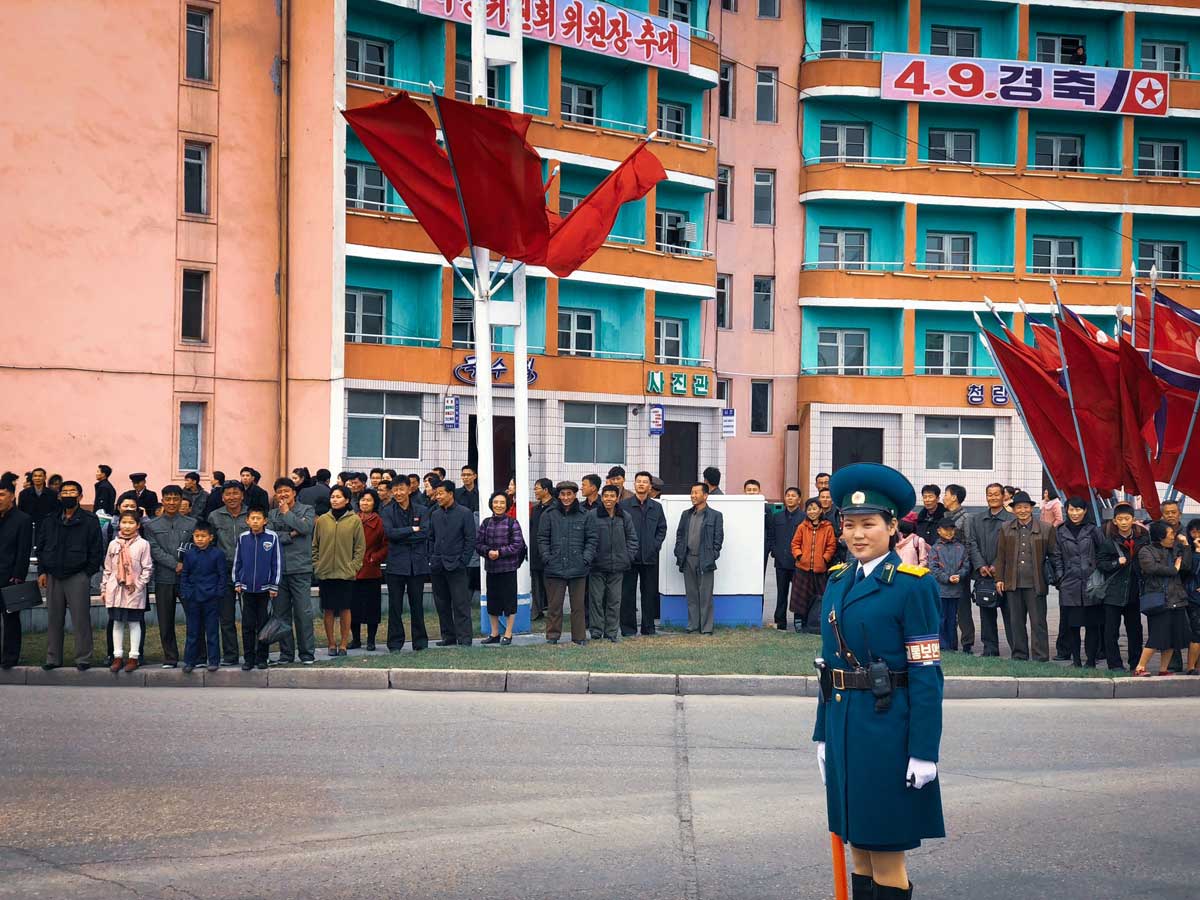 North Korea's decades old strategy of 'Tong-mi bong-nam' (Engage the United States, Block South Korea) and its rare variant ( 'Tong-nam bong-mi' or Engage South Korea, Block the US) of breaking the Washington-Seoul axis by alternatively cooperating with one in order to isolate the other so as to manoeuvre its way through it has seen a shift recently as Pyongyang moves closer to Russia.
Tensions have been high on the Korean Peninsula since the election of the conservative President Yoon Seok-youl, who has adopted a "Kill Chain" strategy to preemptively target the Kim regime in the face of an imminent nuclear threat. Cooperation has been restricted to calls for reunion of families across the border along with disarmament linked "audacious" economic aid in order to denuclearise Pyongyang, which stands at the cusp of its worst economic crisis post the pandemic. However, surprisingly, North Korea has not only rejected the offer but has declared itself a nuclear state by adopting a law which rules out the possibility of denuclearisation by allowing Pyongyang to conduct preemptive strikes to protect itself. With a possible nuclear test on the cards, the Russian hand behind such bold moves cannot be overlooked.
Moscow's invasion of Ukraine has emboldened North Korea in more ways than one: it has not only challenged the invincibility of the Western powers whom Pyongyang defines as "hostile" but has also created demands for North Korean weaponry for a sanction pressed Russia to continue the war, promising to fill Pyongyang's coffers with much needed foreign reserves. While North Korea has denied these claims, its increased proximity with Moscow is too conspicuous to gloss over. The most significant consequence however has been a change in North Korea's policy towards Seoul and Washington.
Efficiently using it to challenge Seoul's participation in any peace negotiations since the Korean Armistice Agreement of 1953, the strategy of Tong-mi bong-nam was employed again in 1994 when faced with recurrent famines and massive food shortages, Pyongyang agreed to denuclearise under the Agreed Framework and eventually normalise its relationship with the US. The idea was to extract economic aid while isolating Seoul after tensions soared over the latter not sending official condolences on Kim il-Sung's death.
The strategy was reversed in South's favour when relations with Washington soured after it imposed a fresh series of sanctions against Pyongyang's nuclear proliferation programme in April 1998 and North Korea positively responded to Kim Dae-Jung's Sunshine Policy which resulted in the historic June 15 summit of 2000, where the the leaders of the two Koreas met for the first time post the division in 1945. President Bush's "Axis of Evil" comment further worsened US-North Korean ties which led Pyongyang to not only break off contacts with both the US and South Korea but also withdraw from the NPT in January 2003. Although South Korean efforts and North Korea's mounting economic crisis succeeded in bringing Pyongyang to the Six Party Talks where Seoul argued that North's security concerns be taken into account before pushing for denuclearisation, Washington's rigid stance that North Korea denuclearises first resulted in a stalemate. Pyongyang conducted its first nuclear test in 2006 inviting more stringent sanctions and eventually withdrew from the Six Party talks in 2009. After successive conservative governments which favoured a hard stance towards North Korea virtually stalled negotiations, President Moon Jae-in's friendly approach resulted in a major breakthrough in Inter-Korean relations in the form of the 2018 Panmunjom Declaration which called for phased disarmament, at a time when Pyongyang's economy was at its lowest in the past two decades and tensions with the Trump administration soared high. The breakdown of the 2019 Hanoi Summit between North Korea and the US finally ended cooperation.
The above cases illustrate how efficiently North Korea has used Tong-mi bong-nam as a manoeuvring tool where negotiations were undertaken only during times of economic crisis while nuclear proliferation continued to remain a priority to achieve reunification of the peninsula in a way favourable to Pyongyang. Moreover, Kim Jong-un has learnt from the case of Gadaffi's Libya that engaging the West in denuclearisation would only provide limited respite while possession of nuclear weapons not only creates a strong deterrence against attacks by much powerful adversaries but also fuels nuclear nationalism thus reproducing regime legitimacy even at its weakest moments. Hence, he has nipped all chances of achieving complete denuclearisation in the bud. While China has so far played a major role in moderating Pyongyang's aggression by prioritising regional stability considering its own geopolitical and economic interests over countering the US; Russia's bold violation of UNSC sanctions by not only trading with Pyongyang but also demonstrating active interest in employing North Korean workers and labelling the bilateral relationship as being of "mutual interest" speaks volumes about the greater latitude it is willing to provide its anti-American ally in pressing forward with its agenda.
Though Tong-mi bong-nam has served North Korea's interests by aiding it in extracting economic benefits while dodging commitments over complete denuclearisation, it has simultaneously acted as the only window for Seoul and Washington to negotiate with Pyongyang. As its raison d'être, namely North's economic and diplomatic isolation, wanes with Moscow's support; the hope for denuclearisation might be lost forever specifically as the US and South Korea continue to seek "overwhelming" military response to resolve the crisis which might lead to unimaginably dangerous consequences. The need of the hour is to multilaterally engage with both Russia and North Korea on disarmament and lift sanctions in a phased manner while ensuring that the two abide by their commitments.
The SCO seeks for a new role in the post-Ukrainian crisis world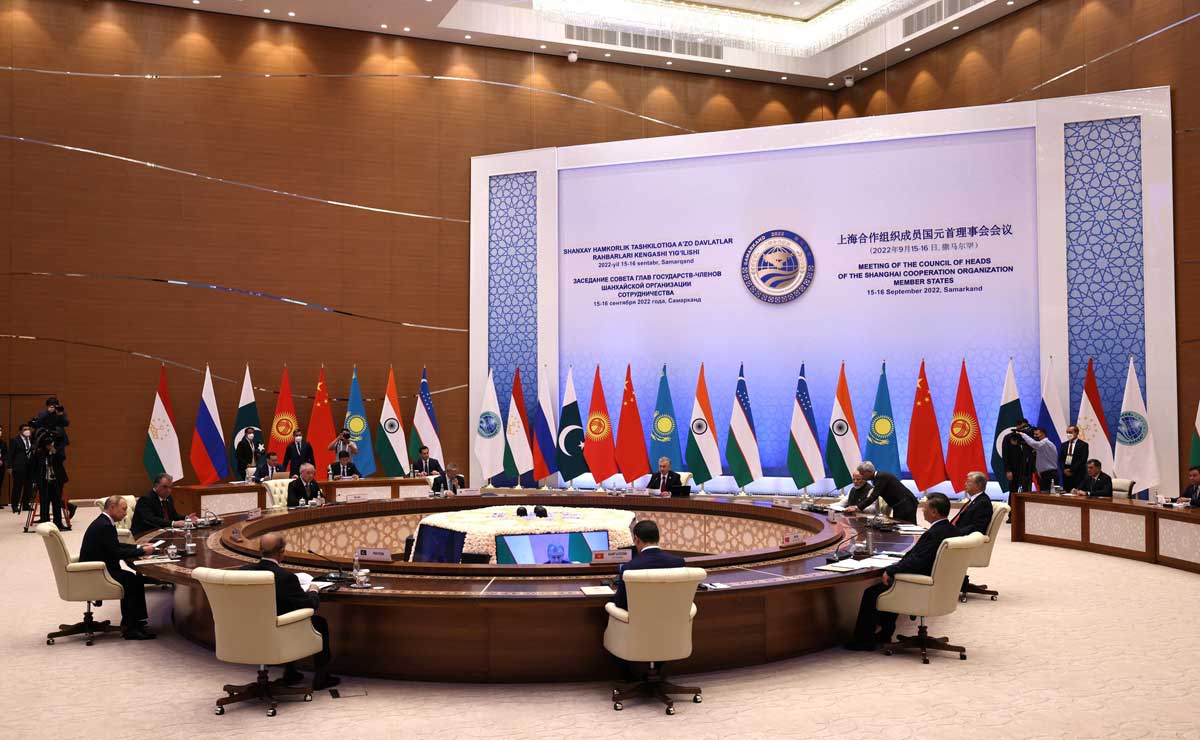 During the Samarkand summit which was held during September 15-16, the Council of Heads of State of the Shanghai Cooperation Organization (SCO) signed the landmark Samarkand Declaration, advanced Iran's accession, start the process for Belarus to become a full member, while approving Bahrain, Maldives, Kuwait, the United Arab Emirates and Myanmar as dialogue partners. Additionally, the SCO issued groundbreaking statements and documents, marking the first time that member states have jointly spoken out on emerging issues, such as climate change, supply chain security and international energy security. All of these progresses verify that the SCO has come of the age over the past two decades. There is no question that the SCO is now the largest regional cooperation organization in the world. Over half of the world's population lives in its member states, accounting for about 25% of the global GDP—and those states have a powerful intellectual and technological potential and a considerable part of the global natural resources.
As one of the two leading drivers of the SCO, Russia has played the tremendous role in its development and solidarity of all member states in principle and in reality as well. This year, despite the Ukrainian war drags on for over 200 days, Russia still acted influentially to promote Iran's "earliest possible accession" to the SCO legally and Belarus's beginning the accession process. As President Putin said during the summit, "There are many more countries that seek membership in or association with the SCO. All are welcomed because the SCO is a "non-bloc association and rather working with the whole world." It is also true that in a very complicated international situation, the SCO is not "marking time," but rather continuing to develop and build its role in addressing international and regional issues—maintaining peace and stability "throughout the vast Eurasian space."
Echoing the coming changes in global politics and the economy which are about to undergo fundamental and irreversible changes, it is obvious that there are new "centers of power" emerging, and the interaction among them is inclusively based on universally recognized principles of the rule of international law and the UN Charter, namely, equal and indivisible security and respect for each other's sovereignty, national values and interests. Given this, this article aims to argue what role the SCO would be able to play in the next twenty years?
The SCO holds tremendous potential for the future of international community and particularly in the fields of ensuring energy security and food security. Accordingly, the latest joint statement proposes to avoid excessive fluctuations in the prices of international bulk commodities in the energy sector, ensure the safety and stability of international food and energy resources' transportation channels, and to smooth the international production and supply chain. To insure these ends, the statement also underlines adherence to the principle of technology neutrality as it is the key to encourage the research and application of various clean and low-carbon energy technologies. Given this, the Samarkand summit is a milestone both in the development of the SCO and building of a SCO community with shared future. Accordingly, the SCO will adhere to the principle of not targeting third parties as the Final Declaration states that the SCO seeks to ensure peace, security and stability. In reality, SCO members intend to jointly further develop cooperation in politics and security, trade, economy, finance and investments, cultural and humanitarian relations "in order to build a peaceful, safe, prosperous and environmentally friendly planet Earth."
In the overall terms, China has played the significant role in joint promoting of the SCO as Russia admitted that in unison with the Chinese side, the existence of a unipolar world is impossible. Moscow and Beijing have agreed that it's an impossible situation when the wealthy West is claiming the right to invent rules in economy, in politics and the right to impose its will on other countries. The foundation of the unipolar system has started to seriously creak and wobble. A new reality is emerging. Now it is more apparent that the obsolete unipolar model is being superseded by a new world order based on the fundamental principles of justice, equality, and the recognition of the right of each nation and state to its sovereign path of development. Put it more precisely, strong political and economic centers acting as a driving force of this irreversible process are being shaped in the Asia Pacific region.
Echoing the consensus among the SCO member states and their partners in the Eurasian domain, President Xi spoke at the summit that the successful experience of the SCO has been based on political trust, win-win cooperation, equality between nations, openness and inclusiveness, and equity and justice. They are not only the source of strength for the development of the SCO but also the fundamental guide that must be followed strictly in the years to come. Given that under the volatile world, the SCO, as an important constructive force in international and regional affairs, should keep itself well-positioned in the face of changing international dynamics, constantly enhance strategic independence, consolidate and deepen solidarity and cooperation, and build a closer SCO community with a shared future.
More specifically, China has not only presented the Global Development Initiative and the Global Security Initiative, but also carried out the initiatives with real actions. In addition, the SCO greets the new round of the largest expansion of the SCO membership has consolidated its status and influence as the most populous regional cooperation organization with the vastest territory in the world. The expansion fully demonstrates that the SCO is not a closed and exclusive "small clique" but an open, inclusive "big family". As a new type of international organization comprising 26 countries, the SCO is increasingly showing strong vitality and bright prospects for development including that it will inject new impetus into peace and prosperity in Eurasia and beyond and play an exemplary role in building a new type of international relations and a community with a shared future for mankind.
In sum, the SCO has gained greater significance with the outbreak of hostilities in Ukraine, where an economically weaker Russia is turning to East in general and China in particular as Beijing and Moscow vow to be a partner with no limits and leading coordination over the SCO. In addition, the comprehensive strategic partnership of China and Russia covers a bilateral agenda, multilateral trade and economic cooperation and shared security concerns of all concerned. In the face of outrageous Western sanctions, the SCO demonstrates stability, continues to develop progressively, and gains momentum. China is sure to play the constructive role of promoting their business to the global level, including strengthening the basis of economic cooperation among SCO member states, allowing the launch of free economic zones, and implementing large-scale infrastructure projects globally.
Factionalism in the Chinese Communist Party: From Mao to Now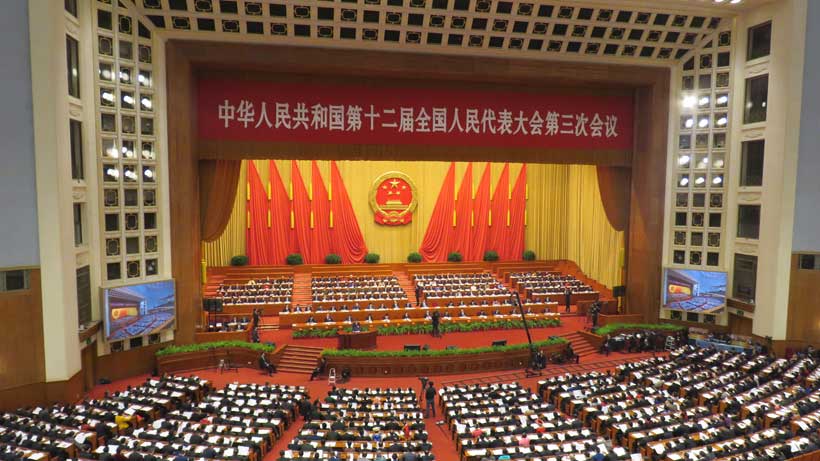 With the crucial 20th National Congress of the Chinese Communist Party (CCP) set to commence on October 16, here's a look at the different factions that have historically existed within the Party, otherwise considered a highly centralised and monolithic organisation.
Democratic Centralism
Described by Lenin as "freedom of discussion, unity of action", Democratic Centralism is a Marxist-Leninist theoretical concept which attempts to strike a balance between inner Party democracy and organisational unity as an assurance that decisions could be efficiently made without stifling ideological struggles within the Party which emerge in the form of dissent. It was first specifically adopted as the organising principle of a Marxist party in the Soviet Union by both Bolshevik and Menshevik factions of the Russian Social Democratic Labour Party (RSDLP) at their separate conferences in 1905 and was unanimously adopted at the Party Unity Congress in 1906. Initially seen to be compatible with the existence of factions, a more rigid idea of Democratic Centralism was adopted at the 10th Party Congress in 1921 when all factions were outlawed in the name of Party unity. While the intention was not to wipe out the democratic discourse altogether, 'monolithic unity' vertically imposed by the late 1920s supplanted all free debate.
The Communist Party of the Soviet Union (CPSU) at its 17th Congress in 1934 defined the four cardinal points of Democratic Centralism as follows:
election of all leading bodies of the Party; their periodic accountability to their respective organisations; strict party discipline & the subordination of the minority to the majority and decisions of higher bodies to be absolutely binding on lower bodies and on party members.
In other words, free debate and discussion would be allowed to exist within the ranks of the Party till a decision is taken by the higher body after which it must be faithfully followed and implemented by all lower ranks in the name of Party discipline without any collective attempts to block the decision. Factionalism thus, came to be seen as a serious offense of sabotaging Party unity. The Third Communist International (1919-43) called for Democratic Centralism to be strictly implemented by all fellow Communist parties across the world which continued even after its dissolution in 1943.
The Chinese Communist Party, through the slogan 'Centralism based on Democracy and Democracy Under Centralist Guidance' (《民主基础上的集中,集中知道下的民主》), describes its role as focused on the inclusion of popular opinion which is considered extremely important not just for the successful implementation of its policies but also as the raison d'être of its rule however concurrently, it considers them too vague to be implemented as they exist. The CCP thus sees itself as the central sieve through which mass opinions would be filtered off their vagueness and effective policies could be formulated as it is considered to be in best possession of both the knowledge of Marxism-Leninism and interests of the masses. Party cadres would go to the masses and raise their demands at the Party meetings followed by a debate, also known as the Mass Line approach. Once the decision is taken, there would be no further discussion and the cadres would faithfully implement the policies among the populace with iron discipline.
After a brief period of decentralisation post the 1978 Reform and Opening up, Centralism was reintroduced following the Tiananmen Square Movement of 1989 and more so after the fall of the USSR in 1991 in order to avert a possible legitimacy crisis. Since then streams of Centralism and Democracy have alternatively dominated leadership views. In his speech at the 17th Party Congress, Hu Jintao emphasised on the need to strengthen intra Party democracy as a part of Democratic Centralism. In contrast, Xi Jinping in 2016 emphasised on the need to integrate centralisation on a democratic basis while urging the members to display "pure and utmost" loyalty to the Party.
Guanxi (关系)
Though Articles 3(5) and 10 of the CCP Constitution prohibit factionalism within the Party in the name of Democratic Centralism, interest groups nevertheless exist through informal networks based on personal ties called Guanxi (关系). Guanxi has its roots in the Confucian tradition which emphasises on the feeling of belongingness among members of a family or an organisation. Such a nexus functions in a reciprocal way where the followers look for career security and advancement under the protection of a senior leader who ensures their interests are served in the upper rungs in exchange for their support, for instance, Hu Jintao was known to have led a group of his comrades from his Communist Youth League (CYL) days called Tuanpai (团派) in his entourage. While in itself testifying the presence of factionalism, this relationship often results in emergence of factions due to its unstable nature. All chosen successors to the General Secretary in the Party's history have been purged by their own patrons (Mao and Deng) with the sole exception of Deng Xiaoping's protégé, Jiang Zemin. Inconsistent leadership decision making, with opinions swinging between "Left adventurism" and "Right opportunism" under Mao and "Emancipation of Mind" and "Socialist Spiritual Civilisation" under Deng too has given rise to interest groups within the Party.
Other features of China's political system which give rise to factionalism include power entrusted to individual leaders in a hierarchical context; the monopoly of the Communist Party over all legal channels of expression of diverse interests; absence of a formal structure of decision making and interference of the military in politics.
Factions at a glance
The origins of Guanxi networks can be traced back to Shantou (山头)or "mountain top" alliances which date back to the Party's early days. Facing a hostile Nationalist Party (国民党) and Japanese forces, the CCP was nurtured in independent and isolated rural basecamps which were often located in rugged hilly terrain. Thus, each Shantou became a locus of its leader's power. The hostile and dangerous conditions necessitated a close bond between leaders and their followers which fragmented member's loyalty towards the CCP as a Party as the primary allegiance was paid to the leader and not to the organisation.
Though Mao in his On Contradiction (1937) defined intra Party differences and discussions as a symbol of its vitality and liveliness, he was very strict about expression of dissent outside the Party apparatus which was seen as an attempt to break away from the Party and resulted almost always in purges. Even as Mao successfully established his line of thought as the single ideological core of the Party during the Yenan Rectification Campaign of 1942, ground realities built conditions for the existence of factions which continued as external channels of communication among political associates, outlets of their diverse interests and command system of their forces. Informal Factionalism continued to drive the Party's inner politics even after the victory in the Civil War in 1949. While Mao could establish himself as the Chairman, his sole legitimacy to rule still faced challenges since all his associates had comparable experience and contribution to enlist. As a result, though working under Mao, leaders such as Zhou Enlai and Peng Dehuai continued to remain influential in a system where they were not expected to do so. Cautious of not upsetting Mao,these leaders often collaborated amongst themselves to weather any crisis which Mao read as a threat to his own power and hence, he launched the Cultural Revolution (1966-1976) as an anti-organisation movement so as to tie all strands of loyalty to himself and not the Party where other leaders still exercised influence.
Interestingly, a penchant for a similar policy did not always translate into unity among members, the classic example being the fallout between Liu Shaoqi and Mao Zedong who did not just share policy preferences on most issues but had also joined the Party at the same time and worked together. Similarly, both Lin Biao and the Gang of Four (四人帮) were on the same page in the trajectory of the revolution but it was the power struggle amongst them which ultimately led to Lin's fall. During Deng's regime, Chen Yun and Peng Zhen's shared conservativeness did not prevent Chen from blocking Peng's path to the Politburo Standing Committee. Both Hu Yaobang and Zhao Ziyang were reform minded but Zhao held his silence when Hu was ousted. Similarly, it was on the basis of personal networks that Deng Xiaoping and Chen Yun remained the most powerful leaders throughout their lives without holding any official position.
The economic reforms of the post Mao period further split internal unity into those who continued to stick with the Maoist line, demanding strict obedience to the socialist model of development and those who believed in inching closer to an open, market oriented economy. Economic interests thus play a major role in guiding factionalism, with the emergence of a 'Petroleum faction' within the CCP of those associated with the crude oil industry being a noticeable example.
Common political origins have also formed a ground for development of factions. Like Hu's Tuanpai, Jiang Zemin was known to promote those who had worked for him previously in the Shanghai administration which led to the rise of a "Shanghai Clique" when he ascended the top position. Xi is similarly known to be leading a "Fujian Clique" as his ascension to power was soon followed by the promotion of his former associates Wang Xiaohong and Deng Weiping to senior positions. He has also promoted his protégés from his home province of Shaanxi. Xi is not only known to secure the interests of "Princelings" (太子党 or children of high ranking Communist leaders as himself) but to also further promote a "Tsinghua Faction" of his alma mater which is known to have existed since 2008 when 1 of the 7 members of the Politburo Standing Committee and 3 of the 25 members of the Politburo were alumni of the prestigious Tsinghua University. Xi Jinping has also actively promoted leaders such as Ma Xingrui and Zhang Qingwei from the Defense-Aerospace industry (军工航天系) to top civilian positions. Perhaps the starkest episode of factionalism within the CCP was the fall of Bo Xilai, Xi's contender to the position of the General Secretary in 2012, which not just revealed the fault lines within the Party but also brought into question the fragmented loyalty of the military as many senior PLA officers closely associated with Bo such as Zhou Yongkang were found to have actively aided him in securing the most coveted position and were later tried and arrested for charges of corruption and abuse of power.
With speculations high that Xi is likely to evade the "seven up, eight down" (七上,八下) rule which restricts reappointments of senior leaders above the age of 68 and the retirement of Li Keqiang as the Premier, groups such as the CYL faction are likely to be further marginalised while the prominence of those close to Xi Jinping is bound to prevail at the upcoming Party Congress which might result in the likely promotion of leaders like Chen Min'er and Ding Xuexiang.
Factionalism within the CCP does not just stand as the testimony of the dynamics in Chinese politics but also provides a window into the otherwise opaque world of its functioning.