Russia begins military operations in Syria
Welcome to the Caspian Daily, where you will find the 10 most important things you need to know on Caspian Sea Region. We appreciate ideas, reports, news and interesting articles. Send along to Caspian[at]moderndiplomacy.eu or on Twitter: @DGiannakopoulos
1Russia has begun its first military operations in Syria, and poured in 28 fighter jets as it becomes more deeply involved in the conflict, US officials say. The officials said 12 fighter jets and 12 close support aircraft had arrived in recent days in a Syrian air base in Latakia, where four jets were stationed last week. Also, Russian drones had started surveillance flights. Earlier, Novaya Gazeta, had reported that Moscow might launch "demonstrative" strikes in support of Bashar al-Assad's embattled Syrian government in the coming days, before President Vladimir Putin is due to speak to the United Nations general assembly next week.
2A large plant for producing liquid fuel from natural gas (GTL) will be constructed in Derweze district of Turkmenistan's Ahal province.The new plant will process 3.5 billion cubic meters of natural gas and produce 1.691 million tons of liquid fuel per year. During a government meeting, Turkmenistan's President Gurbanguly Berdimuhammadov pointed out that creating such enterprises is a key vector of further diversification of the country's fuel and energy industry.
3Russia says it is ready for more talks with Japan on a long-delayed peace treaty, but there is no room for compromise over the two countries' territorial dispute. Foreign Minister Sergei Lavrov made the comments after talks with his Japanese counterpart, Fumio Kishida, in Moscow on September 21.A dispute over the Kuril Islands, which Russia seized from Japan at the end of World War II, has strained ties and has kept the two countries from signing a peace treaty."On our agenda is reaching the peace deal," Lavrov said. "Moving forward on this issue is possible only after we see clearly Japan's recognition of historical realities."The two ministers agreed to hold bilateral consultations on a peace treaty next month.They also discussed a long-delayed visit by President Vladimir Putin to Japan.Lavrov said the Kremlin had accepted the invitation, but that the specific date was up to Tokyo.
4All relevant measures were taken for holding democratic, fair and transparent elections in Azerbaijan, and all conditions were created for observation missions that will monitor the upcoming parliamentary elections in the country. Speaker of the Azerbaijani Parliament Ogtay Asadov made the remarks at a meeting with the members of the PACE ad hoc committee on election observation, AZERTAC reported. Head of the PACE delegation Jordi Xuclà said that during the visit they held several meetings and assessed the pre-election situation in Azerbaijan.
5Standard & Poor's Ratings Services lowered its long-term corporate ratings on Kazakhstan's national railroad company, Kazakhstan Temir Zholy (KTZ), and its core subsidiary, freight-wagon owner JSC Kaztemirtrans (KTT), to 'BB+' from 'BBB-'. The outlook is negative, Standard & Poor's said. At the same time, Standard & Poor's lowered our rating on KTZ's senior unsecured bonds, including those issued by its financing subsidiary, Kazakhstan Temir Zholy Finance B.V., to 'BB+' from 'BBB-'. "The downgrade primarily reflects our expectation that KTZ's adjusted debt to EBITDA will increase to more than 5x by year-end 2015 and will not improve to a level we consider commensurate with a higher rating in 2016," the statement said.
6President of Turkmenistan Gurbanguly Berdimuhammadov will be on a working visit in New York Sept. 24-27 to take part in the 70th session of the UN General Assembly. A summit on sustainable development objectives for the period after 2015 will be held in New York as part of the jubilee session of the UN General Assembly. It is expected that the Turkmen leader will announce initiatives of the country aimed at optimizing the fruitful international cooperation and ensuring peace, security and progress.
7Kazakhstan's Oil Dependence Jeopardizes Domestic Stability. On August 20, the National Bank of Kazakhstan (NBK) came forward with a surprise announcement. The central bank's chairman, Kairat Kelimbetov, made official the immediate shift to a floating exchange rate of the tenge, the national currency. Jamestown
8What's Next For Iran? 5 Possible Futures, From Disaster To Hope. "Is the Iranian nuclear deal just a nuclear deal? Is it something bigger that will transform Iran and the broader Middle East? Or is it a slow-motion nightmare? Nobody can know today, of course — and yet it's important to game out the possibilities. What you think of this deal, with terms lasting a decade or more, depends heavily on what scenarios you think are most likely in the future" Steve Inskeep NPR
9Azerbaijan forecasts oil price for next four years at $50, APA reports quoting 2016 state budget package of Azerbaijan. According to the document, the base price of oil in 2016-2019 will make $50. Taking into account the forecasts of international financial organizations and instability in oil price, the sale price of crude oil in the state and consolidated budgets makes $50 a barrel.
10Developing relations between Azerbaijan and Indonesia was mulled as Azerbaijan`s Minister of Energy Natig Aliyev has met director general of oil and gas at the Energy and Mineral Resources Ministry Gusti Nyoman Wiratmaja. Aliyev stressed the role of such meetings in deepening cooperation. Speaking about the historical importance of "Contract of the Century" signed in 1994, the minister said cooperation for Azerbaijan which has great experience in oil refining field with Indonesia in energy sphere had wide opportunities. The meeting also focused on discussion of successful relations between State Oil Company of Azerbaijan and Indonesian state-owned oil and natural gas Corporation Pertamina.
Poland must make urgent legislative reforms to combat foreign bribery
Poland must make urgent progress on carrying out key recommendations of the OECD Working Group on Bribery that remain unimplemented, more than four years after its Phase 3 evaluation in June 2013.
Poland still needs to take urgent steps to ensure companies can be held responsible for foreign bribery, even if the persons who perpetrated the offence are not convicted. In addition, Poland must increase the fines for companies in order to ensure foreign bribery is punishable by effective, proportionate, and dissuasive sanctions.
The Working Group is disappointed by Poland's failure to take measures to ensure that the "impunity" provision in the Penal Code that applies to foreign and domestic bribery cannot be applied to the bribery of foreign public officials. This provision allows perpetrators of bribery to automatically escape punishment by notifying the law enforcement authorities of the offence before the authorities learn about it from other sources.
In the context of ongoing reforms, Poland should also ensure that appropriate measures are in place to protect from retaliatory or disciplinary action private and public sector employees who report suspected acts of foreign bribery in good faith and on reasonable grounds.
The Working Group reviewed a report submitted by Poland on its progress in implementing these outstanding recommendations at its plenary meeting on 13-15 March 2018. The Working Group requested that Poland provide a written report on further progress in addressing these concerns in December 2018, at which time the Group will consider additional measures in the absence of significant progress.
Solving the e-waste problem in Latin America
The United Nations Industrial Development Organization (UNIDO), the Ministry of Environment of Ecuador (MAE) and the Global Environment Facility (GEF), have officially presented a project which will provide policy advice to 13 Latin American countries to help them solve the e-waste problem in the region.
The initiative addresses the proper disposal and recycling of electrical and electronic waste by adopting a circular economy approach  in Argentina, Bolivia, Chile, Costa Rica, Ecuador, El Salvador, Guatemala, Honduras, Nicaragua, Panama, Peru, Uruguay and Venezuela.
The inauguration was attended by Ecuador's Minister of Environment, Tarsicio Granizo,  UNIDO's Director of Environment, Stephan Sicars,   representatives of national authorities, and ambassadors and representatives of the 13 countries participating in the project.
Sicars pointed out that there are still many challenges that remain for e-waste recycling. "The policies have to be, not only suitable for each individual country, but also sufficiently harmonious to prevent unnecessary, as well as ensuring protection of human health in recycling activities and safeguarding the environment from toxic releases
Meanwhile Granizo emphasized the need to reduce the production of waste and added that "it is necessary to promote national and regional policies that allow community work to be able to deal with the adequate management of electrical and electronic waste, which present a challenge that cannot be addressed only from the national level".
This initiative will start on 5 June 2018 and will last for five years. During its execution, US$$ 9.5m will be invested, assisting the 13 participating countries both technically and financially, and providing advice on policies, business, legislation, technology and awareness-raising.
IsDB Prize for Women's Contribution to Development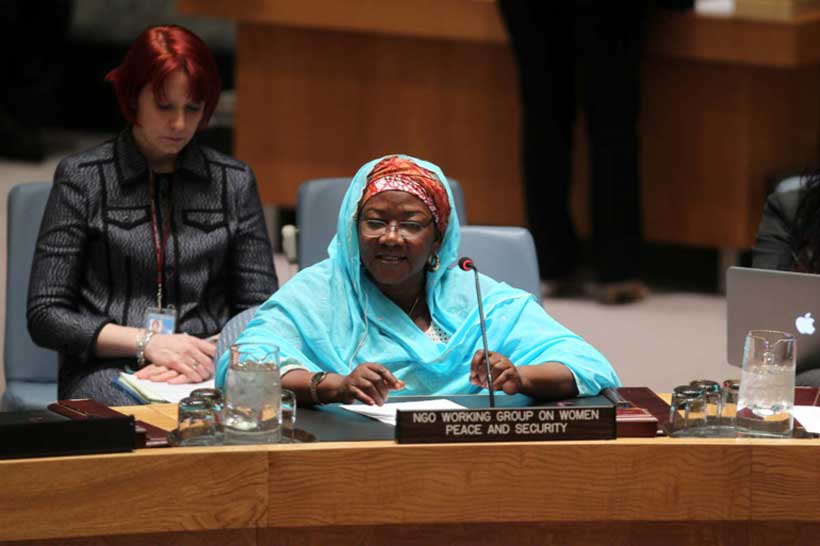 The Islamic Development Bank (IsDB) has announced the winners of the 13th edition of IsDB Prize on Women's Contribution to Development.
Mrs. Hamsatu Nashe Alamin, founder of the Network of Civil Society Organisations for Peace in Borno and Yobe, Northeastern Nigeria, and Mrs. Rehma Kasule, founder of Century Entrepreneurship Development Agency (CEDA) in Uganda are the winners of the Prize for the individual category. Each winner will receive US$25000 to support their community work.
A Togo based NGO, (Groupe de réflexion et d'action, Femme, Démocratie et Développement) won the organization category award. The NGO will receive US $100,000 to support its activities. The award will be given in Tunis during the Annual Meeting of the IsDB Group Board of Governors from 1st to5th April 2018.
According to IsDB President, Dr. Bandar Hajjar, "I am confident that this prize will energize the winners to continue working hard in order to change lives in their communities. Building partnership with NGOs and civil society organizations is one of the pillars of the President's 5-year program (P5P)."
"I am humbled that the little l am doing for the voiceless communities of North Eastern Nigeria is being independently, and in a transparent international manner, identified, recognized and rewarded by this esteemed Islamic financial institution." Mrs. Alamin stated.
She added that "this is indeed an eye opener for Muslim women, and particularly those of us living in conflict ridden and marginalized worlds to come out and play our part, for the reward now is right here at our doorsteps; for me, this is just the beginning."
Speaking on the award, Mrs.  Kasule stated: "This award is a symbol of the blessings that I receive for the sacrifices to make the world a better place. This Award is not for me, it is for the dedicated youth ambassadors and mentors,  and  the  young  women  in  post-conflict communities  that keep dreaming despite the challenges that surround them."
"I will use the prize to produce peace edutainment messages and strengthen interreligious dialogue in schools. I am more energized to take up bold and innovative steps to promote peace education for the youth. I thank IsDB for this honour." She concluded.