Session with the Psychologist
I plunge into the sudden glare of fury, hysteria and trepidation. There is a primal scream inside each of my hypomanic brain cells.
The afternoon of the mind drifts into view. The adult me, and I fly out into silence and my mother's perfume. She is hip and elegant like the handsome tigers at the zoo. She is smart. Way too smart to love me with her golden attempts of cooking for three. She could have left long ago, instead, she stayed. I call that mother love. I say to my reflection. I am a collection of language, of translations, of 'the incident', the attempted suicide and a collection of relapses and recoveries in hospitals all over South Africa. Tara, Garden City Clinic, Hunterscraig, and Helen Joseph. Only the best for a rest.
Trauma. I have a different kind of trauma than anybody else in this world. I have a different kind of oxygen than anybody else in this world. I was a late bloomer. A latecomer separated from girls my own age but nobody knew what to call it then. Certainly not 'mental illness'. I have a perverse lust for life. I am stuck alone in a cave and I am at a loss for words. What to do with myself? What does it feel like to be a wife, to have a spouse, to live in a large, spacious house, have that sedan parked in the garage? What does it feel like to curl up in a bedroom at night in the foetal position or with a book feeling safe with another warm, living, breathing body sleeping next to you?
Someone who will feed the dogs, take the rubbish out. Someone who will call you a 'brilliant chef', someone who will call you 'mummy', someone who will call you 'lover' a million times in a married lifetime.
There is someone, people, a son, an heir to the throne who loves the way my mother plates vegetables. Plates her broccoli. They do not find her spiritual meetings ridiculous. They might argue as if people argued about the earth being flat not round, stupid or not within her earshot. My mother has become brave enough to namedrop her spiritual guides. Cynthia is prominent. She comes through often. Helps my mum decide whether its soup or chicken for supper.
Once upon a time, a man took a wife. He wed her in a church. They had the wedding reception in the church hall. Between the church and the reception, the husband in question lost one of his white gloves. They took the wedding photographs in a park. You could feel the affection that they had for each other just from looking at their faces. At their beautiful, sickening and awesome youth. You felt you did not belong there. You felt you did not belong in that year. Besides, I had not even born yet.
The idea of me had been conceived perhaps in my mother's brain. I looked and looked and looked to see something of myself in that wife in the picture, the newlywed with her freshly washed and rinsed, perfumed hair. Women need love like air but men are altogether another kettle of fish. Fish and kettles. What do one have to do with the other? Go figure these English idioms. Men become very enthusiastic about sophisticated women. Women who are elegant. Woman who will smoke, and drink with them.
Women who will laugh at their unfunny jokes, and then take walks with them in the dark park or sit with them in the backseat of a car. Men are stupid like that. They prefer vanity above sanity. They like it when women touch their hair (as if there is a hair out of place) or ask for a cigarette. The way she holds it as he lights it up for her. The way she breathes in the smoke as if it is slick particular. I know that my brother has gone out with girls like this. He does not go for girls like me.
Quiet, bookish, much too serious for my age, emotionally mature, chubby, nervous in crowds, anxious around dark-haired good-looking boys who wore blazers. He does not go for a girl who sweats and who does not curse. His kind of girl perspires. His kind of girl says the other words for crap and sex. I am the kind of girl older men refer to as 'dear' and women, aunties call 'okay love' or 'are you okay' or 'luvvy' at the end of their sentences. As if, I am meant to be talented but also a stranger in a strange world.
A self-imposed exile in an asylum. I could not see anything of me in my mum. She was a wife at twenty-five. She had it made or had made it. She had found love whereas I was looking at a lifetime of binge eating, of takeaways, of dreaming, of hope in the centre of winter, of a relapse in a mental hospital, of pain, of chocolate, of tuna fish sandwiches with lopsided flowers of wilted lettuce. She had found love, made love this heavenly creature, this fierce creature, this intelligent creature.
She had done the impossible. She had found love in the time of tuberculosis. My father was educated and that made him posh but he did not come from money. My mother came from money. Her father was a police officer and that meant that she came from money. Her family had paid for the entire wedding. My father was mentally ill. He was not as mentally ill as all that. As all that his siblings made him out to be.
He only suffered from spells of darkness visible. Spells of depression. His family were responsible for that. I blame them. His mother worked as a housekeeper and took in washing. His father drank. Worked at a country club. His brothers drank. Estranged from them all in the end they all had dysfunctional families. Childhood memories, like sunken treasure can survive. I do not know what crazy is. What is its purpose? I know I am infinitely crazier than my father ever was but that has more to do with the genes of a woman who has a hypomanic brain. I want joy. I really do but do I want it more than love because at the end of the day, when you cannot read by the afternoon light anymore joy and love remains out of reach, distant.
Asylum. That was what they called in the old days. They would just lock you up and you would bang/bash your head against the walls until (wait for it) nothing. Unreality I suppose. I am misunderstood but the thing is I have worked very hard to be misunderstood. The depression blotted out the broken crockery. The mania made me love men and see them through binoculars. The hypomania made me 'see' things that really were not there. I heard voices. I really did. I thought it was all my emotional baggage coming back to me. Winter makes a pure sound. Confessions never lead to answers. Funny, so does hellish depression. I have earned those white stripes.
The YCCC and How It Changed the Future of South Africa
This was the pre-apartheid education that we received when we were still at school. I was 13, 14 years of age at the time of the promulgation of the Group Areas Act in Port Elizabeth, South Africa, which then led to the forced removals and people literally being 'dumped' in the Northern Areas of Port Elizabeth. Dr Neville Alexander came to Port Elizabeth on two occasions. The YCCC-organisation (Yu Chi Chan Club) was primarily based on guerrilla warfare as is expounded by the leader of the Chinese Communist Party Mao Se Tung. It elucidates in his long walk to freedom, as well as his account in the new democracy as is expounded by his books and writings. These ideologies played a key role in formulating policy in the fight of guerrilla warfare against the Nationalist Party government. It is imperative to mention that the textbook for the organisation was Guerrilla Warfare by Che Guevara which was slavishly followed by discussions in the organisation. Other books included Partisan Warfare by Lenin, as well as Das Kapital by Karl Marx.
This took a lot of preparation and in-depth discussion groups took place based on these classic writers. It was imperative that these books were simplified and applied to the unique situation in South Africa. Dr Alexander and Ali Fataar, the then banned member of the executive of the NUM (New Unity Movement) came to Port Elizabeth to do exploratory work in creating fertile political groundwork for establishing the NEUM (Non-European Unity Movement) groupings. They visited areas like Korsten, Schauderville at night where they held underground discussion groups on the non-collaboration and the 'Ten-Point Programme' which at that early stage were very important and relevant documents. These were lengthy discussion groups which took place throughout the night. However, it crystallised into a solid branch of the NEUM (Non-European Unity Movement), Korsten branch. Further exploratory work was conducted in the area before these two stalwarts could return to Cape Town.
As a young student (16 years of age) we had the opportunity of meeting with people of the calibre of Dr Alexander at a very early stage in our political careers. This took place while we attended the CPSU (Cape Peninsula Students Union) group at our residence in Lloyd Street, Cape Town. This group grew rapidly as more and more progressive students became interested in the finer progressive political ideologies of the CPSU. We met regularly every fortnight and the discussions took place until the early hours of the morning. The topics included Bantu Education, Coloured Education, Bush University, Students Representative Council issues and the like. We also organised regular meetings on camping trips on Table Mountain where extensive politicisation took place on advanced political ideologies such as capitalism, imperialism and world ideologies of the day. We became acutely aware that our home got the attention of the security police. However, this did not deter us from becoming acutely aware of the intrusion of capitalism and imperialism and the like. It was at a very young age that I became involved in student politics which has its origin in political activity.
The forced removals, the Group Areas Act, the political upheaval caused havoc amongst particularly the young who were influenced by teachers who belonged to the Anti-CAD (Anti-Coloured Affairs Department) and the TLSA (Teachers League of South Africa). The city was ablaze with political activity which in a short space of time demonstrated deep into the youth. This needless to say was influenced by political youth in the Western Cape. What was affecting the students in the Western Cape was, alas, also affecting the students in the Cape, particularly Gqeberha. At times, the situation became extremely volatile and out of control. Organisations like the NUM (National Unity Movement), Anti-CAD (Anti-Coloured Affairs Department), TLSA (Teachers League of South Africa) reigned supreme. It was also apparent that the ratepayer's organisations which were formed to fight against the rapid erosion of management committees.
Many public meetings were held with F.A. Landman and Dennis Brutus (vice-chairman), who were at pains to point out the disadvantages of the Group Areas Act. Many groups were formed which included the ANC, the PAC, the Unity Movement and allied groups were mobilised. It became apparent that the Group Areas Act was not going to go through a very easy passage. The organisations were not unified in their actions and this gave the opposition deep inroads into progressive thinkers. As a student group at the University College of the Western Cape we were invited to SOYA (Society of Young Africa) meetings in the Mowbray Minor Hall on a Sunday afternoon. For the first time we witnessed serious altercations among the members of the NEUM (Non-European Unity Movement), and this included Dr Neville Alexander and Dr Kenny Abrahams.
The topic of discussion was on Angola and the chairlady of the meeting Miss Wilcox clearly did not understand her mandate. Dr Neville Alexander and Dr Kenny Abrahams tackled her on the political aspects of FRELIMO Liberation Front of Mozambique). It appeared that two factions had now developed in the meeting. It was really a fisticuffs kind of thing. It appeared as if Dr Alexander and Dr Abrahams were at loggerheads with the present discussion leaders of the main group. The matter came to a head when the chairperson asked Dr Alexander and Dr Abrahams to leave the meeting. However, before that could take place Dr Abrahams announced to the meeting that all those who believed in democracy would leave the meeting. I was one of the Western Cape students who felt urged to leave the meeting with Alexander and Abrahams, which we did and met again at No. 2 Swiss Road in Lansdowne for a follow-up meeting. Officially, at this meeting there was information about the YCCC (Yu Chi Chan Club). Dr Alexander and Dr Abrahams felt no animosity which the meeting gave them as they left.
Dr Alexander was described as a dark horse by my father. As with all leaders, the maverick visionaries and profound thinkers, brilliant intellectuals, and having the primitive wonders of both wisdom and intelligence, for these men ahead of their time their faith was shared only by their comrades in the struggle. These stalwarts have taught me that it is the tendency of every man, woman and child of every race, of every faith to embrace every other man, woman and child of every race, and of every other faith. Indeed, it is rare. Indeed, it is exceptional when it happens. Language is a bridge. The language is not of love, but of respect. It is the flesh and blood of mother tongue language that divides us. It is respect that conquers self-pity, arrogance and narcissism. There is no one identity. Yet there is one moral code. Multiculturalism has changed the order of history, moral ambiguity, cast a spell on the doctrines and phenomena of religion. In humanity, in this human world, these leaders have taught us purpose on earth, the awareness of self, lack of ego and the finding of our identity in existential relativism, pedagogical and counterfeit phenomenology. Multiply achievement and you get the candy shop of the poetic horrors of over-abundance, the romantic weariness of decay and the complex strength of popularity.
Truth and the third wave of the pandemic: To be vaccinated or not to be vaccinated
I have endured the worst possible case scenario. Being locked up in a mental institution for six months while in my late teens, early twenties. Even though I was of sound body, mind and soul. I am 42 years old now and I haven't come all the way back from that experience. Everyone wrote me off when I returned home to Port Elizabeth as Gqeberha was known in those days but worse was to follow. Inhumane treatment from those closest to me, rejection from society. I was taught that I had a mental disability and would never be able to work again, hold down a steady job or earn a monthly income. I was told in no uncertain terms that I had to now live on the fringes of society since I would be unable to make a positive contribution to society. For twenty years this continued. I had to all intents and purposes not only given up on myself, my personal success, development of my potential and fulfillment and engagement in a relationship that would lead ultimately to my future happiness. The goal of marriage and having a child, bringing children into the world and raising a family was not only put into the distant past, I thought that it would always be non-existent for me.
I would spend my time listening to sad music, love songs on the radio and wonder why it was not me caught up in the scenario of having a relationship with the opposite sex. I sank even further into the pit of the hell in f despair and hardship. I virtually had lost control over my life, received a disability grant which I did not spend on anything which I personally needed. Family considered me to be the proverbial black sheep of the family. When I got angry at the way I was treated I was certified. My rights were taken away from me. I was verbally, mentally and emotionally abused. I did everything in my power to be loved and accepted by both my maternal and paternal family which is why I believe so strongly today in dismantling the stigma that surrounds issues concerning mental illness and depression mania, euphoria and elation (however mild or all-consuming it might be). At this late stage of my life I have become an advocate for mental wellness. To stop the fight and curb the alienation and isolation of sufferers of mental illness. I want people from all walks of life to realise that people with mental illnesses can enrich our lives and can make a positive contribution to society.
I myself have always sought solace in writing. I have found it to be an instrument for change and therapeutic as well.
I have firsthand knowledge and experience of being called anything from schizophrenic to being diagnosed with bipolar mood disorder and because of the heavy psychotropic medication I have taken over the years I have had a host of illnesses presenting themselves. Chronic fatigue syndrome, insomnia, an underactive thyroid, chronic kidney disease, gout and heart disease. These diseases manifested themselves early on in my life before the onset of middle age when they would be more prevalent in someone who would be prone to these sorts of illnesses because of not living a healthy lifestyle.
I take each day as it comes now and live in the moment. I have my good days. I have my bad days. I have a mean temper and constantly have to watch what I eat, watch what I say and how I react to people who treat me as him I am a second class citizen because of everything I have been through in my life. Truth be told I always knew I was different. The depression started in childhood for me. I was always an overachiever. I would come home in the afternoons after school but no one ever helped me with my homework, told me either that they were proud of me or believed in me or loved me for that matter.
Everyday I am a work in progress. It is tough dealing with moodswing but that is the currency I deal in and the territory that borders my sense of self-control.
I have been called many names. None of them pretty or lovely. I have had zero support from my immediate family and my estranged family has complete written me off and washed their hands off of me thinking there is nothing they can do for me. This has been very hurtful and even has made made me feel quite suicidal over the years and in my hour if need, my hours of silence, pain and collective trauma I turned to God, prayer and meditation in my hour of need. At the time of the outbreak of the pandemic I got corona and was admitted to the psych ward at Provincial Hospital here in Gqeberha. I had no medical aid and was once again at the mercy of the system but I survived hell and that harrowing experience again to live to tell the tale of how to overcome the impossible, to live and to learn, to remain humble and kind even in the face of adversity and cruelty.
Loneliness, abject poverty, homelessness can either kill you or make you realise that you are powerful beyond measure and I have realised that I am powerful beyond measure.
Thoughts From the Frontline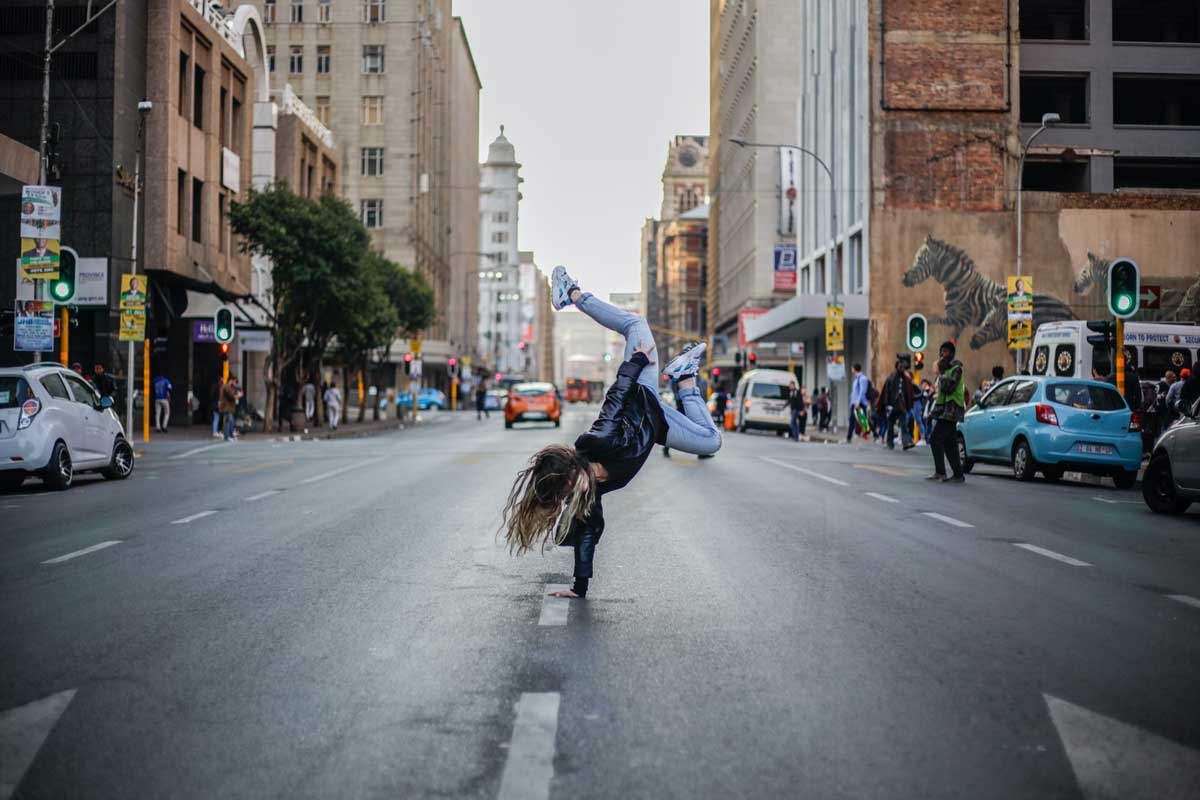 "Hip/Hop, Trap. I would describe my music as different, unique, compared to what I hear in the music industry in South Africa. It is a different sound of genre based on hip hop. In my downtime I listen to artists like Mexikodro, Playboi Carti, Diego Money, Pyrex Whippa, Lil Gotit and Sahbabii. In my life my family has been and still is a major influence, I just want to see them happy and stress free. I want to be successful so that they can spend the rest of lives living comfortably. I chose music because I believe that it is something I'm good at. I wouldn't call myself a musical genius, or say that I'm talented musically because I'm not but, I have taken the time to learn everything that I know today, I started as a rapper, but now I am a producer as well, a very good one if I should say, I mix and master vocals, well I try to. It is still something I am learning on a daily basis and I believe that one day if not soon, I will understand that aspect of music. The guys who I record with are so gifted at what they do, we really inspire each other to take it to the next level. I would be lying if I said that I inspire myself, well maybe I do, I don't know, however what I do know is that we can go to the next level together because nowadays you rarely see a duo or a group of rappers in the South African music industry, there are 4 of us in our group including others who aren't full time as yet, I think that makes the odds better for us to take it to the next level as opposed to being a solo" SUPREME ZEE, CEO OF Holidae Don't Stop!
"What inspires me to take it to the next level is basically my daughter, Family and my everyday experiences growing up and living in Westbury losing friends and family to gang violence had a huge effect on me since a young age I've been through hell and back if I may describe in short and I've realized, to make it out you really need to dig deep. This is also one of the main reasons why I started writing music. I love Music, it is my passion that is mainly why I chose to make music, ever since a young age I've just been through the worst writing music and articulating every word I write is therapeutic. Manifesting and having faith in God has carried me through. Major influences in my life remains God, my baby girl, my family and obviously my Team Holidae Dont Stop! We always encourage one another to do our best we definitely do bring out the best in each other and I'd say the beats that supreme Zee creates brings out the best in me personally and it's also one of the major influences in my music career it's only elevated since the moment we started. In my down time I listen to All types of music mostly Gospel & HDS. I would describe my music as being one in a million very versatile, real and unusually different from the usual and it has an unorthodox flow and style to it so you can literally expect only the best" TheGR8ACE, CEO and co-founder of Holidae Dont Stop!
My inspiration comes from knowing that I have a God given talent and my friends (HDS) and family that motivates me day to day to do better. I chose music because as a hobby it is something I love doing which started out in high school where I had friends that used to rap over beats and I'd just stand within the circle and listen to their rhymes and it became to amuse me when I found out that there are people in my community creating their own music, whereas in 2019, I linked with the crew Holidae Dont Stop! and it has been a wonderful journey ever since! Learning and growing at the same time. My mother has played a role as one of my biggest inspirations including friends (HDS) have been a major Influence in my life, for they always pushed me to be a better me. Not giving up on me and providing not bad advice but love and positivity. I've been in difficult situation in the past and I am just trying to make a better standard of living for my family, my friends as well as my community (Westbury). In my down time I listen to various genres like Rock, Rnb, Hip/Hop, Rap, Emo Rap. I would describe our music as Western Plug for it derives from Hip-hop with an offbeat including 808s and guitar and piano samples that Supreme Zee (Producer) recreates and when hearing the beat, I can automatically put my heart on it." Bando -recording Artist at Holidae Dont Stop!
 To conclude this, we are all from Johannesburg South Africa as one of our members spread across as far as Cape Town, temporarily. Our member who are not full time are – Leiph Camp (Splaash66) Stock broker, Razaak Benjamin (Glock) Salesman and Marion Reyners (Marion The Great) Facilitator. "Our music is Bold, Iconic and timeless" TheGr8ce. Our crew is based in Jozi (Johannesburg) although we do not have a manager as yet. Our follow up record will sound similar to the "Western Plug tape" that we have recently released, followed by 3 singles. Plug is a genre that derives itself from Hip-Hop and our next single will drop in 2 weeks. The link to our music is on all platforms and the Love and support would be much appreciated. We literally wont stop! –