Session with the Psychologist
I plunge into the sudden glare of fury, hysteria and trepidation. There is a primal scream inside each of my hypomanic brain cells.
The afternoon of the mind drifts into view. The adult me, and I fly out into silence and my mother's perfume. She is hip and elegant like the handsome tigers at the zoo. She is smart. Way too smart to love me with her golden attempts of cooking for three. She could have left long ago, instead, she stayed. I call that mother love. I say to my reflection. I am a collection of language, of translations, of 'the incident', the attempted suicide and a collection of relapses and recoveries in hospitals all over South Africa. Tara, Garden City Clinic, Hunterscraig, and Helen Joseph. Only the best for a rest.
Trauma. I have a different kind of trauma than anybody else in this world. I have a different kind of oxygen than anybody else in this world. I was a late bloomer. A latecomer separated from girls my own age but nobody knew what to call it then. Certainly not 'mental illness'. I have a perverse lust for life. I am stuck alone in a cave and I am at a loss for words. What to do with myself? What does it feel like to be a wife, to have a spouse, to live in a large, spacious house, have that sedan parked in the garage? What does it feel like to curl up in a bedroom at night in the foetal position or with a book feeling safe with another warm, living, breathing body sleeping next to you?
Someone who will feed the dogs, take the rubbish out. Someone who will call you a 'brilliant chef', someone who will call you 'mummy', someone who will call you 'lover' a million times in a married lifetime.
There is someone, people, a son, an heir to the throne who loves the way my mother plates vegetables. Plates her broccoli. They do not find her spiritual meetings ridiculous. They might argue as if people argued about the earth being flat not round, stupid or not within her earshot. My mother has become brave enough to namedrop her spiritual guides. Cynthia is prominent. She comes through often. Helps my mum decide whether its soup or chicken for supper.
Once upon a time, a man took a wife. He wed her in a church. They had the wedding reception in the church hall. Between the church and the reception, the husband in question lost one of his white gloves. They took the wedding photographs in a park. You could feel the affection that they had for each other just from looking at their faces. At their beautiful, sickening and awesome youth. You felt you did not belong there. You felt you did not belong in that year. Besides, I had not even born yet.
The idea of me had been conceived perhaps in my mother's brain. I looked and looked and looked to see something of myself in that wife in the picture, the newlywed with her freshly washed and rinsed, perfumed hair. Women need love like air but men are altogether another kettle of fish. Fish and kettles. What do one have to do with the other? Go figure these English idioms. Men become very enthusiastic about sophisticated women. Women who are elegant. Woman who will smoke, and drink with them.
Women who will laugh at their unfunny jokes, and then take walks with them in the dark park or sit with them in the backseat of a car. Men are stupid like that. They prefer vanity above sanity. They like it when women touch their hair (as if there is a hair out of place) or ask for a cigarette. The way she holds it as he lights it up for her. The way she breathes in the smoke as if it is slick particular. I know that my brother has gone out with girls like this. He does not go for girls like me.
Quiet, bookish, much too serious for my age, emotionally mature, chubby, nervous in crowds, anxious around dark-haired good-looking boys who wore blazers. He does not go for a girl who sweats and who does not curse. His kind of girl perspires. His kind of girl says the other words for crap and sex. I am the kind of girl older men refer to as 'dear' and women, aunties call 'okay love' or 'are you okay' or 'luvvy' at the end of their sentences. As if, I am meant to be talented but also a stranger in a strange world.
A self-imposed exile in an asylum. I could not see anything of me in my mum. She was a wife at twenty-five. She had it made or had made it. She had found love whereas I was looking at a lifetime of binge eating, of takeaways, of dreaming, of hope in the centre of winter, of a relapse in a mental hospital, of pain, of chocolate, of tuna fish sandwiches with lopsided flowers of wilted lettuce. She had found love, made love this heavenly creature, this fierce creature, this intelligent creature.
She had done the impossible. She had found love in the time of tuberculosis. My father was educated and that made him posh but he did not come from money. My mother came from money. Her father was a police officer and that meant that she came from money. Her family had paid for the entire wedding. My father was mentally ill. He was not as mentally ill as all that. As all that his siblings made him out to be.
He only suffered from spells of darkness visible. Spells of depression. His family were responsible for that. I blame them. His mother worked as a housekeeper and took in washing. His father drank. Worked at a country club. His brothers drank. Estranged from them all in the end they all had dysfunctional families. Childhood memories, like sunken treasure can survive. I do not know what crazy is. What is its purpose? I know I am infinitely crazier than my father ever was but that has more to do with the genes of a woman who has a hypomanic brain. I want joy. I really do but do I want it more than love because at the end of the day, when you cannot read by the afternoon light anymore joy and love remains out of reach, distant.
Asylum. That was what they called in the old days. They would just lock you up and you would bang/bash your head against the walls until (wait for it) nothing. Unreality I suppose. I am misunderstood but the thing is I have worked very hard to be misunderstood. The depression blotted out the broken crockery. The mania made me love men and see them through binoculars. The hypomania made me 'see' things that really were not there. I heard voices. I really did. I thought it was all my emotional baggage coming back to me. Winter makes a pure sound. Confessions never lead to answers. Funny, so does hellish depression. I have earned those white stripes.
Seven Out of 10 Top School Systems Are in East Asia Pacific
The East Asia and Pacific region has seven of the top ten performing education systems in the world, with schools in China and Vietnam showing significant progress, according to a new World Bank report released today. This is a major accomplishment that offers important lessons to countries around the world. In the rest of the region, however, up to 60 percent of students are in under-performing schools that fail to equip them with the skills necessary for success.
Growing Smarter: Learning and Equitable Development in East Asia and the Pacific argues that improving education is necessary to sustain economic growth and highlights the ways that countries in the region have been able to improve learning outcomes. Drawing on lessons from successful education systems in the region, it lays out a series of practical recommendations for key policies that promote learning so that students acquire foundational skills in reading and math, as well as more complex skills that are needed to meet future labor market demands.
"Providing a high-quality education to all children, regardless of where they are born, isn't just the right thing to do. It's also the foundation of a strong economy and the best way to stop and reverse rising inequalities," said Victoria Kwakwa, World Bank Vice President for East Asia and Pacific.
A quarter of the world's school-age children – some 331 million – live in East Asia and the Pacific. Up to 40 percent of them attend school in education systems whose students are ahead of the average students in OECD countries. These schools are not only in wealthy countries such as Singapore, Korea and Japan, but also in middle-income countries such as China and Vietnam. And, as the report highlights, student performance isn't necessarily tied to a country's income level. By age 10, for example, the average Vietnamese student outperforms all but the top students in India, Peru and Ethiopia.
But many countries in the region are not getting the results they want. In Indonesia, for example, test scores showed students were more than three years behind their top-performing peers in the region. In countries such as Cambodia and Timor-Leste, one-third or more of second graders were unable to read a single word on reading tests.
Another key finding of the report is that across the region, household incomes do not necessarily determine children's educational success. In Vietnam and China (Beijing, Shanghai, Jiangsu and Guangdong provinces), for example, students from poorer households do as well, if not better, in both math and science, as compared to average students in the OECD.
"Effective policies for the selection, motivation, and support of teachers as well as sound practices in the classroom are what determine how much students learn. For policymakers looking to improve their school systems, allocating existing budgets efficiently, coupled with strong political commitment, can make a real difference in the lives of children across the region," said Jaime Saavedra, the World Bank's Senior Director for Education.
The report lays out concrete steps for improving learning for lagging systems in the region and beyond, starting with ensuring that institutions are aligned so that objectives and responsibilities across the education system are consistent with each other. The report also urges a focus on four key areas: effective and equity-minded public spending; preparation of students for learning; selection and support of teachers; and systematic use of assessments to inform instruction.
The report found that top-performing systems spend efficiently on school infrastructure and teachers, have recruitment processes to ensure the best candidates are attracted into teaching, and provide a salary structure that rewards teachers with proven classroom performance. It also found that schools throughout the region increased preschool access, including for the poor, and have adopted student learning assessment into their educational policies.
The report complements and builds on the World Bank's World Development Report 2018: Learning to Realize Education's Promise, which was released in September 2017 and found that without learning, education will fail to deliver on its promise to eliminate extreme poverty and create shared opportunity and prosperity for all.
UN women's commission opens annual session at 'pivotal moment' for gender equality movement
Taking place at "a pivotal moment for the rights of women and girls," the United Nations body dedicated to gender equality and women's empowerment opened its annual session on Monday hearing calls to help women, especially those in rural communities, secure an end to the male-dominated power dynamic that has long marginalized their participation and muted their voices.
"Across the world, women are telling their stories and provoking important and necessary conversations – in villages and cities; in boardrooms and bedrooms; in the streets and in the corridors of power," said Secretary-General António Guterres, opening the 62nd session of the UN Commission on the Status of Women (CSW62).
"From 'MeToo' to 'Time's Up' and 'The Time is Now' […] women and girls are calling out abusive behaviour and discriminatory attitudes," he added.
Under the Commission's theme 'Challenges and opportunities in achieving gender equality and the empowerment of rural women and girls,' the UN chief observed that although a marginalized group, they were often the backbone of their families and communities, managing land and resources.
Mr. Guterres said that supporting these women is essential to fulfilling our global pledge to eradicate poverty and to create a safer, more sustainable world on a healthy planet – 2030 Agenda for Sustainable Development.
Mr. Guterres painted a picture of a male-dominated world with a male-dominated culture in which centuries of patriarchy and discrimination have left a damaging legacy.
Calling it "the greatest human rights challenge of our time," he said "progress for women and girls means changing the unequal power dynamics that underpin discrimination and violence."
"Discrimination against women damages communities, organizations, companies, economies and societies," he continued. "That is why all men should support women's rights and gender equality. And that is why I consider myself a proud feminist."
The President of the UN Economic and Social Council (ECOSOC), Marie Chatardova pointed to the Commission, as a critical instrument to strengthen the global normative framework for women's empowerment and the promotion of gender equality.
The body is also as a key driver of ECOSOC's work, with the Commission's outcomes as bolstering the 2030 Agenda's implementation and that of its 17 Sustainable Development Goals (SDGs), which seek to end poverty and ensure prosperity for all on a healthy planet.
Noting that gender equality and the empowerment of women and girls is a theme that cuts across all the Goals, Ms. Chatardova said the Commission's focus on rural women and girls was both timely and well-aligned with the 2030 Agenda.
According to the ECOSOC President, inclusion is a key element in all efforts.
Noting that the Commission has long provided a roadmap for the UN's work in women's empowerment and gender equality, she announced a special Council session in May to build sustainable, inclusive and resilient societies.
Gender perspective is critical
For his part, the President of the UN General Assembly, Miroslav Lajčák, noted that past challenges were approached without a gender perspective, which "has had a particularly damaging effect on rural women."
Mr. Lajčák underscored that this needs to stop, and that women must be taken into account in all actions, from access to water to closing pay gaps.
Drawing attention to rural women as a major source of innovation, he explained that their empowerment would benefit everyone.
"These kinds of women do not need our help, in finding solutions," he stated. "What they need is our support, in turning their ideas into reality."
Calling gender equality "an urgent priority," Mr. Lajčák he encouraged the Commission to carry on with its important work "until every woman, sitting in this room today has the same rights, and the same opportunities, as the man sitting beside her.'
"Thank you for continuing your calls. Let's make them stronger than ever," he concluded.
UN Women Executive Director Phumzile Mlambo-Ngcuka highlighted the importance of this year's focus on rurual women.
"It speaks to our commitment to fight some of the biggest challenges of our time: poverty, inequality, intersectionality and an end to violence and discrimination against women and girls, no matter where they live, or how they live, so that we 'leave no one behind,'" she stated.
Calling it "a tipping point moment," the UN Women chief urged the forum to seize the opportunity to secure and accelerate progress, build consensus and share best practices to serve "the poorest of the poor."
"It has never been so urgent to hold leaders accountable for their promises for accelerating progress" on the SDGs, she said.  An unprecedented hunger for change in women's lives was being seen around the world, as well as a growing recognition that when women banded together, "they can make demands that bite."
"Women are fighting to take steps that change their lives, and they are refusing to accept the practices that have normalized gender inequality, sexual misconduct, exclusion and discrimination across all walks of life," she argued.
She urged everyone to unite around the common cause, as set out in the principles of equality in the UN Charter, "to make this a moment of real acceleration, change and accountability."
The chair, Geraldine Byrne Nason, said the current session is a key moment on the path to ending discrimination against women and girls once and for all.  Indeed, "time is up" on women taking second place around the world, she said, challenging the Commission to do more and do better.
CSW functions under ECOSOC, acting as the UN organ promoting gender equality and the empowerment of women.  CSW62 runs until 23 March.
UNESCO Rewards Outstanding Teacher Initiatives in Chile, Indonesia and the UK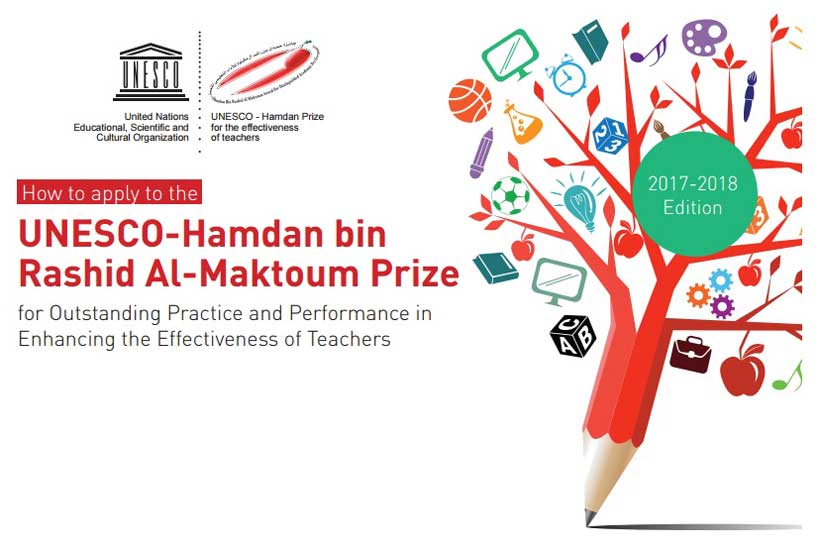 Three programmes designed to empower teachers have been named as winners of the 2017-2018 UNESCO-Hamdan bin Rashid Al-Maktoum Prize: The Center for Mathematic Modeling of the University of Chile, the Diklat Berjenjang project of Indonesia and the Fast-track Transformational Teacher Training Programme of the United Kingdom of Great Britain and Northern Ireland.
The Prize for Outstanding Practice and Performance in Enhancing the Effectiveness of Teachers will be awarded on 5 October as part of World Teachers' Day celebrations at UNESCO Headquarters in Paris when the each winner will receive $100,000.
The Center for Mathematic Modeling of the University of Chile (Chile) is rewarded for its Suma y Sigue: Matemática en línea (Adding it up: Mathematics online) programme which was developed to address the performance gaps in mathematics between students from different socioeconomic backgrounds and improve the quality of maths teaching in general. It is a 'learning by doing' programme organized by grade levels and curricula, enabling teachers to focus on their specialized area of mathematics teaching. It blends face-to-face sessions with intensive virtual instruction. The programme is scaleable, easily accessed by teachers in remote areas, and it promotes inclusion.
The Diklat Berjenjang project from Indonesia is rewarded for bringing quality professional development to early childhood teachers, notably in the poorest and most remote areas. It helps meet Indonesia's need for teachers skilled in creating stimulating learning environments for young learners. It helps identify potential teacher trainers and provides step-by-step written guides, follow-up assignments and exchanges.
The Fast-track Transformational Teacher Training Programme from the United Kingdom of Great Britain and Northern Ireland was selected for its highly innovative and impactful approach to training teachers in various professional environments in Ghana. It promotes child-centred and play-based pedagogy in early education to replace traditional talk chalk disciplinarian methods. Practicing teachers receive a two-year training, combining workshops with smaller peer group meetings in which they are paired on the basis of their complementary strengths to engage in classroom observations and in class coaching.
The three winners were selected from 150 nominations submitted by the Governments of UNESCO's Member States and UNESCO partner organizations on the recommendation of an International Jury of education professionals.
Established in 2009 with funding from Sheikh Hamdan bin Rashid Al-Maktoum of Dubai, the Prize is awarded every two years to projects that have made outstanding contributions to improving the quality of teaching and learning, especially in developing countries or within marginalized or disadvantaged communities.
More information on the prize: https://en.unesco.org/teachers/Hamdan-prize