The Shifting Paradigms of Europe as an Idea within the Atlantic Dialogue
At the turn of the new millennium I joined the on-line dialogue and debate on "The Future of the European Union." It was inaugurated by Tony Blair and the then President of the EU Council Romano Prodi.
They invited all Europhiles to participate with their own contributions and ideas and thus further the democratic spirit of the new, still evolving, polity. I began to routinely exchange observations, comments, reflections on various aspects of modern European culture and how it was perceived across the Atlantic. One of the hottest issues was that of the emerging EU Constitution.
I began to realize that despite the disparate complex viewpoints and perception of European culture expressed usually in an essay form, there is nevertheless a fundamental guiding thread, and it is this: the awareness that an essay, besides elucidating a specific subject, is also a reflection of the self on the self, a revelation of the mind at work within, at times in contrast to the spirit of the age, as indeed is the case with any human artifact. Those artifacts in turn mirror the culture of a civilization as narrated and transmitted via language.
Man makes language and artifacts and symbols, but paradoxically, as Giambattista Vico and Carl Jung have well taught us, the opposite is also true: language and artifacts and symbols make Man. It occurred to me that part of the uniqueness of the essay form is to give the reader a glimpse as to where the self is coming from and where it is heading as it dialogues with other selves across time and space. What was unique in this transatlantic dialogue is the fact that the dialogue was occurring not only among elite intellectuals, populist or not, but also among ordinary citizens.
In other words, the dialogue went beyond systematically defined academic positions rigorously argued, underpinned by "clear and distinct ideas" leading to unassailable logical conclusion; rather, the dialogue was challenging the academic mind-set to relinquish the privileging of rationalism over the poetical, to involve his/her imagination, to interact rather than merely react to the text, to courageously attempt the exploration and the discovery of new ground across disciplinary boundaries. For, it is at the edge of boundaries that life and knowledge, experience and theory, meet most fruitfully. This was to be expected, given that rational logical arguments underpinned by "clear and distinct ideas," are not congenial to the essay. The essay form resists both extreme rationalism and self-absorbed diary writing unconcerned with the larger issues of the times.
Etymologically, essay means "an attempt." Both the author writing an essay and the reader reading it, need to find the courage to attempt something new keeping in mind that to pour new wine in old wineskins may mean losing the new wine. In reading and interacting with an essay, both author and readers are challenged to give up old comfortable assumptions without forgetting them and make an attempt, i.e., to carry on a brave novel exploration of the issues at hand from its origins to the present, beyond rigid disciplinary boundaries.
There are various aspects of the European cultural identity and its transatlantic dialogue that remain to be explored. That dialogue, if truth be told, begins way back in 1492. To facilitate the exploration we will need a sort of "leitkultur" or cultural guides if you wish that will allow us to navigate the stormy ocean of the transatlantic dialogue where the icebergs of nihilism and extreme rationalism float silently by in the tick of night. Giambattista Vico is undoubtedly one such guide, another is Vaclav Havel and another is Emmanuel Levinas. And there are many others, we could go back to Dante and his vision of a United Europe. Those admirable and exemplary visionaries, mostly poets and philosophers, are to be considered the original architects of a New Europe.
Vico is considered by many scholars the culmination of Italian and European Humanism. This interest led me eventually to the writing of a book on the hermeneutics of Vico's speculation on the interface of language, history and literature. Likewise, literary theory and criticism, and their nexus to cultural anthropology, otherwise known as hermeneutics, are prominently featured in this book's ruminations, under the stimulus of the emergence of the European Union's Constitution in 2002. In as much as a constitution is analogous to the vital signs of a body politics and reflects its value system, its analysis is essential for determining that body's moral and social health as well as suggesting an appropriate diagnosis and prognosis.
But to return to the above mentioned existential philosophical aspects, these reflections, more than with the being of Man, are concerned with the ongoing journey of Man. A spiritual or intellectual journey may imaginatively originate at any point on the hermeneutical circle, to eventually return full circle to its place of origin. This paradigm which believes that in the beginning there is the end and in the end there is the beginning, may at first appear cyclical and closed upon itself, merely immanent, a sort of Nietzschean eternal return, but in fact it is more like a forward, or even upward moving spiral. To be sure, on a spiral one can also move downward, as Dante's descent into hell amply suggests, but even there it eventually leads to the other side of the earth and then upward, via the mountain of Purgatory, to the final destination in heaven, God's vision. Indeed, for Dante the way up is the way down. This Vichian structure of the narration of Man's journey is not always linear narration and may at times make the essays appear contradictory. But such is the story of Man, as imaginatively remembered and as narrated to oneself, beginning at any place of the hermeneutical circle.
Contrary to what one may think when entering the Sistine Chapel, Michelangelo's narration does not begin with the creation of Light by God but with the drunkenness of Noah. It is via narration, rather than via logical clear and distinct ideas standing behind words, that Man discovers that he is his own history and that while the cycles of the "story" may recur, they also move spiral-like toward a providential final purpose or "telos." We may then be surprised to discover that transcendence and immanence are not mutually exclusive but complementary to each other. The mind's restless cognitive operations reflect at least that much. The same inventor of the essay, Michel de Montaigne, some five centuries ago, jotted down this acute insight into the nature of his essays as they related to his own self: "If my soul could only find a footing I would not be essaying myself but resolving myself" (from essay "On Repentance").
It is through the attempt to know the workings of our mind, that we may hope to arrive at self-knowledge and begin to realize that in the final analysis, the way to a recovery of transcendence and humanistic modes of thought in Western culture cannot possibly be an Hegelian-Marxian historical paradigm of inevitable progress, or its corollary, manifest destiny, allowing colonizers of various stripes to ride rough shod over native cultures, but rather a new humanistic Vichian-Joycean paradigm intimating "back to the future;" the awareness, that is, that paradoxically the emerging new Europe is neither old nor young, but novantiqua; that old stale unimaginative cultural paradigms rooted in a Machiavellian "real-politick mind-set" need to give way to a more Vichian poetic approach. For the journey into self-knowledge is integral part of our essential humanity, and not only as individual human beings, but also as people, nations and even entire civilizations and as humankind as a whole. The microcosm reflects the macrocosm but the contrary is also true. This can only be so if there exists indeed the universally human.
That question of identity is inescapable, for without self-knowledge, one will inevitably fall prey, along the way, to the seductive voices of false sirens and gods, even when they (like the mythical bull) arrive on time and promise an adventurous journey. Those voices (even when they seem to be the voice of Being itself) make it nearly impossible to focus with the mind's eye on the final destination of one's journey. For the question "Are you leaving and arriving on time?" hides a deeper, more crucial question: "On time for what?" Unfortunately, too many political-cultural leaders are running headlong toward the future nowadays in fast cars devoid of a rear-view mirror; and this is happening on both sides of the Atlantic.
The horizon is vast, but keep in mind however that, as mentioned, this maze of cultural issues is to be kept within the framework of self-knowledge. For, besides empirical knowledge of the sciences, mathematical knowledge, and metaphysical knowledge, there is another overarching kind of knowledge: self-knowledge. Joseph Campbell used to enjoin to his audiences: "find your bliss!" The goddess Europa surely must have expected bliss or she would not have left a secure shore to head towards the unknown on the back of a bull. This metaphor is also valid for entire cultures. It is the injunction to search and to find one's identity, rooted in one's origins. Vico's philosophy can become a needed navigating chart once we opt for leaving behind the desolate shores of pure rationalism, technocracy and consumerism, to sally forth on the high sea of the poetical for an adventurous imaginative journey of self-discovery.
The German philosopher Habermas has challenged taken-for-granted assumptions in a seminal essay which envisions a post-secular Europe. He poses the above quoted challenging question to European culture's conception of modernity as seen through the prism of secularism and its corollary aversion to religion's role in the public agora. Habermas addresses the debate in terms of John Rawls's concept of "public use of reason" and proposes that secular citizens in Europe learn to live, and the sooner the better, in a post-secular society; in so doing they will be following the example of religious citizens, who have already come to terms with the ethical expectations of democratic citizenship. So far secular citizens have not been expected to make a similar effort. He is not alone in that challenge. In the year 2000 an essay came out written by Shmuel Eisenstadt, an Israeli sociologist, titled "Multiple Modernities (see Daedalus 129: 1-30) which right from its outset challenged the taken for granted assumption that modernizing societies are convergent, as well as the notion that Europe is the lead society in that converging modernizing process.
This is what Eisenstadt writes on the very first page of the essay: "The notion of 'multiple modernities' denotes a certain view of the contemporary world—indeed of the history and characteristics of the modern era—that goes against the views long prevalent in scholarly ad general discourse. It goes against the view of the "classical" theories of modernization and of the convergence of industrial societies prevalent in the 1950s, and indeed against the classical sociological analysis of Marx, Durkheim, and (to a large extent) even of Weber, at least in one reading of his work. They all assumed, even if only implicitly, that the cultural program of modernity as it developed in modern Europe and the basic institutional constellations that emerge there would ultimately take over in all modernizing and modern societies; with the expansion of modernity, they would prevail throughout the world."
In other words, Eisenstadt is saying that modernity can come in both secular and religious versions. This notion, of course, contradicts the theory that modernization necessarily implies secularization and that the United States is a mere exception to this rule made safe by the proverbial separation between State and Church. Rather, what Eisenstadt is suggesting is that the United States and Europe should be seen as two different versions of modernity. Which in turn leads to this crucial question: is secularization intrinsic or extrinsic to the modernization process? More to the point: is Europe secular because it is modern or is it secular because it is European? Depending on how one answers that question, one will assign exceptionalism to either the United States or Europe. In fact, they are two different ways of being modern. The Chinese wish to go one step further and even prove that one can be modern without being democratic. That experiment bears watching closely because it would sever the link between democracy and so called "free markets" and prove Marx right by revealing that indeed Western societies are what many outside the West believe they are: decadent materialistic societies paying lip service to democratic ideals and human rights but ultimately interested only in the selfish amassing of wealth and capital; which is to say, one can be prosperous without being democratic.
What the concept of multiple modernities implies is that Western (especially European) modernity is not the only conceivable one. It can come with indigenous differences. It would be enough to consider India, the largest democracy on earth which enshrines religion as part of its heritage and cultural patrimony. If one takes a careful look at the world outside the West one immediately notices that it is religion which defines the aspiration to an alternate modernity. That may well surprise the "enlightened" European mind, but there is such a thing as a Russian modernity inspired by Russian Orthodoxy, an Islamic modernity, a Hindu modernity, and what may surprise them even more, an integrally Catholic modernity. They are not illusions as the old classical secularization theory tended to imply.
Perhaps the greatest surprise of all might be that, as hinted above, that in many parts of the world the West is perceived in a pejorative way, as propagating a decadent. hedonistic culture of irreligious materialism. Such a perception is reinforced by both the influence of intellectuals, usually heavily secular, and the omnipresence of the Western mass media, much of whose content can indeed be defined as materialistic and irreligious. If that be true, it ought to be of great interest to the practice of diplomacy of Western democracies. At the very least, this crucial question ought to be asked and discussed: What are the consequences of taking seriously the empirical sociological fact that for the great majority of the world's populations in the 21st century, it is not only possible, but quite normal to be both modern and religious? Might this question make a difference in the kind of paradigm that we construct in the West to understand a little better the nature of the modern world, be it European, American, Asian or African. Is it really "enlightened," as the age of Enlightenment surely supposed in Europe, to isolate the vast field of the sociology of religion, or should it be restored to its rightful place in the overall global social agenda?
How a U.S. Colony Works: The Case of Germany
On 15 July 2022, Britain's Reuters news agency headlined "70% of Germans back Ukraine despite high energy prices, survey shows", and reported that "Some 70% of those polled backed Germany's support for Ukraine, … found the survey conducted between July 12-14 by broadcaster ZDF." ZDF is funded by the German Government — German taxpayers.
Germany's AfD Party is one of the two Parties in Germany that are less than enthusiastically backing Germany's anti-Russia position, the other such Party being "Die Linke" or "The Left" Party, which is Germany's only socialist democratic Party, despite West Germany's "Social Democratic Party" calling itself "democratic socialist" while being neither.
The AfD Party issued a press release, on 25 August 2022, "Stephan Brandner: Skandalöse "Politische Filter" beeinflussen NDR-Berichterstattung" or "Stephan Brandner: Scandalous 'political filters' influence NDR reporting." It reported that Mr. Brandner, who is an AfD Member of the German Parliament, said that
After the self-service affair about the now hated RBB director Schlesinger, reminiscent of feudal structures, an online magazine now reports that employees on North German radio complain about 'political filters' from their superiors. According to the report …, public service broadcasting executives act like 'ministerial press officers'. …
As an AfD politician I am not surprised. After all, ARD and ZDF only report on the AfD with a 'political filter' and, for example, no longer invite AfD politicians to talk shows. … Compulsory contributions [by taxpayers, to 'public broadcasting'] should be abolished.
Mr. Brandner provided no evidence for any of his allegations. (That's the way politics is in a dictatorship. How can the public vote intelligently if they are routinely accepting allegations that are being made without supplying documentation? That's a dictatorship by lies and liars, and no democracy-capable public would accept it. In science, what is not documented to be true is assumed to be false — not assumed to be true. A democratic country operates on the basis of science, not on the basis of faith.)
However, this doesn't mean that Mr. Brandner's allegations there are necessarily false. One reason why they could very well be true is that there are six Parties in Germany, and the current governing coalition consists of the three that take the hardest line against Russia, and for America, and for the post-2014, U.S.–coup, anti-Russian, Ukrainian Government. The ruling coalition, those three Parties, are called the "traffic-light coalition", and include the rabidly neoconservative (or pro-U.S.-empire) anti-Russian Green Party, plus the U.S. Democratic Party-allied so-called "Social Democratic Party," plus the rabidly libertarian or "neoliberal" (pro-free-market, anti-regulation, and generally U.S.-Republican-Party-allied) Free Democratic Party; and they EXCLUDE (or give the red light to, and prevent from participating in the Government) the three least-anti-Russian Parties, which are The Left Party (the authentic democratic socialists, or progressives, ideologically opposed to any imperialism), the AfD Party (nationalists), and the U.S.-Republican-Party-allied CDU/CSU Christian Democratic and Christian Social Union Party.
Brandner raised an important question, without providing any evidence regarding its solution. But here are some relevant facts, regarding the extent to which Germany's Government tolerates corruption (which includes corruptness of a Government and of its 'news'-media):
On 14 December 2021, I did an analysis comparing the anti-corruption laws in three nations, and headlined "Political Corruption in U.S., Germany, and Russia". I concluded that
Although this is a very incomplete indicator of a country's corruptness, it does present the U.S. in a very favorable light, and present Germany (11 out of 12 "No"s [meaning no law against corruption]) as being rather astoundingly corrupt. Russia is midway between those two, perhaps because after Yeltsin's abominable rule, Putin cleaned up Russia's Government, but a lot of that job still remains undone, even after 21 years.
Germany's Government was more shaped by Truman than perhaps any in the world except America's own Government. But, from the present indicator, America's vassal nations would appear to be even more corrupt than the imperial center, the U.S., itself, is — at least insofar as their political campaign-finance laws ("what's written in black and white" in the lawbooks) are concerned.
Here was the summary, specifically regarding Germany:
Following here will be answers that are solidly grounded in the written laws of each of these three countries (though not necessarily reflecting how those laws are enforced — or not), regarding the 12 most clearly important questions that were studied. I present those dozen questions in the order that seems to me to provide the clearest sequence in order for the reader to interpret them, not in the order that was employed by the source:
"8. Is there a ban on anonymous donations to candidates?" "There are no explicit provisions regarding donations to candidates."
"2. Is there a ban on donations from foreign interests to candidates?" "There are no explicit provisions regarding donations to candidates."
"18. Is there a limit on the amount a donor can contribute to a candidate?" "There are no explicit provisions regarding donations to candidates."
"10. Is there a ban on donations from corporations with government contracts to candidates?" "There are no explicit provisions regarding donations to candidates."
"4. Is there a ban on corporate donations to candidates?" "There are no explicit provisions regarding donations to candidates."
"6. Is there a ban on donations from Trade Unions to candidates?" "There are no explicit provisions regarding donations to candidates."
"5. Is there a ban on donations from Trade Unions to political parties?" "There are [is] no explicit … ban on donations from Trade Unions to political parties"
"3. Is there a ban on corporate donations to political parties?" "Ban on donation from corporate bodies, but accepted if it is a business enterprise, of whose shares more than 50 per cent of shares are owned by Germans …"
"9. Is there a ban on donations from corporations with government contracts to political parties?" "No."
"14. Is there a limit on the amount a donor can contribute to a political party during a non-election specific period?" "No."
"16. Is there a limit on the amount a donor can contribute to a political party during an election?" "No."
"27. Are there provisions requiring donations to go through the banking system?" "No."
Consequently, Brandner's allegations might be expected to be true, simply because Germany, especially after the U.S. Government blew up the Russian gas pipelines to Germany and yet Germany's Government continues to be a U.S. vassal-nation, despite that U.S. act of war against both Germany and Russia. This indicates Germany's Government to be extremely corrupt, willing to ditch its own population in order to please its U.S. masters.
Europe's former imperial countries are now desperate U.S. colonies
India is no longer a colony of the UK, but Germany and other European countries have become — now quite obviously — colonies of the United States, and their economies will be financially bled by the world-bestriding U.S. imperialist center, just like the UK and other European nations had previously (and infamously) exploited India and its other colonies.
The U.S. Government's having blown-up the Nord Stream gas pipelines from Russia to Europe — after years of efforts to sabotage them more subtly by other, more 'diplomatic' (but less permanent), means — will leave Europe permanently forced to pay vastly higher rates to America and other liquefied natural gas (LNG) suppliers, and no longer with even a hope of receiving the far less-expensive Russian gas, which, until recently, fueled so many European firms to international competitiveness. Now, there's no longer even a hope for Europe to avoid sliding into the usual model of colonies, as being banana republics, of one sort or another.
It was so natural for Russia to be Europe's main energy-supplier, because Russia is a part of Europe, on the same continent as the other European nations, and therefore could pipeline its energy to them, and Russia had a surfeit of energy while the other European nations had a surfeit of need for it. That's the way international capitalism is supposed to function, but imperialistic capitalism is instead international fascism, and it survives and grows only by exploiting other nations. From now on, the European nations, other than Russia, will, for at least a long time (because those giant gas-pipelines have been destroyed) be paying the world's highest prices for energy (containerized and shipped, instead of simply pipelined), and buying much of it from Europe's imperial center, which is increasingly recognizable now as being Europe's real enemy: America. They will be paying tribute to the emperor — the billionaires who control the USA. These are the puppet-masters behind "the free world" (as their 'news'-media refer to it), which is actually the new international-fascist empire. As Barack Obama called it, America is "the one indisensable nation," which means that all other nations (in this case, the ones in Europe) are "dispensable." Now, these former imperial nations will finally get a taste of what it's like to be a "dispensable nation."
Here are some of the key U.S. operatives in Europe, who managed this situation, for the U.S. owners — brought this situation about (before Joe Biden's agents ultimately just pulled the plug on the whole operation):
Boris Johnson, Olaf Schulz, Annalena Baerbock, Robert Habeck, Ursula von der Leyen, Josep Borrell, Anders Fogh Rasmussen, Jens Stoltenberg, Emmanuel Macron, Mario Draghi — and, of course, behind the scenes, the billionaires who funded those leaders' political careers (via political donations, plus those billionaires' news-media and their other mass-public-opinion-forming organizations). These key agents will no doubt be paid well, in their retirements, regardless of what the public might think of them after their 'service to the public' is over.
Exporting Religious Hatred to England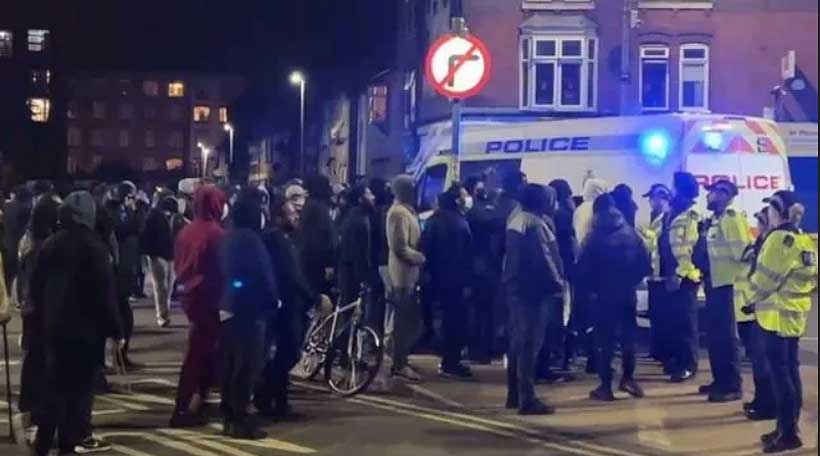 Not a place hitting the main news channels often, Leicester is a small town of 250,000 inhabitants about a hundred miles north of London and 40 miles east of Birmingham the UK's second largest city.
But an imported ideology is now the cause of religious violence that has profoundly affected Leicester's ethnic community of South Asians. This Hindutva ideology represents a belief in the transcendence of Hinduism and its culture.
Leicester prides itself as a city of tolerance and diversity where different religions and races all live together in relative harmony — a sort of 'live and let live and mind your own business' philosophy that had worked until recently. But under the surface simmering tensions burst forth recently. The trigger was a South Asia Cup cricket match between Indian and Pakistan held in Dubai and won by India.
Couple Hindutva with India's win and groups of Hindu young men were keen to demonstrate their might, and did so on isolated young Muslims. The latter then formed their own groups ready for revenge.
Where were the police one might ask. Well, a couple of beaten up Asian teenagers did not register as exhibiting anything more than random teenage violence. They were slow to react and did not discuss the ominous truth of religion as the prime mover behind the violence.
Civic leaders on both sides are now trying to quell the attacks. But the damage has been done and the seeds of ill-feeling have been sown within the community meaning Hindus vis-a-vis Muslims and vice versa.
India's per capita GDP is higher than for Pakistan or Bangladesh, the two countries bordering it, which together constitute the subcontinent. Thus the three countries are similar culturally. The next question to ask is why then is India hugging the bottom on the 2020 World Happiness Report, next to ill-fated war-torn places like Yemen. India is ranked 144 while its rival and neighbor Pakistan, although lower in per capita GDP, ranks a shocking (for India) 66. Bangladesh also ranks much higher than India at 107, despite its devastating floods and typhoons.
Perhaps the answer lies in the pervasive hate that is the currency of the ruling BJP (Bharatia Janata Party), a currency spent liberally during general elections to the detriment of the Congress Party, which has stood for a secular India since independence.
But hate yields more votes as BJP leaders Norendra Modi and Amit Shah know well. After all, they came to power via the destruction of the historic nearly five century old Babri Mosque, built on a Hindu holy site in an effort to ally Hindus by an astute Babur, the Mughal whose hold on India, just wrested from the Muslim Pathan kings, was still weak. It worked for Babur then; its destruction worked for the BJP in the 21st century
Has India become more civilized since?