Azerbaijan wants to 'revise' ties with EU
Welcome to the Caspian Daily, where you will find the 10 most important things you need to know on Caspian Sea Region. We appreciate ideas, reports, news and interesting articles. Send along to Caspian[at]moderndiplomacy.eu or on Twitter: @DGiannakopoulos
1Azerbaijan on Friday fiercely rejected European criticism of its human rights record and threatened to "revise" relations over a European Parliament's resolution calling for sanctions against Azeri authorities."(Azerbaijan's) relations with the European Union should be revised due to its anti-Azeri and anti-Islamic tendencies," the oil-rich Caucasus nation's foreign ministry said in a statement.The European Parliament passed on Thursday a non-binding resolution strongly condemning the "unprecedented repression against civil society in Azerbaijan."It called on the EU's executive body to "consider targeted sanctions and visa bans on all politicians, officials and judges involved in the political persecutions."MEP also urged the EU to "conduct a thorough investigation into the corruption allegations against President (Ilham) Aliyev and members of his family."Baku said Friday it has decided to postpone the visit of a European Commission delegation which was due to arrive in Baku for talks on planned EU-Azerbaijan "strategic partnership" agreement.
2Kazakh President Nursultan Nazarbayev on Friday kicked off the first of a series of events commemorating the 550th anniversary of the Kazakh Khanate, the roots of present-day Kazakhstan.Speaking at the Palace of Independence, Nazarbayev paid tribute to the ancestors who laid the country's foundations through the khanate (political entity ruled by a khan) of Kazakh.The Kazakh Khanate was founded in 1465 in Tazar, southern Kazakhstan, by a joining of the tribes of Janybek Khan and Kerey Khan and endured until it was absorbed by the Russian Empire in the mid-19th century.The president stressed the need to know the past in order to "respect and interpret the present."Nazarbayev said that Kazakh means "free," "a freedom that characterizes the Kazakhs," a people made up of more than 130 ethnic groups, among which he highlighted "Russians, Ukrainians, Belarusians and Uzbeks."
3The European Commission estimates that Iran could become a major natural gas supplier to the European Union by the next decade, a new report says. According to an EU official, cited by the Wall Street Journal, the bloc could import up to 35 billion cubic meters of gas a year from Iran by 2030 that would help reduce dependence on Russian shipments.The conclusion of nuclear talks with Iran has set off a race among the Europeans to search for new business opportunities in the energy-rich country which owns the world's largest natural gas reserves.According to the Journal, EU Energy Commissioner Miguel Arias Canete met representatives of major European energy companies last week to encourage them "to actively pursue ties in Iran".
4Ukrainian President Petro Poroshenko said his country was moving towards peace with Russia. According to Poroshenko, he had been working "day and night" in the last 15 months since Ukraine clashed with Russia. While he does not want to dream about peace yet, he said there was "a change in tactics.""We know where the Russians and their proxies are still hiding their weapons, their tanks and their artillery – for now the order has been given to cease fire, but for how long?" the Ukrainian president told The Independent. "This is not the end of the war, but instead a change in tactics." Russian news agency Tass reported that the Ukrainian defense ministry and the general headquarters had started the process of demobilization in September upon Poroshenko's order.
5The energy-rich Azerbaijan is expected to slightly increase oil production by late 2015.The country's oil production will hit 0.88 million barrels a day in the third and fourth quarters of the year, according to the U.S. Energy Information Administration's Short-Term Energy Outlook.The country's oil production stood at 0.86 million barrels a day in the first quarter and 0.87 million barrels a day in the second quarter of this year, according to the EIA's forecasts.
6The European Parliament has carried out another political campaign against Azerbaijan. During the meeting on Sept.10, the rules of etiquette were violated, and slanderous statements were made against Azerbaijan, Speaker of the Azerbaijani Milli Majlis (Parliament) Ogtay Asadov said at the parliament's extraordinary session on Sept.14.The European Parliament's resolution is fully biased and fictitious, the speaker said, adding organization's previous meetings were attended by 50-60 deputies, but this time more than 600 deputies were involved in the meeting on Sept.10. Asadov said over the past two years the European Parliament has adopted a number of biased documents against Azerbaijan. "We were silent for a long time. However, it is impossible to be silent. This time, Europe has broken all the rules of conduct," noted the speaker. Morover, Asadov said that the parliament will appeal to the Cabinet of Ministers to reconsider Azerbaijan's cooperation with Euronest.
7Kazakhstan's President Nursultan Nazarbayev signed off on daughter Dariga's appointment as deputy-prime minister Friday, in a move that could be linked to the ex-Soviet republic's looming succession issue. Nazarbayeva, 52, was an MP and vice-speaker of the Kazakh parliament before the Friday decree. Her appointment to the position comes months after Nazarbayev secured a new five-year term in April presidential elections many believe were his last.
8With China slowing down, Russia is trying to sell its oil to India. "With the China story fizzling out, Russia is now planning to build up its presence in China's neighbor India. With huge internal energy consumption and a bustling economy, India is set to grow faster than China in 2015 and 2016 according to the recent projections from the IMF.After China, India is the next best logical alternative for Russia to strengthen its Asian ties and move away from western sanctions" Gaurav Agnihotri –Oilprice.com
9Azerbaijan's state energy company SOCAR is interested in establishing a full-scale cooperation with Turkmenistan – a reliable and promising partner, which has huge energy resources and economic potential. This was stated at a meeting held between Turkmen President Gurbanguly Berdymukhamedov and President of Azerbaijan's state energy company SOCAR Rovnag Abdullayev in Turkmenistan's national tourism zone Avaza on September 11.The sides discussed cooperation issues between the two countries in the fuel-energy, transport and communication sectors.
10The Organisation for Security and Cooperation in Europe (OSCE) said it will not monitor Azerbaijan's November parliamentary election because restrictions imposed by authorities have rendered credible poll monitoring impossible. Azeris are due to vote for the new parliament on Nov. 1. Previous elections in the ex-Soviet state, led by President Ilham Aliyev for the last 12 years, have been criticized by international observers. "The restriction on the number of observers taking part would make it impossible for the mission to carry out effective and credible election observation," Michael Georg Link, Director of the OSCE Office for Democratic Institutions and Human Rights (ODIHR), said in a press release on the OSCE website.
China, UNIDO collaborate to support the first China International Import Expo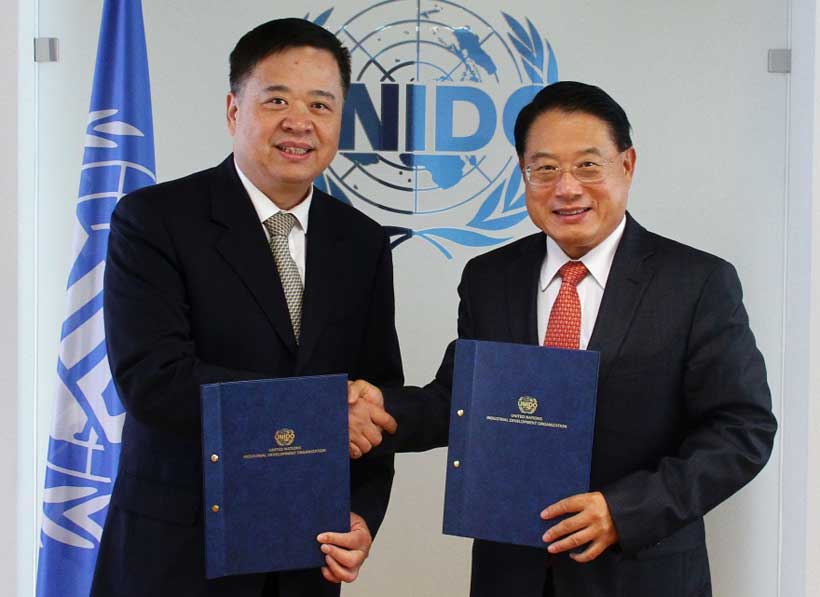 China will host the first China International Import Expo (CIIE) from November 5 to 10, 2018, in Shanghai, in cooperation with the United Nations Industrial Development Organization (UNIDO) and other international organizations.
Today, a project document was signed by UNIDO Director General LI Yong, and the Minister Counsellor YAO Shenhong of the Permanent Mission of China. UNIDO will assist relevant departments of the Government of China to organize the China International Import Expo, in order to promote international cooperation, facilitate imports to China from all countries and regions around the world, and increase the awareness and participation of the public and private sectors.
This project will contribute to increasing exports from other developing countries, middle-income countries (MICs) and least developed countries (LDCs), and promote their SME development by organizing international trade forums and exhibitions related to agro-industry value chain and high-end intelligent manufacturing.
"The objectives of the Expo are in line with UNIDO's mandate and support the realization of Sustainable Development Goals 9 and 17," said Li, "The CIIE will promote international cooperation and facilitate imports to China from the entire world, and will thus contribute to the advancement of inclusive and sustainable industrial development (ISID) and the 2030 Agenda for Sustainable Development."
Minister Counsellor YAO Shenhong of the Permanent Mission of China stated, "The CIIE is an important move for the Chinese government to give firm support to trade liberalization and actively open the Chinese market to the world. We believe that, with this project, UNIDO's expertise and experience will significantly contribute to the success of the Expo. We also sincerely welcome all stakeholders across the world to participate in CIIE and to explore the Chinese market.
UNIDO and CIIE will establish a mechanism for long-term cooperation that will include the launching of UNIDO investment-related reports, the sharing of results of the UNIDO Programmes for Country Partnership, and the fostering of the development of SMEs, for example through e-commerce. Environmental sustainability will be one of the core issues.
First Global Gastronomy Tourism Startup Competition Launched
The World Tourism Organization and Basque Culinary Center (BCC), have launched a pioneering initiative for the gastronomic tourism sector, with a global call for startups or companies, mature or emerging, technological and non-technological, with innovative ideas capable of revolutionizing and integrating gastronomy in tourism and inspiring tourists with new ways and reasons to travel.
The gastronomic tourism sector is moving towards innovation and the diversification of its offerings. UNWTO, in collaboration with its Affiliated Member, Basque Culinary Center (BCC), has launched the 1st UNWTO Gastronomy Tourism Startup Competition, the first and largest initiative in the world dedicated to identifying new companies that will lead the transformation of the gastronomic tourism sector.
Intangible cultural heritage has become the decisive factor that attracts and captivates tourists. Gastronomy tourism, as a component and vehicle of culture and tradition, is an indispensable resource that adds value and provides solutions for destinations that seek to stand out through unique product offerings.
The Competition will make it possible to identify the best solutions and projects that contribute the most to the sector through pioneering proposals in the implementation of emerging and disruptive technologies, as well as emerging companies or startups. It aims to identify challenges and projects, and to catalyse innovations that can transform the Gastronomy Tourism sector in the near future.
"Innovation and tourism investments are not ends in themselves, but are means to promote better tourism products, improve tourism governance and harness its proven capability to foster sustainability, create jobs and generate opportunities," said UNWTO Secretary-General, Zurab Pololikashvili.
"Education and innovation are essential for the development of sustainable gastronomic tourism. At Basque Culinary Center, we support entrepreneurship and the development of new business projects to ensure the future of the sector. In this regard, we are proud to once again team up with our partners at UNWTO in order to continue fostering entrepreneurship and innovation linked to gastronomy tourism through this initiative," said Joxe Mari Aizega, General Manager of Basque Culinary Center.
UNWTO and Basque Culinary Center have entrusted the process of finding startups to BCC Innovation through its Culinary Action! programme, which has accelerated nearly 50 startups by providing innovative, sustainable and high added value solutions to the gastronomy value chain.
Sustainability and technology
Startups are invited to pitch business models that are related to sustainability, respect the value chain, offer an authentic and coherent narrative, and add value to cultural and local heritage.
The winners of this competition will have the opportunity to present their projects at the 5th World Forum on Gastronomy Tourism (2-3 May 2019, San Sebastián, Spain), with the possibility of receiving personalized consulting and mentoring from the BCC experts  of project accelerator Culinary Action!
Eurasian Research on Modern China-Eurasia Conference
October 26-27, 2018,National Academy of Sciences, Armenia.
Address: Marshal Bagramyan 24, Yerevan, Armenia.
Organizers:"China-Eurasia" Council for Political and Strategic Research, Foundation, Armenia,Institute of Oriental Studies,National Academy of Sciences, Armeniaand Department of Oriental Studies, ISEC, National Academy of Sciences, Armenia.
Supported by:"Transport Project Implementation Organization" SNCO,Armenia,"Diplomatic Foundation of Armenia" and "Modern Diplomacy", Greece.
Table of Contents
(English Language Panels)
Panel 1։ China and Eurasian Economics
Panel 2։China's One Belt, One Road and the World
Panel 3։ China and One Belt One Road Initiative
Panel 4։ China, Eurasia and Politics
Panel 5: The History of Interaction between China and Eurasia
Panel 6։ China and the South Caucasus
Panel 7:China and Eurasia (International Relations)
October 26, 2018
Welcome Address (11:00-11:30)
Panel 1: (English Language). China and Eurasian Economics(11:45-13:40)
Ma Bin, (Fudan University, China), "Railway Express between China and EU:New Model of International Transportation or Traditional tool of Economic Growth?".
Connor Judge (SOAS, University of London, Great Britain), "Competing Narratives for Chinese Investment: Serbia and Mongolia".
Srdjan Uljevic, (American University of Central Asia, Kyrgyz Republic),
"India's Foreign Policy in the Age of China's Dominance in Asia".
Arjun Chapagain, June Wang, Linda Che-lan Li, (City University of Hong, China),
"The Trans-Himalayan Trade of Medicinal and Aromatic Plants: AGeo-Historical Political Lens".
Anna Zalinyan, (Armenia), "Peculiaritiesbetween China and European Countries on Public Administration Reforms".
Key note Speech 13:40-14:00
Zachary Paikin (University of Kent, Great Britain, Senior Editor at Global Brief Magazine)
"The Future of Liberal Order: Russia-China Relations and Eurasian Consequences".
October 26, 2018 (11:50-12:30)
Panel 2: (Russian Language) China's One Belt, One Road and the World-Панель 2 Китайская инициативаОдин пояс, один путь и мир
AnatolyTsvyk, (RUDN University, Russia),
"The EU and OBOR: Mutual Benefit or Competition?" / ЦвыкАнатолий. (Российский университет дружбы народов, Россия).«Европейский союз и инициатива «Один пояс, один путь»: взаимная выгода или конкуренция?».
Konstantin Tasits,(Russian Institute for Strategic Studies, Russia),
"Sino-Georgian Economic Relations in Modern Era". Тасиц Константин. (Российский институт стратегических исследований Россия).  «Экономические отношения Грузии и Китая на современном этапе».
Coffee/Pastries (14:00-14:30)
October 26, 2018
Panel 3։ (English Language) China and One Belt One Road Initiative (14:30-17:00)
Jukka Aukia, (University of Turku, Finland),
"Belt and Road: the Baltic States within the 16+1".
Uzma Siraj,(Federal Urdu University Islamabad, Pakistan),
"Eastern Europe Between Constraints, Coercion, and Opportunities: BRI and China Challenging Russia and EU in their Backyard".
Mher Sahakyan, ("China-Eurasia" Council for Political and Strategic Research, Armenia).
"China's One Belt, One Road Initiative and Armenia".
Ma Xiaoyun, (Party School of CPC Tongling Municipal Committee, China),
"OBOR and China's Midland Open Economy Development-A Case Study on Anhui".
Gabriel de Rezende Piccinini, Alena Vysotskaya Guedes Vieira(University of Minho, Portugal),
"The Eurasian Economic Union and the One Belt, One Road Initiative: how Brazil and the European Union See It".
Clayton HazvineiVhumbunu, (University of KwaZulu-Natal, Republic of South Africa).
"The Economic Impact of China's One Belt, One Road Initiative on Eurasia".
Ani Hakhverdyan (Russian-Armenian University, Armenia), "The Energy Silk Road".
October 26 (17:20) ****Drinks and Pizza (Reception).
October 27
Panel 4։ (English Language) China, Eurasia and Politics(10:00-12:20)
Anahit Parzyan, ("China-Eurasia" Council for Political and Strategic Research, Foundation, Armenia), "Some aspects of Digitalization of China".
Maximilian Ohle, (Nankai University), Richard J. Cook, (Nankai University), Zhaoying Han, (Nankai University China, the Editor-in-Chief of the Nankai Journal),
"China's Engagement with Kazakhstan and Russia's Zugzwang: Why is Astana Incurring Regional Power Hedging?"
Izabella Muradyan, (Chinese Centre Culture and Science, Armenia),
"Geo-Economic Cooperation with China under One Belt, One Road Initiative: Armenian Keys from EAEU".
Luiza Grigoryan, (European University in Armenia),
"China and the Brics".
October 27, 2018 (10:00-11:20)
Panel 5: (Russian Language) The History of Interaction between China and Eurasia-Панель 5. Историясношения (Китай-Евразия)
Sergey Kozlovsky, (The Ivan Franko National University of Lviv, Ukraine), "The Theory and genesis of Pax Sinica"/КозловскийСергей. (Львовский национальный университет имени Ивана ФранкоУкраина). «Теория фронтира и генезис PaxSinicia».
KhusnutdinovaLiailia, (Ufa State Petroleum Technological University, Russia), "On Historical Aspect of Chinese nation in Republic of Bashkortostan". /ХуснутдиноваЛяйля. (Уфимский государственный нефтяной технический университет. Россия).«К проблеме истории Китайского народа в Республике Башкортостан».
Coffee/Pastries (12:30-13:00)
Panel 6: (English Language)China and South Caucasus (13:10-14:30)
Vakhtang Charaia,(Ivane Javakhishvili Tbilisi State University, Georgia),
"Trade and Investment between South Caucasus, China and EU".
Gabriela Radu, (Strategic Analyst,Romania),
"Foreign Direct Investment Trends in the Southern Caucasus".
Saren Abgaryan. (Shanghai Jiao Tong University, China),
"China-Armenia Bilateral Investment Treaty (BIT) in the Context of Chinese Evolving BIT Practice and Jurisprudence".
October 27 (11:20-12:30)
Панель 7. (Russian Language)КитайиЕвразия (Внешняяполитика)- China and Eurasia (International Relations)
Andranik Hovhannisyan, (Russian-Armenian University, Armenia), "The Pivot towards Asia: Perspectives of Formation of Asian NATO". /ОваннисянАндраник(Российско-Армянскийуниверситет, Армения).«ПовороткАзии: перспективыформирования «АзиатскогоНАТО»».
OganesyanArusyak, (RUDN University, Russia), "The Role of Eastern Asia in China's Foreign Policy". /ОганесянАрусяк.(Российский университет дружбы народов, Россия).«Роль Восточной Азии в современной китайской внешней политике».
KhubrikovaBadma, (BuryatStateUniversity, Russia), "SoftPowerintheEraofXiJinping". /ХубриковБадма, Бурятскийгосударственныйуниверситет.
«Мягкая сила» в эпоху Си Цзиньпина».
October 27 (15:00) ****Drinks and Pizza (Reception).
National Academy of Sciencesis in the Center of the city, in the front of National Assembly of Armenia.Address: Marshal Bagramyan 24, Yerevan, Armenia.
Nearest Subway station is "Marshal Bagramyan".
Working languages in different panels are English or Russian.
All audience members are required to register for the conference. Please contact info@chinastan.org
Conference Facebook Page:
https://www.facebook.com/ChinaEurasiacouncil/ and
https://www.facebook.com/DiscoverChinastan/
Conference Website: