Hell's Conduit: Trafficking through the Caspian
Tajikistan unfortunately has all of the pre-conditions that make trafficking in persons there a perfect opportunity for the growing trade of human commodities. The state has poor governance, is rife with corruption, unemployment is high, and a large portion of the population is uneducated.
This combination of variables makes 'acquiring' human commodities very easy for the traffickers. The fact that the Caspian region, a major conduit and facilitator of such underworld activities, sits right on Tajikistan's doorstep gives traffickers an easy route out of Central Asia and on to more lucrative and manipulative markets.
Madina, like thousands of other Tajik women who have been trafficked, had fallen on hard times. She was a single mother working in her local market and barely scraping by. Madina was enticed into the lurid world of the sex trade when a stranger approached her and promised that he would take her abroad and she would be able to earn large sums of money in just a few months and return home to her children. Of course, this was a lie. The man, who was a trafficker, took Madina to Turkey (through the Caspian region first, as most trafficked victims from Central Asia are) where he enslaved her at a brothel for over a year. Women, however, usually do not stay in their original destination country. Madina saw people transported on to Russia and Kazakhstan while others went to the Middle East, Iran, and even China.
Economic changes account for sexual exploitation as the number one trafficking concern in Tajikistan. The financial crisis of 2008 played an extraordinarily large role in the rise of trafficking along with the lack of border controls and complicity of the local governmental agents. As Louise Shelley states, "one-third of Tajik households now have a family member working outside of their country, most often in [the Caspian littoral states of] Russia or Kazakhstan." (Shelley 2010) They are living in harsh conditions with many people housed in a single room. The conditions are filthy, exposing workers to dangerous jobs with little protection from the heat or cold, and employers that show little to no regard for the workers' safety.
An often unseen aspect to Caspian trafficking is how it leaves the families left back in Tajikistan vulnerable to internal trafficking. These children left behind in Tajikistan, now devoid of their matriarchal authority figure, are often forced to work in the cotton fields within Tajikistan and Uzbekistan. Even though officially adopted legislation is in place that prohibits the use of child and forced labor, especially in rural areas, many of the schools remain closed during picking season and the children are forced to work. The International Organization for Migration (IOM) remains the top agency in Tajikistan to monitor and fight the practice of trafficking in persons. For the years of 2010 and 2011, the IOM produced lengthy reports explaining their findings on the cotton harvests. Working together with local government and law enforcement, the IOM was able to determine that while there was a drop in the number of students participating in the harvest, trafficking in child labor was still high.
There is a pernicious secondary trafficking market through the Caspian region that is also under-researched: children are not only vulnerable to the pressures of forced labor within Tajikistan once an adult figure is stolen away. They themselves are sometimes then consequently trafficked out-of-country as domestic servants. Many of the children will end up in places where children are used in the sex trade as well. Russia and Iran are some of the strongest 'middle organizers' of this secondary market, acting as conduits through the Caspian and onward to, for example, the Arab Gulf States. Also, because of the massive numbers of adults that are migrant workers, many children find themselves taken by parents to places like Russia and then actually abandoned when their parents find they can no longer support them. Uneducated children who know little to no Russian at all and have no papers to identify who they are or find their parents often end up extremely vulnerable. The transient homes throughout Russia that are set up as temporary places of safety more often serve as de facto recruiting grounds for organized crime groups that utilize trafficking as a major cash resource. These children become the victims of sexual exploitation, forced labor, forced begging, and even conscripted as child soldiers to conflicts all around the globe. Some children end up in places as far away as Latin America. And all of them, almost without exception, start that horrible journey by transiting through the Caspian.
The ties that human traffickers have to organized crime offer them ways to forge documents and utilize illicit trade routes. It should be no surprise that the prosperous natural resource routes of the Caspian often double as illicit trade routes for 'Dark Net' activities. Advertising of 'human inventory' is now cheap, secret, and easily accessible because of modern technology. Consumers of trafficked persons are able to shop for their perfect victims with just the click of a button on their computer, tablet, or cell phone. Traffickers can use cell phones to make and take bids on their human commodities, while buyers are able to make their purchase – documentation and travel included no less – to anywhere in the world. Unfortunately, the decreased costs of transportation in the Caspian, as it has become more and more integrated into the global economy, have also made it easier to export these unfortunate souls.
Many countries, including Tajikistan, rely solely on the human-trafficking protocols set forth by the United Nations. Cooperation across many United Nations groups, academia, and private institutions are coming together to bring recognition to the problem of human-trafficking. The list of organizations that are participating in the initiatives include the United Nations Global Initiative to Fight Human Trafficking (UN-GIFT), the UNODC, the International Labor Organization (ILO), the Office of the UN High Commissioner for Human Rights (OHCHR), UN Children's Fund (UNICEF), International Organization for Migration (IOM), and the Organization for Security and Cooperation in Europe (OSCE). After rescuing victims of trafficking from their lives of servitude, the most difficult part is to reintegrate them back into their home societies. In Tajikistan, women who have been trafficked across the Caspian face a strong stigma related to the sexual activities they may have been involved in while being trafficked. This makes the reintegration process difficult because the community shuns the women, leaving strong feelings of inadequacy, guilt, and shame. The IOM has played the largest role in aiding victims of trafficking (VoTs) to reintegrate back into society. Unfortunately, these efforts are small in comparison to the estimated numbers of people that are actually trafficked. The complexity of retrieving victims from across international borders makes rescue near impossible in most cases. Traffickers have become experts at hiding and manipulating the victims into obedient compliance.
The governments of the Caspian littoral states still do not take the issue of trafficking seriously enough in my opinion. Until these governments take a serious stance against corruption and place a higher value on fundamental human rights and basic standards of decency, trafficking will continue to be a problem for years to come. The lives of these invisible citizens will be lost in a world of darkness. It is not just a problem for the Caspian. It is a problem for all of the countries adjacent to the Caspian Five as well. Until progress is made the Caspian region will not just be a 21st century channel for a new Silk Road into Central Asia. It will quite literally for some be a conduit to Hell.
From Disintegration to Cooperation: Kazakhstan's perspective in Central Asian Integration
The Russia-Ukraine war has underscored the significance of regional integration among the Central Asian states. A cohesive Central Asia could serve as a counterweight to the assertive policies of Russia and the growing influence of China, which regards the region as its sphere of influence. The future of the region hinges on the roles and relations of Kazakhstan and Uzbekistan. Uzbekistan has undergone a remarkable transformation in its foreign policy, shifting from isolationism and authoritarianism to openness and constructive engagement in Central Asia integration. Kazakhstan, on the other hand, has demonstrated a relative indifference towards integration initiatives. Yet, the unity of Central Asia is vital important for the national security of Kazakhstan.
Following the disintegration of the Soviet Union, the Central Asian nations made numerous attempts to establish a cohesive and integrated framework within the region. However, these endeavors proved to be unsuccessful, yielding no tangible outcomes. The failure of Central Asian integration can be attributed to the allure of external actors, most notably Russia, whose involvement has resulted in regional fragmentation. Russia has always opposed the emergence of a centralized and integrated Central Asia. Whenever the Central Asian countries attempted to form an association, Russia either tried to join it or proposed an alternative organization to undermine it. For instance, The Central Asian Economic Community (CAEC) was established in 1993 with the participation of Uzbekistan, Kyrgyzstan, and Kazakhstan, and expanded to include Tajikistan in 1998. In 2002, the CAEC transformed into the Central Asian Cooperation Organization (CACO), which admitted Russia as an extra-regional member in 2004, altering the balance of power in the organization. During that period, the member states of the Central Asian Cooperation Organization (CACO) concurrently held membership in the Eurasian Economic Community (EEC), which was under the leadership of Moscow. Subsequently, in 2005, the integration efforts among the Central Asian countries, independent from Russia, were terminated under the pretext of duplicated tasks between the two organizations. This development not only paved the way for future challenges but also contributed to disunity within the region. Furthermore, Russia's strategic maneuvering presented Kazakhstan with irresistible economic and political incentives that overshadowed the potential advantages of intra-regional collaboration. Consequently, Kazakhstan opted to align itself more closely with Russia rather than its neighboring states within Central Asia. As a result of this decision, the other countries in Central Asia gave up their own plans for regional cooperation.
The implementation of this particular policy by Russia has yielded significant outcomes. It is evident that all nations within Central Asia, including Kazakhstan, have become increasingly dependent on Russia. The most critical aspect of this dependence is the import of food products. After Western countries imposed sanctions against Russia, import has dropped slightly: certain goods will now have to be imported from elsewhere. But there are categories of supplies that simply cannot be replaced. On the other hand, Kazakhstan is highly reliant on Russia for its export sector, with 80 per cent of its oil exports passing through the Russian pipeline network. Furthermore, according to experts from Caravan, a Kazakhstani news agency, Russia is the main transit country for the cargo that reaches Kazakhstan. They estimate that more than 70 percent of all cargo that goes to Kazakhstan passes through the territory of Russia. Another 20 percent comes from China. In addition, reliance Kazakhstan's tenge on Russian ruble is very high. In the first two weeks of Russia's war in Ukraine, Kazakhstan's tenge lost 20 percent of its value as the ruble fell against the dollar. In 2022, inflation increased mainly in Kazakhstan. In February 2023, it reached 21.3%.
Indeed, the war in Ukraine has had a significant impact on the perception of Russia in neighboring countries, including Kazakhstan. As Kazakhstan shares a long border with Russia, the deteriorating perception of Russia has raised concerns among the political elite. Additionally, the expanding influence of China in the region poses a serious challenge to the security of Central Asia.
In light of these challenges, Kazakhstan should prioritize the integration of Central Asia in its foreign policy. By forming a united front, Central Asian countries can act as a coherent actor in international relations. The following outlines the upcoming trends in the integration process.
Firstly, the establishment of a robust and autonomous institution, free from the influence of Russia and China, is of utmost importance. This institution should serve as a platform for fostering consistent communication and facilitating cooperation between interstate, intergovernmental, NGOs and SMEs. The current state of mutual collaboration on security issues among Central Asian countries is remarkably limited, resulting in divergent positions on regional security matters, or even an absence of any definitive position. For instance, the countries' perspectives on the Ukrainian conflict displayed slight variances. Additionally, during the May 2023 summit between China and Central Asian nations held in Xian, China explicitly expressed its desire to improve law enforcement, security and defense capability construction and act as a guarantor against potential threats in the region, yet no official response was conveyed by any of the Central Asian countries. Consequently, it is imperative for Central Asian nations to develop a unified strategy in challenging external pressures posed by Russia, China, and other potential adversaries while asserting their individual sovereignties. By adopting a mutually collective approach, Central Asia can effectively balance and mitigate the risks originating from external sources.
Secondly, intra-regional trade plays a pivotal role in the integration process. Central Asia may not present significant economic attractiveness for Kazakhstan at the moment comparing to EUEA, but in the long term, the region may offer valuable opportunities for Kazakhstan's development. The development of a common customs tariff among countries can enable them to engage more actively in trade activities. Mutual trade between Central Asian countries has shown positive changes in recent years. Between 2018 and 2022, intra-regional trade grew by 73.4%, rising from $5.8 billion to $10 billion. Kazakhstan is still the leading country in Central Asia in terms of trade, accounting for 80% of the region's total volume of mutual trade.
Thirdly, the relations between Uzbekistan and Kazakhstan are crucial for the region's long-term growth prospects as they shape the regional climate. Uzbekistan and Kazakhstan have complementary economies. Kazakhstan, with its well-developed industrial sectors, can provide technological expertise and investment opportunities for Uzbekistan, which has a strong agricultural base. On the other hand, Kazakhstan has the opportunity to serve as the primary export market for growing Uzbekistan's manufacturing products, thereby fostering mutual complementarity in terms of labor supply and demand. By sharing knowledge, resources, and technology, they can promote economic diversification and reduce reliance on a single sector, ensuring sustainable growth for the region. Moreover, the cooperation between Uzbekistan and Kazakhstan sets a precedent for other countries in the region. Their ability to work together and find common ground serves as an example for neighboring nations, encouraging them to engage in cooperative efforts as well. Further, this collaboration holds the potential to address regional challenges like water and energy security jointly, establish shared foreign policy positions, particularly towards China and Russia.
Finally, the integration process is significantly influenced by the advancement of transportation and communication systems. Without addressing these problems and establishing mutual access between Central Asian states, efforts for collaboration will prove ineffective. Hence, the countries in the Central Asian region must focus on modernizing their existing transportation infrastructure, including roads and railways. Moreover, they should also prioritize the establishment of new transportation branches such as roadside services, container systems for transportation, and air and rail transport. Additionally, it is essential to develop common points of access to the sea for the Central Asian countries, along with the creation of electronic access infrastructure to facilitate the movement of people and goods.
In summary, the war between Ukraine and Russia has highlighted the need for a shift in the stance of Central Asian countries, particularly Kazakhstan. The deteriorating perception of Russia and the expanding influence of China have raised concerns about the region's security. Therefore, prioritizing the unity and interests of Central Asia itself is crucial in order to have a stronger presence in international relations and resist assimilation by external powers.
Navigating Kazakhstan's New Economic Landscape for Foreign Investment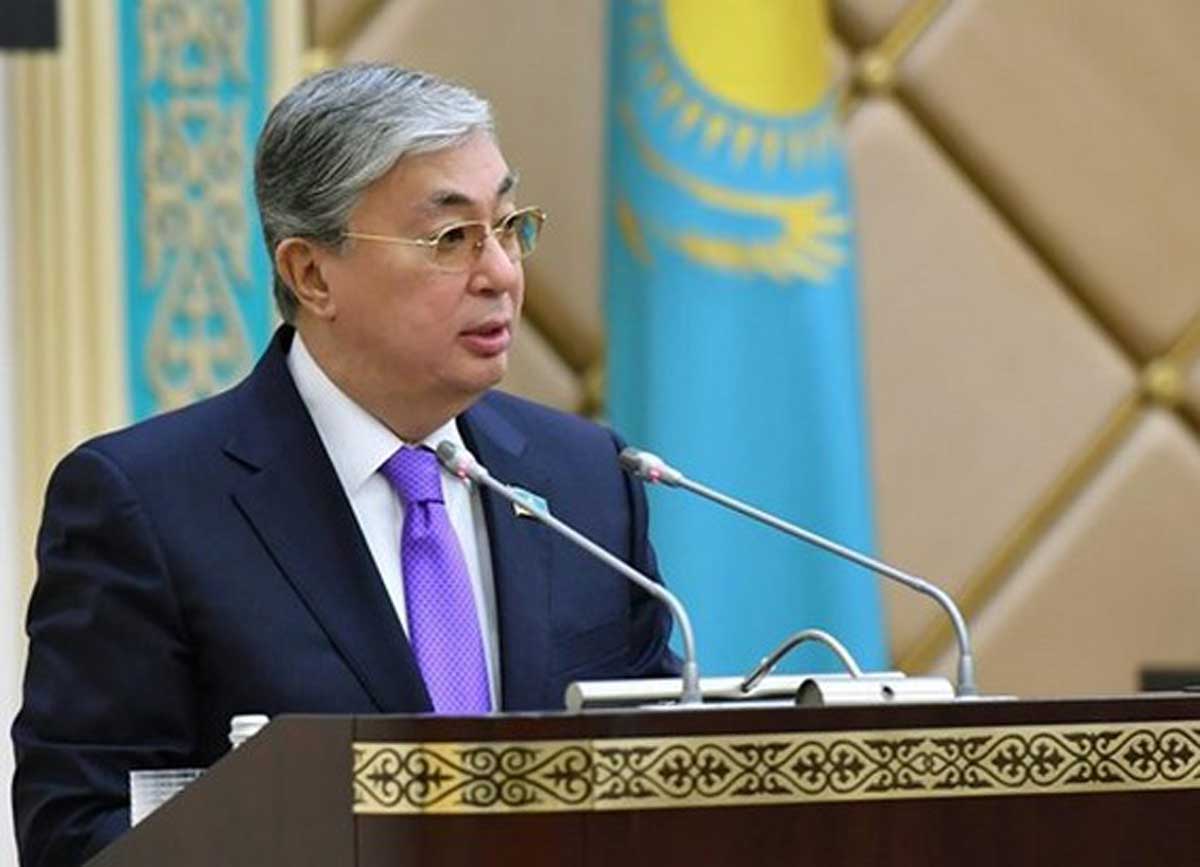 In his recent state-of-the-nation address, President Kassym-Jomart Tokayev of Kazakhstan unveiled a comprehensive plan focused on economic reforms and the new economic course for the country. These reforms have vast implications for foreign investment and Kazakhstan's economic relations with other countries. Among the key points were industrialization, diversification, a move toward green energy, simplification of tax codes, and a focus on transparency and fairness in governance. Collectively, these reform measures signal a proactive approach by Kazakhstan to attract foreign investment and enhance economic ties globally.
The President has wisely understood the necessity of diversification and self-sufficiency. By setting an ambitious task of developing areas like deep processing of metals, oil, gas and coal chemistry, and heavy engineering, Kazakhstan is setting itself up as a lucrative destination for sector-specific investments. At the same time, the stress on accelerating development in the manufacturing sector augments well with global trends where manufacturing is making a strong comeback in the post-COVID period.
Another significant reform targeted at ease of doing business is the simplification of the state procurement process. The focus on the principle of the quality of goods over price and the push toward full automation of procedures will likely reduce red tape and increase transparency, thereby encouraging foreign businesses to participate in state tenders. Simplifying these bureaucratic processes makes Kazakhstan more investor-friendly, a factor often considered by foreign enterprises before venturing into new markets.
The President's focus on stable economic growth of 6-7 percent with the aim to double the volume of the national economy to $450 billion by 2029 is ambitious but signals a strong commitment to macroeconomic stability, another key indicator scrutinized by foreign investors. Moreover, the proposal to solve the problem of insufficient corporate lending and to unfreeze approximately $5 billion in bank assets for economic turnover indicates a positive move toward increasing the liquidity in the market, which is often a green flag for investors.
Tax reforms aimed at digitalization and simplification, coupled with a reduction in the number of tax types, offer a more straightforward and less cumbersome tax environment. The transition to a service model of interaction between fiscal authorities and taxpayers and the progressive taxation model are steps that align well with the international norms. These adjustments are crucial in creating a conducive environment for foreign investors, who often seek regulatory simplicity and clarity.
Equally crucial is Kazakhstan's nod toward green and sustainable development. With a focus on renewable energy and even opening up the possibility of a nuclear power plant through a national referendum, Kazakhstan is paving the way for massive investments in sustainable technologies. This is a smart move considering the global trend toward sustainability and the increase in green funds looking for responsible investment opportunities.
Additionally, Kazakhstan's strategic location as a significant transit hub between Asia and Europe presents an invaluable proposition for foreign investors. The plans to develop the Trans-Caspian route and the North-South Corridor not only help its internal logistics but make it an attractive destination for international companies looking to improve their supply chain efficiencies.
Furthermore, the country's approach to digitization, with goals to transform into an IT nation, aims to attract high-value foreign investments in technology. The country is looking to increase the export of IT services to $1 billion by 2026 and aims to become a platform for selling computing power to global players. This could attract significant FDI flows into Kazakhstan, especially from countries that are leaders in technology.
To sum up, President Tokayev's address lays down a blueprint that not only aims for self-sufficiency but also aligns Kazakhstan well with global economic trends. It focuses on making the business environment more straightforward, more transparent, and thereby more attractive to foreign investors. These reforms could very well be a game-changer for Kazakhstan, positioning it as a hotspot for diversified foreign investments and as a key player in regional and global economic alliances.
Navigating Water Conflict in Central Asia: The Amu Darya River and the Qosha Tepa Canal Project
In the post-Soviet era, Central Asia experienced a pronounced upsurge in geopolitical tensions, significantly shifting the focus toward the pressing matter of the water conflict between Uzbekistan and Afghanistan. At the crux of this contentious issue lies the Amu Darya River, a pivotal water resource shared by both nations, thereby engendering profound environmental and geopolitical ramifications. The origins of this protracted conflict can be traced back to the historical legacy of centralized water management during the Soviet period, which resulted in disproportionate repercussions for downstream countries. The subsequent emergence of independent nations following the Soviet Union's dissolution further complicated the situation as each sought to assert sovereignty over water resources, exacerbating existing complexities. The intricate nature of the dispute is compounded by the shrinking of the Aral Sea, divergent irrigation practices, and conflicting plans for hydropower development. These multifaceted factors underscore the urgent imperative to seek a resolution and necessitate heightened international collaboration and diplomatic endeavors between Afghanistan and Central Asian countries.
The Amu Darya, the longest river in Central Asia, originates from the Hindu Kush and Wakhan regions in the Pamir Highlands of Afghanistan. Spanning an impressive 2,540 kilometers, it courses its way to the Aral Sea, traversing through Tajikistan, Turkmenistan, and Uzbekistan before finally reaching its destination. The section of the Amu Darya Basin above its confluence with the Pamir River is known as Panj. The Panj River meets with the Vakhsh River, which originates in Kyrgyzstan's Alai region, to form the Amu Darya.
Running along the northern borders of Afghanistan and its neighboring countries, the Amu Darya stretches approximately 1800 kilometers from Zor-Kul to Khamaab. This river serves as a vital water source for agriculture in the region, especially in Afghanistan. It's estimated that around 6 million hectares of land in total are irrigated by the Amu Darya. Of this, Afghanistan upstream utilizes 1.15 million hectares for agriculture. Downstream, Turkmenistan holds the largest irrigation territory, using the waters of the Amu Darya to irrigate 1.7 million hectares of land, followed by Uzbekistan with 2.3 million hectares. While the Amu Darya plays a crucial role in providing water for agricultural purposes, its drainage varies among the countries it flows through. In Tajikistan, the river drains approximately 0.5 million hectares of land upstream, whereas, in the Kyrgyz Republic, this figure is significantly lower, at just 0.1 million hectares. Overall, the Amu Darya stands as a lifeline for the region, supporting livelihoods and economic activities through its extensive network of irrigation and contributing significantly to the prosperity of Afghanistan and its neighboring nations.
The water distribution from the Amu Darya River, stemming from regulations during the Soviet era, primarily focuses on meeting agricultural demands. A crucial development in this regard was the ratification of Protocol 566 by the former USSR, which outlined the allocation of water among the four Central Asian Republics (Tajikistan, Uzbekistan, Turkmenistan, and the Kyrgyz Republic). Following their independence in 1991, these republics signed a subsequent agreement known as the Almaty Agreement, which retained the water allocation quotas specified in Protocol 566. To manage the Amu Darya and the Syr Darya rivers, the Central Asian Republics (CARs) established several organizations and institutions.
However, it's important to highlight that Afghanistan was not part of these regional agreements at that time. The exclusion of Afghanistan from these agreements posed a challenge to achieving comprehensive water management in the region, given its significant stake in the Amu Darya basin. As a vital stakeholder, Afghanistan's involvement in water allocation and management decisions is crucial for ensuring equitable and sustainable water usage across the region. On March 30, 2022, Mulla Abdul Ghani Baradar, the deputy prime minister of the current Afghan government, made an official announcement regarding the commencement of the Qosh Tepeh Canal's construction. The Qosh Tepa canal is being built in Balkh province and will draw water from the Amu Darya. The construction of the canal is planned to be carried out in three phases, spanning a period of five years. Covering a distance of 285 kilometers, the canal will have a width of 152 meters and a depth of 8.5 meters.
As Afghanistan embarks on developing the Qosh Tepeh Canal to enhance its water infrastructure, concerns arise not only about the potential impacts on the country's water supply and irrigation but also about the implications for neighboring countries that rely on the waters of the Amu Darya River. The project's scale and its potential effects on regional water flow and availability are areas of particular attention for both Afghanistan and its neighboring nations, as they strive to strike a balance between their development needs and the responsible management of shared water resources.
The Taliban has set forth a plan to transform an extensive 550,000 hectares of arid desert into fertile farmland to address the pressing need for agricultural resources in Afghanistan. Currently, Kabul receives a significant 7 cubic kilometers of water from the Amu Darya basin, but they aspire to increase this amount to a total of 17 cubic kilometers. However, this ambition comes with potential consequences for neighboring countries, particularly Uzbekistan, whose water supply is predicted to decrease by around 10% to 15%. While Tajikistan may not experience a substantial impact on its primary water source, the implications for Uzbekistan and Turkmenistan are undeniable. In a worst-case scenario, the lower regions of the river, such as Karakalpakstan and Khorezm, could face severe hardships.
Uzbekistan's water availability is already diminishing due to the combined pressures of climate change and widespread drought, resulting in an unfortunate 15% water loss. If the proposed canal exacerbates this situation, Uzbekistan might encounter an additional 10% reduction, leading to a concerning total loss of 25% of their water resources. As such, the project's potential consequences raise serious concerns about the delicate balance of water resources in the region and the need for careful consideration and collaboration among all stakeholders to ensure sustainable water management.
Although Afghanistan has made rapid progress in creating the canal, Uzbekistan and Turkmenistan have decided to keep silent about it and have not yet made any public statements. A group from Uzbekistan visited Afghanistan on March 22, 2023, with the aim to discuss problems pertaining to the two countries' economic relationship. The "Trans-Afghan project," which includes building the Termez-Mazar-i-Sharif-Kabul-Peshawar railroad and installing an electrical line along the Surkhan-Puli Khumri route, was at the center of the negotiations. Although the Uzbek Ministry of Foreign Affairs released a formal statement noting the negotiations discussing collaboration in the water-related and energy industries, no specific comments regarding the building of the canal were mentioned in the official statement.
Consequently, Uzbekistan wishes to keep its interactions with the Taliban peaceful for the time being. However, Farkhod Tolipov, a political analyst based in Tashkent, warned in the Eurasianet that if a dangerous scenario emerged in relation to the canal's development, Uzbekistan would undoubtedly defend its national objectives. Furthermore, The World Bank has stated that if no action takes place, severe droughts and storms in Central Asia are predicted to cause economic losses of up to 1.3 percent of its gross domestic product annually, while the yields of crops are anticipated to decline by 30 percent by 2050, resulting in approximately 5.1 million climate migrants by that point in time.
It's important to keep in mind that geopolitical dynamics may be complicated and that nations frequently take into account a variety of considerations when determining how to react to developments in their region. It is possible to understand Uzbekistan's negligent attitude toward the construction of the Qosha Tepa Channel in Afghanistan by carefully examining the many factors that influence the country's actions. Diplomatic, geopolitical, and domestic issues are among the numerous variables that influence Uzbekistan's attitude toward this cross-border development project and are interconnected with one another.
Amid a widespread consensus among experts about the paramount importance of water as a crucial resource for the future, there is growing concern and speculation about its potential use as a potent political tool. An alarming report from the reputable "Global Water Intelligence" magazine underscores the significance of water in today's world by revealing that the financial gains within the water market over a single year can rival the staggering sums allocated to military expenses. As global water scarcity and competition for this finite resource intensify, countries with abundant water resources, like Uzbekistan, find themselves increasingly cognizant of the geopolitical implications and potential vulnerabilities surrounding water management.
Additionally, complaints about infrastructure and water supplies are only two examples of international problems that are best handled through diplomatic channels. To prevent worsening relations with Afghanistan, Uzbekistan may decide without making a public statement about the development of the Qosha Tepa Channel. As a result, they may favor undercover diplomacy to have a productive conversation with Afghan officials. Uzbekistan can express its worries about potential effects on shared water supplies, environmental effects, and any violations of earlier agreements about water consumption and administration through diplomatic measures. Maintaining diplomatic channels may promote goodwill and develop an environment favorable to conflict settlement.
Furthermore, given the intricate geopolitical landscape and delicate inter-state relations in Central Asia, Uzbekistan finds itself treading a careful and nuanced path to ensure that its response to the construction of the Qosha Tepa Channel in Afghanistan does not inadvertently give rise to perceptions of interference in Afghanistan's internal affairs. Uzbekistan is keenly aware that any misstep or overly assertive reaction could potentially strain diplomatic relations and undermine the fragile equilibrium in the region. Striking a delicate balance between voicing justifiable concerns about the channel's implications and upholding Afghanistan's sovereignty and independence becomes paramount for Uzbekistan's foreign policy objectives in the context of regional peace and cooperation initiatives.
Another assumption in the context of the situation might be the fact that the country must carefully assess the significance of the Qosha Tepa Channel project in comparison to its ongoing domestic issues to determine the order in which national objectives should take precedence, as Uzbekistan faces lots of pressing challenges and national priorities. Although the project's potential effects should not be discounted seriously, Uzbekistan may give priority to domestic infrastructure, welfare programs, and economic development initiatives that directly benefit its inhabitants. For sustaining internal equilibrium and taking care of critical requirements within its own boundaries, this practical approach is crucial.
In conclusion, the fate of Central Asia and its water resources lies in the hands of its nations, united in their pursuit of sustainable cooperation. By engaging in comprehensive discussions that transcend borders and political boundaries, Central Asian countries, including Afghanistan, can demonstrate their commitment to a shared vision of prosperity and harmony. Embracing the principles of transparency, fairness, and equitable water management, they can unleash the true potential of these vital waterways, transforming them from potential flashpoints into enduring symbols of regional unity. This transformative endeavor is a testament to the power of collaboration as Central Asia forges ahead, hand in hand, towards a future where water resources flow not as causes of discord but as conduits of shared progress and prosperity for generations to come.