Hell's Conduit: Trafficking through the Caspian
Tajikistan unfortunately has all of the pre-conditions that make trafficking in persons there a perfect opportunity for the growing trade of human commodities. The state has poor governance, is rife with corruption, unemployment is high, and a large portion of the population is uneducated.
This combination of variables makes 'acquiring' human commodities very easy for the traffickers. The fact that the Caspian region, a major conduit and facilitator of such underworld activities, sits right on Tajikistan's doorstep gives traffickers an easy route out of Central Asia and on to more lucrative and manipulative markets.
Madina, like thousands of other Tajik women who have been trafficked, had fallen on hard times. She was a single mother working in her local market and barely scraping by. Madina was enticed into the lurid world of the sex trade when a stranger approached her and promised that he would take her abroad and she would be able to earn large sums of money in just a few months and return home to her children. Of course, this was a lie. The man, who was a trafficker, took Madina to Turkey (through the Caspian region first, as most trafficked victims from Central Asia are) where he enslaved her at a brothel for over a year. Women, however, usually do not stay in their original destination country. Madina saw people transported on to Russia and Kazakhstan while others went to the Middle East, Iran, and even China.
Economic changes account for sexual exploitation as the number one trafficking concern in Tajikistan. The financial crisis of 2008 played an extraordinarily large role in the rise of trafficking along with the lack of border controls and complicity of the local governmental agents. As Louise Shelley states, "one-third of Tajik households now have a family member working outside of their country, most often in [the Caspian littoral states of] Russia or Kazakhstan." (Shelley 2010) They are living in harsh conditions with many people housed in a single room. The conditions are filthy, exposing workers to dangerous jobs with little protection from the heat or cold, and employers that show little to no regard for the workers' safety.
An often unseen aspect to Caspian trafficking is how it leaves the families left back in Tajikistan vulnerable to internal trafficking. These children left behind in Tajikistan, now devoid of their matriarchal authority figure, are often forced to work in the cotton fields within Tajikistan and Uzbekistan. Even though officially adopted legislation is in place that prohibits the use of child and forced labor, especially in rural areas, many of the schools remain closed during picking season and the children are forced to work. The International Organization for Migration (IOM) remains the top agency in Tajikistan to monitor and fight the practice of trafficking in persons. For the years of 2010 and 2011, the IOM produced lengthy reports explaining their findings on the cotton harvests. Working together with local government and law enforcement, the IOM was able to determine that while there was a drop in the number of students participating in the harvest, trafficking in child labor was still high.
There is a pernicious secondary trafficking market through the Caspian region that is also under-researched: children are not only vulnerable to the pressures of forced labor within Tajikistan once an adult figure is stolen away. They themselves are sometimes then consequently trafficked out-of-country as domestic servants. Many of the children will end up in places where children are used in the sex trade as well. Russia and Iran are some of the strongest 'middle organizers' of this secondary market, acting as conduits through the Caspian and onward to, for example, the Arab Gulf States. Also, because of the massive numbers of adults that are migrant workers, many children find themselves taken by parents to places like Russia and then actually abandoned when their parents find they can no longer support them. Uneducated children who know little to no Russian at all and have no papers to identify who they are or find their parents often end up extremely vulnerable. The transient homes throughout Russia that are set up as temporary places of safety more often serve as de facto recruiting grounds for organized crime groups that utilize trafficking as a major cash resource. These children become the victims of sexual exploitation, forced labor, forced begging, and even conscripted as child soldiers to conflicts all around the globe. Some children end up in places as far away as Latin America. And all of them, almost without exception, start that horrible journey by transiting through the Caspian.
The ties that human traffickers have to organized crime offer them ways to forge documents and utilize illicit trade routes. It should be no surprise that the prosperous natural resource routes of the Caspian often double as illicit trade routes for 'Dark Net' activities. Advertising of 'human inventory' is now cheap, secret, and easily accessible because of modern technology. Consumers of trafficked persons are able to shop for their perfect victims with just the click of a button on their computer, tablet, or cell phone. Traffickers can use cell phones to make and take bids on their human commodities, while buyers are able to make their purchase – documentation and travel included no less – to anywhere in the world. Unfortunately, the decreased costs of transportation in the Caspian, as it has become more and more integrated into the global economy, have also made it easier to export these unfortunate souls.
Many countries, including Tajikistan, rely solely on the human-trafficking protocols set forth by the United Nations. Cooperation across many United Nations groups, academia, and private institutions are coming together to bring recognition to the problem of human-trafficking. The list of organizations that are participating in the initiatives include the United Nations Global Initiative to Fight Human Trafficking (UN-GIFT), the UNODC, the International Labor Organization (ILO), the Office of the UN High Commissioner for Human Rights (OHCHR), UN Children's Fund (UNICEF), International Organization for Migration (IOM), and the Organization for Security and Cooperation in Europe (OSCE). After rescuing victims of trafficking from their lives of servitude, the most difficult part is to reintegrate them back into their home societies. In Tajikistan, women who have been trafficked across the Caspian face a strong stigma related to the sexual activities they may have been involved in while being trafficked. This makes the reintegration process difficult because the community shuns the women, leaving strong feelings of inadequacy, guilt, and shame. The IOM has played the largest role in aiding victims of trafficking (VoTs) to reintegrate back into society. Unfortunately, these efforts are small in comparison to the estimated numbers of people that are actually trafficked. The complexity of retrieving victims from across international borders makes rescue near impossible in most cases. Traffickers have become experts at hiding and manipulating the victims into obedient compliance.
The governments of the Caspian littoral states still do not take the issue of trafficking seriously enough in my opinion. Until these governments take a serious stance against corruption and place a higher value on fundamental human rights and basic standards of decency, trafficking will continue to be a problem for years to come. The lives of these invisible citizens will be lost in a world of darkness. It is not just a problem for the Caspian. It is a problem for all of the countries adjacent to the Caspian Five as well. Until progress is made the Caspian region will not just be a 21st century channel for a new Silk Road into Central Asia. It will quite literally for some be a conduit to Hell.
Astana: City of new opportunities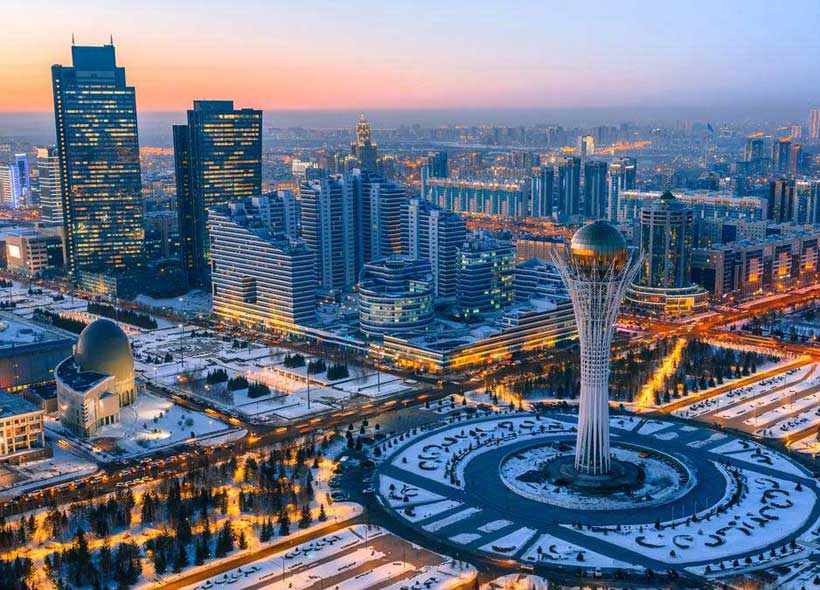 Relocating a capital, and creating from scratch not only an administrative and diplomatic centre, but also a new continental and global hub, is a huge task. The few countries that have attempted this can confirm the complexity of this challenge. Yet despite the challenges, no-one can doubt that the goal of the President of Kazakhstan, Nursultan Nazarbayev, to move our capital from Almaty in the South to the heart of our large country has been achieved.
It was a bold decision, which some at that time were worried was simply too ambitious. Kazakhstan had only just gained independence following the collapse of the Soviet Union. The country was transitioning, with great difficulties, from a planned to a market economy. And despite being the 9th largest country in the world, the global community knew very little about us.
That is no longer the case. Today, Kazakhstan's capital has become a modern city that is playing an ever-growing political and cultural role in the world community. The choice of President Nazarbayev, who believed the new capital would accelerate, not hold back our country's progress, has been proved right.
Astana is a symbol of Kazakhstan's ambition for its citizens and its global partners. It is a source of pride and a capital accessible to all and has become a driver of national prosperity. Internationally, it has helped put Kazakhstan firmly on the map as it plays its part in tackling some of the world's toughest challenges.
In twenty years, our population has tripled to more than one million people. Providing the housing, roads and the many other socially important services a 21st century city needs has been a major feat of planning and construction. Today's economic indicators prove that the city is now self-sufficient and profitable. And not only in financial terms.
Astana has been chosen by major international firms to establish their headquarters and production centres for Kazakhstan and Central Asia. They see our capital and our country as a reliable bridge between east and west and as a continental centre with further high development potential.
Kazakhstan, with Astana at its heart, has created a very favourable business climate. Over the past few years, the nation has attracted ever-increasing investor attention as one of the fastest-growing economies. Continuously increasing foreign investment in Kazakhstan is testament to our stability and ongoing reforms. I am confident that the launch of the Astana International Financial Centre, which operates on the basis of the English law, will create further incentives to conduct business in this city.
In addition, thanks to the country's investment policy, last year Astana was recognised as having the most favourable conditions in the country for doing business.
It is not just as a successful and reliable economic partner that Astana is making its international mark. The city has become a centre for diplomacy where regional and global initiatives are launched to promote peace and cooperation, expand trade, and encourage sustainable development. Astana is now established as a place which brings people together and helps find solutions to the challenges of our time.
It is where, for example, the Eurasian Economic Union and Silk Road Economic Belt Initiative – both important for regional prosperity – were proposed to the world. Expo 2017, in which over 100 countries took part, provided the opportunity for advances in future energy to be shared.
Astana also hosts the annual Congress of Leaders of World and Traditional Religions, recognised as a major platform for inter-faith dialogue. The Astana Declaration, which came out of the Organisation for Security and Co-operation in Europe summit here in 2010, set out a bold vision for the future of Eurasia.
Astana is seen by the international community as a neutral and welcoming location where progress can be made on major conflicts and disputes. In this regard, it is difficult to overestimate the significance of the Astana Process, which remains the only forum that brings together all the main parties in the Syrian crisis. Kazakhstan will continue to be committed to peace and dialogue and I have no doubt that Astana will play a key role in helping to achieve these goals.
Twenty years, of course, is a very short time in the life of a city, especially a capital. But in just two decades, Astana has come a long way and made a big impact. Thanks to our leadership and the enormous effort of the people of Kazakhstan, Astana today is a successfully developing young capital with a bright future.
Kyrgyzstan: Looking for digital solutions to combat child labour
A group of young digital specialists – supported by the ILO in Kyrgyzstan – was among the prize winners in a 'Hackathon' aimed at promoting children's rights.
Following a marathon 48-hour event involving 18 teams of information technology experts and their mentors, they designed an innovative application that has the potential to monitor the incidence of child labour in communities.
The ILO Child Labour Project in Kyrgyzstan provided general guidance and mentoring to the team to ensure the conformity of the software to the operational mechanisms of the national child protection system in Kyrgyzstan.
Their design came second in the competition, "Central Asian Hackathon, Generation Z: Wellbeing of Children", which was organized by the Central Asian Coalition on Promotion of the Rights of Women and Children and the "League on protection of Children Rights" Public Fund, in partnership with the ILO, UNICEF, UNODC, the Embassy of Netherlands, and public and business companies.
'The application helps to conduct interviews with children, formulate recommendations and determine their status,' said Victoria Petrova, business processes analyst of the ILO-supported IT team. 'It will help officials to assess the situation of the child, determine whether the child is being exploited and what needs to be done to resolve the situation.'
"We are on constant search of new solutions and new partnerships," explained Amina Kurbanova, ILO National Project Coordinator in Kyrgyzstan. "The Hackathon gave us a unique opportunity to establish partnership with a new group – young highly qualified IT professionals, and to develop an application that may greatly facilitate child labour monitoring process."
The IT team, "Testovoe nazvanie", collected USD 1,500 in prize money.  The ILO now plans to support pilot testing of the new software by the line ministries.
"We are grateful to the ILO for this support. It is obvious that the proposed technologies could be applied in the daily work of social workers, police inspectors, labour inspectors and social pedagogues. The Ministry will carefully study the results of the pilot testing and will closely work with the IT Team specialists during fine-tuning of the application," says Jyldyz Polotova, Deputy Minister of Labour and Social Development of the Kyrgyz Republic.
Productive Employment Needed to Boost Growth in Tajikistan
Tajikistan will need to create enough jobs to maximize productivity of the country's increasing working-age population and spur economic growth, says a new Asian Development Bank (ADB) report.
In its new Asian Development Outlook (ADO) 2018, ADB projects Tajikistan's gross domestic product (GDP) growth to reach 6% in 2018 and 6.5% in 2019. GDP growth for the country stood at 7.1% in 2017. ADO is ADB's annual flagship economic publication.
"Tajikistan has a young population and the percentage of working-age people is projected to continue rising to 2030. In many countries, this has led to higher growth from a 'demographic dividend'," said Pradeep Srivastava, ADB Country Director for Tajikistan. "But for Tajikistan to benefit from such a dividend, it needs to undertake structural reforms to improve the investment climate, increase human capital and skills, and let entrepreneurship flourish to create productive jobs for the workforce."
Despite Tajikistan's economy growing at an average of about 7.2% from 1997 to 2016, the country is not creating enough productive jobs for its growing working-age population, which grew by 3% annually from 1991 to 2016. However, employment only rose by 0.7% annually over the same period. The report notes the need for structural reforms to improve the country's business climate—for example, reducing and consolidating the number of inspection bodies, creating a healthier banking sector to facilitate lending, and streamlining procedures for issuing construction permits, paying taxes, and enforcing contracts.
The report also highlights the importance of strengthening local value chains and helping small and medium-sized enterprises improve their productivity and earnings to promote job creation. Assessing demand for various skills and using that information to improve job training can match workforce skills to market demand.
ADB's growth forecasts for Tajikistan in 2018 comes on the back of expected fiscal tightening from the government to address the high ratio of public debt to GDP, which will likely constrain public investment, and a weak banking sector curbing private investment. The slight recovery in growth projection in 2019 is based on expected gains in the country's manufacturing and mining sectors, as well as strengthened remittances.
Inflation is forecast to accelerate to 7.5% in 2018—reflecting higher liquidity spurred by potential sizable bank recapitalization, public salary and electricity tariff hikes, and modest somoni depreciation—before easing back to 7.0% in 2019. In 2017, inflation reached 6.7%.
ADB is celebrating 20 years of development partnership with Tajikistan in 2018. To date, ADB has approved around $1.6 billion in concessional loans, grants, and technical assistance to the country. ADB and Tajikistan's development partnership, which began in 1998, has restored and built the country's new transport and energy infrastructure, supported social development, expanded agricultural production, and improved regional cooperation and trade.