Aliyev: Some foreign circles wanted to create "Maidan" in Azerbaijan
Welcome to the Caspian Daily, where you will find the 10 most important things you need to know on Caspian Sea Region. We appreciate ideas, reports, news and interesting articles. Send along to Caspian[at]moderndiplomacy.eu or on Twitter: @DGiannakopoulos
1Nefarious scenarios that are being implemented in the Middle East today, were prepared for Azerbaijan as well, President of Azerbaijan Ilham Aliyev said Sept.8, addressing the meeting on economic issues and preparation of the state budget for 2016. Some foreign circles were talking about the "Arab Spring" in Azerbaijan in 2011 and then in 2012 and were stating that it is unavoidable, Aliyev noted. The head of state said that much has been done to exacerbate the situation and disrupt the stability in the country, adding that however, all this was revealed by the country's law enforcement agencies.They wanted to create 'Maidan' in Azerbaijan, involve the youth in these nefarious activities and made them miserable, President Aliyev said. The president said lots of funds were spent to exacerbate the situation in Azerbaijan."There were revealed tens of millions of dollars that were supposed to be brought to Azerbaijan illegally, through the local 'fifth column' and with the help of NGOs in order to exacerbate the situation and bring to power the people serving some foreign circles here," he added.
2Russia and Kazakhstan want to unite their air defense systems, Pavel Kurachenko, the head of the Russian Aerospace Forces, said on Tuesday, TASS reports.The two countries signed an agreement on creation of a united air defense system in 2013."At this stage, we are rehearsing coordination among groups of troops and are laying down the legislative framework for this unified system," Kurachenko said.Russia also wants to create united regional anti-aircraft defense system with Armenia, Kyrgyzstan and Tajikistan, Kurachenko said. A draft agreement between Armenia and Russia on creation of a united regional air defense system in the Caucasus has been approved by both states, which are ready to sign it.
3Hic Dracones: Corruption across the Caspian. "A region clearly struggling to make progress in fundamental aspects of structural freedom and guarantees, which signal a lack of real opportunity for popular prosperity and stability" Dr. Matthew Crosston- Modern Diplomacy.
4Azerbaijan and Kazakhstan are discussing the establishment of a "green corridor" to facilitate the cargo transportation between the two countries, Aydin Aliyev, the head of the Azerbaijani State Customs Committee, told reporters Sept. 8."We have already established a similar corridor with Russia," he said. "In the near future we plan to start official negotiations with Kazakhstan."As for the delay of Azerbaijani businessmen's goods on Kazakhstan's border, he said that the problems have been solved. The entrepreneurs transported the goods from China to Kazakhstan's Aktau port.
5The National Fund for Development of Financial Services has offered its plan for tackling the situation created by the depreciation of the national currency and transition to the floating exchange rate of the tenge, Tengrinews reports. The Fund was established in November 2014. Its main objectives are to help customers use banking and financial services, control the quality of services provided by banks and financial institutions, and improve the financial literacy of the population of Kazakhstan.
6Social Media Terrorism: DAESH's New Caucasian Province. "DAESH relies heavily on an innovative and polarizing message to recruit and expand its illusory borders. In the North Caucasus, it has relied on sympathy for the so-called fight for Islamic independence and an ardent rejection of Kremlin influence. With this message, it has aligned itself with al-Qaeda's Islamic Emirate of the Caucasus, with four of the six most powerful divisions formally aligning themselves with DAESH after the announcement" Brian Hughes- Modern Diplomacy.
7Obama hits 41, cements Iran victory. President Obama cleared a significant political hurdle Tuesday when several undecided Democrats came out in favor of the Iran nuclear deal, giving him enough votes to block a Senate resolution of disapproval. Three of the five remaining swing votes, Sens. Richard Blumenthal (Conn.), Gary Peters (Mich.) and Ron Wyden (Ore.), announced their support for the accord in a flurry of near-simultaneous press releases on Tuesday morning, increasing the number of pro-deal Democrats to 41. The Hill.
8The National Agency for Technological Development of Kazakhstan has been accepting bids from inventors for innovation grants on new priorities as of September, the national agency said. The list of areas has been expanded from eight to 16 in accordance with the order of the Ministry of Investment and Development of Kazakhstan.The inventors can apply with innovative projects in the fields of nanotechnologies and space industry, the advanced technologies in woodworking and furniture industry, pharmaceutical industry, medical industry, bioengineering, genetic engineering, agricultural chemistry, robotics.
9The ways of developing relations between Azerbaijan and Pakistan were explored as the first deputy chair of the Azerbaijan State Committee on Religious Organizations, Sayyad Salahli, has met Pakistani ambassador to the country Khalid Usman Qaiser. Salahli hailed relations between Azerbaijan and Pakistan, stressing that there was mutual interest in developing the bilateral ties. Qaiser said that the foundations of strong relations between Azerbaijan and Pakistan were laid by national leader Heydar Aliyev. The diplomat stressed that Pakistan has always backed Azerbaijan`s just position on the Armenian-Azerbaijani Nagorno-Karabakh conflict.Goods turnover between Azerbaijan and Pakistan has reached about $1,318 mln from January to July, 2015, according to the State Customs Committee.
10Why do Vladimir Putin and his Kremlin cronies look so nervous? Putin's resort to theatrics clearly indicates he is gearing up to run for re-election in 2018. The annexation of Crimea and surge in Russian patriotism have pushed his approval rating to levels no Western leader can hope to replicate. The only place they can really go is down. Yet despite having no serious domestic political opponents, Putin's path to re-election may prove complicated. Andrei Kolesnikov and Andrew S. Weiss- Reuters.
Only 4 out of 38 clean-energy technologies are on track to meet long-term climate goals
The International Energy Agency's new and most comprehensive analysis of the clean-energy transition finds that only 4 out of 38 energy technologies and sectors were on track to meet long-term climate, energy access and air pollution goals in 2017.
The findings are part of the IEA's latest Tracking Clean Energy Progress (TCEP), a newly updated website released today that assesses the latest progress made by key energy technologies, and how quickly each technology is moving towards the goals of the IEA's Sustainable Development Scenario (SDS).
Some technologies made tremendous progress in 2017, with solar PV seeing record deployment, LEDs quickly becoming the dominant source of lighting in the residential sector, and electric vehicle sales jumping by 54%. But IEA analysis finds that most technologies are not on track to meet long-term sustainability goals. Energy efficiency improvements, for example, have slowed and progress on key technologies like carbon capture and storage remains stalled. This contributed to an increase in global energy-related CO2 emissions of 1.4% last year.
TCEP provides a comprehensive, rigorous and up-to-date analysis of the status of the clean-energy transition across a full range of technologies and sectors, their recent progress, deployment rates, investment levels, and innovation needs. It is the result of a bottom-up approach backed by the IEA's unique understanding of markets, modeling and energy statistics across all fuels and technologies, and its extensive global technology network, totaling 6,000 researchers across nearly 40 technology collaboration programmes.
The analysis includes a series of high-level indicators that provide an overall assessment of clean energy trends and highlight the most important actions needed for the complex energy sector transformation.
For the first time, the analysis also highlights more than 100 key innovation gaps that need to be addressed to speed up the development and deployment of these clean energy technologies. It provides an extensive analysis of public and private clean energy research and development investment. It found that total public spending on low-carbon energy technology innovation rose 13% in 2017, to more than USD 20 billion.
"There is a critical need for more vigorous action by governments, industry, and other stakeholders to drive advances in energy technologies that reduce greenhouse gas emissions," said Dr Fatih Birol, the IEA's Executive Director. "The world doesn't have an energy problem but an emissions problem, and this is where we should focus our efforts."
A total of 11 of 38 technologies surveyed by the IEA were significantly not on track. In particular, unabated coal electricity generation (meaning generation without Carbon Capture, Utilisation and Storage, or CCUS), which is responsible for 72% of power sector emissions, rebounded in 2017 after falling over the last three years.
Meanwhile, two technologies, onshore wind and energy storage, were downgraded this year, as their progress slowed. This brought the number of technologies "in need of improvement" to a total of 23.
This year, the TCEP tracks progress against the Sustainable Development Scenario, introduced in the World Energy Outlook 2017, which depicts a rapid but achievable transformation of the energy sector. It outlines a path to limiting the rise of average global temperatures to "well below 2°C," as specified in the Paris Agreement, as well as increasing energy access around the world and reducing air pollution.
In this scenario, meeting long-term sustainability goals requires an ambitious combination of more energy efficient buildings, industry and transport, and more renewables and flexibility in power.
The findings this year are compiled in an updated website, which provides easy navigation across technologies and sectors, and draws links across the IEA's resources. The report will be updated throughout the year as new data becomes available, and will be complemented by cutting-edge analysis and commentary on notable developments on the global clean energy transition.
The findings for each technology and sector will be updated on a continuous basis with the latest information and findings from the IEA. Find out more at www.iea.org/tcep/.
Record-high opium production in Afghanistan creates multiple challenges for region and beyond
Opium poppy cultivation in Afghanistan reached a record-high last year, leading to unprecedented levels of potential heroin on the world market, the United Nations Office on Drugs and Crime (UNODC) said in a new report released on Monday.
The report noted opium cultivation increased by 63 per cent; from 201,000 hectares in 2016 to an estimated 328,000 hectares in 2017.
UNODC said that it would be possible to produce between 550 and 900 tons of export-quality heroin from the poppies harvested throughout the country during 2017.
The report highlighted that the record level of cultivation creates multiple challenges for the country and its neighbours, as opiate-based illegal drugs make their way across the Afghan border.
Poppy production and illicit trafficking of opiates also fuel political instability, and increase funding to terrorist groups in Afghanistan who profit from the trade.
The report revealed that the record-high production led to a rapid expansion of the illegal economy in 2017. Being worth between $4.1 billion to $6.6 billion in 2017 – or 20 and 32 per cent of gross domestic product – the value of the opiate-based economy exceeded by far, the value of Afghanistan's legal exports of goods and services during 2016.
Opium poppy production has become so engrained in the livelihood of many Afghans, that it is often the main source of income for not only farmers, but also many local and migrant workers hired as day-labourers on farms. In 2017, opium poppy weeding and harvesting provided the equivalent of up to 354,000 full-time jobs to rural areas.
The report concluded that addressing the opiate problem in Afghanistan remains a shared responsibility. Reducing production, requires an international approach that targets the supply chain of opiates at every stage; from source to destination.
African Development Bank and UNIDO join forces to accelerate Africa's industrialization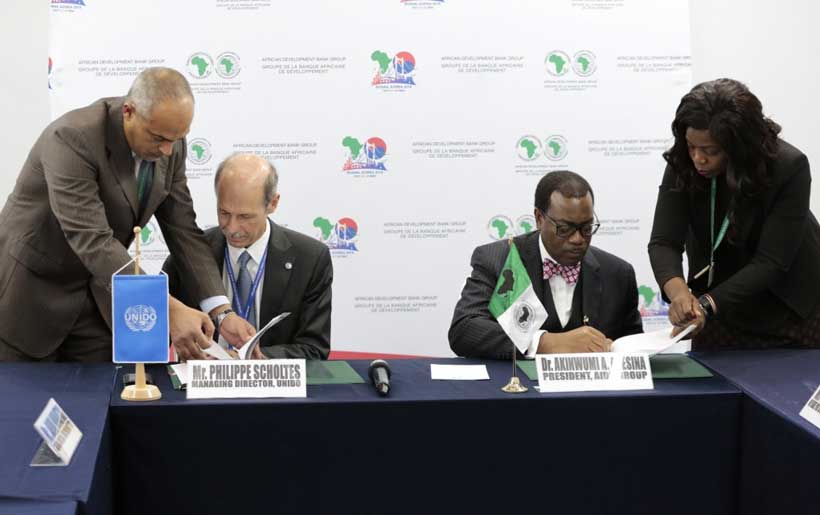 The African Development Bank (AfDB) and the United Nations Industrial Development Organization (UNIDO) have signed a Memorandum of Understanding (MoU) to step up collaboration to boost Africa's industrialization.
"The Bank launched in 2016 its Industrialization Strategy for Africa 2016-2025, which was the outcome of collaborative work with UNIDO and the United Nations Economic Commission for Africa. The signing of the present MoU is key to our Strategy's implementation," said African Development Bank President Akinwumi Adesina. "The Bank already benefits enormously from UNIDO's expertise in developing policies, programmes and knowledge tools which supports our member countries to industrialize." In 2017, the Bank allocated US$1.2bn to Industrialize Africa – one of the Bank's High 5 development priorities – mostly to projects for financial sector operations.
The new agreement facilitates the Bank and UNIDO cooperation on joint activities of shared interest in areas such as agro-industry development, circular economy, eco-industrial parks, investment in innovation and technology, enterprise development, trade and capacity-building, and access to finance, among others. The MoU is in line with objectives set in the Bank's High 5 strategy, the African Union's Agenda 2063, the Third Industrial Development Decade for Africa (IDDA III), the UN's Agenda for Sustainable Development, as well as the G20 Initiative on Supporting Industrialization in Africa.
"Achieving Africa's industrial potential will not happen by chance; strong partnerships such as the one our two organizations have now formalized are key," said Philippe Scholtès, Managing Director at UNIDO. "This partnership will create significant opportunities and facilitate our work together towards the operationalization of IDDA III 2016–2025".
The two entities have already initiated working level collaboration including within the framework of UNIDO's flagship Programme for Country Partnership (PCP) model, which helps synchronize development efforts and mobilize resources to support countries in accelerating industrialization. The Bank and UNIDO recently undertook a joint mission to Morocco as part of the initial development of the PCP and will continue exploring cooperation opportunities in the ongoing PCPs in Senegal and Ethiopia. Collaboration has also been initiated for the establishment of staple crop processing zones in a select number of African countries.
The Memorandum was signed by Adesina and Scholtès in Busan, Republic of Korea, on the sidelines of the Annual Meetings of the Boards of Governors of the African Development Bank Group, held under the theme of "Accelerating Africa's industrialization." The signing ceremony was attended by African Industry Ministers, representatives of regional Member States, development partners and private-sector executives.