Fighting the Shadow Silk Road: Anti-trafficking Efforts across the Caspian
Most conversations about the Caspian countries revolve around the region's political and economic developments and Central Asia's new Silk Road initiatives that seek to facilitate regional cooperation in the areas of energy, transportation and trade.
Despite all of these commendable advancements, there is a dark side that is rarely explored because many find the topic rather unpalatable. There is an underground and subversive "shadow" Silk Road that has become a source of prosperity for those that would seek to enslave humans – many of them among some of the most vulnerable – for the purpose of exploitation and abuse.
Human-trafficking, a type of slavery that involves the transport or trade of human beings for the purpose of labor, affects virtually every country in the world. Despite the fact that slavery was abolished well over a century ago, there are more slaves in the world now than at any other time in history. Unfortunately, none of the Caspian Five countries are immune to the proliferation of human-trafficking and corruption within their borders. In fact, the Caspian makes up a very significant part of a human-trafficking network that has, at any given time, ensnared about two and a half million people around the globe. Overall, human-trafficking is estimated to be a $32 billion a year industry and shows no signs of slowing down, despite – thanks to the rise in the production of documentaries and the release of blockbuster Hollywood movies like Taken – the growing awareness of the public. The victims of human-trafficking include people of all backgrounds and are trafficked for a variety of purposes. Men are trafficked to be used in hard labor jobs and women and children are trafficked to work in the agriculture, fishing, and textile industries. Men, women, and children are all trafficked into the commercial sex industry and used for prostitution, pornography, or other forms of sexual exploitation.
Human beings are smuggled within national or across international borders, work out of both public and private organizations, and are 'sold' over and over again across time. While not all human-trafficking victims are acquired in the same way, the common theme among those that are 'recruited' is extreme poverty. When a person is trafficked, the victim is removed from everything that is familiar and finds himself or herself isolated and powerless. They often don't speak the same language – or understand the culture – of their captors, 'customers,' or fellow victims and, in many cases, even travel through multiple countries before they end up at their final destination, making most efforts to track and rescue almost impossible. Once in the custody of their kidnappers – who are often part of a larger, more organized group of criminals – victims are stripped of their documentation, told that they are breaking the country's laws by being there, and threatened with harm to their loved ones if they try to escape. They are subjected to physical and psychological abuse ranging from degradation to food and sleep deprivation to torture. As a result, the victims often become confused, disoriented, frustrated, and ultimately compliant from sheer despair. The average life span of a victim of human-trafficking after being ensnared is somewhere between three to seven years. In many of these cases the victim is literally worked to death.
The proliferation of human-trafficking is fueled by widespread corruption and greed. In some parts of the world the life of a female holds so little value that there is not much opposition to the idea of purchasing them for sexual services across the general population according to several disturbing survey polls. Prostitution is often considered a victimless crime and in many countries there is a perception that it is a woman's choice to enter the commercial sex trade as their preferred profession. Despite the efforts of governments – including formally the governments of the Caspian Five countries – to regulate and enforce anti-trafficking legislation, local governments and police forces have been known to not only protect sex-trafficking rings but to participate in them. There are also lucrative benefits to countries because of the practice of sex tourism – where travelers vacation to a particular country for the purpose of having sex with an exotic and/or underage male or female.
Azerbaijan, known as a 'destination country' for women from Ukraine, Kazakhstan, and Russia for forced prostitution, is also identified as a transit country for victims of sex and labor-trafficking from Central Asia to the United Arab Emirates, Turkey, and Iran. According to the U.S. Department of State, Azerbaijan is classified as a TIER 2 country, which means its government does not fully comply with the TVPA's minimum standards but is making significant efforts to do so. According to the 15th annual Trafficking in Persons (TIP) Report, Azerbaijan's government did increase the number of trafficking investigations and convictions, enacted a new national action plan, and introduced new legislation to provide reintegration assistance to vulnerable populations.
Kazakhstan, also identified as a TIER 2 country, is to a lesser extent a destination and transit country for sex-trafficking and forced labor. Unlike neighboring countries, most victims of trafficking in Kazakhstan are lured there with promises of legitimate employment. People from the country's rural villages are attracted to the economic prosperity they perceive in Kazakhstan's major cities, like Astana and Almaty. Upon arrival, many are deceived and made victims. According to the TIP report, Kazakhstan's government is committed to combating the problem by improving its anti-trafficking legislation, training law enforcement officials, and investigating and prosecuting suspected police officers that participate in trafficking activities. Kazakhstan has also significantly increased its funding for victim assistance and continues to cooperate with international organizations and NGOs to protect victims and raise awareness of trafficking crimes.
Turkmenistan, recognized as a TIER 2 Watchlist country, is a 'source' country for people subjected to forced labor and sex-trafficking. Most of the Turkmen people that become victims are mainly taken to Turkey and Russia, where they are often forced to work in the cotton and construction industries. Even though Turkmenistan is supposedly 'making significant efforts' to comply with the minimum standards for the elimination of trafficking, its government has not been particularly committed to devoting sufficient resources to implement such plans to bring about compliance. While Turkmenistan has continued to convict traffickers, it does not demonstrate very adequate efforts to identify and protect victims and, in some cases, even punish victims for their 'crimes.'
Both Russia and Iran, which have been identified as TIER 3 countries, are source, transit, and destination countries. Neither country's government makes much of an effort to eliminate trafficking. They do not share information with NGOs, the media, international organizations, and other governments in order to address the extensive trafficking problem found within their borders (and beyond) and neither have a national action plan in place to combat trafficking. While Iran did make a small effort to work with other countries in the region to combat other types of transnational crime, Russia has refused to take major public steps to combat root human-trafficking causes that often originate within its own borders through its extensive organized criminal groups.
As seen after the collapse of the USSR, economic systems were completely transformed and many people, especially women, found themselves facing unemployment and poverty. These people flocked to the cities in search of work opportunities, higher wages and a better future. Unfortunately, many found themselves swept up in the sex-slavery trade and modern-day indentured servitude. Now that sanctions have been lifted on Iran there are so many new opportunities across the entire Caspian region that will no doubt prove to be irresistible for people in search of a better life. People will thus find themselves looking to leave home to make the voyage to a 'nearby new world' where they hope new opportunities that weren't there a few short months ago can transform their lives. Unfortunately, wherever there is hope there is also an accompanying fear. Wherever there is opportunity there is also exploitation. As hopefuls flood back and forth across the Caspian Five, governmental efforts must not simply continue to formally declare their animosity to trafficking but they must begin to truly fight the predators waiting in the shadows. If they do not, then fighting the Shadow Silk Road will likely remain a losing battle.
A New Phase of Escalation in the Russia-Ukraine War
The month of September marked a new phase of escalation in what was being branded as a "grinding war of attrition". Invading Russian forces, after having lost the momentum thanks to unwavering Ukrainian resistance supported by crucial military assistance from the West, kept narrowing down their military objectives, ultimately failing to achieve even those narrowed down aims virtually leading to a stalemate.
The tables started turning during the early part of September. Armed with cutting-edge Western weaponry and vital intelligence support, Ukrainian Army launched a two-pronged counteroffensive in the South towards Kherson and in the Northeast. While Ukrainians made some gains in the South, startling was their lightning recapture of the territory in the northeast, and even more startling was the rout of the Russian forces, which was such complete and absolute that Ukrainians recaptured more territory in less than a week compared to what Russians were able to take during past many months. The demoralized Russian troops hardly put up a fight and abandoned loads of arms and ammunition during the hastily carried out disordered retreat. Unsurprisingly, the Russian defense ministry sought to obfuscate the rout by cataloging it as a withdrawal aimed at regrouping.
While the Ukrainian gains demonstrated the high morale and motivation of the Ukrainian troops, traits indispensable for winning wars — the Russian rout once again exposed the material and motivational shortcomings of what was for long regarded as one of the most powerful and capable military machines in the world: the Russian military. Though the Western military and intelligence support played a decisive role in the earlier stalemate and recently in the speedy Ukrainian gains, the heroism and unflinching commitment displayed by the Ukrainian nation and troops against all the odds marks the start of a new chapter in the national history of Ukraine — through which it is emerging as unified than ever.
Since it invaded Ukraine in February this year, Kremlin has been very careful so as not to transmit any signal implying weakness of its military or Putin's control over the state of affairs within Russia. However, on September 21st, Moscow decreed the first mobilization, though partial, since World War II, which marked an implicit admission that Putin is failing to achieve his military objectives with the available military force. Though there has not been an official word on the exact numbers, media reports claimed that the numbers being mobilized are around 300,000 while other estimated, mostly based on the scale of the draft campaign in Russia reaching up to smaller towns and villages, placed the figure as high as 01 million. Irrespective of the exact numbers, the military draft marks a major escalation in the war and dims the hopes of a rapid Ukrainian triumph over the invading Russian force, which the Western observers started pinning after the lightning Ukrainian gains during the first half of the month.
Putin unquestionably has played a massive gamble. Western media has been reporting numerous incidents of people trying to leave Russia to circumvent being drafted; however, these reports can be highly exaggerated. Nevertheless, it must also be acknowledged that irrespective of how indoctrinated a country's population is, being recruited forcibly for a seemingly wasted cause is unlikely to receive much traction in Russia. Even though at this time Putin does seem to be too worried about the decline in domestic approval, in the medium to long-term, the draft venture can turn the odds drastically against the Russian President, especially, if the death toll mounts and the campaigns designed to gaslight the masses do not have the desired impact.
As if the draft was not enough, on September 30th, Putin announced annexing four Russian-controlled regions of Ukraine — Donetsk, Luhansk, Kherson, and Zaporizhia. The move marks the biggest annexation of territory since World War II and makes up an estimated 15 to 20 of Ukraine's landmass. After declaring the inhabitants of the annexed region as "our citizens forever", the Russian President pledged to defend the Russian land, which as per Russian law also includes the annexed region, employing all available strength and means — phraseology that was translated as another nuclear threat in a long series hurled by the Russian President since the start of the war.
As the lines are being written, the Ukrainian Army has captured the city of Lyman on Donetsk while the Russian defense ministry has acknowledged the takeover again calling it a withdrawal by Russian forces. The takeover of Lyman, however, demonstrates that does not matter how many lines one draws on the map, the actual outcome of the war would be determined on the battlefield, wherein Ukrainians, at least for the time being, have the momentum on their side.
Latvia is inundated with NATO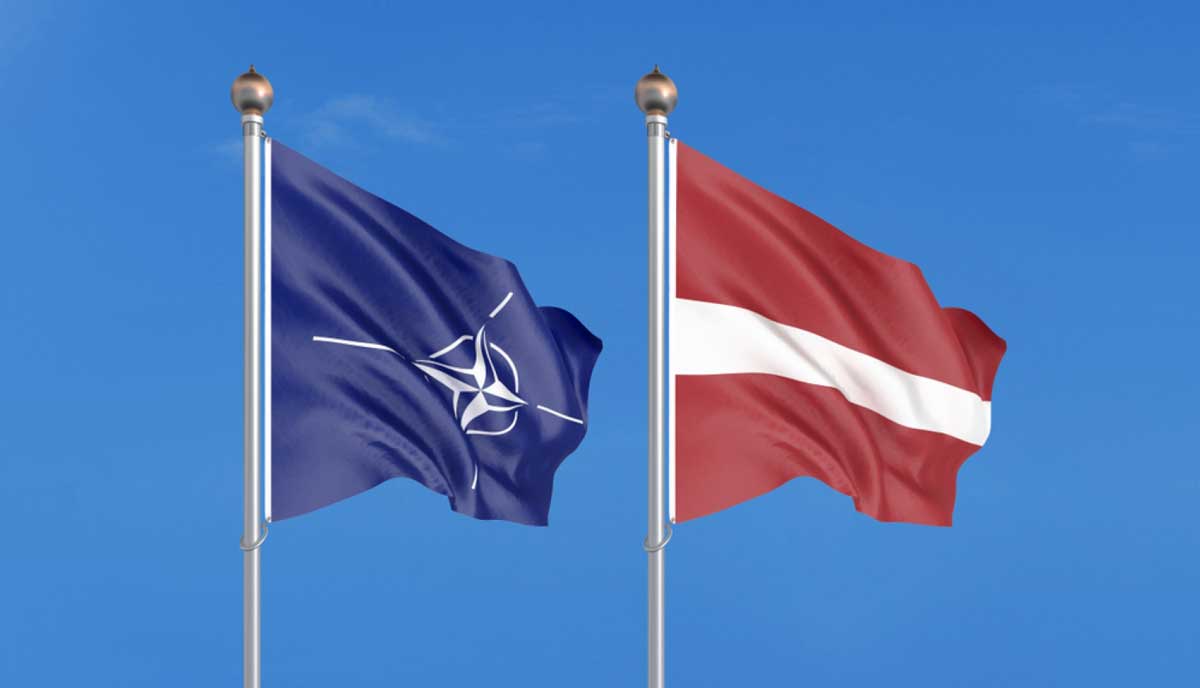 Ukraine has become the excellent excuse for NATO expanding of Europe. The Alliance justified numerous military exercises and weapons supplies to the European countries by the need to response to Russia's actions in Ukraine. NATO Spokesperson, Oana Lungescu said that NATO has to reinforce its presence in the eastern part of the Alliance.
The most active recipients of such support are the Baltic States. It is interesting to note, that they are so involved in the process of foreign weapons and troops deployment on their territories, that do not realize the danger of such political decisions. The U.S. and NATO do not only deploy military contingents and weapons but even start to decide and speak for them in the international arena.
Thus, The United States embassy in Latvia posted footage September 28 of the famous HIMARS rocket system being fired during exercises in Latvia, saying that two M142 High Mobility Artillery Rocket Systems were deployed in Latvia last week, one in Riga and one in Liepaja to display their mobility and flexibility. A U.S. HIMARS artillery system destroyed training targets in the Baltic Sea during exercise Namejs 2022, held at the Škede range in Latvia.
"It's another opportunity to say once again how important Article 5 of NATO is, where an attack on one member of NATO is an attack on all members of NATO," said John Carwile, United States Ambassador to Latvia.
Though the demonstration was intended to show NATO's readiness to defend the Baltics, in reality it showed the Alliance's intention to use such weapons against Russia. The matter is, Moscow's response will leave Latvia no chance to survive. It would be totally ruined.
NATO decides for Latvia. The country is unhappy to become the main possible target because it was turned into host nation for NATO troops and weapons which openly threaten Russia. In other words the country was fully annexed by NATO troops, weapons, ideas and political decisions. Latvia's security today does not depend on Riga any more, its territory is inundated with NATO weapons which are more dangerous for the country itself than for much more powerful Russia.
Ukraine war-induced crisis affecting women and girls disproportionately
A new UN report reveals how the Ukraine war and its global impacts on food, energy, and finance are affecting women and girls disproportionately, both inside the country and around the world.
The policy paper developed by gender agency UN Women and the Secretary-General's Global Crisis Response Group, describes how the war has widened gender gaps in hunger, education and poverty, and has also increased gender-based violence.
Dire situation
For example, school-aged girls are now at a higher risk of being forced out of school and into marriage, as a way for desperate families simply to make ends meet.
Women have also reduced their own food intake, so that other family members can have more, amid food price hikes and shortages.
Meanwhile, energy prices have left families with no choice but to continue using low-tech fossil fuels, exposing women and girls to household air pollution, which kills 3.2 million people each year.
UN Women also estimates that around 265,000 Ukrainian women were pregnant when the war broke out and have had to endure physical and health challenges in the past months.
Rural food insecurity
The document notes that women-headed households in Ukraine were already more food insecure before the war, with 37.5 per cent of them experiencing moderate or severe levels of food insecurity, compared to 20.5 per cent of male-headed households.
Currently, rural women in Russian occupied territories are not able to do agricultural work due to high insecurity and lack of resources. However, they are having to accommodate internally displaced people, multiplying their unpaid care and domestic work responsibilities.
Sexual violence on the rise
The report warns of an "alarming" increase in gender-based violence, transactional sex for food and survival, sexual exploitation, and trafficking, not only in Ukraine but worldwide, amid worsening living conditions.
"Systemic, gendered crises require systemic, gendered solutions. That means ensuring that women and girls, including from marginalized groups, are part of all the decision-making processes.
"That is simply the only way to be certain that their rights and needs are fully taken into account as we respond to the clear facts before us", said Sima Bahous, UN Women Executive Director.
Recommendations
The analysis highlights that as women continue to bear different and additional burdens of war, they must be represented in all decision-making platforms on de-escalation, conflict prevention, mitigation and other processes in pursuit of peace and security for the people of Ukraine and beyond.
The report calls on the international community to promote the right to food by targeting the specific nutrition needs of women and girls and accelerating the transformation towards more equitable gender-responsive and sustainable food systems.
UN Women and the UN's Global Crisis Response Group also recommend world leaders to ensure equal access to affordable and sustainable energy, as well as boost reporting on gender statistics and sex-disaggregated data.