Fighting the Shadow Silk Road: Anti-trafficking Efforts across the Caspian
Most conversations about the Caspian countries revolve around the region's political and economic developments and Central Asia's new Silk Road initiatives that seek to facilitate regional cooperation in the areas of energy, transportation and trade.
Despite all of these commendable advancements, there is a dark side that is rarely explored because many find the topic rather unpalatable. There is an underground and subversive "shadow" Silk Road that has become a source of prosperity for those that would seek to enslave humans – many of them among some of the most vulnerable – for the purpose of exploitation and abuse.
Human-trafficking, a type of slavery that involves the transport or trade of human beings for the purpose of labor, affects virtually every country in the world. Despite the fact that slavery was abolished well over a century ago, there are more slaves in the world now than at any other time in history. Unfortunately, none of the Caspian Five countries are immune to the proliferation of human-trafficking and corruption within their borders. In fact, the Caspian makes up a very significant part of a human-trafficking network that has, at any given time, ensnared about two and a half million people around the globe. Overall, human-trafficking is estimated to be a $32 billion a year industry and shows no signs of slowing down, despite – thanks to the rise in the production of documentaries and the release of blockbuster Hollywood movies like Taken – the growing awareness of the public. The victims of human-trafficking include people of all backgrounds and are trafficked for a variety of purposes. Men are trafficked to be used in hard labor jobs and women and children are trafficked to work in the agriculture, fishing, and textile industries. Men, women, and children are all trafficked into the commercial sex industry and used for prostitution, pornography, or other forms of sexual exploitation.
Human beings are smuggled within national or across international borders, work out of both public and private organizations, and are 'sold' over and over again across time. While not all human-trafficking victims are acquired in the same way, the common theme among those that are 'recruited' is extreme poverty. When a person is trafficked, the victim is removed from everything that is familiar and finds himself or herself isolated and powerless. They often don't speak the same language – or understand the culture – of their captors, 'customers,' or fellow victims and, in many cases, even travel through multiple countries before they end up at their final destination, making most efforts to track and rescue almost impossible. Once in the custody of their kidnappers – who are often part of a larger, more organized group of criminals – victims are stripped of their documentation, told that they are breaking the country's laws by being there, and threatened with harm to their loved ones if they try to escape. They are subjected to physical and psychological abuse ranging from degradation to food and sleep deprivation to torture. As a result, the victims often become confused, disoriented, frustrated, and ultimately compliant from sheer despair. The average life span of a victim of human-trafficking after being ensnared is somewhere between three to seven years. In many of these cases the victim is literally worked to death.
The proliferation of human-trafficking is fueled by widespread corruption and greed. In some parts of the world the life of a female holds so little value that there is not much opposition to the idea of purchasing them for sexual services across the general population according to several disturbing survey polls. Prostitution is often considered a victimless crime and in many countries there is a perception that it is a woman's choice to enter the commercial sex trade as their preferred profession. Despite the efforts of governments – including formally the governments of the Caspian Five countries – to regulate and enforce anti-trafficking legislation, local governments and police forces have been known to not only protect sex-trafficking rings but to participate in them. There are also lucrative benefits to countries because of the practice of sex tourism – where travelers vacation to a particular country for the purpose of having sex with an exotic and/or underage male or female.
Azerbaijan, known as a 'destination country' for women from Ukraine, Kazakhstan, and Russia for forced prostitution, is also identified as a transit country for victims of sex and labor-trafficking from Central Asia to the United Arab Emirates, Turkey, and Iran. According to the U.S. Department of State, Azerbaijan is classified as a TIER 2 country, which means its government does not fully comply with the TVPA's minimum standards but is making significant efforts to do so. According to the 15th annual Trafficking in Persons (TIP) Report, Azerbaijan's government did increase the number of trafficking investigations and convictions, enacted a new national action plan, and introduced new legislation to provide reintegration assistance to vulnerable populations.
Kazakhstan, also identified as a TIER 2 country, is to a lesser extent a destination and transit country for sex-trafficking and forced labor. Unlike neighboring countries, most victims of trafficking in Kazakhstan are lured there with promises of legitimate employment. People from the country's rural villages are attracted to the economic prosperity they perceive in Kazakhstan's major cities, like Astana and Almaty. Upon arrival, many are deceived and made victims. According to the TIP report, Kazakhstan's government is committed to combating the problem by improving its anti-trafficking legislation, training law enforcement officials, and investigating and prosecuting suspected police officers that participate in trafficking activities. Kazakhstan has also significantly increased its funding for victim assistance and continues to cooperate with international organizations and NGOs to protect victims and raise awareness of trafficking crimes.
Turkmenistan, recognized as a TIER 2 Watchlist country, is a 'source' country for people subjected to forced labor and sex-trafficking. Most of the Turkmen people that become victims are mainly taken to Turkey and Russia, where they are often forced to work in the cotton and construction industries. Even though Turkmenistan is supposedly 'making significant efforts' to comply with the minimum standards for the elimination of trafficking, its government has not been particularly committed to devoting sufficient resources to implement such plans to bring about compliance. While Turkmenistan has continued to convict traffickers, it does not demonstrate very adequate efforts to identify and protect victims and, in some cases, even punish victims for their 'crimes.'
Both Russia and Iran, which have been identified as TIER 3 countries, are source, transit, and destination countries. Neither country's government makes much of an effort to eliminate trafficking. They do not share information with NGOs, the media, international organizations, and other governments in order to address the extensive trafficking problem found within their borders (and beyond) and neither have a national action plan in place to combat trafficking. While Iran did make a small effort to work with other countries in the region to combat other types of transnational crime, Russia has refused to take major public steps to combat root human-trafficking causes that often originate within its own borders through its extensive organized criminal groups.
As seen after the collapse of the USSR, economic systems were completely transformed and many people, especially women, found themselves facing unemployment and poverty. These people flocked to the cities in search of work opportunities, higher wages and a better future. Unfortunately, many found themselves swept up in the sex-slavery trade and modern-day indentured servitude. Now that sanctions have been lifted on Iran there are so many new opportunities across the entire Caspian region that will no doubt prove to be irresistible for people in search of a better life. People will thus find themselves looking to leave home to make the voyage to a 'nearby new world' where they hope new opportunities that weren't there a few short months ago can transform their lives. Unfortunately, wherever there is hope there is also an accompanying fear. Wherever there is opportunity there is also exploitation. As hopefuls flood back and forth across the Caspian Five, governmental efforts must not simply continue to formally declare their animosity to trafficking but they must begin to truly fight the predators waiting in the shadows. If they do not, then fighting the Shadow Silk Road will likely remain a losing battle.
The phenomenon of the Islamic world- Ilham Aliyev
At the end of the twentieth century – at the beginning of the 21st century, world politics differ by its complexity and diversity. It is too important that Azerbaijan, which proclaimed independence twice during the twentieth century, maintained its this independence during the period full of globalization, international integration and social contradictions. Under such complicated historical circumstances, the prominent politician and statesman, the well-known and respected person in the world – Ilham Aliyev's commitment and successful realization of this responsibility can be characterized as the golden age of modern Azerbaijan history. Conduction of successful foreign policy during his term as head of state has had a significant impact on the future life of Azerbaijan.
The Republic of Azerbaijan, established normal international relations with all the countries of the world after gaining independence, and in the frame of good relations with the Muslim countries, it also protects the interests and interests of the Islamic world within the Organization of Islamic Cooperation and continues to cooperate with these countries in accordance with the requirements of international law. In this regard, strengthening of Islamic solidarity in the world is one of the priority issues in the foreign policy of Azerbaijan. Namely from this point of view, declaration of 2017 year as "Islamic Solidarity Year" by decree of the  President Ilham Aliyev dated January 10, 2017, is an indicator of  humanistness of our state leader and at the same time it is a positive example of our country's sensitive attitude to the Islamic Countries Union. Islamic solidarity does not only mean the solidarity of Islamic countries. This is a kind of challenge, regardless of religion, to the world's people to live in friendship, brotherhood and multiculturalism conditions.
It is well known that sectarian wars, civil wars in the Middle East and as a result, emerged certain socio-political tensions indicate that Muslim countries are in great need of moral solidarity. The controversial political processes happening in the world, the emergence and increasingly widespread of warlike states in different countries, the strengthening of religious confrontation, and the deepening of the prejudiced attitude towards Muslims emphasize the necessity level for solidarity among people, nations and states. It can be said that one of the main reasons for exacerbating the myth of Islamic terrorism, the threat of Islamophobia, and strengthening the oppression of Islamic countries should be sought in the absence of unity and solidarity among these countries. Faith differences, contradictions in interests and positions and etc. leads to serious disagreements, and sometimes severe confrontations. Islamic religion, its sacred values, are insulted by the Islamophobia and those who are exposed to the poisonous propaganda against Islam. The bloody events that took place in the Islamic countries during last years, especially in Iraq, Bahrain, Yemen, and Syria are confirmation of our opinions. Cradles of ancient Eastern culture such as Baghdad, Damascus, Aleppo, Kirkuk, Basra and other cities are subject to serious destruction as a result of wars in Iraq and Syria and constant clashes, monuments of Islamic culture in these cities are destroyed. Caricatures of the Prophet Muhammad are given in the Western media, mosques, the holy book-Koran is burnt. The Western world's official structures do not just condemn the acts of vandalism, but on the contrary, they protect, honor, and appreciate the performers of those acts.
The main purpose of the "Islamic Solidarity Year" is to strengthen the unity of the Muslim world and to show that Islam is a religion of peace and culture, and to achieve this goal, as President of the Republic of Azerbaijan Ilham Aliyev said, first of all, reconciliation between different sects that have historically damaged Islam should be established. The announcement of the year 2017 as the "Year of Islamic Solidarity" in Azerbaijan is a challenge to the West, which is strengthening its attacks on the Islamic world annually and promoting a new "crusades" in the 21st century. This is also a call for Islamic countries to be vigilant against the crafty intentions of the West, to demonstrate unity and solidarity. Ilham Aliyev made this important step and expressed the his own position and the position of the state of Azerbaijan. As Azerbaijan has distinguished from other states with its multicultural and tolerant values throughout its history. Islamic solidarity is also a part of this context, and this shows that President Ilham Aliyev gives great importance to the solidarity of the Islamic world. As political scientists point out, some initiatives have been made to call Muslim countries to get unified around religion. For the first time in history, the head of our state has sent a political message to the Islamic world, pointing to the importance of acting from unified position, to achieve unity and at the same time integrate into the world. It should be noted that the Order of the President of the Republic of Azerbaijan on the declaration of 2017 year as"Year of Islamic Solidarity" states: "The Republic of Azerbaijan has established mutually beneficial relations with the Islamic world by being selected as a member of the Organization of Islamic Cooperation, ISESCO and other respected organizations joining muslim countries and has been an organizer of a number of important cultural forums of global importance. Azerbaijan has made a great contribution to the founding of tolerance environment, multiculturalism, intercultural and intercivilizational dialogue, and the promotion of Islamic values in the world. The prestige gained by Azerbaijan in the Islamic world got its expression in this results that Baku and Nakhchivan cities declared as a capital of Islamic culture in 2009 and 2018 respectively. And the decision to hold the IV Islam Solidarity Games in Baku in 2017  create favorable conditions for our country to take the next practical steps in strengthening the Islamic solidarity. "
Only state leader of the country like Azerbaijan,  where multiculturalism and solidarity are established, and citizens of different nationalities, religions and sects live in peace, has a moral right to give such a decree. The promotion of the Islamic Solidarity initiative is related to the challenges of the present and controversial processes that take place because of various reasons in the Islamic world. As it is seen here, the importance of Azerbaijan's reputation in the Islamic world, as well as the need to strengthen the solidarity of Islamic countries, as well as the actuality of holding the Islamic Solidarity Games in Baku, the capital of the Republic of Azerbaijan in 2017, have been extensively and logically expressed in this decree. With Islamic solidarity policy, Azerbaijan, as unifying facility of the Islamic world, confirms that these religious values are indeed, humanistic, moral values and reinforces belief to being of these ideas are an effective means of creating a shared living and stability environment not only in the Islamic geography but also in the entire world. Azerbaijan, which has created a partnership of cultures and ideas between East and West, fulfills the function of a of solidarity bridge, thus demonstrates its commitment to universal values, as well as its commitment to the highest values of the Islamic religion, which had a special place in the past and continuing to keep its value today. Thus, Azerbaijan uses all the means to establish steady stability in a globalizing world and propagates the peacekeeping, reconciliatory position in a unique way that is essential for today.
We suppose that this humanist initiative of the President of Azerbaijan, Mr. Ilham Aliyev, will promote the expansion of cooperation relationship between Muslim countries in the world and further strengthening of the Islamic solidarity. The strengthening of Islamic solidarity, in its turn, will play an important role in ensuring tranquility and peace in the Middle East and other regions.
Economic Growth of Ukraine Depends on Completing Pending Reforms Quickly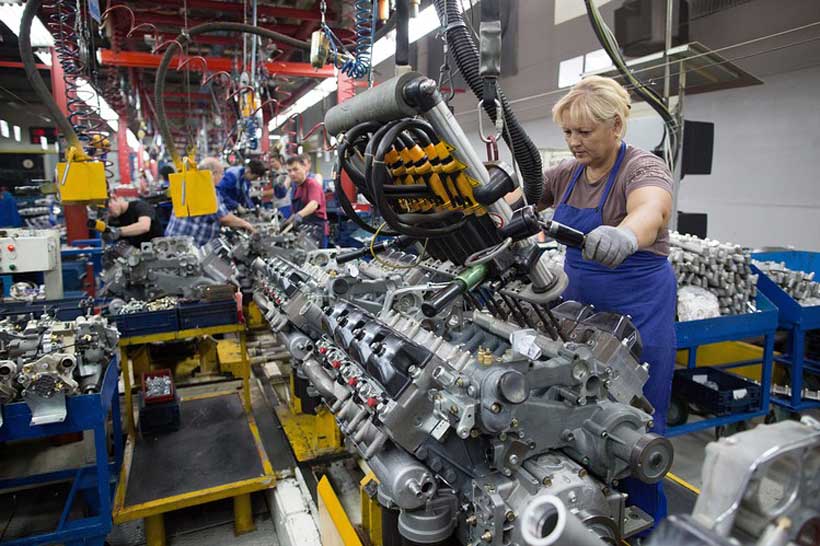 Ukraine's economy grew by 2.5 percent in 2017, the second year of modest growth, according to the World Bank's latest Ukraine Economic Update.  Growth in manufacturing, services, and construction was robust, but weaknesses in the agriculture and mining sectors, together with delays in key reforms to further strengthen investor confidence contributed to the modest overall growth performance.
"Faster growth is needed to improve living standards for the people of Ukraine who continue to hurt from the economic crisis of 2014-2015," said Satu Kahkonen, World Bank Country Director for Belarus, Moldova and Ukraine. "This will require decisive measures in the next few months to complete pending reforms to bolster investor confidence and safeguard macroeconomic stability."
Economic growth is projected at 3.5 percent in 2018 if pending reforms in anticorruption, land markets, state-owned banks, and privatization can be advanced in the next few months. This would provide an important signal to investors. If reforms are delayed, growth could drop below current levels in an uncertain macroeconomic environment as financing risks rapidly increase.
Ukraine faces major financing needs to repay public debt and fiscal pressures from higher public sector wages and social benefits in 2018 and 2019. Mobilizing adequate international financing by completing pending reforms in the months ahead will be important to maintain macroeconomic stability.
Meeting the fiscal deficit target of 2.5 percent of GDP in 2018 will require improving targeting of housing utility subsidies, making further wage increases contingent on measures to optimize the school and hospital network and public-sector staffing, and identifying affordable options to update public sector pensions.
Fiscal Pressures and Reform Options …
According to the World Bank's Special Focus Note on fiscal pressures and reform options, Ukraine has made progress in reducing its large public spending since 2014. However, sustaining these gains while also improving the effectiveness of public services will require implementation of reforms in education, health, public administration, pensions, and social assistance in a fiscally affordable manner.
Public expenditures increased significantly in 2017, by 11.7 percent in real terms, reaching 41.5 percent of GDP, due to the doubling of the minimum wage and over 40 percent increase in wages of teachers and doctors. Spending on social programs also increased.
The recently adopted reforms in education, health, and public administration seek to improve compensation for teachers, doctors, and public servants to strengthen incentives and attract quality personnel. Achieving this in a fiscally affordable manner will require coordinating further increases in salaries with time-bound measures to optimize staffing and the school and hospital network.
The social assistance package in Ukraine is not only fiscally costly—costing 5 percent of GDP in 2017, but is also poorly targeted—with only 30 percent of assistance going to the bottom 20 percent of the population. Fixing this will require improved targeting of the large HUS program.
The recently adopted pension reform helped improve adequacy of benefits and stabilize fiscal costs. Additional initiatives going forward should avoid undermining these core objectives of the pension system. The timeline to create a funded pillar system by January 2019 needs to be reconsidered since this will undermine contributions to the pay-as-you-go system, create contingent fiscal liabilities, and face inadequate availability financial instruments.
Background
Since May 2014, the World Bank Group has provided a total of more than US$5 billion to Ukraine (including 4 development policy loans, 7 investment operations and 1 guarantee) from the International Bank for Reconstruction and Development (IBRD).
The World Bank's current investment project portfolio in Ukraine amounts to US$2.5 billion.  Investments support improving basic public services that directly benefit ordinary people in areas such as water supply, sanitation, heating, power, roads, social protection and healthcare, as well as private sector development. Since Ukraine joined the World Bank in 1992, the Bank's commitments to the country have totaled over US$12 billion in about 70 projects and programs.
Baltic States: Missed opportunities in global politics
We are living in the world where the facts "who makes" and "where it is made" are much more important than "what for" issue. Nowadays the world political scene is divided between superpowers supported by their allies. In order to punish each other for having opposite views the sides criticize any step made by the opponent.
Unfortunately, this happens even in case of evident necessity. It is not the secret that the modern system of international security is unable to perform all demanded functions any more. It needs to be reformed. Another question is who and where will decide.
The most likely political platforms for this are the United Nation Organization and OSCE. But the preparatory stage for any new decision should become different forums and conferences, such as the Munich Security Conference and the Moscow International Conference on Security.
This year the Munich Security Conference took place on February 16-18. More than 30 heads of state and government and over 100 cabinet ministers from across the globe came together at the forum for discussions on major international security challenges. As far as the Baltic States concerns, President of Estonia, as well as Lithuanian and Latvian ministers of defence did not miss the event because it was of great importance for the future of their countries and all Europe.
Just another situation developed in March. In Moscow an annual International Conference on Security was held on April 4-5. The fight against terrorism and other pressing security challenges were one the agenda. There is not a single person who is not affected by the discussed topics.
Many European countries considered it unnecessary to visit the event. It makes no sense to blame them for this choice. They have a strong and common view on what is happening in the world. But if abstract from the current geopolitical situation and confrontation between Russia and the West, politicians should see such kind of forums as a chance to find even weak possibilities to make the world safer. Probably the main reason for not attending the event is in the fact that politicians forgot how to listen to each other. They forgot that only discussing controversial issues makes possible to reach a consensus.
Another issue that deserves attention is the list of participants, which is of great interest to the analysts. According to the Russia's Defense Ministry, representatives from at least 95 countries, three deputy prime ministers, 30 defense ministers, 15 chiefs of staff, 10 international organizations and military delegations have come to participate in the International Conference on Security. They include defense ministers of India, South Africa, Iran, Iraq, Pakistan, Vietnam, Azerbaijan, Belarus, China, Armenia, Mozambique, Serbia, and Israel. Thus, almost half of the UN member-states (total number is 193) sent representatives to the Conference.
It becomes evident that Russia really has powerful partners and allies that are ready to discuss even difficult questions and find mutually beneficial solutions. Those who came do not necessarily agree with Moscow and support its foreign policy but they clearly understand that unfortunately without Russia it is impossible to improve the International Security system.
This fact admitted Thomas Greminger, secretary-general for the Organization for Security and Co-operation in Europe. He stressed that Russia is a key partner in issues of the European security. But the Baltic States blinded by hatred to Russia ignore ignored the event thus putting political ambitions higher than common sense.
It is obvious that Russia is not satisfied with NATO's actions near its borders. NATO in its turn disputes the lawfulness of Russia's behavior. Every day confrontation becomes harder and leads to the arms race. The only way out is to discuss things and find the way out. The Baltic States as usual lost the possibility to express their position on key international security issues and be the active actors in global politics.