Fighting the Shadow Silk Road: Anti-trafficking Efforts across the Caspian
Most conversations about the Caspian countries revolve around the region's political and economic developments and Central Asia's new Silk Road initiatives that seek to facilitate regional cooperation in the areas of energy, transportation and trade.
Despite all of these commendable advancements, there is a dark side that is rarely explored because many find the topic rather unpalatable. There is an underground and subversive "shadow" Silk Road that has become a source of prosperity for those that would seek to enslave humans – many of them among some of the most vulnerable – for the purpose of exploitation and abuse.
Human-trafficking, a type of slavery that involves the transport or trade of human beings for the purpose of labor, affects virtually every country in the world. Despite the fact that slavery was abolished well over a century ago, there are more slaves in the world now than at any other time in history. Unfortunately, none of the Caspian Five countries are immune to the proliferation of human-trafficking and corruption within their borders. In fact, the Caspian makes up a very significant part of a human-trafficking network that has, at any given time, ensnared about two and a half million people around the globe. Overall, human-trafficking is estimated to be a $32 billion a year industry and shows no signs of slowing down, despite – thanks to the rise in the production of documentaries and the release of blockbuster Hollywood movies like Taken – the growing awareness of the public. The victims of human-trafficking include people of all backgrounds and are trafficked for a variety of purposes. Men are trafficked to be used in hard labor jobs and women and children are trafficked to work in the agriculture, fishing, and textile industries. Men, women, and children are all trafficked into the commercial sex industry and used for prostitution, pornography, or other forms of sexual exploitation.
Human beings are smuggled within national or across international borders, work out of both public and private organizations, and are 'sold' over and over again across time. While not all human-trafficking victims are acquired in the same way, the common theme among those that are 'recruited' is extreme poverty. When a person is trafficked, the victim is removed from everything that is familiar and finds himself or herself isolated and powerless. They often don't speak the same language – or understand the culture – of their captors, 'customers,' or fellow victims and, in many cases, even travel through multiple countries before they end up at their final destination, making most efforts to track and rescue almost impossible. Once in the custody of their kidnappers – who are often part of a larger, more organized group of criminals – victims are stripped of their documentation, told that they are breaking the country's laws by being there, and threatened with harm to their loved ones if they try to escape. They are subjected to physical and psychological abuse ranging from degradation to food and sleep deprivation to torture. As a result, the victims often become confused, disoriented, frustrated, and ultimately compliant from sheer despair. The average life span of a victim of human-trafficking after being ensnared is somewhere between three to seven years. In many of these cases the victim is literally worked to death.
The proliferation of human-trafficking is fueled by widespread corruption and greed. In some parts of the world the life of a female holds so little value that there is not much opposition to the idea of purchasing them for sexual services across the general population according to several disturbing survey polls. Prostitution is often considered a victimless crime and in many countries there is a perception that it is a woman's choice to enter the commercial sex trade as their preferred profession. Despite the efforts of governments – including formally the governments of the Caspian Five countries – to regulate and enforce anti-trafficking legislation, local governments and police forces have been known to not only protect sex-trafficking rings but to participate in them. There are also lucrative benefits to countries because of the practice of sex tourism – where travelers vacation to a particular country for the purpose of having sex with an exotic and/or underage male or female.
Azerbaijan, known as a 'destination country' for women from Ukraine, Kazakhstan, and Russia for forced prostitution, is also identified as a transit country for victims of sex and labor-trafficking from Central Asia to the United Arab Emirates, Turkey, and Iran. According to the U.S. Department of State, Azerbaijan is classified as a TIER 2 country, which means its government does not fully comply with the TVPA's minimum standards but is making significant efforts to do so. According to the 15th annual Trafficking in Persons (TIP) Report, Azerbaijan's government did increase the number of trafficking investigations and convictions, enacted a new national action plan, and introduced new legislation to provide reintegration assistance to vulnerable populations.
Kazakhstan, also identified as a TIER 2 country, is to a lesser extent a destination and transit country for sex-trafficking and forced labor. Unlike neighboring countries, most victims of trafficking in Kazakhstan are lured there with promises of legitimate employment. People from the country's rural villages are attracted to the economic prosperity they perceive in Kazakhstan's major cities, like Astana and Almaty. Upon arrival, many are deceived and made victims. According to the TIP report, Kazakhstan's government is committed to combating the problem by improving its anti-trafficking legislation, training law enforcement officials, and investigating and prosecuting suspected police officers that participate in trafficking activities. Kazakhstan has also significantly increased its funding for victim assistance and continues to cooperate with international organizations and NGOs to protect victims and raise awareness of trafficking crimes.
Turkmenistan, recognized as a TIER 2 Watchlist country, is a 'source' country for people subjected to forced labor and sex-trafficking. Most of the Turkmen people that become victims are mainly taken to Turkey and Russia, where they are often forced to work in the cotton and construction industries. Even though Turkmenistan is supposedly 'making significant efforts' to comply with the minimum standards for the elimination of trafficking, its government has not been particularly committed to devoting sufficient resources to implement such plans to bring about compliance. While Turkmenistan has continued to convict traffickers, it does not demonstrate very adequate efforts to identify and protect victims and, in some cases, even punish victims for their 'crimes.'
Both Russia and Iran, which have been identified as TIER 3 countries, are source, transit, and destination countries. Neither country's government makes much of an effort to eliminate trafficking. They do not share information with NGOs, the media, international organizations, and other governments in order to address the extensive trafficking problem found within their borders (and beyond) and neither have a national action plan in place to combat trafficking. While Iran did make a small effort to work with other countries in the region to combat other types of transnational crime, Russia has refused to take major public steps to combat root human-trafficking causes that often originate within its own borders through its extensive organized criminal groups.
As seen after the collapse of the USSR, economic systems were completely transformed and many people, especially women, found themselves facing unemployment and poverty. These people flocked to the cities in search of work opportunities, higher wages and a better future. Unfortunately, many found themselves swept up in the sex-slavery trade and modern-day indentured servitude. Now that sanctions have been lifted on Iran there are so many new opportunities across the entire Caspian region that will no doubt prove to be irresistible for people in search of a better life. People will thus find themselves looking to leave home to make the voyage to a 'nearby new world' where they hope new opportunities that weren't there a few short months ago can transform their lives. Unfortunately, wherever there is hope there is also an accompanying fear. Wherever there is opportunity there is also exploitation. As hopefuls flood back and forth across the Caspian Five, governmental efforts must not simply continue to formally declare their animosity to trafficking but they must begin to truly fight the predators waiting in the shadows. If they do not, then fighting the Shadow Silk Road will likely remain a losing battle.
Financial challenge for Lithuania
Next year will be the real turning point for Lithuania from the financial point of view. After gaining the independence Lithuania was significantly supported by the EU. Brussels helped a young country to grow stronger and decrease its dependence on Russia. Many projects started by the country decades ago were successfully financed from the European funds. Such assistance made possible to develop economy at a very fast rate. Lithuania every year became more and more confident in its capabilities and strongly believed in its European future. EU financial aid helped to start the decommissioning of the Ignalina nuclear power plant and the building of the Rail Baltica, as well as a lot of other projects.
For example, Brussels has already allocated €1.5 billion as part of the current budget up to 2020 for the Ignalina nuclear power plant. But the process is only half way. Lithuania desperately needs at least the same amount of money to finish the project and be safe. Though a spokeswoman for the Lithuanian energy minister on March 13, 2018 has denied a report that an incident occurred in the Ignalina Nuclear Power Plant (INPP) in late 2017, the situation is alarming.
The new EU budget for the next seven years could become a real threat to Lithuania position in this regard. It is not a secret that the European Union is experiencing financial difficulties and they will be even more serious than now. The matter is BREXIT for sure will cause financial cuts of the EU budget.
Thus, financial perspective for Lithuania is not very encouraging. Its main donor will decrease financial aid. Even now the European authorities stress the necessity of financing Lithuanian projects mainly at its own expense.
Besides the Ignalina nuclear power plant, Lithuania extremely needs money for continuation of the Rail Baltica project that should link Finland, Estonia, Latvia, Lithuania and Poland with a European standard gauge rail line. No decisions have yet been made about the next funding period (2020+). And Vilnius makes enormous efforts to convince the EU to continue support for the project. So, as well as the Ignalina nuclear power plant project, the Rail Baltica is also in limbo.
In other words Lithuania can't stop these projects because they are too important for her image and security but admits that it can't continue them without external assistance. Energy Minister Žygimantas Vaičiūnas insisted in December that "EU support is crucial and we simply do not have any other alternatives."
At the same time, lack of funding does not prevent Lithuania from increasing defence budget. This year Lithuania will allocate 873 million euros for defence. The increase is by 149.2 million euros (as compared to 2017).
If redirect this amount of money annually to such vital project as decommissioning of the Ignalina nuclear power plant, it would easily afford Lithuania to close the plant during next 20 years without external assistance. If to compare the necessity to close the plant and the necessity to buy containers, trucks, repairs of military equipment, spare parts of vehicles (the biggest purchases projected for 2018 according to the Ministry of national defence) the priorities are clear. May be something is wrong with the priorities of the Lithuanian authorities?
With all these additional money Lithuania could close dangerous nuclear plant and also build modern railway without asking the EU or other sponsors for money. Let us think about it…
"Anschluss" in the Caucasus: Thanks to complete negligence of the world community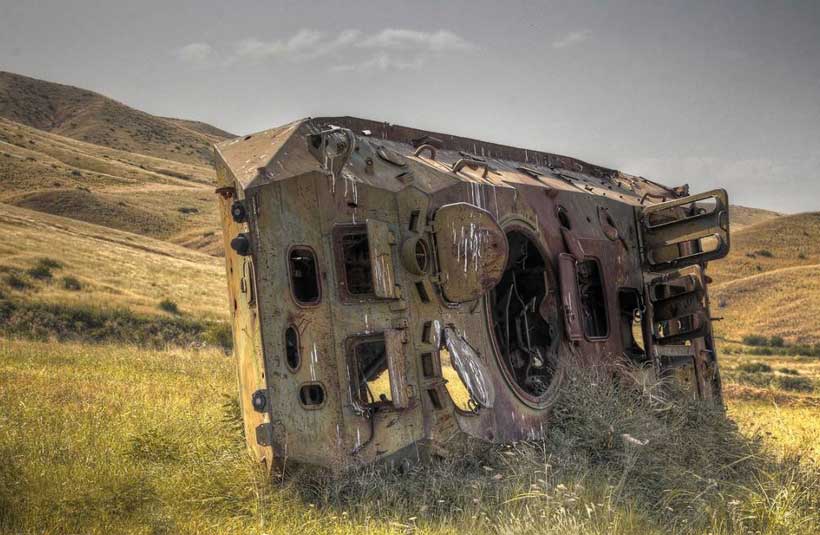 On March 12, Austria commemorated a sad date, the 80th anniversary of the Anschluss, a bloodless "absorption" of the country by Hitler's Germany. March 12 is an official Day of Remembrance in Austria. During a ceremony held in Vienna's Hofburg Palace, Austrian President Alexander van der Bellen urged young people not to be "taken in" by neo-fascist and far-right ideologies. "The German armed forces came overnight to seize Austria. What did not come overnight was contempt for democracy, disregard for basic human rights and freedoms, militarism, intolerance and violence. Austria has a shared responsibility for the atrocities of National Socialism. Austrians were not only victims but also perpetrators, oftentimes in leading positions," said van der Bellen.
Anschluss is translated from German as reunification. An Armenian word miatsum has a similar connotation used since 1988, half a century after the Anschluss, by Armenian fascists to label their claims to Azerbaijani Karabakh.
There are many parallels between the events of 1938 and 1988. Indeed, the Anschluss was a seemingly bloodless event, and most Austrians welcomed the annexation of their country by Germany, albeit unaware of the upcoming global consequences of this experience. Same as in Karabakh, when the crowds yelling "mi-a-tsum!" did not realise the cost they were going to pay because of their actions and that they were actually pushing their people to war. But most importantly, in 1938, the world community did not react to Hitler's annexation of Austria as it should have reacted. It did not foresee the readiness of Nazi Germany to destroy the recognized borders behind the crowds who enthusiastically welcomed Reich Chancellor Adolf Hitler, an Austrian by birth. Nor did it foresee the territorial appetites of Hitler. Many researchers believe that if the world did properly react to the Anschluss of Austria and prevent the Munich agreement, it would be quite possible to avoid the Second World War.
There is no doubt that if the actions of Armenian nationalists were properly evaluated in 1988 without excessive complacency and if, after the collapse of the USSR, there would be a clear signal that the world would not tolerate any forceful redrawing of borders, I am sure that many of the existing acute political crises could be avoided.
Yet another warning of the Austrian President is more relevant than ever, that is the danger of fascination with neo-fascist ideas.
Today hardly anyone seems to believe in the urgency of reminders about the dangers of such ideas, especially in countries where these ideas were taken for granted as a guide to action. Surprisingly though, it is hard to realize that even today Nazi ideas are being promoted to the rank of state policy. This is exactly what transpires in neighbouring Armenia, which not only denies the "Anschluss-Miatsum", but also promotes the Nazi accomplice Garegin Nzhdeh, the deputy commander of the Armenian Legion of the German armed forces and author of the racist theory of Tseghakronism as "a father of the nation" and "a symbol of patriotism".
This Hitlerite butcher began his bloody career with ethnic cleansing of Azerbaijanis in Zangezur, later applying his rich experience in countless massacres of civilians including the children, women, and old people, whose only fault was that they belonged to a "wrong" nationality. The only difference was that in Zangezur the people was killed for being Azerbaijanis, while in Crimea – for being Jews or Karaites. A pompous monument has been erected in the centre of Yerevan for Nzhdeh the Butcher, and his ideology, Tseghakronism – officially promoted in Armenia as a state policy.
Yet Armenia is trying to mislead the world community by resorting to tricks typical to conmen but not the state authorities. The word tseghakron in Armenian means race. During his stay in the United States, Nzhdeh created an organisation from young Armenians that he would openly call tseghakron in Armenian, and racists in all other languages. If, for instance, someone is speaking about a race in anthropological sense of this word, tseghakron is normally translated into other languages as race. But as soon as it comes to Nzhdeh and his ideology, then the Armenians prefer using tseghakronism, a word of incomprehensible origin. But all these interpretation tricks do not make Nzhdeh's ideology any less explicitly racist and fascist.
This cheap trick can deceive only the naive people unfamiliar with the situation in Armenia, where the fascist ideology of Nzhdeh is manifested in everything. The fascist tenet of "purity of blood" has turned into a series of ethnic cleansing events in Armenia. Being a hard-core fascist, Nzhdeh preached "the purity of Armenian language" forbidding Armenians to communicate in other languages but Armenian. In fact, education in any other language except Armenian is prohibited in Armenia. There is a small number of Russian classes in high schools but they are only for the children who have at least one non-ethnic Armenian parent.
An outrageous incident occurred recently during the selection of participants for the Junior Eurovision Song Contest started in Armenia. The head of the Armenian delegation at contest, Gohar Gasparyan stated clearly: "All children of Armenian nationality of 9-14 years old can participate in the Eurovision Song Contest, regardless of the place of residence. We are waiting for talented Armenian kids." Then one named Anush, answering a question if children of other nationalities can participate in the selection, replied: "Actually, it is impossible according to the law. Generally speaking, if a participant is from Armenia, he or she must be of Armenian origin." This is fascism in action, isn't it?
In fact, the first Armenian president Levon Ter-Petrosyan was well aware of the danger of such ideology. Tseghakronism, ARF Dashnaktsutyun, etc. were strictly banned during his tenure. But then Ter-Petrosyan was overthrown as a result of the "creeping coup" and fascists like Robert Kocharyan and Serzh Sargsyan usurped the power. In one of his interviews, Kocharyan, in the spirit of the fascist Nzhdeh, tried to reason a "genetic incompatibility" between Armenians and Azerbaijanis. In his interview with Thomas de Waal, the incumbent president Sargsyan was boasting of his complicity in the massacre of the peaceful population of Khojaly: "Before Khojaly, Azerbaijanis thought that they could joke with us; they thought that Armenians are incapable of laying hands on civilians. We managed to break this (stereotype)." Needless to say that the irresponsible and aggressive behaviour of Armenian authorities remains a serious threat to the security of the entire region. But above all, this policy is dangerous for Armenia itself, whose citizens are better not to forget the outcome of fascination with the ideas of "racial superiority" and claims to the lands of neighbouring countries for Germany. Although, given the current statistics of emigration from Armenia, I believe that many of its citizens understand the implications of the dangerous game played by official Armenian authorities.
Furthermore, one can see a manifest of the fascist ideology on the symbol of the ruling Republican Party of Armenia (RPA), which is very similar to the symbolism of the Third Reich. The RPA logo depicts an eagle with stretched wings almost exactly repeating the coat of arms of Nazi Germany; even the head of an eagle looks at its left wing. It is not a shame to use an eagle as a symbol of party and country. But both symbols (RPA and Third Reich) match entirely, and such things cannot be accidental.
Today, one can find an image of a steel eagle neither in Germany, nor in Austria, let alone in any other country of the world. But in Armenia the authorities revived the eagle, which is flaunting not only on the emblem but also at all party congresses, like years ago at party congresses of the Third Reich. Armenian authorities have surpassed even the Fuhrer in his effort to spread the ideology of fascism. If Hitler dreamed of creating a mono-ethnic state in the Third Reich, destroying the most beautiful cities of Europe including Paris, Krakow, Prague, and Warsaw and changing ethnic identities of people living therein, none of his efforts were fruitful. It is hard to believe but the current leaders of Armenian nation have managed to do this, thanks to the complete negligence of the world community. As a result, Armenia is a mono-ethnic state, where no Azerbaijanis are living; the entire Azerbaijani architecture previously populating the historical centre of Yerevan and also the whole territory of Armenia has been destroyed; and absolutely all Azerbaijani toponyms and hydronyms have been changed to Armenian ones.
Ordinary Fascism with Azerbaijani Variations
In the midst of the Cold War, in the most dramatic moments of mid-60s, thinking society of USSR was not only deeply touched, but was also given  food for thought by the talented filmmaker Mikhail Romm's   documentary film called "Ordinary Fascism"  which according to impartial experts is a genius film about fascism origin and development and, most importantly , the potential dangers of the  latter  for future generations. This is a film-meditation about the nature and causes of the emergence of fascism in the country that has given birth to a unique constellation of science, culture and arts.
It is assumed that the Third Reich's "National Socialism" ideology is a turning point in history. But, alas, his inheritance revives like a tale headless monster. Holocaust, genocide, aggression, racism, "return of territories – today all of this is still hanging over the head of mankind like a sword of Damocles.
"Expanding Germany's Spatial Territories" was the principal thesis of Hitler's program, which still does not calm politicians in many countries inspired by fascism's "expansion to the East"( "DrangnachOsten") challenge. Only some of them direct the arrow to their neighbors.
They say, "mafia is immortal" and then what about fascism? It is prospering right before our eyes, in our region. We must beware and take measures against it, for modern fascism is not less dangerous and less disastrous than it was in the period of Fuhrer and  Duce.
Now, as the French would say, "Let's get back to our sheep!". The fascism machine lives, operates and roles round just  a few kilometers away in our neighborhood. By the classical laws, fascism is a political regime with its internal and external orientation, peculiarities and principles. Today's Azerbaijan's political agenda includes all the components and parameters of the fascist system. Usually dictators are charismatic and have special names. Julius Caesar was "the father of the nation" in ancient Rome, Mussolini was Duce in Italy, Hitler was Fuhrer in Germany. Aliyev does not have charisma and is modestly satisfied with the status of a president, probably seeing that Portuguese Antonio Salazar was just a premier-minister.He was also convinced fascist. Like all mentioned dictators, Aliyev did not cancel the Parliament and the multiparty system… However, in the conditions of fascism, the dictatorship is characterized by the fact that a system is created in the country where all the levers of power are concentrated in the hands of the sole leader, as a result of which all the laws adopted by the legislature and the executive are transformed into fiction and the opposition parties are purely decorative in nature. Thus, Aliyev's reelection in the upcoming elections is 100% guaranteed.
Azerbaijan's economy holds all fascism segments. Like other fascist regimes, corporatism develops along the path of unifying the state and large capital. And in the conditions of corporatism, economic policy is determined by the sectorial interests. In Azerbaijan, it is, naturally, the carbohydrate industry. These corporations are monsters born of the coupling of the state bureaucracy and oligarchy, which governs the entire capital and reserves of the state. The interests of small and medium-sized enterprises are ignored and the protection of the   population's interests  by the trade unionists and  the syndicates  is out of the question. They simply do not exist here. Azerbaijan faces militarization of economy. The Third Reich's favorite slogan "guns Instead of butter'' is widely used.  The social needs of the broad population and the well-being of ordinary people are subordinated to military spending, which according to  the ruling regime is determined by the war with Nagorno-Karabakh. One of the obvious features of Fascism's policy is repression and censorship. Like other fascist regimes, there is a legal and non-legal police mechanism in Azerbaijan that is protected by the state. Such a terrorist act is carried out not only against active oppositionists. Special websites gather and sort individuals who criticize the authorities. Subsequently they are exposed to moral and, if necessary, physical pressure. In the internal political life Azerbaijani fascism combines the police and state repressions with propaganda, hacking methods, persecutions, arrests and imprisonment.
The "odyssey" by the renowned writer Akram Aylisli takes a special place in the fight against dissidents, which, like many other cases, "missed" the "alert"eyes of Western human right defenders. The most striking feature of fascism is militarism, which occupies a special place in the current political life of Azerbaijan and the propaganda mechanism of the authorities. In order to conceal internal political failures and distract people from the daily problems, the leadership applies to the fascist trials. war is declared a natural, everyday life of man. At the same time, this is done in the background of so described "Armenian aggressor" and "occupant" stereotype. Azerbaijan is building a cult of war and fascist mythology, the basis of which are the fallen heroes of the "liberation war".Creates an alley of the heroes and so on.  And the crown of that ideology was the cynical and shameful fact of granting the title of Hero to the murderer Safarov and raising the throne of glory. For example, things like a deep economic crisis and mass depletion of the population can give rise to fascism. Among the reasons, in our opinion, is the primary defeat of the state in the war, the loss of territories, and, therefore, its degradation on the international ground.
The conditions imposed on the German side after the First World War , for instance , played a major role in the rise of  fascism in Germany. They created the so-called Weimar stereotype, which was skillfully used by Hitler for a revenge, unleashing the Second World War. German fascism was the result of a destroyed imperium nostalgia, loss of territories and violation of international authority. And what has our neighbor lost and what is the logic of fascism?  Return of the lost territories or the restoration of territorial integrity? Let's suppose that the common and deceived Azeri believes that Armenians have "seized" their territories.  But Aliyev and his team  do know that Armenians have  ,not yet fully, returned what they were taken away from  a hundred years ago.Revenge? But if Azerbaijan had been convinced of success, especially after the April "blitzkrieg" which was a practice a  la fascism, it would have already taken that step. Baku authorities, especially after the April war, are skeptical about the possibility of losing a large-scale war. Azerbaijani fascism moves with the same laws and psychology that other fascist states act.
Within this context, Baku's revanchist, imperialist, and militaristic ambitions open up new horizons of confrontation and festive dreams. Fascism's appetite apparently increases in time and space. Otherwise, how would one explain the Aliyev's desire to capture Zangezur, Lake Sevanbasin,finally the "lost" Erivan Province   and so on? Once you follow the dynamics of the Azerbaijani fascism, you come to the conclusion that this phenomenon does not recognize a friend or an enemy, neighbor or ally, and like an octopus sea monster, has a tendency to spread everywhere, far from its country and in the places where it does not belong. Thus, besides the Armenian lands, the Azerbaijani political mind often attracts attention to the territories of Northern Iran, considering it to be the "paternal lands".And Baku political scientist Zaura Mamedov is making a fictional statement comparable to the discovery of Columbus, which sounds as the following "Azerbaijanis have always been the owner of the state, now called Iran." And don't be surprised, it turns out that "the Azerbaijanis ruled over Iran for more than 1,000 years." Not forgetting the eldest friend, the political analyst is trumpeting that "In fact, Iran was a Turkic country from X century to 1924." No more, no less. And we are still indignant about Erivan. It remains only to suspect the strength of the foundations on which the Azerbaijani-Iranian relations are built, as well as the Russia-Iran-Azerbaijan alliance. The course of history, unfortunately, shows that the change of the fascist regime is almost impossible. Azerbaijani fascism is not an exception. After the Judgment Day, such regimes collapse either because of war or in the case of the disappearance of the regime leader.