Human Rights, Refugees and the EU: A Revisiting
I still remember when in the sixties and seventies the term "extra-communitarian" was banded about in the European political discourse. It designated all those who were non EU citizens.
It sounded strange to my ears. I would ask: does that mean that communitarian life, or the life characterized by solidarity, is the privilege of only those who form a community or a union, and everybody else is to be excluded? The answer to such a question I would usually get from EU citizens to whom I posed it, was more or less this: belonging to a political community does not mean that others who don't belong to it lose their human and civil rights. Those are inalienable and belong to every human being. We would always tread humanely anybody who lands in the EU, legally, or even illegally.
I still was not completely satisfied with that answer: somehow that term "extra", at least to my mind, still implied exclusion of some kind. Fifty or so years later I can declare with little equivocation that my hunch was right: extra-communitarian ultimately designated somebody who does not possess the human rights that those who belong to the Community (the EU) possess. It is the polity who proclaims them which grants them or withholds them. That was the Roman understanding of rights but it is not the Christian understanding. If anybody doubts this assertion, empirical evidence is now plentiful and available in the daily newspapers and TV News Broadcasts of every EU countries, as we speak.
I have written at length on this conundrum of human rights, its universalism and its pluralism, but perhaps it is now time to revisit the issue in light of the unfolding catastrophe in EU. Let's begin with a brief historical survey. Beyond the judgment against the inhumane barbarism of Nazism, that triggered the United Nations' Declaration on Human Rights, the great struggles facing issues of human rights and pluralism of post 1945 Europe and the West in general have had to do with racial justice, the rising parallel movements of equal rights for women, and the worldwide movements for de-colonization. The question however remains: are human rights in any sense universal, especially in view of the fact of a universally accepted, almost taken-for-granted modern pluralism?
To be sure, many people think about globalization only in economic terms. But this narrow understanding of our present situation, as if the economic challenges where not themselves largely a function of educational, technological, legal, communication, and, indeed, moral and spiritual developments, blinds us to one of the most difficult problems of universalistic principles in the face of pluralism, the conflict of values, of definitions of what is human and what is right as held by the world religions. The rights of so many people continue to be savagely violated in so many places, even in the very places who proclaim them, and the exigencies of earlier battles against domination by colonized peoples and now against threats of terrorism in many countries seem to justify the use of means that threaten the rights of groups and persons in ways that are more than "collateral damage." For those who seek to defend civil rights and liberties and see them as a way to love their neighbors near and far, the potential erosion of the legal protections of civil rights and liberties is a matter of immediate and pressing practical concern.
This is caused by the denial that there are in fact inalienable human rights that stand beyond and above civil rights, which are granted by a state and thus can be withdrawn by civil authority. It makes human rights a function of state policy not a matter of universal principle. The world, after all, has known that murder is wrong for many centuries, and every people has laws against it. People know that murders occur, with very few "justifiable homicides." But they also know that the empirical fact that things happen does not negate the normative principles by which we judge them. Today, the threat to human rights is deeper than their sometimes violation; it is a profound intellectual and spiritual problem, for many today doubt that we can have or defend any trans-empirical principles to judge empirical life. And that is the crux of the issue: human rights ideas were formulated historically by those branches of the biblically-based traditions, especially Jewish and Christian.
Those who doubt the validity of human rights do so on the ground that there neither is nor can there be a universalistic moral theology, master narrative, or jus naturale to support the idea. That, of course, is a universalistic claim in itself, ironically pressing toward universal moral relativism. Thus, they see "the West's" pressure to affirm human rights as rooted in a positive jus civile of a particular civilization or (in some versions) in the philosophical or religious "values" of distinct traditions or historical periods of thought. The fact of the diversity of religions and cultures is taken as an argument for a relativism in normative morality. Thus, human rights are seen as a matter of socio-historical context. In this situation, to insist that all people be judged according to principles of human rights is seen as an act of cultural imperialism. In addition, some argue that such "values" are altogether too individualistic, and that since abstract individuals do not exist, only concrete persons-in-relationship do, we need an ethic based essentially in the particularities of specific community-embedded practices and duties.
To date, governmental claims that culture justifies deviating from human rights standards have been made exclusively by states that have demonstrably bad human rights records. State invocations of "culture" and "cultural relativism" seem to be little more than cynical pretexts for rationalizing human rights abuses that particular states would in any case commit. Yet these critics have one valid point that fuels their argument. They are partially correct insofar as they know that abstract principles and abstracted autonomous conceptions of human nature do not and cannot supply a full ethic for humanity or provide the general theory to guide a just and peaceful civil society in a global era. They also know that particular kinds of ethical obligations, rooted in specific traditions of duty, are authentic aspects of morality and identity and that the most significant of these are rooted in commitments that have become joined to religious loyalties, and that something precious would be lost or betrayed if these were denied.
In fact, most ethical issues, including those of human rights, require a synthetic judgment, one in which we must join normative first principles to the concrete matrices of experience by which we know events and read the existing ethos of our lives – that concrete network of events, traditions, relationships, commitments and specific blends of connectedness and alienation which shape the "values" of daily experience and our senses of obligation. It is not a case of "either or" but one of "both and." The classic traditions of case-study, as well as the modern strictures of court procedure, exemplify this joining: they require both a finding of law, which involves the critical reflection on juristic first principles behind the law, and a finding of "fact," which requires reliance on the experience-gained wisdom, often having to argue before a jury of peers. Moreover, they require an anticipatory assessment of the various consequences of various courses of action implied by a judgment about the interaction of principle and fact.
Indeed, it is theologically paradigmatic that following the accounts of the Decalogue in both Exodus and Deuteronomy, surely prime example of universalistic abstract principles, the next several chapters are repositories of the casuistic results of the blending of the implications of those principles with the situations that people experienced concretely in their ethos. That joining rendered judgments that are held to contribute to the well-being of the common life and to the development of a morally righteous people. Similarly, much in the prophetic tradition makes the case against the infidelities of the people and/or the people in power by identifying the enduring principles in the covenants of old, the experience of social history in the present, and the prospects for a bleak, or a redeemed, future according to human deserts and divine mercy.
And, for Christians specifically, to deny that any absolute universal can be connected to the realities of concrete historical experience in ways that lead to a redeemed future, is in fact a denial of the deepest insight of their faith: that Christ was both fully God and fully human, and that his life both fulfilled the commands of God, was concretely lived in the midst of a specific ethos, and nevertheless pointed to an ultimate future that we could not otherwise obtain. This should be our first lesson in understanding the bases of human rights. They foster specific kinds of pluralism first of all because theologically-based moral judgments are, in principle, demanding of a universalistic reference point, but are simultaneously pluralistic in their internal structure.
It is hard not to arrive at the conclusion that the affirmation of such "universal absolutes" as those stated in the Ten Commandments and less perfectly embodied in human rights provisions of our historic constitutions and such documents as the United Nations Declaration are compatible with, and in fact seen most profoundly by, certain strands of the deeper theological heritage; and that moreover without the impetus of theological insight, human rights concepts would not have come to their current widespread recognition, and that they are likely to fade over time if they are not anchored in a universal, context-transcending metaphysical reality.
Without knowing what the race, gender, nationality, cultural background, social location, political preferences, character, or network of friends of a person are, we must say, abstractly, "some things ought never to be done to them;" and if persons, to live and sustain some shred of dignity in the midst of some one or other of such situations need help, "some things ought to be done for them," which implies that other people and institutions must limit their powers with regard to persons, and not to define the whole of the meaning of a person by the communities, traditions, and habits in which they are embedded. This means also that, in some ways, a profound individualism, in the sense of the moral inviolability of each person, in contrast only to communitarian regard, is required.
Christians and many Jews hold this view because they believe that each person is made in the "image of God." That is, they have some residual capacity to reason, to will, and to love that is given to us as an endowment that we did not achieve by our own efforts. And while every one of these areas of human life is at least imperfect, often distorted by sin, obscured by false desires or corrupted by exterior influences in sinful circumstances, the dignity conferred on us by the gift of the "imago" demands both a personal regard for each person, and a constant drive to form and sustain those socio-political arrangements that protect the relative capacities to reason, to chose, to love that are given with this gift.
Moreover, Christians hold that each person is called into particular networks of relationships in which they may exercise these capacities and to order these networks with justice, as God guides us to be just and loving agents in the world. We believe that in Christ, we learn how God wants us to re-order the institutions of the common life – sacramentally, or as others say, covenantally – that are necessary to preserve humanity, and how to make them and ourselves more nearly approximate to the redemptive purposes God has for the world. Those Christians who know the history of the development of the social and ethical implications of their faith, believe that the historical and normative defense of human rights derives from precisely these roots and that this particular tradition has, in principle, in spite of many betrayals of it by Christians, disclosed to humanity something universally valid with regard to human nature and the necessities of just social existence.
The implication of this tradition for pluralism and human rights is signaled by the direct mention of the term "church." The formation of the Christian church, anticipated in certain sociological ways, of course, in the older traditions of the synagogues and, to a degree, in the ancient Mediterranean mystery cults, was a decisive influence in the formation of pluralistic democracy and in the generation of civil society with legal protection of the rights of free association. One of the greatest revolutions in the history of humanity was the formation of institutions differentiated from both familial, tribal and ethnic identity on one hand and from political authority (as under the Caesars, Kaisers, and Czars of history), as happened in early Christianity by slowly making the claim stick that the church was the Body of Christ with an inviolable, divine sovereignty of its own.
Historically, no society has ever existed without a religion at its center and no complex civilization capable of including many peoples and sub-cultures within it has endured without a profound and subtle religiously oriented philosophy or theology at its core. The present world-wide rhetoric and legal agenda of human rights, with its several "generations" of rights is deeply grounded in a highly refined critical appropriation of the Biblical traditions; but many of the current activists on behalf of human rights have little place for religion or theology in their conception of what they advocate. Can it endure without attention to its origins? I for one doubt it. Jefferson would have been the first to honestly admit that he did not invent the concept of inalienable right, that it was already imbedded in the Judeo-Christian ethos, and that it condemned him or any institution or state too in as much as they tolerate the holding of slaves.
Thus our task is to identify where, in the depths of all these traditions, that residual capacity to recognize and further refine the truth and justice of human rights insights lies, for this is necessary in order to overcome what, otherwise, is likely to become a "clash of civilizations." As I see it, the real tragedy what is currently going on in the EU regarding the refugee crisis, is that the EU has in its possession the tools for resolving it: those tools are the intellectual-spiritual ideals of its founding fathers which were and remain founded on the Judeo-Christian patrimony based on respect, even reverence for universal human rights. I dare say that even the ideals of the French Revolution ultimately are derivative from the Judeo-Christian tradition. In any case those ideals remain abstract based on a brotherhood devoid of Fatherhood. On the other hand, the Christian inalienable universal human rights are based on brotherhood and a necessary Fatherhood, with no "extra" envisioned either on the side of privilege or on the side of exclusion. There are no extras in the eyes of God. Europa, nosce te ipsum!
Author's note: this note has also recently appeared in Ovi magazine.
How a U.S. Colony Works: The Case of Germany
On 15 July 2022, Britain's Reuters news agency headlined "70% of Germans back Ukraine despite high energy prices, survey shows", and reported that "Some 70% of those polled backed Germany's support for Ukraine, … found the survey conducted between July 12-14 by broadcaster ZDF." ZDF is funded by the German Government — German taxpayers.
Germany's AfD Party is one of the two Parties in Germany that are less than enthusiastically backing Germany's anti-Russia position, the other such Party being "Die Linke" or "The Left" Party, which is Germany's only socialist democratic Party, despite West Germany's "Social Democratic Party" calling itself "democratic socialist" while being neither.
The AfD Party issued a press release, on 25 August 2022, "Stephan Brandner: Skandalöse "Politische Filter" beeinflussen NDR-Berichterstattung" or "Stephan Brandner: Scandalous 'political filters' influence NDR reporting." It reported that Mr. Brandner, who is an AfD Member of the German Parliament, said that
After the self-service affair about the now hated RBB director Schlesinger, reminiscent of feudal structures, an online magazine now reports that employees on North German radio complain about 'political filters' from their superiors. According to the report …, public service broadcasting executives act like 'ministerial press officers'. …
As an AfD politician I am not surprised. After all, ARD and ZDF only report on the AfD with a 'political filter' and, for example, no longer invite AfD politicians to talk shows. … Compulsory contributions [by taxpayers, to 'public broadcasting'] should be abolished.
Mr. Brandner provided no evidence for any of his allegations. (That's the way politics is in a dictatorship. How can the public vote intelligently if they are routinely accepting allegations that are being made without supplying documentation? That's a dictatorship by lies and liars, and no democracy-capable public would accept it. In science, what is not documented to be true is assumed to be false — not assumed to be true. A democratic country operates on the basis of science, not on the basis of faith.)
However, this doesn't mean that Mr. Brandner's allegations there are necessarily false. One reason why they could very well be true is that there are six Parties in Germany, and the current governing coalition consists of the three that take the hardest line against Russia, and for America, and for the post-2014, U.S.–coup, anti-Russian, Ukrainian Government. The ruling coalition, those three Parties, are called the "traffic-light coalition", and include the rabidly neoconservative (or pro-U.S.-empire) anti-Russian Green Party, plus the U.S. Democratic Party-allied so-called "Social Democratic Party," plus the rabidly libertarian or "neoliberal" (pro-free-market, anti-regulation, and generally U.S.-Republican-Party-allied) Free Democratic Party; and they EXCLUDE (or give the red light to, and prevent from participating in the Government) the three least-anti-Russian Parties, which are The Left Party (the authentic democratic socialists, or progressives, ideologically opposed to any imperialism), the AfD Party (nationalists), and the U.S.-Republican-Party-allied CDU/CSU Christian Democratic and Christian Social Union Party.
Brandner raised an important question, without providing any evidence regarding its solution. But here are some relevant facts, regarding the extent to which Germany's Government tolerates corruption (which includes corruptness of a Government and of its 'news'-media):
On 14 December 2021, I did an analysis comparing the anti-corruption laws in three nations, and headlined "Political Corruption in U.S., Germany, and Russia". I concluded that
Although this is a very incomplete indicator of a country's corruptness, it does present the U.S. in a very favorable light, and present Germany (11 out of 12 "No"s [meaning no law against corruption]) as being rather astoundingly corrupt. Russia is midway between those two, perhaps because after Yeltsin's abominable rule, Putin cleaned up Russia's Government, but a lot of that job still remains undone, even after 21 years.
Germany's Government was more shaped by Truman than perhaps any in the world except America's own Government. But, from the present indicator, America's vassal nations would appear to be even more corrupt than the imperial center, the U.S., itself, is — at least insofar as their political campaign-finance laws ("what's written in black and white" in the lawbooks) are concerned.
Here was the summary, specifically regarding Germany:
Following here will be answers that are solidly grounded in the written laws of each of these three countries (though not necessarily reflecting how those laws are enforced — or not), regarding the 12 most clearly important questions that were studied. I present those dozen questions in the order that seems to me to provide the clearest sequence in order for the reader to interpret them, not in the order that was employed by the source:
"8. Is there a ban on anonymous donations to candidates?" "There are no explicit provisions regarding donations to candidates."
"2. Is there a ban on donations from foreign interests to candidates?" "There are no explicit provisions regarding donations to candidates."
"18. Is there a limit on the amount a donor can contribute to a candidate?" "There are no explicit provisions regarding donations to candidates."
"10. Is there a ban on donations from corporations with government contracts to candidates?" "There are no explicit provisions regarding donations to candidates."
"4. Is there a ban on corporate donations to candidates?" "There are no explicit provisions regarding donations to candidates."
"6. Is there a ban on donations from Trade Unions to candidates?" "There are no explicit provisions regarding donations to candidates."
"5. Is there a ban on donations from Trade Unions to political parties?" "There are [is] no explicit … ban on donations from Trade Unions to political parties"
"3. Is there a ban on corporate donations to political parties?" "Ban on donation from corporate bodies, but accepted if it is a business enterprise, of whose shares more than 50 per cent of shares are owned by Germans …"
"9. Is there a ban on donations from corporations with government contracts to political parties?" "No."
"14. Is there a limit on the amount a donor can contribute to a political party during a non-election specific period?" "No."
"16. Is there a limit on the amount a donor can contribute to a political party during an election?" "No."
"27. Are there provisions requiring donations to go through the banking system?" "No."
Consequently, Brandner's allegations might be expected to be true, simply because Germany, especially after the U.S. Government blew up the Russian gas pipelines to Germany and yet Germany's Government continues to be a U.S. vassal-nation, despite that U.S. act of war against both Germany and Russia. This indicates Germany's Government to be extremely corrupt, willing to ditch its own population in order to please its U.S. masters.
Europe's former imperial countries are now desperate U.S. colonies
India is no longer a colony of the UK, but Germany and other European countries have become — now quite obviously — colonies of the United States, and their economies will be financially bled by the world-bestriding U.S. imperialist center, just like the UK and other European nations had previously (and infamously) exploited India and its other colonies.
The U.S. Government's having blown-up the Nord Stream gas pipelines from Russia to Europe — after years of efforts to sabotage them more subtly by other, more 'diplomatic' (but less permanent), means — will leave Europe permanently forced to pay vastly higher rates to America and other liquefied natural gas (LNG) suppliers, and no longer with even a hope of receiving the far less-expensive Russian gas, which, until recently, fueled so many European firms to international competitiveness. Now, there's no longer even a hope for Europe to avoid sliding into the usual model of colonies, as being banana republics, of one sort or another.
It was so natural for Russia to be Europe's main energy-supplier, because Russia is a part of Europe, on the same continent as the other European nations, and therefore could pipeline its energy to them, and Russia had a surfeit of energy while the other European nations had a surfeit of need for it. That's the way international capitalism is supposed to function, but imperialistic capitalism is instead international fascism, and it survives and grows only by exploiting other nations. From now on, the European nations, other than Russia, will, for at least a long time (because those giant gas-pipelines have been destroyed) be paying the world's highest prices for energy (containerized and shipped, instead of simply pipelined), and buying much of it from Europe's imperial center, which is increasingly recognizable now as being Europe's real enemy: America. They will be paying tribute to the emperor — the billionaires who control the USA. These are the puppet-masters behind "the free world" (as their 'news'-media refer to it), which is actually the new international-fascist empire. As Barack Obama called it, America is "the one indisensable nation," which means that all other nations (in this case, the ones in Europe) are "dispensable." Now, these former imperial nations will finally get a taste of what it's like to be a "dispensable nation."
Here are some of the key U.S. operatives in Europe, who managed this situation, for the U.S. owners — brought this situation about (before Joe Biden's agents ultimately just pulled the plug on the whole operation):
Boris Johnson, Olaf Schulz, Annalena Baerbock, Robert Habeck, Ursula von der Leyen, Josep Borrell, Anders Fogh Rasmussen, Jens Stoltenberg, Emmanuel Macron, Mario Draghi — and, of course, behind the scenes, the billionaires who funded those leaders' political careers (via political donations, plus those billionaires' news-media and their other mass-public-opinion-forming organizations). These key agents will no doubt be paid well, in their retirements, regardless of what the public might think of them after their 'service to the public' is over.
Exporting Religious Hatred to England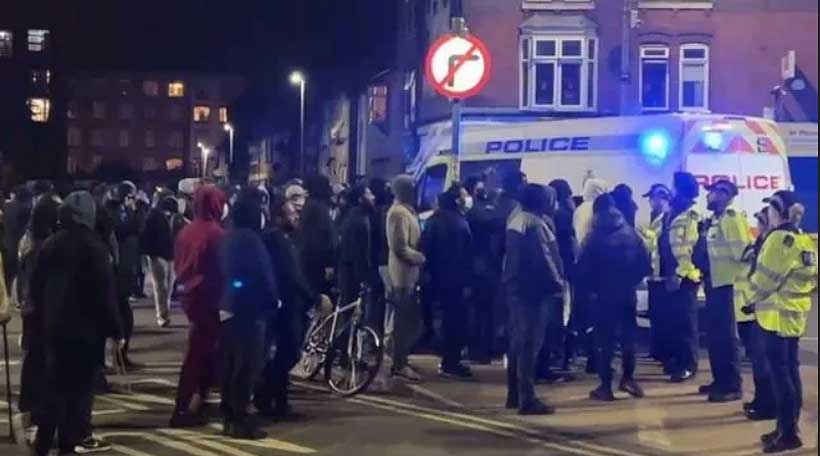 Not a place hitting the main news channels often, Leicester is a small town of 250,000 inhabitants about a hundred miles north of London and 40 miles east of Birmingham the UK's second largest city.
But an imported ideology is now the cause of religious violence that has profoundly affected Leicester's ethnic community of South Asians. This Hindutva ideology represents a belief in the transcendence of Hinduism and its culture.
Leicester prides itself as a city of tolerance and diversity where different religions and races all live together in relative harmony — a sort of 'live and let live and mind your own business' philosophy that had worked until recently. But under the surface simmering tensions burst forth recently. The trigger was a South Asia Cup cricket match between Indian and Pakistan held in Dubai and won by India.
Couple Hindutva with India's win and groups of Hindu young men were keen to demonstrate their might, and did so on isolated young Muslims. The latter then formed their own groups ready for revenge.
Where were the police one might ask. Well, a couple of beaten up Asian teenagers did not register as exhibiting anything more than random teenage violence. They were slow to react and did not discuss the ominous truth of religion as the prime mover behind the violence.
Civic leaders on both sides are now trying to quell the attacks. But the damage has been done and the seeds of ill-feeling have been sown within the community meaning Hindus vis-a-vis Muslims and vice versa.
India's per capita GDP is higher than for Pakistan or Bangladesh, the two countries bordering it, which together constitute the subcontinent. Thus the three countries are similar culturally. The next question to ask is why then is India hugging the bottom on the 2020 World Happiness Report, next to ill-fated war-torn places like Yemen. India is ranked 144 while its rival and neighbor Pakistan, although lower in per capita GDP, ranks a shocking (for India) 66. Bangladesh also ranks much higher than India at 107, despite its devastating floods and typhoons.
Perhaps the answer lies in the pervasive hate that is the currency of the ruling BJP (Bharatia Janata Party), a currency spent liberally during general elections to the detriment of the Congress Party, which has stood for a secular India since independence.
But hate yields more votes as BJP leaders Norendra Modi and Amit Shah know well. After all, they came to power via the destruction of the historic nearly five century old Babri Mosque, built on a Hindu holy site in an effort to ally Hindus by an astute Babur, the Mughal whose hold on India, just wrested from the Muslim Pathan kings, was still weak. It worked for Babur then; its destruction worked for the BJP in the 21st century
Has India become more civilized since?