The Dark Side of the Caspian: Despair and Death in Human-trafficking
The Caspian region presents individuals with an array of options for those seeking better opportunities. Unfortunately nefarious individuals are well aware of people's hopes and dreams of a better, safer life and devastatingly use this knowledge to their advantage.
Individuals who fall victim to these criminals typically have been forced to leave their homes due to fighting or instability in their home region. A common scenario is when, unknowingly, the victim agrees to the perpetrator's terms for safe transport and new jobs in a different country. Once they have given their trust, as well as their identification documents of course, the criminal exploits them in such a manner that it is nearly impossible for the person(s) to leave or escape their tragic new circumstances. Welcome to the new insidious form of de facto 21st century industrial slavery.
The Caspian region has well-documented human-trafficking routes. What makes this region popular for trafficking specifically is the Caspian Sea. Smugglers who are able to transport their human chattel across the sea save themselves time and money to reach their destination. Bypassing land routes is beneficial as they avoid many checkpoints that are intent on finding drug-traffickers and increasingly seeking to expose human-traffickers as well. Over the last decade, a few of the littoral states have created several initiatives primarily centered on combatting drug-trafficking and organized crime that is pervasive throughout their countries. Turkmenistan appears to be the main driving force behind several of these initiatives. Actions taken, however, as a result of the initiatives to curtail drug and human-trafficking have not yet been sufficient enough to prevent victims from living through a horrifying ordeal. Aside from transporting victims across the sea there are several other factors that create the prevalence of human-trafficking in the Caspian region. One of the main drivers is the abundance of energy resources in the region, which results in an increased need for laborers. Many individuals seeking work travel to the region and while some individuals are fortunate and are able to obtain legitimate work, many others become trapped in a system of de facto forced labor, debt bondage, restriction of movement, nonpayment of wages, physical abuse, and sexual exploitation.
The U.S. State Department monitors and publishes a yearly report that depicts trends in trafficking patterns throughout the world as well as the severity of human trafficking for each country. The countries that surround the Caspian region and beyond, unfortunately, factor heavily in the report. Men, women and children obtained in Central Asia, for example, are often trafficked to Russia and the United Arab Emirates (UAE); men, women and children from Uzbekistan are often first trafficked to Kazakhstan; within Kazakhstan they are internally trafficked for forced prostitution as well as forced labor; men, women and children from Azerbaijan are trafficked not only within Azerbaijan but also trafficked to Turkey and the UAE for the sexual exploitation of women and children; men and boys may also be trafficked from there to Russia; Uzbek men and women are trafficked to Iran, Pakistan, and the UAE; Iran subjects Iranian women and children, both girls and boys, into sex trafficking in Iran, Europe and the UAE, as well as being sexually exploited in the Iraqi, Kurdistan and Gulf regions; traffickers force Afghanistan migrants into slave labor; Afghan boys are subjected to sexual abuse by their employers as well as being harassed or blackmailed by Iranian security services. The victims are a United Nations of victimology, coming from Russia, Ukraine, Moldova, other Eastern European countries, Central Asia, Southeast Asia, and Africa.
Iran and Russia are both Tier 3 offenders, the ranking given to the worst perpetrators in the world per the U.S. State Department. Both countries do not comply with the minimum standards to eliminate trafficking, protect trafficking victims, nor have they made significant attempts to do so. Russia has a significant amount of foreign labor workers in-country that is estimated between 5 and 12 million persons. Labor trafficking is the predominate problem in Russia to the extent that there have been criminal cases in which Russian officials were suspected of assisting human traffickers openly. Allegedly these officials have protected the traffickers and have even returned trafficking victims to the criminals, in a weird example of an international Dred Scott decision, while other officials were accused of accepting bribes from employers in order to prevent being fined for their undocumented workers. When authorities do get involved, suspected victims have often been charged with living illegally in Russia and were deported without any assistance or investigation to determine if they were in fact trafficking victims.
Iranian government officials have reportedly been involved in the ever-growing sex trafficking of women and girls. Officials overseeing shelters for runaway girls in Iran have been accused of forcing these girls, who were seeking safety and protection, into prostitution rings. Trafficking victims in Iran have continued to be punished for the unlawful acts they are forced to commit against their will. Female victims of trafficking and sexual exploitation rarely receive justice due to the fact that a woman's testimony in Iranian courts is weighted to only half of what a man's testimony is. Women are also liable to be prosecuted for adultery even if they were victims of sexual abuse, forced prostitution, or sex trafficking. Their victimization is punished by the courts, which then condemn them to death. The nuclear deal with Iran certainly has the potential to create an escalation of human trafficking in the Caspian region. It would once again allow Iran to export its natural resources. More laborers will be needed in the region to produce, refine and transport the crude oil and natural gas, in addition to building the newly required pipelines. Individuals not willing to pay decent wages to workers will rely on trafficked victims subjected to forced labor. The incidents of sex-trafficking and forced prostitution in Iran are also likely to increase as more people will be conducting business in Iran. Men seeking these victims are not discouraged from their desires but rather catered to. Their craven demand only increases the need to locate more victims to sexually exploit.
Tragically the majority of the world continues to overlook the evil of human-trafficking in the Caspian region. The victims become merely an afterthought of doing business there. Their words and stories of horrific abuse and exploitation fall on deaf ears. Disturbingly, the world has failed to recognize that sexual exploitation and modern labor slavery seems to evolve lock-step with developing regions, especially areas with ample supplies of natural resources to be extracted, refined, and distributed. This means the Caspian region might only become more of a hub for modern slavery and human-trafficking as the economic consequences emerge from the new Iranian nuclear accord. If the global community doesn't make it clear that emerging prosperity shouldn't be built upon the back of exploited men, women, and children, then it will have no one to blame but itself for the dark side of the Caspian descending further into shadow.
The phenomenon of the Islamic world- Ilham Aliyev
At the end of the twentieth century – at the beginning of the 21st century, world politics differ by its complexity and diversity. It is too important that Azerbaijan, which proclaimed independence twice during the twentieth century, maintained its this independence during the period full of globalization, international integration and social contradictions. Under such complicated historical circumstances, the prominent politician and statesman, the well-known and respected person in the world – Ilham Aliyev's commitment and successful realization of this responsibility can be characterized as the golden age of modern Azerbaijan history. Conduction of successful foreign policy during his term as head of state has had a significant impact on the future life of Azerbaijan.
The Republic of Azerbaijan, established normal international relations with all the countries of the world after gaining independence, and in the frame of good relations with the Muslim countries, it also protects the interests and interests of the Islamic world within the Organization of Islamic Cooperation and continues to cooperate with these countries in accordance with the requirements of international law. In this regard, strengthening of Islamic solidarity in the world is one of the priority issues in the foreign policy of Azerbaijan. Namely from this point of view, declaration of 2017 year as "Islamic Solidarity Year" by decree of the  President Ilham Aliyev dated January 10, 2017, is an indicator of  humanistness of our state leader and at the same time it is a positive example of our country's sensitive attitude to the Islamic Countries Union. Islamic solidarity does not only mean the solidarity of Islamic countries. This is a kind of challenge, regardless of religion, to the world's people to live in friendship, brotherhood and multiculturalism conditions.
It is well known that sectarian wars, civil wars in the Middle East and as a result, emerged certain socio-political tensions indicate that Muslim countries are in great need of moral solidarity. The controversial political processes happening in the world, the emergence and increasingly widespread of warlike states in different countries, the strengthening of religious confrontation, and the deepening of the prejudiced attitude towards Muslims emphasize the necessity level for solidarity among people, nations and states. It can be said that one of the main reasons for exacerbating the myth of Islamic terrorism, the threat of Islamophobia, and strengthening the oppression of Islamic countries should be sought in the absence of unity and solidarity among these countries. Faith differences, contradictions in interests and positions and etc. leads to serious disagreements, and sometimes severe confrontations. Islamic religion, its sacred values, are insulted by the Islamophobia and those who are exposed to the poisonous propaganda against Islam. The bloody events that took place in the Islamic countries during last years, especially in Iraq, Bahrain, Yemen, and Syria are confirmation of our opinions. Cradles of ancient Eastern culture such as Baghdad, Damascus, Aleppo, Kirkuk, Basra and other cities are subject to serious destruction as a result of wars in Iraq and Syria and constant clashes, monuments of Islamic culture in these cities are destroyed. Caricatures of the Prophet Muhammad are given in the Western media, mosques, the holy book-Koran is burnt. The Western world's official structures do not just condemn the acts of vandalism, but on the contrary, they protect, honor, and appreciate the performers of those acts.
The main purpose of the "Islamic Solidarity Year" is to strengthen the unity of the Muslim world and to show that Islam is a religion of peace and culture, and to achieve this goal, as President of the Republic of Azerbaijan Ilham Aliyev said, first of all, reconciliation between different sects that have historically damaged Islam should be established. The announcement of the year 2017 as the "Year of Islamic Solidarity" in Azerbaijan is a challenge to the West, which is strengthening its attacks on the Islamic world annually and promoting a new "crusades" in the 21st century. This is also a call for Islamic countries to be vigilant against the crafty intentions of the West, to demonstrate unity and solidarity. Ilham Aliyev made this important step and expressed the his own position and the position of the state of Azerbaijan. As Azerbaijan has distinguished from other states with its multicultural and tolerant values throughout its history. Islamic solidarity is also a part of this context, and this shows that President Ilham Aliyev gives great importance to the solidarity of the Islamic world. As political scientists point out, some initiatives have been made to call Muslim countries to get unified around religion. For the first time in history, the head of our state has sent a political message to the Islamic world, pointing to the importance of acting from unified position, to achieve unity and at the same time integrate into the world. It should be noted that the Order of the President of the Republic of Azerbaijan on the declaration of 2017 year as"Year of Islamic Solidarity" states: "The Republic of Azerbaijan has established mutually beneficial relations with the Islamic world by being selected as a member of the Organization of Islamic Cooperation, ISESCO and other respected organizations joining muslim countries and has been an organizer of a number of important cultural forums of global importance. Azerbaijan has made a great contribution to the founding of tolerance environment, multiculturalism, intercultural and intercivilizational dialogue, and the promotion of Islamic values in the world. The prestige gained by Azerbaijan in the Islamic world got its expression in this results that Baku and Nakhchivan cities declared as a capital of Islamic culture in 2009 and 2018 respectively. And the decision to hold the IV Islam Solidarity Games in Baku in 2017  create favorable conditions for our country to take the next practical steps in strengthening the Islamic solidarity. "
Only state leader of the country like Azerbaijan,  where multiculturalism and solidarity are established, and citizens of different nationalities, religions and sects live in peace, has a moral right to give such a decree. The promotion of the Islamic Solidarity initiative is related to the challenges of the present and controversial processes that take place because of various reasons in the Islamic world. As it is seen here, the importance of Azerbaijan's reputation in the Islamic world, as well as the need to strengthen the solidarity of Islamic countries, as well as the actuality of holding the Islamic Solidarity Games in Baku, the capital of the Republic of Azerbaijan in 2017, have been extensively and logically expressed in this decree. With Islamic solidarity policy, Azerbaijan, as unifying facility of the Islamic world, confirms that these religious values are indeed, humanistic, moral values and reinforces belief to being of these ideas are an effective means of creating a shared living and stability environment not only in the Islamic geography but also in the entire world. Azerbaijan, which has created a partnership of cultures and ideas between East and West, fulfills the function of a of solidarity bridge, thus demonstrates its commitment to universal values, as well as its commitment to the highest values of the Islamic religion, which had a special place in the past and continuing to keep its value today. Thus, Azerbaijan uses all the means to establish steady stability in a globalizing world and propagates the peacekeeping, reconciliatory position in a unique way that is essential for today.
We suppose that this humanist initiative of the President of Azerbaijan, Mr. Ilham Aliyev, will promote the expansion of cooperation relationship between Muslim countries in the world and further strengthening of the Islamic solidarity. The strengthening of Islamic solidarity, in its turn, will play an important role in ensuring tranquility and peace in the Middle East and other regions.
Economic Growth of Ukraine Depends on Completing Pending Reforms Quickly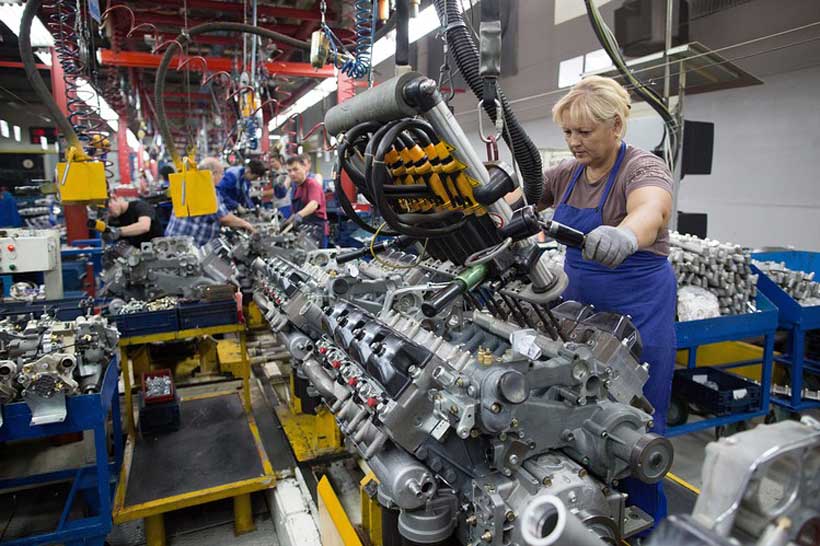 Ukraine's economy grew by 2.5 percent in 2017, the second year of modest growth, according to the World Bank's latest Ukraine Economic Update.  Growth in manufacturing, services, and construction was robust, but weaknesses in the agriculture and mining sectors, together with delays in key reforms to further strengthen investor confidence contributed to the modest overall growth performance.
"Faster growth is needed to improve living standards for the people of Ukraine who continue to hurt from the economic crisis of 2014-2015," said Satu Kahkonen, World Bank Country Director for Belarus, Moldova and Ukraine. "This will require decisive measures in the next few months to complete pending reforms to bolster investor confidence and safeguard macroeconomic stability."
Economic growth is projected at 3.5 percent in 2018 if pending reforms in anticorruption, land markets, state-owned banks, and privatization can be advanced in the next few months. This would provide an important signal to investors. If reforms are delayed, growth could drop below current levels in an uncertain macroeconomic environment as financing risks rapidly increase.
Ukraine faces major financing needs to repay public debt and fiscal pressures from higher public sector wages and social benefits in 2018 and 2019. Mobilizing adequate international financing by completing pending reforms in the months ahead will be important to maintain macroeconomic stability.
Meeting the fiscal deficit target of 2.5 percent of GDP in 2018 will require improving targeting of housing utility subsidies, making further wage increases contingent on measures to optimize the school and hospital network and public-sector staffing, and identifying affordable options to update public sector pensions.
Fiscal Pressures and Reform Options …
According to the World Bank's Special Focus Note on fiscal pressures and reform options, Ukraine has made progress in reducing its large public spending since 2014. However, sustaining these gains while also improving the effectiveness of public services will require implementation of reforms in education, health, public administration, pensions, and social assistance in a fiscally affordable manner.
Public expenditures increased significantly in 2017, by 11.7 percent in real terms, reaching 41.5 percent of GDP, due to the doubling of the minimum wage and over 40 percent increase in wages of teachers and doctors. Spending on social programs also increased.
The recently adopted reforms in education, health, and public administration seek to improve compensation for teachers, doctors, and public servants to strengthen incentives and attract quality personnel. Achieving this in a fiscally affordable manner will require coordinating further increases in salaries with time-bound measures to optimize staffing and the school and hospital network.
The social assistance package in Ukraine is not only fiscally costly—costing 5 percent of GDP in 2017, but is also poorly targeted—with only 30 percent of assistance going to the bottom 20 percent of the population. Fixing this will require improved targeting of the large HUS program.
The recently adopted pension reform helped improve adequacy of benefits and stabilize fiscal costs. Additional initiatives going forward should avoid undermining these core objectives of the pension system. The timeline to create a funded pillar system by January 2019 needs to be reconsidered since this will undermine contributions to the pay-as-you-go system, create contingent fiscal liabilities, and face inadequate availability financial instruments.
Background
Since May 2014, the World Bank Group has provided a total of more than US$5 billion to Ukraine (including 4 development policy loans, 7 investment operations and 1 guarantee) from the International Bank for Reconstruction and Development (IBRD).
The World Bank's current investment project portfolio in Ukraine amounts to US$2.5 billion.  Investments support improving basic public services that directly benefit ordinary people in areas such as water supply, sanitation, heating, power, roads, social protection and healthcare, as well as private sector development. Since Ukraine joined the World Bank in 1992, the Bank's commitments to the country have totaled over US$12 billion in about 70 projects and programs.
Baltic States: Missed opportunities in global politics
We are living in the world where the facts "who makes" and "where it is made" are much more important than "what for" issue. Nowadays the world political scene is divided between superpowers supported by their allies. In order to punish each other for having opposite views the sides criticize any step made by the opponent.
Unfortunately, this happens even in case of evident necessity. It is not the secret that the modern system of international security is unable to perform all demanded functions any more. It needs to be reformed. Another question is who and where will decide.
The most likely political platforms for this are the United Nation Organization and OSCE. But the preparatory stage for any new decision should become different forums and conferences, such as the Munich Security Conference and the Moscow International Conference on Security.
This year the Munich Security Conference took place on February 16-18. More than 30 heads of state and government and over 100 cabinet ministers from across the globe came together at the forum for discussions on major international security challenges. As far as the Baltic States concerns, President of Estonia, as well as Lithuanian and Latvian ministers of defence did not miss the event because it was of great importance for the future of their countries and all Europe.
Just another situation developed in March. In Moscow an annual International Conference on Security was held on April 4-5. The fight against terrorism and other pressing security challenges were one the agenda. There is not a single person who is not affected by the discussed topics.
Many European countries considered it unnecessary to visit the event. It makes no sense to blame them for this choice. They have a strong and common view on what is happening in the world. But if abstract from the current geopolitical situation and confrontation between Russia and the West, politicians should see such kind of forums as a chance to find even weak possibilities to make the world safer. Probably the main reason for not attending the event is in the fact that politicians forgot how to listen to each other. They forgot that only discussing controversial issues makes possible to reach a consensus.
Another issue that deserves attention is the list of participants, which is of great interest to the analysts. According to the Russia's Defense Ministry, representatives from at least 95 countries, three deputy prime ministers, 30 defense ministers, 15 chiefs of staff, 10 international organizations and military delegations have come to participate in the International Conference on Security. They include defense ministers of India, South Africa, Iran, Iraq, Pakistan, Vietnam, Azerbaijan, Belarus, China, Armenia, Mozambique, Serbia, and Israel. Thus, almost half of the UN member-states (total number is 193) sent representatives to the Conference.
It becomes evident that Russia really has powerful partners and allies that are ready to discuss even difficult questions and find mutually beneficial solutions. Those who came do not necessarily agree with Moscow and support its foreign policy but they clearly understand that unfortunately without Russia it is impossible to improve the International Security system.
This fact admitted Thomas Greminger, secretary-general for the Organization for Security and Co-operation in Europe. He stressed that Russia is a key partner in issues of the European security. But the Baltic States blinded by hatred to Russia ignore ignored the event thus putting political ambitions higher than common sense.
It is obvious that Russia is not satisfied with NATO's actions near its borders. NATO in its turn disputes the lawfulness of Russia's behavior. Every day confrontation becomes harder and leads to the arms race. The only way out is to discuss things and find the way out. The Baltic States as usual lost the possibility to express their position on key international security issues and be the active actors in global politics.