The new world order and China's role in it
Thirty years ago China's share of world trade hovered below 1% but has increased more than tenfold since. Every year since the turn of the millennium, China has provided a quarter of the international economy's annual growth.
China's entering the mainstream of the global economy was symbolically completed when it became a member of the World Trade Organization (WTO) in 2001. This added 800 million workers to the international labor force. China is now the biggest market and the biggest economy in the world. The West's economy and political elite are forced to ride the shock waves caused by China's rise. Western retailers source most of their stock from China. Millions of blue-collar workers have lost their jobs in the West as production is relocated to the Far East, and China's huge untapped rural labor reserve will not run out in the coming decade. The entry of China and India into the global labor market reduced the global capital to labor ratio by 55 to 60%. This is the single most important ratio explaining the phenomenon we call globalization. The development of Chinese capitalism is fundamentally different from the previous British or American models though, where the technological innovations of their own inventors fuelled progress. China, on the other hand, imported ready-made solutions from the more developed parts of the world. China is also becoming an international financial power. It has become the leading holder of US Treasury debt and thus is now officially the American government's largest foreign creditor. China has also accumulated the largest foreign currency reserves in the world.
In 1820, China and India combined accounted for about half of the world output, while Europe only accounted for 24% and the US only 2% (!). China only exported, the West – primarily Britain, the hegemonic power of the 19th century – imported. A huge global trade imbalance was accumulated to China's advantage and China held an incredible amount of British silver. Today's situation is surprisingly similar. In the 19th century this led to the opium wars and to the end of the once mighty Chinese empire. In 1978 China accounted for less than 1% of global GDP. What the West sees now is indeed the re-emergence of China in an incredibly fast way.
China's middle class is expanding at an unheard of speed, and its wealthy few are becoming the wealthy many. Chinese society is undergoing rapid transformation, which alters people's self-identity as well. A poll published by the Chicago Council on Global Affairs[1] already in 2007 indicated that the Chinese believed that, in ten years' time, their country will be just as powerful and influential in the world as the United States. At the same time the majority of Americans, Chinese, Indians and South Koreans polled were of the opinion that China would pull ahead of the US in the global race. Clearly China is no longer just an economic power but also a political force to be reckoned with, often flexing its muscles to further increase American unease.
The turn of the new millennium saw the emergence of new centers of gravity, often in the form of non-centralized conglomerates of states with large differences among them and without a single political will. The most important such center of gravity is South-East Asia, which has a growing influence on the global economy and world politics. With the boom in the Chinese economy, the slow but steady recovery of Japan's economy, the reinvigoration of the "small tigers" and the strengthening regional roles of India and Australia, South and East Asia looks set to become the key focal point of the next world order. But with that role and power comes increased responsibility, in particular for the region's leading country: China. Issues that have been considered domestic in nature — such as setting the yuan's exchange rate, the efficient organization of the textile industry, health care reforms, better and more transparent governance or curbing corruption — will have a direct global impact.
As Asia rises, so does the West's economic, demographic, political and military significance erode. The days of the global rules and institutions established by the West are numbered. Most Chinese researchers, politicians and even the man in the street are convinced that, things will soon be back to normal as China is becoming the world's biggest economy just as it had always been until the beginning of the 19th century. (As late as the 18th century, China was the world's largest trading nation, conducting one third of global trade, with India as runner up boasting one sixth of global trade.)
By 2015 the era of G7/G8 – in other words: the era of absolute Western domination with US hegemony – is over. The 21st century will refashion the global political order as well as the global financial world. The hegemony of the dollar — just as of the USA — will come to an end. International institutions need to be reformed. It is just absurd for Belgium to have greater voting weight in the International Monetary Fund than India. At the moment international organizations are functioning inefficiently and are on the decline, which is not surprising, as they are institutions of the post-war West-centered world.[2] We are living in an era of G20 but this seems only an interim solution. The question is what world order follows? Suggestions are plenty.
There is Robert Haass's vision of a non-polar world order[3], more precisely a non-polar disorder, which is inevitably unstable in the long run. G3 is more of a Chinese idea. It is a multiple variable geometry in which different G3 setups can be envisaged (China, USA, Russia; China, EU, USA; China, Japan, USA) according to the needs of and relevance to the issue in question. G2 (a Sino-American tandem) seems for the time-being to be a weird animal to the Chinese. In 2009, some began talking about a G2 in the model of the G7, G8 or G20 and envisioned an Obama-Hu Jintao duo deciding the fate of the world. China was abashed by that talk of a G2 and was quick to deny any speculations about a bipolar USA-China world order. China has at least two problems with the G2 setup: for the time-being, it does not want to expose itself as a real global power nor wants it to be drawn too close to the US.
Chinese politicians and scholars treat the West's loss of influence as granted, but there are people in China who worry about the possibility of America's rapid decline. The more realistic observers in Beijing believe that America's collapse (no matter how realistic this is anyway) would have disastrous implications, because China is not yet ready to build an alternative world order. Hence the objective should be to compel the USA to show more willingness to cooperate rather than bring it down.
"The rise of China is granted by nature. In the last 2,000 years China has enjoyed superpower status several times…China's decline is a historical mistake which should be corrected" — the political scientist Yuan Xuetong wrote[4] in the Journal of Contemporary China in 2001, the year when the image of the USA's invincibility was shattered. "Isn't it possible that China, like all rising powers of the past, including the United States, wants to reshape the international system to suit its own purposes, commensurate with its new power?" Robert Kagan asked four years later in the pages of the Washington Post.[5]
China is preparing itself, trying to identify the weaknesses and strengths of its rivals. Its vast administration, including the army and intelligence services, is busy calculating, analyzing, generating strategies, and suggesting dos and don'ts for China's rise. Meanwhile, the Chinese economy is growing at breakneck speed and beginning to reshape the global market. Chinese foreign policy has restricted its attention to local, or at most regional affairs, but the isolationist, policy of the nineties is inappropriate in the 21st century. It is unclear whether China's true character is soft power or hard power. They have been undecided for centuries, even though China has been involved in wars or armed conflicts with almost all of its neighbors. Chinese political leaders seem to be uncertain at this point how to define the future role of China in the emerging world order. It is indeed a major problem for the West that it does not see where China is headed; but it is even a bigger problem for the whole world that China itself does not know either. Having said this China is reinforcing its global security focus. Chinese President Xi Jinping already announced the setting up of the Chinese National Security Commission (CNSC). The CNSC has three major tasks.
– To advise the Politburo (which oversees the Communist Party) and the highest levels of the leadership on security strategy.
-To coordinate between different departments throughout the party, the government, the military, and society.
– To conduct crisis management and risk management, for both internal and external security threats.
In July 2015, the Chinese government passed a new national security law that will strengthen its role in China's national security policy.[6] The Chinese Security Commission decided to establish high-level communication mechanisms with the US National Security Council as security issues between China and the US already affect the entire globe, and especially the Asia-Pacific region. The hotline proposed by China between the Chinese National Security Commission and the U.S. National Security Council is meant to handle emergency situations.
The transformation of the international order, the end of a hegemonic system, the appearance of a new power has often brought disaster in history. The only exception to this rule was the changeover of power between the British Empire and the United States in the 20th century, but this was a special case for two reasons. Firstly, the two nations were closely related culturally (in the broadest sense); secondly, that changeover happened during global wars in which the two Anglo-Saxon powers fought side by side. The map of the world is being redrawn again at the beginning of the 21st century. In a Huntingtonian world the birth of a new world order and the emergence of new global powers inevitably lead to a crisis or a global conflict. Zakaria and Khanna, two well-known analysts of current times are less pessimistic,[7] they talk about a world coming to terms with a natural multipolarity by the emergence of the second and the third world.
On a historical scale, America's rise to global power status was extremely quick: on the eve of World War II the US Army was smaller than that of the Dutch but by 1944 America's military output was double that of the Axis powers. The USA climbed to the top of the world with unprecedented speed and stayed there for a short century. In 2000 the United States was the strongest power in history, whose global supremacy was uncontested. Its budget showed a healthy surplus, its military might was unparalleled, its economic clout colossal. However, since 2001 the US's global position weakened. There is a lot of discussion about the end of the US supremacy and also on why has America's global dominance come to an end and how China found its way up? One obvious explanation is the dynamics of history: it is simply impossible to stop the emergence of new powers. If a civilization, culture, country or region can improve the efficiency of its economy, if it can put human, technological and financial resources at work in a massive way, and if the external environment is favorable, it will become successful. If this happens in a big enough country, it will become a world power. Another explanation is the mistakes committed by the United States: its misguided energy policy, its immensely expensive wars have not produced any tangible results but have emptied the federal coffers, eroded America's international image and gave China the chance to build up its economy, diplomacy and military almost unnoticed by the hegemon. In the meantime the US economy has become dependent on China (and vice versa for that matter): what China produced the USA bought, and as a result China now holds trillions of dollars in US government bonds. The arrival of the turning point has been accelerated by the profound demographic and economic changes, the pace of globalization, 9/11, America's military failures and the economic crisis. As the Japanese prime minister said at the end of an international summit in late 2008: "History teaches us that crises create new order." The shift of geopolitical power towards Asia coincides with the end of a golden age of the West, which brought rapid growth, low inflation and considerable improvements in the standard of living, as well as with an economic crisis unseen in 60 years.
The American intelligence community[8] predicted a fundamental reshuffle of the world as we know it in the next few decades already a decade ago. The international order, as it was created in the wake of World War II, will be unrecognizable by 2025 — they say, adding that the pace at which wealth and political power will move from West to East is unprecedented in modern history. The world will become ever more dangerous, but richer at the same time, which does not mean that the majority of the Earth's population will not face food and water shortages. Today's oil powers may become tomorrow's beggars, while developing countries and regions that build their economies on hard work will see stunning growth. The rise of the non-Western world, which began in the 1950s with Japan and continued in the '60s with the Asian tigers, became a full-blown trend with the emergence of China, India and Brazil and will continue for decades.
It remains to be seen whether China's rise will happen peacefully in the long run. The West is instinctively wary of geopolitical changes and knows also that dictatorships do not last long. Still, China needs peace in the world to be able to strengthen its economy, annex Taiwan at some stage and build an international order in which Asia and China play a central role. For the time being, China is not aiming at global hegemony or confrontation. Since the mid-nineties, China has been claiming to be a responsible, peaceful and cooperative partner of the West. A confrontation with America is unlikely to pay any dividends and is therefore not a realistic option. However it is encoded into Chinese culture that everything must have a counterbalance. A power without a counterbalance is unnatural and dangerous. Power must be balanced internationally without encroaching upon the independence or sovereignty of nation states. After the collapse of the Soviet Union the Chinese hoped that the Cold War era would be replaced by a multipolar world order, and were disappointed to see the dawn of total American hegemony. China was shocked by the US intervention in Kosovo in 1999; bilateral relations were all but frozen, and China was afraid that the USA would use Taiwan and Japan to keep China at bay. This was the general view held by Chinese politicians and defense analysts at the turn of the millenium. But the world has changed immensely since then. Niall Ferguson talked about the end of Chimerica[9] – a marriage between the US and China in a completely intertwined economy where America consumes and China produces, China lends, America borrows, China exports, America imports. This cooperation was obviously a pretty problematic one therefore did not last for long. Both USA and China maintain strong suspicions of each other's intentions. Accordingly, both sides are hedging their bets and securing their positions should relations deteriorate. As long as the question of Taiwan is not resolved peacefully and definitively, hostility between China and the USA remains a realistic risk. Nonetheless, as long as the USA does not pose a threat to its vital national interests, China is willing to tolerate the current global framework but with an ever-growing determination to gradually change it from inside.
According to Kissinger, the United States must be aware of its supremacy but act as if global security depended on all global actors. This strategy can divide the psychological burden of responsibility and will allow the principles of freedom and democracy to dominate international politics. In other words: share power to hold on to power. Kissinger believes that China, with four thousand years of history behind it, must know something about survival, hence the West should avoid being condescending. Kissinger is convinced that China's rise will be the greatest challenge to the West as well as to China itself. Its political mentality, institutional culture and traditions do not predestine the US to accept easily the loss of its status as the world's number one power and become one of many global actors. Also, for the US multilateralism has a different meaning and importance than to European countries and the EU. For America multilateralism is the means of achieving its end of a stable world order with the USA as the leading power. For Europe multilateralism is the end itself.
Having said all this, in 2015 US's global military superiority is still beyond question. The US Navy commands a fleet bigger than the next 50 largest fleets together; America spends over a billion dollars a day on defense. The US economy is world leader not only in term of output but also in the use of cutting-edge technology. America's intellectual and cultural impact — from Harvard through Hollywood to McDonald's — is the biggest soft power in the world. Not to mention the fact that the USA is not a status quo power, America is not afraid of change. Apart from its unwavering faith in democracy and in its own specialness, its embrace of change is one of its key distinguishing features.[10]
The rise and reinforced international profile of China and Asia poses some inconvenient but crucial questions for the West. As Asia rises and Europe stagnates, an overhaul of international organizations naturally seems inevitable, however difficult that may be. The French president suggested that India should be given a permanent seat on the UN Security Council, but when the possibility of the EU being given a single seat on the Security Council (instead of the two currently held by France and the United Kingdom), he called it very unlikely that the EU — which has trouble agreeing on much less contentious issues — could find consensus on such a sensitive and crucial question.
What guaranteed the prosperity of the West, apart from its military might, was that the world order that emerged in the wake of World War II was shaped by Western ideas, rules and values. Global politics undergo seismic shifts the global order is realigned and the global value set might also be rearranged to a certain extent. This latter is much less talked about but equally important – in the long run, certainly. We are witnessing not only the competition of economies and military capabilities but of values as well. And what we experience is a new phenomenon: the rise of alternative values and institutions in the world in parallel with a certain level of democracy fatigue even in the West.
In parallel with the global power reshuffle new social models are appearing. These new societal models are not hybrids combining elements of Western society. They tend to be forms of state capitalism or non-liberal (pseudo) democracies, where elections are held regularly but a populist elite rules the country nonetheless. Many developing countries go through this stage in their development; the question is whether they will be able to move on and turn themselves into real democracies. At the same time Western liberal democracy shows signs of ageing and becoming rickety as cowardly political elites motivated only by polls discredit democracy altogether. Postmodern politics is drifting towards dim-witted media politics.
Does China's rise really mean that the universal expansion of the Western world and of liberal democracy have come to a halt? When China broke with dogmatic communism and opened itself up to the world, it spent three decades adopting Western principles, particularly in the areas of foreign and economic policy. China is opening a new chapter: it wants to create a new model of its own, which can become an alternative to the Western model and will surely be popular in all countries that have a dislike for the American dominated Western world order. When the "Chinese model" crystallizes it can offer the developing world (Africa, Latin America and the Middle East) an alternative to the Western liberal model. The new China does not only rebuff the West-dominated present, it also rejects eurocentric historiography and the eurocentric worldview as false and distorted, because — it claims — these advocate the global supremacy of Greco-Roman culture and underplay the world's oldest culture (i.e. that of China).
The fact that autocracy and state capitalism seem to prevail and flourish in the biggest country in the world is a powerful signal for many countries. There are speculations that the global system might soon have a viable Third Way (as opposed to the Western and the clear cut third world dictatorship models) which could be a desirable option for many Asian and African countries in the 21st century. It is not a certainty though. But if democracy is challenged by a strong and vivid alternative model on the global scale, remilitarization and old-school power politics could come back into fashion. China will have a responsibility as regards how to tackle these developments and their consequences in the long run.
Francis Fukuyama asks[11] in 2010 whether liberal democratic principles are really universal or have been revealed not to be. His answer is that they are universal – but this is not as sure as it was a decade ago. He asks what the democratic world can do with Putin's transformation of Russia into an "electoral authoritarian" state, the undermining of democratic institutions by Hugo Chavez in Venezuela, and the rise of China as a successful authoritarian modernizer. Are these systems true and viable alternatives of old-fashioned democracy? They are most probably not in the long run, but liberal democracy is not the only alternative to all-out dictatorship in worldwide politics anymore. As he puts it: "The next phase of global history will be a challenging one, as America and Europe stumble to get back their economic balance. It seems doubtful that either the US or Britain will achieve the degree of growth in the next generation that they did in the previous one. But one of the great advantages of democracy is that it does not depend for its legitimacy on continuing high levels of economic growth, as the Chinese system does. As we move forward, it is important to keep in mind the simple power of the idea of a government by, for, and of the people. We need to match those high ideals with unglamorous but steady investments in institution-building if liberal democracy is to deliver on its promises."
Robert Kagan says that ideology still matters in geopolitics, and one should add perception as well to ideology. China's strength comes partly from the fact that the world sees it as strong, the future great power. At the same time, part of America's weakness stems from the fact that it sees itself as a declining power[12]. A change in these perceptions could cause significant shifts in times of uncertainty and global transition. Is China potentially an even bigger a power than we imagine or – as Ari Van Assche puts it – does the West only make a dragon out of a dragonfly[13]?
China is changing geopolitics, surely. Is China going to change the rules of the game? It is doubtful, but this is still a puzzle to the Chinese themselves. China might as well be much less powerful as it seems, based on a shaky "Leninist corporatism" whose development is completely based on stealing know-how and institutions from the West as Will Hutton points out.[14] But there is a high probability that reality will prove otherwise.
---
[1]Chicago Council on Global Affairs: World Public opinion, 2007.
[2]Zhao Kejin concludes that "today it seems that EU states are taking a case-by-case approach toward China's initiatives to constructively reform the Bretton Woods system. They tend to support reform of the international monetary order, thus accepting RMB's inclusion in the SDR, yet they are not committed to sharing governance of the old institutions, as this would limit European influence and prestige." In: China's National Security Commission. Carnegie-Tsinghua Center for Global Policy. July 14, 2015.
[3]Robert N. Haass: The age of non-polarity – What will follow US dominance. Foreign Affairs. May/June, 2008.
[4]Yan Xuetong: The rise of China in the Chinese eyes, Journal of Contemporary China, 2001, Vol. 10.
[5]Kagan, Robert: The Illusion of managing China. Washington Post, 15 May 2005,.
[6]Kejin, Zhao: China's National Security Commission. Carnegie-Tsinghua Center for Global Policy. July 14, 2015.
[7]See more in Khanna, Parag: The second world – empires and influence in the new global order. Random House, New York, 2008. and in: Zakaria, Fareed: The post-American world. W. W. Norton & Co, New York, 2008.
[8]According to the Global Trends 2025 report.
[9]Ferguson, Niall – Schularick, Moritz: "Chimerica and global asset markets". 2007. and "The end of Chimerica". 2009. Harvard Business School. Working Paper 10-037.
[10]A small note: things in the balance of the international order can change unnoticed and sometimes scholars and politicians got carried away by perceptions of visible trends while obviously disregarding the ones less obvious. One good example is the surprise at the collapse of the Soviet Union. In his book (My Country, My People) published in the US in 1935 Lin Yutang described China as a tired old man (in comparison with the dynamic, youthful West.) Some seventy years later my book on the future of Europe bore the subtitle: "The Old Lady and the Bull" (a reference to ancient Greek mythology) describing Europe as an old lady instead of the young girl who she used to be when she had been taken by Zeus disguised as a bull. Probably both of us were right at a certain moment in time, but the lifespan of truths in geopolitics seems to get shorter and shorter.
[11]Is the Age of Democracy Over? Spectator. February 10, 2010.
[12]An example: According to a 2009 survey by Penn, Schoen and Berland Associates, 81% of Chinese think the USA will stay ahead of China in innovation, while 41% of Americans think so. (in Newsweek, 28 November 2009.)
[13]Van Assche, Ari: Are We Making a Dragon out of a Dragonfly? – Understanding China's Role in Global Production Networks. Burgundy Report, CIRANO Network, 2009RB – 03. January 2009.
[14]Hutton, Will: The Writing on the Wall: Why We Must Embrace China as a Partner or Face it as an Enemy. Free Press/Little, Brown.
Is Strategic Balancing a 'New Normal' in Interlinked World?
The G-20 Summit 2018 will be remembered for extraordinary  large number of bilateral and trilateral meetings, which seem to be even more significant than the main purpose of the meet. There are some high profile bilateral meetings like US – China and US – Russia (Scheduling of which has seen many flip-flops) which are very significant in context of Trade-War or Ukraine crisis. The two trilateral meetings involving US-Japan-India and China-Russia-India are also seen to be very significant because of centrality of Indian position in both the meetings. One of the reasons for this phenomenon is that the world is that the world has got interlinked so much as never before, hence even bilateral relations between global powers impact the world directly or indirectly.
When a large number of countries including US allies, strategic and trade partners joined AIIB, against the wishes of US, it was quite evident that a time has come that many countries will like to have alternate sources of funding other than west dominated IMF or Japan dominated ADB and will follow their own national interest. Similarly when China exhibited aggressive design of converting feature and atolls to artificial islands, with a view to have South China Sea as 'Chinese lake' based on unilateral interpretation of history ignoring international laws, UNCLOS and decision of ICJ, a group of democratic countries huddled together to form QUAD with a potential to counter balance such moves, which have possibility of obstructing global trade and exploitation of global commons. The Russian aggression westwards post Crimea, brought many western countries together resulting heavy sanctions on Russia, (followed by the recent standoff with Ukraine, Martial Law in some parts of Ukraine and the criticality continues. The Western opposition and sanctions was instrumental in pushing Russia nearer to Beijing. The international relationships and strategic interests of most countries in the interlinked world of today are so interwoven, that it is difficult to count countries only in one grouping; hence many new issue based groupings have emerged in last few decades.
Are Global Powers pushing everyone to Strategic Balancing?
In the exuberance of pursuing 'America First' policy, in last few years US has been highly critical of some of its allies, strategic and trade partners, whenever they did not follow a course which was of interest to America. In some cases it used threatening gestures, while some others were put under sanctions. The policy got a major jolt, when they threatened everyone to support their decision of shifting embassy to Jerusalem, but many countries junked the threat and voted as per their own perception. A similar issue came up earlier, when the last US President got all Head of States of ASEAN countries together to discuss South China Sea issue and wanted a joint statement, condemning Chinese actions, but those countries did oblige.  Pulling out of Paris accord for climate change, Iran Nuclear deal, TPP are some more examples when all the 'Friends of US' are not on the same page, and decided to continue with it even without US. Pulling out of nuclear deal with Russia is under global criticism, as it could trigger fresh arms race and a dangerous one, although US has some strategic logic to do so in American interest. The last G-7 Summit was not a pleasant experience for US allies due to alleged self centered economic approach of US. The NATO allies are also relatively lesser confident of US backing and keep waiting for next surprise from US Administration. Under these circumstances, Is US Concept of 'With US' or 'Against US' is outdated in Interlinked World?
On the other hand Chinese after announcing Belt and Road Initiative (BRI) in 2013, with elevation of President Xi Jinping from 'Chairman of everything' to 'Core' and 'Leader for life', exhibited its expeditionary design starting from South China Sea to land grabbing in Indian Ocean. With its fast growth it tried to showcase its methodology of governance better than democratic model. Its 'Incremental Encroachment Strategy' in Doklam as well as South China Sea exhibited its ambitions exceeding beyond peaceful growth to the arena of global strategic dominance; hence it started facing opposition from a group of democratic countries in various forms like formulation of QUAD and other groupings. Interestingly most of Chinese neighbors did not buy its method of governance and some of them went democratic in recent past, while maintaining good relations with it. In case of Russia also, we find Germany, a US ally drawing gas from them. Russia and China helping out North Korea with fuel and essentialities immediately after Singapore Summit between President Trump and Kim. Russia a strategic partner of India supplying military hardware to Pakistan and many other countries. A cross pollination of relations is therefore quite evident.
Analysing the cases of three global powers above, a time has come when most countries want to manage their international relations as per their own national interest, and do not want their strategic choices to be dictated by others. The strategic autonomy is quite dear to every sovereign country. It is also a fact that the world today is much more interlinked; hence issue based relationships is increasing. In context of the above let me analyze few cases justifying the 'Compulsion of Strategic Balancing' in international dynamics.
Japan's Insecurity and Prime Minister Abe's visit to China followed by meeting Indian Counterpart
During Prime Minister Abe's visit to China on the 40th anniversary of the 'Treaty of Peace and Friendship between Japan and China' hardly any issues of divergences was discussed. It was looked as an effort to 'Fostering Mutual Political Trust' and 'Cooperation and Confidence Building in Maritime and Security Affairs'. Beyond good optics, It can be seen as an effort to balance out/reset relations with China, and a messaging to Uncle Sam, about independence in foreign policy formulation of Japan. Immediately after this first visit to Beijing since 2012, Prime Minister Abe hosted Indian Prime Minister Narendra Modi, in a resort near Mount Fuji for a luncheon Sunday, just a day after returning from talks with the leader of China. While the leaders may call India-Japan partnership having been strengthened as a 'special strategic and global partnership,' but beyond the optics, it can be termed as an effort to balance relations between China and India as well.  India would perhaps be looking to move forward in convergences, and need not be concerned of Sino -Japan engagement because India and Japan have hardly any issues of divergences. The balancing/resetting by Japan in international relations was again exhibited, by the fact that Japanese PM seems to be  "determined" to wrap up talks toward peace treaty based on 1956 declaration with Putin, stipulating the return of two of four northern islands by Russia to Japan, while retaining claim on all four. The self confidence of Japan in balancing act between US, China, Russia and India is noticeable.
South Korean bonhomie with North Korea
South Korea despite being apprehensive of dangerous arsenal of North Korea, continues to be an ally of US. Deployment of THAAD, military exercises with US forces, have caused great anxiety not only in North Korea, but in China and Russia as well. Despite heavy sanctions on North Korea, it continued with its nuclear and missile tests. When President Trump started giving confusing signals of 'America First' and asking allies to pay for their security, South Korea was inclined to attempt peace in Korean Peninsula and making it nuclear free. It was successful in seemingly impossible diplomatic exercise of getting together Kim and President Trump together for a summit. As an analyst, I do not count the summit anything beyond optics, as nothing worthwhile has changed in nuclear and long range missiles capabilities of North Korea as well as UN sanctions, but South Korea has improved its relations with North considerably applying the theory of strategic balance. North and South Korea had Summits, exhibiting lot of bonhomie, decided to field one sports team under single flag, started people to people contact, and South Korea started helping North Korea with essential humanitarian needs, where China and Russia joined in to start business as usual with North Korea, immediately after Singapore Summit. The optics of keeping missiles and nukes away from North Korean parade does not mean that it will really destroy the only leverage it has, which is making US talk to him, and condemning Rouhani and Assad, looking for regime change there. Some symbolic destruction of few testing sites by North Korea and destruction of few posts along demilitarized zone does not mean that South has full confidence over North Korea but it clearly indicates that South Korea is balancing/resetting relations between them.
India's Strategic behavior: Is it different than Balancing/Resetting International relations?
Post Wuhan visit of Prime Minister Modi to China it is being alleged by western media that India has perhaps drifted towards China. In my opinion there is hardly any worthwhile change in Indian strategic behavior. India has a set of convergences and divergences of interests with major global players namely China, USA and Russia. India has so far been able to keep these relations exclusive of each other; hence has been able to successfully manage an independent foreign relationship without any bias. In the turbulent complex environment of today, our convergences and divergences have started impacting each other. India's differences with China on certain aspects of Sino-Pak nexus, use of global commons in South China Sea, its adventurism in Indian Ocean, and obstruction to Indian entry in NSG can also be viewed as convergence of interests with US. India's differences with US on trade, tariff, and CAATSA in context of Russia can be seen as convergence of interests with China The silver lining is that US being our strategic partner will like to have well equipped Indian Forces to balance China and Indian connectivity to Afghanistan, in case Pakistan does not serve its strategic interest. The US waiver on Chabahar port and connectivity to Afghanistan, as well import of Iranian oil for next six month is a welcome step by US towards its strategic partner India.
After Indian expression to expand the scope and dimension of QUAD, opening it up to other affected countries, there is a general feeling amongst other QUAD members that India is perhaps getting softer towards China in progressing QUAD agenda. The reality is that India has an independent foreign policy.  In Indo-Pacific, it stands with US, Japan and Australia in checking Chinese encroachment of global common like South China Sea, stands for seamless movement in international water and rule based order. Interestingly none of the QUAD members have common unsettled land borders with China. In land frontier and combating proxy war, India has to fight its own battle with some help from friendly countries including equipment from Russia, Israel, France to name a few, besides Indian friends from QUAD, hence it has to tackle relationship with China in a different manner than other members of QUAD. India therefore has to maintain harmonious relations with all its friends and neighbors to pursue its national interest. Despite such complexities, the silver lining is that the US, as well as China want better relations with India and vice versa. Russia also will not like to give up the largest purchaser of military hardware and a strategic partnership which stood the test of time even in 'Heated Cold War' era, hence, with smart diplomacy, India should be able to manage an independent foreign policy in current global environment. The number of bilateral and trilateral meetings attended by India clearly explains the balancing diplomatic exercises carried out by India, as per its National interest. Indian participation in two significant trilateral meetings namely US-Japan-India and China-Russia-India signifies the centrality of India. It clearly indicates the efforts required to balance out relations with two separate groupings which have wide gap in perceptions.
Unilateralism is Outdated/Impractical Concept
There is a growing opinion that US needs to revise its policy of sanctions and CAATSA. The analysis suggests that President Trump's reintroduction of sanctions on Iran,(with many of its allies still honoring Iran Nuclear Deal), as well as further push on CAATSA (without modification) on countries trading with Russia might edge US towards its own diplomatic/ strategic and economic isolation in the long run . The ICJ decision on 03 October 2018 ordering US to remove any restrictions on the export of humanitarian goods and services to Iran to some extent shows that the world may not always buy US narrative on sanctions. Similarly Chinese aggressive stance in South China Sea will continue to bring resistance in different forms by collective efforts of affected parties, and its purse diplomacy will not work everywhere. Ongoing Trade War, strengthening of Taiwan and military posturing in South China Sea are indicators which will discomfort China.  In interlinked world interactions with all countries wherever their interests converge is the order of the day. Japanese trade with China, visit of Prime Minister Abe to China followed by visit of Prime Minister Modi and Countries pursuing relations with Saudi Arabia despite CIA revelations are some examples of this new normal in future. It is also expected that in a multilateral world of today, no one country will be able to dictate the strategic choices of others or force any country not to act in its national interest in future. It also proves a point that any country, which thinks that it can rule the world all by itself, is sadly mistaken in the future world, which is overly interlinked.
Chinese Perspective on South China Sea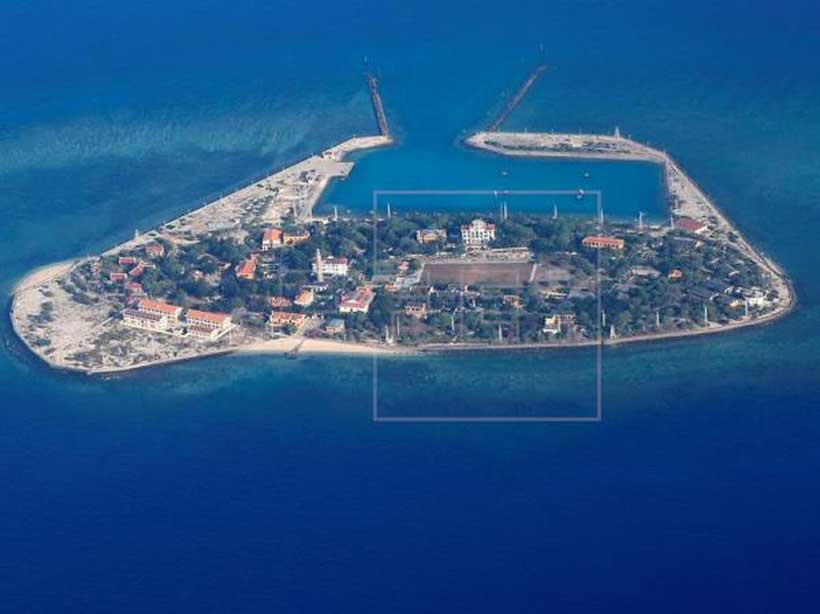 Chinese Premier Li Keqiang during his Singapore visit for the China ASEAN summit had remarked that China would work hard and ensure that the Code of Conduct (CoC) on South China Sea is concluded within three years. While the global community and regional strategic experts waited for sixteen long years (2003-2018) to get a single draft on the CoC, another three years would be acceptable. However, outlining Chinese objections and rather incoherent historical arguments might not hold true in the long discussions. The problem for Chinese is that while they have technically agreed on the single draft, the reservations with regard to conduct of exercise and the non-binding nature of the COC will once again open Pandora's box. Within China, there have been strong advocacy groups and even historical facts which are constructed to build the narrative that South China Sea belonged to China since times immemorial. However, in the same context, historically, Hainan island belonged to Vietnam, and it has been accepted by the Chinese. The reflections of which can be seen in their provincial museums. The nature of debates and discussion in this context is interesting, and it is still not clear that how much China going to accommodate the interests of other claimants and whether there would be a lasting peace.
Evaluating the developments with regard to SCS, China has made it very clear that signing of COC does not in any way means that the territorial and maritime sovereignty issue related to the contentious zone would be resolved. So if the global community is under this utopian idea that things will smoothen out, might face shock in future. China has been claiming during the PCA arbitration between 2013-2016, SCS was not peaceful and there have been untoward incidents. However, in the post PCA phase there has been relative peace in the region. China has been claiming that with the influx of new actors including US, UK, Japan and Australia, the issue of territorial sovereignty and maritime zones would give rise to new trends in regional conflicts. Of late, there has been a series of unpleasant face offs between China and US, and it has been claimed by scholars from China that SCS might influence US-China relations in future. Chinese scholars have claimed that SCS is more about geo-political interest rather than any strategic advantages in terms of sea power. It has been seen that competition between US and China is strategic and structural and the bigger challenge is that it is irreconcilable. Scholars from Chinese institutes such as National Institute on South China Sea have stated in public discourse that US have been using strong propaganda mechanisms to project that Chinese island building would jeopardize peace and tranquility in the region. China believes that there should be some balance with regard to the interactions between claimant states and the role played by non-claimants. Closely emulating US stance other US allies are trying to flare up tensions and it is stated in Chinese discourse that in May 2017 and between August -October 2018, Japan as well as other US allies have conducted operations and sorties leading to unnecessary tensions. Chinese believe that presence of US undermines peace and stability in SCS. Among the claimant states peace and tranquility is undermined because of US military interactions with Vietnam, Indonesia, Singapore and Australia focusing on the developments in SCS.
China has conducted military exercises with ASEAN in the past and is willing to build structural mechanisms to address issues of trust and confidence building. The claimant states need to work on the cooperative action plan such as developing joint cooperative mechanism for exploration and development of resources. However, the serious lacunae in Chinese proposal is that it wants to work in non-disputed areas before making any commitment in SCS. Outlining the Chinese perspective on the reasons for flare up in SCS, Chinese scholars have projected that the reasons include the conduct of US navy, interference in COC consultations, facilities and military deployment in SCS by other claimants, and unilateral action in disputed areas by the outside powers.
While the Chinese narrative might seem convincing but there are flaws in this discourse. Firstly, China has failed to outline the geographic coordinates of the nine-dash line and the nine-dash line was at one point eleven dash line also. It claims that it has resolved maritime delimitation mechanisms between China and Vietnam in the Gulf of Tonkin due to which the two dashes were removed from the claimed area.
President Xi has signed an MoU on oil and gas exploration during his visit to Philippines but China feels that the development and even exploration of any oil and gas exploration should be endorsed by China as it is the biggest party to the conflict. China has also proposed that China and ASEAN should maintain peace and stability in SCS without any outside intervention. The proposal of developing Reed bank has been made by China as it is a non-controversial area. Nevertheless, China has made it very clear that COC would not be able to solve sovereignty and territorial issues.  In conclusion, China has made it clear that it would not define the geographic coordinates of SCS claimed by the country as it would give a wrong impression that China is going to usurp the whole SCS but the challenge for China is that it has not yet done its homework and is wary of the global backlash. Of course, US-China trade war has impacted Chinese hardline stance on SCS.
Japan faces titanic struggle to balance Chinese dominance in Africa
Earlier this month it emerged that Japanese officials are planning to upgrade the country's only foreign military base, in Djibouti. The news might come as a surprise, given that the scourge of piracy in the Horn of Africa, which prompted the base's construction, has been almost completely eradicated. In 2011, when the facility opened, there were 237 incidents involving suspected pirates operating from neighboring Somalia. Last year, the figure was nine.
If the battle against piracy has been a near-total victory, why is Japan looking to redouble its offensive? The question is particularly puzzling given that government debt now stands at 200% of GDP, and the country's aging population has prompted fears of a social security crisis. Surely the Japanese government has more important things to spend its money on.
But observers on the ground in Djibouti will understand. The tiny country is a powder keg of competing global interests, none more prominent than China, which opened its own monolithic military camp there last year. Japan's political relationship with its perennial Asian rival may have thawed in recent years, yet the two countries remain locked in a fierce economic struggle that now centers on Africa, whose untapped economic potential makes it the ideal proxy battleground.
Officials in Tokyo are open about the reasons for their interest in Djibouti. When plans to expand the Japanese base were announced last year – a precursor to the latest upgrade – government sources admitted they were responding to the new Chinese hub. Now analysts suggest Djibouti's president Ismail Guelleh will gift the country's monolithic Doraleh Container Terminal to China, after ejecting Dubai's state-owned operator DP World. The Emirati company has even sued China over the dispute, claiming the state-owned China Merchants induced Djibouti to break contract.
Japan is not the only country to raise concerns. In the US, a pair of senators recently wrote to the Trump administration expressing their alarm over Beijing's rumored Doraleh deal. Yet Tokyo's priorities are very different from Washington's; while the US relies on its own Djibouti base, Camp Lemonnier, as a jump-off point for military action in nearby Somalia and Yemen, Japan has maintained a strict policy of non-intervention in foreign conflicts since 1945. Until 2015, the policy was enshrined in law, and even today the Japanese army is known as the Self-Defense Forces. With the piracy threat all but extinguished, the primary purpose of the Djibouti base is to provide logistical support for Japan's peacekeeping work with the UN.
In economic terms, however, Djibouti – and China's stake in it – matters a great deal to Japan. Because, just like China, Japan sees huge potential in Africa, and has readily copied Beijing's playbook in its attempt to capitalize. Aping China's 'One Belt, One Road' investment strategy, the Japanese government has pledged billions of dollars to Africa and encouraged the private sector to follow suit. Like China, Japan has funded several major projects, from a port expansion in Mombasa to a digital broadcasting system in Botswana. And just like Chinese Premier Xi Jinping, Japan's Prime Minister Shinzo Abe has invited Africa's leaders to glitzy summits in Tokyo, his officials talking warmly of their commitment to the continent's prosperity.
Age-old rivalry
This commitment is nothing new. Japanese companies have been investing in Africa since the early post-war period and the first edition of the Tokyo International Conference on African Development was held as far back as 1993. But the value of this relationship has been magnified by a string of factors, including rising commodities prices, Japan's chronic mineral deficit, and an energy crisis precipitated by the Fukushima nuclear disaster.
Above all, though, Japan wants to prevent China from surging too far ahead economically. Tokyo powered away from its vast neighbor after 1945, its economic miracle leaving China's clunky bureaucracy sputtering in its vapor trail. But since the mid-1980s, when China's planners mapped out their game-changing mixed economy, the balance of power has shifted. China's economy overtook Japan's in 2011. Now, it's nearly three times as big. Japan has launched a fierce counter-attack, forging its own economic corridor with India to rival Belt and Road and attempting to woo the ASEAN region, which has fallen under Beijing's sway in recent years.
In this context, it's easy to see why Africa is so attractive. The continent is a huge part of Beijing's growth strategy; what's more, China's involvement is increasingly unpopular with the African people. The hordes of Chinese companies parachuted in to deliver Beijing-backed infrastructure projects have been widely accused of racism and mistreatment of domestic workers, and there are fears that China's financial generosity is nothing more than a giant debt trap, which will soon snap shut to claim Africa's most prized possessions. Japan has played on these fears, lamenting Africa's vast debts while stressing that, unlike certain other foreign powers, they want the African people to share in the benefits of their investment.
Yet, for all Japan's optimism about claiming a major slice of Africa for itself, the reality is that China enjoys a huge head-start. For one thing, Xi's government has far more money at its disposal; Japan pledged $30 billion to Africa in 2016, so China responded by promising $60 billion earlier this year. Furthermore, China's willingness to offer loans with no strings attached appeals to some of Africa's less scrupulous rulers. Finally, China's economic model allows the state to blur the lines between international aid and investment – and means funding can be signed far more quickly than in rivals such as Japan.
If you want an example of the dominance China already enjoys in Africa, just go back to Djibouti. Guelleh's government, blighted by allegations of corruption and despotism, has amassed a debt pile approaching $2 billion and nearly 90% is owed to China. For all Tokyo presents itself as a fairer, more enlightened partner, Beijing already has Africa firmly in its grip. It's hard to see how Japan – or the region's debt-riddled constituents – can loosen it.