The "Global Spiral" of Caspian Environmental Politics
The Energy Information Administration (EIA) estimates that the Caspian Basin holds more than 48 billion barrels of oil and more than 292 trillion cubic feet of natural gas. In addition, the sea itself is home to over 400 wildlife species native to Caspian waters and has remained the largest producer—over 90 percent—of the world's sturgeon and caviar outputs.
However, this abundance of resources and their economically developing properties have come with a price in the form of severe contamination. Russia, the largest superpower in the region, is also the region's largest contributor to pollution, with the second biggest contributor being Azerbaijan. Furthermore, some activist groups such as Greenpeace have went even further, labeling Russia as the world's worst oil polluter, claiming that its extraction and refinement activities have expanded past its own homeland and the Caspian Sea, having caused environmental damage throughout the Arctic Ocean. Russia is undoubtedly the dominant geopolitical player in both landmass and charisma in the Caspian Region and its ambitions for energy extraction are unmatched compared to the other regional states. However, while Russian extraction and refinement of oil and natural gas outpaces the other littoral Caspian nations, it has also damaged relations with those states in regards to energy and pollution.
Russia's pollutant contributions in the Caspian Sea come in the form of wastewater from coastal industrialization and massive amounts of sewage waste directed into the Volga River. This river, which is native to Russia, is the most significant river responsible for supplying the sea's water supply, making it the greatest contributing pollutant source. To put it into perspective, pollution from Azerbaijan comes in the form of oil by-products, waste, and spills. The impact of Azerbaijan's energy pollution has become so great that the Caspian Environmental Information Center considers the Apsheron Peninsula—which includes the Capital city of Baku—and the waters that surround it to be the most ecologically devastated geographical area in the world. This title is specifically awarded to the Azeri peninsula due to the severe air, soil, and water pollution from oil extraction, refinement, and transportation of oil resources. Moreover, this severe pollution is exacerbated by Russia's contributions, which as an upstream nation is also responsible for the destruction of the Apsheron Peninsula.
The ratification of the Tehran Convention by all littoral nations was based upon four protocols: biodiversity conservation; preventing land-based sources of pollution; preparedness, response and cooperation in combating oil pollution incidents; and producing environmental impact assessments in a trans-boundary context. However, as described above, despite the geostrategic significance of the Caspian Sea's resources, we observe that geopolitics can hinder attempts to manage the pollution severely infecting the waters. For example, in 2013 Iran threatened to sue oil giant British Petroleum (BP) for allegedly discharging waste directly into the Caspian Sea and for not following the Tehran Convention covenants. These accusations were aimed at Azerbaijan in reality, which permits BP to operate the Azeri-Chirag-Gunashli oil field and Sha Deniz natural gas field off of the nation's coast. Furthermore, Iran claimed that due to these flawed practices there have been severe economic, health, and environmental damages, mainly from contaminated water decreasing fisheries and poisoning soil and groundwater. In the late 1990s BP also bought a 50 percent stake in the Russian TNK (Tyumenskaya Neftyanaya Kompaniya) oil company, to form the oil giant known as TNK-BP. To go even further, remember that BP was also responsible for a catastrophe in the US—the 2010 Deep Water Horizon oil-rig that exploded in the Gulf of Mexico. The common link of giant oil ambitions and extraction is resulting in environmental and economic impacts that prove the relevance of the "Global Spiral" theory and the increased importance of protecting the world's environment.
"The Global Spiral" theory describes the effects increasing populations and consumption rates of resources hold against the availability and abundance of those respective resources. Utilizing this spiral model and applying it specifically to the nations of the Caspian Region, we can conclude that when the populations of the Caspian states continue to expand (in both population size and industry), each nation will unilaterally attempt to secure and exploit the various natural resources found both on and underneath the Caspian Sea. This "resource race" has already escalated inter-state tensions, with the potential end-result being inter-state conflict as the other nations respond to unilateral actions with similar measures to best secure and exploit resources for themselves. While this is a typical model for energy conflicts, pipeline politics, and/or resource wars throughout the globe, I do not think the means have met the ends in the Caspian scenario. This is because as the race for resources continues to escalate in the Caspian Region the impact of severely damaging pollution and new shifting geopolitical dynamics will destabilize energy and resource security overall. The Global Spiral also determines that the strain on those resources and the resulting pollution from their exploitation will become so great that preventative measures put in place to regulate availability and pollution will become uncontrollable – hence, the term the "Global Spiral" and its ability to lead to global catastrophe.
The question that needs to be asked now is that if each of the five Caspian nations can barely enforce or follow an endorsed inter-state agreement, does the international community have a role to intervene in the sovereign affairs of states in order to secure energy resources and ensure that any agreements and standards are honored? International interventions would only fuel Russian suspicions, however, and could aggravate inter-state relations between all regional players. Russia as the leading superpower in the region holds both the obligation and the capacity to live up to the agreed-upon standards outlined in the Tehran Convention. International cooperation is a fundamental necessity for ensuring that the Caspian states do not escalate inter-state tensions into inter-state conflicts that have global cascade effects. However, future strategies for preventing a "Global Spiral" in the Caspian region will only be accomplished by improving relations between radical regimes, recalcitrant presidents, and divisive autocrats. This is no easy task when each believes the best strategy is likely extracting the resources provided to the nation for economic advancement, rather than focusing on the collective responsibility of environmental protection and economic limitation.
Building a Climate-Resilient South Asia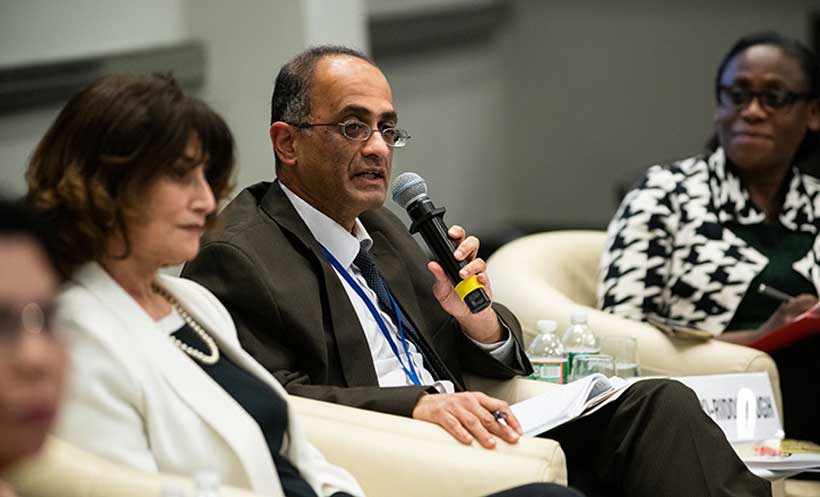 Last summer's monsoon hit South Asia particularly hard and left nearly 1,400 people dead and displaced millions of others.
In the last sixty years, such weather extremes have become more common in the subcontinent and, without urgent action to limit carbon emissions, their impact on communities will likely get worse.
In addition to these extremes, average weather patterns are also changing with each year turning out to be warmer than the previous year and monsoon rainfall patterns are getting more and more erratic.
Eight hundred million South Asians to be exact – or half the region's population—are at risk to see their standards of living and incomes decline as rising temperatures and more erratic rainfalls will cut down crop yields, make water more scare, and push more people away from their homes to seek safer places.
This worst-case scenario and relevant adaptation strategies underpin the upcoming report South Asia's Hotspots, whose main findings were presented yesterday at a panel on building climate change resilience in South Asia at the World Bank Spring Meetings.
Its main author, World Bank Lead Economist Muthukumara Mani detailed how specific geographic areas across South Asia or "hotspots" which –until now—were relatively immune to climate change threats could be badly affected by 2050.
Most hotspots, Mani remarked, are located inland, already poor, have fewer roads and are isolated from main economic centers. And with many residents subsisting on farming, higher incidences of droughts or floods combined with extreme heat could further drive down their fragile wellbeing and force more people into poverty.
And while other manifestations of climate change such as sea level rise or natural disasters and their impact on economies have been well documented, less is known of the long-term effects of higher temperatures and unpredictable rainfalls on local communities.
It's urgent to develop this understanding as most countries in South Asia have already passed their optimal temperature tipping points, beyond which standards of living and consumption are only expected to drop irreversibly.
To build resilience, the report recommends that South Asian countries better prioritize their financial resources where they're most needed and target the most vulnerable individuals and families.
Mani noted that diversifying jobs beyond agriculture, investing in education and skills, and improving access to electricity can ease the expected decline in living standards caused by long-term climate impacts. Such actions, he argued, must be tailored to address the specific climate impacts and local conditions found in South Asia's hotspots.
In the end, the cost of inaction—that is, if carbon emissions continue unabated—could be huge as countries with severe hotspots, Mani concluded, would see income in these areas drop by 14.4 percent in Bangladesh, 9.8 percent in India, and 10 percent in Sri Lanka by 2050.
Following the presentation, government, civil society, and academia elaborated on concrete climate actions and adaptation strategies to build a more resilient South Asia.
The panel included Ms. Mahmuda Begum, additional Secretary in World Bank Wing at Economic Relations Division at the Bangladesh's Ministry of Finance, Ms. Aisha Khan, Executive Director for Civil Society Coalition for Climate Change (CSCCC) and CEO of Mountain and Glacier Organization (MGPO) in Pakistan, Mr. Anand Patwardhan,  Professor of Public Policy at the University of Maryland, USA, and Ms. Jaime Madrigano associate policy researcher at the RAND Corporation, USA. Ms. Idah Pswarayi-Riddihough, Country Director for Sri Lanka and the Maldives in the South Asia Region, World Bank Group moderated the discussion.
Noting that Pakistan's soaring population coupled with shrinking arable lands present a challenge to the country's environment sustainability and food security, Aisha Khan emphasized that building climate resilience should go hand in hand with better –that is, more open and inclusive—governance. Involving civil society, including women-run organizations, will bring greater accountability to climate change policies that will later impact the entire population. And that sense of co-ownership and shared responsibility, Khan added, is critical to civil society.
Such collaborations are key to building strategic climate resilience and, to be successful in the long term, should extend to partnership between countries. Water presents such an opportunity. "We in South Asia are the third pole…with the densest glaciers outside polar regions in the world," she said. "Water being a common problem for all of us, we need to do more work together."
When it was his turn to speak, Anand Patwardhan noted that the conversation about climate resilience would have to go beyond risks and be reframed around opportunities to further advance the development agenda. In India, large national programs such as Smart Cities or Swachh Bharat projects are two examples of how climate action can help achieve greater development outcomes. In South Asia, Patwardhan later remarked, a lot of infrastructure still needs to be put into place. There lies an opportunity to invest in natural infrastructure [that benefits both the economy and the environment] and ecosystem adaptation to advance resilience across the region.
New Satellite Animations of Earth Show How Quickly Humans Are Changing the Planet
A new website that combines dramatic images from space with expert analysis of how humans are changing the planet will launch on World Earth Day (22 April).
EarthTime ties together diverse data layers to show the patterns and connections behind some of the major social and political trends of the past two decades – and how they are inscribed into fast-changing landscapes.
The platform has already been used in public outreach in schools and museums, and to inform world leaders at World Economic Forum events of major environmental and geoeconomic shifts, from air pollution to inequality. It uses images captured by NASA satellites since 1984.
The vision, and long-term goal, is to better inform everyone – including individuals, business heads and policy-makers – about the lives we lead, the decisions we make and the impact we have on the planet.
Nine expert analyses on global challenges will be launched on World Earth Day (22 April): deforestation, city growth, coral bleaching, fires at night, glaciers, renewables, sea-level rise, surface-water gain and loss and urban fragility. Other layers will be added in the months and years ahead. You can see them at www.earthtime.org.
EarthTime was developed by CREATE Lab (the Community Robotics, Education and Technology Empowerment Lab) at Carnegie Mellon University, in partnership with the World Economic Forum. It draws on the Forum's network of experts to give analyses and to tell stories. Users will soon be able to create their own stories.
EarthTime uses more than 300 free, open-source, geospatial datasets – an unprecedented number for visualizations of this kind. Expert opinions make sense of the data and the connections between them allowing a layering of narratives (e.g., how did rise in the global demand for meat trigger deforestation, a major contributor to climate change?). These stories are combined with images from space captured by NASA satellites between 1984 and 2016.
Current datasets come from the World Bank, the UNHCR, NASA, Berkeley Earth, the Stockholm International Peace Research Institute, Climate Central, S&P Global, Kudelski, the International Renewable Energy Agency and WWF, to name a few. New data providers are being added constantly.
"EarthTime tries to build the common ground that we believe is essential to the discourse that we all must have as stewards of our planet and our joint future," said Illah Nourbakhsh, Professor of Robotics, Carnegie Mellon University, and Director, CREATE Lab.
"The Earth is changing dramatically. No single discipline can make sense of all that is now happening and no citizen is free from the consequences of what we all do next. We all must be involved in understanding Earth's changes and how we can work together to bring about our desired sustainable future into reality."
Nourbakhsh also serves as a Global Future Council member at the World Economic Forum. His research focuses on human-robot collaboration.
Human Footprint Devastating Wildlife: An Article For Earth Day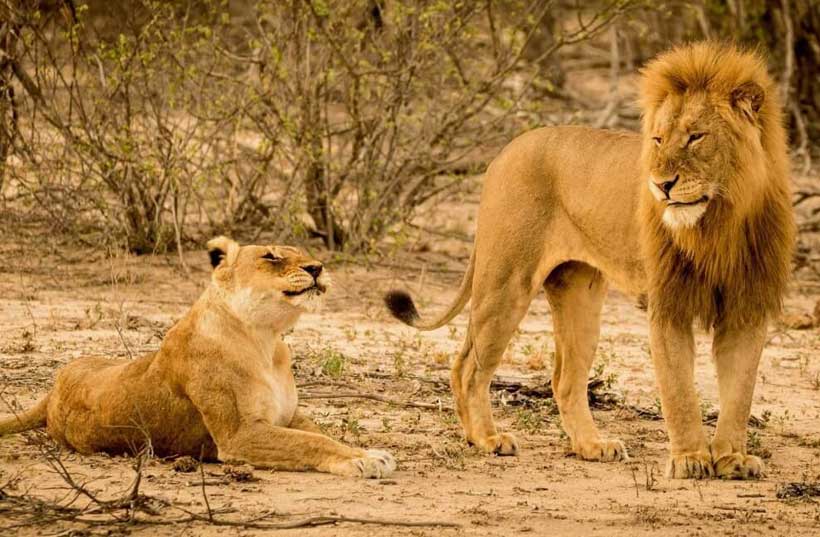 Animals can be beautiful; they can be sleek, graceful, powerful, or just plain adorable, even cuddly.   A field of wild flowers chanced upon can take your breath away.  Wordsworth so moved by 'a host of golden daffodils' put pen to paper, and we are richer for his poem.  And tourists in their thousands visit coral reefs for their stunning beauty and sea life.  So it is distressing when scientists confirm our gut feelings about the human footprint on this natural environment.
Few people know that March 3 was World Wildlife Day, or this coming Sunday (April 22) is Earth Day — perhaps Trump sucking up all the media oxygen is responsible.  The fact remains, world wildlife is under serious threat, and in ways we can't even imagine — not forgetting the eventual disaster due to climate change, unless the world wakes up.
Not so long ago Science, the voice of AAAS America's largest science body, published three papers describing the harmful, even devastating, impact of modern human presence.
The first is a mammoth global study spanning the four major continents and New Zealand.  Authored by over one hundred scientists, it follows the movements of 57 mammalian species through the GPS-tracking of 803 individuals.  It finds a strong negative effect of the human footprint on animal movement.
The scientists develop a human footprint index (HFI) comprising multiple aspects of human influence:  built environment, croplands, pastures, nighttime lights, roads, waterways, railroads, population density, etc.  On the animal side, they note and separate the effects of resource availability and body mass on vagility (migration distances) — larger species travel further as do carnivores.
They then compute animal movement as the distance between subsequent GPS locations over nine time scales ranging from one hour to 10 days.  At each time scale and for each individual, they calculate the median (middle range) and longest distance movements. These procedures point to the thoroughness of their research.
Overall the findings indicate a decline in movement of mammals in high HFI areas ranging on average from one-half to one-third of their movement levels in areas without human presence.  For example, the median displacement of carnivores over the 10 day period in high HFI areas was only about half when compared to zero impact regions.  And the long distance movement over the same period in HFI areas was down to a third, averaging 6.6 km versus 21.5 km.  The impact on feeding and breeding then is clearly severe.
The authors note the consequences for ecosystem function globally, the effects being critical for wildlife conservation and also in the spread of disease.  In the latter aspect, the authors warn that "reduced vagility may go beyond ecosystem functioning to directly affect human well-being."  In their understated words it means dangers of animal extinction and human epidemics.
Most of us always assume all bees are good.  Apparently not, as a couple of scientists explain.  So as we reach for that honey jar … ; it all depends on where it came from. That is the contention of the second piece which assesses the impact of managed honey bees on wild bees and other pollinators.
Pointing to the rapid global growth in managed bee colonies and the attention devoted to them, the authors believe this focus reduces efforts to preserve wild pollinators so necessary for wild plants and flowers.  In fact, high densities of such bees worsen the decline of these wild pollinators, and have also been linked to the spread of disease via shared wild flowers.  Long term this is a worsening threat to wild plants and flowers, many facing extinction.
The authors identify managed honeybees and their honey production and pollination of commercial crops as an agricultural issue, not an ecological one.  They advocate restriction of managed honey beehives in protected-ecological areas to reduce their harmful effects  noting that half of all European wild bees are threatened with extinction.
The theme for Earth Day is End Plastic Pollution.  If one ever wondered what can happen to a plastic bag discarded carelessly, the following research has a surprising and worrying answer.
This third Science article looks at plastic waste entering the oceans, often through catchment areas into rivers feeding into the ocean.  It assesses the influence of such waste on disease in reef-building corals.  The authors survey 159 coral reefs in the Asia-Pacific, a region containing 55.5 percent of global reefs and 73 percent of the human population living within 50 km of a coast — about a quarter billion people.
An estimated 4.8 to 12.7 million metric tons of plastic waste pollutes the oceans each year.  A model based on a high end figure of 8 million estimates that more than a quarter of this is pouring in from just 10 rivers, eight in Asia.  Of these the Yangtze alone dumps 1.5 million metric tons each year.  The river waste is a result of mismanagement and clearly can be reduced given resources and better waste collection and disposal practices.
In the oceans, microbes hitch a ride on the plastic, living longer and increasing their chances of landing on an unfortunate host.  The authors have measured plastic items per 100 square meters.  The count can vary from a low of 0.4 in Australia to a high of 25.6 in Indonesia.  Size of human population in coastal regions, good management or mismanagement of plastic waste disposal are all factors in the amount of waste entering the water.
The authors estimate 80 percent of marine plastic debris originates from land, thus offering a possibility of significant reduction through better waste management.  They develop a prediction model showing that by 2025 the waste will almost double in low-income countries like Myanmar but will edge up just 1 percent in Australia.  In total, they estimate a colossal 11.1 billion plastic items entangled on reefs across the Asia-Pacific region and expect the number to increase 40 percent by 2025 without stronger waste management intervention.
The study results are striking.  The likelihood of disease rises from 4 percent in areas free of plastic to an average of 89 percent when the coral has such debris.  Another issue is coral structural complexity which underpins micro-habitats for reef-reliant organisms.  Unfortunately, the study finds that plastic debris is up to 8 times more likely to affect reefs with greater structural complexity.  This lack of habitat can devastate fisheries through a drop in productivity by a factor of three.  Thus public awareness here could be a critical factor.
The parrots in the local pet store are almost always at risk.  It is human encroachment the owner tells us.  Forests are cut down, reducing habitat and food sources, and diminishing parrot populations.  Farmers plant crops in the cleared areas.  The parrots may or may not eat these but are perceived as a threat and often killed, further endangering them.
Once upon a time, millions of rhinos roamed across Africa and Asia; now about 30,000 survive, and many species are extinct or about to be.  Sudan, the last male northern white rhino lived at Ol Pejeta Conservancy in Kenya together with his daughter Najin and granddaughter Fatu.  He was 45, equivalent to 90 in human age, and quite infirm.  Earlier this year, when his condition deteriorated to the extent he was unable to stand, the vets decided to euthanize.  Hope lies with in vitro fertilization, and in the genetic material the vets collected from him.  At some future date, it might be possibly to use this to create an embryo with stem cell technology.
The engaging, lovable and cuddly koala is in danger from environmental effects.  its unusual diet of eucalyptus leaves carry a toxin it can usually handle, but increased CO2 levels reduce nutrition and eating more leads to ingesting more poison.  Add to this the Australian drought drying the leaves, leaving little moisture and resulting in kidney damage.
The human footprint also threatens the snow leopard, most closely related to the tiger not its namesake.  Ranging across the high mountain areas of central Asia, China and Mongolia, and revered in Kyrgyzstan, it has become a victim of human-wildlife conflict.  The herders whose livelihood depends on their sheep, goats and yaks do not take kindly to raiding snow leopards.  But their natural prey, the wild ungulates are suffering sharp declines due to competition with domestic herds.  Yet this animal is an example of what a concerted effort to save a species can accomplish.  Its status has been upgraded from 'endangered' to 'vulnerable'.
Altogether, these studies and cases convey a stark warning.  They show that environmental degradation is the promise of a dismal future in which mammalian wildlife is scarce, wild pollinators and consequently wild flowers and plants are sparse, and beautiful coral reefs succumb to plastic waste-borne bacteria depleting reef-supported fisheries.  This is our legacy unless we take a step back to reassess human wants for their impact on the environment.
Author's note:  A version of this article appeared in Common Dreams