The "Global Spiral" of Caspian Environmental Politics
The Energy Information Administration (EIA) estimates that the Caspian Basin holds more than 48 billion barrels of oil and more than 292 trillion cubic feet of natural gas. In addition, the sea itself is home to over 400 wildlife species native to Caspian waters and has remained the largest producer—over 90 percent—of the world's sturgeon and caviar outputs.
However, this abundance of resources and their economically developing properties have come with a price in the form of severe contamination. Russia, the largest superpower in the region, is also the region's largest contributor to pollution, with the second biggest contributor being Azerbaijan. Furthermore, some activist groups such as Greenpeace have went even further, labeling Russia as the world's worst oil polluter, claiming that its extraction and refinement activities have expanded past its own homeland and the Caspian Sea, having caused environmental damage throughout the Arctic Ocean. Russia is undoubtedly the dominant geopolitical player in both landmass and charisma in the Caspian Region and its ambitions for energy extraction are unmatched compared to the other regional states. However, while Russian extraction and refinement of oil and natural gas outpaces the other littoral Caspian nations, it has also damaged relations with those states in regards to energy and pollution.
Russia's pollutant contributions in the Caspian Sea come in the form of wastewater from coastal industrialization and massive amounts of sewage waste directed into the Volga River. This river, which is native to Russia, is the most significant river responsible for supplying the sea's water supply, making it the greatest contributing pollutant source. To put it into perspective, pollution from Azerbaijan comes in the form of oil by-products, waste, and spills. The impact of Azerbaijan's energy pollution has become so great that the Caspian Environmental Information Center considers the Apsheron Peninsula—which includes the Capital city of Baku—and the waters that surround it to be the most ecologically devastated geographical area in the world. This title is specifically awarded to the Azeri peninsula due to the severe air, soil, and water pollution from oil extraction, refinement, and transportation of oil resources. Moreover, this severe pollution is exacerbated by Russia's contributions, which as an upstream nation is also responsible for the destruction of the Apsheron Peninsula.
The ratification of the Tehran Convention by all littoral nations was based upon four protocols: biodiversity conservation; preventing land-based sources of pollution; preparedness, response and cooperation in combating oil pollution incidents; and producing environmental impact assessments in a trans-boundary context. However, as described above, despite the geostrategic significance of the Caspian Sea's resources, we observe that geopolitics can hinder attempts to manage the pollution severely infecting the waters. For example, in 2013 Iran threatened to sue oil giant British Petroleum (BP) for allegedly discharging waste directly into the Caspian Sea and for not following the Tehran Convention covenants. These accusations were aimed at Azerbaijan in reality, which permits BP to operate the Azeri-Chirag-Gunashli oil field and Sha Deniz natural gas field off of the nation's coast. Furthermore, Iran claimed that due to these flawed practices there have been severe economic, health, and environmental damages, mainly from contaminated water decreasing fisheries and poisoning soil and groundwater. In the late 1990s BP also bought a 50 percent stake in the Russian TNK (Tyumenskaya Neftyanaya Kompaniya) oil company, to form the oil giant known as TNK-BP. To go even further, remember that BP was also responsible for a catastrophe in the US—the 2010 Deep Water Horizon oil-rig that exploded in the Gulf of Mexico. The common link of giant oil ambitions and extraction is resulting in environmental and economic impacts that prove the relevance of the "Global Spiral" theory and the increased importance of protecting the world's environment.
"The Global Spiral" theory describes the effects increasing populations and consumption rates of resources hold against the availability and abundance of those respective resources. Utilizing this spiral model and applying it specifically to the nations of the Caspian Region, we can conclude that when the populations of the Caspian states continue to expand (in both population size and industry), each nation will unilaterally attempt to secure and exploit the various natural resources found both on and underneath the Caspian Sea. This "resource race" has already escalated inter-state tensions, with the potential end-result being inter-state conflict as the other nations respond to unilateral actions with similar measures to best secure and exploit resources for themselves. While this is a typical model for energy conflicts, pipeline politics, and/or resource wars throughout the globe, I do not think the means have met the ends in the Caspian scenario. This is because as the race for resources continues to escalate in the Caspian Region the impact of severely damaging pollution and new shifting geopolitical dynamics will destabilize energy and resource security overall. The Global Spiral also determines that the strain on those resources and the resulting pollution from their exploitation will become so great that preventative measures put in place to regulate availability and pollution will become uncontrollable – hence, the term the "Global Spiral" and its ability to lead to global catastrophe.
The question that needs to be asked now is that if each of the five Caspian nations can barely enforce or follow an endorsed inter-state agreement, does the international community have a role to intervene in the sovereign affairs of states in order to secure energy resources and ensure that any agreements and standards are honored? International interventions would only fuel Russian suspicions, however, and could aggravate inter-state relations between all regional players. Russia as the leading superpower in the region holds both the obligation and the capacity to live up to the agreed-upon standards outlined in the Tehran Convention. International cooperation is a fundamental necessity for ensuring that the Caspian states do not escalate inter-state tensions into inter-state conflicts that have global cascade effects. However, future strategies for preventing a "Global Spiral" in the Caspian region will only be accomplished by improving relations between radical regimes, recalcitrant presidents, and divisive autocrats. This is no easy task when each believes the best strategy is likely extracting the resources provided to the nation for economic advancement, rather than focusing on the collective responsibility of environmental protection and economic limitation.
Ten tips on how humanitarian actors can protect the environment
Every day humanitarian aid workers help millions of people around the world, regardless of who they are and where they are.
World Humanitarian Day, marked on 19 August, offers the United Nations and other humanitarian organizations an opportunity to celebrate the daily work of humanitarian responders worldwide and recognize their dedication to helping others, no matter how hard it may be. World Humanitarian Day also gives us pause to reflect on how to continue improving the humanitarian response to natural and man-made disasters and complex emergencies.
Among the many challenges facing humanitarian responders, environmental issues directly affect core operations.
Hazardous chemicals pose acute threats to human life and pose long-term risks to human health. Damage to natural resources and ecosystems such as forests, pasture, soil, wetlands and coral reefs also have a devastating effect on livelihoods, as people are forced to switch to less sustainable and more environmentally damaging livelihoods. Sometimes, access to scarce resources can heighten tension and lead to conflict.
Yet with expert knowledge and support, humanitarian workers are well placed to address these issues and create a better environment for the people that they serve as well as for themselves.
Ten years ago, the United Nations General Assembly adopted a resolution designating 19 August as World Humanitarian Day. On the occasion of this celebration, here are ten things humanitarian actors can do to safeguard the environment and improve lives while undertaking the noble work of relief and recovery operations.
Hazardous substances: Identify all sources of acute risk (such as chemical spills from damaged infrastructure) as early as possible. Emergency assistance can be facilitated through rapid assessments and advice. Access should be restricted until the site is clean or the risk reduced.
Emergency waste management: Plan the location of emergency waste disposal sites with local authorities to avoid contamination of water sources and agricultural land, disease vectors and odours. Do not burn waste without a proper risk assessment, especially in the case of plastics. Healthcare and other forms of hazardous waste should be disposed of using appropriate methods, such as steam sterilization (autoclaves), for example.
Water use: To determine sustainable levels of water use, an early assessment of the presence, quality, quantity and recharge rate of groundwater sources should be done. Monitor groundwater extraction to ensure that the natural recharge rate is not exceeded. Raise awareness of the importance of water conservation.
Sanitation: Take care to locate latrines downstream of wells, at least 30m from groundwater sources and at least 1.5m above the water table. Fitting pit latrines with concrete slabs eliminates the need for secondary wooden slabs or supporting beams and facilitates cleaning. Consider the up- and down-stream impacts of water use and sanitation, as well as its cumulative impact on watersheds.
Energy consumption: The use of wood or charcoal for domestic energy by displaced people has a major impact on the environment and livelihoods. Promote energy saving measures, such as fuel-efficient stoves and cooking techniques, and fast-cooking foods. Consider using cleaner energy sources, such as gas and photovoltaic power.
Refugee / internally displaced people's camps: If possible, keep camp populations below 20,000 and locate camp sites at least 15km from ecologically sensitive areas and neighbouring camps. Consider controlled harvesting sites or mud brick construction to avoid deforestation. Promote the three R's of waste management in camps: Reduce, Re-use and Recycle.
Transport: Well-maintained vehicles and eco-friendly driving reduce air pollution and fuel consumption. Where possible, choose cleaner fuels and fuel-efficient, low-emissions vehicles to minimize carbon emissions. Waste oil should be stored in plastic drums and properly disposed of or taken back to its source.
Green procurement: Smart procurement decisions are a simple way to reduce the environmental impact of humanitarian operations. Choose goods with the minimum possible packaging, especially containers that can be reused or recycled. Source materials from local or national markets to minimize travel miles and carbon emissions and always opt for recycled materials. Select suppliers with certified safe and sustainable production practices, especially for forest products, water supply, metals and plastics.
Standards, tools and guidelines: Standards, tools and guidance documents are available to assist humanitarian responders in managing environmental impacts and risks. In the absence of other guidance, the Sphere standards should be applied.
UN assistance: Humanitarian operations can be assisted on environmental issues by the Joint UN Environment & Office for Coordination of Humanitarian Affairs Environment Unit (during the emergency phase) and  UN Environment's Crisis Management Branch (during the early recovery phase).
Proof of Human Impotence and Agency in Climate Change While Disasters Multiply
To be rational is to know that weather events cannot be causally related to climate change, although exacerbation is another issue.  Yet when the news is full of record setting fires in California and Greece and Australia, temperature records tumbling, and typhoons and hurricanes relentless in their intensity, one might be forgiven for wondering.
Those who are not climate scientists can only interpret research done by others for the general public and form opinions colored by their work.  That sum of work as it develops becomes more frightening by the day, with a strong fear the predictions will come true earlier than anticipated.
Now there is new climate research on the troposphere, a region extending from the surface of the earth to 16 km (10 miles) at the tropics and 13 km at the poles.  Researchers have studied the amplitudes of the annual cycle of tropospheric temperatures, the highs and the lows, and how these have changed over time.  Above all, they have examined human agency.
The news, as they say, is not good.  Their results the authors state, "provide powerful and novel evidence for a statistically significant human effect on earth's climate."  They call it 'anthropogenic forcing'.
As a consequence we have "pronounced midlatitude increases in annual cycle amplitudes in both hemispheres."  These are repeated in satellite data.  It means higher tropospheric temperatures in summer and lower in winter.
Not only is there "seasonality in some of the climate feedbacks triggered by external forcings" (read human fingerprint), say the authors, but worse "there are widespread signals of seasonal changes in the distribution and abundance of plant and animal species."  In other words, we are screwing up wildlife, both plant and animal.
It is as if the air in the earth's attic is warmer in summer and colder in winter.  And its air conditioner, the tropical rainforest is on the blink.  Greed for hardwoods and farmland has resulted in serious depletion.
Meanwhile, carbon dioxide levels continue to soar, exceeding 412 ppm on May 14, 2018.  The last time the earth reached a 400 ppm threshold was several million years ago.  The human footprint here is proven through the negative delta13C levels caused by fossil fuel use because plants are lacking in the 13C isotope of carbon.  Combining the CO2 rise with increasing tropospheric temperature cycle amplitudes can only magnify the problem.  A new report in the Proceedings of the U.S. National Academy of Sciences lays out a scenario for a self-reinforcing feedback loop, a 'hothouse earth' at which point no human action could prevent catastrophe.
A quick glance at recent weather disaster reports, several within a week, should satisfy skeptics of the exacerbation of extreme events:
The Mendocino Complex fire in California is the largest in the state's history.  It is uncontrollable and expected to burn through August.
Record breaking rains in Western Japan have resulted in floods causing over 150 fatalities and mudslides knocking over and destroying homes.  "We've never experienced this kind of rain before," said a weather official.
Floods in France have led to the evacuation of 1600 people.  The flooding comes after the area and much of Europe suffered extremely hot weather.  Thus in July, devastating wildfires in Greece killed 92 people.  And as warning in Southeastern Australia, the bushfire season has been brought forward two months from October due to excessively dry hot weather.
Extremely heavy rains in Toronto have flooded the city.  Two men trapped in a basement elevator were rescued through the heroic efforts of first responders, who swam to the elevator and used a crowbar to open the doors.  There was just a foot of breathable air when the men swam out.
The climate story is not new; from Svante Arrhenius, the Swedish scientist who foresaw global warming from the use of fossil fuel (and thought it to be fortunate for Northern Europe) to James E. Hansen the climate scientist who, in historic Senate testimony on June 23, 1988, gave clear warning of the greenhouse effect that was changing the earth's climate.
The Intergovernmental Panel on Climate Change was established later that year, although the Montreal Protocol a year earlier had set the stage.  The Fifth IPCC Assessment was published in 2014 and the next one is due in 2022.  Yet, what have we learned?
On July 19, 2018, the House of Representatives passed a non-binding resolution, H.Con.Res.119, denouncing a carbon tax as detrimental to the U.S. economy.  As we march to climate self-destruction, the president wants to increase the use of coal and has withdrawn from the Paris Agreement.
So there we are …  the ostrich syndrome in full effect.
To beat hunger and combat climate change, world must 'scale-up' soil health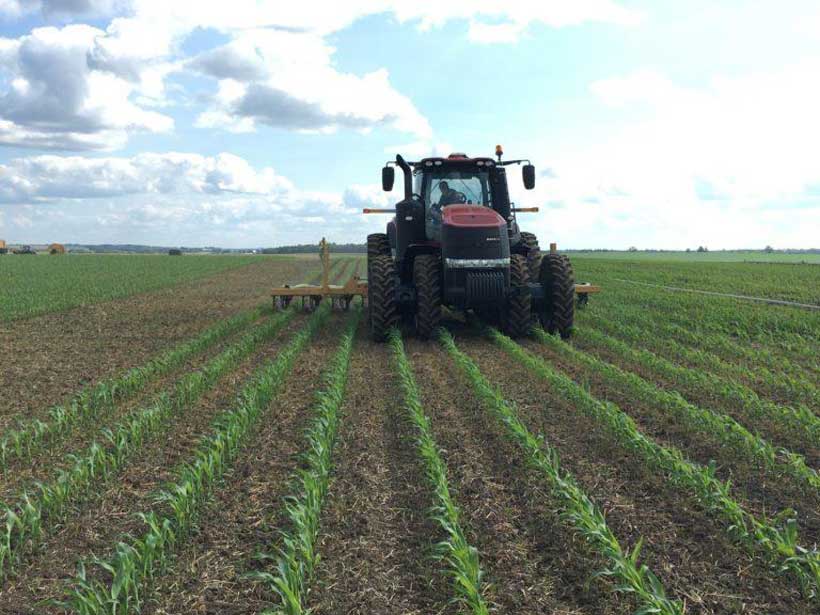 Healthy soils are essential to achieve 'Zero Hunger' – and other Sustainable Development Goals (SDGs) – peace and prosperity, the United Nations agriculture agency chief underscored in Brazil at the World Congress of Soil Science.
On Sunday, more than 2,000 scientists gathered in Rio de Janeiro under the theme "Soil Science: Beyond food and fuel," for a week of exploring the increasingly complex, diverse role of soils; grappling with resilient agriculture practices to address environmental and climatic changes; and confronting threats to food security and sovereignty.
"Soil degradation affects food production, causing hunger and malnutrition, amplifying food-price volatility, forcing land abandonment and involuntary migration-leading millions into poverty," said José Graziano da Silva, the Director-General of the Food and Agriculture Organizaation (FAO), in a video message noting that approximately one-third of the Earth's soil is degraded
The FAO The Status of the World's Soil Resources report had identified 10 major threats to soil functions, including soil erosion, nutrient imbalance, acidification and contamination.
Mr. Graziano da Silva stressed the importance of sustainable soil management as an "essential part of the Zero Hunger equation" in a world where more than 815 million people are suffering from hunger and malnutrition.
Soils and climate change
"Although soils are hidden and frequently forgotten, we rely on them for our daily activities and for the future of the planet," the FAO chief said, underscoring the important support role they play in mitigating or adapting to a changing climate.
Mr. Graziano da Silva specifically pointed to the potential of soils for carbon sequestration and storage – documented in FAO's global soil organic carbon map.
"Maintaining and increasing soil carbon stock should become a priority," asserted the UN agriculture chief.
He also noted how soils act as filters for contaminants, preventing their entry into the food chain and reaching water bodies such as rivers, lakes and oceans, flagging that this potential becomes limited when contamination exceeds the soils' capacity to cope with pollution.
In his message, Mr. Graziano da Silva noted the Global Soil Partnership in which FAO works with governments and other partners to build technical capacity and exchange knowledge on sustainable soil management through the Voluntary Guidelines for Sustainable Soil Management.
"Let us make soils a vehicle of prosperity and peace, and show the contribution of soils to achieve the Sustainable Development Goals," concluded the FAO Director-General said.