Srebrenica vs the world's hidden genocides
What is genocide? According to the dictionary, it is the "murder of a whole group of people, especially a whole nation, race, or religious group".
By that definition British rule in India; the Spanish conquest of South America; the British colonisation of America and Australia; the Jewish Holocaust in Germany; the Islamic conquest of India; the 1914 murder of one million Armenians by Turkey; the 1971 murder of three million Bengalis by Pakistan within the span of a single year; and the Hutu massacre of Rwanda in 1994 would certainly qualify as genocide.
However, the killings of an alleged 8000 Bosnian Muslim men by Serbs in Srebrenica in the former Yugoslavia cannot be called genocide. Let's not forget that these men were combatants in a vicious war where the participants – Serbs, Croats and Bosnians – were all guilty of war crimes. Also, coming from the West the number is most likely inflated and needs to be taken with a healthy dose of caution.
Secondly, while there's no dispute that Bosnian males were killed in the war zone, it is also true the Serbs spared the non-combatants. Between 25,000 and 30,000 women, children and elderly Bosnian Muslims were evicted from Srebrenica without bloodshed. Considering the scale of atrocities committed by all sides during the Yugoslav civil war, the Serbs acted with admirable restraint.
According to Diana Johnstone, an American political writer based in Paris, "There was a massacre of prisoners, whose proportions are disputed. That was a war crime. But it was not genocide. When your victims are military age men and you spare women and children, that cannot be genocide by any sensible definition."
The Serbians are being targeted because they are pro-Russia. It's as simple as that. "Serbia was seen as a potential Russian ally in the region, as the Serbs are Orthodox Christians, and so that was the reason it was targeted," Johnstone says. "The story was that Orthodox Christians are the bad guys and the Muslims are the good guys. And that's been a constant US strategy for the last several decades."
The West's definition of genocide is not just phony but is constantly modified to suit different situations. The tribunal the western power set up for the former Yugoslavia was clearly ordered to go after the Serbs. And indeed, it claimed – quite bizarrely – that because the Bosnian Muslims of Srebrenica had a patriarchal society, therefore killing the men was a localised genocide.
But the tribunal's far-fetched explanation is tailored to suit the likes of the US, UK, Spain and Germany – countries responsible for countless genocides through the centuries. These countries are now acting as judge, witness and executioner in the Srebrenica case.
Intervention happy
Is western interventionist ideology tailored to highlight alleged human rights abuses in some countries and ignore them in others? The answer is both yes and no.
Yes, the West is keen to trumpet human rights abuses in countries that are not in sync with its master plan for global domination. That is an admirable tenet of Machiavellian geopolitics. But there's another, more insidious, reason. It is because the scale of their own crimes is so staggering that western nations quickly latch on to other countries' internal problems.
For instance, during their 200-year rule in India, the British killed at least 60 million Indians. In Australia, settlers – the more accurate word is invaders – from Britain erased Aboriginal civilisation. Ward Churchill's book 'Indians Are Us? Culture and Genocide in Native North America' says more than one hundred million Native American people were "eliminated" in the course of Europe's ongoing "civilization" of the Western Hemisphere.
That number could well be an understatement. In 1492 when Christopher Columbus took an island that he renamed Espanola (today Haiti and the Dominican Republic), the place was populated by more than 8 million native Taino people. Four years later, the Taino were reduced to three million. By 1514 the island had barely 22,000 of them; only two hundred were recorded in 1542. The Taino soon became history.
In other words, Spain alone killed more people than 57 Hiroshima bombs – in one generation, in a tiny corner of the Americas.
In Texas, which was much larger, "an official bounty on any native scalps was maintained until well into the 1870s. The result was that the indigenous population of this state, once the densest in all of North America, had been reduced to near zero by 1880.
By the end of the 19th century, writes David E. Stannard, a historian at the University of Hawaii, Native Americans had undergone the "worst human holocaust the world had ever witnessed, roaring across two continents non-stop for four centuries and consuming the lives of countless tens of millions of people".
According to Lenore Stiffarm and Phil Lane, "There can be no more monumental example of sustained genocide – certainly none involving a 'race' of people as broad and complex as this – anywhere in the annals of human history."
British genocide in India
The Bengal Famine of 1943-44 can be classified as the greatest disaster in the subcontinent in the 20th century. Nearly 4 million Indians died because of an artificial famine created by the British government. This is an extremely conservative figure based on British data and Indian sources put the real figure at 7-8 million.
What is remarkable about the scale of the disaster is its time span. World War II was at its peak and the Germans were rampaging across Europe, targeting Jews, Slavs and the Roma for extermination. It took Adolf Hitler and his Nazi cohorts 12 years to round up and murder 6 million Jews, but their Teutonic cousins, the British, managed to kill almost between 4 and 8 million Indians in just over a year, with Prime Minister Winston Churchill cheering from the sidelines.
Australian biochemist Dr Gideon Polya has called the Bengal Famine a "manmade holocaust" because Churchill's policies were directly responsible for the disaster. Bengal had a bountiful harvest in 1942, but the British started diverting vast quantities of food grain from India to Britain, contributing to a massive food shortage in the areas comprising present-day West Bengal, Odisha, Bihar and Bangladesh.
Author Madhusree Mukerjee tracked down some of the survivors and paints a chilling picture of the effects of hunger and deprivation. In Churchill's Secret War, she writes: "Parents dumped their starving children into rivers and wells. Many took their lives by throwing themselves in front of trains. Starving people begged for the starchy water in which rice had been boiled. Children ate leaves and vines, yam stems and grass. People were too weak even to cremate their loved ones."
"No one had the strength to perform rites," a survivor tells Mukerjee. "Dogs and jackals feasted on piles of dead bodies in Bengal's villages." The ones who got away were men who migrated to Calcutta for jobs and women who turned to prostitution to feed their families. "Mothers had turned into murderers, village belles into whores, fathers into traffickers of daughters," writes Mukerjee.
By 1943 hordes of starving people were flooding into Calcutta, most dying on the streets. Even the Anglophile Jawaharlal Nehru was moved to comment that the sight of well-fed white British soldiers amidst this apocalyptic landscape was "the final judgement on British rule in India".
Churchill could easily have prevented the famine. His excuse — currently being peddled by his family and supporters — was Britain could not spare the ships to transport emergency supplies. But Mukerjee has unearthed documents that challenge his claim. She cites official records that reveal ships carrying grain from Australia bypassed India on their way to the Mediterranean.
Churchill's hostility toward Indians has long been documented. At a War Cabinet meeting, he blamed the Indians themselves for the famine, saying they "breed like rabbits". His attitude toward Indians may be summed up in his words to Amery: "I hate Indians. They are a beastly people with a beastly religion." On another occasion, he insisted they were "the beastliest people in the world next to the Germans".
Late Victorian Holocausts
To be sure, Churchill's policy towards famine-stricken Bengal wasn't any different from that of earlier British despots in India. In 'Late Victorian Holocausts', Mike Davis points out that here were 31 serious famines in 120 years of British rule compared with 17 in the 2,000 years before British rule.
In his book, Davis tells the story of the famines that killed up to 29 million Indians. These people were, he says, murdered by British State policy. In 1876, when drought destituted the farmers of the Deccan plateau, there was a net surplus of rice and wheat in India. But the Viceroy, Robert Bulwer-Lytton, insisted that nothing should prevent their export to England.
In 1877 and 1878, at the height of the famine, grain merchants exported record quantities of grain. As the peasants began to starve, government officials were ordered "to discourage relief works in every possible way". The only relief permitted in most districts was hard labour, from which anyone in an advanced state of starvation was turned away. Within these labour camps the food given to workers was less than the daily calorie intake of Jewish inmates of Buchenwald, the Nazi concentration camp of World War II.
Even as millions died, Lytton ignored all efforts to alleviate the suffering of millions of peasants in the southern Indian and concentrated on preparing for Queen Victoria's investiture as Empress of India. The highlight of the celebrations was a week-long feast at which 68,000 dignitaries heard her promise the nation "happiness, prosperity and welfare".
In 1901, The Lancet estimated that at least 19 million Indians had died in western India during the famine of the 1890s. The death toll was so high because the British refused to implement famine relief.
So it's hardly surprising that Hitler's favourite film was The Lives of a Bengal Lancer, which showed a handful of Britons holding a continent in thrall. The Nazi leader told the then British Foreign Secretary Edward Wood (Earl of Halifax) that it was one of his favorite films because "that was how a superior race must behave and the film was compulsory viewing for the SS".
1857: An untold holocaust
After the First War on Independence in 1857, in which most of India rose against British rule, the British killed up to 10 million Indians in savage reprisals. In War of Civilisations: India AD 1857, Amaresh Misra, a writer and historian based in Mumbai, says the British pursued a murderous decade-long campaign to wipe out millions of people who dared rise up against them.
Misra argues there was an "untold holocaust" which caused the deaths of 10 million people over 10 years beginning in 1857. Conventional histories have counted only 100,000 Indian soldiers who were slaughtered in savage reprisals, but none have tallied the number of rebels and civilians killed by British forces.
"It was a holocaust, one where millions disappeared. It was a necessary holocaust in the British view because they thought the only way to win was to destroy entire populations in towns and villages. It was simple and brutal. Indians who stood in their way were killed. But its scale has been kept a secret," Misra told the Guardian.
The real war criminals
Clearly, when it comes to war crimes the Serbians are way down the pecking order. Russia was therefore right in vetoing the UN Resolution in July that attempted to accuse the Serbs of genocide.
In fact, we'd like to see some balance here. So how about the West first condemns the genocide of Native American, Indian and Aborigine populations? How about booking Henry Kissinger for war crimes? Or at least withdrawing his Nobel Peace Prize, which the American was given shortly after he ordered the napalam bombing of Vietnamese civilians.
You get the picture. If the laws that convicted Saddam Hussein and Serbian leaders are applied fairly, then every American and British leader would have to be executed.
UK-US relations: Challenges ahead
The past few days have been witness, to some important statements made in the context of the Joint Comprehensive Program for Action (JCPOA) — also referred to as the Iran Nuclear deal. US allies, including the UK and some EU member states do not seem to be in agreement with the US President's Iran policy in general, and his inclination towards scrapping JCPOA altogether.
Boris Johnson's interviews and his comments on the JCPOA
In an interview to the BBC on January 14, 2020, British PM, Boris Johnson stated, that the JCPOA, could be renegotiated, and seemed to be accommodative towards Trump. Said Johnson:
'Let's work together to replace the JCPOA and get the Trump deal instead'.
Johnson's remarks came a day after UK, Germany and France had issued a joint statement, stating that all three countries were totally in favor of keeping the JCPOA alive.UK Germany and France had also said, that they were keen to ensure, that the nuclear non -proliferation regime is kept intact, and Iran is prevented from developing nuclear weapons.
Earlier, in a telephonic conversation, last week, with the UK PM, US President Donald Trump, had told Johnson, that the deal was 'foolish', and other signatories should also walk out of it.
During the course of his interview with the BBC, which happened to be the first interview with the media, after the victory of the Conservative Party in the recent general elections. Johnson, while having a dig at Trump, said that the US President thought himself of as a good negotiator, as did many others.
Johnson also made the point, that the current deal, had been negotiated by Trump's predecessor, Barack Obama, and alluded to the point, that this was one of the key reasons, why Trump wanted to renegotiate the JCPOA.
Members of Johnson's cabinet and their comments on the Iran deal
UK Foreign Secretary, Dominic Raab, while criticizing Iran for failing to meet with the compliances related to the JCPOA, also stated, that the UK is keen to keep the deal intact.
Before Raab, another member of Johnson's cabinet, the British Defence Secretary, Ben Wallace had also indulged in some straight talk, lambasting the Trump administration for its increasingly isolationist approach towards global issues, and Trump's tendency of taking Washington's allies for granted. Wallace had also stated, that US support for UK's coalition should not be taken for granted.
Responses of Trump and Rouhani to Johnson's remarks
US President, Donald Trump's response, to Johnson's suggestion, regarding a fresh JCPOA was predictable, and welcomed the British PM's proposal.
In the meanwhile, Iranian President Hassan Rouhani in an aggressive address, on January 15, 2020, where he lashed out at the EU and UK, said, that all Trump knew, was violation of contracts, so there was no question of a new Iran deal.
UK-US relations
Interestingly, Johnson in his interview to the BBC, had also said, that there was no real need for the UK to have been informed in advance by the US, with regard to the killing of Iranian General Qasem Soleimani. It would be pertinent to point out, that not just members of the Labor Party, but even a senior Tory MP Tom Tugendhat, also a former chairman of the Commons Foreign Affairs Committee, criticized the US for not consulting the UK.
This brings us, to another important point. While Johnson's main challenge is perceived to be the withdrawal of UK, from the EU by January 31, 2020. There are likely to be important differences between Washington and London over dealing with Iran. A close advisor of US President Donald Trump, has already stated, that if Johnson wants a UK-US Free Trade deal, UK should immediately pull out of the Iran deal. Richard Goldberg, who until recently was a member of the White House national security council (NSC) expressed these views while speaking to BBC.
US-UK FTA and Trump's support for the same
Trump has been in favor of a Free Trade Agreement (FTA) with UK (which happens to be the 5th largest trading partner of the US) for some time. In fact, in his congratulatory tweet to Boris Johnson after his victory in December 2019, Trump had said that Britain and the U.S. will now be able to forge a significant new Trade Deal after Brexit.
At the G7 Summit in 2019, Trump had spoken about how the US would sign a path breaking trade deal with the UK, post Brexit. It has been argued, that while the Conservative lobby, in the US-UK, which has been in favor of bilateral FTA, there are lobbies in both countries, which are fervently opposed to such an idea.
It also remains to be seen, whether the Trump Administration is serious, about imposing conditionalities on UK regarding the FTA — such as, supporting the US stance vis-à-vis Iran. Given the reactions by some members of Boris Johnson's cabinet (to Trump's handling of the Iran issue), it is tough to really predict the UK's reaction.
Not just Iran, US-UK also differ over Huawei
Apart from the Iran issue, one issue which could act as an impediment to further consolidating economic and strategic relations between US and UK could be use of equipment of Chinese tech giant, Huawei, by UK for the development of next-generation 5G wireless networks.
Johnson's predecessor, Theresa May had stated, that non-core technology of 5G were acceptable, while core parts would be banned. At a meeting of the National Security council (NSC) in 2019, some of May's colleagues including — Jeremy Hunt, then Foreign secretary, Sajid Javid, then Home Secretary (now treasury secretary), Gavin Williamson, then Defense Secretary, and Penny Mordaunt, then international development secretary — had opposed May's decision. Interestingly, Williamson had been sacked for allegedly leaking the proceedings of the meeting.
Johnson's approach towards Huawei
In the interview to BBC, Johnson stated, that he did not want to jeopardize cooperation with any of the other "5 Eyes Intelligence alliance partners" (Australia, Canada, New Zealand and the US are the other members of this network, apart from the US). While hinting at the US stand on Huawei, Johnson said, that those criticizing one technology also needed to provide an alternative.
Differences between US and other allies over other crucial economic and strategic issues
It is not just UK, but other allies like India which would be closely watching Trumps approach on crucial geo-political issues. For instance, while earlier US had stated, that it would get a waiver from CAATSA (Countering America's Adversaries Through Sanctions Act), even if it went ahead with the purchase of S400 Missiles from Russia (India and Russia had signed an agreement in October 2018 during Russian President, Vladimir Putin's . Only recently, a State Department Spokesman while commenting on the waiver to India stated that there was no blanket waiver from the side of the US Administration. Of course later, the State Department Spokesperson did clarify, that US views these issues on a case by case basis.
Conclusion
If one were to look at the scenario for bilateral relations between UK and US (defined as a 'special relationship' first by Winston Churchill in 1946) there are numerous challenges.
There is a tendency, to oversimplify bilateral relationships to personal chemistry of leaders, and ideological inclinations as in the case of Johnson and Trump. There are likely, to be a number of obstacles which may come in the way of the bilateral relationship (differences over crucial geo-political and economic issues as discussed above). In addition to this, there is a note of caution for other allies like EU member states (especially Germany and France), Canada, Japan which have already born the brunt of Trump's insular economic policies, and his myopic and transaction approach towards complex geo-political issues.
Why Warsaw denies historical facts about World War II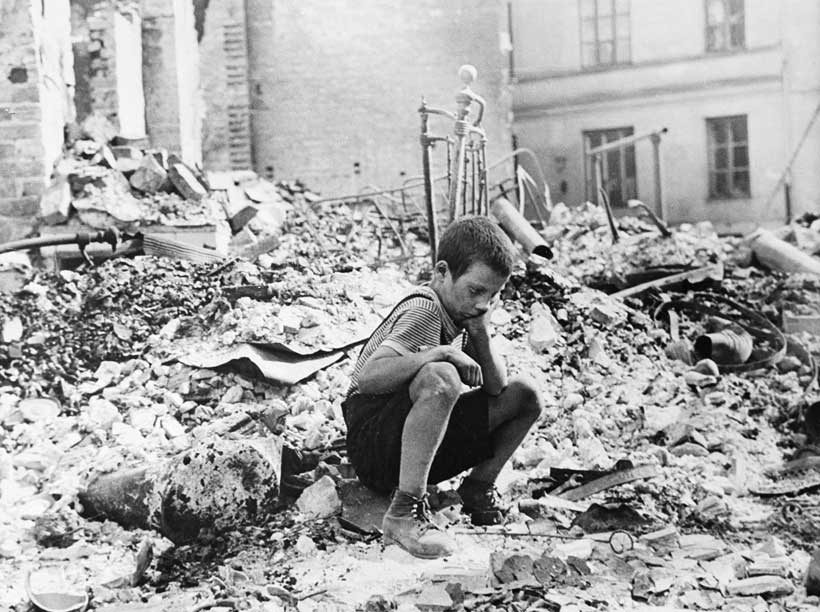 The painful and conflicting reaction on the part of Warsaw following President Vladimir Putin's statement that Poland bears partial responsibility for inciting the Second World War can be explained not only by following the policy adopted by post-Socialist Poland as an ideological weapon.
The practical implementation of historical policy is the responsibility of the Polish Institute of National Memory (PINM), which followed the Polish Foreign Ministry in voicing a protest against the well-grounded accusations against Poland. What is behind Warsaw's denial of historical facts?
In recent years PINM has built a weighty and largely unrealistic ideology of Poland making numerous sacrifices in the years of the Second World War. This ideology is currently used to shape Warsaw's foreign policy. The geographical and historical position of Poland, located between Germany and the Russian Empire / Soviet Union / Russian Federation, is the subject of many works by the founders of "Polish geopolitics" and political publicists (Adolf Bochensky, Vladislav Gizbert-Studnitsky, Stanislav Tsat-Matskevich, etc.).
Warsaw uses the idea of its special relations with Berlin and Moscow to secure the intransient unilateral right to represent the interests of collective West, thereby remaining in the diplomatic game. Relying on the fictional cult of its sacrifice, Poland sort of emphasizes what it sees as the political insight in its relations with Germany and Russia. What for?
The role of a World War II victim makes it easier for Poland to claim its share of influence in the post-Soviet space than if it was a culprit. Poland's debate about the causes and circumstances of World War II has nothing to do with official statements compared to historical facts – it's a kind of struggle for its international status, which Poland can strengthen only by narrowing the world-wide tragedy of World War II to the level of its own national tragedy the blame for which is put on the Soviet Union in connection with the Molotov-Ribbentrop Pact. And the political game does not end here.
"… Polish attempts to strike at the foundations of the national and historical identity of the Russian Federation are an element of aggression in the symbolic sphere – this is how Moscow can interpret them. Tolerance and stamina demonstrated by the Russian Federation in the face of provocative moves taken by the incumbent Polish leadership are truly impressive," – said Andrzej Walicki, a leading Polish expert on Russia.
Not long ago, there appeared US Congress Resolution No. 447, which is relative to the role of Poland in World War II. This draft law empowers victims of the Holocaust to claim compensation for property they lost during the war on the territory of Poland and enables the U.S. State Department to support non-governmental organizations involved in the restitution of lost Jewish property. Naturally, Warsaw is not happy about the decision, which it sees as a precedent that will require the Poles to compensate the Jews for property damage. In addition to financial problems (the total value of property subject to Resolution No. 447 is $ 230 billion), this measure by the US Congress, if implemented, will entail the same ideological problems making Poland one of the culprits of World War II. The amendments to the PINM law adopted in Poland on January 26, 2018 envisage punishment for claiming that the Poles assisted in the Holocaust. They thus aim to suppress a possible wave of accusations and prohibit any attempts to compare the past acts of Poland with crimes of the Third Reich.
Both Res. No. 447 and the amendments to the PINM Law have a moral aspect to reckon with. Warsaw is fully aware that the position of Poland in Central and Eastern Europe and its image in the world depend on this issue. Despite Poland's long-standing pro-American policy in Europe, the ruling Law and Justice Party (LJP) has pronounced Res. 447 a mechanism of political pressure from Washington to secure certain concessions from Warsaw.
The law had a certain impact on domestic politics, triggering criticism of the LJP from opposition parties. The rating of the Law and Justice Party was saved thanks to a powerful informational counterattack performed by the PINM, which was aimed at the Polish consumer in the first place.
What Warsaw fears most is that random discussions about Poland's involvement in the fueling of World War II will turn into a systematic long-term information campaign in which Res. No. 447 and facts from the past, so unwelcome for Poland, will complement each other.
Ideologically, the Polish political history is far from flawless and is in an active phase due to lack of information influence from the outside. Under certain circumstances, it can be assumed that the discourse over the Second World War may form an ideological configuration disadvantageous for Warsaw. And this is what causes such a controversial and cynical reaction from Warsaw.
Russian Foreign Ministry spokesperson Maria Zakharova says that by adopting a resolution on Germany and the USSR sharing responsibility for the outbreak of the war, the Polish Sejm demonstrates how ideology is put above the truth. Zakharova also made it clear that the truth was recorded in the documents of the Nuremberg Tribunal. If the Polish Sejm doubts the decisions of the tribunal, she said, they must make a statement to this effect. In this case, it will be considered an attempt to review the results of the Second World War.
From our partner International Affairs
De-evolution of Europe: The equation of Communism with Nazism
It was indeed cynical and out-of-touch for the EU (Parliament) to suddenly blame, after 80 years, the Soviet Union for triggering WWII. It is unwise (to say least) to resurrect the arguments surrounding the circumstances of the start of World War II. The historians have agreed, the history has been written and well documented, and is in our books already for many decades.
There is no point in contemporary politicians of eastern flank of the EU (with a striking but complicit silence from the central Europe) pushing up the facts regarding who was to blame. There are neither mandated, nor qualified or even expected to do so.
Nazi Germany, Imperial Japan, Mussolini 's Italy and its satellites (helped by the ring of Useful Idiots, then called Quislings) were the culprits and that is universally accepted with no exception. It is now all in the past. Let us leave it there and not in the 21st century which has severe multiplying challenges, especially for the EU, that are still waiting to be tackled.
Enveloped in its own myopia of economic egoism and überfremdung phobia, Europeans are in fact digging and perpetuating defensive self-isolation. While falling short to constructively engage its neighborhood (but not conveniently protected by oceans for it like some other emigrant-receiving countries), Europeans constantly attract unskilled migrants from that way destabilized near abroad. The US, GCC, Far East, Australia, Singapore, lately even Brazil, India, or Angola – all have enormously profited from the skilled newcomers. Europe is unable to recognize, preserve, protect and promote its skilled migrants.
Simply, European history of tolerance of otherness is far too short for it, while the legacies of residual fears are deep, lasting and wide. Destructive efforts towards neighbors and accelatered hatreds for at home are perpetually reinforcing themselves. That turns Europe into a cluster of sharply polarized and fragmented societies, seemingly over history and identity, but essentially over the generational and technological gap, vision and forward esteem.
One of the latest episodes comes from a recent political,and highly ahistorical,initiative to make an equation of communism with Nazism. Driven by the obsessive Russophobe notion, this myopic short-term calculusmay bring disastrous long-term consequences – first and most of all for the Slavic Eastern/southeastern Europe, as well as to the absent-minded Scandinavian Europe, or cynically silent Central Europe.
Needleless to say, consensus that today's Europe firmly rests upon is built on antifascism. This legacy brought about prosperity and tranquility to Europe unprecedented all throughout its history. Sudden equation of communism with Nazism is the best and fastest way to destroy very fundaments of Europe once for good.
One is certain, the EU-led Europe is in a serious moral and political crisis of rapid de-evolution. Let's have a closer look.
Una hysteria importante
History of Europe is the story of small hysteric/xenophobic nations, traditionally sensitive to the issue of ethnic, linguistic, religious, and behavioristic otherness. If this statement holds the truth, then we refer to events before and after the Thirty Years' War in general and to the post-Napoleonic Europe in particular. Political landscape of today's Europe had been actually conceived in the late 14th century, gradually evolving to its present shape.
At first, the unquestioned and unchallenged pre-Westphalian order of Catholicism enabled the consolidation and standardization of the feudal socio-economic and politico-military system all over the Europe. However at its matured stage, such a universalistic world of Holy Roman Empire and Papacy (Caesaropapism) is steadily contested by the explicitly confrontational or implicitly dismissive political entities, be it ideologically (the Thirty Years' War culminating with the Peace of Westphalia) or geopolitically (Grand Discoveries and the shift of the gravity center westwards). The early round of colonizers, the two Iberian empires of Spain and Portugal, are the first entities that emerged, followed by France, Holland, England and Denmark. (Belgium too, although it appeared as a buffer zone at first – being a strategic depth, a continental prolongation of England for containment of Central Europeans, of Dutch and Scandinavians from the open sea, while later on also becoming a strategic depth of France for balancing Britain and containment of Denmark and Prussia.)
Engulfed with the quest of the brewing French revolution for the creation of a nation state, these colonizers, all of them situated on the Atlantic flank of Europe, have successfully adjusted to the nation-state concept. Importantly, the very process of creation/formation of the nation-state has been conducted primarily on linguistic grounds since religious grounds were historically defeated once and for all by the Westphalia.[1] All peoples talking the Portugophone dialects in one state, all Hispanophone dialects in another state, all Francophone dialects in the third state, etc.[2] This was an easy cut for peripheral Europe, the so-called old colonizers on the Atlantic flank of Europe, notably for Portugal, Spain, France, England, Denmark, the Netherlands, and Sweden.
Although geopolitically defeated at home, in France, and ideologically contained by the Vienna Congress and its instrument – the Holy Alliance of Eastern Conservative Courts, the very idea of a nation-state remained appealing. Both of that-time federations of theocracies (the non-territorial principle-based Habsburg and the Ottoman empires) were inevitably corroding by two 'chemical' precursors: secularism (enlightenment) and territoriality. Once the revolutionary 1848 ousted the principal guardian of feudalism and Rimo-Christian orthodoxy in Europe, Metternich, the suppressed concept got further impetus. And, the revolutionary romance went on…
Interestingly, the very creation of Central Europe's nation-states was actually enhanced by Napoleon III. The unification of Italophones was his, nearly obsessive, intentional deed (as he grew up in Nice with Italian Carbonari revolutionaries who were fighting papal and Habsburg's control over the northern portions of today's Italy). Conversely, the very unification of Germanophones under the Greater Prussia was his non-intentional mis-chief, with the two subsequently emerging 'by-products'; modern Austria (German-speaking core assembled on the ruins of mighty multinational and multi-lingual empire) and modern Turkey (Turkophone core on the ruins of mighty multiracial and multi-linguistic empire).
Despite being geographically in the heart of Europe, Switzerland remained a remarkably stable buffer zone: Highly militarized but defensive and obsessively neutral, economically omnipresent yet financially secretive, it represents one confederated state of two confronting versions of western Christianity, of three ethnicities and of four languages. Absent from most of the modern European politico-military events – Switzerland, in short – is terra incognita.
Historically speaking, the process of Christianization of Europe that was used as the justification tool to (either intimidate or corrupt, so to say to) pacify the invading tribes, which demolished the Roman Empire and brought to an end the Antique age, was running parallel on two tracks. The Roman Curia/Vatican conducted one of them by its hammer: the Holy Roman Empire. The second was run by the cluster of Rusophone Slavic Kaganates, who receiving (the orthodox or true/authentic, so-called Eastern version of) Christianity from Byzantium, and past its collapse, have taken over a mission of Christianization, while forming its first state of Kiev Russia (and thereafter, its first historic empire). Thus, to the eastern edge of Europe, Russophones have lived in an intact, nearly a hermetic world of universalism for centuries: one empire, one Tsar, one religion and one language.[3]
Everything in between Central Europe and Russia is Eastern Europe, rather a historic novelty on the political map of Europe. Very formation of the Atlantic Europe's present shape dates back to 14th–15th century, of Central Europe to the mid-late 19th century, while a contemporary Eastern Europe only started emerging between the end of WWI and the collapse of the Soviet Union – meaning, less than 100 years at best, slightly over two decades in the most cases. No wonder that the dominant political culture of the Eastern Europeans resonates residual fears and reflects deeply insecure small nations. Captive and restive, they are short in territorial depth, in demographic projection, in natural resources and in a direct access to open (warm) seas. After all, these are short in historio-cultural verticals, and in the bigger picture-driven long-term policies. Eastern Europeans are exercising the nationhood and sovereignty from quite a recently, thus, too often uncertain over the side and page of history. Therefore, they are often dismissive, hectic and suspectful, nearly neuralgic and xenophobic, with frequent overtones.
The creation of a nation-state (on linguistic grounds) in the peripheral, Atlantic and Scandinavian, as well as Central Europe was relatively a success-story. However, in Eastern Europe it repeatedly suffered setbacks, culminating in the Balkans, Caucasus and the Middle East. The same calamity also remained in the central or Baltic part of Eastern Europe.[4]
Keeping the center soft
Ever since Westphalia, Europe maintained the inner balance of powers by keeping its core section soft. Peripheral powers like England, France, Denmark, (early Sweden and Poland to be later replaced by) Prussia and Habsburgs, and finally the Ottomans and Russia have pressed on and preserved the center of continental Europe as their own playground. At the same time, they kept extending their possessions overseas or, like Russia and the Ottomans, over the land corridors deeper into Asian and MENA proper. Once Royal Italy and Imperial Germany had appeared, the geographic core 'hardened' and for the first time started to politico-militarily press onto peripheries. This new geopolitical reality caused a big security dilemma. That dilemma lasted from the 1814 Vienna congress up to Potsdam conference of 1945, being re-actualized again with the Berlin Wall destruction: How many Germanies and Italies should Europe have to preserve its inner balance and peace?[5]As the latecomers, the Central Europeans have faced the overseas world out of their reach, as clearly divided into spheres of influence solely among the Atlantic Europeans (and Russians).
In rather simplified terms, one can say that from the perspective of European belligerent parties, both world wars were fought between the forces of status quo and the challengers to this status quo. The final epilogue in both wars was that Atlantic Europe has managed to divert the attention of Central Europeans from itself and its vast overseas possessions onto Eastern Europe, and finally towards Russia.[6]
Just to give the most illustrative of many examples; the Imperial post-Bismarck Germany has carefully planned and ambitiously grouped its troops on the border with France. After the assassination of the Austrian Archduke in Sarajevo (28 June 1914), Europe was technically having a casus belli – as the subsequent mutually declared war between all parties quickly followed this assassination episode and the immediate Austrian ultimatum to Serbia. However, the first armed engagement was not taking place on the southeastern front, as expected – between the Eastern belligerent parties such as Austria, Serbia, Russia, the Ottomans, Greece, Bulgaria, etc. The first military operations of WWI were actually taking place in the opposite, northwest corner of Europe – something that came only two months past the Austrian ultimatum to Serbia. It was German penetration of Belgian Ardennes.
Still, the very epilogue of la Grande Guerra was such that a single significant territorial gain of Germany was achieved only in Eastern Europe. Despite a colossal 4-years long military effort, the German western border remained nearly unchanged.
The end of WWI did not bring much of a difference. The accords de paix – Versailles treaty was an Anglo-French triumph. These principal Treaty powers, meaning: Atlantic Europe, invited Germany to finally join the League of Nations in 1926, based on the 1925 Treaty of Locarno. By the letter of this treaty, Germany obliged itself to fully respect its frontiers with Belgium and France (plus demilitarized zone along Rhine) with the unspecified promise to arbitrate before pursuing any change of its borders with Czechoslovakia and Poland. The same modus operandi applied to the Austrian borders with Italy, Yugoslavia, Hungary and Czechoslovakia. The Locarno accord actually instrumentalized two sorts of boundaries around Central Europe (Germany–Austria): strict, inviolable ones towards Atlantic Europe; but semipermeable and soft towards Eastern Europe.[7]
That is how the predominant player from Central Europe, Germany, was accepted to the League, a collective system which the Soviet Russia (meaning: Rusophone Europe) was admitted to only a decade later (1934).
Soon after, this double standard sealed-off a faith of many in Europe and beyond.

---
[1]To be more accurate: Westphalia went beyond pure truce, peace and reconciliation. It re-confirmed existence of western Christianity's Ummah. Simply, it only outlawed meddling into the intra-western religious affairs by restricting that-time absolute Papal (interpretative) powers. From that point of view, Westphalia was not the first international instrument on religious freedoms, but a triumph of western evangelic unity. This very unity later led to the strengthening of western Christianity and its supremacy intercontinentally.
[2] All modern European languages that are taught in schools today, were once upon a time, actually a political and geographic compromise of the leading linguists, who – through adopted conventions – created a standard language by compiling different dialects, spoken on the territory of particular emerging nation-state.
[3]Early Russian state has ever since expanded north/northeast and eastward, reaching the physical limits of its outreach by crossing the Bering straits (and the sale of Russian Alaska to the USA in 1867). By the late 17th and early 18th century, Russia had begun to draw systematically into European politico-military theatre. (…) In the meantime, Europe's universalistic empire dissolved. It was contested by the challengers (like the Richelieu's France and others–geopolitical, or the Lutheran/Protestant – ideological challengers), and fragmented into the cluster of confronted monarchies, desperately trying to achieve an equilibrium through dynamic balancing. Similar political process will affect Russian universal empire only by late 20th century, following the Soviet dissolution. (…) Not fully accepted into the European collective system before the Metternich's Holy Alliance, even had its access into the post-Versailles system denied, Russia was still not ignored like other peripheral European power. The Ottomans, conversely, were negated from all of the security systems until the very creation of the NATO (Republic of Turkey). Through the pre-emptive partition of Poland in the eve of WWII, and successful campaigns elsewhere in Eastern Europe, Bolshevik Russia expanded both its territory and its influence westwards. (…) An early Soviet period of Russia was characterized by isolated bilateral security arrangements, e.g. with Germans, Fins, Japanese, etc. The post WWII days have brought the regional collective system of Warsaw Pact into existence, as to maintain the communist gains in Europe and to effectively oppose geopolitically and ideologically the similar, earlier formed, US-led block. Besides Nixon's rapprochement towards China, the collapse of the Soviet Union was the final stage in the progressive fragmentation of the vast Sino-Soviet Communist block (that dominated the Eurasian land mass with its massive size and centrality), letting Russia emerge as the successor. The sudden ideological and territorial Soviet break-up, however, was followed by the cultural shock and civil disorder, painful economic and demographic crisis and rapidly widening disparities. All this coupled with the humiliating wars in Caucasus and elsewhere, since the centripetal and centrifugal forces of integration or fragmentations came into the oscillatory play. Between 1989 and 1991, communist rule ended in country after country and the Warsaw Pact officially dissolved. Subsequently, the Gorbachev-Jeltsin Russia experienced the greatest geopolitical contraction of any major power in the modern era and one of the fastest ever in history. Still, Gorbachev-Jeltsin tandem managed to (re-)brand themselves domestically and internationally – each got its own label of vodka.
[4] Many would say that, past the peak Ottoman times, the aggressive intrusion of Atlantic Europe with its nation-state concept, coupled with Central Europe's obsessive control and lebensraumquest, has turned lands of a mild and tolerant people, these pivotal intellectual exchange-corridors of southeastern Europe and the Near East into a modern day Balkan powder keg. Miroslav Krleza famously remarked: "It was us humans who transformed our good swine to a filthy pig."
[5] At the time of Vienna Congress, there were nearly a dozen of Italophone states and over three dozens of Germanophone entities – 34 western German states + 4 free cities (Kleinstaaterei), Austria and Prussia. Potsdam conference concludes with only three Germanophone (+ Lichtenstein + Switzerland) and two Italophone states (+ Vatican).
[6] Why did the US join up Atlantic Europe against Central Europe in both WWs? Simply, siding up with Central Europe would have meant politico-military elimination of Atlantic Europe once and for all. In such an event, the US would have faced a single European, confrontation-potent, block of a formidable strategic-depth to engage with sooner or later. Eventually, Americans would have lost an interfering possibility of remaining the perfect balancer. The very same balancer role, the US inherited from the declining Britain.
[7] Farce or not, history of 1914 nearly repeated itself to its last detail in early 1990s. And, it was not for the first time. 25 and again 75 years after 1914 – meaning that 1939. was nearly copied by the events of 9/11 in 1989. Hence, November 1989 was the third time that the western frontiers of Central Europe remained intact, while the dramatic change took place to its East. Besides Anschluss of Eastern Germany by the Western one, borders there in 1990s nominally remained the same, but many former neighbors to Central Europe have one by one disappeared for good from the political map of Eastern Europe.