Iran is ready to boost science diplomacy
Welcome to the Caspian Daily, where you will find the 10 most important things you need to know on Caspian Sea Region. We appreciate ideas, reports, news and interesting articles. Send along to Caspian[at]moderndiplomacy.eu or on Twitter: @DGiannakopoulos
1The Iranian minister of science, research and technology says the Islamic Republic is ready to boost "science diplomacy" with other countries following the removal of anti-Iran sanctions with the implementation of an agreement between the country and the P5+1.Mohammad Farhadi said in an interview with IRNA on Thursday night that Iran has, over the past few months, made arrangements for cooperation with a number of regional and European universities. He said that among the priorities of his ministry in the post-sanctions era is shoring up scientific collaboration with other countries through professor and student exchange programs, holding joint scientific courses, and if necessary, establishing foreign university branches in Iran, including in free zones.
2A landmark gas deal between China and Russia that has been years in the making looks set to be finalized, as the countries prepare to mark the 70th anniversary of victory in World War II."The gas deal looks very likely to be confirmed at the final moment because of its large scale and importance due to international practices," Andrey Denisov, the Russian ambassador to China said, adding that he was sure that there will be an agreement but that the details won't be disclosed until the last minute. In May 2014, after 20 years of negotiations, China and Russia agreed to build a natural gas supply line, known as the "eastern route", that is supposed to deliver 38 billion cubic meters of gas to Beijing and Northeast China annually, starting in 2018. Chen Yurong, an expert with the China Institute of International Studies, said that the Russian ambassador might have been referring to the "western route".Negotiations on the western route, a 2,800-kilometer supply line to deliver 30 billion cubic meters of natural gas annually to China's Xinjiang Ugyur autonomous region over 30 years, began in 2006. [ChinaDaily]
3OSCE Minsk Group plans to organize a meeting between the Armenian and Azerbaijani Foreign Ministers on the sidelines of the UN General Assembly session in September, the group's U.S. Co-chair said. In an interview with Azerbaijani news agency APA, James Warlick stated that the Co-chairs plan to travel to the region, but failed to mention certain dates. He also noted that it is highly necessary to reaffirm the sides' commitment to the peaceful settlement of the Nagorno Karabakh conflict.The American diplomat once again stated that "the return of Artsakh adjacent areas is one of the key elements of negotiations."
4The International Atomic Energy Agency and Kazakhstan signed an agreement on Thursday to locate the world's first bank of low-enriched uranium (LEU) in the ex-Soviet nation to ensure fuel supplies for nuclear power stations and encourage nuclear non-proliferation.The $US150 million ($209 million) bank, containing the raw material for making fuel for nuclear power plants, will be built in Ust-Kamenogorsk in northeastern Kazakhstan. It will be governed by Kazakhstan's laws but will be fully managed and operated by the IAEA.The storage facility, set to become fully operational in 2017, is intended to provide IAEA member states with confidence in a steady and predictable supply of fuel for nuclear power stations even if other supply mechanisms are disrupted.
5Afghan President Ashraf Ghani has discussed trade, economic, energy, and transport cooperation with his visiting Turkmen counterpart, Gurbanguly Berdymukhammedov. The Turkmen state news agency reported that the talks in Kabul on August 27 touched upon the project to build the Turkmenistan-Afghanistan-Pakistan-India (TAPI) gas pipeline.The sides also discussed the construction of a Turkmenistan-Afghanistan-Tajikistan (TAT) railway, which is currently under construction. Ghani's office quoted the Afghan president as saying plans to transfer electricity to Pakistan via Afghanistan were also discussed.
6The evolution of negative Western narrative on Russia. "Russia made significant changes from the Soviet totalitarian system, but instead of acknowledging this progress, Russia is characterized by exploiting misleading historical analogies as 'closed', associated with the KGB, the Soviet Union, 'relentless propaganda', 'government control'. The opinions of the Russian citizens on their political system or their president as well as the actions by the Russian state that do not fit the description of 'dictatorial power' are typically omitted from the Western media coverage. The result of this "selection bias" builds up over time to make an overall negative image of the country and the president" Angela Borozna for OpEdNews.
7Russia and China are developing drones that could make stealth aircraft obsolete. According to Zarchary Keck writing in The National Interest, both Beijing and Moscow have begun development of unmanned aerial vehicles that have the goal of finding, detecting, and possibly even eliminating enemy stealth aircraft. China's stealth detection drone, called the Divine Eagle, is believed to be specially built to counter stealth aircraft while they are still far from the Chinese mainland. Popular Science notes that the drone's "long range anti-stealth capabilities can be used against both aircraft, like the B-2 bomber, and warships such as the DDG-1000 destroyer … the Chinese air force could quickly intercept stealthy enemy aircraft, missiles and ships well before they come in range of the Mainland." The Divine Eagle features multiple different radar systems, including X/UHF low band radar systems, according to Popular Science. These systems could be used to track stealth aircraft like the F-35 at long distances, as most stealth technology is created to avoid high band radar systems, thereby eroding one of the key advantages of the fifth-generation plane. [Business Insider]
8Azerbaijan is one of Italy's main trade partners, Manuela Traldi, Italy-Azerbaijan Trade Institute ITAZERCOM head, said at a presentation entitled "Investments in Azerbaijan: Business Environment and Opportunities." The presentation was held as part of the EXPO-2015 international exhibition in the Italian city of Milan. AZPROMO head Rufat Mammadov made a presentation on the investment environment and business opportunities of Azerbaijan. He informed the participants about the economy of the country and Azerbaijan-Italy economic and trade relations. He said that as a result of the successfully carried out socio-economic policy, Azerbaijan has achieved sustainable economic growth. The country has created a favorable investment and business environment, which led to its becoming a foreign investor.
9Troubles in Russia, China slow Kremlin's pivot to Asia. A growing economic crisis in Russia and a growth slowdown in China that has rattled world markets means about $113 billion worth of joint projects ranging from gas pipelines to power grids have been stalled or delayed.With a major crackdown on corruption also in progress in China, and Russia hit by sanctions, falling oil prices and a collapsing currency, some joint Russian-Chinese projects may be delayed indefinitely, industry sources and analysts say. The developments represent a major challenge to President Vladimir Putin's strategy of a pivot to Asia, spurred last year by the imposition of Western sanctions on Moscow for its role in the Ukraine crisis" Katya Golubkova and Denis Pinchuk for The Japan Times.
10Under the annual military cooperation plan between Azerbaijan and Turkey, a new group of the aircraft of Turkey's Air Force has arrived in Azerbaijan to participate in the TurAz Falcon 2015 exercises being held between the two countries' air forces. More than 30 means of aviation as well as MiQ-29, F-16 fighters jets, Su-25 strike assault, F-4E bomber, C-130 Hercules military transport planes, Mi-35 combat, Mi-17 and Sikorski UH-60 combat transport, Cougar AS532 search and rescue helicopters are participating in the exercises, the Defense Ministry said.
Preparing teachers for the future we want
At its annual meeting in Montego Bay, Jamaica, from 5-9 November, the International Task Force on Teachers for Education 2030 adopted a declaration focused on ensuring that teacher issues stay at the centre of the global education agenda.
Through this declaration, the Teacher Task Force reinforces its vision that at the heart of the right to education is a highly valued, qualified, and well-trained teaching profession. It therefore recommends that:
International partners should intensify efforts to develop robust definitions and classifications of qualified and trained teachers and strengthen cooperation and reporting mechanisms to ensure full monitoring of Sustainable Development Goal target 4c.
Governments should ensure adequate financing for all public goods, including the teacher workforce, and this should be achieved primarily through domestic resource mobilization based on socially just fiscal policies, rigorous measures against corruption and illegal financial flows, efficient and effective teacher policies and deployment practices, developed with the full involvement of teachers and their organisations, and continued focus on external resource mobilization to complement domestic resources for countries.
Moreover, the dual focus of the Education 2030 agenda on equity and learning puts teachers at the heart of policy responses that should foster equal participation and learning globally. Teachers can be an impactful equalizing force to overcome unequal life chances from birth. The massive recruitment of new teachers, particularly in least develop countries, with little or no training is a real cause for concern.
The Teacher Task Force also expressed its concern over the fact that teacher education has not kept pace with preparing new teachers to face the rapid changes in globalization, migration, demographic change, and technological advances that will mark the future of education.
Furthermore, teacher education in this increasing complex world must be forward-looking and prepare teachers who are continuous learners themselves. It must enable teachers to think about the kind of education that is meaningful and relevant to young people's needs in the different 21st century's learning environment.
The Teacher Task Force acknowledges the ever-growing importance of Information and Communication Technologies in education. However, technology should be treated as a supportive tool for teachers and not a replacement. Teacher education should therefore empower teachers to use technologies to support learning within a holistic and human-centred educational framework.
The Teacher Task Force also called attention to the fact that teacher education needs to be seen as career-long education and special attention should be paid to the nature of teachers' professional development, competency frameworks, curriculum development and professional learning communities/communities of practice. As teaching is a knowledge-based profession, teachers and trainers should be supported to continually update their knowledge base.
Through this declaration, the Teacher Task Force advocates for a teacher education that allows teachers to prepare learners to manage change and to be able to shape a just and equitable future, leaving no one behind.
This declaration reflects UNESCO's belief that the right to education cannot be fulfilled without trained and qualified teachers. Teachers are one of the most influential factors to the improvement of learning outcomes and UNESCO has for long been an advocate of better training for teachers to ensure inclusive and quality education for all.
UNESCO, which is one of the founding members of the International Task Force on Teachers for Education 2030, has supported its work since its creation in 2008 and hosts the Teacher Task Force Secretariat.
ADB to Partner on New $4 Million Facility to Help Asia Meet Climate Commitments
The Asian Development Bank (ADB) today announced the launch of the Article 6 Support Facility, a $4 million initiative to help developing member countries (DMCs) in Asia and the Pacific combat climate change through a key provision of the Paris Agreement.
Funded by ADB, the Government of Germany, and the Swedish Energy Agency, the facility will provide technical, capacity building, and policy development support to help the DMCs meet Article 6 of the Paris Agreement, in which countries have voluntarily committed to lower their carbon emissions.
The ultimate goal of the Article 6 Support Facility is for DMCs to achieve critical expertise on Article 6, draw lessons from pilot activities, and enhance their preparedness for participation in carbon markets beyond 2020, while contributing to international negotiations.
The Paris Agreement will go into effect on 1 January, 2020 and aims to limit the increase in the global average temperature to below 2°C.
"This new facility will play an important role in the implementation of the Paris Agreement and we are delighted to be establishing it at this very critical time," says ADB Sustainable Development and Climate Change Department Director General Mr. Woochong Um.
"Climate change is a challenge that must be met on a global level and we are confident that this facility will help deliver the critical practical experience, innovation, and learning necessary for our developing member countries to meet their emissions targets."
The facility is another step by ADB toward meeting its commitment to address climate change, a core part of its long-term strategy, Strategy 2030. The strategy commits ADB to scaling up support to address climate change, climate and disaster risks, and environmental degradation as one of seven operational priorities.
Climate technology collaboration makes an impact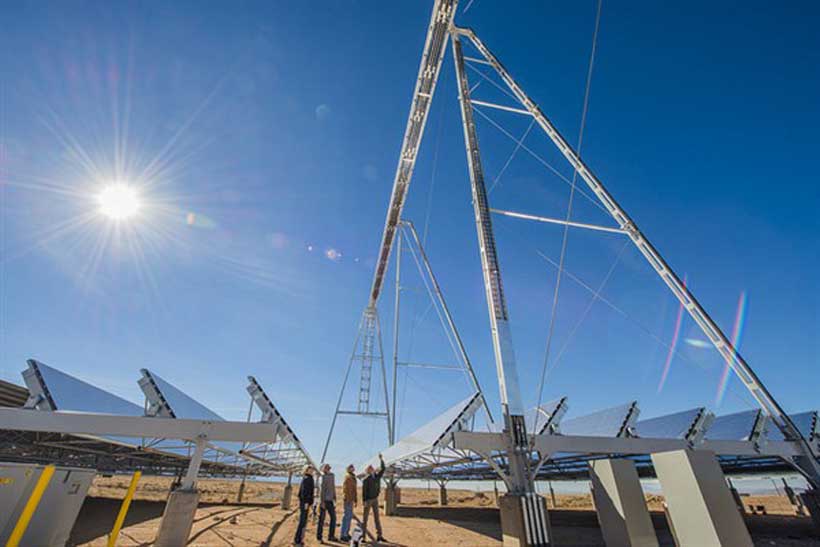 In its Five Year Progress Report, the Climate Technology Centre and Network (CTCN) has announced that 137 technology solutions have been delivered or are under way in 79 countries. Two thousand five hundred people have been trained and over 10 million tonnes of CO₂eq are expected to be reduced per year with the completion of mitigation-related projects.
The CTCN promotes the accelerated development and transfer of climate technologies for energy-efficient, low-carbon and climate-resilient development. It is the implementation arm of the UN Framework Convention on Climate Change (UNFCCC) Technology Mechanism and is hosted and managed by UN Environment and the United Nations Industrial Development Organization (UNIDO).
With an original investment of US$40m, the CTCN's technical assistance has leveraged US$670m in anticipated funding for developing countries' technology implementation.
"Accelerating the deployment of clean and green technologies is crucial for realizing the aims of the Paris Agreement and the Sustainable Development Goals. Over the past five years, the CTCN has served as a powerful example of a UNFCCC mechanism connecting developing countries to the innovative and relevant technologies they seek," said Patricia Espinosa, Executive Secretary of the UNFCCC.
"Over the last five years, the CTCN has provided targeted interventions to help countries meet their national climate change commitments – through its technology assistance, capacity building programmes and knowledge sharing initiatives. UNIDO is proud to support the Centre in its climate technology transfer mission," said LI Yong, Director General of UNIDO.
The country-driven nature of the CTCN, with 160 National Designated Entities identifying climate technology needs based on goals set forth in Nationally Determined Contributions and National Adaptation Plans, is closely aligned with the Paris Agreement.
"Our interventions identify the best possible technology options for climate action, and support policy development and resource mobilization to enhance their uptake. Experience from the last five years has taught us that pairing technology expertise with local knowledge is essential, scalability is important and that relationships matter," emphasized Jukka Uosukainen, Director of the CTCN.
The Climate Technology Centre and Network (CTCN) utilizes the expertise of a global network of over 460 civil society, finance, private sector, and research institutions, to deliver technical assistance and capacity building at the request of developing countries.