Iran will raise exports even if the oil prices fall
Welcome to the Caspian Daily, where you will find the 10 most important things you need to know on Caspian Sea Region. We appreciate ideas, reports, news and interesting articles. Send along to Caspian[at]moderndiplomacy.eu or on Twitter: @DGiannakopoulos
1Iran's Oil Minister Bijan Namdar Zanganeh said that Iran will not give up its quota in OPEC and its share in world market.Speaking on Iranian State TV Aug. 26, Zanganeh said Iran will raise exports even if the oil prices fall."The Islamic Republic of Iran will by no means ignore its quota in OPEC and the world oil market. We have no problem with slashing of oil prices on the global market because we can double our oil exports," said Zangeneh, adding, "We should bypass the tyrannical conditions imposed on our country because maintaining Iran quota in OPEC and world market is among our vital parameters." He said. Noting that the OPEC members should reconsider current oil production, Zanganeh said to this end, OPEC members have been asked to hold an extraordinary session that will be held if all the 13 members agree to it on consensus. Certain OPEC members do not wish increase in the prices and want to harm other members through low prices as a result of oversupply, he concluded.
2The next meeting of the Working Group on the legal status of the Caspian Sea is scheduled for early September in Moscow, Iran's special envoy for Caspian affairs, Ibrahim Rahimpur told Trend. Rahimpur said the meeting would discuss the issues on the legal status of the Caspian Sea still uncoordinated by the littoral states.There are two possible solutions to the issue on the legal status of the Caspian Sea: delimitation using a midline modified method or division into five equal parts of 20 percent share.Baku supports defining the Caspian Sea's legal status based on the sovereign rights of the littoral states, a mutually beneficial partnership, and peaceful negotiations.Kazakhstan, Azerbaijan and Russia signed an agreement on the delimitation of their respective Caspian maritime borders on May 14, 2003. Azerbaijan, together with Kazakhstan and Russia, agreed on the delimitation of the sea in early 2000. Turkmenistan and Iran, however, have not reached a consensus yet.
3China and Russia: Cyber Cousins but not Cyber Brothers. "There seems to be a strong divergence in perception behind China's desire to command cyberspace offensively. On the one hand, there is the assumption that this is a natural manifestation of its growing desire to achieve global superpower status. On the other hand, there is the counter-argument that emphasizes China's own perception to be unable to operate effectively against the United States in a conventional military confrontation. Indeed, many Chinese writings suggest cyber warfare is considered an obvious asymmetric instrument for balancing overwhelming US power" Dr. Matthew Crosston for Modern Diplomacy.
4Putin To Visit China Next Week, Sign 20 Bilateral Deals. Putin will attend celebrations dedicated to the 70th anniversary of the victory of Chinese people over Japan and the 70th anniversary of victory in WWII. The Russian and Chinese leaders also plan to hold negotiations on energy and other issues, and sign more than 20 bilateral documents, many implementing agreements reached during Xi's visit to Russia in May 2015 and in meetings in Ufa in July 2015.Russia's Ambassador to China Andrey Denisov said cooperation between the two countries has "already become a powerful stabilizing factor of security" in the world.
5Pakistan and Kazakhstan on Wednesday agreed to bolster bilateral ties through enhanced cooperation in trade, economy, energy, science and technology and education for the mutual benefit of two brotherly countries."As we move forward, we would be taking concrete steps to expand mutual cooperation in diverse fields, including regional connectivity, energy, security, education, culture, and people-to-people exchanges," said Prime Minister Nawaz Sharif, while addressing a joint press conference with Kazakhstan President Nursultan Nazarbayev. The prime minister said the two sides also agreed to strengthen economic cooperation by optimally utilising the existing institutional mechanisms, adding, the bilateral trade between the two countries was not commensurate with the actual potential and needed to be revitalized.
6Kazakhstan Steering through Troubled Waters. "Perhaps, with the exception of multinational oil companies, potential investors are turned off by the many disadvantages there are to investing in Kazakhstan. In addition to being quasi-democratic and geographically landlocked, Kazakhstan's private sector lacks experience, still has to develop a larger educated workforce, and suffers from global doubt as to its financial ability to follow through on the aforementioned promises. It also doesn't help that Kazakhstan acts like an autocracy at times in that its government is known for its lack of transparency and has high levels of corruption. It maintains tight controls over the press, lacks diversity, and has an unimpressive civil rights record. Dealing with these political complications would be an inevitable headache for investors" Jeanette "JJ" Harper for Modern Diplomacy.
7The Western flow of Caspian natural gas. Azerbaijan has been a reliable energy partner with the West for more than 20 years now, after the country opened up to international investment and partnership following the restoration of its independence from the Soviet Union. Since 2006, it has pumped nearly a million barrels of crude oil each day through the Baku-Tbilisi-Ceyhan oil pipeline to Europe, the U.S. and Israel, and much-needed natural gas through the Baku-Tbilisi-Erzurum gas pipeline.Unlike those pipelines, which were designed and driven by international companies, Azerbaijan itself is now a major player in the Southern Gas Corridor. The corridor will start in Azerbaijan, initially tapping into its giant, Manhattan-size Shah Deniz gas field. Azerbaijan's state energy company, SOCAR, is also a major stakeholder in the Trans-Adriatic Pipeline and will operate the Trans-Anatolian Pipeline; and its input will also be essential if the Trans-Caspian Pipeline is built. Nasimi Aghayev Azerbaijan's consul general to the Western United States, based in Los Angeles [Washington Times]
8Azerbaijan to regulate activity of social networks. The Azerbaijani Ministry of Communications and High Technologies will certify the activity of instant messengers (Viber, WhatsApp, Skype and others) and social networks, Azerbaijani Minister of Communications and High Technologies Ali Abbasov told reports August 27. He said that the negotiations with these companies have already started."Most of them have reacted positively to this action of the regulatory body of the country, moreover, a number of them render services over the Internet. As a regulatory body, we believe that the companies engaged in mass collection of information in Azerbaijan must work in accordance with the country's law about the personal data, that is, get a certificate. This certificate is issued by our ministry."
9Why an Iranian New Deal was Necessary. "Several conceptual and theoretical explanations have been used to highlight key indicators that counteract the effectiveness of sanctions within the Middle East and how the spread of certain ideologies and social practices have impacted the success of international mediations. This microcosm analysis of the various social variables, mostly stemming from historical and political events, supports the need to judge more harshly the long-term efficacy of sanctions. It provides an analysis concerning weapons proliferation within Iran and will question the overall potential success of sanctions against such targeted states" Dianne A. Valdez for Modern Diplomacy.
10Russia Overtakes Botswana as World's Top Diamond Producer. Canada emerged third in production value, Angola fourth and South Africa fifth. Russia saw its output leap 20% to $3.73 billion, while the value of precious stones rose 19% to $97.47 per carat. Its volume jumped 1% to 38.303 million carats. Botswana saw its diamond value drop 5% to $147.84 per carat as the growth in value of the country's diamond output remained at $3.65 billion despite a 6% leap in volume to 23.187 million carats.
Waste-to-energy and circular economy workshops to be held in Uruguay
The Secretariat of the United Nations Framework Convention on Climate Change (UNFCCC), the United Nations Industrial Development Organization (UNIDO), the Technology Executive Committee (TEC), and the Climate Technology Centre and Network (CTCN) are organizing two workshops during the Latin America & Caribbean Climate Week (LACCW), which will take place between 20 and 23 August in Montevideo. The sessions, titled: "Enabling circular economy solutions to boost climate action" and "Enabling waste-to-energy, industrial waste reuse and prevention solutions to achieve circular economy and boost climate action", will be held as part of the Regional Technical Expert Meetings on Mitigation (TEMs-M) and the Marrakech Partnership for Global Climate Action.
The first workshop will present the concept of "circular economy", an alternative to a traditional linear economy (make, use and dispose), which is restorative and regenerative by design and redefines products and services to design waste out, being ultimately powered by renewables. The second workshop will then discuss how waste-to-energy, industrial waste reuse and prevention solutions are integral parts to achieving a circular economy and its associated economic and environmental benefits.
The events will bring together members from the civil society, UN agencies and financial institutions. The high-impact case studies presented will serve as a basis for discussion on the vision/goal in terms of harnessing mitigation potential and co-benefits of circular economy related policies, practices and actions as well as on innovative approaches to waste-to-energy and waste reuse/prevention that are actionable in the short term for the region. Participants will learn the necessary elements for replication and upscaling of circular economy and specifically waste-to-energy solutions, such as policy, partnerships and the need of financial, technical and capacity building resources.
Manuel Albaladejo, UNIDO Representative in Uruguay, said, "It is important to understand that the circular economy starts at the design stage and that profitability rarely comes by bending a linear model into a circular one."
With the Latin America Carbon Forum as a cornerstone event, the focus of Latin America & Caribbean Climate Week (LACCW) will be placed on market-based approaches, economic instruments and climate-aligned finance to drive investment in climate action.
Multilateralism: The only path to address the world's troubles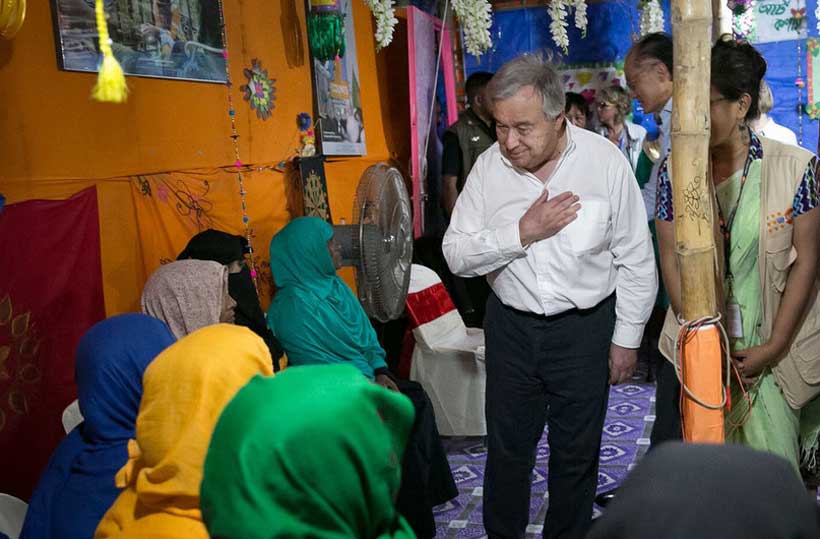 As the world's problems grow, multilateralism represents to best path to meet the challenges that lie ahead, said United Nations Secretary-General António Guterres on Tuesday, launching his annual report.
The Report of the Secretary-General on the Work of the Organization  for 2018, also tracks the progress made over the last year in maintaining peace and security, protecting human rights, and promoting sustainable development.
"I started my tenure calling for 2017 to be a year of peace, yet peace remains elusive," said the UN chief in the report's introduction, noting that since January last year "conflicts have deepened, with grave violations of human rights and humanitarian law; inequality has risen, intolerance has spread, discrimination against women remains entrenched and the impacts of climate change continue to accelerate."
"We need unity and courage in setting the world on track towards a better future," stressed Mr. Guterres, crediting the Sustainable Development Goals (SDGs) for generating coordinated efforts by Member States and civil society to "alleviate poverty and build peaceful, prosperous and inclusive societies."
Wide-ranging reform
The most comprehensive reform of the UN development system in decades already underway, led by Mr. Guterres and his deputy, Amina Mohammed, aims to strengthen the Organization's capacity to support Member States in achieving the 17 SDGs.
While the report points to gains, such as increased labour productivity, access to electricity and strengthened internet governance, it also illustrates that progress has been uneven and too slow to meet the 2030 Agenda for Sustainable Development Goals within the given time frame.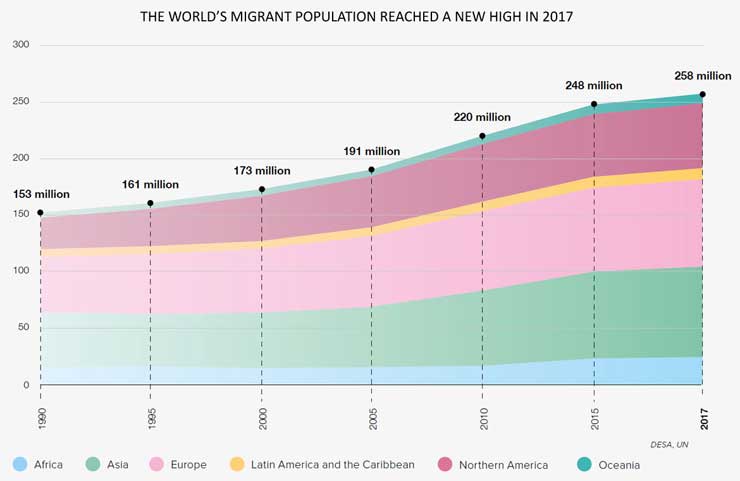 For example, in 2015, three out of 10 people did not have access to safe drinking water, and  60 per cent lacked safe sanitation. Moreover conflicts, disasters and climate change are also adversely affecting populations.
The report underlines the importance of building stronger multilateral partnerships with Member States; regional and international organizations; and civil society; to "find solutions to global problems that no nation alone can resolve."
Although the 2018 High-Level Political Forum on Sustainable Development of 2018 reflected some positive initiatives, it also showed the urgent need to step up efforts in areas such as energy cooperation, water and terrestrial ecosystems.
According to the report, "partnerships are key to achieving the SDGs" – and as of June, 3,834 partnerships had been registered with the Partnerships for the SDGs online platform from different sectors across all the 17 goals.
With regard to technology, last October a joint meeting of the Economic and Social Council (ECOSOC) and the Second Committee welcomed Sophia, the first robot to sit on a UN panel. This gave a glimpse into the advances being made in the realm of Artificial Intelligence.
Turning to young people, UN Youth Envoy, Jayathma Wickramanayake, of Sri Lanka, is continuously advocating for their needs and rights, including in decision-making processes at all levels, and in strengthening the UN system's coordination on delivering for youth, and with their increased participation.
The UN report also spoke to the growing scale, complexity and impact of global migration. In July, the General Assembly agreed a Global Compact for Safe, Orderly and Regular Migration, which will be presented for adoption in December at an Intergovernmental Conference in Morocco.
Youth Calls for Action to Build the Workforce of the Future
Over 400 youth representatives from Asia and the Pacific launched the Incheon Youth Declaration on the Future of Work, which calls upon the international community to invest in more inclusive, large-scale, and market-relevant solutions for youth employment and entrepreneurship.
The declaration, launched during the 6th Asian Youth Forum (AYF6) and coinciding with the celebration of the International Youth Day on 12 August, reflects the shared vision, commitments, and calls to action of the youth to inform future policy strategies and project initiatives to promote decent work. AYF6, with the theme "Building the workforce of the future," was organized by the Asian Development Bank (ADB), Incheon Metropolitan City, Incheon Tourism Organization, Plan International, and AIESEC.
"We at ADB commit to continue investing in youth through our operations, including through our work in education, and in many other sectors we are supporting. We appreciate that the declaration today covers various issues including partnerships, entrepreneurship, as well as environment," said Special Senior Advisor to the ADB President Mr. Ayumi Konishi, who also emphasized that the declaration will help guide ADB in advancing efforts to invest in education and empowering youth as key development partners in the region.
"Incheon will further boost its efforts to support youth employment and startups through various policies, such as the establishment of youth policy organization, cluster for startup incubators, funds, and forum for startups," said Vice Mayor of Incheon Metropolitan City Mr. Jong Sik Heo. Acting President of the Incheon Tourism Organization Mr. Yong Sik Lee also attended the event.
The declaration highlights several key issues affecting youth employment and the future of work and what several stakeholders including governments, private sector, civil society, multilateral institutions, academe, and the youth themselves can do to address them. These issues include ensuring decent work and inclusion; transitioning from education and training to work; fostering youth entrepreneurship; and preparing for jobs of the future.
Youth delegates from 20 developing member countries of ADB have expressed their commitment in carrying out the efforts outlined in the declaration. Ms. Priscilla Caluag, a delegate from the Philippines, shared that the Asian Youth Forum has given her and other young people from the region a unique opportunity to act in ways beyond their own personal interests but ultimately for the betterment of society.