Iran will raise exports even if the oil prices fall
Welcome to the Caspian Daily, where you will find the 10 most important things you need to know on Caspian Sea Region. We appreciate ideas, reports, news and interesting articles. Send along to Caspian[at]moderndiplomacy.eu or on Twitter: @DGiannakopoulos
1Iran's Oil Minister Bijan Namdar Zanganeh said that Iran will not give up its quota in OPEC and its share in world market.Speaking on Iranian State TV Aug. 26, Zanganeh said Iran will raise exports even if the oil prices fall."The Islamic Republic of Iran will by no means ignore its quota in OPEC and the world oil market. We have no problem with slashing of oil prices on the global market because we can double our oil exports," said Zangeneh, adding, "We should bypass the tyrannical conditions imposed on our country because maintaining Iran quota in OPEC and world market is among our vital parameters." He said. Noting that the OPEC members should reconsider current oil production, Zanganeh said to this end, OPEC members have been asked to hold an extraordinary session that will be held if all the 13 members agree to it on consensus. Certain OPEC members do not wish increase in the prices and want to harm other members through low prices as a result of oversupply, he concluded.
2The next meeting of the Working Group on the legal status of the Caspian Sea is scheduled for early September in Moscow, Iran's special envoy for Caspian affairs, Ibrahim Rahimpur told Trend. Rahimpur said the meeting would discuss the issues on the legal status of the Caspian Sea still uncoordinated by the littoral states.There are two possible solutions to the issue on the legal status of the Caspian Sea: delimitation using a midline modified method or division into five equal parts of 20 percent share.Baku supports defining the Caspian Sea's legal status based on the sovereign rights of the littoral states, a mutually beneficial partnership, and peaceful negotiations.Kazakhstan, Azerbaijan and Russia signed an agreement on the delimitation of their respective Caspian maritime borders on May 14, 2003. Azerbaijan, together with Kazakhstan and Russia, agreed on the delimitation of the sea in early 2000. Turkmenistan and Iran, however, have not reached a consensus yet.
3China and Russia: Cyber Cousins but not Cyber Brothers. "There seems to be a strong divergence in perception behind China's desire to command cyberspace offensively. On the one hand, there is the assumption that this is a natural manifestation of its growing desire to achieve global superpower status. On the other hand, there is the counter-argument that emphasizes China's own perception to be unable to operate effectively against the United States in a conventional military confrontation. Indeed, many Chinese writings suggest cyber warfare is considered an obvious asymmetric instrument for balancing overwhelming US power" Dr. Matthew Crosston for Modern Diplomacy.
4Putin To Visit China Next Week, Sign 20 Bilateral Deals. Putin will attend celebrations dedicated to the 70th anniversary of the victory of Chinese people over Japan and the 70th anniversary of victory in WWII. The Russian and Chinese leaders also plan to hold negotiations on energy and other issues, and sign more than 20 bilateral documents, many implementing agreements reached during Xi's visit to Russia in May 2015 and in meetings in Ufa in July 2015.Russia's Ambassador to China Andrey Denisov said cooperation between the two countries has "already become a powerful stabilizing factor of security" in the world.
5Pakistan and Kazakhstan on Wednesday agreed to bolster bilateral ties through enhanced cooperation in trade, economy, energy, science and technology and education for the mutual benefit of two brotherly countries."As we move forward, we would be taking concrete steps to expand mutual cooperation in diverse fields, including regional connectivity, energy, security, education, culture, and people-to-people exchanges," said Prime Minister Nawaz Sharif, while addressing a joint press conference with Kazakhstan President Nursultan Nazarbayev. The prime minister said the two sides also agreed to strengthen economic cooperation by optimally utilising the existing institutional mechanisms, adding, the bilateral trade between the two countries was not commensurate with the actual potential and needed to be revitalized.
6Kazakhstan Steering through Troubled Waters. "Perhaps, with the exception of multinational oil companies, potential investors are turned off by the many disadvantages there are to investing in Kazakhstan. In addition to being quasi-democratic and geographically landlocked, Kazakhstan's private sector lacks experience, still has to develop a larger educated workforce, and suffers from global doubt as to its financial ability to follow through on the aforementioned promises. It also doesn't help that Kazakhstan acts like an autocracy at times in that its government is known for its lack of transparency and has high levels of corruption. It maintains tight controls over the press, lacks diversity, and has an unimpressive civil rights record. Dealing with these political complications would be an inevitable headache for investors" Jeanette "JJ" Harper for Modern Diplomacy.
7The Western flow of Caspian natural gas. Azerbaijan has been a reliable energy partner with the West for more than 20 years now, after the country opened up to international investment and partnership following the restoration of its independence from the Soviet Union. Since 2006, it has pumped nearly a million barrels of crude oil each day through the Baku-Tbilisi-Ceyhan oil pipeline to Europe, the U.S. and Israel, and much-needed natural gas through the Baku-Tbilisi-Erzurum gas pipeline.Unlike those pipelines, which were designed and driven by international companies, Azerbaijan itself is now a major player in the Southern Gas Corridor. The corridor will start in Azerbaijan, initially tapping into its giant, Manhattan-size Shah Deniz gas field. Azerbaijan's state energy company, SOCAR, is also a major stakeholder in the Trans-Adriatic Pipeline and will operate the Trans-Anatolian Pipeline; and its input will also be essential if the Trans-Caspian Pipeline is built. Nasimi Aghayev Azerbaijan's consul general to the Western United States, based in Los Angeles [Washington Times]
8Azerbaijan to regulate activity of social networks. The Azerbaijani Ministry of Communications and High Technologies will certify the activity of instant messengers (Viber, WhatsApp, Skype and others) and social networks, Azerbaijani Minister of Communications and High Technologies Ali Abbasov told reports August 27. He said that the negotiations with these companies have already started."Most of them have reacted positively to this action of the regulatory body of the country, moreover, a number of them render services over the Internet. As a regulatory body, we believe that the companies engaged in mass collection of information in Azerbaijan must work in accordance with the country's law about the personal data, that is, get a certificate. This certificate is issued by our ministry."
9Why an Iranian New Deal was Necessary. "Several conceptual and theoretical explanations have been used to highlight key indicators that counteract the effectiveness of sanctions within the Middle East and how the spread of certain ideologies and social practices have impacted the success of international mediations. This microcosm analysis of the various social variables, mostly stemming from historical and political events, supports the need to judge more harshly the long-term efficacy of sanctions. It provides an analysis concerning weapons proliferation within Iran and will question the overall potential success of sanctions against such targeted states" Dianne A. Valdez for Modern Diplomacy.
10Russia Overtakes Botswana as World's Top Diamond Producer. Canada emerged third in production value, Angola fourth and South Africa fifth. Russia saw its output leap 20% to $3.73 billion, while the value of precious stones rose 19% to $97.47 per carat. Its volume jumped 1% to 38.303 million carats. Botswana saw its diamond value drop 5% to $147.84 per carat as the growth in value of the country's diamond output remained at $3.65 billion despite a 6% leap in volume to 23.187 million carats.
Substantial progress made in Vienna; sides focusing on Safeguards
The third day of talks between experts from Iran and the EU centered around technical and legal matters regarding the Safeguards agreement between Iran and the International Atomic Energy Agency (IAEA).
Delegates from Iran, the EU and the U.S. resumed talks in Vienna on Thursday after nearly a five-month hiatus. This round of talks started on Thursday without the presence of nuclear negotiators from the European trio – Germany, France and Britain. Only experts from these three countries have attended the negotiations.
Iran believes that any agreement on restoring the nuclear deal, officially called the Joint Comprehensive Plan of Action (JCPOA), is dependent on putting an end to unsubstantiated allegations about Iran's past nuclear program. Iran insists that these questions had already been resolved within the PMD, when the nuclear deal was signed in July 2015.
According to reports, substantial progress has been made in bringing the views of Iran and the U.S. closer together during the last three days. However, in Tehran's view nothing is resolved until everything is settled.
Behrouz Kamalvandi, the spokesman for the Atomic Energy Organization of Iran (AEOI), also confirmed on Saturday that talks are mainly focused on Safeguards issues.
"We are now negotiating," Kamalvandi said of the talks between Iran's nuclear experts with Mora.
On the atmosphere of the talks, he said, "It is not bad."
Mohammad Marandi, a senior expert on nuclear issues, also told Al-Mayadeen TV that "progresses" have been made in Vienna, but one should be "cautious". He argued the success of talks is 50 percent. Marandi said the differences remain only between Iran and the United States.
He added, "We have heard from certain European sources that the Americans have revived their views on certain issues."
The Russian chief negotiator in the Vienna talks, Mikhail Ulyanov, also tweeted that there is "no unresolvable issue" on the table in the Vienna talks.
Source: Tehran Times
Escalation of violence in Gaza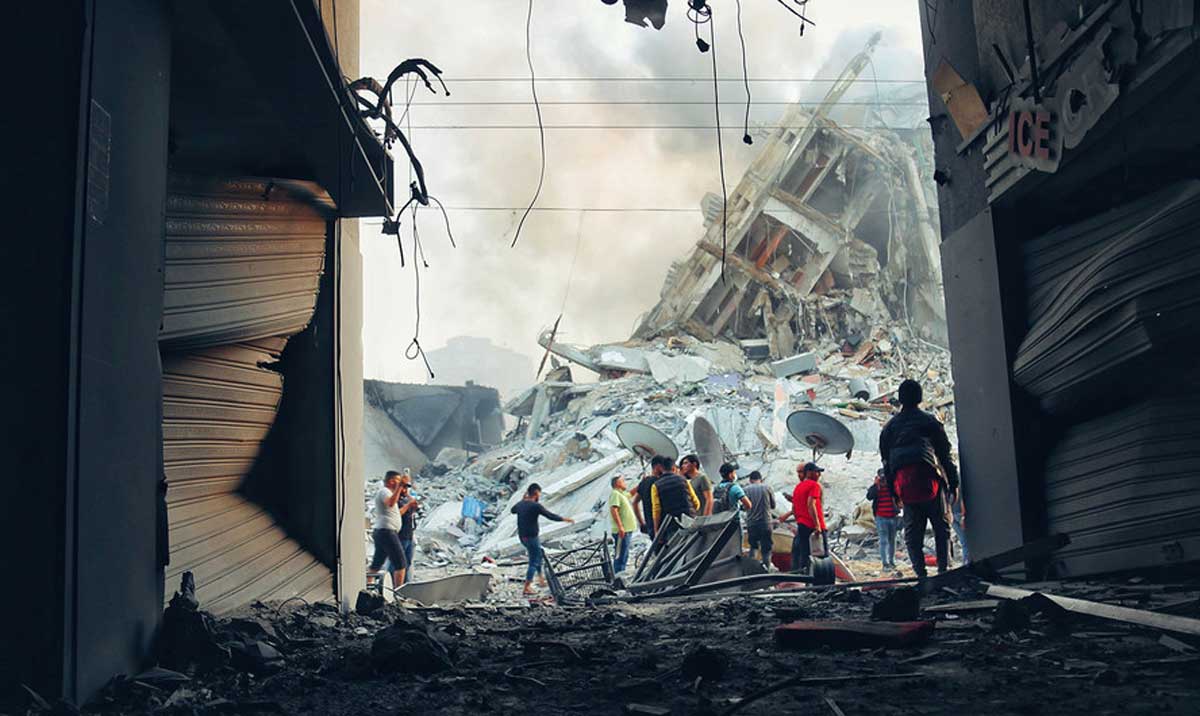 The ongoing and serious escalation of violence in and around Gaza between Palestinian militants and Israel has claimed the lives of 13 Palestinians by Israeli airstrikes, including a 5-year-old child and one woman, informed Lynn Hastings, UN Humanitarian Coordinator in the territory.
In a statement published on Saturday, Ms. Hastings expressed her grave concern for the situation that has left more than 100 Palestinians injured, as well as 7 Israelis.
Residential areas in both Gaza and Israel have also been hit and 31 families in Gaza are now homeless.
"The humanitarian situation in Gaza is already dire and can only worsen with this most recent escalation. The hostilities must stop to avoid more deaths and injuries of civilians in Gaza and Israel. The principles of international humanitarian law including those of distinction, precaution and proportionality must be respected by all parties", she urged.
Basic services in danger
Ms. Hastings warned that fuel for the Gaza Power Plant is due to run out this Saturday and electricity has already been cut.
"The continued operation of basic service facilities such as hospitals, schools, warehouses, and designated shelters for internally displaced persons is essential and now at risk", she cautioned.
The Humanitarian Coordinator added that movement and access of humanitarian personnel, for critical medical cases, and for essential goods, including food and fuel into Gaza, must not be impeded so that humanitarian needs can be met.
She also underscored that Israeli authorities and Palestinian armed groups must immediately allow the United Nations and its humanitarian partners to bring in fuel, food, and medical supplies and to deploy humanitarian personnel in accordance with international principles.
"I reiterate the United Nations Special Coordinator's appeal on all sides for an immediate de-escalation and halt to the violence, to avoid destructive ramifications, particularly for civilians", Ms. Hastings concluded.
Nuclear-free world is possible, test-ban treaty chief says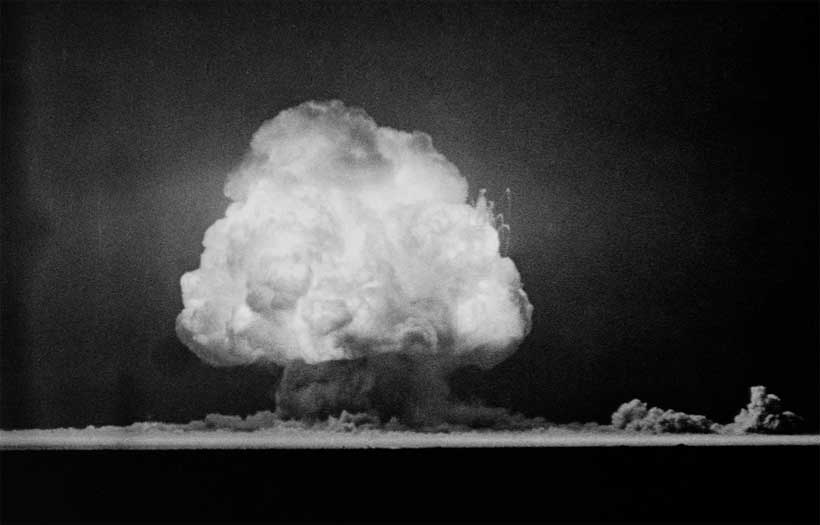 Nuclear weapons will continue to pose a risk to humanity unless countries fully adhere to the treaty that prohibits their testing, a senior UN official said at a press conference in New York on Friday.
Journalists were briefed by Robert Floyd, Executive Secretary of the body that oversees the Comprehensive Nuclear Test-Ban Treaty (CTBT), which opened for signature 25 years ago but has yet to enter into force because it requires ratification by a handful of key countries, which have nuclear capabilities.
"Once in force, the CTBT will serve as an essential element of a nuclear weapons-free world. In order to achieve this world, we all aspire to, a universal and effectively verifiable prohibition on nuclear testing is a fundamental necessity," he said.
World at risk
Mr. Floyd was speaking against the backdrop of the latest nuclear non-proliferation conference, which began this week at UN Headquarters after two years of pandemic-related delays.
Countries are reviewing progress towards implementing the 50-year-old Treaty on the Non-Proliferation of Nuclear Weapons.
At the opening on Monday, UN Secretary-General António Guterres warned that the world was "just one misunderstanding, one miscalculation, away from nuclear annihilation".
"Until we have full adherence to the CTBT, nuclear testing and the proliferation of nuclear weapons will continue to pose unacceptable risk to humanity," said Mr. Floyd.
Drop in testing
The CTBT complements the non-proliferation treaty, said Mr. Floyd, and it has already made a difference in the world.
"We've gone from over 2,000 nuclear tests conducted between 1945 and 1996, to fewer than 12 tests since the treaty opened for signature," he said. "Only one country has tested this millennium."
The treaty has also received near-universal support. So far, 186 countries have signed the CTBT, and 174 have ratified it, four in the last six months alone.
However, entry into force requires that the treaty must be signed and ratified by 44 specific nuclear technology holder countries, eight of which have yet to ratify it: China, Egypt, India, Iran, Israel, the Democratic People's Republic of Korea, Pakistan and the United States.
Asked about these countries, Mr. Floyd replied "they have their own calculus and strategic objectives and geopolitical considerations as to whether they feel free to move forward", adding that they all support the CTBT and its objectives.
Helping nations
Mr. Floyd also reported on the activities of the organization that promotes the treaty, which he heads.
The CTBTO, as it has known, has built a state-of-the-art verification system to detect nuclear explosions, capable of 24/7 monitoring.
Staff also train inspectors from Member States so that they are ready to conduct on-site verifications once the treaty enters into force. Furthermore, countries use CTBTO data for civilian and scientific applications, such as tsunami warning systems and other university research.
"Even without having entered into force, the CTBT is already helping to save lives in countries around the world," said Mr. Floyd. "Even those that have not yet ratified the treaty are benefiting from this global collaboration and technological expertise."