Kazakhstan Steering through Troubled Waters
Earlier this year, the Central Asian nation of Kazakhstan announced a new campaign called "Invest in Kazakhstan," which was designed to attract foreign investors. Throughout the campaign it released new commercials that enticed potential investors with exemptions from corporate income tax, land taxes, property taxes, and customs duties for up to ten years.
To lure new stockholders, the commercials promised state-in-kind grants (like goods, services and expertise), stability of investment legislation (drawing on the 2003 Kazakh Law of Investments which virtually guaranteed the stability of assets), strong protection of investors' rights, no work permits for foreign labor, and visa-free entry for citizens of many countries. As if these benefits weren't enough, Kazakhstan went even further, offering thirty percent cash back on investments. One would think that with this kind of economic bait – and the fact that Kazakhstan had very low debt – foreign investors would be jumping at the opportunities. So why hasn't the country been able to draw more foreign investment?
Perhaps, with the exception of multinational oil companies, potential investors are turned off by the many disadvantages there are to investing in Kazakhstan. In addition to being quasi-democratic and geographically landlocked, Kazakhstan's private sector lacks experience, still has to develop a larger educated workforce, and suffers from global doubt as to its financial ability to follow through on the aforementioned promises. It also doesn't help that Kazakhstan acts like an autocracy at times in that its government is known for its lack of transparency and has high levels of corruption. It maintains tight controls over the press, lacks diversity, and has an unimpressive civil rights record. Dealing with these political complications would be an inevitable headache for investors.
Perhaps most importantly, Kazakhstan is currently dealing with a currency crisis where capital is hemorrhaging at an alarming rate. The tenge, Kazakhstan's native currency, was tightly controlled for years until the government decided to switch to a floating exchange rate. This decision, due to falling crude prices around the globe, caused the tenge to lose almost a quarter of its value. However, as the dominoes have fallen in reaction to cheap oil from China to South Africa, Kazakhstan's government still does not appear too concerned. In fact, while everyone else is calling it a crisis, Kazakh leadership is calling it a normal "transition."
Even though Kazakhstan has recovered some of its losses (ten percent), there is still a very good possibility it will drop again in the next few weeks. This is because of the tremendous pressure on Kazakhstan by its neighbors. Like other emerging markets in the region, Kazakhstan – a country that is sandwiched between Russia and China – is economically dependent on both regional superpowers. Its economy is linked to Russia's and has been negatively impacted by the Russian sanctions caused by the crisis in Ukraine. This impacts Kazakhstan on two fronts: the Russian ruble has become so weak that Russians can hardly afford Kazakh goods and, at the same time, Russian imports are threatening to flood Kazakhstan's market with low-cost imports. To make matters worse, there is a weaker demand for Kazakhstan's exports by China, the second-largest economy in the world. China's recent move to devalue its currency – the Yuan – may have been done to boost the country's exporters in an attempt to make their products cheaper and easier to sell. This could very well spark a currency war in the region and further damage susceptible currencies in emerging markets, including Kazakhstan. In sum, China's devalued currency, Russia's plummeting ruble and crushing sanctions, and the likely increased supply of oil from Iran after the new nuclear accord – all exacerbate the problem in Astana and may be putting Kazakhstan's long-term economic future on shaky ground.
It appears that Kazakhstan, still resolute to integrate into the global market community, has an ambitious plan to use its WTO and EEU memberships to boost its image and attract new investments. Furthermore, the Asian Development Bank (ADB) just announced it will loan Kazakhstan one billion dollars so it can resume governmental programs designed to stimulate the country's economy. This loan presents Kazakhstan with an opportunity to diversify, create new jobs, provide continued support and services to its disadvantaged citizens, grow its private sector, and build up smaller businesses. Unfortunately, making substantial domestic policy changes pertaining to civil liberties and democratic freedoms do not appear to be a part of the strategy at the moment.
While it is difficult to know exactly how this complex economic strategizing will play out in Kazakhstan, there is one thing we do know. Kazakhstan's President Nursultan Nazarbayev – the only leader the former Soviet Republic has had since its independence in the early 90s – has great energy and enthusiasm for the future of his country. His grand geopolitical ambitions strive to take the country to new heights of economic, political and industrial growth. While Kazakhstan is considered authoritarian by international standards, by regional standards it is regarded as a much "softer" version than its Asian counterparts. This may give it an important edge as it strives to stay innovative and relevant while expanding its political, military, diplomatic, and economic reach.
Another important demographic factor is just how young the country is, in both population and geopolitical terms. For one, Kazakhstan has managed to utilize its resources and the productive capacity of citizens to not only break away from its domineering progenitor but also set itself up for long-term sustainability. It transformed itself mostly into a market economy that, under the right conditions and strategies, could dramatically transform and deepen from international trade and investment. While it would certainly be a stretch to describe Kazakhstan as a wealthy nation, it most definitely is not a poor one. Post-Soviet Kazakhstan has been remarkably responsible with its fiscal, industrial, trade and macroeconomic policies. Plus, it has worked very hard to carefully cultivate relationships with other countries so that Kazakhstan is largely regarded within the region as a stable and rational geopolitical voice.
While Kazakhstan still needs to diversify its overconcentration on natural resources, the country still has time, opportunities, important economic alliances, and room to grow. Kazakhstan's economy and political ties do not necessarily have to remain constrained by corruption and political controls either. For the country to overcome the challenges it currently faces and to attract foreign investors, it needs to continue to embrace innovation that can accommodate social unity and a more balanced policy geared towards diversification and development. Perhaps the greatest challenge of all, but also provide definitive proof to the global community (and its foreign investors), is the willingness of the country to venture more boldly with democratic freedoms and civil liberties experiments that will accentuate and reinforce its sound economic strategies. Being able to develop both economically and democratically, to show the world that unlike so many emerging economies Kazakhstan is not afraid to give its people and its system more independence and freedom, might be the one element of harmony that will distinguish the country from all other competitors and, ironically, provide it with the stability to ride out the cyclical nature of economic crisis.
Shanghai Cooperation Organization Summit and Later Developments: The Politics Analyzed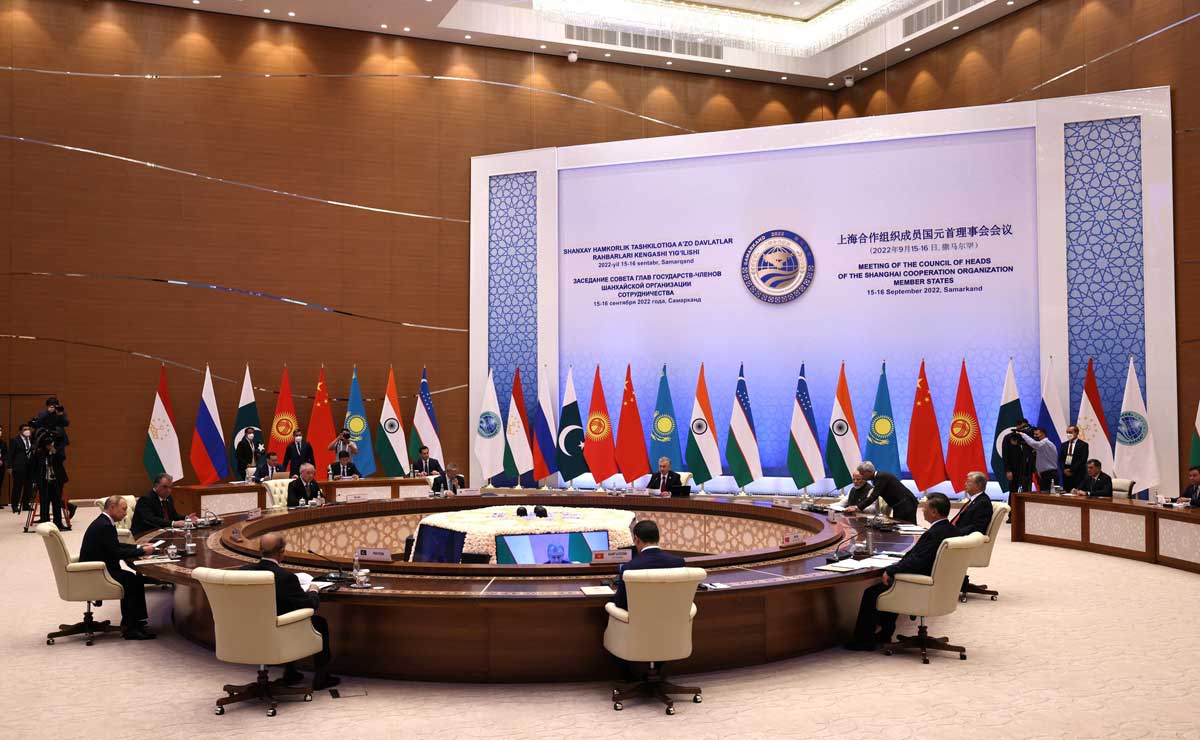 The summit's mood was a somber one, toned down by Ukraine war, mounting global economic and environmental crises.
Important developments are:
Strengthening Economic Ties
New initiatives planned to develop economic and transport corridors, tourism and services trade and expansion of the Belt and Road Initiative. Trade within SCO grew 12 percent annually. China aims $2.3 trillion trade with SCO within next 5 years.
Today, China and Russia conducted $140 billion in trade, which will reach around $200 billion by yearend. India also increased purchases of Russian oil, coal, and fertilizer and became one of its largest fuel customers since the Ukraine invasion.
Pakistan plans to import Russian gas and Putin offered building a pipeline to supply it. Pakistan desperately needs Russian gas because of its energy crisis.
Meanwhile, economic developments in Central Asian resulting from Russian and Chinese investments have exceeding $61 billion.
Strengthening Collective Security Mechanisms
There has been some success in collective security cooperation. The Regional Anti-Terrorist Structure is functioning, and several new independent security mechanisms planned.
China and Russia had steadily built economic and strategic ties. Russia plans further strengthening them.
Iran has now become SCO's ninth member. Belarus seeks full membership. Egypt, Qatar, and Saudi Arabia will become dialogue partners. Turkey's received observer status. Eight countries are expected to become members.
5. Voice of Developing Nations
Joint statement on climate change called for balance between reducing carbon emissions and allowing poorer states to catch up with developed countries. SCO called for a balanced approach between emissions reduction and development.
Summit was expected to provide chance for Russia and China to make a case for new world order. However, the war sowed divisions, as no government favored Putin's actions. Clinched in confrontation with the West, Putin denied isolation, but the summit proved otherwise.
Given the war, some Central Asian leaders worry about Russian behavior. Kazakhstan and Pakistan refuse to toe Moscow's line. Kazakhstan has aided Ukraine. China's refusal to condemn Russia has caused unease among some countries, hindering efforts building regional ties. Also complicating picture is India, which like China had not outrightly condemned Russia, nor participated in Western sanctions on it. India has strong military ties with Russia but is changing tone. Both China and India have mildly criticized Russia. On September 21 Putin raised the threat of nuclear response in the war and ordered reservists mobilization. He was widely condemned. America said threats were nothing new. So far, Putin seems undaunted by criticism.
Economic cooperation between China and Russia likely to grow being mutually beneficial. However, China trying to stay out of Ukraine mess and its danger. While Putin's war has yet to spread beyond Ukraine, it could trigger larger war between Russia and NATO. Therefore, China has wisely urged Russia to de-escalate and called for a cease-fire. China continues balancing positions as the goal of Xi's foreign policy is to put country first.
Since Biden supports India as permanent member of UNSC, it will also call Russia not to escalate conflict. Earlier, India had repeatedly called for diplomacy. Modi's recent criticism of Russia is setback for Putin as war drives a wedge in relations.
Firstly, Modi did not meet Xi. The two have not met since the border conflict more than two years ago. Delhi is wary of Beijing's growing regional influence, especially in Pakistan.
Also, the leaders of rivals Pakistan and India did not meet.
Two failed opportunities.
Secondly, the summit failed to take any meaningful action on the current global food and energy crisis linked to the war. Resultantly, the regional food supply may face even bigger challenges in the future.
Thirdly, region requires massive investment in climate resilience development. Though requested by Pakistan, climate action framework not discussed.
Fourthly, China and Russia failed committing needed financing of institutions because of their own economic weaknesses.
Fifthly, Russia's Ukraine actions not condemned by members. Only Turkey's President Erdogan urged Putin to return occupied territory to Ukraine.
Sixthly, there was leadership failure. For Putin, the summit was a chance to show that Russia was not isolated. For Xi it was an opportunity to shore up credentials as global political leader. Both failed.
Lastly, summit did not focus on regional challenges: war in Ukraine; rippling impact of rising regional food prices; energy crisis roiling economies; and climate emergency in Pakistan.
Today, SCO is not suitable for China to push any world order. As a multilateral organization, it is much weaker than EU or ASEAN. Fortification of SCO remains daunting challenge.
Kyrgyz-Tajik Conflict: Small States Becoming Victim In Games Of The Great Powers
The Military conflict on September 14th 2022, on the border of two post-soviet countries- Kyrgyzstan and Tajikistan took lives of more than 90 people from both sides. "The Ministry of Foreign Affairs of Kyrgyzstan considers that the events which took place on September 14-17, 2022 necessary to state as a pre-planned armed act of aggression by Tajikistan against the sovereign state Kyrgyzstan. As a result of the inhuman actions of the Tajik side 59 citizens of Kyrgyzstan were killed and 140 were injured, about 140,000 people were forced to evacuate. But the Tajik officials and mass media actively accusing Kyrgyzstan of aggression and violation of non-attack agreements. Both sides blame each other for the outbreak of violence. As the Ministry of Foreign Affairs of Kyrgyzstan declared that the information of the Ministry of Foreign affairs and other authorities of Tajikistan did not correspond to reality. The Kyrgyz side has all the evidences (photo and video materials) that recorded the beginning of the aggression, as well as all the crimes committed by the Tajik military on the territory of Kyrgyzstan. If necessary, the Kyrgyz side is ready to provide this evidence.
Main Reasons.
The Kyrgyz-Tajik border 950 kilometers long. At the moment, Bishkek and Dushanbe have recognized only 520 kilometers of a common border, the rest of the sections since the collapse of the USSR are considered controversial and run along villages and roads.
The conflict has many aspects: here are territorial disputes, competition for the possession of water resources, and inter-ethnic problems. It is also associated with activities on the border of criminal structures, with smuggling, with drug trafficking. Radical religious organizations may also be involved in it. Therefore, all relations in the conflict zone between the Kyrgyz and Tajik sides are extremely aggravated. And the reason for the next clashes can be anything, any petty domestic situation.
In spring 2021 a similar bloody conflict took place on the border of two republics. As it turned out later, this escalation had domestic reasons. It was provoked by a dispute over the sharing of a water distribution point located between Kyrgyz and Tajik villages, which ended with a fight afterwards by killing each other by weapons. The state border between Tajikistan and Kyrgyzstan is 950 kilometers, and 520 km of it has not yet passed the demarcation procedures. Despite that the Central Asian states gained independence more than thirty years ago.
The reasons of the latest invasion of Tajikistan to the territory of Kyrgyzstan still not clear. What could be the reason of breaking the Agreement of non invasion? Why it started the same day of the Shanghai Cooperation Organization Summit? Why its happening after the Azerbaijan-Armenia conflict? Why Post-Soviet countries are in war with each other? Scholars and some officials have various assumptions about the latest bloody clash. "There are provocateurs and third forces." – says the head of the government of Kyrgyzstan Akylbek Zhaparov.
The military conflict started the same date of the summit of the SCO in Samarkand. On September 14, the governments of China, Kyrgyzstan and Uzbekistan signed a long-anticipated agreement to push ahead with construction of a railroad linking these countries that will establish a shorter route to Europe bypassing sanctions-hit Russia. So according to some Kyrgyz officials the clashes on Tajik and Kyrgyz borders started after the signing of the agreement about the construction of the railway-plausibly as a warning about the discontent of Russia, which throughout the history of the Central Asian countries has tried to make the region as economically dependent as possible. Moreover the President of Tadjikistan Emomali Rahmon wouldn't invade into territory of Kyrgyzstan without Putin's support.
If the first group of people considering that two countries are in this battle because of Russian tactics, the second group of people like the Deputy of the State Duma of the Russian Federation Alexei Chepa noting that the cause of this conflict lies not only in unresolved disputes between the two countries. They suppose the external forces, primarily enemies of Russia, have decided to take advantage of the situation and create conflicts in the region. As they use the internal problems of Tajikistan and the conflict situation with Afghanistan, where the United States left a huge amount of weapons and a certain contingent of troops. And all this are aimed at using conflicts to further discredit Russia. We see this in the example of conflicts arising in Kazakhstan, Armenia and Azerbaijan and in some countries of the Caucasus.
This conflict would repeatedly escalate and next time would lead more death of civilians until the demarcation and delimitation of Kyrgyz-Tajik borders process would be finished and signed. This kind of military battles can lead to the unleashing of a large-scale interstate conflict, as well as to the destabilization of the situation in the Central Asian region as well.
Shanghai Cooperation Organization: Crouching Tiger, Hidden Dragon
On September 15 and 16, 2022, the extended format of participants of the Shanghai Cooperation Organization (SCO) are scheduled to meet in Samarkand, the ancient Silk Road Karavansarai in Uzbekistan. SCO —founded in 2001— is the first international organization founded by Beijing. It started as the Shanghai Five with the task of demarcating borders between China and its Central Asian neighbors: Kazakhstan, the Kyrgyz Republic, Russia, and Tajikistan, following the breakup of the Soviet Union. The meeting in Samarkand marks the 21st Head of State summit of this organization, which is growing in international importance. All Heads of member states have confirmed their attendance.
SCO came to the attention of Washington policy makers, when Vladimir Putin used it as a vehicle to set a timeline on U.S. bases in Central Asia there to support operations in Afghanistan. Through direct engagement of President Bush with Chinese President Hu Jintao, this deadline was not repeated in the communique of the following year. This demonstrated Beijing's unwillingness to have an open rift with Washington and made clear China's leadership of the organization. Beijing's interest in preventing anti-American statements has changed in the last 17 years. With the return of Great Power Competition in the Washington-Beijing relationship, who leads the SCO and what is on its agenda should be of considerable interest in Washington.
The SCO is no longer just a talk-shop between Russia and China with its Central Asian neighbors, but is now expanding to the Gulf, South Asia, South East Asia, and the Caucasus. The expanded membership of the SCO makes up 24% of the global GDP, more than half that of the G7 and more than that of the European Union in 2020. SCO's expanded participant list accounts for 44% of the global population.
If those seeking membership status at the upcoming meeting in Samarkand achieve their goal, the SCO will include in its ranks: Azerbaijan and Armenia who recently fought a war in Nagorno-Karabakh; Saudi Arabia and Iran, competitors over the direction of the Gulf; and current members India and Pakistan, historic adversaries. Afghanistan and Mongolia are currently observer states in the organization. Partner countries of the organization are Azerbaijan, Armenia, Cambodia, Nepal, Turkey, and Sri Lanka. The status of dialogue partner state will likely be granted to Egypt, Qatar, and Saudi Arabia in September. Bahrain and Maldives are next in line for the latter status.
In 2005, the US had an opportunity to pursue observer status with the SCO. Those who supported it, saw it as opportunity for the US to shape this organization and for Afghanistan to reconnect with its neighbors with American support. Others thought our being an observer of the SCO would lend legitimacy to this nascent organization. Yet, overtime, flaws in the latter stance surfaced and was repeated by the Obama Administration's failed attempt to isolate China's Asian Infrastructure Investment Bank.
In a vote on April 7 for the suspension of Russia's membership in the UN Human Rights Council, Turkey was the only participant in the expanded SCO out of 18 countries that voted in favor of the resolution. Of the member states, all voted against the resolution, with India and Pakistan abstaining.
For members of the SCO, energy highlights their importance on the global stage and is a tool used in their foreign policy. Following the 2022 summit, SCO states, including Russia, Saudi Arabia, Iran, among others, will account for over half of the world's oil production annually.
Until 2020, the Shanghai Cooperation Organization played a largely regional role for China, the heart of which was Central Asia. Initially reluctant, the recent rapid expansion of the SCO shows that China realigned the organization from a regional one, to one capable of implementing its global ambitions.
The Shanghai Cooperation Organization gained greater significance with the outbreak of hostilities in Ukraine, where an economically weaker Russia can turn to China, a partner with no limits and its leadership over the SCO.
At the 2022 Boao Forum, President Xi restated the goal of the 2021 SCO Dushanbe Declaration, where he articulated a world order not directed by the West. At this same summit, SCO members approved Iran's membership despite international sanctions after a 15 year waiting period. Xi articulated in a flourish, calling it a community of a common destiny of mankind.
This has echoes of Chairman Mao's vision of world relations, dating back to the 1970s. In meetings with Dr. Kissinger, Mao posited that imperialism and hegemony violate the world order. Instead, China should expand into what is now known as the Global South, including countries in the Middle East, Southeast Asia, and Central Asia. China's mission lives on and the Shanghai Cooperation Organization is becoming its vehicle.