Good advice: Rilke's Gift to the World
So all I see is young artists and they ask me how they can publish their work, how they can become better writers? It has nothing to do with becoming better at it. They are already there. You have to be committed to your craft. You have to take vows. There is a sacred contract between a writer and a book.
Some of us become so wounded in the process of rejection (we see it as abandonment) that we never go back to what we have been called to do in the first place. We forget we are poets and that being tormented and unseen at the same time is part of the seam of the process. We are writers. We are struggling iconoclasts. We are all part of the iconoclastic-family. We are futurists. We are sculptors. We are already there. We just needed the 'elegant mathematics' to help us along.
Sometimes we neglect 'the gift'. There is a kind of alchemy in your head when you begin to write. It has its own machinery, its own wheels and all it asks of us is this? Write anything. Do not edit, decipher yet anything that you write. Just do not censor yourself. You need grit. It is going to take you far wanderer like Moses in the wilderness. All compositions aligned for art's sake will result in its own rewards. In hardship, trial and despair, that desperation, sly in the voice and mind of the cuckoo living wasteland of the tortured poet is mine. Mine for the taking. Breath taking as impoverished courage might seem to be sometimes it is worth it. The festival of it amuses me, pours itself into me, the physical me, it is all the elements. Greatness lies in the peace it gives me.
Read much. Read everything you can get your hands on because it will not just inspire you. Inspiring your imagination and your subconsciousness. Perhaps silence is the best answer, (guardian angels have swords and humanity has silence). Do not spend all your time thinking of all the negativity in the world. Laugh. Smile. Become aware of just how much you have to be grateful for, for every lesson is a breathing lesson, a celestial navigation on this patchwork planet (my entire favourite reads by Anne Tyler).
Just think of what came before is now gone. Past is past. Intellectual thinkers, ego, psyche, that 'psychological framework'. Well now, there is only personal space, future living and soul retrieval, consciousness travelling across the globe. What I believed to be before, as truth has become knowledge and isn't knowledge powerful? Knowledge of the present situations taking place all over the world mostly conflict, mostly war, mostly brutality from man against man and vulnerable women and children caught in the middle.
I remember great poets, and I recognise that I am getting older. More set in my ways, moving forward towards something impenetrable, invincible. Protected in this mysterious world. Projecting myself forward into a future not filled with spiritual poverty, or wealth known as prosperity. Grounded by the gravity of Mother Earth, joy. (Beethoven, Tchaikovsky), the Russian writers (Nabokov's Lolita which wounded me, and that taught me that we learn from our scars, we are not our scars, we are not our wounds, it is just part of our personal journey, our psyche, the teeth sunken into my personality), and Kubrick.
Failure can hurt. Young girls who think they will be goddesses forever can hurt you just like publishers with their neatly typed (by their secretaries who wear their hair in chignons), rejection letters (forgive them for they know not what they do). Other writers who have won more prizes than you have, who have the world eating out of their hands (forgive them for they know not what they do)? Do you understand that? Do you understand compulsion? Do you understand the complexities now in the mind of the poet and that there is an unstoppable fine line, a psychological thread that borders the finesse of the writer and the instinct of the poet?
Then there are films, which are at the very fabric of our human nature. They are like a flame. They reverberate with a kind of poignancy. Meanwhile poetry is like an invisible woman while films are the art form of this century and I have to confess that I miss it, I miss the medium. So the poets come, the greats come and they guide me on this journey, this route like Saints when they come marching through my consciousness like child soldiers. Unnatural, disturbing, an avalanche of them, an avalanche of thoughts about Anna Kavan's 'Ice' or 'Asylum Piece'. No light. Only night. The night of an insomniac and if I have to examine the unquiet mind of the poet, I would say that it is included in all of that I have mentioned above.
Despair is painful when it comes to rewriting drafts of poetry and it is easy to feel disillusioned. It is easy to become a Buddhist monk in a second but keep at it. Do not retreat. Keep at it. Because believe you me you will reach a stage where what you are writing as a poet, that is which is hardwired to your brain, that which is authentic, will suddenly become brilliant on the page and someone will take knowledge away with them from something that you thought was nothingness. It is powerful to be honest. There are not a lot of honest people left in this world. Write and as if by Cheshire cat magic, possibilities will appear.
The feminist inspiration of Mona Lisa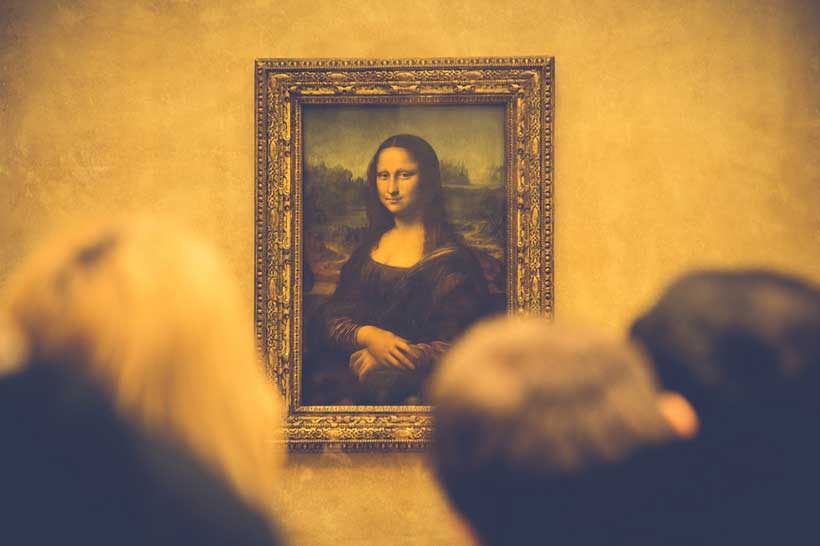 This year marks the 500th anniversary of the death of the Italian genius, Leonardo da Vinci, who died on 02 May 1519. On this occasion, UNESCO highlights some of the comments concerning the origins of one of the most famous paintings in history: Was Mona Lisa painted in a feminist spirit?
The thesis of the American art lover William Varvel highlights the links between feminism and the painting. According to his findings, Mona Lisa would represent a figure in the fight for gender equality. Why? William Varvel insists on "the theological rights of women" claimed through the vision of the famous painting from the Renaissance Period. These rights are linked to the status of priests, which women do not have access to. Therefore, the painting representing Mona Lisa would have for true desiderata the possibility for the women to have access to the priesthood. William Varvel assures that "Mona Lisa is a kind of declaration for the rights of women".
To support his argument, the author of The Lady Speaks: Uncovering the Secrets of the Mona Lisa explains how Leonardo hid clues in the painting: in total, not less than "40 symbols, taken from the 21 verses of the chapter 14 of the Book of the Prophet Zechariah" in the painting.
Therefore, there is a link between religion, the painting of the Italian master and his feminist commitment. It is precisely this link that William Varvel wishes to highlight in order to allow a reflection on the subject. A new definition of the place of Mona Lisa in the artworks from the Renaissance is necessary to apprehend the political and feminist scope of this masterpiece.
How UN cultural treasures helped set the stage for Game of Thrones
From King's Landing to the Iron Bank, so many of the breath-taking backdrops seen on the smash hit Game of Thrones television series are available for future generations to enjoy, thanks to a key, but little-known role played by the United Nations cultural agency.
Established in 1945, the UN Educational, Scientific and Cultural Organization (UNESCO) has worked to improve dialogue and understanding between civilizations, cultures and peoples. One of UNESCO's methods of doing this is by designating and preserving World Heritage Sites, defined as having outstanding universal value to humanity, which it inscribes on the World Heritage List to be protected for posterity.
To date, there are 1,092 natural and cultural places inscribed. The diverse and unique treasures range from the Great Barrier Reef in Australia to the Pyramids of Egypt and the Taj Mahal in India.
Since 2011 UNESCO's work has become inseparable with the magnificent film locations of the wildly popular Game of Thrones series.
For those tuning in to the show's final episodes, here's a look back at the Seven Kingdoms with a nod to the UN cultural agency.
Capital of the Seven Kingdoms
Long before it became known as King's Landing – one of the Seven Kingdoms and seat of the mighty Iron Throne – the old city of Dubrovnik in Croatia was an important Mediterranean seat of power from the 13th century onwards. Severely damaged by an earthquake in 1667 and by armed conflict in the 1990s, UNESCO is co-coordinating a major restoration programme.
Dubrovnik joined the UNESCO List of World Heritage Sites in 1979.
Battle of the Blackwater
You may recall the fiery Battle of the Blackwater, or scenes where King Robert Baratheon rules from the Iron Throne in the Red Keep, overlooking Blackwater Bay: Fort Lovrijenac, outside the western wall of the Croatian city, actually played an important role in resisting Venetian rule in the 11th century.
Private retreat for House Martell
It is easy to see why Doran Martell called the Water Gardens of Dorne "my favourite place in this world". Actually located in the heart of Seville, the Royal Palace of Alcázar is imbued with Moorish influences that date back from the Reconquest of 1248 to the 16th century. UNESCO points to it as "an exceptional testimony to the civilization of the Almohads as well as that of Christian Andalusia".
UNESCO inscribed the Royal Palace of Alcázarin in 1987.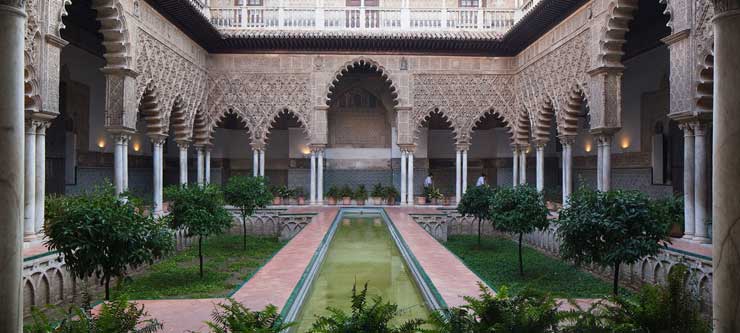 Daenerys' journey through Essos
When you look at the Medina of Essaouira in Morocco, perhaps you can image The Khaleesi lining up The Unsullied eunuch slave-soldiers in the city of Astapor before renaming Slaver's Bay, the Bay of Dragons. But for UNESCO, Essaouira is an exceptional example of a late-18th-century fortified town in North Africa. Since its creation, it has been a major international trading seaport, linking Morocco and its Saharan hinterland with Europe and the rest of the world.
The Medina of Essaouira joined the UNESCO List of World Heritage Sites in 2001.
Yunkai: 'A most disreputable place'
In the Yellow City, Daenerys' language skills are useful with the Yunkai'i, who speak a dialect of High Valyrian. But in Berber, the village of Ait-Ben-Haddou was a popular caravan route long before current-day Morocco was established. The crowded together earthen buildings surrounded by high walls offer a view of a traditional pre-Saharan habitat.
Ait-Ben-Haddou was designated a UNESCO World Heritage Site in 1987.
Theon returns to Lordsport Harbour
County Antrim envelops UNESCO-designated Giant's Causeway and Causeway coast. It is also home to the small fishing harbour of Ballintoy, known to fans as the port of Pyke, home to the Iron Islands of the Greyjoys. Located in real-life Northern Ireland, the Causeway consists of some 40,000 massive black volcanic rock columns sticking out of the sea. Over the last 300 years, geographical studies have greatly contributed to the development of the earth sciences.
The Causeway coast was declared a World Heritage Site by UNESCO in 1986.
Cersei's 'Walk of Shame'
The iconic scene in in which Cersei Lannister is forced to walk naked through the streets of King's Landing began atop of the baroque Jesuit Staircase, which leads to the Church of St. Ignatius of Loyola and Jesuit College in the UNESCO-desnigated Old City of Dubrovnik .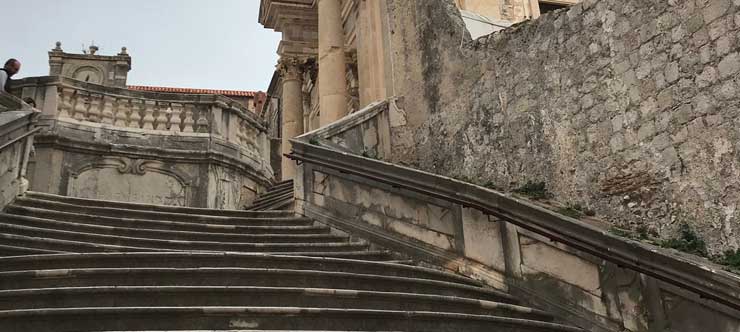 Kingslayer for gender equality
The connection between the United Nations and Game of Thrones does not end with UNESCO's inspiring sites.
While Jaime Lannister is the twin brother of Cersei and slayer of the Mad King, Aerys II Targaryen, real-life actor Nikolaj Coster-Waldau is a Goodwill Ambassador for the UN Development Fund. Passionate about ending discrimination and violence against women, the father of two girls is focusing his considerable talents on drawing attention to critical issues, such as gender equality – encouraging everyone to be agents of change.
Mr. Coster-Waldau was appointed a UNDP Goodwill Ambassador in 2016.
Baku forum to push back against 'rise of hate' with strong call for cultural and religious tolerance
Just off a plane from Sri Lanka, Miguel Angel Moratinos, United Nations High Representative for the Alliance of Civilizations (UNOAC), said on Wednesday that tomorrow's 5th World Forum for Intercultural Dialogue is opening at a "very timely" moment.
Speaking in Baku, Azerbaijan, ahead of the UN-backed Forum, Mr. Moratinos told UN News about his "emotional visit" to Colombo, the capital of Sri Lanka, where he paid his respects to victims of the suicide bombings that took place on Easter Sunday which killed more than 250 people at churches and hotels across several cities.
"Sri Lanka has been an open country with different religions and cultures, and suddenly there was this massacre", he said, adding that it had dealt a "tremendous blow to a country that is trying to live together in peace."
While social intolerance is not new, Mr. Moratinos was concerned about what he called "the return of hate."
"Hate is the word that mobilizes certain communities to destroy", he said, adding: "It drives people past the point of not being able to live together to the direction of exterminating their opponents and that is very dangerous."
"This Forum is important to send a strong message to the international community that it is possible to live together, that we can respect each other and that we have to better understand different cultures and religions," he told UN News.
Complex situations need clarity
He said that as the world is becoming more complex and uncertain, a global strategy for intercultural dialogue is ever more important.
"Solutions sought through financial, military and political means take a simplistic view", he stated, noting that sustainable solutions require a social-cultural approach that digs deep into the roots of different societies to bring clarity.
"Unless you understand the mentality of your neighbor, the history of an issue, how you come to this situation, what the consequences are and the relationship is, it is very difficult to find sustainable solutions," he maintained.
The High Representative is taking up this approach wholeheartedly, using it as a new tool "to explore and develop in the near future".
Mr. Moratinos also spoke about the message of interfaith dialogue and tolerance on which both the Grand Imam of Al Azhar and the Pope agreed.
He said the historic declaration that Al Azhar and the Vatican had produced was about "brotherhood, mutual understanding and overcoming past controversies to look toward the future".
"And it is not only between Islam and the Catholic Church, they want to go larger, to ask other religious faiths to join them", he said, noting that is provides "a good basis for discussion and for interreligious dialogue".
Turning to the global plan of action to safeguard religious sites – a fresh mandate given to UNAOC last month by UN chief António Guterres in the wake of the horrific mass shooting at two New Zealand mosques – Mr. Moratinos told UN News that while working on the draft, his Officer was "shocked by what happened in Sri Lanka", stressing that those attacks further demonstrated the urgency of developing a plan.
He detailed some of the work his team is doing to this end, such as in Sri Lanka, where they reached out to the Congress of Religions and "went into specific elements", including on how national legislation should be adapted "to meet new challenges" and the work needed to "put an end to social networks of hate and discrimination".
The High Representative shared his hope that by end-July a draft plan should be ready for adoption and implementation.
The 5th World Forum, which will open in Baku tomorrow, 2 May and through Friday, will examine the critical role of intercultural dialogue as an actionable strategy for building human solidarity and helping localities counter the violence and discrimination in diverse communities.
Running under the theme Building dialogue into action against discrimination, inequality and violent conflict, the Forum will also host the 2nd High Level Panel of the Heads of International Organizations and the Ministerial Panel, in order to build synergy and partnership among political, economic, financial, military, humanitarian and social organizations along with other stakeholders to elaborate a common roadmap for assisting public, private and third sector organizations in building inclusive and sustainable societies through promoting intercultural dialogue and human dignity.
The Government of Azerbaijan, in partnership with the UN Education, Scientific and Cultural Organization (UNESCO), UNAOC, the UN World Tourism Organization (UNWTO), the Council of Europe and the Islamic Educational, Scientific and Cultural Organization (ISESCO) is the host of the Forum.