Extreme Right and Islamic Extremists: an evident comparison?
The problems related to security, lack of dialogue between different cultures and religions, as well as the issues relating to mass migrations, are increasingly influencing the political and social confrontation in different parts of the world.
The further establishment of extreme Islamist movements in Middle East and Africa, paired with the parallel rise of extreme right parties in Europe, are progressively creating hurdles to pacific confrontation and development, apparently fuelling each other's violence in words as in actions.
In this short article, we will try to reflect on the similarities between such extremist movements by constructing an empirical comparison between them.
The new challenges to the stability of contemporary society – as the difficulties of integrating the rising number of foreign workers and the perceived hurdles of the dialogue of civilizations – are more and more pushing towards polarization and extremization of political confrontation. With part of the mass media – especially in the so-called "Western" world – apparently putting (in bona fide or not) the focus only on the threats to the consolidated democratic way of life from large religiously-driven terrorist organizations, the analysis on how different forms of extremism are developing themselves is lacking an important aspect: the comparison between socio-political modus operandi of Islamic extremists and far right extremists.
While the analogy between Islamic extremist movements of the past – characterized by authoritarianism and racist elements – and the ideological predecessor of the European Extreme Right – i.e. Italian Fascism and German Nazism – has already been drawn and analysed in academic literature, the comparison between current Islamic extremism and current European Extreme Right political parties has not been attempted yet. Before delving into the crux of the issue, it is necessary to map out the essential features defining a diverse array of European Extreme Right political parties, such as the Italian Lega Nord, the British BNP (British National Party), and the Swiss SVP (Swiss People's Party). To begin with, the European Extreme Right parties construct their identity in a negative way, since they delineate their identity features as opposed to a seemingly threatening "Other", precisely immigrants in general, Muslim immigrants in particular. At this point it is worth, for the sake of clarity, making a brief digression to point out that the concept of the Other is rooted in the Hegelian notion that the definition of the identity of the self hinges on the definition of the identity of a negative Other, which is inherently different from the self. Consequently, the following Extreme Right's features are to be considered as remarking the opposition between the European, Western self, also defined as the in-group, and its negative Other, also referred to as the out-group.
This said, we can start by pointing out xenophobia as an essential feature of the Extreme Right. Xenophobia, sadly, is an almost omnipresent feature of a not-properly developed (or simply "gone bad") multicultural society: it is exploited by such parties as a main aggregator for unsatisfied citizens blaming problems (be them theirs, or of society in general) on the different "other". Its ideology stresses the importance of the native ethnicity vis-à-vis the out-group. For instance, the BNP emphasizes the belonging to the British ethnic group, though vague the concept of ethnicity may be in this case. Indeed, the Extreme Right adheres to and promotes a form of nationalism of the ethnic type, conceptualizing the belonging to the nation as ascribed by blood, primitive, and irrational. It follows that the Extreme Right takes on an anti-immigration stance, thus appealing to public anxieties and frustration over the Other, which is depicted as a danger to the integrity and the security of the ethnic nation. Interestingly, it should be noted that some extreme right parties as the Lega Nord debuted by promoting an "intra-national" racism, fomenting discord between citizens of the same country originating from different areas, regions or cities.
Secondly, an anti-establishment position characterizes the Extreme Right. Extreme Right political parties are, indeed, often populist, as they harshly criticize the existing political, social, and economic structure of their respective states and, in doing so, they intend to appeal to the people as a whole. On the contrary, they do not appeal to the elites, which are deemed responsible for the grievances affecting their states. Within the frame of their anti-establishment stance, the European Extreme Right parties are hostile to traditional democracy, linked to diversity and liberal values, and are in favour of a form of post/ pseudo-democratic politics. Thirdly, authoritarianism distinguishes the Extreme Right political parties. In fact, they promote repressive and quasi-violent measures in the field of security, which ties into the discussion about the Extreme Right's anti-immigration stance. For instance, the BNP, the Lega Nord and the SVP advocate the introduction of the death penalty and promote the expulsion of clandestine immigrants. Finally, the European Extreme Right upholds reactionary values, promoting traditions vis-à-vis modernity, and showing a deep nostalgia towards an idealized past, when the ethnic nation was, in their opinion, pure, safe, and unspoilt by the Other.
Turning the focus onto Islamic extremism, it is possible to start finding analogies. The first and most apparent one regards, not surprisingly, xenophobia: the West, for a paradoxical twist of fate, becomes Islamic extremism's threatening Other. Some examples of this can be seen in Boko Haram fundamental ideology – the same very name of the organization literally translates to "Western education is forbidden", which conveys its acute anti-Western stance that is ultimately driven (very often violently) against Western-style educational institutions and Western-derived religious institutions. Similarly, IS is antagonistic to the West, planning terror attacks against it and unleashing pitiless violence against Christians in the Middle East and more recently in Northern Africa via its affiliate sub-organizations. It is important to underline, however, Islamic extremism does not emphasize (yet) the belonging to any ethnic nation, but rather the belonging to Islam: it is not possible to classify it as a form of ethnic nationalism, as the Extreme Right is. Paradoxically, Islamic extremism can be considered as "inclusive" when compared to the other kind of extremism since that adhering to its religion can open its doors to foreigners, as seen with the various "foreign fighters" who joined the ranks of IS.
Secondly, similarly to the Extreme Right, Extremist Islamic organizations have an anti-establishment hue which, however, is expressed in a different way. Ideologically, Islamic terrorists oppose democracy – in particular, Western/European-inspired democratic values and institutions – because they are seen as Western, foreign and non-native imposed product. Practically, this is expressed by the direct violent attacks to institutions and their representatives, as well as different attempts to boycott elections or other steps of the democratic process. The capacity of appealing to the people as a whole – provided they are Muslim – is an important lever for consensus, especially when new followers are made by capitalizing on the problems of the (more or less) democratic institutions of the countries where extremists operate. Corruption, inequalities and widespread poverty, and are among the main reasons which helped the establishment (and the strengthening) of such organizations. This way, thanks to a general feebleness of the institutional structure – summed up with a lesser, or simply different, acceptance of often European-derived institutions – Islamic extremist organizations arrange their fight with more violent means, often leaving the political dialogue in favour of menaces and attacks or various nature. This way, even if such organizations (like IS and its parent groups, as well as Boko Haram) share with the Extreme right the element of authoritarianism, the different socio-political and historical context in which they are active influences their modus operandi. If it is legitimate to think how a different and better consolidated institutional framework could have influenced the formation of extremist religious movements, it is interesting to think what could have happened in a far weaker and lesser interconnected Europe, with an eye on the history books and the first establishment of far right regimes in the Old Continent.
As a last point, an easier analogy to be analysed is the one that can be drawn between Islamic extremism, in particular IS, and Fascism. The neologism "Islamofascism" has been coined to describe the similarity between Islamic extremism and the Italian Fascism. This analogy allows for a greater range of elements to be included in the analysis, in addition to a xenophobic and anti-establishment ideology, and an authoritarian and reactionary strategy. For instance, both Fascism and Islamic extremism are movements that depict themselves as the liberators ushering in a golden age, which will benefit the masses and lift them out of economic, social, and political crises. Moreover, both movements are driven by the willingness to form an empire. While Fascism dreamt of building an Italian Empire, in order to revive the imperialist glories of Ancient Rome, IS and Boko Haram want to create (or re-create, in some specific regional cases) an Islamic caliphate trespassing state borders and resembling an empire in dimensions and rule.
To sum up, the European Extreme Right and Islamic extremism share a xenophobic and anti-establishment ideology and an authoritarian, reactionary strategy. Moreover, they both exploit the population's discontent regarding the existing economic, social, and political conditions. However, probing beyond the surface, these movements are not fully comparable. Indeed, the Extreme Right's anti-immigration stance is alien to Islamic extremism, due to the different context in which the two movements operate.
On such bases, could be useful to make a last reflection: are such movements "sons of their times", sprouting from an unexpressed miscontent for determined living conditions, or are they the expression of different powers trying to impose a precise way of seeing (and then defining) society for their vested interests? Behind mere violence and ideology, it is important to take note of the fact that these factions have an agenda of theirs with clear economic, political and strategic objectives. The rise of organizations like IS and Boko Haram is also linked to complex economic interests, related to the control of strategic areas and commodities, as well as arms dealing if we enlarge the focus to Eastern Africa and Al Shabaab. The religious or the ideological element is exploited to force "change" and gather followers in order to topple the current elite and obtain its power and revenues. Similarly, even if without the element of the extreme violence, this is happening with the Extreme Right in some areas of Europe. An example comes from the Italian case, where the Lega Nord formed to "defend" local economic interests by promoting destabilizing (and not sufficiently evaluated) measures for the country's management, next to the overall anti-immigration and xenophobic stance. Material interests drive ideology, which becomes an instrument built in and for social, political and economic exclusion to the advantage of a restricted clique demonstrating limited interest for its own followers.
Ultimately, we can reach the conclusion that these two kinds of extremism – with their analogies and differences – capitalize on each other strength, thus ultimately reinforcing themselves in their quest to annihilate each other, be it verbally or practically. In absence of sound policies and concrete solutions to the problems that gave birth to these movements, more the "violence" of the confrontation is raised, more discontented citizens will feel attracted by extreme measures.
Related to this, it is important to remember the role of Europe and the "West" in general in the strengthening of extremist organizations in ME and in the Mediterranean. As during Cold War times, in a broader (but surprisingly narrow-minded) geopolitical strategy based on the assumption that "the enemy of my enemy is my friend", extremist organizations have been used as a filler or pressure item to damage non-collaborating leaders and States instead of being annihilated, bringing to the results we know. On the other hand, a real engagement against the development of Extreme Right movements has usually been absent, sometimes replaced by a more dangerous act of capitalization on these movements for national (or regional) short-term political objectives by other factions – as securing government stability, slowing down specific steps of the European integration process. Furthermore, even in countries where the reformation or even the apology of former Extreme Right factions is illegal (again, as in Italy), enforcement has often been poor or sporadic.
In conclusion, with these reflections referring to a wider picture, it is worth mentioning a promising avenue for future thought and research on this comparative topic. Indeed, in this age threatened by the Extreme Right and Islamic extremism, it is useful to think about how these two dangers can be related by a causal nexus. The menacing spread of Islamic extremism may fuel the growth of the support for European Extreme Right parties, as Islamic extremism becomes the enemy, namely the Hegelian Other, to fight against both within Europe- where it is embodied by the immigrants – and outside Europe – in the cradles of Islamic extremism – by invoking the ethnic and pure nation. The most serious consequence of this process is that it may undermine multiculturalism, which is only incipient in some states, such as Italy, but belongs to an established and deep-seated political and social configuration of other states, such as the United Kingdom.
(special thanks to Ms. Marianna Griffini for the help and support)
Kashmir puts Chinese counterterrorism on the defensive
Heightened tension in Kashmir and evidence of a Chinese military presence on the Tajik and Afghan side of their border with China's troubled north-western province of Xinjiang are putting on display contradictions between the lofty principles of the People's Republic's foreign and defense policies and realities on the ground.
The escalating tension between Pakistan and India puts to the test what Pakistan and China tout as an "all-weather friendship." The test will likely occur when the Financial Action Task Force (FATF), an international anti-money laundering and terrorism finance watchdog, debates an Indian demand that the South Asian nation, already grey-listed, be put on the organization's black list.
With the attack and its aftermath unfolding as FATF this week concluded a meeting in Paris, the Kashmir incident is expected to really play out in June when the group is certain to discuss a report that is expected to provide what India considers evidence of Pakistan's alleged culpability for this month's attack on a bus in Kashmir that killed more than 40 Indian paramilitary personnel as well as Pakistani backing for the group believed responsible for the assault and other militant organizations.
Pakistan has denied the allegations and offered to help investigate the Kashmir incident.
China, however, despite refusing to prevent FATF from grey-listing Pakistan last year, will find it increasingly difficult to defend its shielding of Pakistan in the United Nations and could be caught in the crossfire as it continues to protect Masood Azhar, the leader of Jaish-e-Mohammed, the group believed responsible for the Kashmir attack.
Like in the past, China this week rejected an Indian request that it no longer block designation of Mr. Azhar by the UN Security Council as a global terrorist. China asserts that Indian evidence fails to meet UN standards.
Nonetheless, China's shielding of Mr. Azhar risks it being perceived as violating the spirit of the 2017 summit in Xiamen of BRICS countries – Brazil, Russia, India, China and South Africa – that for the first time identified Pakistan-backed militant groups as a regional security threat.
Question marks about China's approach to the countering of political violence and militancy also reflect on China's justification of its brutal crackdown on Turkic Muslims in Xinjiang.
Concern that militant Uyghurs, the predominant Turkic Muslim minority in Xinjiang, including foreign fighters exfiltrating Syria and Iraq, could use Central Asia as an operational base has prompted China to violate its declared principle of not wanting to establish foreign military bases.
China has been believed to be involved for several years in cross-border operations in Tajikistan and Afghanistan's Wakhan Corridor, both of which border on Xinjiang.
A Washington Post report this week, based on a visit by one of its correspondents to the Tajik-Chinese border provided evidence of China's military presence on the Tajik side of the dividing line. "We've been here three, four years," a Chinese soldier told the reporter.
Evidence of the long-reported but officially denied Chinese military presence in Tajikistan comes on the back of China's increasing effort to put in place building blocks that enable it to assert what it perceives as its territorial rights as well as safeguard Xinjiang and protect its mushrooming Diaspora community and overseas investments that are part of its Belt and Road initiative.
The evidence in Tajikistan, moreover, follows the establishment of a military base in Djibouti in the Horn of Africa and facilities in the South China Sea that bolster China's disputed territorial claims.
"Beijing is quietly establishing a security presence in CA (Central Asia) that is broader and deeper than just facilities or hundreds of PLA (People's Liberation Army) soldiers on the ground," said Carnegie Endowment for International Peace scholar Alexander Gabuev.
Potentially, China's military expansion into Central Asia could complicate relations with Russia that sees the Eurasian heartland, once part of the Soviet Union, as its backyard. Continued expansion would call into question a seeming Chinese-Russian division of labour that amounted to Russian muscle and Chinese funding.
Like China, Russian Foreign Minister Sergei Lavrov appeared to be nibbling at the edges of that understanding on a visit to Central Asia this month in which he dangled investment, economic assistance and security guarantees.
Mr. Lavrov's travels followed a visit to Uzbekistan in October by President Vladimir Putin that produced US$27 billion in commercial deals.
"Russia would be smart to rethink its policy towards CA, and base new approach on support for sovereignty of local states. If Russia won't view the 5"(Central Asian) states as its subjects, they are likely to seek greater engagement with Moscow to balance Beijing's econ/sec influence," Mr. Gabuev said, referring to China's economic and security interests.
Pulwama Attacks: Pakistan takes on India again
The attacks by Jaish-e-Muhammed on Indian security forces has come at a tricky time; Modi led government's reaction to the killings, and the preparations for the 2019 general elections, are two events, that are going to intrigue imagination of wide possibilities. Forty men lost their lives, in the kind of barbarism that India expects from Pakistani non-state actors. Mind the assertion; if media sources in India can prove that Masood Azhar-the master mind, controlled the entire event from a military hospital in Rawalpindi, Pakistan has landed itself in a great limbo. Masood Azhar is no longer a non-state actor in Pakistan; instead he is a Pakistani non-state actor. Pay attention, there is a difference.
The fact that India failed to anticipate such an attack, again, is beyond sound logic. Terrorist attacks on armed convoys over bordering highways, is but a chilling script that keeps the Indian administration on their toes. Mind the lapse. What a miss!
What happened?
Nobody in India and elsewhere predicted this. PM Narendra Modi did not see this coming. Not the intent, but the magnitude of casualties. For this alone, Pakistani non-state actor(s) calculated brilliantly. They intercepted a psychological lapse of a strong, yet busy Prime Minister. Let us also pretend that there was a rare moment of blunder by the Indian intelligence. That leaves us to the only realistic assumption of what might have happened.
For many years, India has maintained the vocal discourse of Pakistan's deceitful personality in dealing with transnational issues. The Pulwama killings would have choked Narendra Modi, reminding him the lesson of how a wild animal can never be tamed. More so, not when they promise to not hurt you. Imran Khan is an icon, but no excuses this time, the blood is in his hands. From an observatory perspective, one cannot help but conclude that there is an element of serious political assurance turning into fraudulence.
After-effects
Two months prior to the 2019 general elections, the Indian Prime Minister has woken up to the challenges, that nobody in India would have not predicted. Still, the Pulwama attacks has placed him in a very awkward position. It is a well-documented fact that India can carry out surgical strikes, just like it has in the recent past. Equally, it can only be fair to assume that Pakistan will be ready this time. The story will lose all plot, if Pakistan, like India fails to anticipate another precision attack on its border. Mind the context, it actually means something more.
Reportedly, PM Modi threatened against Pakistani aggression; however, India stands on crossroads. From the Pakistani logic, time has subsided India's options. Imagine another strike gone wrong in the enemy's territory. Imagine a full-fledged war, overtaking the carousal of national elections. Islamabad is ready this time. In the worst case, they have managed to manufacture a predictable excuse to penalize India's confronting military creativity. Pay attention, there are little choices. And the consequences are alarming.
Pakistan's credibility
Regardless of all legitimate Indian accusations, Pakistan would be less worried, by Indian threats to isolate them diplomatically. While the current Indian rhetoric might be another disguise before their jets ignite for a military crackdown; Pakistan has and will operate with their elements of non-state actors. Hence, there is no question about credibility. Mind the change in Pakistani attitude. Before, non-state actors were merely a means to their ends. Now, the Pakistani military is on the front foot, itching for an Indian reaction. Calculations have been made. The Pulwama attacks are a testimony to their intentions. The international community will be hoping that India will let go this time; take it under their chin, once again. There is an acute wish to avoid a situation of hypocrisy. Given a foreseeable Indian aggression, Pakistan will seek international assurance based on equality. The rules apply the same for everyone.
Distinctive
For good reasons, the Pulwama killings will presumably lead to a peaceful solution. The Indian reaction will be gold for academic books, that are based on solving inter-state disputes. India owes a reaction to all kinds of anticipative communities, on a platform that Pakistan has calculatedly fished for their arch-rivals. The ball is in India's court. A moment of magnifique for Narendra Modi, or a strategic tit for tat for Pakistan? Mind the set-up. Evenly poised!
ISIS Smuggler: Sleeper Cells and 'Undead' Suicide Bombers Have Infiltrated Europe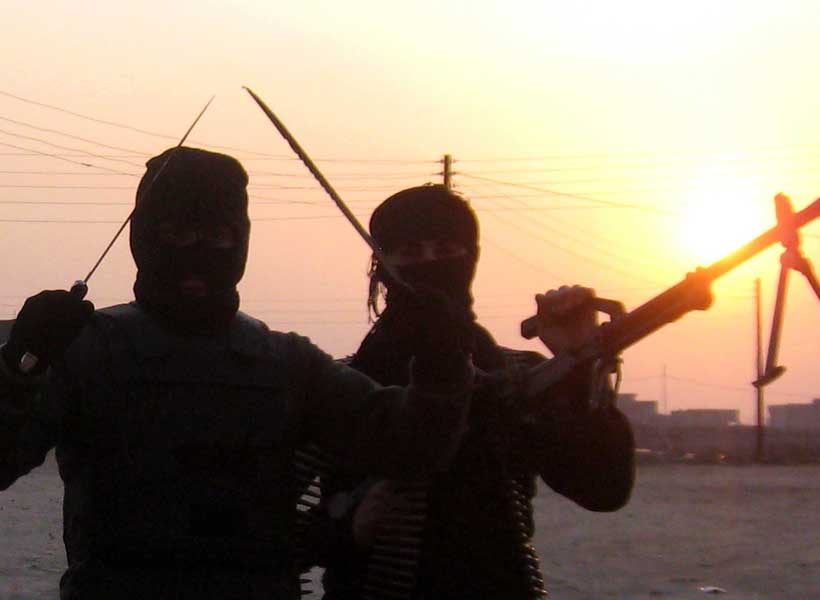 Authors: Anne Speckhard, Ardian Shajkovci & Hamid Sebaly
Europe is bracing for a new wave of jihadist attacks by terrorists affiliated with the so-called Islamic State, what "you might call ISIS 2.0," as Interpol chief Jürgen Stock recently told reporters. Some previously imprisoned jihadists are being released from jail, others are returning to Europe—and to prison—while still others, we have learned, have never been known to police and operate as "sleeper cells" waiting to be mobilized.
It is in the face of such concerns that U.S. intelligence chiefs have warned, despite President Donald Trump's assertions to the contrary, that ISIS is still far from defeated.
Last week, the International Center for the Study of Violent Extremism (ICSVE) interviewed 18 ISIS cadres held by the Kurdish People's Protection Units (YPG) closely allied with U.S. coalition forces in Syria. Two of the prisoners interviewed were former members of the ISIS intelligence operation known as the "emni," sometimes also written as "amni."
One of them, a Tunisian named Abdel Kadr, was a 35-year-old athletic-looking and obviously clever individual, who had illegally smuggled himself into Europe in 2008 and then managed to get legal residency, to live and work there, by marrying a German. Abdel Kadr claimed to have "found religion" and also, like many foreign fighters, to have been moved by the plight of Syrians assaulted by Bashar al-Assad's forces, which caused him to leave Germany for Syria in 2014, driving an ambulance loaded with humanitarian supplies.
Abdel Kadr ultimately joined and served ISIS until he was captured by the YPG last year. He appears to have had high-level access in ISIS and was open to discussing what he knows while also seeking not to incriminate himself.
Regarding the ISIS emni, Abdel Kadr says there are both internal and external emni networks in ISIS, the former enforcing security within the self-declared caliphate and the latter sending operatives outside of it, to be sleeper cells organizing attacks in Europe and globally. They are not police but intelligence operatives, he said. "They live 24 hours per day with a mask. They are chosen specially for this. They have their own houses, special families. They have been chosen specially, and many were sent back to Europe."
People smuggling
Prior to joining ISIS, Abdel Kadr had been a human and goods smuggler based in Germany, working between Turkey and Europe. He said he joined the Islamic State alongside his friend Dominic, a white German convert to Islam. Dominic wanted to return to Germany to work as an undercover operative for ISIS and, being fair-skinned with no known criminal history, he believed he could do so undetected. (He should not be confused with Dominic Musa Schmitz, a Salafi who wrote a book in German in 2016 about his disillusionment with Salafi Islam.)
"There are a lot of those who were trained by ISIS to go into Europe," said Abdel Kadr. The emni member who trained and facilitated many of them was also a white European, an Austrian who went by the kunya, or pseudonym, of Abu Musa al-Almani.
"He was in charge of Germany," Abdel Kadr explained. "He spoke around seven languages: German, Dutch, French, Arabic, and German with the accent of Austria. He was an Austrian native with long hair and a red beard," Abdel Kadr said. "He was from a wealthy family in Austria and a convert from Christianity. I met him in Syria, but he was moving everywhere." He was traveling back and forth via Turkey.
"I heard about this wave that they prepared for Europe," Abdel Kadr told us. "They asked me if I'd like to go back to Germany. They were saying to me if you want to go back don't worry about money, but they don't know how I think."
Abdel Kadr was content at that time inside ISIS doing business on the side and making considerable profits. And he had a ready excuse for begging off from such a mission. "I have seven pieces of shrapnel in my body," he explained. "If I pass through an airport they will catch me." Also, he looks like the Arab he is, and is liable to fall prey to profiling. "They were sending athletic guys who look European back into Europe," Abdel Kadr told us.
The ISIS emni asked Abdel Kadr to return to his former human smuggling trade. "They wanted me to make logistics and coordination because before I joined ISIS and came, I was smuggling people between Turkey and Greece." That was when Abdel Kadr was living in Germany with his German wife, making thousands of dollars smuggling Bengalis, Iranians, Pakistanis, Afghans who had already made their way into Turkey on into Europe. The back trails across the border were primitive and rough, he said, but he knew them. "Our bridge to cross the river was a tree we cut for that purpose."
ISIS intelligence "knew I was a people smuggler. All my German friends knew I was a smuggler," Abdel Kadr explained. "Abu Musa al-Almani, who was in charge of Germany, came to me in Raqqa with Dominic and asked me about the smuggling. He said, 'Dawlah [the State, ie. ISIS] needs you. The whole nation of Islam needs you.'"
The emni asked Abdel Kadr to help them smuggle trained operatives back into Europe following the routes from Turkey into Greece that he had previously exploited. Abdel Kadr claims he refused. "I took my injuries as an excuse to escape from this, I have a screw in my leg, shrapnel [from a bomb attack]. It took seven kilometers walking to get across to Greece. My role was five kilometers up to the tree [bridge]. Someone else took them inside, an Algerian guy."
Abdel Kadr claims that he told ISIS he was no longer fit enough to do it. It may be true that he refused, as he was at the time engaged in a smuggling and trade operation inside ISIS, enriching himself there, or he may in fact have re-engaged in his former trade but did not want to tell us.
The Undead
According to Abdel Kadr, when the emni was going to send a European back to attack they would first falsely announce inside ISIS, and on their external media, that he had been killed fighting or in a bomb attack. But later, it would be revealed that he was actually alive and had successfully attacked in Paris or Brussels, for instance, and had been "martyred" there.
In the case of most suicide attacks in Europe, according to Abdel Kadr, the death of the operative is announced by ISIS a few months earlier, when in fact, "they took them to a camp to train them. Then after you get a communiqué about their action in Europe. The communiqué on this date stated he died in France or Belgium, but for ourselves, seven or eight months before [we had heard] they were announcing his death."
The same was true of Dominic, according to Abdel Kadr. "ISIS said he was killed, but it wasn't true. He lived next to me and when I went to see his wife and children inside the ISIS area [in Tabqa, near Raqqa], they told me, 'He is not killed, but we don't know where he is.'" Abdel Kadr already knew Dominic's desire to return to Europe to serve ISIS.
"He's alive somewhere," Abdel Kadr told us. "Up to now, there is no communiqué [about his actions in Europe]." Abdel Kadr, who is imprisoned by the YPG and says he is now totally disillusioned with ISIS, claims to have tried to thwart any possible attack by Dominic by alerting German and European intelligence about his friend's "disappearance" and fake death announcement inside of ISIS.
"There are 1,000 partisans in Europe," Abdel Kadr claims. "They have a big plan to introduce hundreds of refugees from all nationalities of the world," he claims, saying ISIS was able to insert them into the refugee streams flowing into Europe. Many are sent to Europe with false passports. "They are processed by surgery, training and language and they send them as sleeping cells. In Turkey they give them hair transplants, surgically change their eyes, even the eye color." (Presumably that would be with contact lenses.)
At least two of the attackers who struck Paris in November 2015 had entered Europe among refugees and carried false papers.
In 2015, Harry Sarfo, a German whose family originally was from Ghana, and who'd grown up in Britain, working as a postman there before he joined ISIS, was pressured by the ISIS emni to train and return to attack in Germany. He told the authorities, and later Der Spiegel and The New York Times, about his training and knowledge of these ISIS emni activities.
ISIS was telling Europeans to book short vacations in resorts in the south of Turkey, take many pictures, and then come to train for a short time with ISIS to be sent back to join sleeper cells in Europe. Without overstaying their Turkish visas and with the strong alibi of the resort booking and pictures to confirm it, they passed suspicions if questioned by security about their activities.
Abdel Kadr confirmed that this indeed was happening. "They are able to bring a youth into ISIS and then back into his family without the knowledge of his parents. They send him home to Europe after one year in training with ISIS," he states. "There are some people who came with European faces for a short time and went back through Turkey," he explains. "Like my friend, Dominic. I think he's living in Europe," Abdel Kadr concludes.
When asked about this case and others like it, a high-level YPG security official explains that his organization is doing everything it can to stop such operations. The YPG says it has caught and now holds in its prisons over 3,500 foreign fighters, many of them Europeans.
But the Kurds feel frustrated knowing that these foreigners streamed in through Turkey, some of them received medical help inside Turkey when injured, and most of the logistical supplies and extra food supplies for ISIS were delivered across the Turkish border.
Although the YPG has provided the core ground force working with the Americans to defeat ISIS, President Trump's decision to withdraw some 2,000 U.S. troops providing logistical and other support leaves the organization in a vulnerable position. The Turkish government insists that the YPG is a branch of the Kurdish Workers Party or PKK, which Ankara and many other governments, including the U.S., deem a terrorist organization.
The YPG says the Turks have actually been complicit with ISIS. "They call us the terrorists" another YPG military intelligence officer told us, "but we are fighting terrorism every single day, losing our lives by the thousands doing so and trying to keep Europe safe from such people. We are fighting terrorism, while others are helping them to come and go, in and out of Syria, across our borders."
Author's note: Article first published in The Daily Beast