Extreme Right and Islamic Extremists: an evident comparison?
The problems related to security, lack of dialogue between different cultures and religions, as well as the issues relating to mass migrations, are increasingly influencing the political and social confrontation in different parts of the world.
The further establishment of extreme Islamist movements in Middle East and Africa, paired with the parallel rise of extreme right parties in Europe, are progressively creating hurdles to pacific confrontation and development, apparently fuelling each other's violence in words as in actions.
In this short article, we will try to reflect on the similarities between such extremist movements by constructing an empirical comparison between them.
The new challenges to the stability of contemporary society – as the difficulties of integrating the rising number of foreign workers and the perceived hurdles of the dialogue of civilizations – are more and more pushing towards polarization and extremization of political confrontation. With part of the mass media – especially in the so-called "Western" world – apparently putting (in bona fide or not) the focus only on the threats to the consolidated democratic way of life from large religiously-driven terrorist organizations, the analysis on how different forms of extremism are developing themselves is lacking an important aspect: the comparison between socio-political modus operandi of Islamic extremists and far right extremists.
While the analogy between Islamic extremist movements of the past – characterized by authoritarianism and racist elements – and the ideological predecessor of the European Extreme Right – i.e. Italian Fascism and German Nazism – has already been drawn and analysed in academic literature, the comparison between current Islamic extremism and current European Extreme Right political parties has not been attempted yet. Before delving into the crux of the issue, it is necessary to map out the essential features defining a diverse array of European Extreme Right political parties, such as the Italian Lega Nord, the British BNP (British National Party), and the Swiss SVP (Swiss People's Party). To begin with, the European Extreme Right parties construct their identity in a negative way, since they delineate their identity features as opposed to a seemingly threatening "Other", precisely immigrants in general, Muslim immigrants in particular. At this point it is worth, for the sake of clarity, making a brief digression to point out that the concept of the Other is rooted in the Hegelian notion that the definition of the identity of the self hinges on the definition of the identity of a negative Other, which is inherently different from the self. Consequently, the following Extreme Right's features are to be considered as remarking the opposition between the European, Western self, also defined as the in-group, and its negative Other, also referred to as the out-group.
This said, we can start by pointing out xenophobia as an essential feature of the Extreme Right. Xenophobia, sadly, is an almost omnipresent feature of a not-properly developed (or simply "gone bad") multicultural society: it is exploited by such parties as a main aggregator for unsatisfied citizens blaming problems (be them theirs, or of society in general) on the different "other". Its ideology stresses the importance of the native ethnicity vis-à-vis the out-group. For instance, the BNP emphasizes the belonging to the British ethnic group, though vague the concept of ethnicity may be in this case. Indeed, the Extreme Right adheres to and promotes a form of nationalism of the ethnic type, conceptualizing the belonging to the nation as ascribed by blood, primitive, and irrational. It follows that the Extreme Right takes on an anti-immigration stance, thus appealing to public anxieties and frustration over the Other, which is depicted as a danger to the integrity and the security of the ethnic nation. Interestingly, it should be noted that some extreme right parties as the Lega Nord debuted by promoting an "intra-national" racism, fomenting discord between citizens of the same country originating from different areas, regions or cities.
Secondly, an anti-establishment position characterizes the Extreme Right. Extreme Right political parties are, indeed, often populist, as they harshly criticize the existing political, social, and economic structure of their respective states and, in doing so, they intend to appeal to the people as a whole. On the contrary, they do not appeal to the elites, which are deemed responsible for the grievances affecting their states. Within the frame of their anti-establishment stance, the European Extreme Right parties are hostile to traditional democracy, linked to diversity and liberal values, and are in favour of a form of post/ pseudo-democratic politics. Thirdly, authoritarianism distinguishes the Extreme Right political parties. In fact, they promote repressive and quasi-violent measures in the field of security, which ties into the discussion about the Extreme Right's anti-immigration stance. For instance, the BNP, the Lega Nord and the SVP advocate the introduction of the death penalty and promote the expulsion of clandestine immigrants. Finally, the European Extreme Right upholds reactionary values, promoting traditions vis-à-vis modernity, and showing a deep nostalgia towards an idealized past, when the ethnic nation was, in their opinion, pure, safe, and unspoilt by the Other.
Turning the focus onto Islamic extremism, it is possible to start finding analogies. The first and most apparent one regards, not surprisingly, xenophobia: the West, for a paradoxical twist of fate, becomes Islamic extremism's threatening Other. Some examples of this can be seen in Boko Haram fundamental ideology – the same very name of the organization literally translates to "Western education is forbidden", which conveys its acute anti-Western stance that is ultimately driven (very often violently) against Western-style educational institutions and Western-derived religious institutions. Similarly, IS is antagonistic to the West, planning terror attacks against it and unleashing pitiless violence against Christians in the Middle East and more recently in Northern Africa via its affiliate sub-organizations. It is important to underline, however, Islamic extremism does not emphasize (yet) the belonging to any ethnic nation, but rather the belonging to Islam: it is not possible to classify it as a form of ethnic nationalism, as the Extreme Right is. Paradoxically, Islamic extremism can be considered as "inclusive" when compared to the other kind of extremism since that adhering to its religion can open its doors to foreigners, as seen with the various "foreign fighters" who joined the ranks of IS.
Secondly, similarly to the Extreme Right, Extremist Islamic organizations have an anti-establishment hue which, however, is expressed in a different way. Ideologically, Islamic terrorists oppose democracy – in particular, Western/European-inspired democratic values and institutions – because they are seen as Western, foreign and non-native imposed product. Practically, this is expressed by the direct violent attacks to institutions and their representatives, as well as different attempts to boycott elections or other steps of the democratic process. The capacity of appealing to the people as a whole – provided they are Muslim – is an important lever for consensus, especially when new followers are made by capitalizing on the problems of the (more or less) democratic institutions of the countries where extremists operate. Corruption, inequalities and widespread poverty, and are among the main reasons which helped the establishment (and the strengthening) of such organizations. This way, thanks to a general feebleness of the institutional structure – summed up with a lesser, or simply different, acceptance of often European-derived institutions – Islamic extremist organizations arrange their fight with more violent means, often leaving the political dialogue in favour of menaces and attacks or various nature. This way, even if such organizations (like IS and its parent groups, as well as Boko Haram) share with the Extreme right the element of authoritarianism, the different socio-political and historical context in which they are active influences their modus operandi. If it is legitimate to think how a different and better consolidated institutional framework could have influenced the formation of extremist religious movements, it is interesting to think what could have happened in a far weaker and lesser interconnected Europe, with an eye on the history books and the first establishment of far right regimes in the Old Continent.
As a last point, an easier analogy to be analysed is the one that can be drawn between Islamic extremism, in particular IS, and Fascism. The neologism "Islamofascism" has been coined to describe the similarity between Islamic extremism and the Italian Fascism. This analogy allows for a greater range of elements to be included in the analysis, in addition to a xenophobic and anti-establishment ideology, and an authoritarian and reactionary strategy. For instance, both Fascism and Islamic extremism are movements that depict themselves as the liberators ushering in a golden age, which will benefit the masses and lift them out of economic, social, and political crises. Moreover, both movements are driven by the willingness to form an empire. While Fascism dreamt of building an Italian Empire, in order to revive the imperialist glories of Ancient Rome, IS and Boko Haram want to create (or re-create, in some specific regional cases) an Islamic caliphate trespassing state borders and resembling an empire in dimensions and rule.
To sum up, the European Extreme Right and Islamic extremism share a xenophobic and anti-establishment ideology and an authoritarian, reactionary strategy. Moreover, they both exploit the population's discontent regarding the existing economic, social, and political conditions. However, probing beyond the surface, these movements are not fully comparable. Indeed, the Extreme Right's anti-immigration stance is alien to Islamic extremism, due to the different context in which the two movements operate.
On such bases, could be useful to make a last reflection: are such movements "sons of their times", sprouting from an unexpressed miscontent for determined living conditions, or are they the expression of different powers trying to impose a precise way of seeing (and then defining) society for their vested interests? Behind mere violence and ideology, it is important to take note of the fact that these factions have an agenda of theirs with clear economic, political and strategic objectives. The rise of organizations like IS and Boko Haram is also linked to complex economic interests, related to the control of strategic areas and commodities, as well as arms dealing if we enlarge the focus to Eastern Africa and Al Shabaab. The religious or the ideological element is exploited to force "change" and gather followers in order to topple the current elite and obtain its power and revenues. Similarly, even if without the element of the extreme violence, this is happening with the Extreme Right in some areas of Europe. An example comes from the Italian case, where the Lega Nord formed to "defend" local economic interests by promoting destabilizing (and not sufficiently evaluated) measures for the country's management, next to the overall anti-immigration and xenophobic stance. Material interests drive ideology, which becomes an instrument built in and for social, political and economic exclusion to the advantage of a restricted clique demonstrating limited interest for its own followers.
Ultimately, we can reach the conclusion that these two kinds of extremism – with their analogies and differences – capitalize on each other strength, thus ultimately reinforcing themselves in their quest to annihilate each other, be it verbally or practically. In absence of sound policies and concrete solutions to the problems that gave birth to these movements, more the "violence" of the confrontation is raised, more discontented citizens will feel attracted by extreme measures.
Related to this, it is important to remember the role of Europe and the "West" in general in the strengthening of extremist organizations in ME and in the Mediterranean. As during Cold War times, in a broader (but surprisingly narrow-minded) geopolitical strategy based on the assumption that "the enemy of my enemy is my friend", extremist organizations have been used as a filler or pressure item to damage non-collaborating leaders and States instead of being annihilated, bringing to the results we know. On the other hand, a real engagement against the development of Extreme Right movements has usually been absent, sometimes replaced by a more dangerous act of capitalization on these movements for national (or regional) short-term political objectives by other factions – as securing government stability, slowing down specific steps of the European integration process. Furthermore, even in countries where the reformation or even the apology of former Extreme Right factions is illegal (again, as in Italy), enforcement has often been poor or sporadic.
In conclusion, with these reflections referring to a wider picture, it is worth mentioning a promising avenue for future thought and research on this comparative topic. Indeed, in this age threatened by the Extreme Right and Islamic extremism, it is useful to think about how these two dangers can be related by a causal nexus. The menacing spread of Islamic extremism may fuel the growth of the support for European Extreme Right parties, as Islamic extremism becomes the enemy, namely the Hegelian Other, to fight against both within Europe- where it is embodied by the immigrants – and outside Europe – in the cradles of Islamic extremism – by invoking the ethnic and pure nation. The most serious consequence of this process is that it may undermine multiculturalism, which is only incipient in some states, such as Italy, but belongs to an established and deep-seated political and social configuration of other states, such as the United Kingdom.
(special thanks to Ms. Marianna Griffini for the help and support)
Escaping IS: What Exiting an Armed Group Actually Takes
Authors: Dr Siobhan O'Neil and Dr Mara Revkin*
Although Islamic State's territorial control of large swathes of Iraq and Syria came to an end in 2017, civilians, and particularly children, in these areas are still living with the long-term consequences of the group's violence and exploitation. According to a new report by Human Rights Watch, this includes thousands of children abducted by Islamic State (IS) who remain unaccounted for today and thousands of children who cannot move on from conflict because they are viewed as threats and won't be allowed to reintegrate back into society.
Last week, International Day Against the Use of Child Soldiers was marked around the world to reflect on the policies and programmes that are most likely to protect rights, promote accountability, and enhance security of young people in armed conflict. In doing so, it is clear that many of the current approaches to those once associated with armed groups do not always strike the right balance. Children's rights and best interests risk being trumped by short-sighted security considerations, which may ultimately put us all at greater risk.
One such child is "Amr"* – a juvenile detainee at a reformatory in Kurdish Iraq – who we met while undertaking research examining the recruitment and use of children by armed groups. After dropping out of elementary school at the age of 12, Amr worked at a steel factory. One year later, he would become employed as a cook by IS.
Amr was an unlikely recruit. For one, the group had murdered his father. But Amr needed the job in the IS kitchen. It paid better than the steel factory, and he was now responsible for helping support his mother and six siblings, so he felt that he had little choice. A few months after he started to work for IS, Amr was recruited by a family member to spy on the group for a state-sponsored militia. After he was caught taking photographs, Amr was thrown into an IS prison. He eventually managed to escape, only to be caught by security forces and imprisoned again for the crime of having joined a terrorist group.
In many ways, Amr's story exemplifies the complexity of association with armed groups today. It is often assumed that anyone who becomes involved with such groups must have been brainwashed or be driven by deep-seated ideologically-motivated hate. Yet, involvement with armed groups – even those deemed "violent extremist" like IS or Boko Haram – is never as simple as this conventional narrative, nor is exiting their grasp.
For many like Amr, ideology played no role in motivating or facilitating his involvement with IS or the anti-IS militia. Indeed, our previous research in conflict areas found that young people associating with armed groups are usually influenced by a multitude of interrelated structural, social, individual, and historical factors, of which ideology was rarely the driving determinant. Rather, physical and food security, family and peer networks, financial incentives, coercion, and the pursuit of status and identity were more central for explaining the involvement of many young people with armed groups.
In many countries there is little differentiation made in how or why individuals were associated with such groups. As documented in related research, the use of indiscriminate "iron fist" approaches means that tens of thousands of people – not just those associated with military functions, but also tax-payers, cleaners or cooks like Amr – have been detained on terrorism charges, with thousands believed to have been sentenced to death. Thousands of children languishing in Syria have been barred or discouraged from returning to their home countries, despite the fact that many had no choice in living under IS. This sort of collective punishment could further encourage cycles of violence. We must find ways out for the vast majority of individuals who are associated with armed groups but who do not pose a risk to society.
To create a safer future, and to avoid denying one to the children who have lived under or been associated with armed groups, we need to better understand their experiences and needs for transitioning to a life oriented away from conflict. We need to rethink our assumptions about armed group association and neutrality in conflict, engage children and youth as partners in their own recovery, and support them in the long-term exit process from armed groups. Only then will young people like Amr have a real chance to escape the pull of violent conflict and give back as productive members of their communities.
* Name has been changed for safety reasons.
*Dr Mara Revkin was the lead researcher on the Syria and Iraq case study featured in Cradled by Conflict and the Iraq case study for The Limits of Punishment: Transitional Justice and Violent Extremism. She is a National Security Law Fellow at the Georgetown University Law Center.
Foreign fighters: 'One of the most serious dimensions' in global counter-terrorism struggle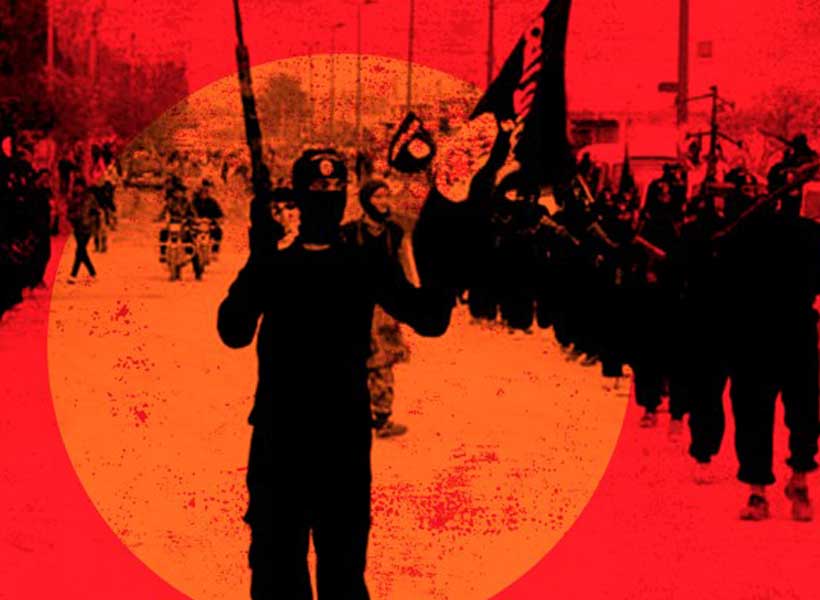 Over the past few years, ISIL and Al-Qaida terrorist fighters have posed an "unprecedented threat to international peace and security", the UN counter-terrorism chief said on Wednesday in Vienna, at the close of a joint UN- Organization for Security and Co-operation in Europe (OSCE) regional conference on addressing challenges posed by terrorists who have gone to fight overseas.
Under-Secretary-General of the UN Office of Counter-Terrorism, Vladimir Voronkov, recalled that last week he presented to the Security Council the Secretary-General's report on the continuing threat posed by ISIL.
"ISIL is resurgent as a covert network in Iraq and Syria", he said. "Thousands of foreign terrorist fighters remain at large, posing a threat to Iraq, Syria, and the countries they might return or relocate to".
Key conclusions
Mr. Voronkov stressed that all sessions of the conference underlined the need to further strengthen international, regional and bilateral counter-terrorism cooperation – with many participants highlighting the centrality of the UN Global Counter-Terrorism Strategy.
He highlighted that the Joint Plan of Action (JPOA) for implementing the Strategy in Central Asia "could serve as a model for collaboration in other regions".
"We are also working closely with the Arab Interior Ministers Council to strengthen Arab countries' measures to effectively counter terrorism", using JPOA as a model, he said.
According to the Counter-Terrorism chief, participants stressed the urgent need for gender and age-sensitive programmes to assist children linked with terrorist groups.
As thousands of children remain trapped in Syria and Iraq, facing a multitude of challenges, including rejection and life-long stigmatization, Mr. Voronkov stressed that Member States have "the primary responsibility to address the plight of their nationals, including children trapped in conflict zones".
"Children should always be seen as victims and efforts to address their plight should be based on the best interest of the child", he spelled out.
Disrupt terrorist travels
The need to prevent, detect and disrupt the travel of foreign terrorist fighters, in accordance with international law, was front and centre during discussions as well, drawing attention to the importance of enhancing Member States' capacities to do so.
"Both the OSCE and the UN are helping countries adopt and use Advance Passenger Information and Passenger Name Record data systems", he informed those gathered, calling the UN Countering Terrorist Travel Programme "a flagship demonstration" of how the UN system, together with international policing organization INTERPOL and others, are "working as one" to provide tailored, impactful assistance to Member States.
Noting that "the phenomenon of foreign terrorist fighters is one of the most serious dimensions of the terrorist threat", Mr. Voronkov concluded by urging Member States to continue working together, through the UN and other platforms, "not only to protect people on their own territory, but extend solidarity and assistance beyond their borders".
Global initiative launched to keep top sports events safe from terrorism
Representatives from international sporting federations and the private sector joined with ambassadors at UN Headquarters in New York on Monday to launch a global programme aimed at safeguarding major sporting events from terrorism-related threats.
The multi-year initiative looks to harness the positive values that sports promote to help crackdown on the spread of violent extremism, particularly among young people.
"Sport pushes people to be better, to aim higher and further. It promotes tolerance and gender equality. It strengthens communities, builds resilience and channels natural competitive instincts in a harmonious way", said Vladimir Voronkov, head of the UN Office of Counter-Terrorism (UNOCT).
"Sport is a fundamental and true human value: a strong vaccine against any kind of criminal disease. We have a moral obligation to protect and promote sport."
Sharing best practices and information
Despite being a unifying force, sporting events have been marred by deadly terrorist attacks.
The 1972 and 1996 Olympic Games, and, more recently, marathons in Sri Lanka and the United States, are some of the tragic examples.
The global programme will develop guidelines to enhance international cooperation, and public-private partnerships, to make sporting events safer for athletes and the public. The launch will be followed by a two-day expert meeting. Another meeting focusing on youth will be held in April.
Participants attending the launch included representatives from the International Olympic Committee (IOC), various national Olympic committees, the international football association, FIFA, and private companies.
"Protecting major sporting events entails multilevel cooperation and coordination, as well as complex security and policy arrangements. including securing locations, cyber security, crisis planning and management, (and) strategic communications" said Mr. Voronkov.
"Through our joint programme, we will focus on the exchange of information and best practices, and on sharing resources and facilitating partnerships."
It is essential to advance the consolidation of sport in development and peace strategies , according to the official at the helm of a UN platform which fosters intercultural dialogue, understanding and cooperation.
"Indeed, sports unites and heals," Miguel Moratinos, High Representative of the UN Alliance of Civilizations (UNAOC), told the gathering.
"It is also a universal language that both, fans and players understand. So, let's all capitalize on the full potential of sport , with youth in its heart, as a driver for peace and social change ."
Key support from Qatar
Qatar, host of the 2022 FIFA World Cup, is a key supporter of the initiative, alongside China and the Republic of Korea.
The country and the UN counter-terrorism office signed an agreement last year to establish the world's first hub for studying the behavioural roots of violent extremism conducive to terrorism.
Qatar is taking measures at the local and global level to ensure security at "the region's first sporting mega event", according to the Secretary-Genera of the World Cup preparatory committee.
"We are working hand-in-hand with our allies and partners around the world on exchanging best practice, information sharing, personnel sharing, and in assisting in maintaining the security of Qatar ahead of and during 2022", Hassan al-Thawadi said in a video message.