Extreme Right and Islamic Extremists: an evident comparison?
The problems related to security, lack of dialogue between different cultures and religions, as well as the issues relating to mass migrations, are increasingly influencing the political and social confrontation in different parts of the world.
The further establishment of extreme Islamist movements in Middle East and Africa, paired with the parallel rise of extreme right parties in Europe, are progressively creating hurdles to pacific confrontation and development, apparently fuelling each other's violence in words as in actions.
In this short article, we will try to reflect on the similarities between such extremist movements by constructing an empirical comparison between them.
The new challenges to the stability of contemporary society – as the difficulties of integrating the rising number of foreign workers and the perceived hurdles of the dialogue of civilizations – are more and more pushing towards polarization and extremization of political confrontation. With part of the mass media – especially in the so-called "Western" world – apparently putting (in bona fide or not) the focus only on the threats to the consolidated democratic way of life from large religiously-driven terrorist organizations, the analysis on how different forms of extremism are developing themselves is lacking an important aspect: the comparison between socio-political modus operandi of Islamic extremists and far right extremists.
While the analogy between Islamic extremist movements of the past – characterized by authoritarianism and racist elements – and the ideological predecessor of the European Extreme Right – i.e. Italian Fascism and German Nazism – has already been drawn and analysed in academic literature, the comparison between current Islamic extremism and current European Extreme Right political parties has not been attempted yet. Before delving into the crux of the issue, it is necessary to map out the essential features defining a diverse array of European Extreme Right political parties, such as the Italian Lega Nord, the British BNP (British National Party), and the Swiss SVP (Swiss People's Party). To begin with, the European Extreme Right parties construct their identity in a negative way, since they delineate their identity features as opposed to a seemingly threatening "Other", precisely immigrants in general, Muslim immigrants in particular. At this point it is worth, for the sake of clarity, making a brief digression to point out that the concept of the Other is rooted in the Hegelian notion that the definition of the identity of the self hinges on the definition of the identity of a negative Other, which is inherently different from the self. Consequently, the following Extreme Right's features are to be considered as remarking the opposition between the European, Western self, also defined as the in-group, and its negative Other, also referred to as the out-group.
This said, we can start by pointing out xenophobia as an essential feature of the Extreme Right. Xenophobia, sadly, is an almost omnipresent feature of a not-properly developed (or simply "gone bad") multicultural society: it is exploited by such parties as a main aggregator for unsatisfied citizens blaming problems (be them theirs, or of society in general) on the different "other". Its ideology stresses the importance of the native ethnicity vis-à-vis the out-group. For instance, the BNP emphasizes the belonging to the British ethnic group, though vague the concept of ethnicity may be in this case. Indeed, the Extreme Right adheres to and promotes a form of nationalism of the ethnic type, conceptualizing the belonging to the nation as ascribed by blood, primitive, and irrational. It follows that the Extreme Right takes on an anti-immigration stance, thus appealing to public anxieties and frustration over the Other, which is depicted as a danger to the integrity and the security of the ethnic nation. Interestingly, it should be noted that some extreme right parties as the Lega Nord debuted by promoting an "intra-national" racism, fomenting discord between citizens of the same country originating from different areas, regions or cities.
Secondly, an anti-establishment position characterizes the Extreme Right. Extreme Right political parties are, indeed, often populist, as they harshly criticize the existing political, social, and economic structure of their respective states and, in doing so, they intend to appeal to the people as a whole. On the contrary, they do not appeal to the elites, which are deemed responsible for the grievances affecting their states. Within the frame of their anti-establishment stance, the European Extreme Right parties are hostile to traditional democracy, linked to diversity and liberal values, and are in favour of a form of post/ pseudo-democratic politics. Thirdly, authoritarianism distinguishes the Extreme Right political parties. In fact, they promote repressive and quasi-violent measures in the field of security, which ties into the discussion about the Extreme Right's anti-immigration stance. For instance, the BNP, the Lega Nord and the SVP advocate the introduction of the death penalty and promote the expulsion of clandestine immigrants. Finally, the European Extreme Right upholds reactionary values, promoting traditions vis-à-vis modernity, and showing a deep nostalgia towards an idealized past, when the ethnic nation was, in their opinion, pure, safe, and unspoilt by the Other.
Turning the focus onto Islamic extremism, it is possible to start finding analogies. The first and most apparent one regards, not surprisingly, xenophobia: the West, for a paradoxical twist of fate, becomes Islamic extremism's threatening Other. Some examples of this can be seen in Boko Haram fundamental ideology – the same very name of the organization literally translates to "Western education is forbidden", which conveys its acute anti-Western stance that is ultimately driven (very often violently) against Western-style educational institutions and Western-derived religious institutions. Similarly, IS is antagonistic to the West, planning terror attacks against it and unleashing pitiless violence against Christians in the Middle East and more recently in Northern Africa via its affiliate sub-organizations. It is important to underline, however, Islamic extremism does not emphasize (yet) the belonging to any ethnic nation, but rather the belonging to Islam: it is not possible to classify it as a form of ethnic nationalism, as the Extreme Right is. Paradoxically, Islamic extremism can be considered as "inclusive" when compared to the other kind of extremism since that adhering to its religion can open its doors to foreigners, as seen with the various "foreign fighters" who joined the ranks of IS.
Secondly, similarly to the Extreme Right, Extremist Islamic organizations have an anti-establishment hue which, however, is expressed in a different way. Ideologically, Islamic terrorists oppose democracy – in particular, Western/European-inspired democratic values and institutions – because they are seen as Western, foreign and non-native imposed product. Practically, this is expressed by the direct violent attacks to institutions and their representatives, as well as different attempts to boycott elections or other steps of the democratic process. The capacity of appealing to the people as a whole – provided they are Muslim – is an important lever for consensus, especially when new followers are made by capitalizing on the problems of the (more or less) democratic institutions of the countries where extremists operate. Corruption, inequalities and widespread poverty, and are among the main reasons which helped the establishment (and the strengthening) of such organizations. This way, thanks to a general feebleness of the institutional structure – summed up with a lesser, or simply different, acceptance of often European-derived institutions – Islamic extremist organizations arrange their fight with more violent means, often leaving the political dialogue in favour of menaces and attacks or various nature. This way, even if such organizations (like IS and its parent groups, as well as Boko Haram) share with the Extreme right the element of authoritarianism, the different socio-political and historical context in which they are active influences their modus operandi. If it is legitimate to think how a different and better consolidated institutional framework could have influenced the formation of extremist religious movements, it is interesting to think what could have happened in a far weaker and lesser interconnected Europe, with an eye on the history books and the first establishment of far right regimes in the Old Continent.
As a last point, an easier analogy to be analysed is the one that can be drawn between Islamic extremism, in particular IS, and Fascism. The neologism "Islamofascism" has been coined to describe the similarity between Islamic extremism and the Italian Fascism. This analogy allows for a greater range of elements to be included in the analysis, in addition to a xenophobic and anti-establishment ideology, and an authoritarian and reactionary strategy. For instance, both Fascism and Islamic extremism are movements that depict themselves as the liberators ushering in a golden age, which will benefit the masses and lift them out of economic, social, and political crises. Moreover, both movements are driven by the willingness to form an empire. While Fascism dreamt of building an Italian Empire, in order to revive the imperialist glories of Ancient Rome, IS and Boko Haram want to create (or re-create, in some specific regional cases) an Islamic caliphate trespassing state borders and resembling an empire in dimensions and rule.
To sum up, the European Extreme Right and Islamic extremism share a xenophobic and anti-establishment ideology and an authoritarian, reactionary strategy. Moreover, they both exploit the population's discontent regarding the existing economic, social, and political conditions. However, probing beyond the surface, these movements are not fully comparable. Indeed, the Extreme Right's anti-immigration stance is alien to Islamic extremism, due to the different context in which the two movements operate.
On such bases, could be useful to make a last reflection: are such movements "sons of their times", sprouting from an unexpressed miscontent for determined living conditions, or are they the expression of different powers trying to impose a precise way of seeing (and then defining) society for their vested interests? Behind mere violence and ideology, it is important to take note of the fact that these factions have an agenda of theirs with clear economic, political and strategic objectives. The rise of organizations like IS and Boko Haram is also linked to complex economic interests, related to the control of strategic areas and commodities, as well as arms dealing if we enlarge the focus to Eastern Africa and Al Shabaab. The religious or the ideological element is exploited to force "change" and gather followers in order to topple the current elite and obtain its power and revenues. Similarly, even if without the element of the extreme violence, this is happening with the Extreme Right in some areas of Europe. An example comes from the Italian case, where the Lega Nord formed to "defend" local economic interests by promoting destabilizing (and not sufficiently evaluated) measures for the country's management, next to the overall anti-immigration and xenophobic stance. Material interests drive ideology, which becomes an instrument built in and for social, political and economic exclusion to the advantage of a restricted clique demonstrating limited interest for its own followers.
Ultimately, we can reach the conclusion that these two kinds of extremism – with their analogies and differences – capitalize on each other strength, thus ultimately reinforcing themselves in their quest to annihilate each other, be it verbally or practically. In absence of sound policies and concrete solutions to the problems that gave birth to these movements, more the "violence" of the confrontation is raised, more discontented citizens will feel attracted by extreme measures.
Related to this, it is important to remember the role of Europe and the "West" in general in the strengthening of extremist organizations in ME and in the Mediterranean. As during Cold War times, in a broader (but surprisingly narrow-minded) geopolitical strategy based on the assumption that "the enemy of my enemy is my friend", extremist organizations have been used as a filler or pressure item to damage non-collaborating leaders and States instead of being annihilated, bringing to the results we know. On the other hand, a real engagement against the development of Extreme Right movements has usually been absent, sometimes replaced by a more dangerous act of capitalization on these movements for national (or regional) short-term political objectives by other factions – as securing government stability, slowing down specific steps of the European integration process. Furthermore, even in countries where the reformation or even the apology of former Extreme Right factions is illegal (again, as in Italy), enforcement has often been poor or sporadic.
In conclusion, with these reflections referring to a wider picture, it is worth mentioning a promising avenue for future thought and research on this comparative topic. Indeed, in this age threatened by the Extreme Right and Islamic extremism, it is useful to think about how these two dangers can be related by a causal nexus. The menacing spread of Islamic extremism may fuel the growth of the support for European Extreme Right parties, as Islamic extremism becomes the enemy, namely the Hegelian Other, to fight against both within Europe- where it is embodied by the immigrants – and outside Europe – in the cradles of Islamic extremism – by invoking the ethnic and pure nation. The most serious consequence of this process is that it may undermine multiculturalism, which is only incipient in some states, such as Italy, but belongs to an established and deep-seated political and social configuration of other states, such as the United Kingdom.
(special thanks to Ms. Marianna Griffini for the help and support)
Pakistan's commitment to eradicate terrorism is more advance than UNSC
Big blow to Indian diplomacy by United Nation Security Council (UNSC), when passed a resolution declaring JAISH-e-Muhammad (JeM) chief Maulana Masood Azhar as a global terrorist under the United Nations Security Council Resolution 1267, without linking him with Pulwama, or Kashmir Freedom Movement.
India, traditional rival, has been trying to blame Masood Azhar on suspicions of his possible involvement in Pulwama Incident, Bombay Attacks, Hijacking Indian Air, or Kashmir Freedom Movement. Since 2008, the US attempted four times to get Masood Azhar listed under the UNSC resolution 1267 but every time its move was thwarted by China. "The Security Council Committee pursuant to resolutions 1267 (1999), 1989 (2011) and 2253 (2015) concerning ISIL (Da'ish), al Qaeda, and associated individuals, groups, undertakings and entities approved the addition of entry to its ISIL (Da'ish) and Al-Qaeda Sanctions List of individuals and entities subject to the assets freeze, travel ban and arms embargo." The resolution was limited to ISIL (Da'ish), Al-Qaeda only. But Indian addition of Kashmir or other incidents related to India made the resolution unfit on technical grounds.
Pakistan had rejected earlier proposals to list the JeM chief, as India wanted to link it with the movement in Indian Occupied Kashmir where Kashmiris are waging struggle to get their inalienable right of self-determination. Pakistan's FO spokesperson said, "India is presenting this new development as its victory and confirmation of its narrative, but these claims are unfounded and false. Once politically motivated attempts to link it with the Pulwama incident and the legitimate Kashmiri struggle for the realization of the right to self-determination were removed, the current amended listing proposal was approved." Of course, China withdrew its opposition after consultations with Pakistan, and that Pakistan agreed to the listing after its objections were addressed. China and Pakistan are on the same page and support each other on all national, international or regional issues. During his recent visit to China, Prime Minister Imran Khan had met President Xi Jinping and Prime Minister Li Keqiang and discussed matters of mutual interest. Reviewing with satisfaction the historical development of China-Pakistan relations and the great strides made, both sides in the joint statement agreed to further strengthen the China-Pakistan all-weather strategic cooperative partnership in line with the principles set forth by the treaty of friendship, cooperation and good-neighborly relations signed in 2005.
This time, the resolution was presented on its original merit and got passed. As per the resolution, his assets should be frozen, travel ban and arms embargo should be imposed. But, Pakistan due to its own policies, has already frozen his assets and imposed a ban on his travel and arms embargo since long ago.
In a matter of fact, Pakistan was the victim of terrorism for almost the last four decades. We have sacrificed 80,000 precious lives, which no other nation can afford. We suffered an economic loss of approximately 250 billion US Dollars, which no other country can afford individually. The net loss in term of time, losing 4 decades means loss of almost two generations. Emotional suffering is much more and beyond any estimation.
Pakistan was compelled to formulate "National Action Plan" at its own and has been implementing successfully for several years. Our achievement to the over-come menace of Terrorism has been acknowledged by the international community. Under the National Action Plan, Pakistan has taken all possible measures to eradicate terrorism from grassroots. Actions against Masood Azhar was part of our national priority. It has nothing to do with any third country.
UNSC's decision in respect of Masood Azhar may be the last nail in Modi's Elections. Indian Elections are based on "anti-Pakistan" and "hate-Pakistan", Modi did his best to hate-Pakistan, harm-Pakistan, Isolate-Pakistan, etc. But all of his efforts went wrong and Pakistan has emerged as one of the most resilient nation, moderate, peace-loving and visionary nation. Pakistan's narrative is more acceptable to the international community.
Horror in Sri Lanka and Love Fest in Vladivostok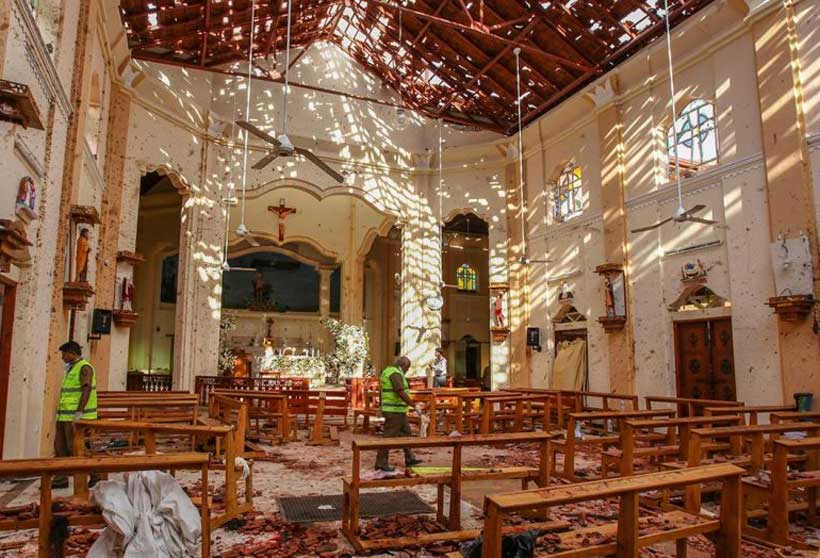 The horrendous Easter bombings in Sri Lanka make little sense; the question remains, why? Following 30 years of civil war between the majority Buddhist Sinhalese (75%) and the minority and mostly Hindu Tamils (11%), who felt discriminated against after the country won independence from the British, it had enjoyed a decade of peace.
The Muslims are another minority in Sri Lanka. They have been under attack in recent years by a new aggressive Buddhism rearing its head. So why should Muslims attack Christians a fellow Abrahamic minority when there has never been any discord between them, and when they could be natural allies.
After ISIS claimed responsibility displaying faces-covered photos of the bombers (except for the leader whose face was uncovered), the murkiness of the circumstances precipitated out. He who pays the piper calls the tune they say, and the local group (National Thowheed Jam'aath) who were the instruments, did not have the wherewithal or the resources on their own — just a leader radicalized by attacks on Muslims by the extremists among Sinhalese Buddhists a year ago.
According to ISIS, it was revenge for the New Zealand mosque bombings but it was also designed to hit the tourist trade. Then too, Zahran Hashim the leader of the group, and who himself is thought to have carried out the attack on Colombo's Shangri La Hotel was of Tamil background. The cycle continues.
Needless to say the attack on Christians also wrong-footed the security forces for they had intelligence reports since January, but clearly had little or no security presence. Will there be retribution? That is what Muslims fear (and ISIS wants) for it generates more recruits to continue the madness.
How did ISIS emerge? It might be repetitious to say so, but it takes the brutality of war to generate extremists. Think of the IRA, or the Tamil Tigers who invented the suicide bomber. The crazed path of destruction created in the Middle East and North Africa by the US will leave a trail many years hence.
And not only there, as the revolution fomented in Ukraine has led to a civil war, with Russia backing the ethnic Russians of the Donbass region in East Ukraine. Just this week, Russian president Vladimir Putin issued an order simplifying the procedure for them to obtain Russian passports. Is this another step towards eventual annexation?
Meanwhile, Mr. Putin has decided to fill the void left when Donald Trump in Vietnam walked away from what he called a bad deal with Kim Jon Un of North Korea. Kim had demanded an end to all economic sanctions before he would begin to dismantle his nuclear weaponry. Kim had a point: it is clearly not easy to replace destroyed armaments unlike sanctions.
Putin is now playing the role of global power broker with North Korea drawing the attention Trump had received briefly until the falling out. A new bromance? Perhaps, and one important enough for Putin to travel across seven time zones to Vladivostok for the meeting. Kim was met with great ceremonial pomp and treated to a lavish banquet laden with delicacies; thus indulging his twin weaknesses for deference and good food. No cheeseburgers, thank you — in marked contrast to Trump's favorite food.
What does Putin get? Along with being seen as an influencer in North Korea, he could well become its intermediary, the go-to guy. The wily Putin seldom loses. He waits and watches, watches and waits. For Kim, his two neighbors Russia and China have been his strongest support for generations, to which he now returns.
He tried to emulate China, wanting capital and western firms to invest and kickstart a commercially moribund economy. But Trump's price was too high. One wonders whether Trump will expound on the Art of the Missed Deal if he loses the next election. But then the 'curiouser and curiouser' Democrats might ensure that he does not have to.
Post-Pulwama False Flag Operation: Prediction and Reality
Since the nuclearization of South Asia in 1998, the region has become a major component of international security and stability. The recent military escalation and de-escalation of February-March 2019 between the nuclear armed rivals of South Asia i.e. Pakistan and India, more than a month has passed but the world is still concerned about the situation in this volatile region. There is an ongoing debate in Pakistan about the Pulwama attack of 14th February 2019 as a 'False Flag Operation' in the realm of hybrid warfare which India has launched against Pakistan. The false flag operations are based on deception with pre-determined outcomes to achieve some political or strategic objective.
India has a history of such false flag operations starting from 1971 till now for achieving the predetermined strategic and political goals (whether successful or unsuccessful). The 2016 Uri attack, the PathanKot Air Base attack, the Mumbai attacks 2008are candid examples of the false flag operations which India has carried out. These operations which are now part of history were aimed to divert international attention from Kashmir issue while blaming Pakistan without any evidence. These operations have remained focused of achieving political goals in elections. The most recent example is the Pulwama suicide attack of February 2019, in which 44personnel of Indian Central Police Reserve Force (CPRF) were killed. The BJP election campaign based on hatred against Pakistan to get popular support whereas the timing of attacks i.e. just two months before the elections make it one of the most controversial false flag operations. Within few minutes after the attack India claimed that about 350 kilograms Improvised Explosive Device (IED) was used. There are above 700,000 Indian troops present in Indian Occupied Kashmir (IOK) and most of the times curfew is applicable which makes it impossible for any group to navigate carrying such a huge volume of explosives. As an election stunt the Indian leaders and media blamed Pakistan for backing the attacks without any investigation and evidence.
Pakistan's 'appropriate response' in the after math of February 2019 events is part of history now. On 7th April 2019 Pakistan's Foreign Minister has predicted that another 'Pulwama like attack' in IOK may happen in coming days between 16th to 20th April. India could stage another Pulwama like attack in IOK to justify its military escalation and to increase diplomatic pressure on Pakistan. He further said that Pakistan has authentic intelligence regarding Indian preparations for such attack. In this regard Pakistan has conveyed formally to the diplomatic representatives of the permanent members of UNSC in Islamabad. A meeting of India's 'Cabinet Committee on Defence' was held recently in which Modi gave free hand to the services chiefs to act against Pakistan in upcoming days. The chiefs responded that they have already selected military targets that go beyond Line of Control (LoC).
India under Modi's leadership is intentionally increasing the war hysteria against Pakistan without realizing the reality that any escalation beyond a certain point a may lead to a first ever nuclear exchange between the two countries. The Pulwama attack was no doubt a false flag operation carried out by India with two politico-military objectives. First, to project the freedom fighting movement in Kashmir as 'terrorism' which is at its peak since Modi is in power and second is to gain maximum popular support in context of 2019 elections by spreading hatred against Pakistan. The aftermath of Pulwama has re-assured Pakistan's Nuclear Deterrence at conventional level and proved it a dominant factor over escalation ladder.
In case of a 'new false flag operation' or any February 2019 like escalation from India, Pakistan though lacking in number of conventional forces and weapons will remain with no choice but to respond un-conventionally by using the tactical nuclear weapons i.e. 'NASR' and subsequently short and medium range missiles capable of delivering nuclear war heads. The recent military standoff has proved to be a matter of failure for India vis-à-vis the credibility of the claims. The international media as well as the Indian media and opposition parties have questioned Modi's government for the evidence of targeting militant training camp (killing 350 militants) and proof of Pakistan's jet plane crashed during 27th February dogfight (claimed by India).According to Foreign Policy Magazine US officials have verified that Pakistan's F-16 fleet is complete in numbers and not a single jet is missing.
The February 2019 military crisis and its aftermath didn't prove to be a politico-military success for BJP. Pakistan has proved that it can respond to any Indian aggression appropriately and thus gained a moral and psychological edge over India in the crisis. Pakistan's nuclear deterrence has served as a dominating factor against the Indian conventional maneuvers. Pakistan needs to be well prepared against a new false flag Pulwama like operation in coming days realizing the political hype in India. In case of breach of Pakistan's sovereignty by India in the name of a limited conflict or a surgical strike, this time the response might be a 'nuclear' staying below the nuclear threshold.