Wars of Aggression as Cultural Events
The International Community has been witnessing in the recent months a dramatic upsurge in the exploitation of cultural heritage, be it its destruction or the ambiguous endorsement of its ownership.
This brought to the lime light the relationship between culture, terrorism and warfare; making it progressively clearer that the protection of the common cultural heritage of mankind is a security imperative and a crucial component of sustainable development.
What we have here is a dual manifestation of the exploitation of peoples' cultural heritage. In one occasion, the promoted narrative is served by the absolute obliteration of the cultural heritage; and in another occasion the promoted narrative is served by claiming ownership or rights to stewardship of certain cultural property.
For the purpose of this article, I will focus on the pressing reality of terrorist activities; and I will leave aside the aspect of state actors using cultural heritage to claim territorial rights, as an extremely complex, sensitive and by nature inconclusive and irresolute subject, that is meant to be dealt independently from any association with terrorism.
The complexity that the destruction of cultural heritage entails when serving the needs of terrorist organizations is rather daunting. In fact, the trafficking of cultural heritage objects can serve not only as means of financing, but also as means of recruitment through the creation of jobs for extremely impoverished, with no other viable alternative of livelihood, people.
At the same time, the trafficking and the demolition of cultural property and the subsequent obliteration of cultural heritage have often been linked with destabilizing efforts. Cultural heritage, as associated with statehood, hinders many terrorist groups, such as ISIS, in their quest to create a crushing homogenization of vast territories, under the group's core identity; be it religion or political ideology. Cultural heritage is a record of the past; hence, its trivialization and destruction sets the stage for the new, imposed upon, cultural and historical narrative.
These activities are not an innovative means of warfare ascribed to the contemporary terrorist organizations such as ISIS. It has been a practice of aggression against communities and their distinct cultural heritage for centuries; taking the most known examples of the early Christian Church against idolatry, aggression during civil wars (such as the Yugoslav war in the 90s), or Nazi tactics.
Being aware of the danger I run here, by citing the Church, the Nazis and brutal civil wars in the same line; my point is that destruction of the cultural past is a widely and inter-temporally used tactic and a very effective one. It has the devastating effect of acting as a centrifugal force within communities; accelerating the process of "divide and conquer" and at the same time hindering the post-conflict reconstruction and rehabilitation, including the return of displaced persons (who after the destruction of their environment as they knew it, they face problems in being accepted and integrated into the new status quo).
Cultural heritage has a strong link with the formation and the fostering of national identity. It is a powerful enabler and driver of sustainable development, by attracting investment and promoting green stable job opportunities. Moreover, it represents the continuum of the re-creation and alteration of the expressions of cultural heritage, in response to the historical evolution of a given group or many groups that could be found in historical/cultural connection. The obliteration of cultural heritage of local populations denies them the chance to employ Cultural Diplomacy, for the purpose of creating alliances with other groups sharing common cultural heritage expressions, isolates these groups and ultimately this identity confusion fuels political manipulation and demagogy.
Cultural heritage is also a source of local development which has immediate repercussions on employment and the economic vitality of various sectors and specific traditional activities. It can be a positive ground for unity within the community. The promotion of cultural heritage improves self-image and confidence in a shared future and reinforces the social cohesion . Ergo, the destruction of cultural heritage could function as a serious weapon of social fragmentation and destabilization.
This is particularly true for collectivist cultures, or else high-context cultures, tend to define the group as "the basic unit of social perception; the self is defined in terms of in-group relationships; in-group goals have primacy or overlap with personal goals; in-group harmony is a value" (Carnevale and Choi, 2000: 106). The categorization of a society as collectivist is particularly important, in the effort to understand the social dynamics, where groups have such an ideology, culture and/or philosophy that aim to inform the identity of its members in a way that, it permeates all social contexts, not merely those in which the group's social identity is explicitly made salient.
With a cyclical mode of argumentation, cultural heritage preservation helps also to rebuild broken communities, re-establish their identities and link their past with their present and future. Cultural heritage tied with identity of the community to which it belongs, represents unique relationships that populations have with their surroundings. Hence, the process of post-conflict rehabilitation and reconciliation would become much more volatile, in the absence of cultural heritage acting as common ground.
Cultural heritage is critical component of resilient societies before-during and after crises. So, my point is that, dealing with the phenomenon is not an unrealistic and cruel prioritization of stones over human lives, but rather an insightful and pro-active approach to security and stability; learning from the past and actually acting timely for a change.
Escaping IS: What Exiting an Armed Group Actually Takes
Authors: Dr Siobhan O'Neil and Dr Mara Revkin*
Although Islamic State's territorial control of large swathes of Iraq and Syria came to an end in 2017, civilians, and particularly children, in these areas are still living with the long-term consequences of the group's violence and exploitation. According to a new report by Human Rights Watch, this includes thousands of children abducted by Islamic State (IS) who remain unaccounted for today and thousands of children who cannot move on from conflict because they are viewed as threats and won't be allowed to reintegrate back into society.
Last week, International Day Against the Use of Child Soldiers was marked around the world to reflect on the policies and programmes that are most likely to protect rights, promote accountability, and enhance security of young people in armed conflict. In doing so, it is clear that many of the current approaches to those once associated with armed groups do not always strike the right balance. Children's rights and best interests risk being trumped by short-sighted security considerations, which may ultimately put us all at greater risk.
One such child is "Amr"* – a juvenile detainee at a reformatory in Kurdish Iraq – who we met while undertaking research examining the recruitment and use of children by armed groups. After dropping out of elementary school at the age of 12, Amr worked at a steel factory. One year later, he would become employed as a cook by IS.
Amr was an unlikely recruit. For one, the group had murdered his father. But Amr needed the job in the IS kitchen. It paid better than the steel factory, and he was now responsible for helping support his mother and six siblings, so he felt that he had little choice. A few months after he started to work for IS, Amr was recruited by a family member to spy on the group for a state-sponsored militia. After he was caught taking photographs, Amr was thrown into an IS prison. He eventually managed to escape, only to be caught by security forces and imprisoned again for the crime of having joined a terrorist group.
In many ways, Amr's story exemplifies the complexity of association with armed groups today. It is often assumed that anyone who becomes involved with such groups must have been brainwashed or be driven by deep-seated ideologically-motivated hate. Yet, involvement with armed groups – even those deemed "violent extremist" like IS or Boko Haram – is never as simple as this conventional narrative, nor is exiting their grasp.
For many like Amr, ideology played no role in motivating or facilitating his involvement with IS or the anti-IS militia. Indeed, our previous research in conflict areas found that young people associating with armed groups are usually influenced by a multitude of interrelated structural, social, individual, and historical factors, of which ideology was rarely the driving determinant. Rather, physical and food security, family and peer networks, financial incentives, coercion, and the pursuit of status and identity were more central for explaining the involvement of many young people with armed groups.
In many countries there is little differentiation made in how or why individuals were associated with such groups. As documented in related research, the use of indiscriminate "iron fist" approaches means that tens of thousands of people – not just those associated with military functions, but also tax-payers, cleaners or cooks like Amr – have been detained on terrorism charges, with thousands believed to have been sentenced to death. Thousands of children languishing in Syria have been barred or discouraged from returning to their home countries, despite the fact that many had no choice in living under IS. This sort of collective punishment could further encourage cycles of violence. We must find ways out for the vast majority of individuals who are associated with armed groups but who do not pose a risk to society.
To create a safer future, and to avoid denying one to the children who have lived under or been associated with armed groups, we need to better understand their experiences and needs for transitioning to a life oriented away from conflict. We need to rethink our assumptions about armed group association and neutrality in conflict, engage children and youth as partners in their own recovery, and support them in the long-term exit process from armed groups. Only then will young people like Amr have a real chance to escape the pull of violent conflict and give back as productive members of their communities.
* Name has been changed for safety reasons.
*Dr Mara Revkin was the lead researcher on the Syria and Iraq case study featured in Cradled by Conflict and the Iraq case study for The Limits of Punishment: Transitional Justice and Violent Extremism. She is a National Security Law Fellow at the Georgetown University Law Center.
Foreign fighters: 'One of the most serious dimensions' in global counter-terrorism struggle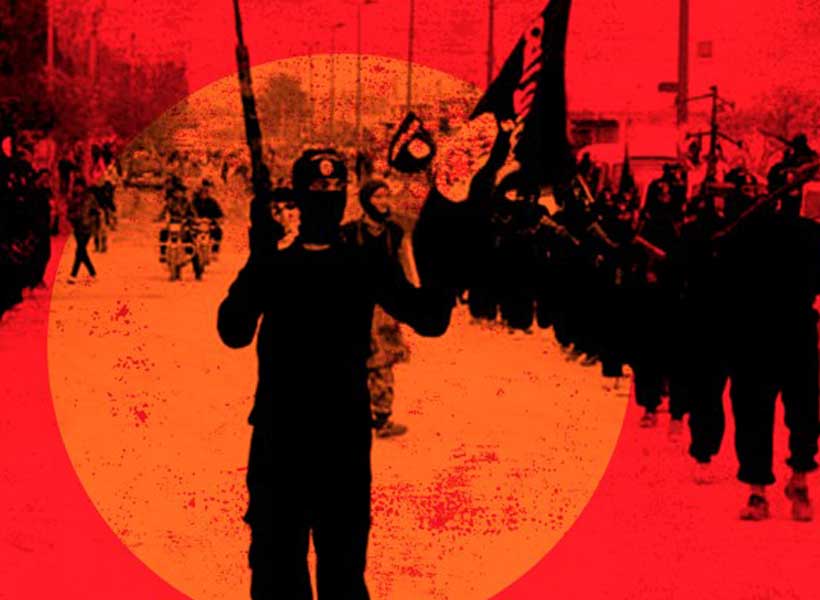 Over the past few years, ISIL and Al-Qaida terrorist fighters have posed an "unprecedented threat to international peace and security", the UN counter-terrorism chief said on Wednesday in Vienna, at the close of a joint UN- Organization for Security and Co-operation in Europe (OSCE) regional conference on addressing challenges posed by terrorists who have gone to fight overseas.
Under-Secretary-General of the UN Office of Counter-Terrorism, Vladimir Voronkov, recalled that last week he presented to the Security Council the Secretary-General's report on the continuing threat posed by ISIL.
"ISIL is resurgent as a covert network in Iraq and Syria", he said. "Thousands of foreign terrorist fighters remain at large, posing a threat to Iraq, Syria, and the countries they might return or relocate to".
Key conclusions
Mr. Voronkov stressed that all sessions of the conference underlined the need to further strengthen international, regional and bilateral counter-terrorism cooperation – with many participants highlighting the centrality of the UN Global Counter-Terrorism Strategy.
He highlighted that the Joint Plan of Action (JPOA) for implementing the Strategy in Central Asia "could serve as a model for collaboration in other regions".
"We are also working closely with the Arab Interior Ministers Council to strengthen Arab countries' measures to effectively counter terrorism", using JPOA as a model, he said.
According to the Counter-Terrorism chief, participants stressed the urgent need for gender and age-sensitive programmes to assist children linked with terrorist groups.
As thousands of children remain trapped in Syria and Iraq, facing a multitude of challenges, including rejection and life-long stigmatization, Mr. Voronkov stressed that Member States have "the primary responsibility to address the plight of their nationals, including children trapped in conflict zones".
"Children should always be seen as victims and efforts to address their plight should be based on the best interest of the child", he spelled out.
Disrupt terrorist travels
The need to prevent, detect and disrupt the travel of foreign terrorist fighters, in accordance with international law, was front and centre during discussions as well, drawing attention to the importance of enhancing Member States' capacities to do so.
"Both the OSCE and the UN are helping countries adopt and use Advance Passenger Information and Passenger Name Record data systems", he informed those gathered, calling the UN Countering Terrorist Travel Programme "a flagship demonstration" of how the UN system, together with international policing organization INTERPOL and others, are "working as one" to provide tailored, impactful assistance to Member States.
Noting that "the phenomenon of foreign terrorist fighters is one of the most serious dimensions of the terrorist threat", Mr. Voronkov concluded by urging Member States to continue working together, through the UN and other platforms, "not only to protect people on their own territory, but extend solidarity and assistance beyond their borders".
Global initiative launched to keep top sports events safe from terrorism
Representatives from international sporting federations and the private sector joined with ambassadors at UN Headquarters in New York on Monday to launch a global programme aimed at safeguarding major sporting events from terrorism-related threats.
The multi-year initiative looks to harness the positive values that sports promote to help crackdown on the spread of violent extremism, particularly among young people.
"Sport pushes people to be better, to aim higher and further. It promotes tolerance and gender equality. It strengthens communities, builds resilience and channels natural competitive instincts in a harmonious way", said Vladimir Voronkov, head of the UN Office of Counter-Terrorism (UNOCT).
"Sport is a fundamental and true human value: a strong vaccine against any kind of criminal disease. We have a moral obligation to protect and promote sport."
Sharing best practices and information
Despite being a unifying force, sporting events have been marred by deadly terrorist attacks.
The 1972 and 1996 Olympic Games, and, more recently, marathons in Sri Lanka and the United States, are some of the tragic examples.
The global programme will develop guidelines to enhance international cooperation, and public-private partnerships, to make sporting events safer for athletes and the public. The launch will be followed by a two-day expert meeting. Another meeting focusing on youth will be held in April.
Participants attending the launch included representatives from the International Olympic Committee (IOC), various national Olympic committees, the international football association, FIFA, and private companies.
"Protecting major sporting events entails multilevel cooperation and coordination, as well as complex security and policy arrangements. including securing locations, cyber security, crisis planning and management, (and) strategic communications" said Mr. Voronkov.
"Through our joint programme, we will focus on the exchange of information and best practices, and on sharing resources and facilitating partnerships."
It is essential to advance the consolidation of sport in development and peace strategies , according to the official at the helm of a UN platform which fosters intercultural dialogue, understanding and cooperation.
"Indeed, sports unites and heals," Miguel Moratinos, High Representative of the UN Alliance of Civilizations (UNAOC), told the gathering.
"It is also a universal language that both, fans and players understand. So, let's all capitalize on the full potential of sport , with youth in its heart, as a driver for peace and social change ."
Key support from Qatar
Qatar, host of the 2022 FIFA World Cup, is a key supporter of the initiative, alongside China and the Republic of Korea.
The country and the UN counter-terrorism office signed an agreement last year to establish the world's first hub for studying the behavioural roots of violent extremism conducive to terrorism.
Qatar is taking measures at the local and global level to ensure security at "the region's first sporting mega event", according to the Secretary-Genera of the World Cup preparatory committee.
"We are working hand-in-hand with our allies and partners around the world on exchanging best practice, information sharing, personnel sharing, and in assisting in maintaining the security of Qatar ahead of and during 2022", Hassan al-Thawadi said in a video message.