Kazakhstan readies itself for EXPO2017
Welcome to the Caspian Daily, where you will find the 10 most important things you need to know on Caspian Sea Region. We appreciate ideas, reports, news and interesting articles. Send along to Caspian[at]moderndiplomacy.eu or on Twitter: @DGiannakopoulos
1In 2017, Astana, the capital city of my home country of Kazakhstan, will host the next Universal World Exposition, joining a long heritage that includes Shanghai's extraordinary effort in 2010. EXPO-2017 is a national project that provides a great opportunity for the Republic of Kazakhstan to investigate new sources of energy and current developments in green technologies. We have set ambitious goals to ensure that this exhibition is held at the highest level, meeting the expectations and hopes of other countries. The president of Kazakhstan has set up some challenging objectives; we need to turn EXPO-2017 into the central point for the third industrial revolution, which includes the development of an alternative economy and the creation of new high-tech materials, sources of renewable power and a skilled workforce. The promotion of EXPO-2017 is gaining significant feedback from across the world" Rapil Zhoshybayev, first deputy minister of foreign affairs of Kazakhstan. [Global times]
2Mayor of Almaty replaced with fresh face: analysis. Kazakhstani political analysts Andrey Chebotarev and Dosym Satpayev talked to Tengrinews about the meaning of the new appointments. The first believes that both appointments are a sign of trust that the President put into the two men. The second thinks Yessimov was downgraded, and Baibek's appointment was a way to encourage the younger generation of civil servants. Director of the Center of Topical Research Alternative Andrey Chebotarev contended that rotation of high-level officials was a normal occurrence. Yessimov had served as Akim (Mayor) of Almaty for quite a long time – since 2008. The expert believes that appointing Yessimov as head of the National Company Astana EXPO – 2017 was a sign of confidence that the President had in him.
3The Pluto of International Organizations: The Evolution of the SCO. "The SCO seems to be structured in a manner that undermines its own development, as IO evolution is understood by the scholarly community. The member states simultaneously support and undermine the organization via individualized micro-agendas because of their worries about the tricks each might play upon the other. Interestingly, what the literature does not do is question the legitimacy of the SCO. This is one of the main contentions here: membership of the SCO in the IO community should be questioned instead of simply de facto bestowed. Until now, its membership has always been a given" Dr. Matthew Crosston for Modern Diplomacy.
4Off the Coast of Iran, a High-Stakes Version of Spy Versus Spy. "In the skies and waters of the Persian Gulf, the Strait of Hormuz, the Arabian Sea and the Gulf of Aden, the two continue to constantly watch each other. American naval ships openly roam the waters along Iran's 1,100-mile-long southern coastline, their radar trained on the Iranian shore and on Iranian ships leaving their harbors. Iranian fighter jets patrol the skies, keeping an eye on American combat planes that take off from an aircraft carrier in the Persian Gulf every time an Iranian jet comes close to their ship. "It's a little bit of a game we play," said Capt. Benjamin Hewlett, the commander of the air wing aboard the aircraft carrier Theodore Roosevelt, which is in the Persian Gulf keeping an eye on Iran right now. "When they launch, we launch. We consider this our sovereign territory, so we make sure they're not unescorted in and around the aircraft carrier" Helene Cooper for New York Times.
5Enagás making investment in important gas pipeline connecting Azerbaijan with Europe. We are investing in an important gas pipeline connecting Azerbaijan with Europe, CEO of Enagás, Marcelino Oreja said while speaking about Trans-Adriatic Pipeline (TAP) project in an interview with "European CEO" newspaper. He said that this gas pipeline would supply gas to the European Union.
6The "Azerbaijan: Land of Tolerance" exhibition will open its doors to all art lovers in Paris on August 18.World famous for his intrepid style of photographing the world's most exotic places, Reza is putting on display a series of photographs on the Christian, Muslim, and Jewish communities cohabitating in Azerbaijan. All are driven by a deep commitment for sharing, mutual respect, and dialogue with each other. The exhibition, to be held between August 18 and September 10, highlights the millennial ties that all of these religious communities have forged with each other.
7The Russia-OPEC-America Nexus: Reimagining the Great Oil Game. "The most intriguing geopolitical connection with oil prices collapsing is the Western sanction regime on Russia. As inflation hit the Russian economy and protracted recession weighed on Russian morale, OPEC ramped up production. Similarly, Russia has (as of May 2015) produced more oil since the end of the Soviet era. Interestingly, this economic stand-off brought the two biggest oil-producing countries (Saudi Arabia and Russia) to the bargaining table as Russia considers closer ties to OPEC. This tantalizing prospect of a Russian-OPEC alliance has almost always been an illusion since OPEC's formation and would drastically increase OPEC's global power in determining oil prices. OPEC has never really trusted Russia and an alliance may only form out of dire necessity. But that is something the United States would staunchly oppose" Brian Hughes for Modern Diplomacy.
8An Azerbaijani delegation will attend the international forum of the Asian Infrastructure Investment Bank to be held in Tbilisi on August 23-25. The event will bring together government and state officials, economists, experts from 57 countries. The forum will focus on the activity of AIIB, investment in infrastructure projects in partner countries of AIIB, as well as economic cooperation. AIIB is newly created bank that is expected to be established by the end of this year for the purpose of providing loans for infrastructure projects in developing countries in Asia.
9An Iranian official says Iran and Azerbaijan have been talking on transiting gas to Europe. Azerbaijani and Iranian officials have in recent weeks discussed in Tehran ways to export Iran's gas to Europe via Azerbaijan, the Fars news agency quoted an unnamed official as saying Aug. 18. Recently, on Aug. 4, an Azerbaijani delegation headed by Economy and Industry Minister Shahin Mustafayev traveled to Iran and met with Iranian top officials, including Oil Minister Bijan Namdar Zanganeh."Azerbaijani delegation offered their Iranian counterparts to cooperate in the gas export to Europe via Azerbaijan, as Iran's involvement will leave no concern in terms of providing Europe with gas," the source said.According to the report, the two parties stressed that the Iranian gas export to Europe through Azerbaijan is easier than its direct export to the West. The head of Azerbaijan's state oil company SOCAR, Rovnag Abdullayev said in April that Iran is interested in purchasing a stake in the Trans-Anatolian Natural Gas Pipeline (TANAP).
10North Korea's Balancing Act in the Persian Gulf. "In March 2015, Saudi Arabia signed a deal with South Korea to build two small and medium-sized nuclear reactors. This move grabbed the attention of the White House, as it symbolized Saudi dissatisfaction with U.S. attempts to forge a nuclear deal with Iran. The synchronized timing of North Korea's missile shipments to Yemen and the North Korean regime's defiant rejection of Iran-style nuclear talks with the U.S. is therefore intriguing. Pyongyang's extension of assistance to Yemen could be its way of retaliating against Saudi nuclear cooperation with South Korea, which will probably increase should the US Congress ratify the Iran deal" Samuel Ramani for The Huffington Post.
Gender equality, justice in law and practice: Essential for sustainable development
Fundamentally linked to human development, gender justice requires ending inequality and redressing existing disparities between women and men, according to a high-level United Nations forum on the situation in Arab States.
Laws that promote gender equality "will help the Arab region move forward on the issue of justice and equality for women", Jordan Ambassador to the UN Sima Bahous, told UN News after chairing the forum centered around the study with the same name: Gender and Law Justice, Evaluation of Laws Affecting Gender Equality in the Arab States.
Gender equality is achieved when both sexes enjoy the same rights and opportunities across society, including access to justice and to economic and social gains. The study stressed that sustainable development goals cannot be achieved without ensuring gender equality in law and practice.
On 14 March, on the margins of the 63rd session of the Commission on the Status of Women (CSW), the UN Development Programme (UNDP), the Economic and Social Commission for West Asia (ESCWA), Population Fund (UNFPA) and the Women's Fund (UNIFEM) organized the conference, which discussed discrimination and criminal, personal status and labour laws across 18 Arab countries.
"Human development means expanding opportunities for women and men to improve their lives and education, and create better opportunities", Ms. Bahous explained.
Room in Arab region for women's equality
Gender justice relies on accountability and equality.
Salma Al-Nemes, Secretary General of the Jordanian National Committee for Women, spoke about the forum's importance, saying that it aims to "emphasize that there is still room in the Arab region to achieve women's equality."
She stressed that problems can only be solved if they are recognized, and that countries can benefit "from the experiences of the Arab and Islamic countries that have achieved equality and build on this by adapting it to national reality."
Because national and local contexts differ, Ms. Al-Nemes acknowledged that "we must examine how to meet these challenges in an appropriate context so that we can achieve equality not only in legislation, but in practice as well".
For her part, Naziha el Obaidi, Minister of Women, Family, Childhood and the Elderly of Tunisia, told UN News about her Government's decree that "when considering the appointment of a senior official in the country, four biographies of candidates, two for women and one for men, should be submitted."
Also in Tunisia, the law of 'horizontal equinoxes and vertical equinoxes' states that if an electoral list is headed by a woman, a man must hold the second position, and vice versa. Ms. el Obaidi credited this with women's participation nearly 48 per cent of municipalities, noting that this law will also be implemented in the legislative elections.
Honour crimes
Because gender-based violence is a major barrier to gender justice, Gender justice and the law closely examines its various forms, including sexual, physical and psychological and economic violence, assessing laws and policies that affect gender equality and protect against gender-based violence.
For example, the penalties for committing so-called honour crimes – which include murder, wounding and beating – vary, depending on the country.
In Algeria, Bahrain, Morocco, Qatar, Syria and Yemen a sentence can be reduced if a "spouse" is caught in an act of adultery.
Whereas in Djibouti and Sudan there are no specific provisions identified in the Penal Code to reduce penalties for these crimes.
Leniency for perpetrators of honour crimes against women in Saudi Arabia is not codified in the law, so men are sentenced at the court's discretion.
Meanwhile, the Penal Code in Egypt spells out that if a husband kills his wife committing adultery, he and the man with whom she was with would receive reduced penalty not to exceed three years in prison.
Should "a person" kill a wife, daughter or sister, or her sexual partner, in the sudden heat of rage after finding her in a sexual act in Somalia, the penal code requires a reduced sentence.
If a man kills his wife or one of his female relatives while engaging in the act of adultery in Iraq, he would be incarcerated for no more than three years. In Libya the sentence would not exceed eight years.
At the same time, some countries repealed reduced sentences for honour crimes, such as Lebanon in 2011, Oman in 2001 and Tunisia in 1993.
While the penal code in Jordan was amended in 2017 to prevent reduced penalties for honour crimes, the original mitigated penalties for murdering a spouse caught in the act of adultery has yet to be removed. Similarly, mitigation of penalties for honour crimes in the Occupied Palestinian Territories were repealed in 2011 in the West Bank and 2018 in Gaza, however, the Government there has not applied the reforms.
Honour crimes are just one of the topics addressed in the study. Violence manifest itself in many ways, including rape, sexual harassment, child and forced marriage, female genital mutilation/cutting and other harmful traditional practices – all of which the study covers.
It is worth mentioning that the UN Commission on the Status of Women is responsible for developing global policies to promote gender equality and women's empowerment. The annual session, which drew to a close on 22 March, provides an opportunity to review progress and identify difficulties, challenges and policy formulation.
Hands-on e-waste management training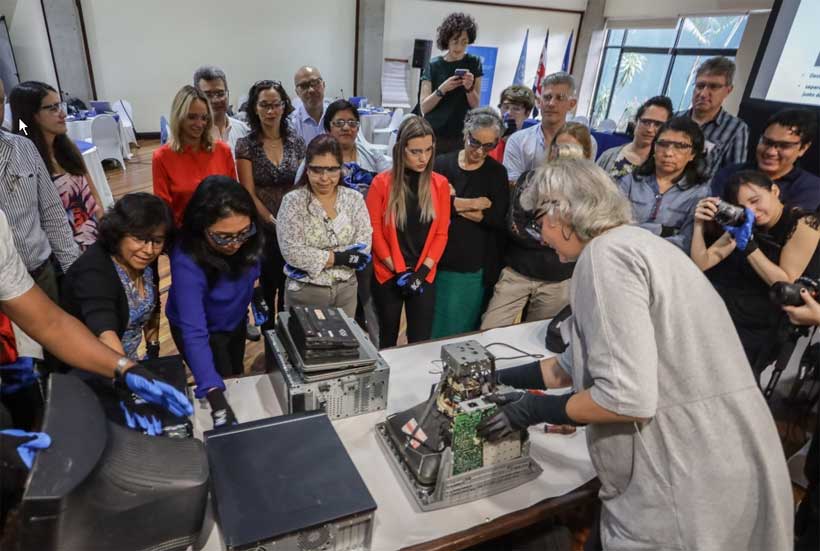 Over 30 representatives of 13 Latin American countries and international experts have gathered to learn and share experiences on e-waste management, from system design to health impacts.
The second Expert Meeting on the Effective Management and Disposal of E-waste in Latin America under the Stockholm Convention on Persistent Organic Pollutants was convened by the United Nations Industrial Development Organization (UNIDO), in cooperation with the Ministry of Health of Costa Rica and with co-financing from the Global Environment Facility (GEF).
The UNIDO-GEF project assists 13 countries with tackling the e-waste challenges in the region, with annual expert meetings providing an opportunity for the participating countries and institutions to get together and share knowledge and experiences.
Following the project launch in Quito in March 2018, this year's Expert Meeting kicked off on 18 March with Project Steering and Technical Committees meetings and a series of presentations by local recycling companies and UN partner organizations.
The E-waste Academy for Managers (EWAM) on 19 March saw a series of panel discussions and group sessions on topics ranging from legal aspects of e-waste management to logistical issues such as collection and transport of e-waste. The Academy is the first of four that will be co-ordinated by the United Nations University (UNU).
The EWAM-Managers Edition is a global forum and training event for stakeholders involved in the practical design and implementation of e-waste management solutions, offering a platform to exchange best practices, discuss existing challenges among practitioners and support better-informed decision-making. It is just one of the examples of capacity-building activities that form part of the project alongside awareness-raising, e-waste policy and regulation advice and financial advice, among other activities.
With presentations from renowned international e-waste experts on plastics, financing and more, the Academy also featured a number of practical sessions with participants learning how to dismantle electrical equipment, including a visit to the Global Electric Electronic Processing plant.
"As the issue of e-waste continues to represent a threat to both the global environment and human health, activities like this are essential for harmonizing and strengthening regional cooperation and knowledge exchange," affirms UNIDO project manager, Alfredo Cueva.
Currently, the world produces approximately 50 million tonnes of e-waste a year – the equivalent of the total weight of all the commercial airliners ever made. This figure is predicted to rise to 120m tonnes by 2050.
UNIDO collaborates with a large number of organizations on the project, including national governments other organzsations and local e-waste recyclers, SC and BC regional centres, the International Labour Organization (ILO), the International Telecommunications Union (ITU), and the World Health Organization (WHO), as well as various other partners, such as Dell, RELAC and the International Solid Waste Association (ISWA).
ADB Supports 275 MW Power Plant to Boost Energy Access in Sumatra, Indonesia
The Asian Development Bank (ADB) today signed a private sector financing package to support the construction of a 275-megawatt combined-cycle gas turbine power plant in Riau province in central Sumatra, Indonesia, to help secure the country's energy future and provide communities with more affordable and reliable electricity.
The financing consists of a $70 million A loan from ADB's ordinary capital resources and $82 million B loan from Sumitomo Mitsui Banking Corporation and MUFG Bank, with ADB providing a partial risk guarantee (PRG) to the participating commercial banks. The International Finance Corporation (IFC) will provide $50 million for the Riau Natural Gas Power Project in the first-ever cofinancing of an infrastructure project by ADB and IFC in Indonesia.
ADB will also administer a $20 million loan from the Leading Asia's Private Sector Infrastructure Fund (LEAP), supported by the Japan International Cooperation Agency. Established in March 2016, LEAP's mandate is to help fill financing gaps and increase access to finance for ADB-supported infrastructure projects in Asia and the Pacific.
"ADB's involvement in the project has helped secure long-term commercial bank financing necessary for any large-scale infrastructure investment, which has remained a challenge in Indonesia," said Infrastructure Finance Division Director for Southeast Asia, East Asia, and the Pacific at ADB's Private Sector Operations Department Mr. Jackie B. Surtani. "ADB's role as a lender and provider of PRG to the project's B loan lenders will enable the project to mobilize a significant amount of long-term debt."
The project is being implemented through PT. Medco Ratch Power Riau, a special purpose vehicle partially owned by PT. Medco Power Indonesia, a leading developer and operator of small and medium-sized independent power producers (IPP) in the country, and Ratchaburi Electricity Generating Holding Public Company Limited, Thailand's largest IPP.
"ADB's role was key in getting this transaction closed from the negotiation stage of the power purchase agreement to the structuring of the financing package," said PT. Medco Power Indonesia Chief Executive Officer Mr. Eka Satria.
The plant is expected to provide stable and reliable power to the domestic grid, amounting to about 1,445 gigawatt-hour annually. The use of combined-cycle gas-fired power generation will improve the environmental sustainability of the current energy mix in Sumatra by displacing diesel and coal as fuels for electricity generation.