Kazakhstan & WTO: End of an Odyssey or New Leap Forward?
Kazakhstan applied to join the World Trade Organization (WTO) in January of 1996. Twenty long years later (July 27, 2015), President Nazarbayev signed the official ascension documents in Geneva, making it the 162nd WTO member state.
While assessing the impact of Kazakhstan's entrance into the WTO is difficult at this early stage, speculation is rampant given current geopolitical tension in Central Asia and the global price of oil. This article will attempt to contextualize this decision by adding insight to three questions – why, why now, and what's next?
Why?
The WTO is an important stepping stone for legitimacy and integration on the world stage. To some, most notably Kazakh economist Aidarkhan Khusainov, WTO membership is more comparable to United Nations membership, simply providing an image boost, rather than a substantive change in Kazakh political economy. This diminished outlook is not the only position in Kazakhstan and around the world, however, as many believe that this move will open up Kazakh markets, allow for increased foreign investment, and diversify the largely energy-dependent and landlocked nation.
Regardless of economic prognostications, Nazarbayev's signature ultimately formalized an already informal economic reality. As Nazarbayev himself said, "In the mid-1990s, Kazakhstan had ties only with post-Soviet states, while now we are trading with 185 countries of the world." Kazakhstan's elevated status into the WTO, therefore, is a bit more pomp and circumstance, and less substantive change, as much of the Kazakh economy has already been developed in the global arena for some time. Thus, WTO membership is more about affirmation of deeds already accomplished, than hope for potential development somewhere far off in the future.
Why Now?
Kazakhstan's membership status in some ways could always be seen as a foregone conclusion. For example, more than 50% of the nation's trade is with the European Union. WTO membership, therefore, is a continuation of a two-decade long process of real economic integration and reform, rather than a radical departure from it. The significance of 'now' is less about Kazakhstan's economic reality and more about the potential geopolitical and economic challenges in the region.
First, the global drop in the price of oil has had a significant impact on the Kazakh economy. WTO membership will not only provide new opportunities for investment and economic diversification, but greater flexibility in global markets.
Second, U.S.-led sanctions on Russia have indirectly constrained Kazakhstan's economy. Russia and Kazakhstan are more than trade partners, but members of the Eurasian Economic Union (EEU), which features Kazakhstan, Russia, and Belarus. Russia's economic woes have negatively affected the strength of this union. Evidence of this from a political perspective is the renewed stress on WTO negotiations from both Kazakhstan and Belarus starting in 2013. Moreover, Russia has gradually shown a willingness to support these negotiations (Russia joined the WTO in 2012) rather than oppose them.
Third, the why now of this moment is representative of a broader desire for engagement in Central Asia, particularly between those global players with higher stakes in the region. We are far from a proliferation of cooperation, but recent events have shown an environment in cautious conversation and optimistic consideration. WTO membership does not magically transform enemies into friends, but it does pave the way for a more solid process of enhanced cooperation between Kazakhstan and many other nations.
What remains to be seen is whether this shift is more representative of the dynamism of the landscape or the individual states? In this case, will we see motivated regional cooperation or cooperation in lieu of state capacity for direct or unilateral action?
What's Next?
Economic projections range from the optimistic (new investment and development) to the pessimistic (job loss, wage decrease, and simply being out competed) to the apathetic (WTO is more about banal prestige and less about workable policy). Any basic economic theory will show that increased free trade comes with benefits and drawbacks, where the effect on the state is ultimately determined by good governance. What is most clearly next is Kazakhstan's opportunity to diversify economically and have that diversification feed into a new positive political evolution. If the country is able to broaden its economic capacity, then its membership in the WTO, at least in the short term, is a win, offering Kazakhstan an outlet from energy export dependence. If it is able to broaden that into real political (read: democratic) consolidation, then membership in the WTO will have proven far more invaluable than anyone could have surmised. These potential geopolitical ramifications and speculative regional suggestions are what should be seen as the truly fascinating, and still unknown mystery, of pending WTO ascension.
What Kazakhstan's WTO entrance hopefully suggests is less contestation and more cooperation across Central Asian economies. The EEU can be seen as strong evidence of this. Until very recently, the EEU was a barrier for Kazakhstan's entrance in the WTO. With Russia and Kazakhstan now WTO members, and Belarus poised to follow, the EEU (which is Russian-led), has shown a clear willingness to conform to global economic standards. The EEU is thus now operating within the parameters of the WTO. What remains to be seen is if there is a bigger or more politically-motivated strategy behind Russia's cooperation. Put another way – how does this affect the regional economic strategy of Russia's so-called privileged area of influence? Is Kazakhstan moving away from the regional fold and into independence (or interdependence) in the global market? I find it difficult to believe that Russia would passively allow the countries of what it considers to be its personal sphere of influence to integrate one by one into the global economy (a US and EU-led order) without also trying to achieve serious advantages or privileges for itself. This is not necessarily a bad thing. Indeed, it is quite a normal thing when considering international political economy. But there are both acceptable ways of achieving those advantages or privileges and non-constructive ways. In this case, a win for WTO liberal institutionalism is a sign that both sanctions and the regional economic landscape have limited Russia's influence and ability to project power arbitrarily. Russia can either adapt to that reality and incorporate itself better into that changing landscape or problematically try to fight such change. Time will tell exactly how that plays out.
To turn to Kazakhstan's strategic outlook, however, WTO membership represents not only a win for Nazarbayev's ambitions, but for Kazakhstan's potential as a serious player on the international stage. Being the strongest economy of the former Soviet states but also quite literally surrounded by great and regional powers, Kazakhstan has been unable so far to cast a long geopolitical shadow in any direction. I expect Kazakhstan to gradually fill this opportunity of potential by trying to expand its own capacity and in so doing drafting more of an independent, rather than subservient, strategy to its large imposing neighbor to the North. Hopefully, Kazakhstan will carve out that new role without incurring a heavy price militarily or in terms of new economic regional conflict. So congratulations, Kazakhstan, on the end of your 20-year odyssey. Here is to hoping a WTO with Kazakhstan turns into a win-win-win for all sides: Kazakhstan, Central Asia, and the global community.
Preventing Violent Extremism through Education in Central Asia
The UNESCO Almaty Cluster Office in Kazakhstan, Kyrgyzstan, Tajikistan and Uzbekistan and UNESCO Headquarters, in collaboration with the United Nations Office on Drugs and Crime (UNODC), held a Sub-regional workshop on the prevention of violent extremism through education on 13-15 November in Almaty.
UNESCO's approach to preventing violent extremism through education is related to its work on Global Citizenship Education (GСED). Based on its long-standing commitment to peace and human rights education, the GCED strives to foster respect for all, create a sense of belonging to humanity and help students become responsible and active citizens. Thus, the GCED creates conditions for strengthening students' commitment to renouncing violence and peace and creating conditions for protection from hatred, discrimination and violent extremism.
The workshop was organized within the framework of the partnership of UNESCO and UNODC on "Education in the spirit of global citizenship in support of the rule of law". It strengthened the capacity of education stakeholders to implement educational measures and approaches to prevent violent extremism in an effective and appropriate manner. More specifically, the workshop provided a common discussion platform for a clearer understanding of the issues of violent extremism in the Central Asian region, as well as discussed new tools and innovative approaches and drew up a plan for further action to prevent violent extremism through education in Central Asia.
During the workshop, the participants also had a chance to visit the Nazarbayev Intellectual School and Almaty State College of Tourism and Hospitality Industry and observe open classes on global citizenship education and values.
The workshop brought together education stakeholders from all over Central Asia, including representatives from the ministries of education and community development, universities and research institutes, as well as youth organizations and civil society. International experts from France, UNODC, UNESCO as well as other UN agencies and international organizations also took part in the event.
Developing the IT sector will make Central Asia more united and independent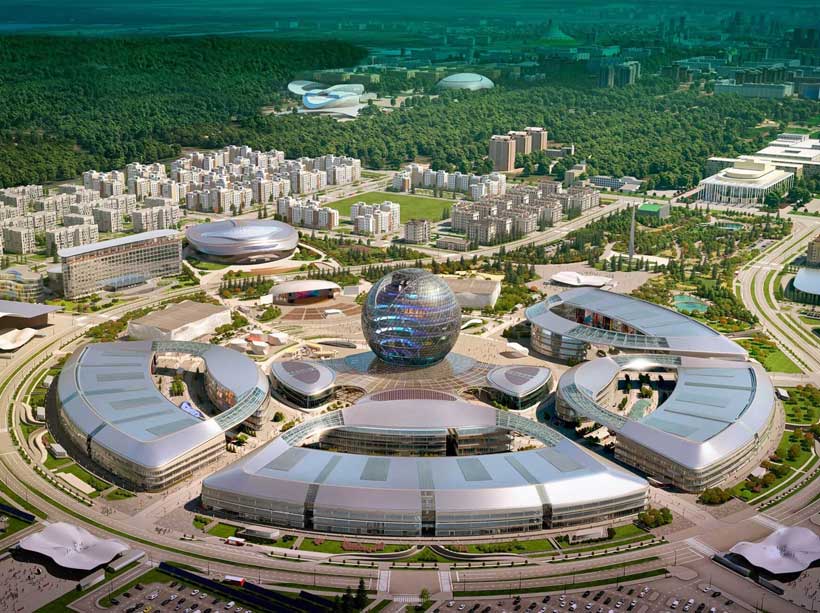 This September marked the second anniversary of the death of Islam Karimov, the former President of Uzbekistan, and the de-facto accession to power of Shavkat Mirziyoyev (who was later officially elected to the presidency in December 2016).
In record-breaking time President Mirziyoyev solved border disputes with Kyrgyzstan and Tajikistan – which had previously been considered unsolvable, significantly strengthened relations with Kazakhstan, conducted sweeping economic reforms, and opened Uzbekistan to foreign investments.
The activity of the new reformist president led to positive changes not only in Uzbekistan itself, but in the region as a whole. The change of power in Uzbekistan – the most highly populated Central Asian country, located right in the middle of the region – marked the beginning of the Central Asian Spring, which, in contrast to the Arab Spring, has been characterized by gradual reforms and, above all, economic liberalization.
In March 2018, for the first time since the beginning of the 2000's, a summit of the Central Asian countries' leaders took place in Astana, Kazakhstan. It was attended by presidents of every country in the region (except Turkmenistan which was represented by the Chair of the country's parliament). This summit, along with a notable strengthening of connections between the two most prominent countries of the region – Kazakhstan and Uzbekistan – laid the ground for talks regarding the creation of a new regional union, the goal of which would be to strengthen the economic independence of the Central Asian region, and later its political independence as well.
The first attempts at economic unification of Central Asian countries date back to the mid-1990's, and were being undertaken as late as the mid-2000's. However, each time those attempts were beset with insurmountable obstacles – the position of the late Uzbek president Islam Karimov who basically isolated Uzbekistan from any foreign influence, the border conflicts between Uzbekistan, Tajikistan, and Kyrgyzstan, and the personal ambitions of the Central Asian countries' leaders.
It is rather ironic that Uzbekistan – which for а long time halted the process of regional integration – is today, along with Kazakhstan, its primary moving force. Riding the wave of "the Uzbek thaw," and highlighted against the backdrop of problems associated with the functioning of the Eurasian economic Union, for the first time in many years the conditions for the creation of a regional union are favorable.
For now, the countries of the region are treading very carefully when it comes to this idea. There have been too many unsuccessful attempts at unification in the past, and interstate contradictions are still too strong, as well as the differences in the countries' approach to issues. Besides, such unification may not be well liked by the "Big Neighbors" of the region – Russia and China – who may put forth efforts to prevent the emergence of a strong and independent regional player.
The geographic location of Central Asia also provides its opponents with an advantage: each country individually (and the region as a whole) is landlocked, and as a consequence the operation of logistical and energy chains is fully dependent on the goodwill of the "Big Neighbors." Only fundamental changes to the very structure of the regions' economy can help overcome this dependence. Such changes are now underway.
Kazakhstan and Uzbekistan are striving to abandon the natural resource-dependent model and develop innovations. An example of that is the "Astana Hub" – a financial and technological center which has the capabilities to speed up the technological upgrading not just of Kazakhstan alone, but the entire Central Asian region.
The simultaneous development of an IT ecosystem of innovations in the countries of Central Asia will create new possibilities for regional collaboration, as well as for collaboration of the Central Asian IT sector with global centers of the IT industry.
Central Asia's old economic model relied on each of the countries having different and separate economic relations with its "Big Neighbors" and – facilitated by those "Big Neighbors" acting as intermediaries – with countries of the West. The new Central Asian model envisions the five countries – Uzbekistan, Kazakhstan, Tajikistan, Kyrgyzstan, and Turkmenistan – being integrated into a common economic market and having direct connections with Western markets, bypassing the intermediary function of the "Big Neighbors." As shown through the success of the European Bank's 'Investing in Central Asia' forum which aimed to highlight opportunities for business expansion into the region, Central Asian countries will become integrated into the world ecosystem both in the information and economic realms.
However, in order to implement this plan both the Western business world and the political decision makers have lots of work ahead of them. As the new "IT tiger," Central Asia may be interesting to the world industry's giants only as a united region, and they must view it as such already, by extending a certain credibility to the new economic initiatives originating in that region. This means opening regional offices in the local IT clusters and entrusting them first with outsourcing and then with R&D, serving as evangelists of the new economy in contacts with representatives of the Central Asian countries' governments, and considering the possibilities of investing into local startups jointly with governments. Western policymakers will need to get ready to provide the most favorable environment to the IT industry for any trade and economic relations with countries of the region.
As energy exports are the foundation of economic well-being for the majority of the region's countries, it places those countries in the position of competitors who are dependent on their neighboring states, above all Russia and China. Developing advanced technologies, attracting Western investments and Western experience, and creating a Central Asian IT market will serve a dual purpose: in reducing the Central Asian countries' dependence on their neighbors, and in becoming the catalyst for unification processes in the region.
Turkmenistan, the heart of the Silk Road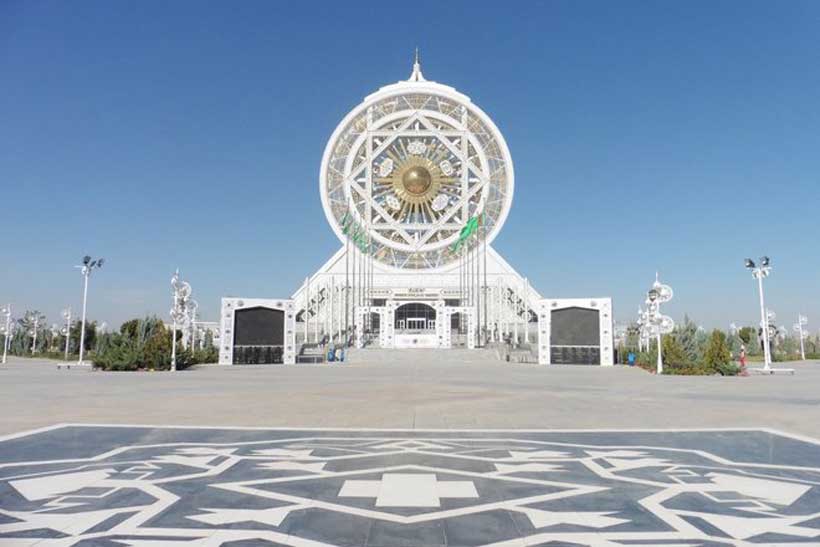 Over 140 years have passed since Ferdinand von Richthofen, a German geologist, geographer and traveler and the president of the Berlin Geographical Society, coined the term Silk Road. Several more decades had passed before scholars in different countries became seriously interested in this phenomenon of the antique and medieval world and began to study specific routes of caravan trade where Turkmen land had an important place. The Silk Road era, which lasted for more than 15 centuries, has left thousands of monuments and landmarks along the entire route from the Mediterranean to the Far East. Many of them are located on the territory of Turkmenistan.
In the modern era, the legendary route is being restored in a new quality, carrying the idea of revitalizing and strengthening trade, economic, humanitarian, and cultural ties between states and peoples. In his book, "Turkmenistan, the Heart of the Silk Road," Turkmenistan President Gurbanguly Berdymukhamedov, citing facts of national history, ancient tales and legends, as well as events and developments from the country's modern life, notes that a fundamental role in the evolution and active use of the Silk Road, each of its branches being on the UNESCO List of World Heritage Sites, belongs to, among others, the Turkmen people.
Thus, as our state carries out major transport projects of the century, a modern history is being written and the idea of restoring the Silk Road – the heart of which is independent and neutral Turkmenistan – is being revisited.
The Kazakhstan-Turkmenistan-Iran transnational railway line that has been put into operation can carry up to 10-12 million tons of cargo and makes it possible to connect to transport infrastructure in the east and south, gaining access to dynamically developing markets. Turkmenistan believes it is essential to focus efforts on ensuring that the opportunities for Central Asian and Caspian states arising in connection with these major transit projects be used to the maximum degree possible.
Convenient and safe international corridors using rail, motor, air, and water transport ensure the sustainable development of the entire region, foster neighborly relations between nations, strengthen cooperation, expand the volumes of trade turnover and help address a number of social issues. As a strategic goal defining the contours of a new, large-scale format of cooperation on the continent, they help create wide-ranging and promising geoeconomic configurations. In this context, it is important to note that an international sea port in the city of Turkmenbashi is due to be put into operation in the very near future.
The state invests heavily in modernizing the material and technical base of the transport sector and improving management through modern technology. High priority is given to developing sea and river transport infrastructure. Active work is under way to improve passenger and cargo transportation, develop ports and port facilities, and streamline state oversight over the safety of shipping and navigation.
Central and South Asia is a space for active international cooperation. Ancient trade routes passed across these territories for centuries, bringing Asia and Europe closer together. At present, countries in these regions play an important role in expanding global economic partnership. The implementation of projects in these areas opens up great prospects for the optimization of transport, energy and cultural ties in the Eurasian space. Therefore, as Turkmenistan President Gurbanguly Berdymukhamedov noted, our region is emerging as a major link in the formation of a new trade and economic partnership model on the continent, which, in turn, opens up opportunities for creating a platform for more wide-ranging cooperation. This is a vivid example of deeply innovative thinking in the global geoeconomic configuration and a vision of strategic perspectives for its development.
First published in our partner International Affairs