Exposing Geopolitical Moral Relativism
With all eyes on Iran, the human rights abuses that continue in the repressive country of Turkmenistan have taken a back seat. Despite pressure from international NGOs and the U.S. Department of State's designation of Turkmenistan as a country with an abysmal human rights record, its regime has not really done much to address these issues. In fact, things have gotten worse in the last few years.
Unlike other states that have a poor human rights record, Turkmenistan enjoys quite a bit of prestige because it has the fourth largest reserves of natural gas in the world and an impressive network of major gas pipelines that pass through it, terminating at its ports in the Caspian Sea. In fact, its foreign relations are contingent on its immense oil and natural gas holdings. State control of these resources is also what allows Turkmenistan's regime to keep a tight grip over its citizens.
Is Turkmenistan essentially getting a free pass? One has to wonder why North Korea is consistently singled out for international condemnation while Turkmenistan – with the exception of a little head-butting with the United States about how it should proceed on the path towards democratic and economic reform – gets very little pushback from global powers. In general, the public knows at least something about North Korea but knows virtually nothing about Asia's other reclusive dictatorship. Most cannot even identify Turkmenistan on a map.
While some might think it not entirely fair to compare the isolated and tyrannical country of North Korea with Turkmenistan, which is actively and largely cooperatively working with the other "Caspian 5" countries of Iran, Russia, Azerbaijan, and Kazakhstan to promote the oil and gas industries in Central Asia, one thing is clear: Turkmenistan has a human rights problem that cannot continue to be ignored by the global community if the country expects to realize its full potential. It has already been passed up for valuable opportunities that could have boosted its international image and regional presence, all of which would have been a direct benefit to the Turkmen people.
For example, the European Bank for Reconstruction and Development (EBRD) has been hesitant to invest in Turkmenistan's businesses because of its pervasive state intervention and state ownership. Even though private entrepreneurs and companies are growing in Turkmenistan, the country's private sector is still very small and closely regulated by the state. The Bank has plans to offer financing to privately-owned companies outside the oil and gas sectors (where most of the jobs are) to boost Turkmenistan's food processing and distribution, logistics, transport services, packaging, furniture, and hospitality sectors. But it wants the Turkmen government to meet specific benchmarks on pluralism and accountability, establish media freedoms, and improve its overall human rights record. With Turkmenistan's incredibly high unemployment rate – some economists believe it is somewhere around 60% – the country cannot afford to pass up this important opportunity. Until Turkmenistan's government starts making progress on these issues, the EBRD's engagement will remain limited.
The European Union has also expressed serious concerns about Turkmenistan's human rights situation, specifically on the issue of its reported use of torture. They urged the Turkmen government to release information on the status and location of prisoners who have disappeared in detention, facilitate prison visits by international monitors and to cooperate with UN special procedures. The EU also wants Turkmenistan to ease its restrictions on Internet access, cease dismantling satellite dishes, and lift excessive restrictions on civil society. It requires Turkmenistan to stop interfering with the right to freedom of expression, association, and religion and to be more transparent on issues regarding arbitrary evictions – like those that are happening in the country's deserted capital city of Ashgabat to make way for more white marble-clad monuments, hotels, and office buildings. The UN plans to review Turkmenistan's progress on these issues by sometime next year.
Unfortunately, even though Turkmen President Gurbanguly Berdymukhamedov regularly professes respect for peace, integration, and good-neighborliness – which he claims are "essential for sustainable, stable and balanced international work" – the country is still very much at risk of falling back into the bizarre totalitarian-style rule Turkmenistan knew under its previous president -Saparmurat Niyazov, a megalomaniac dictator who ruled the country from 1985 to 2006 – whose cult of personality rivals North Korea's contemporary despotic dynasty. Elements of this cult of personality still exist, as evidenced by the golden statues that dot Turkmenistan's landscape. Alas, Berdymukhamedov has also started to add some of his own.
President Berdymukhamedov – who "won" re-election with 97% of the vote in 2012 – is considered an improvement over his predecessor. Even though he did, to some degree, dismantle Niyazov's personality cult, he is still regarded by most as a despotic ruler who represses minorities, has a deep distain for basic freedoms, forces thousands of people to attend long events (with no breaks), and has zero tolerance for dissidents, journalists, and organizers of political parties. His regime has closed the country off from both geopolitical and independent inspection, frequently dodges inquiries from concerned foreigners, imposes draconian restraints on media and religious freedoms, and practices government strong-arm tactics on activists who dare to step forward to defend human rights.
Despite claims by the president that there have been reforms, imprisonment and/or forced labor are still being utilized as tools for political retaliation. It is feared many of these prisoners die or just "disappear" in captivity. The country's justice system lacks transparency and there is no due process. The government is known to monitor electronic and telephone communications. Religious freedom is nonexistent in that unregistered religious groups or communities are not allowed and fines are imposed for unregistered religious activity. There are also nasty rumors that children are being taken out of school to go to work harvesting cotton or to labor in other sectors.
Despite all of this, there is hardly any demand globally for accountability. NGOs are banned from doing anything until they are registered. However, few independent NGOs have obtained legal registration in years. The International Committee for the Red Cross does not have full access to Turkmen prisons and Turkmenistan's record of cooperation with the UN and the International Labor Organization is bleak. To make matters worse, it appears Berdymukhamedov is intent on building a new personality cult to replace the one he has slowly been trying to eradicate. While his speeches do receive positive reception at the regional level, questions still linger at the international level about how Turkmenistan will handle its human rights issues in the future and how the country will manage its massive resources under Berdymukhamedov's one-party, dynastic leadership. If Turkmenistan cannot get important things done – like industrial privatization, market liberalization, fiscal and legal reforms – the country will not be able to attract foreign trade and investment like the prosperous and sovereign state it has the potential to become should.
Unfortunately, that motivation may rest with the global community to forcefully make it a major Turkmen priority. So far, that global responsibility has been weak at best and laughable at worst. Perhaps the greatest difference in terms of human rights attention between North Korea and Turkmenistan is the former's ownership of nuclear weapons and nuclear technology. While this is no small matter, it is disappointing to see the international community basically sending a message to the rest of the world that the only time it will truly care about basic civil liberties and human dignity in oppressive countries is when said countries actually have the capability of causing damage or doing harm to people other than their own. In short, if all Turkmenistan is interested in is hurting Turkmen, that is acceptable to outside observers. This inhumane example of geopolitical moral relativism must be ended at the global level. For the message it sends is heard far beyond the borders of Central Asia's own Hermit Kingdom.
Putin's USSR 2.0 project to be undermined by his satellites
On January 18, 2023, the EU released a "joint motion for a resolution on the humanitarian consequences of the blockade in Nagorno-Karabakh," planning to deploy a security mission in Armenia, a result of continuous efforts of its leader Nikol Pashinyan. Westminster Hall debates on the closure of the Lachin Corridor and the humanitarian situation in Nagorno-Karabakh are scheduled in the UK for Tuesday, January 24, 2023. These European initiatives, obviously with more to follow, reflect an increasing invasion into the Russian political turf in the Caucasian region. Russian-created Organization of the Collective Security Treaty (CSTO) loses its influence in the region, which becomes a playground for the West, Turkey and China.
For Russian President Boris Yeltsin, who, on May 15, 1992, signed Collective Security Treaty as its foreign policy long arm to exert Russia's influence in the former USSR republics, it was just a formal body to substitute the late Warsaw Pact in a mini format. But Vladimir Putin made s step further, creating the Organization of the Collective Security Treaty (CSTO) on May 14, 2002, trying to reaffirm Russia's dominance in Caucasia and Central Asia regions in an evident attempt to re-create the USSR model.
Currently having only six member-states (Russia, Armenia, Belarus, Kyrgyzstan, Kazakhstan, and Tajikistan), CSTO, formed after the example of the Warsaw Pact, created in 1955 and declared at an end in 1991, has had some turbulent times recently, and one can compare its current state of being with the situation in the Warsaw Pact in 1980-81 when its member countries were simmering after the Solidarity movement demonstrations in Poland. Back then, Leonid Brezhnev, the head of the USSR, declared that "we will not leave Socialist Poland in trouble." Furthermore, the USSR managed to cope with the crisis for some time, only to collapse ten years later.
Brezhnev's articulated his "limited sovereignty" doctrine in 1968 after the Warsaw Pact troops invaded Czechoslovakia to crack down on the starting democratic movement. Since then, the Warsaw Pact's military abilities were to be considered by national opposition leaders when fighting for reforms. Furthermore, the Polish governance crisis of 1980-81, when the military invasion was indirectly promised but never fulfilled, showed the limitations of this doctrine.
After Gorbachev came to power in 1985, Brezhnev's doctrine silently died. Moreover, the Western credit lines of Hungary and Poland did not allow Gorbachev, who sought Western support at the time, to exert the Warsaw Pact's military influence in those countries in the 1980-s when anti-socialist reforms started to broaden.
Putin created CSTO in 2002 as a logical development of the Collective Security Treaty of 1992 and as a reaction to a US-supported coalition of Georgia, Ukraine, Azerbaijan, and Moldova, with Uzbekistan joining later, that created their strategic pact GUUAM, although never had enough resources and consensus to develop a solid joint military force.
CSTO's importance for Russia made Vladimir Putin fly to Yerevan to participate in its summit on November 23, 2022, in a futile attempt to block the centrifugal tendencies tearing the Organization apart.
CSTO, an anti-NATO heir of the Warsaw Pact, was created to stress Russia's dominance, making countries who did not want to follow Russia's policy leave the Organization. However, Russian less-than-effective governance practices could not make CSTO an effective international power structure. Moreover, the collapse of the Soviet Union left the countries that recently gained independence with some significant territorial and other claims to each other.
The Soviet Union's collapse ignited wars between Armenia and Azerbaijan, which ended in 1994, and a civil war in Tajikistan, which officially was over in 1997. Unfortunately, these wars did not allow the countries to agree on border delimitation with their neighbors. As a result, we saw another round of Armenia-Azerbaijan military conflict, with more to follow.
The same for Tajikistan. The country has had more than 230 situations of military conflict with Kyrgyzstan over the issue of who owns the river Isfara. Moreover, we should not forget that Uzbekistan also claims ownership of the disputed river, although not yet involved in a military confrontation with its neighbors.
The lack of will to compromise on issues of joint utilization of the scarce water resources between Uzbekistan, Tajikistan, and Kyrgystan; mutual accusations in support of radical (Islamic) opposition between Turkmenistan and Uzbekistan; incessant flow of smuggling illegal goods, including drags, through Kyrgyzstan and Kazakhstan to neighboring countries – all of this is just another preamble to future military escalations.
Russia has taken the suzerain mandate to manage the post-Soviet terrain, including countries that could not resist the Russian influence before creating CSTO. The ubiquitous rise of China has changed the power balance in the CIS landscape. China follows the path of exerting soft power through the economy, providing cheap credits, executing essential infrastructure projects, and trying to corrupt leading national political leaders into its sphere of influence. So, China, not Russia, replicates the USSR power game in CIS countries, though very indirectly. And when Putin dared to use Russian troops, nominally called CSTO's military force, for the first time in January 2022 in Kazakhstan., his desire to show his military might ended just four days after China's snuffy grumping made him withdraw.
At the same time, CSTO refused to send any military force after receiving an official address from Tajikistan in 2021, which felt it may not have been able to deter the Afghan military from regular violations of the Tajik-Afghan border. When Putin sees no gains in his international posture, he does not use Russian military force. However, his loss of international influence became more evident for CSTO countries' leaders even before Russia unleashed a full-scale war in Ukraine.
During Russia's military involvement in Syria, Putin had to coordinate his international power efforts with other regional powers, primarily Turkey and Israel. Although in 2021, Igor Yurgens, the head of the Kremlin-affiliated think tank Institute for Contemporary Development, proposed an idea to send CSTO peacekeepers to Syria in a blatant attempt to ease Russia's military burden, this has never been discussed formally at any CSTO summit.
Decreasing Putin's international independence became visible again when CSTO refused to interfere in the Armenia-Azerbaijan military conflict in both 2021 and 2022. Of course, Putin could never upset Turkey, which indirectly supported Azerbaijan. However, the inability to help Tajikistan in its more than legitimate address can not be regarded differently from the absence of a political will.
This absence of will, and possibly strength, became obvious for Armenia and Central Asian countries (backed by the US and China, respectively) that first decreased their involvement in CSTO joint military exercise and then started openly criticizing CSTO's functionality and Russian foreign policy practices.
2022 became very sour for Putin. After his strategic blunder with Ukraine, when Russia's inability to lead a successful traditional war and rapid loss of international authority became difficult to ignore even by its closest dependents, Kyrgyzstan refused to host the CSTO military exercise planned for 10-14 October 2022, and also ignored the exercise in Tajikistan. Armenia abstained from another CSTO's military exercise in Kazakhstan, and at the very beginning of 2023, Armenia declared that it would abstain from any CSTO military exercise in 2023.
In September 2022, during the Shanghai Cooperation Organization summit, Tajikistan's President Emomali Rakhmon publicly asked Vladimir Putin not to treat the Central Asian republics as vassals "the way it was in the USSR." Armenian President Nikola Pashinyan, hosting a CSTO summit in November, refused to sign the resulting declaration.
All its members view CSTO as nominal and useless. Still, Russia's view is different. CSTO has been essential to its USSR 2.0 project, performing a quasi-Warsaw Pact role there. Russia tried to use it as an integration mechanism of the post-Soviet terrain, which it considers its sphere of influence. But, unlike the USSR, Russia can not offer any uniting idea (even a wrong one), and its neo-imperial ambitions are only supported by money and pressure. With less Russian money and less Russian pressure, integration stops, and integration mechanisms threaten to collapse if member-states continue to see Russia losing power.
The Kremlin thinks in the past paradigm while its satellites start to think in the future, seeking support and new alliances. Different thinking evokes different actions, and we may soon see another "sovereignty parade" like the one USSR witnessed in 1988-1991.
Putin's imperial unwillingness to correctly pronounce the problematic name of the leader of Kazakhstan, Kassym-Jomart Kemelevich Tokayev, became infamous in Russia. However, when the newly elected President of Kazakhstan came to Russia just a few days after the disastrous-for-Russia CSTO summit held in Yerevan, Putin did call him correctly for the first time, explicitly showing respect. Furthermore, Putin offered Kazakhstan and Uzbekistan to form a "Three-Party Gas Union." But in vain. Kazakhstan and Uzbekistan rejected Russia's proposal to pursue political and financial support elsewhere. Moreover, on December 12, Uzbekistan signed a gas treaty with Turkmenistan, a warning sign for Putin.
Besides strong economic ties with Russia and even economic dependence, the Central Asian countries defiantly dissociate themselves from Kremlin, enjoying multiple partner choices between Turkey, China, and the USA. The "Stans" seem to have started to follow Nelson Mandela's wish, "May your choices reflect your hopes, not your fears," replacing the complicated past with a promising future.
While NATO guarantees not only security from external enemies to its member but also their freedom, since 1949, there have been no wars between thirty NATO members, the ugly Warsaw Pact copy called CSTO is a failed replica: its fundamental Treaty was signed in Uzbekistan, which left CSTO; two out of its current six members are in a state of war (Azerbaijan and Armenia), two countries (Kyrgyzstan and Tajikistan) have incessant military conflicts.
CSTO is a good litmus test that measures how far Russia can project its power outside its borders. Belarus President Lukashenko said in Yerevan that the future of CSTO depends on the outcome of the war in Ukraine, bashfully calling it a special military operation, which means the end of the would-be Russian empire after the victory of Ukraine, Russian coercion mechanisms not working anymore.
New Kazakhstan vs. Divided Kazakhstan: Policies Critical for Tokayev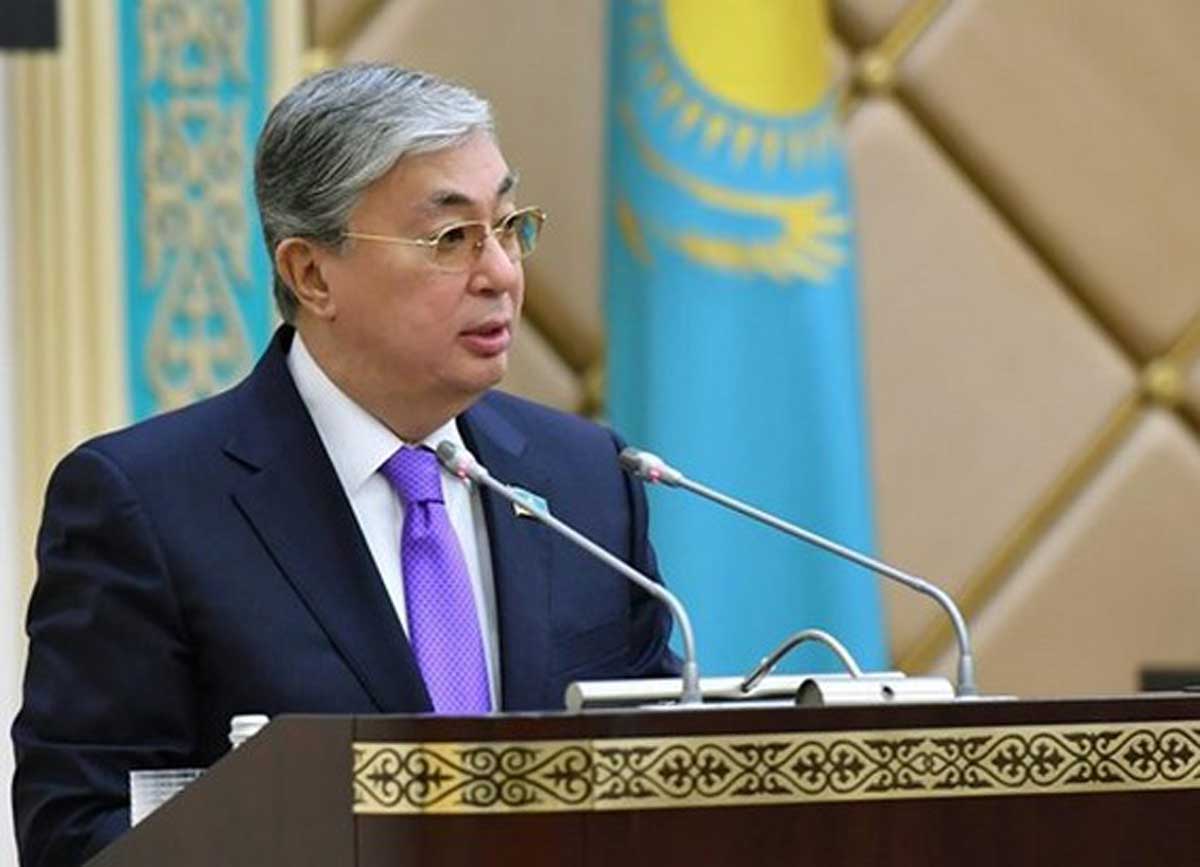 On November 20, 2022, Kazakhstan saw an early presidential election. According to the amendments made to the country's constitution this fall, the head of state is now elected for a period of seven years, not subject to renewal. According to official data from the Central Election Commission of the Republic, turnout was just over 8.3 million people, or 69.44% of the total number of voters. Six candidates competed for the highest post: incumbent president Kassym-Jomart Tokayev, Astana Maslikhat deputy Karakat Abden, representative of the National Social Democratic Party Nurlan Auesbayev, chairman of the Association of Farmers of Kazakhstan Jiguli Dairabaev, economist Meiram Kazhiken and human rights activist Saltanat Tursynbekova.
Since the five candidates competing with the head of state are little-known figures, the outcome of the vote was a foregone conclusion. The presidential election was essentially a referendum of confidence in K.-J. Tokayev in his promotion of political, economic, and social reforms. Still, the weak outcome of the opposition resulted from intra-elite agreements on the need for consolidation to overcome the crisis. Besides, it is an indicator of the opposition's weakness and a signal that it should go through a path of renewal, much as the entire political system.
The main intrigue of the presidential elections in Kazakhstan in 2022 was the number of votes "against all", since this graph was added to the ballot for the first time since 2004. This was done to measure the mood among that part of the population, who do not support any of the existing political forces, but are capable and ready to impact political processes in Kazakhstan.
Eventually, the incumbent president, Kassym-Jomart Tokayev, predictably won in the first round with 81.31% (almost 6.5 million votes), with 5.8% of the votes "against all", another little over 4% spoiled their ballots, and none of the opposition candidates secured more than 3.5%. This result demonstrates that the population has given the president a vote of confidence and is ready to support him at a difficult time for Kazakhstan.
The inauguration ceremony of a re-elected head of state K.-J. Tokayev was held in Astana on November 26, 2022. The president-elect signed a decree on measures to implement the pre-election program "Fair Kazakhstan is for everyone and for everyone. Now and Forever." One of his first orders was to hold elections "with the establishment of the parliament and maslikhats on the basis of the new electoral system, on party lists and single-member districts, by June 2023.
Economic challenges
Kazakhstan's fresh president faces a number of external and internal challenges. It is impossible to build the "New Kazakhstan" without a solution to these challenges. It is worth highlighting the two main external difficulties. First, the Ukrainian crisis and the growing anti-Russian sanctions, which presents serious obstacles to foreign trade, logistics, and transit of goods through Russian territory. Destruction of logistics chains, problems with maintenance and insurance of land and sea freight are all troubling for exports from Kazakhstan. It takes time and large financial investments to create and maintain the appropriate infrastructure to change the direction of commodity flows.
Second, almost 80% of Kazakhstan's exports go outside the former Soviet Union, namely to Europe and Asia. However, the economic growth rates of the EU and China are steadily declining, first in 2020-2021 due to the coronavirus pandemic, then on the back of a sharp increase in the cost of energy in the first half of 2022. This creates significant risks to the sustainable existence of Kazakhstan's economy. It is obvious that a further expansion of exports from Kazakhstan is impossible. Rather, it will likely decrease in value and physical terms. Therefore, Kazakhstan's economic model should be reformed, where exports of minerals and the development of the services sector are drivers of economic growth, engaged in the redistribution of imports and financial flows and providing the lion's share of jobs in the formal and informal sectors of the economy.
Social fragmentation and challenges
Economic reforms will be accompanied by serious internal challenges, the main of which seems to be the rapid fragmentation of the nation's society, the emergence and growth of rifts in the sphere of language, economic activity, lifestyle and standard of living. First of all, there is a clear split between the regions into a clear north, south, and west. The north of the country, an industrialized region with a multicultural and Europeanized population, suffers from serious environmental problems, emigration, and population decline. The South is an agrarian region whose residents are more inclined to traditionalism and which is characterized by high natural population growth and a large informal economy. But all of the economic growth in southern Kazakhstan is currently eaten up by a growing population, and residents are suffering from a lack of jobs, fertile land, and water resources. The West has been the driving region of Kazakhstan's economic development over the past 25 years, where oil and gas enterprises are located. This is where tens of thousands of migrants from all over Kazakhstan and neighboring countries have flocked in recent decades, causing serious social tension, job shortages, and political unrest as it was in December 2017 and January 2022. Notably, it is in this region that Islamic fundamentalist groups, which emerged here back in the 2000s and have repeatedly committed criminal offenses and terrorist attacks, are the strongest.
The second major social fault line in Kazakhstan is urban-rural. The standard of living, accessibility of social services and their quality (education, health care) in cities is much higher than even in the surrounding rural areas. Urban areas have a much higher life expectancy and digital accessibility, while rural schools and hospitals lack qualified personnel. According to the results of national and international testing, the gap in the quality of school education received in the city and the countryside is constantly growing. Today, there are thousands of villages in Kazakhstan with a population of over 500 inhabitants without basic amenities such as schools, paramedic services, or roads that can be used to safely reach a town or regional center in case you need help. All this causes dissatisfaction with living conditions and active urban migration of young people. The share of Kazakhstan's urban population reached 59% in 2021, but most residents of cities, especially the major metropolitan areas of Almaty, Astana, and Shymkent, are first-generation city dwellers who have not yet fully adapted to the new way of life.
Another fault line is gradually forming between the Kazakh- and Russian-speaking parts of the population. Certainly, Kazakhstan can be classified as one of the countries with the highest proportion of residents who speak Russian (more than 80% of the population), while bilingualism is widespread in the country. According to the 2021 Census of Kazakhstan, 80.1% of the population speaks Kazakh, and 49.3% use it in everyday life. In fact, the country's population is split in two – half speak Kazakh in everyday life, and the other half mostly use Russian. This split does not clearly run along ethnic lines and is not a division between Russians and Kazakhs. It lies between the Kazakh-speaking Kazakhs and the minority group, which, in addition to Russians, includes representatives of other ethnic groups, as well as a large proportion of Kazakhs for whom Russian is the main communication language.
The differences are not so much about the official status of the language, because the problem is much deeper and more complex. Even many ethnic Kazakhs prefer to use Russian in most areas of life. Kazakhs who know only Kazakh are still in the minority, and Russian-speaking or bilingual people predominate, although the situation is gradually changing. Today 70% of schoolchildren in Kazakhstan already study in Kazakh, and 30% in Russian. However, Kazakh-language schools lag far behind in the quality of teaching. This is confirmed by the results of international testing. In fact, the Russian language in modern Kazakhstan is the only way to get a quality education, a well-paid job and a higher social status. The weak position of the Kazakh language, which has the status of the state language, periodically causes heated political discussions and becomes an excuse for provocations.
The gap between the modernized and Europeanized part of Kazakhstani society and those who are more oriented to traditional norms, largely tied to Islam, is deepening. The appeal to traditions is a defensive reaction of part of Kazakhstani society to the great changes that have been taking place in the country in recent years. Traditionalists argue with supporters of modernization about the role of women in society, attitudes toward minorities, and the future of the Kazakh language. Unlike interregional controversies or urban-rural inequalities, the parties to these disputes may live on the same street, in the same entryway, or in the same stairwell.
***
Kazakhstan has a difficult and risky path to go through, maneuvering between the interests of the great powers and responding to domestic challenges. The only optimistic conclusion that can be drawn when considering the key social challenges within Kazakhstan is that the fault lines do not run between ethnic groups, although some problems of inter-ethnic relations do exist. These problems are not shared by ethnic groups, but by lifestyles and behaviors that sometimes differ significantly even within the same ethnic group. Perhaps here largely lies the responsibility for the stability of Kazakhstan's model of inter-ethnic relations and the political system as a whole.
At the same time, the Kazakhstani authorities should not become complacent and think that the threat of political destabilization has passed. On November 18, 2022, in Astana, a closed trial began for the former chairman of the National Security Committee of the Republic (NSC), K. Masimov, who is on trial for treason over the January events. Despite this, it is confident to say that there are very powerful forces within the country that may try to challenge the authorities and seriously destabilize the situation again. K.-J. Tokayev admits it himself: "Unfortunately, even now they are trying to play this dangerous game. This is just a game for them, in which they only care about their imaginary popularity on social networks and their desire to attract the attention of secret sponsors." The president also added that "ordinary citizens and the interests of the state suffer from this. Therefore, I am sure that such people do not and will not have any political future in Kazakhstan. But it cannot be ruled out that they may become a tool in the hands of various destructive forces trying to destabilize the internal situation."
A few days before the presidential election, the NSC announced the exposure of another group planning to "seize power in the country." The march of supporters of the scandalous politician and entrepreneur M. Abiyev in the center of Astana, which took place on the day of inauguration of K.-J. Tokayev on November 26, only confirms that it is still not difficult to collect several thousands of tough young people in the center of any city. I am afraid that January 2022 has opened a Pandora's box in Kazakhstan, which could be the prologue of big and unexpected troubles.
Under these conditions, stable ties with the closest neighbors, Russia and China, will be critical. Therefore, one should not expect Kazakhstan to drift away from Russia in the coming years, especially since the two countries are largely part of a single economic and social body. At the same time, the policy of multi-vectorism is not leaving the agenda, so the Kazakhstani authorities will strengthen their attempts to get rid of what they consider to be excessive dependence on the Russian economy.
From our partner RIAC
Emerging economic partnerships without Russia: the shifting cooperation formats in Central Asia
Recent geopolitical developments have brought Central Asia and Caspian basin to the fore of regional rivalries as the countries of the region made crucial strides in moving off the status of "Russia's backyard". The shift could be seen in dissipating trust towards Moscow and resulting tendency to hamper bilateral ties. Russia's blunder in Ukraine opened up new avenues for smaller post-Soviet countries to further diversify their international linkages, lessening their politico-economic dependence on Russia. Against this background, the realization of "frozen" or "blocked" projects in the post-Soviet countries gained momentum.
While the EU had to get down to the business of securing its connectivity in alternative markets, the regional powers started to demonstrate a pro-active stance in the development of the Trans-Caspian International Transport Route (TITR), also called the Middle Corridor. Having the support of the EU within the framework of its supply diversification policy, the countries embarked on the process of modernization and infrastructural development of the route. As a matter of fact, a group of European academics consider such support pivotal for the circumvention of possible Chinese dominance in the region, harnessing the weakened position of Russia. This argument can be further supported by the fact that Baku and Astana are well aware of the shifts in the structure, and strive to fill in the gaps left by Russian weakness with costly projects. The similar process is evident in the farther parts of Central Asia. With the operationalization of Kazakhstan-Caucasus-Turkiye corridors, which was initially planned as part of the China's Belt and Road Initiative, Russian stakes are exposed to the risk by the belt formulating in the neighbourhood.
Uzbekistan, on the other hand, has built much stronger bilateral relations with China. China accounted for 17-20 % of Uzbekistan's total trade, securing the second place after Russia. From the earliest stages of the announcement of BRI, Uzbekistan has been an active participant of the realization of Chinese projects. The Central Asian country found a partner willing to make billion-dollar infrastructure investments while China got a chance to increase its foothold in strategical pivotal neighborhood. The two countries have necessarily advanced their cooperation in connectivity within the planned China-Kyrgyzstan-Uzbekistan railway project, which, if successfully realized, will provide China's industrial power new linkages to Central and South Asia's untapped economic potential.
What makes Uzbekistan, a relatively neutral state, so exigent in the analysis is also the recent focus on the city of Samarkand – newly-emerging diplomatic hub in Central Asia. Located on the ancient Silk Road, Samarkand has historically been one of the richest and busiest cities of Asia. Symbolically or not, the city has recently hosted annual summits of Shanghai Cooperation Organization and Organization of Turkic States – two most influential organisations in the Asian continent. The SCO summit in September marked the first multilateral meeting of Russian President Vladimir Putin with his Cetnral Asian counterparts since the start of the Russian invasion of Ukraine and subsequent sanctions imposed by the West. With the lack of support received from its so-called partners, Russia responded by declaring the annexation of four regions in Ukraine within the framework of "accession treaties" signed at the Kremlin ceremony.
On November 11, Samarkand welcomed heads of states of the Organization of Turkic States (OST) within the framework of the 9th summit to discuss political and economic issues against the backdrop of growing regional and global tensions. Yet again, the summit demonstrated the resilient links established between the member states with Turkey's leadership and capacity to reorient transport connectivities towards the Caspian Sea and Central Asia. Already last year, the adoption of the "Turkic World Vision 2040" and eventual upgrade of the grouping from the Turkic Council to the OST signalled member countries' ambition to deepen ties, seeking larger influence in regional affairs. Boosting the transit potential of the Middle Corridor, and increasing trade volumes have been the underlying theme of the summit, as the member states eye larger Turkish and EU support for the project.
Timing indeed enables building resilient relations in the region that would help position the regional countries as the lynchpin of the East-West connectivity. Taking into account the optimistic situation in the region, the EU has come closer to the realisation of its Central Asia strategy adopted in 2019. Statistically, the volume of Chinese investments in Central Asia with the launch of the BRI is largely incomparable to the European counterparts, however, the adoption of EU's new Global Gateway strategy in late 2021 combined with Brussel's growing soft power in th region can help to counterbalance Russian and Chinese dominance. The recent visits of European officials to Baku and Central Asian capitals posit that the EU intends to enlarge the horizons of its cooperation with more sustainable options. In this respect, the EU-Central Asia Sustainable Connectivity Conference held in Samarkand on November 18, 2022 marked the beginning of a new era with the adoption of two new initiatives on sustainable development and digital connectivity. The Samarkand meeting encapsulated the need to fight against "common enemies" and cooperate around global trends occupying the EU's current policy agenda.
The alienation of Russia and reconsideration of relations brought about opportunities for the development of alternative partnerships with the countries traditionally shadowed by regional and global major powers. The latest SCO summit reconfirmed the Chinese President's uneasiness with Russia as the once "no-limits" relationship has turned into an unequal partnership. With the Russian pushback and plunging dominance in the surrounding regions, the West has gained advantageous position to foster its agenda and dissuade "predatory" Russian and "debt-trapped" Chinese projects. In this regard, enhanced support for the established and viable transport projects passing through Central Asia and the Caspian Sea would yield effective interregional connections, help transfer economies and rebalance the power distribution in the region in favor of smaller countries.