Exposing Geopolitical Moral Relativism
With all eyes on Iran, the human rights abuses that continue in the repressive country of Turkmenistan have taken a back seat. Despite pressure from international NGOs and the U.S. Department of State's designation of Turkmenistan as a country with an abysmal human rights record, its regime has not really done much to address these issues. In fact, things have gotten worse in the last few years.
Unlike other states that have a poor human rights record, Turkmenistan enjoys quite a bit of prestige because it has the fourth largest reserves of natural gas in the world and an impressive network of major gas pipelines that pass through it, terminating at its ports in the Caspian Sea. In fact, its foreign relations are contingent on its immense oil and natural gas holdings. State control of these resources is also what allows Turkmenistan's regime to keep a tight grip over its citizens.
Is Turkmenistan essentially getting a free pass? One has to wonder why North Korea is consistently singled out for international condemnation while Turkmenistan – with the exception of a little head-butting with the United States about how it should proceed on the path towards democratic and economic reform – gets very little pushback from global powers. In general, the public knows at least something about North Korea but knows virtually nothing about Asia's other reclusive dictatorship. Most cannot even identify Turkmenistan on a map.
While some might think it not entirely fair to compare the isolated and tyrannical country of North Korea with Turkmenistan, which is actively and largely cooperatively working with the other "Caspian 5" countries of Iran, Russia, Azerbaijan, and Kazakhstan to promote the oil and gas industries in Central Asia, one thing is clear: Turkmenistan has a human rights problem that cannot continue to be ignored by the global community if the country expects to realize its full potential. It has already been passed up for valuable opportunities that could have boosted its international image and regional presence, all of which would have been a direct benefit to the Turkmen people.
For example, the European Bank for Reconstruction and Development (EBRD) has been hesitant to invest in Turkmenistan's businesses because of its pervasive state intervention and state ownership. Even though private entrepreneurs and companies are growing in Turkmenistan, the country's private sector is still very small and closely regulated by the state. The Bank has plans to offer financing to privately-owned companies outside the oil and gas sectors (where most of the jobs are) to boost Turkmenistan's food processing and distribution, logistics, transport services, packaging, furniture, and hospitality sectors. But it wants the Turkmen government to meet specific benchmarks on pluralism and accountability, establish media freedoms, and improve its overall human rights record. With Turkmenistan's incredibly high unemployment rate – some economists believe it is somewhere around 60% – the country cannot afford to pass up this important opportunity. Until Turkmenistan's government starts making progress on these issues, the EBRD's engagement will remain limited.
The European Union has also expressed serious concerns about Turkmenistan's human rights situation, specifically on the issue of its reported use of torture. They urged the Turkmen government to release information on the status and location of prisoners who have disappeared in detention, facilitate prison visits by international monitors and to cooperate with UN special procedures. The EU also wants Turkmenistan to ease its restrictions on Internet access, cease dismantling satellite dishes, and lift excessive restrictions on civil society. It requires Turkmenistan to stop interfering with the right to freedom of expression, association, and religion and to be more transparent on issues regarding arbitrary evictions – like those that are happening in the country's deserted capital city of Ashgabat to make way for more white marble-clad monuments, hotels, and office buildings. The UN plans to review Turkmenistan's progress on these issues by sometime next year.
Unfortunately, even though Turkmen President Gurbanguly Berdymukhamedov regularly professes respect for peace, integration, and good-neighborliness – which he claims are "essential for sustainable, stable and balanced international work" – the country is still very much at risk of falling back into the bizarre totalitarian-style rule Turkmenistan knew under its previous president -Saparmurat Niyazov, a megalomaniac dictator who ruled the country from 1985 to 2006 – whose cult of personality rivals North Korea's contemporary despotic dynasty. Elements of this cult of personality still exist, as evidenced by the golden statues that dot Turkmenistan's landscape. Alas, Berdymukhamedov has also started to add some of his own.
President Berdymukhamedov – who "won" re-election with 97% of the vote in 2012 – is considered an improvement over his predecessor. Even though he did, to some degree, dismantle Niyazov's personality cult, he is still regarded by most as a despotic ruler who represses minorities, has a deep distain for basic freedoms, forces thousands of people to attend long events (with no breaks), and has zero tolerance for dissidents, journalists, and organizers of political parties. His regime has closed the country off from both geopolitical and independent inspection, frequently dodges inquiries from concerned foreigners, imposes draconian restraints on media and religious freedoms, and practices government strong-arm tactics on activists who dare to step forward to defend human rights.
Despite claims by the president that there have been reforms, imprisonment and/or forced labor are still being utilized as tools for political retaliation. It is feared many of these prisoners die or just "disappear" in captivity. The country's justice system lacks transparency and there is no due process. The government is known to monitor electronic and telephone communications. Religious freedom is nonexistent in that unregistered religious groups or communities are not allowed and fines are imposed for unregistered religious activity. There are also nasty rumors that children are being taken out of school to go to work harvesting cotton or to labor in other sectors.
Despite all of this, there is hardly any demand globally for accountability. NGOs are banned from doing anything until they are registered. However, few independent NGOs have obtained legal registration in years. The International Committee for the Red Cross does not have full access to Turkmen prisons and Turkmenistan's record of cooperation with the UN and the International Labor Organization is bleak. To make matters worse, it appears Berdymukhamedov is intent on building a new personality cult to replace the one he has slowly been trying to eradicate. While his speeches do receive positive reception at the regional level, questions still linger at the international level about how Turkmenistan will handle its human rights issues in the future and how the country will manage its massive resources under Berdymukhamedov's one-party, dynastic leadership. If Turkmenistan cannot get important things done – like industrial privatization, market liberalization, fiscal and legal reforms – the country will not be able to attract foreign trade and investment like the prosperous and sovereign state it has the potential to become should.
Unfortunately, that motivation may rest with the global community to forcefully make it a major Turkmen priority. So far, that global responsibility has been weak at best and laughable at worst. Perhaps the greatest difference in terms of human rights attention between North Korea and Turkmenistan is the former's ownership of nuclear weapons and nuclear technology. While this is no small matter, it is disappointing to see the international community basically sending a message to the rest of the world that the only time it will truly care about basic civil liberties and human dignity in oppressive countries is when said countries actually have the capability of causing damage or doing harm to people other than their own. In short, if all Turkmenistan is interested in is hurting Turkmen, that is acceptable to outside observers. This inhumane example of geopolitical moral relativism must be ended at the global level. For the message it sends is heard far beyond the borders of Central Asia's own Hermit Kingdom.
The world is rebalancing and one of the key gears of this shift is that the tide has turned towards eastern hemisphere. The world is being reshaped here, not just politically but also economically. The long awaited curse has now been lifted as the cogs of new era are positioned in destiny of eastern hemisphere. As liberalism re-emerges over international arena, the thrust of this new order is in trade and connectivity.
One such cord to this anecdote is Uzbekistan and its rising role in the infrastructural developments and regional activity. This Central Asian region and Afghanistan had been conflict zones for long periods of time but now Asian picture is changing. With changing regime in Pakistan, US-Taliban Dialogues going on in Afghanistan the dynamics of regional politics are changing. Tashkent already has cordial relations with Kabul and thus leads many developmental projects in the Afghani land including the Hairatan to Mazar-e-Sharif Railway Project. Being the only country without any rift with Kabul administration, Uzbekistan is seeking to put its influence not by force but by the fist of development. Mutual benefits of both countries can open new doors to regional connectivity and prosperity. Not only this, Uzbekistan is determined for regional connectivity with various projects including Central Asian countries, china and South Asia. Uzbekistan also shares good relations with Pakistan, which is its second largest trade partner in the region after Russia. Also Uzbekistan also shares the floor of Shanghai Cooperation Organization with Pakistan. But after the changed ruling party and its policies, Uzbekistan came up with better ideas.
One such venture was recently proposed by the delegation led by Uzbekistan's foreign minister, Mr Abdulaziz Kamilov, who visited Pakistan and met his Pakistani counterpart, Mr Shah Mehmood Qureshi at the end of the last year. The proposal which may evolve into Euroasian concept of interconnectivity, aimed at connecting Pakistan with Uzbekistan through a railroad network which will pass via Afghanistan's Mizari-Sharif. The two possibilities for the construction of lines are Mazar-i-Sharif-Khulm-Puli-Khumri-Doshi-Surabai-Jalalabad-Torkham on Pakistani side or along Surkhan – Puli-Khumri – Doshi – Surabai-Jalalabad-Peshawar (Pakistan).
The proposal if implemented will have far-reaching outcomes, booming the trade which is the dire need of economy for these countries. The trans-afghan railway project will not only connect Pakistan to central Asia and its market but also open doors to Russia, which can also play key role in the economics of the nation. The five year plan which was presented in December of 2017 by Uzbekistan involved such developments which will help the country to boost up its economy by establishing transit trade routes benefitting the economy and amplifying the regional connectivity. The trade route between Uzbekistan and Pakistan will allow access of central Asian states to open waters enabling their reach to the rest of the world through the deep sea port of Pakistan.
The Uzbek soil is enriched with the production of cotton and sugar and apart from this the agro-machinery in Uzbekistan is more advanced than in Pakistan since Islamabad and Tashkent already are trade partners which can clearly be seen as in 2018 the trade between two, crossed the 90 million US dollars mark. This trade volume can reach new altitudes if the direct link is established between the two countries and Pakistan, a country with agro centered economy, can have advanced parameters.
Such collaborations not only can decrease the trade deficit but also boon the local industry and economic growth can be achieved in areas which are underdeveloped. Also the majority of the population in this part of the world lives below the poverty line, the track can help in improving their living standards. Various studies indicate that high cost of trade in this region is because of lack of interregional infrastructure. Therefore leading to lower prices of trade can help raising lower class and expanding middle class. Also when there is a market, Foreign Direct Investment comes in rushing. Hence overall the conditions of the states would improve drastically over the years.
Uzbekistan has been long interested in Afghan soil which is conflict ridden from its postmodern to modern history. It is difficult for the landlocked Uzbekistan to have a global access. Thus in order to open its trade tentacles Uzbekistan needs Afghanistan and to outreach globally it needs a port which is deep sea. The proposal if comes into reality will make good use of Pakistan's strategic location, making Pakistan as the focal point for regional trade and its connectivity with the rest of the world. Uzbekistan and Afghanistan are landlocked states and need a country like Pakistan with warm water sea ports for getting to hot waters.
A railway line will reduce the cost of transportation and make it convenient for the two states for getting a suitable sea port. Also, a train would take not only goods but also people. This would lead to increased people to people contact. With people connected together, peace and stability in the region would be comparatively easy to attain. Developing the underdeveloped areas of Pakistan and Afghanistan and the sense of insecurity which is visible will be minimized. These developmental projects can enhance the capacity to achieve collective prosperity and enrich the relation between the countries. Consequently, a better image of these countries will eventually be projected. Through such initiatives the whole eastern region will be interconnected with each other and trade will be boomed benefitting participant countries.
Apart from this, the world has now left with only a few untapped resources which are mainly located in central Asia and Afghanistan. If odds don't go against, it will be a great victory for Pakistan to be connected with Central Asian states directly through the rail road network. With the new shift and East into light, everyone is eyeing on Asia and its proximities for energy reserves. Pakistan, once connected through railroad, can take maximum possible advantage of this untapped potential in the region which would not only be beneficial for countries itself but for Pakistan as well.
Recent proposal can curb the miseries of Afghanistan and steer it into a healthy voyage of productivity, and through developments peace and security can be achieved in the Afghanistan. Such initiatives will open doors not only for Pakistan, Afghanistan and Uzbekistan but also for the countries that have potential markets. Apart from this, these acts will make region interdependent which further can deescalate the tensions among countries opening them for each other and becoming market for each other. The regional connectivity will also boost the integration and regional harmony.
Belt and Road Initiative in Central Asia and the Caucasus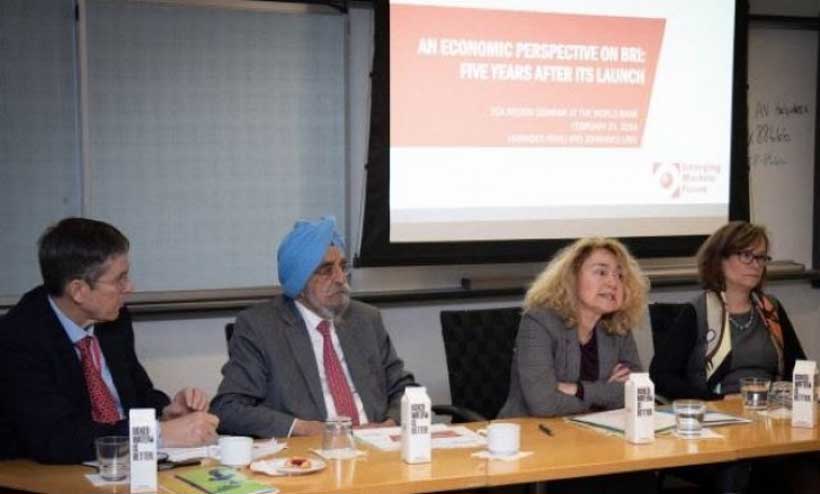 The massive Belt and Road Initiative (BRI) plans to build roads, railways, seaports and other trade infrastructure in dozens of countries in the Eurasian continent. The BRI aims to connect Asia to Europe, and the initiative has steadily expanded economic corridors and projects as far as Africa.
Two of the planned corridors of this ambitious project will run through countries in the Central Asia and South Caucasus. These countries are mostly land-locked, and their transportation infrastructures and quality tend to be low.
"If properly implemented, BRI transport projects are expected to reduce travel times and trade costs, potentially leading to enhanced trade, foreign investment which would translate into higher economic growth and poverty reduction for the countries involved," said Asli Demirguc-Kunt, chief economist of the World Bank's Europe and Central Asia (ECA) region.
"However, there are also significant risks involved, and the initiative can leave countries with excessive debt and poor quality projects; and there are potential environmental and social costs," Demirguc-Kunt said. "So the question is how can these countries maximize the benefits and minimize the risks?"
Economists Harinder Kohli of the Emerging Markets Forum and Johannes Linn of the Brookings Institution spoke about the BRI at the inaugural ECA Talks event, a series of monthly talks in which researchers exchange and challenge ideas about key issues affecting the region. Their talk was based on a study that draws on background notes prepared by experts from the region on their countries' perspectives on the BRI, hence providing an "inside-out" perspective.
One of the constraints to good analytical work in this area is that no comprehensive dataset exists with reliable information about BRI project costs, conditions and terms of financing.
"There are great benefits to be had but also considerable risks that need to be addressed in one way or another," said Linn. BRI investments should reflect country priorities and be integrated with national and regional plans. Macroeconomic constraints, especially debt sustainability, must be carefully monitored and respected.
Governance and corruption issues are important as in any large infrastructure project, so there is a need for greater transparency on terms and conditions of these projects, for example open and transparent public procurement. Some BRI routes pass through ecologically important landscapes lacking adequate protections, posing a wide range of environmental and social risks, which need to be addressed.
Reaping the benefits will also depend on soft investments made to support trade. Such soft investments include ensuring the efficient operation and maintenance of projects after they are built and improving trade logistics at border crossings. Kazakhstan, for example, stands to receive a potential $5 billion annually in transit fees from goods moving through it to other markets.
BRI projects also include investments in energy, mining, agriculture, communications, and technology to improve trade connectivity. But not everyone will benefit from BRI projects, which will usher in more global trading competition and labor mobility. Countries will need to consider ways to compensate businesses and workers that are eventually forced out.
"What we need is to have more data and more information," said Caroline Freund, World Bank director of trade, regional integration and investment climate. "This is the only way we are going to understand where the benefits come from."
Kazakh police raid raises spectre of China's long arm
A police raid on a Kazakh group documenting the plight of Kazakhs and Uyghurs caught in a brutal crackdown in China's north-western province of Xinjiang is about more than a government seeking to please Beijing in the hope that it improves the lot of its ethnic kin while preserving diplomatic and economic relations.
Amid suspicions that the raid on the offices of Atajurt Eriktileri and the arrest of activist Serikjan Bilash was carried out as a result of Chinese pressure aimed at squashing criticism of the crackdown, the raid seemingly reflects an increasingly aggressive Chinese effort to impose its will on others and ensure that they observe the respect and deference that China believes it deserves.
Atajurt Eriktileri supports relatives of people who have disappeared in Xinjiang and says it has documented more than 10,000 cases of ethnic Kazakhs interned in China.
Police on Sunday sealed the group's office in Almaty, Kazakhstan's largest city, seized the group's computers and archives and flew Mr. Bilash, who said he was being accused of "inciting ethnic hatred, to the Kazakh capital of Astana.
The East Turkistan Awakening Movement, a Washington-based Uyghur exile group, said Mr. Bilash had been arrested on charges of "creating tensions between #Kazakhstan and #China."
The Kazakh police raid is but the latest incident pointing to China's more aggressive form of diplomacy that includes an increasing number of undiplomatic comments by Chinese diplomats across the globe.
At times, those comments are couched in civilizational terms steeped in what political scientist Zhang Weiwei describes as the rise of the civilizational state under President Xi Jinping.
Describing the trend towards a civilizational state that involves a rejection of Western concepts, including notions of human rights and freedom of religion, Financial Times columnist Gideon Rahman noted that China was not alone in its embrace of the idea as an alternative to the traditional concept of a nation state based on national borders and language. Mr. Rahman suggested that the concept was also gaining currency in countries like India and Russia.
Chinese Foreign Minister Wang Yi defended his diplomat's more outspoken statements by pointing to China's need to stand up for its "rightful and lawful interests." Mr. Wang insisted that China would not tolerate infringements of its sovereignty and national dignity.
"Chinese diplomats, wherever we are in the world, will firmly state our position," Mr. Wang told journalists this weekend covering the National People's Congress.
Former senior Singapore diplomat Bilahari Kausikan noted that "China does not just want its new status recognised as a geopolitical fact; China wants its new status accepted as a new norm of East Asian international relations; a hierarchy with China at the apex. Most countries accept the geopolitical fact; few accept the norm."
Examples of China's more aggressive attitude abound while the Kazakh raid suggests that China's concepts of deference and respect amount to far more than traditional notions of respect. They also provide a potential insight into the values and norms that in China's view would undergird a new world order.
China's notion of deference was put on display last September at the Pacific Islands Forum when Beijing's ambassador to Fiji, Du Qiwen, allegedly demanded the right to speak before Tuvalu prime minister Enele Sosene Sopoaga. The forum's host, Nauru president Baron Waqa accused the Chinese envoy of being "insolent" and a "bully."
Both Nauru and Tuvalu, to China's chagrin, maintain diplomatic relations with Taiwan.
Similarly, Papua New Guinea police were called after Chinese officials allegedly tried to force their way into the office of the country's foreign minister in a bid to influence the final communique of last November's Asia Pacific summit.
The summit ended without a final statement because of disagreements between the United States and China. Chinese officials dismissed the report of them having attempted to gain access to the foreign minister's office as "a rumour spread by some people with a hidden agenda."
In an oped in The Hill Times, an Ottawa-based newspaper, Lu Shaye, China's ambassador to Canada, described as "Western egotism and white supremacy" demands that China release two Canadian nationals arrested in China.
The two Canadians are being held in apparent retaliation for the detention in Canada at the behest of the United Sates of senior Huawei executive Meng Wanzhou on charges of having misled banks about the company's business dealings with Iran.
A series of incidents in the wake of a visit to Sweden last September by the Dalai Lama involving Chinese tourists and a satirical Swedish television show that poked fun at Chinese visitors and excluded Taiwan and parts of Tibet from a map of China drew the ire of the Chinese embassy in Stockholm.
The embassy denounced Swedish police as "inhumane," decried "so-called freedom of expression," charged that the tv show "advocate(s) racism and xenophobia outright, and openly provoke(s) and instigate(s) racial hatred and confrontation," and issued a safety alert to Chinese tourists because of multiple cases of theft and robbery and poor treatment by Swedish police.
In line with Mr. Wang's justification of his diplomats' more undiplomatic approach, Brookings fellow Ryan Hass told Bloomberg that the envoys were "matching the mood of the moment in Beijing… Some in Beijing also seem to be growing frustrated that China's rising national power is not yet translating into the types of deference from others that it seeks."
The raid in Kazakhstan, like earlier cases such as Egypt's return at China's request in 2017 of up to 200 Uyghur students to an uncertain future in the People's Republic, suggests that Beijing maintains an intrusive, far-reaching definition of its concept of deference and respect.
Kazakh activists charged that the raid was indicative of the kind of pressure applied by China. "Our government doesn't want to spoil relations between Kazakhstan and China," said Atajurt's lawyer, Aiman Umarova.
There was no independent confirmation of assertions that Chinese pressure prompted the raid.
In a video statement, Mr. Bilash confirmed that he was Kazakh police custody and had not been detained "by either the Chinese or Chinese spies".
Mr. Bilash's wife, Leila Adilzhan, said she was "afraid our government will give him to China."
That may be one step too far for the Kazakh government given mounting anti-Chinese summit among Kazakhs and public demands that Kazakhstan be more forceful in its standing up to China for the rights of Kazakh nationals and Chinese citizens of Kazakh descent. Kazakhs constitute the second largest minority in Xinjiang after Uyghurs.