Exposing Geopolitical Moral Relativism
With all eyes on Iran, the human rights abuses that continue in the repressive country of Turkmenistan have taken a back seat. Despite pressure from international NGOs and the U.S. Department of State's designation of Turkmenistan as a country with an abysmal human rights record, its regime has not really done much to address these issues. In fact, things have gotten worse in the last few years.
Unlike other states that have a poor human rights record, Turkmenistan enjoys quite a bit of prestige because it has the fourth largest reserves of natural gas in the world and an impressive network of major gas pipelines that pass through it, terminating at its ports in the Caspian Sea. In fact, its foreign relations are contingent on its immense oil and natural gas holdings. State control of these resources is also what allows Turkmenistan's regime to keep a tight grip over its citizens.
Is Turkmenistan essentially getting a free pass? One has to wonder why North Korea is consistently singled out for international condemnation while Turkmenistan – with the exception of a little head-butting with the United States about how it should proceed on the path towards democratic and economic reform – gets very little pushback from global powers. In general, the public knows at least something about North Korea but knows virtually nothing about Asia's other reclusive dictatorship. Most cannot even identify Turkmenistan on a map.
While some might think it not entirely fair to compare the isolated and tyrannical country of North Korea with Turkmenistan, which is actively and largely cooperatively working with the other "Caspian 5" countries of Iran, Russia, Azerbaijan, and Kazakhstan to promote the oil and gas industries in Central Asia, one thing is clear: Turkmenistan has a human rights problem that cannot continue to be ignored by the global community if the country expects to realize its full potential. It has already been passed up for valuable opportunities that could have boosted its international image and regional presence, all of which would have been a direct benefit to the Turkmen people.
For example, the European Bank for Reconstruction and Development (EBRD) has been hesitant to invest in Turkmenistan's businesses because of its pervasive state intervention and state ownership. Even though private entrepreneurs and companies are growing in Turkmenistan, the country's private sector is still very small and closely regulated by the state. The Bank has plans to offer financing to privately-owned companies outside the oil and gas sectors (where most of the jobs are) to boost Turkmenistan's food processing and distribution, logistics, transport services, packaging, furniture, and hospitality sectors. But it wants the Turkmen government to meet specific benchmarks on pluralism and accountability, establish media freedoms, and improve its overall human rights record. With Turkmenistan's incredibly high unemployment rate – some economists believe it is somewhere around 60% – the country cannot afford to pass up this important opportunity. Until Turkmenistan's government starts making progress on these issues, the EBRD's engagement will remain limited.
The European Union has also expressed serious concerns about Turkmenistan's human rights situation, specifically on the issue of its reported use of torture. They urged the Turkmen government to release information on the status and location of prisoners who have disappeared in detention, facilitate prison visits by international monitors and to cooperate with UN special procedures. The EU also wants Turkmenistan to ease its restrictions on Internet access, cease dismantling satellite dishes, and lift excessive restrictions on civil society. It requires Turkmenistan to stop interfering with the right to freedom of expression, association, and religion and to be more transparent on issues regarding arbitrary evictions – like those that are happening in the country's deserted capital city of Ashgabat to make way for more white marble-clad monuments, hotels, and office buildings. The UN plans to review Turkmenistan's progress on these issues by sometime next year.
Unfortunately, even though Turkmen President Gurbanguly Berdymukhamedov regularly professes respect for peace, integration, and good-neighborliness – which he claims are "essential for sustainable, stable and balanced international work" – the country is still very much at risk of falling back into the bizarre totalitarian-style rule Turkmenistan knew under its previous president -Saparmurat Niyazov, a megalomaniac dictator who ruled the country from 1985 to 2006 – whose cult of personality rivals North Korea's contemporary despotic dynasty. Elements of this cult of personality still exist, as evidenced by the golden statues that dot Turkmenistan's landscape. Alas, Berdymukhamedov has also started to add some of his own.
President Berdymukhamedov – who "won" re-election with 97% of the vote in 2012 – is considered an improvement over his predecessor. Even though he did, to some degree, dismantle Niyazov's personality cult, he is still regarded by most as a despotic ruler who represses minorities, has a deep distain for basic freedoms, forces thousands of people to attend long events (with no breaks), and has zero tolerance for dissidents, journalists, and organizers of political parties. His regime has closed the country off from both geopolitical and independent inspection, frequently dodges inquiries from concerned foreigners, imposes draconian restraints on media and religious freedoms, and practices government strong-arm tactics on activists who dare to step forward to defend human rights.
Despite claims by the president that there have been reforms, imprisonment and/or forced labor are still being utilized as tools for political retaliation. It is feared many of these prisoners die or just "disappear" in captivity. The country's justice system lacks transparency and there is no due process. The government is known to monitor electronic and telephone communications. Religious freedom is nonexistent in that unregistered religious groups or communities are not allowed and fines are imposed for unregistered religious activity. There are also nasty rumors that children are being taken out of school to go to work harvesting cotton or to labor in other sectors.
Despite all of this, there is hardly any demand globally for accountability. NGOs are banned from doing anything until they are registered. However, few independent NGOs have obtained legal registration in years. The International Committee for the Red Cross does not have full access to Turkmen prisons and Turkmenistan's record of cooperation with the UN and the International Labor Organization is bleak. To make matters worse, it appears Berdymukhamedov is intent on building a new personality cult to replace the one he has slowly been trying to eradicate. While his speeches do receive positive reception at the regional level, questions still linger at the international level about how Turkmenistan will handle its human rights issues in the future and how the country will manage its massive resources under Berdymukhamedov's one-party, dynastic leadership. If Turkmenistan cannot get important things done – like industrial privatization, market liberalization, fiscal and legal reforms – the country will not be able to attract foreign trade and investment like the prosperous and sovereign state it has the potential to become should.
Unfortunately, that motivation may rest with the global community to forcefully make it a major Turkmen priority. So far, that global responsibility has been weak at best and laughable at worst. Perhaps the greatest difference in terms of human rights attention between North Korea and Turkmenistan is the former's ownership of nuclear weapons and nuclear technology. While this is no small matter, it is disappointing to see the international community basically sending a message to the rest of the world that the only time it will truly care about basic civil liberties and human dignity in oppressive countries is when said countries actually have the capability of causing damage or doing harm to people other than their own. In short, if all Turkmenistan is interested in is hurting Turkmen, that is acceptable to outside observers. This inhumane example of geopolitical moral relativism must be ended at the global level. For the message it sends is heard far beyond the borders of Central Asia's own Hermit Kingdom.
Shifting Sands: Chinese encroachment in Central Asia and challenges to US supremacy in the Gulf
China and Russia are as much allies as they are rivals.
A joint Tajik-Chinese military exercise in a Tajik region bordering on China's troubled north-western region of Xinjiang suggests that increased Chinese-Russian military cooperation has not eroded gradually mounting rivalry in Central Asia, long viewed by Moscow as its backyard.
The exercise, the second in three years, coupled with the building by China of border guard posts and a training centre as well as the creation of a Chinese security facility along the 1,300 kilometre long Tajik Afghan Border, Chinese dominance of the Tajik economy, and the hand over of Tajik territory almost two decades ago, challenges Russian-Chinese arrangements in the region.
The informal arrangement involved a division of labour under which China would expand economically in Central Asia while Russia would guarantee the region's security.
The exercise comes days after China and Russia operated their first joint air patrol and months after Tajik and Russian forces exercised jointly.
The "exercise represents a next step in China's overall encroachment upon Russia's self-proclaimed 'sphere of influence' in Central Asia," said Russia expert Stephen Blank.
"Moscow has given remarkably little consideration to the possibility that China will build on its soft power in Central Asia to establish security relationships or even bases and thus accelerate the decline of Russian influence there," added Eurasia scholar Paul Goble.
The perceived encroachment is but the latest sign that Russia is seeking to balance its determination to ally itself with China in trying to limit US power with the fact the Chinese and Russian interests may be diverging.
The limitations of Russian Chinese cooperation have long been evident.
China, for example, has refrained from recognizing Russian-inspired declarations of independence in 2008 of two regions of Georgia, Abkhazia and South Ossetia that recently sparked anti-government protests in Tbilisi.
China similarly abstained in a 2014 United Nations Security Council vote on a resolution that condemned Russia's annexation of Crimea.
Meanwhile, Chinese dependence on Russian military technology is diminishing, potentially threatening a key Russian export market. China in 2017 rolled out its fifth generation Chengdu J-20 fighter that is believed to be technologically superior to Russia SU-57E.
Perhaps most fundamentally, Chinese president Xi Jinping opted in 2013 to unveil his Belt and Road initiative in the Kazakh capital of Astana rather than Moscow.
By doing so and by so far refusing to invest in railroads and roads that would turn Russia into a transportation hub, Mr. Xi effectively relegated Russia to the status of second fiddle, at least as far as the Belt and Road's core transportation infrastructure pillar is concerned.
China's recently published latest defense white paper nonetheless praised the continued development of a "high level" military relationship with Russia that is "enriching the China-Russia comprehensive strategic partnership of coordination for a new era and playing a significant role in maintaining global strategic stability."
In a bid to ensure Russia remains a key player on the international stage and exploit mounting tension in the Gulf, Russian deputy foreign minister and special representative to the Middle East and Africa Mikhail Bogdanov this week proposed a collective security concept that would replace the Gulf's US defense umbrella and position Russia as a power broker alongside the United States.
The concept would entail creation of a "counter-terrorism coalition (of) all stakeholders" that would be the motor for resolution of conflicts across the region and promote mutual security guarantees. It would involve the removal of the "permanent deployment of troops of extra-regional states in the territories of states of the Gulf," a reference to US, British and French forces and bases.
Mr. Bogdanov's proposal called for a "universal and comprehensive" security system that would take into account "the interests of all regional and other parties involved, in all spheres of security, including its military, economic and energy dimensions" and ensure the provision of humanitarian assistance.
The coalition to include the Gulf states, Russia, China, the US, the European Union and India as well as other stakeholders, a likely reference to Iran, would be launched at an international conference on security and cooperation in the Gulf.
It was not clear how feuding Gulf states like Qatar, Saudi Arabia, the United Arb Emirates and Iran would be persuaded to sit at one table. The proposal suggested that Russia's advantage was that it maintained good relations with all parties.
"Russia's contributions to the fight against Islamic terrorist networks and the liberation of parts of Syria and Iraq can be regarded as a kind of test for the role of sheriff in a Greater Eurasia" that would include the Middle East, said political scientist Dmitry Yefremenko.
Mr. Putin this week asserted himself as sheriff by signalling his support for embattled former Kyrgyz president Almazbek Atambayev, a Putin crony who has been charged with corruption. Following a meeting in Moscow, Mr. Putin urged Mr Atembayev's nemesis. president Sooronbai Jeenbekov, not to press charges.
At the same time, Mr. Putin, building on his visit to Kyrgyzstan in March, offered Mr. Jeenbekov a carrot.
Kyrgyzstan "needs political stability. Everybody needs to unite around the current president and to help him develop the state. We have many plans for cooperation with Kyrgyzstan and we are absolutely determined to work together with the current leadership to fulfill these plans," Mr. Putin said.
Russia and Kyrgyzstan signed an agreement during the visit to expand by 60 hectares the Kant Air Base 20 kilometres east of the capital Bishkek that is used by the Russian Air Force and increase the rent Russia pays.
Mr. Putin further lavished his Kyrgyz hosts with US$6 billion in deals ranging from power, mineral resources and hydrocarbons to industry and agriculture.
Mr. Putin also allocated US$200 million for the upgrading of customs infrastructure and border equipment to put an end to the back-up of dozens of trucks on the Kazakh-Kyrgyz border because Kyrgyzstan has so far been unable to comply with the technical requirements of the Russia-led Eurasian Economic Union (EEU).
Uzbek president Shavkat Mirziyaev last month gave the EEU, that groups Russia, Kazakhstan, Kyrgyzstan Belarus, and Armenia, a boost by declaring that Uzbekistan would need to join the trade bloc to ensure access to its export markets.
EEU members account for 70 percent of Uzbek exports.
Said Russia and Eurasia scholar Paul Stronski: "China's deft diplomacy towards Russia — along with both states' desires to keep the West out of their common backyard — has kept tensions behind closed doors. But with China now recognising it may need to strengthen its security posture in the region, it is unclear how long this stability will last."
Located at the new center of global attraction for economic activity, Pakistan and Uzbekistan share a long string of relations. After the independence from the soviets, Pakistan was among the first countries to recognize it. In 1992, Pakistan established their first diplomatic sanctuary in Tashkent. Since then delegations from both the countries paid visits to each other.
The bond shared between the two countries, that lie in close proximity, is strengthened by similar eastern culture and fortified by the religious ties. This sharing of cultural and religious values is clearly visible in the national language of Pakistan which borrows thousands of words from Uzbekistani language. This nexus is now getting even stronger with the increase in co-operations in social and economic sectors.
Relations between both the states saw an unprecedented growth in recent times and this social integration is ever growing. During the last year only,
63events such as seminars, presentations and business forums were arranged for general public. Whereas, the Uzbek Embassy had a significant number of bilateral meetings with the top tier of business community including several associations and unions. The same sentiment was reciprocated by Pakistani side when more than 50 companies paid visit to Uzbekistan with the purpose of investment. There were a number of exhibitions, events and investment forums in Tashkent, Jizzakh and Bukhara. Eight different Pakistani companies participated in such events.
Uzbekistan and Pakistan have also been working on 38different joint ventures for launching import/export operations.
In economic sphere, Islamabad and Tashkent hold great trade potential. In just 2018, the mutual trade between both countries crossed USD 98.4 million's mark, which means a raise of around 170%.Prior to 2018 in 2017 numbers of economic activity between two states were low and accounted for just USD 36.6 million.
In 2018 Pakistani export to Uzbekistan increased for 150% and amounted 66 million USD (in 2017 – 26 million USD).
Last year Ambassador of Uzbekistan to Pakistan Mr. Furqat A. Sidikov while addressing business community at Islamabad Chamber of Commerce and Industry expressed that trade volume between Pakistan and Uzbekistan has the potential to rise up to USD 1billion in next 5-6 years. It clearly signifies that both countries can provide enormous benefit to each other's socio-economic segment. Pakistan has been exporting edibles like mango, citruses, raw and refined sugar. Furthermore, chemical products, pharmaceutical products, and leather and textile goods are major exports of Pakistan to Uzbekistan.
Uzbekistan is also a hub for petrochemical goods, cotton and silk goods. Its exports to Pakistan includes: leather raw materials, petrochemical products and mineral fertilizers, cotton yarn, cotton fiber, raw silk, plastic products, agricultural machinery, clothing, etc. Not only this, dry fruits and vegetables are also exported from Uzbekistan to Pakistan.
In 2018 Uzbekistan-Pakistan Business Council was established in Islamabad in order to facilitate and support the business community in two countries. Apart for this, several forums are also established in main cities of Pakistan to boost up the economic potential.
Accessibility remains a key subject in establishing people to people relations thus recognizing this flight route from Tashkent-Lahore-Tashkent was resumed in April of 2017. Both states also look forward to initiate new routes from Islamabad and Karachi as well. Earlier in May Uzbekistan's Ambassador to Pakistan had a meeting with Chairman Senate of Pakistan to discuss the inter-parliamentarian cooperation between Pakistan and Uzbekistan. Sideways to expanding parliamentarian relations it was also discussed to further strengthen the cooperation on transport sector to provide uninterrupted route to trade of goods.
Both countries share many economical and regional platform and are member of Organization of Islamic countries (OIC), Shanghai Cooperation Organization (SCO), and Economic Cooperation organization (ECO)and others. Multiple times these platforms were used to freshen up the relations between two countries. Based on mutual trust both countries can have free trade agreements to amplify the relations between them.
Enormous potential lies in social, economic and political sectors on which both countries can work. Both countries can play a key role in bringing peaceful non-military solution to misery in Afghanistan as well as in the region. Pakistan needs to explore new avenues for cooperation with countries like Uzbekistan and extract the maximum benefit for itself.
Uzbekistan understands importance of Pakistan in keeping stability and prosperity of the whole South Asian region. Both countries are interested in continuing bilateral partnership on all key issues of the regional security and stability agenda, including the conflict resolution in Afghanistan and expansion of infrastructure, trade and economic ties between Central Asia and Pakistan.
Uzbekistan initiated logistic project that project will include the construction of the massive railroad transport corridor "Uzbekistan-Afghanistan-Pakistan". In details, this corridor will compose the rail line "Uzbekistan-Mazarisharif" which has been already realized between Uzbekistan and Afghanistan as well as construction of new rail road "Mazari-Sharif-Kabul-Peshawar".
In perspective, full realization of this unique transport corridor, will make Pakistan as a Central regional trade hub between South Asian and Central Asian regions.
No More Business as Usual: Improving Water Usage in Central Asia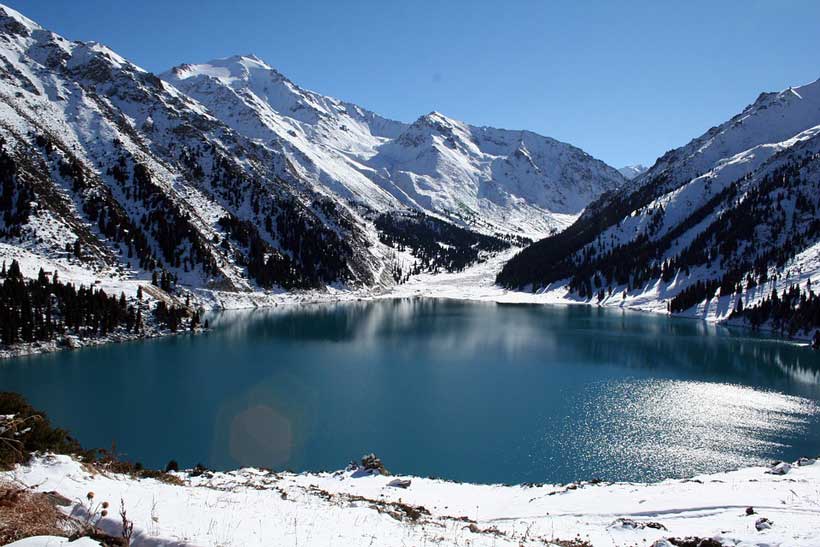 Central Asia's future economic development, including its energy and water security, depends to a great extent on how effectively countries manage their natural water supplies, especially under increased pressures from climate variability, economic growth, and population expansion.
The population of Central Asia is expected to grow by around 30% by 2050. As such, demand for water services will also increase significantly.
Central Asia is heavily dependent on agriculture, which provides livelihoods for about 50% of the population in some countries. But its level of water productivity is one of the lowest in the Europe and Central Asia region. More efficient use of water in the economy could significantly contribute to increased agricultural productivity, green energy production and the health of the region's environmental assets.
According to estimates, the adoption of modern agricultural techniques and methods could increase the region's crop yields by over 20% by 2030, and by 50% by 2050. On the other hand, if countries continue a "business as usual" approach, Central Asia is among the regions that could experience a significantly negative impact on GDP under climate change. Each year, inadequate water supply and sanitation leads to overall economic costs equivalent to around $2.1 billion, although these costs differ from country to country – ranging from almost 0.5% of GDP in Kazakhstan to around 4.25% in Tajikistan (2017 data).
"The water agenda in Central Asia is always viewed through the lens of the Aral Sea disaster," said Ato Brown, World Bank Country Manager for Kazakhstan. "Today, it is high time for us to start changing the narrative so that Central Asia is known for being an oasis of production and productivity."
According to a World Bank report, Central Asia is among the regions that have most to gain from properly managing water resources under climate change.
Most of the major rivers in Central Asia cross borders, therefore countries need to coordinate water management to advance sustainable development and climate resilience.
Water resources in the region are sensitive to climate variability, which poses significant challenges to the agriculture and energy sectors.
Since the 1950s, average annual temperatures have increased by 0.5°C in the mountainous areas of southern Central Asia, and glaciers that feed the region's main rivers – Amu Darya and Syr Darya – have shrunk by a third. With the melting of glaciers, the expected fall in river flows will have a major impact on agricultural production.
By 2025, hydropower is expected to overtake gas as the main fuel source for energy production in Central Asia. Where hydroelectricity production is based on reservoir storage, there can be flow management benefits for climate change adaptation, including flood and drought prevention and mitigation, as well as timely delivery of irrigation and drinking water.
"Central Asian countries need to start with a joint project, and there are opportunities for working together," said Ato Brown at the Astana Economic Forum. If the countries of Central Asia invest sufficiently and effectively in better water management, they have the potential to become not just economically prosperous and resilient to climate change – but also to provide new opportunities and hope for all their citizens.