Away From Dollar: Russia, China creating own gold market
Welcome to the Caspian Daily, where you will find the 10 most important things you need to know on Caspian Sea Region. We appreciate ideas, reports, news and interesting articles. Send along to Caspian[at]moderndiplomacy.eu or on Twitter: @DGiannakopoulos
1As Western central banks continue their manipulation of the gold price in order to prop up flagging fiat currencies, two of the world's largest bullion hoarders are fashioning their own gold market which will function outside the dollar system. This new approach is connected closely with the China-led New Silk Road project and the Shanghai-based Asian Infrastructure Investment Bank (AIIB). In May 2015 Beijing announced it had established a state-run gold investment fund, aiming to bolster China's role in global gold trade. The new initiative is a part of China's ambitious One Belt and One Road plan. The "Silk Road Gold Fund" will invest in mining projects in the regions along the New Silk Road encouraging central banks of its members to increase their holdings in the precious metal. [mining.com]
2Russia, Iran Plan To Expand Military Cooperation. Russian Foreign Minister Sergei Lavrov says the Kremlin plans to develop military and technical cooperation with Iran after international sanctions against Tehran are lifted under a nuclear deal between Iran and world powers. Lavrov made the remarks following talks in Moscow with Iranian Foreign Minister Mohammad Javad Zarif on August 17. Russian media reports said the two discussed the possible delivery of S-300 surface-to-air missiles from Russia to Iran and new contracts to build nuclear power plants in Iran.
3Trans-Caspian transport route: what does it mean for Azerbaijan? The member-states of the Trans-Caspian international transport route will be able to earn $1 billion in freight transportation for the first few years, Akif Mustafayev, TRACECA (Europe-Caucasus-Asia) transport cooperation program national secretary on Azerbaijan, told Trend News. The profit of Kazakhstan, Azerbaijan, Georgia and Turkey as a result of the transportation via this route will increase in the future. "The train has arrived from China to Azerbaijan, but it is necessary that this route gets extended through Georgia and Turkey, and then further to Europe," he said. "Work is currently underway in this regard, and the arrival of the first train gives hope that the work will be completed in the near future."In general, as the national secretary said, all the projects realized recently, including the construction and reconstruction of the railway in Azerbaijan, the construction of the Baku-Tbilisi-Kars railway's section and a new international seaport in Alat, are aimed at high-level cargo transportation from China to Europe.
4Azerbaijan's model of interfaith harmony. The Valley Outreach Synagogue, one of the most influential Jewish synagogues in Los Angeles, hosted a presentation on Azerbaijan on August 14, 2015. Attended by over 500 members of the Synagogue, the event featured Nasimi Aghayev, Azerbaijan's Consul General in Los Angeles. Synagogue's Spritual Leader Rabbi Ron Li-Paz noted that during the turbulent times of religious intolerance and violence in various parts of the world, especially in the Middle East, Azerbaijan stands out as a beacon of tolerance, interfaith harmony and secularism. He called Azerbaijan "a ray of hope in the darkness" and an exemplary model of religious tolerance and acceptance.
5Iran's energy ministry and the State Agency on Alternative and Renewable Energy Sources (SAARES) are set to enter into a deal on enhancing generation of renewable energies, a deputy energy minister said. Houshang Falahatian was quotes by shana as saying on Tuesday that Iran plans to add 1,000mg it to power generation by renewables. Once sealed, Azeri companies active in the field of renewable energies will start cooperating with MAPNA group in Iran for developing projects for generation of power from renewable energy resources.
6Goods transfered from Central Asian countries to Bandar Abbas – port by Persian Gulf in southern Iran – will recieve 35 percent transfer discount, Hossein Ashouri, an official with Iran's railroad organization said. He added that Iran also gives 40 percent discount to the transfer of goods from Central Asia to Pakistan via the Iranian railroad, IRNA news agency reported August 17. The official further said that a two-way discount is also to be given to the transfer of goods between Iran's northeastern border city of Sarakhs and Turkey.
7Russian energy company Rosneft said on Monday it had registered to take part in the 13th licensing round organised by Brazilian national energy agency Agencia Nacional do Petroleo, Gas Natural e Biocombustiveis. Rosneft said that 10 oil basins and blocks, located onshore and offshore, would be put up for sale at the licensing round.
8More than 700 Russian and foreign companies from 30 countries will put their products on display at the MAKS-2015 aerospace show. According to exhibition director, 40 Iranian companies are also due to showcase their products and achievements in MAKS-2015, including Iran Air Show, Qom International Airport, and Sharif Hamrah Pazhouhan Science and Technology Co. Unlike previous years, Iranian firms and companies have been provided with a larger space in the exhibition this year. Several satellites and launchers, jet engines, navigation systems, helicopters and airplanes are among the Iranian products to go on display in MAKS-2015.
9Yuan's devaluation to impact Kazakh economy. The decision of the world's second-largest economy – China – to devalue its national currency has unsettled global financial markets. Sabit Khakimjanov, the director of research at the Halyk Finance JSC, believes that the depreciation of the yuan might increase the likelihood for the devaluation of Kazakhstan's national currency, the tenge. "First, yuan's depreciation will further strengthen overvaluation of tenge. This is certainly an additional handicap for Kazakh producers, but when considering the fact that tenge has greatly overvalued against the ruble by 20-25 percent in real terms, the devaluation of yuan by 2 percent is relatively not too big," he told local media. Several experts consider the devaluation of yuan as a positive factor for Kazakh exporters; while others claim that the depreciation of the Chinese currency not will have any impact on either the Kazakh economy, or the tenge, as Kazakhstan is not a rival of China. [Azernews]
10Three days for Constitution Day in Kazakhstan. This year, Kazakhstan celebrates the 20 years anniversary of the Constitution. The anniversary of the Constitution will be celebrated along with the 20th anniversary of the Assembly of People of Kazakhstan.
Rwanda: EU provides €10.3 million for life-saving refugee support measures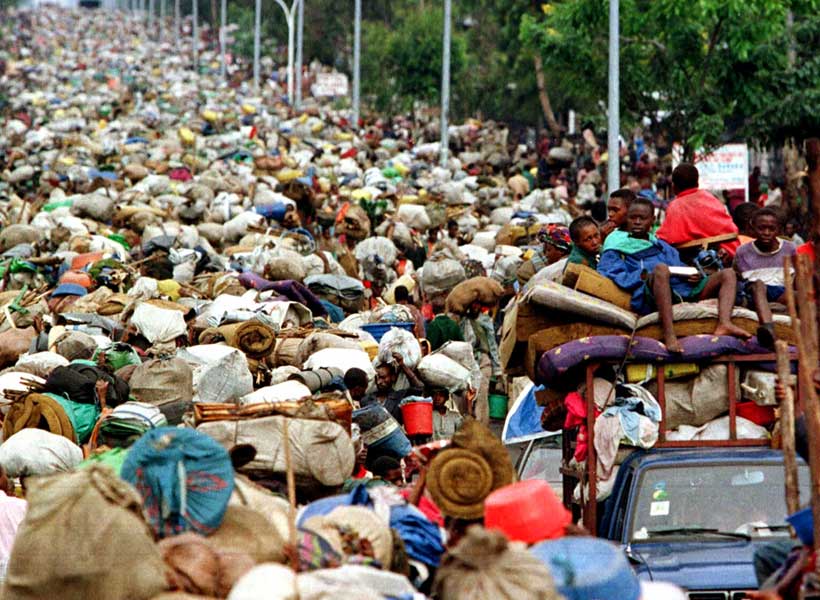 During his visit to Rwanda, Commissioner for International Cooperation and Development Neven Mimica has announced a €10.3 million support package to the UNHCR's Emergency Transit Mechanism (ETM) in Rwanda, which provides a life-saving avenue out of Libya for people in need of international protection, with a view to their further resettlement. The funding is provided through the Emergency Trust Fund for Africa. This initiative builds on the example of the ETM Niger, through which more than 2,900 refugees and asylum seekers have been evacuated out of Libya since 2017.
High Representative/Vice-President Federica Mogherini said: "The Emergency Transit Mechanism in Rwanda is a vital life-saving measure to bring people in need of international protection out of Libya. It is an important sign of African solidarity and of partnership with the European Union. It broadens the support to the most vulnerable people held in Libyan detention centres that need to be closed urgently."
Commissioner Mimica said: "This project will support efforts of the Government of Rwanda to receive and provide protection to about 1,500 refugees and asylum-seekers who are currently being held in detention centres in Libya. Such a remarkable and powerful proof of African solidarity should be further encouraged, replicated and supported."
Background
The UNHCR has evacuated more than 4,250 refugees and asylum-seekers out of Libya to other countries since 2017.
However, around 4,700 people are currently estimated to be held in dire conditions inside detention centres in the country. They urgently need to be moved to safety and to be provided with protection, lifesaving assistance, and durable solutions.
Following the escalation in and around Tripoli, namely the July air strike on a migrant detention centre, the EU continues to support the vital work of the Gathering and Departure Facility on location.
The EU is also supporting the UNHCR's increased efforts to transfer to Tripoli the most vulnerable people in need of international protection from conflict areas where they are at risk, pending their evacuation outside of Libya.
ADB Program to Help Improve Education and Health in Armenia
The Asian Development Bank (ADB) has approved a $10 million policy-based loan (in euro equivalent) to assist the Government of Armenia's efforts to improve the quality and accessibility of education and health services.
Armenia is experiencing a demographic shift with the share of children under the age of 18 declining from 37% of the national population in 1990 to 25% now, signaling an impending decline of the country's labor force. Access to and funding for quality education and health services are poor, resulting in many people not having the skills to meet employers' needs and avoidable ill health having a detrimental effect on the population.
In 2017, for instance, public expenditure on education was about 2.2% of gross domestic product (GDP), which is lower than the 5% recommended by the Organisation for Economic Co-operation and Development. Government health spending was at 1.3% of GDP, below the 5% threshold observed by the World Health Organization as expenditure of countries with low shares of out-of-pocket payments.
To address this, the Government of Armenia has implemented reforms since 2010 to improve education and health services, with a focus on helping women and girls. A preschool law was endorsed to the National Assembly with the aim of boosting the number of children in elementary schools to 70% in 2023, from around 30% in 2017. Teachers have also been receiving training and skills development. A new set of guidelines and protocols, meanwhile, have been implemented in most of the country's hospitals and health centers, covering topics ranging from preventing hospital-acquired infections to methods in continuing medical education.
"A well-educated and healthy population is essential for the growth and development of a country like Armenia, where human capital is significantly unrealized," said ADB Senior Health Specialist for Central and West Asia Ms. Rouselle Lavado. "ADB's assistance will support the government's ongoing efforts to ensure that citizens are educated, healthy, and productive.
The main focus of the Human Development Enhancement Program is children and youth, starting from the preschool age. As well as improving the accessibility and enhancing the quality of education and health services in the country, the program will also increase financing for these efforts.
ICC gives greenlight for probe into violent crimes against Rohingya
Judges of the International Criminal Court (ICC) on Thursday authorized an investigation into alleged crimes against humanity, namely deportation, which have forced between 600,000 and one million Rohingya refugees out of Myanmar, into neighboring Bangladesh since 2016.
The pre-trial judges "accepted that there exists a reasonable basis to believe widespread and/or systematic acts of violence may have been committed that could qualify as crimes against humanity of deportation across the Myanmar-Bangladesh border" the Court said in a press statement, in addition to "persecution on grounds of ethnicity and/or religion against the Rohingya population."
After a reported military-led crackdown, widespread killings, rape and village burnings, nearly three-quarters of a million Rohingya fled Myanmar's Rakhine state in August 2017 to settle in crowded refugee camps in neighboring Bangladesh.
This is the second strike against the alleged crimes this week, as the tribunal's decision follows a Monday submission by Gambia to the UN's principal judicial organ, the International Court of Justice (ICJ), accusing Myanmar of "mass murder, rape, and genocidal acts" which violate its obligations under the Genocide Convention, in addition to destruction of villages, arbitrary detention, and torture.
As a member to the Genocide prevention treaty, Gambia "refused to stay silent", and as a member of the Organisation of Islamic Cooperation (OIC), the small African nation has taken legal action to assist the persecuted majority-Muslim Rohingya, with support by other Muslim countries.
In July, the ICC's top Prosecutor, Fatou Bensouda, requested an investigation be open into the alleged crimes committed since October of 2016, concerning Myanmar and Bangladesh.
At that time, her Office's preliminary examination found "a reasonable basis" to believe that at least 700,00 Rohingya were deported from Myanmar to Bangladesh "through a range of coercive acts causing suffering and serious injury."
Under the Rome Statute that created the ICC, which highlights crimes against humanity as one of its four crucial international crimes, the top Prosecutor concluded sufficient legal conditions had been met to open an investigation.
While Myanmar is not a State party to the treaty, Bangladesh ratified the Statute in 2010, meaning authorization to investigate does not extend to all crimes potentially committed in Myanmar, but will focus on violations committed in part on Bangladeshi territory, the ICC said in July.
'Only justice and accountability' can stop the violence
Judges forming the pre-trial chamber, Judge Olga Herrera Carbuccia, Judge Robert Fremr, and Judge Geofreey Henderson received views on this request by or on behalf of hundreds of thousands of alleged victims.
According to the ICC Registry, victims insist they want an investigation by the Court, and many "believe that only justice and accountability can ensure that the perceived circle of violence and abuse comes to an end."
"Noting the scale of the alleged crimes and the number of victims allegedly involved, the Chamber considered that the situation clearly reaches the gravity threshold," the Court said.
The pre-trial Chamber in addition authorized the commencement of the investigation in relation to any crime, including future crime, so long as it is within the jurisdiction of the Court, and is allegedly committed at least in part in the Rome Statute State Party, Bangladesh, or any other territory accepting the jurisdiction.
The alleged crime must also be sufficiently linked to the present situation, and must have been committed on or after the date of the Statute's entry into force for Bangladesh or the relevant State Party.
Judges from the ICC have given the greenlight for prosecutors to commence collection of necessary evidence, which could result in the judge's issuance of summonses to appear in court or warrants of arrest. Parties to the Statute have a legal obligation to cooperate fully with the ICC, nonmembers invited to cooperate may decide to do so voluntarily.