One of the biggest mysteries in the oil market: Iran's secret stash of oil
Welcome to the Caspian Daily, where you will find the 10 most important things you need to know on Caspian Sea Region. We appreciate ideas, reports, news and interesting articles. Send along to Caspian[at]moderndiplomacy.eu or on Twitter: @DGiannakopoulos
1One of the biggest mysteries in the oil market surrounds just how much oil Iran is hoarding at sea. That's a key question because Iran's nuclear deal with the West could lift crippling sanctions, and pave the way for tons of Iranian oil to hit the market. A surge in Iranian exports would only deepen the oil supply glut that has sent prices to fresh six-year lows this week to below $43. Maritime surveillance firm Windward has harnessed sophisticated technology to determine Iran is actually hoarding 50 million barrels of oil. That's up nearly 150% from April 2014 when Windward started tracking this closely-watched metric. "That means when sanctions are lifted, there is going to be a flood of crude hitting the market because boy could they use the money," said Tom Kloza, chief oil analyst at the Oil Price Information Service. It's important to remember the oil hiding at sea is ready to be shipped to a buyer — likely in Asia — at a moment's notice. It's already been pumped out of the ground, cleaned up and processed. [CNN]
2Why we disagree with Chuck Schumer on the Iran deal. "Rejection of the agreement would severely undermine the U.S. role as a leader and reliable partner around the globe. If Washington walks away from this hard-fought multilateral agreement, its dependability would likely be doubted for decades.Rejection would also destroy the effective coalition that brought Iran to the negotiating table. China and Russia would likely resume trade with Iran. U.S. allies, unsettled by Washington's behavior, would move their own separate ways.The other five negotiators would likely have little stomach for going back to Iran "for a better deal." The ambassadors of the five countries recently assured members of Congress that their governments would not return to the negotiating table should Washington reject the agreement" Richard Lugar and J. Bennett Johnston for Reuters.
3Russia has extended its list of countries subject to a food import ban in retaliation for Western sanctions over the Ukraine crisis. Prime Minister Dmitry Medvedev said the ban would now apply to Iceland, Liechtenstein, Albania and Montenegro. He said Ukraine would be added in 2016 if an economic agreement between Kiev and the European Union came into force. Speaking at a cabinet of ministers on Thursday, Aug 13, the PM said Iceland, Liechtenstein, Albania and Montenegro would also now be affected because they had joined EU sanctions against Russia."Joining the sanctions is a conscious choice which means readiness for retaliatory measures from our part, which have been adopted," Medvedev said in comments broadcast on state-owned channel Rossiya 24.
4Kazakhstan has seen an increase in oil and natural gas production in January-July 2015, the country's Statistics Committee under the National Economy Ministry reported. The production of oil, including gas condensate, increased by 0.7 percent to reach 47 million tons in the reported period.The committee also said that the production of gasoline decreased by 2.8 percent to 1.6 million tons, and diesel fuel by 2.7 percent to 2.7 million tons in the first seven months of 2015. Energy-rich Kazakhstan produces oil mainly from its largest fields – Karachaganak and Tengiz.
5The new industrial zone in the Akhal province of Turkmenistan contains the production of materials and articles for construction industry, including glass, armature boards, paint and paint products, polyurethane products, hoisting slings, decorative stone, composite panels, hardware, electronic components, furniture, doors and windows, and packing containers.The implementation of the new industrial objects by the Turkmen Union of Industrialists and Entrepreneurs will create over 10,000 new jobs.
6The success in the negotiation process over the resolution of the nuclear dispute between the West and Iran and the positive developments following it, have lead to a boom in Iran's tourism sector. Iranian officials have released recent figures showing an increase in a number of the people visiting the Islamic Republic, especially from Europe. Iran is seen as one of the world's top potential tourist destinations, as it contains a countless number of ancient sites. The country ranks fourth in Asia and first in the Middle East in terms of the number of world heritage sites, with an impressive 17 historic sites that have been added to UNESCO's World Heritage List.
7Azerbaijan's next Parliamentary elections will be in the fall of 2015.Many political parties and groups have already expressed their wish to participate in the elections; however, not all have yet managed to hold meetings.Meanwhile, Representatives of the OSCE Office for Democratic Institutions and Human Rights (ODIHR) met with the Chairman of the Central Election Commission Mazahir Panahov on August 12. During the meeting, it was noted that the Central Election Commission of Azerbaijan appreciates relations with international organizations and intends to continue working with them closely.
8This is Azerbaijan's parliamentary elections and CEC is the key actor, so we are mainly fine to play our part of helping in the trainings which the European Union is doing in many countries in the world", said Malena Mard, head of the EU Delegation to Azerbaijan. "We review key recommendations from the OSCE and the Council of Europe regarding the candidates' registration. We hope to play our part in assisting the Central Election Commission for which we have had cooperation for a long time. We are happy to be a part of this project here in Azerbaijan and we are not only doing it in Baku, but we will several workshops and trainings all over the country, she said.
9The Altau district of China and East Kazakhstan region signed a framework agreement on cooperation in the tourism sector on August 13.This agreement was signed by travel agencies of respective countries at the third International Forum on economic cooperation held as part of the Economic Belt of Silk Road.The sides committed to support the cooperation in cross-border tourism and interaction between tour operators of the two countries.Kazakhstan plays significant strategic and diplomatic role for China as it is the first stop on China's Silk Road Economic Belt.
10US has joined hands with China and Russia to oppose negotiations for reforming the UN body. India and some other developing nations have worked hard for long to prepare a framework on UNSC reform. They had suggested that the UNSC include more countries as its permanent members and work in a transparent manner. However, the US, Russia and China strongly opposed the proposal – which can be described as an outcome of inter-governmental negotiations
"It looks like most of them were shot in the head…"
"The New York Times" confirmed the location of the farmhouse by comparing the aerial video of the episode with satellite imagery of Makiivka, Luhansk. A series of videos that surfaced on social media last week has ignited a debate over whether Ukrainian forces committed war crimes as they tried to capture a group of Russian soldiers who were then killed.
The videos show the grisly before-and-after scenes of the encounter earlier this month, in which at least 11 Russians, most of whom are seen lying on the ground (photo), appear to have been shot dead at close range.
The videos, detailed below and whose authenticity has been verified by "The New York Times", offer a rare look into one gruesome moment among many in the war.
The videos were first circulated by Ukrainian news and social media channels that used them to laud the military prowess of their armed forces and publicize their heroic retaking of territory lost to Russia early in the war.
In Russia, however, the videos prompted a fierce response among Russian commentators, who urged the government to seek an international investigation.
"We are aware of the videos, and we are looking into them," Marta Hurtado, a spokeswoman for the U.N. Human Rights Office, told Reuters. "Allegations of summary executions of people hors de combat should be promptly, fully and effectively investigated, and any perpetrators held to account."
Under international law, the French term "hors de combat" refers to people who are "outside of combat" because of their surrender, being unarmed, unconscious or otherwise unable to defend themselves.
"It looks like most of them were shot in the head," Dr. Rohini Haar, a forensic expert and faculty member at the University of California at Berkeley's School of Public Health, said in an interview. "There are pools of blood. That indicates that they were just left there dead. There appears to have been no effort to pick them up or help them."
Dr. Haar noted that when they surrendered, the Russian soldiers had been lying down, apparently unarmed, with their arms outstretched or behind their heads. "They're considered hors de combat, or noncombatants — effectively prisoners of war," Dr. Haar said.
The Rome Statute, the international treaty that established the International Criminal Court, could prosecute this under several of its articles if Ukraine were a party to the treaty, Dr. Haar said, including Article 8b (vi), which says, "Killing or wounding a combatant, who, having laid down his arms or having no longer means of defense, has surrendered at discretion" is a violation of the laws of international armed conflict.
…It is absolutely clear that the killers from the Ukrainian army vilely shot Russian soldiers who were captured by them.  The goal is simple and clear – to raise the level of hatred between the Russians and Ukrainians, cause more bloodshed. This inhuman act resembles very much a well-known British slogan: "Divide and rule".
International Affairs
Marjorie Taylor Greene: "We're going to audit what's happening in Ukraine"
House Republicans critical of U.S. assistance to Ukraine during its war with Russia introduced a privileged resolution to audit the funds allocated by Congress. The resolution is being led by Rep. Marjorie Taylor Greene (photo) (R-Ga.) and backed by a group of GOP lawmakers.
The resolution, which calls for preserving administration documents and communications related to Ukraine funding distribution, speaks to other criticisms among some Republican lawmakers who support aid to Ukraine but say more oversight is needed.
The Biden administration has provided more than $20 billion in military assistance to Kyiv, as well as about $10 billion in humanitarian assistance and about $13 billion in economic assistance. President Biden has called for Congress to earmark $37.7 billion in additional funding for Ukraine.
Greene introduced the bill as a privileged resolution, meaning it will be referred to the relevant committee, where members will have 14 business days to either reject it, or approve it for a vote on the House floor.
Greene said she is prepared to reintroduce the resolution in the next Congress when Republicans hold the majority.
"I'll introduce this resolution again, but I'll also be calling for a full audit. We voted 'no' to send money over there, but we're also going to audit what's happening in Ukraine."
International Affairs
Overnight blasts near Ukraine nuclear plant are 'playing with fire!'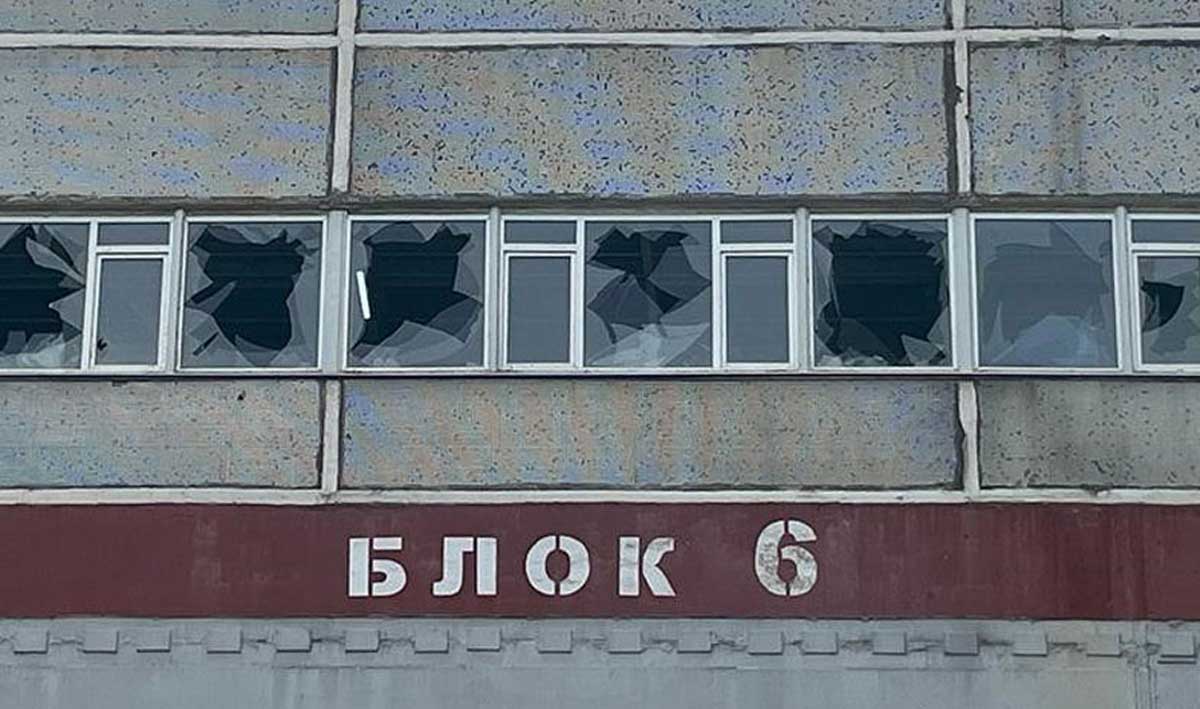 Powerful explosions shook the area of Ukraine's Zaporizhzhya Nuclear Power Plant (ZNPP), "abruptly ending a period of relative calm" at the facility, the head of the UN nuclear watchdog agency said on Sunday.In a statement issued by the International Atomic Energy Agency (IAEA), Director General Rafael Mariano Grossi said that that blasts yesterday evening and again this morning further underlined "the urgent need for measures to help prevent a nuclear accident there".
"As I have said many times before, you're playing with fire!".
Renewed shelling
In what appeared to be renewed shelling near and at the site of Europe's largest nuclear power plant, IAEA experts on the ground reported that more than a dozen blasts were heard within a short period of time in the morning local time.
The IAEA team were also able to see some of the explosions from their windows.
"The news from our team yesterday and this morning is extremely disturbing", said Mr. Grossi.
Citing information provided by plant management, the IAEA team said there had been damage to some buildings, systems, and equipment at the site, but noncritical for nuclear safety and security.
"Explosions occurred at the site of this major nuclear power plant, which is completely unacceptable", he added. "Whoever is behind this, it must stop immediately".
According to news reports, Russian and Ukrainian nuclear energy authorities each blamed the other side's forces for the strikes – triggering fears of a serious nuclear accident. So far, there have been no reports of any radiation leaks at the Russian-occupied plant.
Nuclear-free zone
The IAEA experts said that there were no reported casualties, and they are in close contact with site management.
Meanwhile as they continue to assess and relay updates on the situation, the IAEA chief renewed his urgent appeal that both sides of the conflict agree to implement a nuclear safety and security zone around the ZNPP as soon as possible.
In recent months, he has been engaging in intense consultations with Ukraine and Russia on establishing a zone – but, so far, no agreement has been reached.
"I'm not giving up until this zone has become a reality", said Mr. Grossi. "As the ongoing apparent shelling demonstrates, it is needed more than ever".
Gambling with lives
Even though there was no direct impact on key nuclear safety and security systems at the plant, the senior UN official said, "the shelling came dangerously close to them".
"We are talking metres, not kilometres. Whoever is shelling at the Zaporizhzhya Nuclear Power Plant, is taking huge risks and gambling with many people's lives".
The IAEA team of experts plan to conduct an assessment of the shelling impact on the site tomorrow.