Europe in crisis: everyone from Putin to ordinary savers are stockpiling gold
Welcome to the Caspian Daily, where you will find the 10 most important things you need to know on Caspian Sea Region. We appreciate ideas, reports, news and interesting articles. Send along to Caspian[at]moderndiplomacy.eu or on Twitter: @DGiannakopoulos
1European investors snapped up gold bars and coins at a rapid pace in the second quarter as turmoil in Greece threatened to push the country out of the eurozone.The World Gold Council (WGC) said demand in Europe for the precious metal rose sharply in the three months to June compared with the same quarter last year amid rapid buying of bullion, even as global demand fell by 12pc to a six-year low of 915 tonnes. Szu Ping Chan for the telegraph.
2Switzerland Lifts Sanctions On Iranian Oil, Precious Metals Sales. Switzerland is lifting some sanctions against Iran in what it calls a sign of support for the agreement between Tehran and world powers over its nuclear program. The neutral country's governing Federal Council decided on August 12 to lift a ban on precious-metals transactions with Iranian state entities, and end requirements to report trade in Iranian petrochemical products and transport of Iranian crude oil, among other measures.The government, which also cited its "interest in deepening bilateral relations with Iran," said it reserves the right to reimpose the sanctions if implementation of the nuclear deal fails.
3At least nine foreign national leaders, including Russian President Vladimir Putin, have confirmed they will attend Beijing's military parade to mark the 70th anniversary of victory in the War of Resistance against Japanese Aggression (1937-45), media reports say. South Korean President Park Geun-hye will announce her decision no later than next week, her spokesman said. The leaders of Russia, Kazakhstan, Kyrgyzstan, Tajikistan and Uzbekistan – all members of the Shanghai Cooperation Organisation – have confirmed they will come to Beijing for the celebration.
4Greece and Azerbaijan discussed the sale of a package of shares of DESFA gas transportation system operator to SOCAR.This issue was discussed at a meeting of Greek Minister Panos Skurletis with SOCAR Energy SA Greece director general Anar Mammadov, the ministry of industrial reform, environmental protection and energy of Greece said. During the meeting the minister stressed the positive attitude of the government in the field of energy cooperation with Azerbaijan. The sides reviewed the technical issues and agreed to hold a meeting soon to discuss and resolve the remaining issues to intensify the further actions that will allow beginning the design work for TAP in Greece.
5Whither Azerbaijan's Islamists? The overall atmosphere in Azerbaijan is grim when it comes to freedom of speech and freedom of conscience. Yet, the release from prison of Taleh Baghirov, a young, charismatic Shia Muslim cleric, goes against the general trend in Azerbaijan. While it is certainly premature to call Baghirov's release a "game changer," it has implications for Azerbaijan's Islamist politics that are worth pondering. [Eurasianet]
6Turkmenistan's national gas company TurkmenGaz has agreed to acquire a 51% stake in the proposed $10bn Turkmenistan-Afghanistan-Pakistan-India (TAPI) natural gas pipeline project.StateTAPI is a consortium formed by the state-owned gas companies of the four countries to manage the project.Other partners in the project include Afghan Gas Enterprise, Pakistan-based Inter State Gas Systems and Gail (India).The consortium leader is expected to be selected in September and construction on the project would begin in December.
7US general: Russia main threat for USA.Russia is among the most dangerous countries for the United States, US army chief of staff, general Raymond Odierno said.at a briefing in Pentagon."I think Russia is most dangerous for a number of reasons. Primarily because it is better prepared than our other potential opponents", the general believes.In particular, Russia 'has serious potential for holding really complex operations in Ukraine", he says.In this connection, Odierno finds it essential to expand the military potential of NATO-led troops in Eastern Europe.
8Development of the largest natural gas field in Turkmenistan, Galkynysh, continues, according to the newspaper "Neutral Turkmenistan."More than 20 production wells have been drilled during the preparation for the launch of refining capacities in the central part of the oil and gas area of the field. In 2014, the departments of Turkmen state concern "Turkmenraz" completed construction of three production wells with a depth of over 4,500 meters with a total flow rate of more than 6.5 million cubic meters of natural gas per day. Teams of the "Turkmengeologiya" State Corporation commissioned three more wells. This year, geologists plan to drill another four deep wells with high flow rate of gas on the field.
9A nuclear guide to the Kazakhstan Steppe. The Soviet Union's rise and fall as a superpower has left a toxic legacy on a large corner of the planet. Semipalatinsk Test Site or simply "The Polygon" is an 18,000-square-kilometre area on the Kazakh Steppe where the Soviet Union conducted 456 nuclear tests before the site was officially closed for testing in 1991.Today the Polygon is home to research on the effects of the tests on the surrounding ecology. And it's also open for tours.Fifty years ago intruders would have been shot on sight. Now tourists are doing the shooting through viewfinders. [ABCnews]
10Azerbaijan will take part in the sessions of the commission on regulation of use of radio frequency spectrum and satellite orbits RRU (Regional Communication Union) and working group on preparations for the World radio frequency conference from September 7 to September 11 in Moscow.
ADB Operations Reach $32.2 Billion in 2017- ADB Annual Report
The Asian Development Bank (ADB) Annual Report 2017, released today, provides a clear, comprehensive, and detailed record of ADB's operations, activities, and financial results over the past year.
Annual operations of ADB reached a record $32.2 billion in 2017, as the bank continues to meet Asia and the Pacific's growing development needs, according to the Annual Report. This was a 26% increase from the year before.
ADB's total operations of $32.2 billion last year consisted of $20.1 billion in loans, grants, and investments from its own resources (up 51% from 2016) including nonsovereign operations of $2.3 billion (a 31% increase from 2016); $11.9 billion in cofinancing from bilateral and multilateral agencies and other financing partners; and $201 million in technical assistance (a 11% increase from 2016).
These figures are based on ADB's new performance measure of "commitments," or the amount of loans, grants, and investments signed in a given year. ADB introduced this measure in 2017 to promote project readiness at approval stage, expedite post-approval steps, and get closer to project disbursement, by placing more emphasis on when the projects are signed, rather than when they are approved by ADB's Board of Directors.
"We began a new chapter in meeting development needs across Asia and the Pacific in 2017," said ADB President Takehiko Nakao. "With the merger of the bank's concessional Asian Development Fund lending operations with the ordinary capital resources balance sheet from the start of 2017, ADB has a solid capital base to support our operations going forward."
Mr. Nakao added, "We continue to combine finance with innovative solutions to respond better to the region's diverse and specific challenges and needs, such as rapid urbanization, climate change, and growing demand for water and energy."
ADB's financing of climate mitigation and adaptation reached a record $4.5 billion in 2017, a 21% increase from the previous year. The bank is now in a good position to achieve its $6 billion annual climate financing target by 2020. ADB also mobilized an additional $606 million from external financing, bringing total climate financing to $5.2 billion last year.
The Annual Report emphasizes the importance of partnerships for ADB in scaling up project financing, and for sharing development knowledge and expertise. With the support of donors, ADB established five new trust funds in 2017 that will unlock capital for climate investments through innovative financial products, increase private sector participation in climate change mitigation and adaptation projects, help cities prepare high-priority urban infrastructure investments, increase mobilization of domestic resources, and integrate high-level technology into infrastructure project designs.
On the downside, ADB's disbursements decreased to $11.1 billion in 2017 from $12.3 billion in 2016, according to the Annual Report. Cofinancing also fell short of ADB's targets.
"We will come up with concrete measures to increase disbursements and cofinancing, building on the new ADB procurement policy approved in April 2017 and ongoing efforts to leverage the bank's resources," said Mr. Nakao.
The Annual Report 2017 presents a more comprehensive picture of ADB operations than the previous annual reports in terms of numbers and institutional data. It provides expanded sections on financial highlights, sector and thematic work, and knowledge. ADB's specific assistance to countries and regional programs, lists of trust funds and corporate reports, and organizational structure are also added.
The figures in the report update the provisional operations numbers released by ADB in January.
New Funding for Mindanao Trust Fund to Strengthen Peace and Development in Southern Philippines
Efforts to bring peace and progress in Mindanao were reaffirmed today following the signing of a new agreement that will build more socioeconomic infrastructure and improve literacy in conflict affected areas.
The new Program Partnership Agreement signed by the Bangsamoro Development Agency (BDA) – the development arm of the Moro Islamic Liberation Front (MILF) – and humanitarian organization Community and Family Services International (CFSI) entrusts the two parties to implement the USD 3.2 million grant with financing from the Mindanao Trust Fund for Reconstruction and Development (MTF).
The Spanish Agency for International Development Cooperation (AECID) also provided complementary funding amounting to 1 million euro to support similar activities.
"This new partnership agreement strengthens Normalization under the Comprehensive Agreement on the Bangsamoro. It will help improve the quality of life of people in conflict-affected areas through community participation and the pursuit of sustainable livelihood within a peaceful, deliberative society," said Secretary Jesus Dureza, Presidential Adviser on the Peace Process. "For four years, we have been reaching out to our fellow Filipinos in the south, touching lives and taking 'peace by piece' steps towards a developed Bangsamoro."
Established in 2006 with support from development partners including the Australia, Canada, European Union, Sweden, New Zealand, and the United States, and administered by the World Bank, the MTF consolidates international development assistance for the socioeconomic recovery of conflict-affected communities in Mindanao and seeks to build confidence in the normalization process with the MILF.
From 2006 to 2017, development partners have provided PHP 1.4 billion (USD 28.9 million) to the program. Within this period, results delivered by the MTF-Reconstruction and Development Project include 573 projects that improved infrastructure, strengthen livelihoods and functional literacy in 315 conflict-affected communities across 75 municipalities. Nearly 650,000 people now benefit from clean water, better roads, and more post-harvest facilities and access to farming and fishing equipment.
"The support of the Philippine government and development partners towards projects that strengthen the Bangsamoro's capacities to improve their socioeconomic conditions reinforce people's trust on the Bangsamoro peace process and the passage of the Bangsamoro Basic Law," said MILF Peace Implementing Panel Chair Mohagher Iqbal.
The project also supported activities to improve livelihoods, infrastructure, and basic literacy in the Six Acknowledged MILF Camps: Camps Abubakar, Omar, Rajamuda, Badre, Bushra, and Bilal. The decision of Secretary Dureza of OPAPP, the MILF, and development partners to further intensify these efforts through the MTF highlight the partners' commitment to peace and development in Mindanao.
"Greater economic opportunity and access to basic services foster hope in conflict-affected areas, which can build understanding and collaboration among community members. The World Bank is committed to supporting efforts that enhance the prospects for peace in Mindanao," said Mara K. Warwick, World Bank Country Director for Brunei, Malaysia, Philippines and Thailand.
"Australia is a longstanding supporter of peace and development in Mindanao, and is proud to be a partner for change in the second phase of the Mindanao Trust Fund," said Australian Ambassador Amanda Gorely. "As the first phase has already shown, the socio-economic infrastructure and literacy projects it will provide can have a remarkable impact for communities in Muslim Mindanao."
"One of the biggest challenges for development policies is to tackle the most vulnerable communities affected by multiple conflicts and threats; to not leave them behind. This complex aim needs joint resources from national and international stakeholders following a sound local leadership. MTF has acted as a valuable driver of such efforts," said Juan Pita, General Coordinator of AECID.
The MTF has a steering committee that oversees the implementation and evaluation of the program. It is chaired by OPAPP, BDA, and the World Bank, which also serves as the trust fund secretariat.
Bangladesh: World Bank Increases Support for Clean, Renewable Energy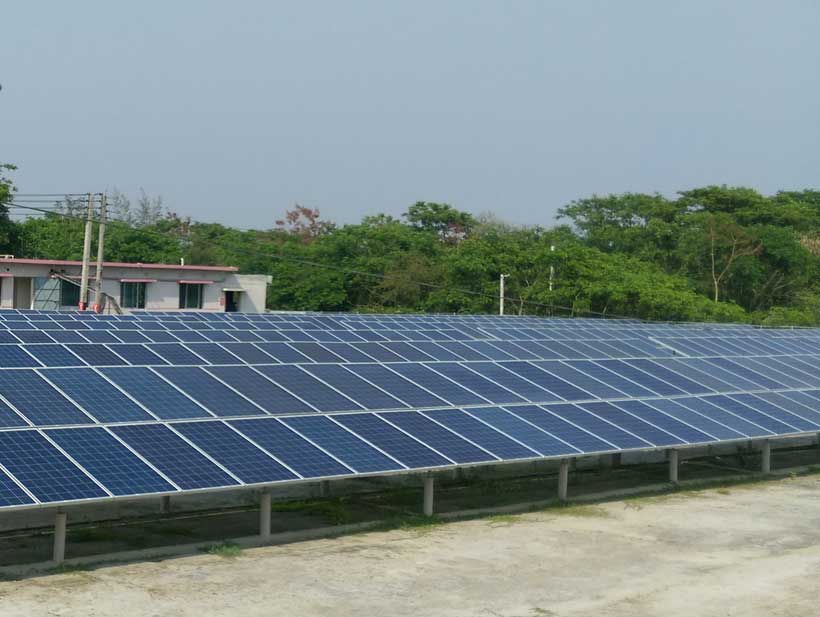 The World Bank today approved $55 million to expand use of clean renewable energy in rural areas of Bangladesh where grid electricity cannot reach easily.
The additional financing to the Second Rural Electrification and Renewable Energy Development (RERED II) Project will install 1,000 solar irrigation pumps, 30 solar mini-grids, and about 4 million improved cookstoves in rural areas. The project, including the additional financing, will enable about 10 million people living in villages, shoals, and islands to access electricity and use energy efficient cookstoves. These interventions will help the country reduce carbon emissions.
"We are proud to be helping Bangladesh increase access to clean electricity through solar power. Today, the country has one of the world's largest domestic solar power programs, covering 14 percent of the population," said Qimiao Fan, World Bank Country Director for Bangladesh, Bhutan, and Nepal. "Building on its success in using solar energy to provide electricity in rural areas, this financing will also scale up other clean renewable energy options."
The project has already built 10 solar mini-grids in remote areas, including islands and shoals to provide grid quality electricity. This additional financing will help construct another 30 solar mini-grids. These will provide about 28,000 connections to households and businesses, including small and medium-sized enterprises.
The financing will also help increase use of solar irrigation pumps, a low-cost technology that is well suited to the country's flat terrain and abundant sunshine. This switch from diesel pumps will decrease greenhouse gas emissions and save foreign exchange by reducing the government's subsidy on diesel imports.
"In Bangladesh, indoor air pollution causes 107,000 deaths per year, mostly women and children. Traditional cookstoves used in rural areas is a major contributor to this," said Amit Jain, World Bank Team Leader for the project. "This project will scale up use of improved stoves. Their energy-efficient design will emit 90 percent less carbon monoxide and use half as much firewood as a traditional stove. A major thrust of the project will be to increase use of affordable-fuel efficient cookstoves by the poor and extreme poor."
Since 2002, the World Bank has been helping the government expand renewable energy programs. In the energy sector, the World Bank has ongoing support of over $1.6 billion in Bangladesh covering generation, transmission, distribution, and renewable energy.
In addition, the Green Climate Fund (GCF) Board has on February 27, 2018 approved an additional $20 million to support the energy efficient cookstoves project, which is their first approved cookstoves project.
The credit from the World Bank's International Development Association, which provides grants or zero-interest loans, has a 38-year term, including a 6-year grace period, and a service charge of 0.75 percent.
The World Bank was among the first development partners to support Bangladesh following its independence. Since then, the World Bank has committed nearly $28 billion in grants and interest-free credits to the country. In recent years, Bangladesh has been among the largest recipients of the World Bank's interest-free credits.