Europe in crisis: everyone from Putin to ordinary savers are stockpiling gold
Welcome to the Caspian Daily, where you will find the 10 most important things you need to know on Caspian Sea Region. We appreciate ideas, reports, news and interesting articles. Send along to Caspian[at]moderndiplomacy.eu or on Twitter: @DGiannakopoulos
1European investors snapped up gold bars and coins at a rapid pace in the second quarter as turmoil in Greece threatened to push the country out of the eurozone.The World Gold Council (WGC) said demand in Europe for the precious metal rose sharply in the three months to June compared with the same quarter last year amid rapid buying of bullion, even as global demand fell by 12pc to a six-year low of 915 tonnes. Szu Ping Chan for the telegraph.
2Switzerland Lifts Sanctions On Iranian Oil, Precious Metals Sales. Switzerland is lifting some sanctions against Iran in what it calls a sign of support for the agreement between Tehran and world powers over its nuclear program. The neutral country's governing Federal Council decided on August 12 to lift a ban on precious-metals transactions with Iranian state entities, and end requirements to report trade in Iranian petrochemical products and transport of Iranian crude oil, among other measures.The government, which also cited its "interest in deepening bilateral relations with Iran," said it reserves the right to reimpose the sanctions if implementation of the nuclear deal fails.
3At least nine foreign national leaders, including Russian President Vladimir Putin, have confirmed they will attend Beijing's military parade to mark the 70th anniversary of victory in the War of Resistance against Japanese Aggression (1937-45), media reports say. South Korean President Park Geun-hye will announce her decision no later than next week, her spokesman said. The leaders of Russia, Kazakhstan, Kyrgyzstan, Tajikistan and Uzbekistan – all members of the Shanghai Cooperation Organisation – have confirmed they will come to Beijing for the celebration.
4Greece and Azerbaijan discussed the sale of a package of shares of DESFA gas transportation system operator to SOCAR.This issue was discussed at a meeting of Greek Minister Panos Skurletis with SOCAR Energy SA Greece director general Anar Mammadov, the ministry of industrial reform, environmental protection and energy of Greece said. During the meeting the minister stressed the positive attitude of the government in the field of energy cooperation with Azerbaijan. The sides reviewed the technical issues and agreed to hold a meeting soon to discuss and resolve the remaining issues to intensify the further actions that will allow beginning the design work for TAP in Greece.
5Whither Azerbaijan's Islamists? The overall atmosphere in Azerbaijan is grim when it comes to freedom of speech and freedom of conscience. Yet, the release from prison of Taleh Baghirov, a young, charismatic Shia Muslim cleric, goes against the general trend in Azerbaijan. While it is certainly premature to call Baghirov's release a "game changer," it has implications for Azerbaijan's Islamist politics that are worth pondering. [Eurasianet]
6Turkmenistan's national gas company TurkmenGaz has agreed to acquire a 51% stake in the proposed $10bn Turkmenistan-Afghanistan-Pakistan-India (TAPI) natural gas pipeline project.StateTAPI is a consortium formed by the state-owned gas companies of the four countries to manage the project.Other partners in the project include Afghan Gas Enterprise, Pakistan-based Inter State Gas Systems and Gail (India).The consortium leader is expected to be selected in September and construction on the project would begin in December.
7US general: Russia main threat for USA.Russia is among the most dangerous countries for the United States, US army chief of staff, general Raymond Odierno said.at a briefing in Pentagon."I think Russia is most dangerous for a number of reasons. Primarily because it is better prepared than our other potential opponents", the general believes.In particular, Russia 'has serious potential for holding really complex operations in Ukraine", he says.In this connection, Odierno finds it essential to expand the military potential of NATO-led troops in Eastern Europe.
8Development of the largest natural gas field in Turkmenistan, Galkynysh, continues, according to the newspaper "Neutral Turkmenistan."More than 20 production wells have been drilled during the preparation for the launch of refining capacities in the central part of the oil and gas area of the field. In 2014, the departments of Turkmen state concern "Turkmenraz" completed construction of three production wells with a depth of over 4,500 meters with a total flow rate of more than 6.5 million cubic meters of natural gas per day. Teams of the "Turkmengeologiya" State Corporation commissioned three more wells. This year, geologists plan to drill another four deep wells with high flow rate of gas on the field.
9A nuclear guide to the Kazakhstan Steppe. The Soviet Union's rise and fall as a superpower has left a toxic legacy on a large corner of the planet. Semipalatinsk Test Site or simply "The Polygon" is an 18,000-square-kilometre area on the Kazakh Steppe where the Soviet Union conducted 456 nuclear tests before the site was officially closed for testing in 1991.Today the Polygon is home to research on the effects of the tests on the surrounding ecology. And it's also open for tours.Fifty years ago intruders would have been shot on sight. Now tourists are doing the shooting through viewfinders. [ABCnews]
10Azerbaijan will take part in the sessions of the commission on regulation of use of radio frequency spectrum and satellite orbits RRU (Regional Communication Union) and working group on preparations for the World radio frequency conference from September 7 to September 11 in Moscow.
Calls for Collaboration and Rebuilding Trust Set Tone for The Davos Agenda
Setting the tone for the meeting, the key themes of the first day of the World Economic Forum Davos Agenda 2021 proved to be "trust", "solidarity", "respect", "transparency" and "collaboration".
Chinese President Xi Jinping, making the first special address of the event, called for both greater global efforts in the fight against an unprecedented public health crisis and a renewed commitment to multilateral cooperation.
António Guterres, Secretary-General of the United Nations, set out his priorities for an inclusive and sustainable recovery from the pandemic. In a wide-ranging address, he asserted that vaccines – "people's vaccines" – should be regarded as a public good, pressed developed nations to offer their poorer counterparts debt relief because "no country should be forced to choose between basic services and serving debt", and called for increased fairness in the world of work.
He made a call for a "truly global coalition for carbon neutrality" and suggested the need for adaptation, renewed confidence and a need to drastically change policy. He pressed business to operate "in line with the Paris Agreement", called on asset managers to "decarbonize their portfolios" and asked all businesses to "align with the UN Global Compact". In addition, Guterres announced the need for a new social contract, one "between governments, peoples, civil society, businesses and more, integrating employment, sustainable development, social protection, and based on equal rights and opportunities for all".
Collaboration was the overriding message that came from Anthony Fauci, Director at National Institute of Allergy and Infectious Diseases (NIAID), and other participants discussing how to respond to the COVID-19 pandemic and future such outbreaks. Fauci reflected on how divisiveness had hobbled the US approach to the disease, saying: "When public health issues become politically charged – like wearing a mask or not becomes a political statement – you can't imagine how destructive that is to any unified public health message."
He called on China to provide the World Health Organization (WHO) with information about the origin of COVID-19, arguing that without it, scientists and doctors faced a "big black box". He also registered the US's renewed support for the WHO and said that with reform, it will become the multilateral organization that deals with disease preparedness. His overall message, however, was one of the need for greater global health security, transparency, collaboration and solidarity, without which he announced "it becomes extremely problematic to address an outbreak".
In other sessions during the day, President of the European Central Bank Christine Lagarde said economic recovery in 2021 will progress in two phases. In the first, there will be a high level of uncertainty as vaccines are produced and rolled out, and lockdown measures may become more stringent because of the emerging COVID-19 variants. She described it as "crossing the bridge to recovery, but the journey is delayed, not derailed".
The second phase is where the economy is reopening, something that will bring its own challenges and positive developments. As part of the recovery, Lagarde underlined the need to bring more women to the table to help the recovery, saying: "Progress can be made and women can do the job just as well as men."
Also considering a two-pronged approach was Bruno Le Maire, Minister of the Economy, Finance and the Recovery of France, who argued that while pursuing a policy of fiscal support during the pandemic, nations should also consider the future. "We have to think about the kind of economy we want to build; we want to build a sustainable economy and reduce the inequalities," he said. Le Maire also called on states to learn lessons from each other during the crisis. As he pointed out, for the first time in its history, the member states of the Eurozone have all taken the same measures.
Peter Altmaier, Federal Minister for Economic Affairs and Energy of Germany, said that there needs to be greater reliance on open markets and multilateralism. In the post-COVID-19 recovery, he sees opportunities for synergies, such as greater investment in clean energy solutions to help tackle climate change.
Speaking about his new book, Stakeholder Capitalism, Schwab said the pandemic has shown that companies that commit to stakeholder capitalism perform much better than others because they invest in the long-term viability of the company. He called for a much wider definition of capital, one that includes "human, social and natural capital" because all those aspects of capital combine to create wealth and prosperity.
Underlining the day's theme – Designing cohesive, sustainable and resilient economic systems – the meeting saw the launch of the Partnering for Racial Justice in Business initiative, which sees a coalition of almost 50 organizations committed to improving racial and ethnic justice in the workplace. The Forum released a report revealing that upskilling has the potential to boost GDP by $6.5 trillion by 2030. Also covered during the day were topics ranging from gender parity and restoring economic growth to addressing mental health in the workplace, building crisis-resistant healthcare systems and creating a new social contract.
COVID's led to 'massive' income and productivity losses
Job losses or reduced working hours due to the impact of the COVID-19 pandemic cost the world the equivalent of 255 million jobs in 2020, the UN International Labour Organization (ILO) said on Monday, noting that the "massive impact" was nearly four times the number lost during the 2009 global financial crisis.
According to the ILO Monitor: COVID-19 and the world of work, the losses resulted in an 8.3 per cent decline in global income, before factoring in support measures, equivalent to $3.7 trillion or 4.4 per cent of global gross domestic product (GDP).
Recovery scenarios
While there is still a high degree of uncertainty for 2021, the ILO estimates projected that most countries could see a relatively strong recovery in the second half the year, as COVID-19 vaccination programmes take effect.
ILO put forward three scenarios: a baseline estimate showing a 3 per cent decline; a pessimistic forecast indicating a 4.6 per cent loss, and in the most optimistic scenario, a 1.3 per cent decrease in working hours through this year.
"The signs of recovery we see are encouraging, but they are fragile and highly uncertain, and we must remember that no country or group can recover alone", Guy Ryder, ILO Director-General said.
"We are at a fork in the road. One path leads to an uneven, unsustainable, recovery with growing inequality and instability, and the prospect of more crises. The other focuses on a human-centred recovery for building back better, prioritizing employment, income and social protection, workers' rights and social dialogue", he added.
"If we want a lasting, sustainable and inclusive recovery, this is the path policy-makers must commit to."
Women and children most vulnerable
In terms of sectors and groups, women were more affected than men, as were younger workers, ILO said.
"Globally, employment losses for women stand at 5 per cent, versus 3.9 per cent for men. In particular, women were much more likely than men to drop out of the labour market and become inactive", it added.
Similarly, younger workers either lost jobs, dropped out of the labour force, or delayed entry into it.
'Lost generation' risk
"The employment loss among youth (15-24 years old) stood at 8.7 per cent, compared to 3.7 per cent for adults. This highlights the all too real risk of a lost generation" according to ILO.
Accommodation and food services was the worst hit sector, where employment declined by over 20 per cent, on average, followed by retail and manufacturing.
In contrast, the information, communication, finance and insurance sectors, grew in the second and third quarters of 2020. Marginal increases were also seen in mining, quarrying and utilities.
Syria: 18 children killed since the start of the year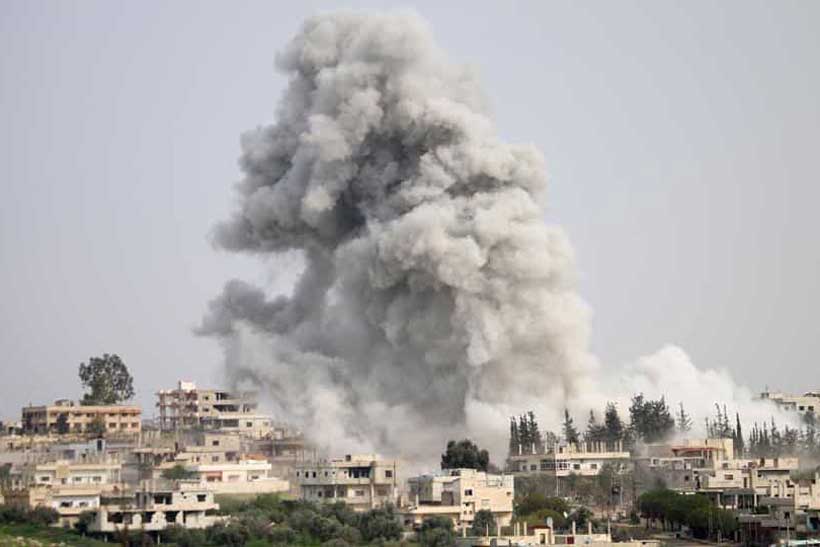 The brutal fighting in Syria continues to exact a terrible toll on children, with at least 18, including a one-year-old killed in incidents involving explosive weapons and unexploded ordnance, since 1 January, UN Children's Fund (UNICEF) said on Sunday. At least 15 others were wounded.
"Children and families in Syria have suffered so much over the past decade, with still no end in sight," Henrietta Fore, UNICEF Executive Director said in a statement.
"With each week, the fast-spreading COVID-19 pandemic is making it harder for families to survive and provide even basic education and protection for their children," she added.
Families hit hard by fighting, poverty and severe weather are reeling under fuel shortages and mounting food prices. The situation is further complicated by lack of basic services and destroyed civilian infrastructure, such as water services.
"Water disruptions force civilians to rely on unsafe water which exposes people, particularly children, to contracting potentially deadly waterborne diseases," Ms. Fore said.
Fighting 'must end'
Across the war-ravaged country, about 4.8 million children are in need of humanitarian assistance and protection, making up about 45 per cent of the 11 million overall in need of aid, according to the UN Office for Coordination of Humanitarian Affairs (OCHA).
In spite of daunting challenges, UNICEF and humanitarian actors continue to work tirelessly to support millions of children and families, Ms. Fore said, adding "but we cannot do it alone, we need funding, we need better access."
"And most importantly we need everyone to protect children and keep them out of harm's way. The violence in Syria must end," she stressed.
Millions out of school
UNICEF also called on warring parties in Syria to protect education facilities and personnel.
"While the war continues, education remains the beacon for millions of children. It is a right that should be protected and persevered," Muhannad Hadi, Regional Humanitarian Coordinator for the Syria Crisis; and Ted Chaiban, UNICEF Regional Director for the Middle East and North Africa, said in a statement on Sunday.
"We call upon those fighting to refrain from attacks on education facilities and personnel across Syria," they urged.
More than 2.4 million children – of whom 40 per cent are girls – are out of school, and one in three schools inside Syria can no longer be used because they were destroyed, damaged or are being used for military purposes, according to UNICEF.
Mr. Hadi and Mr. Chaiban also appealed for funds for education programmes.
"Sustainable and long-term funding to education will help to bridge the gap and incorporate children in education, and provide them with the skills they need to rebuild their country when peace returns to Syria."