Iran deal signals a radical shift in U.S. approach to the Mideast
Welcome to the Caspian Daily, where you will find the 10 most important things you need to know on Caspian Sea Region. We appreciate ideas, reports, news and interesting articles. Send along to Caspian[at]moderndiplomacy.eu or on Twitter: @DGiannakopoulos
1At least since 9/11 and arguably for two decades before that, two propositions have informed U.S. policy in the Mideast. The first is that U.S. interests there are best served by the United States establishing a position of unquestioned preeminence. The second is that military might, wielded unilaterally if necessary, holds the key to maintaining that dominant position. Call it the Big Enchilada policy, with attitude. As implemented, however, that approach has yielded almost uniformly unfavorable results. Iraq and Afghanistan provide exhibits A and B, of course. But Libya, Somalia and Yemen don't look much better. Even so, some hawkish types argue that trying a little harder militarily will produce better outcomes. Their ranks include a platoon of Republican presidential candidates vowing if elected to get tough on the ayatollahs, Andrew J. Bacevich for the Los Angeles Times.
2India Opens Gateway to Central Asian Gas Riches After Iran Deal. With U.S. sanctions easing, India is racing to build a port in Iran that will get around the fact that its land access to energy-rich former Soviet republics in Central Asia has been blocked by China and its ally Pakistan."We're seeing the latest manifestation of the Great Game in Central Asia, and India is the new player," said Michael Kugelman, a South Asia expert at the Washington-based Woodrow Wilson International Center for Scholars. "It's had its eyes on Central Asia for a long time." While the world focuses on what Iran's opening means for Israel and Arab nations, the ramifications are also critical for Asia. Closer Iran-India ties would allow New Delhi's leaders to secure cheaper energy imports to bolster economic growth and reduce the influence of both China and Pakistan in the region. Natalie Obiko Pearson for Bloomberg.
3Turkmenistan's government-owned TurkmenGaz will lead a consortium of the national oil companies of the four nations that will build and operate the ambitious Turkmenistan-Afghanistan-Pakistan-India (TAPI) pipeline, the petroleum ministry said without clarifying whether foreign private companies can still participate in the $7.6 billion project.
4Kazakhstan will establish an energy efficiency fund, which will become a tool for supporting energy service companies by allocating them credits and loans on preferential terms, said Albert Rau, Kazakhstan's Deputy Investment and Development Minister."Currently, works on the establishment of an energy efficiency fund are already being conducted together with the World Bank and the United Nations Development Program," he said. "This will give additional impetus for the development of this sector in Kazakhstan. In this regard, we should follow the example of Europe, in particular Germany, which has made significant progress in the field of energy saving." According to the "100 concrete steps" plan voiced by President Nursultan Nazarbayev, one of the important directions of Kazakhstan's industrial development is the reduction of energy intensity in the gross domestic product of the country.
5A sophisticated cyber-attack on an email network at the Pentagon affected 4,000 military and civilian personnel working for the Joint Chiefs of Staff, and the network was shut down for two weeks. It was a so-called spear-phishing attack in which people are tricked into opening bogus emails which then infect the network.US officials did not say whether the attack has been linked to individuals or the Russian government but said it was "sophisticated."One official said: "It was a spear-phishing attack traced to that country (Russia)," Another told NBC News: "It was clearly the work of a state actor." No classified information was obtained but the Pentagon decided to shut the email system down.
6S-400 Triumf missile defense systems have entered service in the Russian Armed Forces on the Kamchatka Peninsula, the head of the Defense Ministry's press service for the Eastern Military District said Friday."The S-300 missile defense systems that were deployed earlier reliably defended the airspace for over a quarter of a century. The capabilities of the new technology will allow for the detection of air targets at more than 600 kilometers away and are several times better than the military efficiency of anti-air defense of foreign states," Roman Martov said. The S-400 Triumf (SA-21 Growler) is a Russia's next-generation anti-aircraft weapon system, carrying three different types of missiles capable of destroying aerial targets at short-to-extremely long range.
7A Business Incubation Center at Mingachevir Tech Park will be created before the end of this year, says executive director of the High Tech Park Seymur Agayev. Currently, the general plan of progress for selected areas and the very structure of the Mingachevir Tech Park is under development, he said."There are a number of measures concerning the activities of the Mingachevir technology park that will be adopted, and the business incubator is one of them. We are developing a comprehensive program that will at once launch the activity of the Tech Park. In addition, discussions are underway with potential investors and members," Agayev said.
8Will Vladimir Putin save Russia's ailing firms, like EkoNiva, Rosneft, Gazprom? Including the money in the sovereign wealth funds, the government has $US358 billion in foreign currency reserves and gold. So why not put some to work aiding businesses? One problem is that some banks and companies are poorly managed and deserve to go under, says Bernie Sucher, a longtime US investor in Russia who serves on the board of Moscow-based UFG Asset Management. Bailing them out only delays the day of reckoning, he says. That's what happened in the 2008 financial crisis in Russia, when "the government sprayed liquidity all over the economy", he says. "The big miss in 2008 was the failure to use the crisis to pursue deep structural reforms." Carol Matlack for Sydney Morning Herald.
9Kazakhstan government has revised the decree that made many popular resorts a special border zone requiring special passes. Foreigners will no longer have to obtain permits to visit them. It greatly widened the strip of nearborder land considered a special zone not supposed to be visited by foreigners without obtaining a prior permit from the local authorities. A lot of popular destinations, including Big Almaty Lake, Medeo high altitude skating rink, Shymbulak skiing resort, Lake Alakol, Kolsay Lakes and Charyn Canyon ended up in that zone.
10An agreement to build "Wind Parks" in the vicinities of the Iranian city of Khaf has been reached. According to the agreement, the project will be implemented by LLC "Azalternativenerji". The project will be implemented within the framework of the Memorandum of Understanding, which was held in Baku in October 2014.
UN Security Council discusses Kashmir- China urges India and Pakistan to ease tensions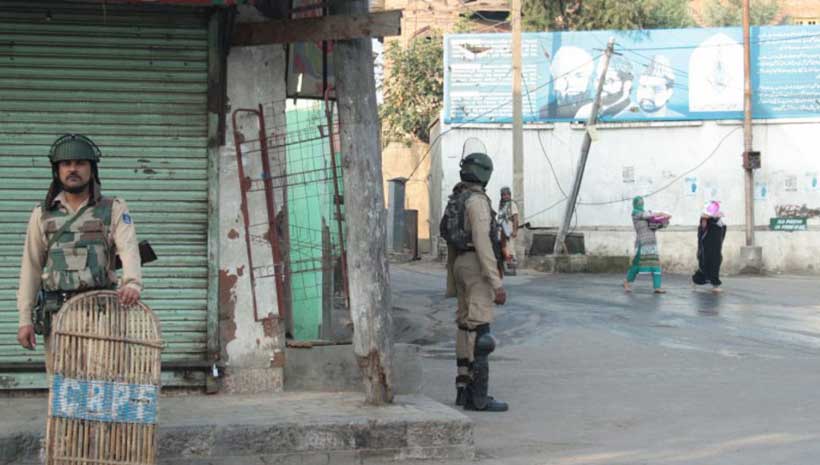 The Security Council considered the volatile situation surrounding Kashmir on Friday, addressing the issue in a meeting focused solely on the dispute, within the UN body dedicated to resolving matters of international peace and security, for the first time since 1965.
Although the meeting took place behind closed doors in New York, the Chinese Ambassador, Zhang Jun, spoke to reporters outside the chamber following deliberations, urging both India and Pakistan to "refrain from taking any unilateral action which might further aggravate" what was an already "tense and very dangerous" situation.
The Indian-administered part of the majority-Muslim region, known as Jammu and Kashmir had its special status within the constitution revoked by the Indian Government on 5 August, placing it under tighter central control. Pakistan has argued that the move violates international law.
The UN has long maintained an institutional presence in the contested area, which both countries claim in its entirety, with the areas under separate administration, divided by a so-called Line of Control. The UN Military Observer Group in Indian and Pakistan (UNMOGIP) observes and reports on any ceasefire violations.
In a statement issued on 8 August, UN Secretary-General António Guterres said he had been following the situation in Jammu and Kashmir "with concern", making an appeal for "maximum restraint".
"The position of the United Nations on this region is governed by the Charter…and applicable Security Council resolutions", said the statement. "The Secretary-General also recalls the 1972 Agreement on bilateral relations between India and Pakistan also known as the Simla Agreement, which states that the final status of Jammu and Kashmir is to be settled by peaceful means", in accordance with the UN Charter.
Ambassador Zhang said Council members had "expressed their serious concern" concerning the current situation in Jammu and Kashmir…The Kashmir issue should be resolved properly through peaceful means, in accordance with the UN Charter, the relevant Security Council resolutions and bilateral agreements."
Pakistan requested the Security Council meeting on 13 August, and it was subsequently called for by Permament Member, China.
Speaking to reporters outside the chamber, Pakistan's Ambassador, Maleeha Lodhi said the meeting had allowed "the voice of the people of the occupied Kashmir" to be heard "in the highest diplomatic forum of the world." She argued that "the fact that this meeting took place, is testimony to the fact that this is an international dispute."
She said that "as far as my country is concerned, we stand ready for a peaceful settlement of the state of Jammu and Kashmir. I think today's meeting nullifies India's claim that Jammu and Kashmir is an internal matter for India. Today the whole world is discussing the occupied state and the situation there."
Speaking a few minutes later, India's Ambassador, Syed Akbaruddin, said that "our national position was, and remains, that matters related to Article 370 of the Indian Constitution, are entirely an internal matter of India…The recent decisions taken by the Government of India and our legislative bodies are intended to ensure that good governance is promoted, socio-economic development is enhanced for our people in Jammu and Kashmir and Ladakh."
He said that the Chief Secretary of Jammu and Kashmir had announced measures which would return the region towards a state of "normalcy"
"India remains committed to ensure that the situation there remains calm and peaceful. We are committed to all the agreements that we have signed on this issue."
But without naming names, he stated that "of particular concern is that one state is using terminology of jihad against and promoting violence in India, including by their leaders", adding that India was committed to the principle "that all issues between India and Pakistan, as well as India and any other country, will be resolved bilaterally, peacefully, and in a manner that behooves normal inter-state relations between countries."
ADB to Help Drive Modernization in First Loan for Sri Lanka's Railway Sector
The Asian Development Bank (ADB) has approved a $160 million loan to modernize the operations and improve the efficiency of Sri Lanka Railways, the country's railway operator, by upgrading its infrastructure and technical capacity. This is ADB's first loan in Sri Lanka's railway sector.
"There is a need to improve public transportation in Sri Lanka to serve a growing population, expected to reach 25 million by 2050," said ADB Transport Specialist Mr. Johan Georget. "An improved railway system will help promote the development of services and industries across Sri Lanka, as well as put the railway as a viable transportation mode of choice for the people. This is particularly the case in suburban Colombo, where the impacts of traffic congestion are strongly felt by all road commuters as vehicle numbers have doubled between 2008 and 2018, while rail commuters often face overcrowded trains."
Sri Lanka Railways moves 136.7 million passengers and 2 million tons of goods annually. However, the market share of the railway sector has progressively declined over the years, while the country's railway infrastructure is overdue for significant upgrades and modernization. The network's signaling and telecommunication systems are outdated, and the paper tickets are manually printed for all ticket classes and station pairs. Sri Lanka Railways owns 250 diesel locomotives and multiple units, but only about three-quarters of them are operational and half of the fleet is more than 30 years old.
The Railway Efficiency Improvement Project will finance the modernization of the country's railway system in several aspects to improve the operations, maintenance, safety, skills development, and technical capacity of Sri Lanka Railways. The project will provide a modern multichannel—paper, mobile, and smart card—ticketing system, and will also install a state-of-the-art telecommunications system, which will replace the original system installed in 1985, and allow for two-way communications with train drivers and reduce train delays. The project will also finance a new operations headquarters and train control center, provide infrastructure and equipment for the maintenance of track and rolling stock, and improve railway safety. The technical training center of Sri Lanka Railways will be upgraded and new courses will be developed to provide future graduates with knowledge of modern railway technologies.
The project will also strengthen the capacity and readiness for future railway projects. This will include a detailed study for the Kandy suburban railway network; a study on transit-oriented development and land value capture; the preparation of a railway asset inventory and a land management strategy; and the modernization of the information technology and maintenance capacity of Sri Lanka Railways.
The total cost of the project is $192 million, with the Government of Sri Lanka providing $32 million. The expected project completion date is the end of 2024.
World Bank Issues Second Tranche of Blockchain Bond Via Bond-i
The World Bank (International Bank for Reconstruction and Development, IBRD rated Aaa/AAA) has raised an additional AUD 50 million for its Kangaroo bond due August 2020 – the first bond created, allocated, transferred and managed through its life-cycle using distributed ledger (blockchain) technology.
The successful tap expands market participation with the Bond-i platform combining three joint lead managers, Commonwealth Bank of Australia (CBA), RBC Capital Markets (RBC) and TD Securities (TD), and brings together new market participants, including an offshore investor, and the exisiting investor community including ongoing support and input from TCorp (NSW Treasury Coporation).
In August 2018, CBA was mandated by the World Bank as arranger for the bond and following a two-week consultation period with the market, the two-year bond raised A$110 million. In May 2019, CBA and the World Bank, with TD acting as market maker, added additional capability to the platform by enabling Secondary Bond Trading recorded on Blockchain making this the first bond whose issuance and trading are recorded using distributed ledger technologies.
The subsequent issuance builds on the success of the platform and further enables capital markets to leverage distributed ledger technologies for faster, more efficient, and more secure transactions.
Bond-i is part of a broader strategic focus of the World Bank to harness the potential of disruptive technologies for development to benefit the World Bank's clients. The World Bank's blockchain innovation lab was established in 2017 as an innovation hub for poverty reduction projects across the world and includes developing opportunities to use blockchain and other disruptive technologies in areas such as land administration, supply chain management, health, education, cross-border payments, and carbon market trading.
"We are happy to see the continued, strong support and collaboration from investors and partners. The World Bank's innovation and experience in the capital markets is key to working with our member countries to increase digitization to boost productivity in their economies and accelerate progress towards the Sustainable Development Goals," said Andrea Dore, World Bank Head of Funding.
"The tap is an important milestone in demonstrating the full lifecycle management of an issuer's capital markets needs. It is also a significant step for the platform bringing on additional participants and demonstrating the broader potential of Bond-i as a capital markets platform," said James Wall, Executive General Manager International at Commonwealth Bank.
Debt capital markets today comprise numerous interconnected intermediaries and agents undertaking intersecting roles for markets to function. Blockchain has the potential to streamline processes for raising capital and trading securities, improve operational efficiencies, as well as enhance regulatory oversight.
"CBA now has tangible evidence from our first bond offering using blockchain technology and subsequent bond management, secondary trading and tap issue via the same platform, that blockchain technology can deliver a new level of efficiency, transparency and risk management capability versus the existing market infrastructure. Next we intend to deliver additional functionality to deliver greater efficiencies in settlement, custody and regulatory compliance," said Sophie Gilder, Head of Blockchain & AI, Commonwealth Bank of Australia.
CBA, RBC, and TD have been lead managers for a number of IBRD bond issuances in the Australian and New Zealand capital markets. This issuance built on the longstanding partnership between four organisations, bringing together World Bank's 70-year track record of innovation in the capital markets, CBA's globally recognised Blockchain Centre of Excellence, and TD and RBC's significant global franchises in debt capital markets.
"An increase to the line is a natural evolution for the trade providing a great opportunity for both new and existing investors to get involved. As a market maker on the platform, TD is very excited to have partnered up with World Bank and CBA again and be part of the next step in the platform's development," said Yuriy Popovych, Director TD Securities.
"RBC is very pleased to be involved in the next stage of evolution of World Bank's bond-i issue, the most advanced practical application of blockchain technology to the debt capital markets to-date," says Jigme Shingsar, Managing Director, Debt Capital Markets at RBC. "Though the technology is still in its early stages, we believe blockchain networks have the potential to transform financial services, offering a leap forward in the transparency and efficiency of our market."
The blockchain platform was designed and developed by the CBA Innovation Lab's Blockchain Centre of Excellence.
Important information
· An independent review of the CBA blockchain platform's architecture, security and resilience was conducted by Microsoft.
· The law firm of King & Wood Mallesons acted as deal counsel on the bond issue and advised on the legal architecture for its implementation.