Could a Ukraine-style crisis happen in Kazakhstan?
Welcome to the Caspian Daily, where you will find the 10 most important things you need to know on Caspian Sea Region. We appreciate ideas, reports, news and interesting articles. Send along to Caspian[at]moderndiplomacy.eu or on Twitter: @DGiannakopoulos
1In a region described as the "pivot of history', where great power rivalry has often been a cause of conflict and tension, governments are sensitive to anything that might upset the existing balance of relations. This is already having an effect in fostering new alignments and complicating plans for Eurasian integration under Russian leadership. David Clark for New Statesman.
2Turkmen President Gurbanguly Berdymukhammedov has pledged to move forward in constructing a railroad line from Turkmenistan to China. Berdymukhammedov, on his first official visit to Kyrgyzstan on August 5, said after talks with Kyrgyz counterpart Almazbek Atambaev that the two discussed energy and security issues that hold "great importance for the whole world.""The construction of a gas pipeline from Turkmenistan to China via Uzbekistan, Tajikistan, and Kyrgyzstan will be implemented in the very near future," Berdymukhammedov said, without elaborating. Atambaev said Berdymukhammedov's two-day visit to Bishkek was "the new phase of the development of ties between the two nations."
3Russia and France cancel $1.3 billion warship deal. The two countries have terminated a contract worth 1.2 billion euros ($1.3 billion) for France to supply two Mistral-class amphibious assault ships to Russia. The deal was signed in 2011 but France faced pressure to withdraw from the arrangement after Russia annexed Crimea from Ukraine. The French government suspended delivery of the ships last year. Russian President Vladimir Putin and French President Francois Hollande said in a joint statement that the parties had reached a "mutually acceptable agreement." Russia will be reimbursed for money already paid under the contract, and France will retain ownership of the helicopter carriers. Russian media reported that more than one billion euros had already been deposited in a Russian bank account by France.
4Kazakhstan: United Nations Security Council 2017-2018. Kazakhstan is scooping up high-profile chairmanships in regional organizations for two primary reasons: to advance Kazakhstan's image as a peacemaker and mediator; and to fulfill President Nazarbayev's vision for Kazakhstan of being the "Eurasian Bridge," linking Asia to Europe. With a track record of high participation in international organizations, Kazakhstan can benefit from and build lasting trade and political and economic relationships. Obtaining the UNSC seat reinforces Nazarbayev's multi-vector foreign policy and adds diversity to the Asia bloc of countries of the 15 member UNSC. Samantha Brletich for Modern Diplomacy.
5Tourism sector observes growth in Azerbaijan. The tourism sector of Azerbaijan has marked a minimum of 20 percent growth, said Tural Aleskerov, an independent expert in the field of tourism. The first European Games held in June in Baku is the reason for this increase, he believes. To attract more tourists into the country, Azerbaijan facilitated visa procedures for foreign citizens wishing to watch the Games.Over 2 million tourists came to Azerbaijan last year, which amounted to about one billion manats (over $950,000 million) in revenue from tourism. In the near future, the country is expected to increase its tourist flow up to 5 million a year. Nigar Orujova for Azernews.
6What opportunities will Azerbaijan get as result of lifting of sanctions against Iran? Azerbaijan has several advantages over the West. First of all, the geographical location plays a major role here. The proximity to Iran simplifies trade relations. Currently, the trade turnover between the countries is not high. As of 2014, it amounted to only $186.6 million (0.6 percent of the total trade turnover of Azerbaijan). However, after the lifting of sanctions, one can be confident in the growth of trade between the countries.Second, Europe and Iran have a certain lack of confidence. Being a neighbor of Iran, Azerbaijan has much in common with this country. Therefore, one can assume that Azerbaijan will have an advantage over the European companies.Of course, most likely, the oil and gas sector will remain the basis of economic cooperation between the two countries. But, nevertheless, there are other areas where Azerbaijan and Iran could cooperate, for example, Iran's mining sector. Azad Hasanli for Trend.
7The Irony of Revolution: JCPOA as Youth Coercion Tool in Iran. When one considers that Iran has expended a great deal of resources over previous decades on building up its nuclear program, there has to be a serious reason for it to give up its nuclear aspirations now. Iran has spent billions of dollars on building infrastructure: nuclear reactors, centrifuges, and facilities; attaining nuclear materials; and thousands of man-hours expended on uranium enrichment. So why after all that material, time, and man-power investment does Iran reverse course and agree to curb its nuclear aspirations? Dr. Matthew Crosston for Modern Diplomacy.
8Pakistan and Turkmenistan are set to engage in talks in a bid to take a giant leap forward in executing the US-backed transnational pipeline project that will connect four countries in Central and South Asia. Gas companies of Turkmenistan, Afghanistan, Pakistan and India have already established a company that will build, own and operate the natural gas pipeline, which will be 1,800km long, starting from Turkmenistan and reaching India after passing through Afghanistan and Pakistan. The four state-run gas companies will have an equal share in the pipeline operator. According to officials, the shareholding agreement was reached before selecting the consortium leader.
9The International Monetary Fund has improved its forecast for GDP growth in Kazakhstan in 2016. The organization reported that Kazakhstan's GDP growth will be 3.25 percent in 2016 while the country's economy will increase by 2 percent."Real GDP growth is projected to decelerate to 2 percent in 2015. Weaker demand from Russia and China, lower oil prices, confidence effects, and continuing delays in the Kashagan oil field are the main factors behind the projected slowdown. Next year, growth is projected to pick up to 3.25 percent, driven by gradual recovery in oil prices and external demand," the IMF said on August 5.
10Resolving territorial disputes in the Far East – Kuril Islands. A dispute over Kuril Islands is the reason why Russia and Japan still after more than 70 years have not signed a peace treaty to end the World War II. Could compromise about so long stagnating conflict which was so far discussed by Gorbachev, Yeltsin and also by Putin, be found this year during Russian planned visit in Japan? Teja Palko for Modern Diplomacy.
UNIDO helps enhance the quality of industrial policy in Vietnam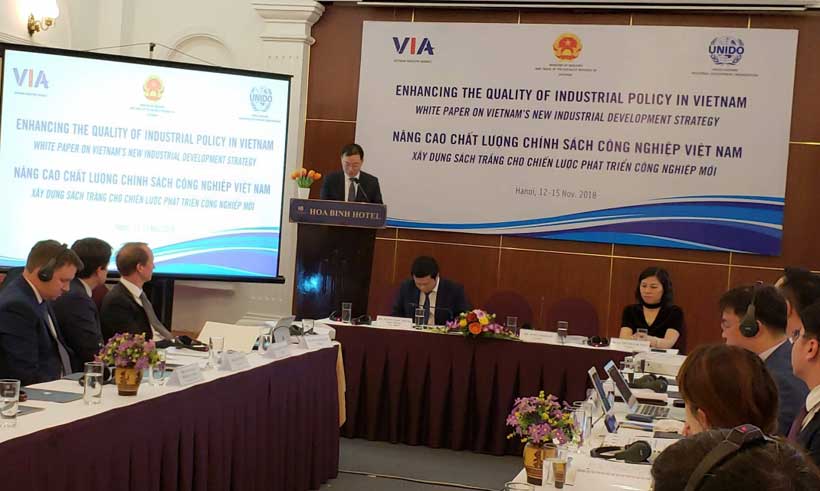 The United Nations Industrial Development Organization (UNIDO) and the Vietnam Industrial Agency of the Vietnamese Ministry of Industry and Trade jointly organized a four-day training workshop on "Enhancing the quality of industrial policy in Viet Nam – White Paper on Vietnam's New Industry Policy" in Hanoi, from 12 to 17 November 2018.
Conducted under the framework of the project "Support to the Government of Viet Nam in the formulation of Sub-Sector Industrial Strategy and of related Implementation Policy through Institutional Capacity Building", which is funded by the Ministry of Foreign Affairs of the Republic of Korea, the workshop showcased studies on horizontal factors such as population ageing, Industry 4.0, and the current China-US trade relations and their impact on selected sectors including textile and apparel, leather, automotive, electronics and food processing. Inputs from the workshop will inform a White Paper on Vietnam's New Industrial Strategy to be launched in June 2019.
"The workshop is one in a series of capacity development activities for senior policymakers in Viet Nam," said UNIDO Project Manager Jung Jaehwan. "Learning will be based on international best practice and innovative research and conducted by a combination of researchers, practitioners and policymakers."
Participants included UNIDO experts and staff from the Korea Institute for Industrial Economics and Trade (KIET) as well as representatives from various Vietnamese business associations.
WEF initiative pledges to equip 20 million ASEAN workers with digital skills by 2020
A coalition of major tech companies pledged today to develop digital skills for the ASEAN workforce. The pledge, part of the World Economic Forum's Digital ASEAN initiative, aims to train by 2020 some 20 million people in South-East Asia, especially those working in small- and medium-size enterprises.
Other goals include raising $2 million in contributions to provide scholarships for ASEAN technology students, ensuring an additional 200,000 digital workers are hired across the region, and engaging at least 20,000 citizens through "Digital Inspiration Days", whereby companies invite students and the public to visit their offices and learn more about the character of the jobs of the future. There will also be internship opportunities for ASEAN university students, as well as initiatives to train digital regulators and shape the curricula of technology and computing courses at 20 ASEAN universities.
The aim of the pledge is to establish a regional movement among businesses committed to empowering individuals through skilling, reskilling and upskilling. It will not only increase the number of workers hired for digital jobs and trained in digital skills, but also help support business leaders with insight and analysis of what other companies in the region are doing to build a future-focused workforce.
"The Fourth Industrial Revolution is unfolding at accelerating speed and changing the skills that workers will need for the jobs of the future," said Justin Wood, Head of Asia Pacific and Member of the Executive Committee at the World Economic Forum. "These changes are happening just as the working-age population in ASEAN is expanding by 11,000 people every day – a rate that will continue for the next 15 years. Given these trends, it's critical that businesses help to build digital skills in ASEAN."
Called "ASEAN Digital Skills Vision 2020", the public pledge is open for all companies to join, but a number of early champions have already made strong commitments. Google has pledged to train 3 million SME employees throughout the ASEAN region by the end of 2020, while Cisco, Lazada, Microsoft, and the Sea Group have pledged to train another 5,634,000 SME workers.
The pledge also calls for companies to offer ASEAN citizens the opportunity to participate in Digital Inspiration Days, and Cisco, Microsoft, Grab and Sea Group have collectively committed to offer the opportunity to 1,035,000 ASEAN citizens by 2020. Similarly, the pledge calls for internships for ASEAN university students, and Microsoft, Sea Group and Tokopedia together have committed to hire 18,000 interns. Microsoft has also pledged to hire 8,500 ASEAN digital workers by 2020.
Supported by the Forum's Digital ASEAN initiative, success stories and innovative approaches will be shared through an online platform to magnify their impact, and a series of workshops involving the private sector and government will be staged over the next two years to ensure the efforts of businesses both align with, and help to shape, public policy on training and education.
Pichet Durongkaveroj, Minister of Digital Economy and Society of Thailand, and one of the advisers of the Digital ASEAN initiative, said: "The rise of artificial intelligence and advanced robotics is creating concern about the future of work. But I am more optimistic. I believe that if workers have the right skills, the Fourth Industrial Revolution will be highly empowering and will lift wages and living standards in Thailand and across the region. But we need to make sure that workers receive the right training and education today."
Rajan Anandan, Vice-President for India and South-East Asia at Google, said: "ASEAN could see an uplift of $1 trillion in GDP by 2025 by using its digital economy to accelerate intra-regional trade and growth. SMEs will be the key to this growth and their digital workforce will be the change agents in their communities. We're committed to supporting South-East Asia's promising digital economy."
Forrest Li, Chairman and Chief Executive Officer of the Sea Group, said: "The ASEAN region is brimming with entrepreneurial potential. But for SMEs to start businesses and grow them successfully, they'll need to learn the right skills for the Fourth Industrial Revolution. Building on our existing efforts to enable SMEs around the region to benefit from the opportunity of e-commerce, we are committed to making a major contribution to providing these skills."
Naveen Menon, President of Cisco Systems in ASEAN, said: "ASEAN's economy is poised to grow further as digital innovation and adoption gather pace. However, the increased adoption of technology will result in a change in the nature of jobs and workforce requirements across the region, which demands rapidly reskilling. We are committed to work with all stakeholders to build a sustainable pool of homegrown talent in ASEAN."
Lucy Peng, Chairwoman and Chief Executive Officer of the Lazada Group, said taking part in the World Economic Forum pledge is one of the key levers to create an inclusive and sustainable e-commerce ecosystem to support South-East Asia's economic growth. "Sellers want to go beyond trading on a platform. They want to create their own universe in the digital world to reach out and connect with Internet-savvy and increasingly mobile consumers," she said. "We are championing our seller communities by using our technology and logistics infrastructure to help them ride the e-commerce boom and flourish into sustainable businesses."
Sunny Park, Corporate and Legal Affairs Regional Director for Microsoft in Asia Pacific, said: "ASEAN is the future of borderless economies, investments, e-commerce and education and we believe in a future where every young person has the skills, knowledge and opportunity to succeed. Digital skills are essential for the jobs of today and tomorrow, and can open the door to greater economic opportunity. Right now, over half the people on the planet lack basic access to the knowledge and skills that would enable them to participate in the new digital economy. Together with our partners, we are going to change that. We are going to empower every person and SME in ASEAN to achieve more."
The Digital ASEAN initiative was launched by the World Economic Forum in Singapore in April 2018 in response to demand from the Forum's regional partners in ASEAN, both public and private. The aim is to work on the issues that will underpin a regional digital economy in ASEAN so that the benefits of the Fourth Industrial Revolution can be fully unlocked and become a force for regional economic inclusion. The initiative has launched five task forces, each focussed on a specific digital issue:
Pan-ASEAN Data Policy – Shaping a common regional data policy
ASEAN Digital Access – Optimizing high-quality broadband access for ASEAN
ASEAN Digital Skills – Building a shared commitment to train digital skills for the ASEAN workforce
ASEAN e-Payments – Building a common ASEAN e-payment framework
ASEAN Cybersecurity – Nurturing cooperation and capacity building in ASEAN cybersecurity
By the end of 2020, the aim is for the coalition of companies involved in the pledge to:
20,000,000 Train 20 million people working at ASEAN small- and medium-size enterprises (SMEs) in digital skills;
2,000,000 Raise US$2 million for scholarships for ASEAN technology students;
200,000 Hire directly an additional 200,000 ASEAN digital workers;
20,000 Engage 20,000 ASEAN citizens in "Digital Inspiration Days", where companies invite students and the public to their offices to learn more about jobs of the future;
2,000 Offer 2,000 internship opportunities for ASEAN university students;
200 Contribute to the training of 200 ASEAN digital regulators; and
20 Contribute to shaping the curricula of technology and computing courses at 20 ASEAN universities.
Breaking down barriers for recycling industries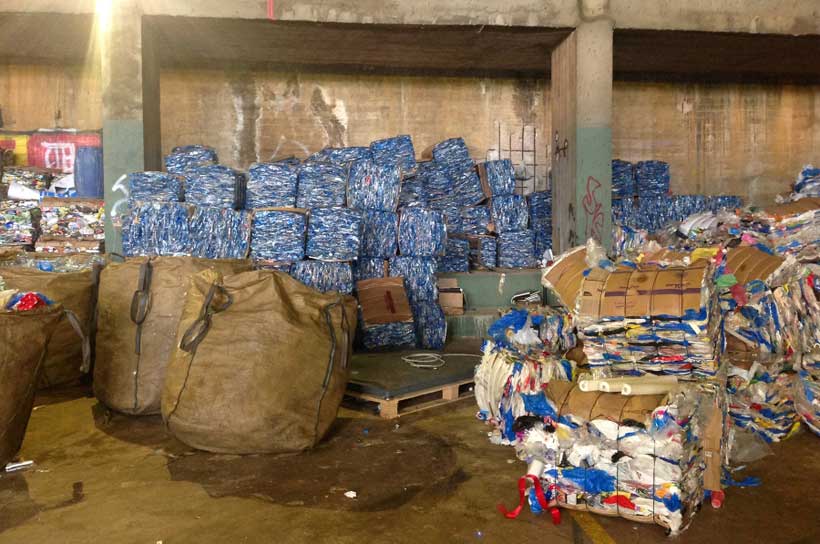 Standardization, awareness-raising, and regional cooperation – these were just some of the solutions to the many challenges faced by recycling industries globally, which were discussed at the Circular Economy: Development of Recycling Industries meeting.
The  meeting, co-organized by the United Nations Industrial Development Organization (UNIDO) Environment Department and the Bureau of International Recycling (BIR), brought together recycling experts, representatives of UNIDO Member States, and industry leaders from all over the world to discuss existing barriers to recycling industries and innovative approaches to overcome these.
From plastics to textiles recycling, a broad range of presentations from representatives of national governments, NGOs and industry, offered perspectives on how to move forward, with examples of innovative initiatives brought from both developed and developing countries alike.
Mattresses, waste bins, and home furnishings were just some of the recycled (and recyclable) products presented by companies from Italy and Guinea, with industry giants, such as IKEA, also providing insights into their efforts as brand leaders when it comes to recycled cotton and polyester.
The meeting was also an opportunity for UNIDO to showcase some of the projects it has been working on in this area, including e-waste in the Latin American and Caribbean region. Other related projects include metals recycling in Thailand, e-waste in the Philippines, recycling industry development in Senegal and a Southern African Development Community (SADC) regional project helping reduce open burning through the introduction of recycling.
Institutional, structural, and economic barriers were identified during the sessions, with legal and regulatory frameworks representing a challenge in many regions. Extended Producer Responsibility (EPR) was another key theme of the meeting, as well as the establishment of internationally-recognized criteria for recyclables, and the potential for integrating the formal and informal recycling sectors, particularly in developing economy contexts.
Engaging civil society and changing mindsets and attitudes towards recycling at a global level was also seen as essential for the successful development of the recycling industry.
"Civil society must be at the forefront of any recycling activity," affirmed Ranjit Singh Baxi, President of the BIR.
The meeting highlighted the important role that UNIDO has to play in convening stakeholders to discuss industrial development topics relevant to UNIDO Member States. This meeting's interactive format allowed participants to take part in digital polls for each session, as well as to pose questions to the various panels, which were then ranked and sorted digitally according to the audience's preferences.
The insights gained during this event will contribute to UNIDO programming for the coming years and strengthening the Organization's services in this area.
"Strengthening multilateral dialogue is essential and UNIDO stands ready to continue to foster such dialogue on global environmental cooperation and the circular economy in the name of inclusive and sustainable industrial development," stated Stephan Sicars, Director of UNIDO's Environment Department, at the close of the meeting.