Oil giants in anticipation of sanctions lifting for Iran return
Welcome to the Caspian Daily, where you will find the 10 most important things you need to know on Caspian Sea Region. We appreciate ideas, reports, news and interesting articles. Send along to Caspian[at]moderndiplomacy.eu or on Twitter: @DGiannakopoulos
1Foreign energy giants, which have been waiting for return to the Iranian market, now have a real chance to restore their activity in the Islamic Republic.BP, Royal Dutch Shell and Italy's largest oil producer Eni are awaiting a lifting of the sanctions against Iran in order to assess the feasibility of participation in oil and gas projects in the country."For us, Iran is a huge gas province so it would be good to be there – in conventional gas – at the right terms," Shell's financial chief Simon Henry said in London according to Press TV.Though Shell is interested in returning to Iran, Henry said that the company did not expect any quick, easy deals."Anybody who thinks that we are going to suddenly swan in and end up with great contracts that make a difference within 12 months, I think is a little naive. It's not going to be easy, it will take time," the energy news provider Platts quoted Henry as saying. Despite Shell's long-term activities in Iran's upstream projects, including in South Pars, the firm pulled out of the world's largest gas field's Phase 13 development in 2008. Shell also operated Iran's Soroush and Nowruz oilfields in the Persian Gulf at a capacity of 200,000 barrels per day. An outstanding debt to the tune of $2.3 billion remains unpaid by the company to Iran since 2012.
2Baku, Moscow focus on military cooperation. Azerbaijani and Russian high-ranking officials have discussed the military cooperation between the two countries.Sergei Shoigu, the Russian Defense Minister and Zakir Hasanov, the Azerbaijani Defense Minister met on August 1 during latter's visit to Moscow, Azerbaijani defense ministry reported."I am very pleased that you have found time to take part in the opening ceremony of Army games. Hopefully, your team will show good results," RIA Novosti quoted Shoigu as saying at a meeting with his Azerbaijani counterpart.During the meeting, the Azerbaijani and Russian defense minsters exchanged views on topical issues of regional security, as well as on the state and prospects of military cooperation between Russia and Azerbaijan.
3Russia is Preparing the 4th Open Innovations Forum 2015. From October 28 to November 1, 2015, Moscow will host for the fourth time the annual Open Innovations Forum – the largest event in Russia that focuses on technology entrepreneurship and innovation-driven development. For the first time Open Innovations 2015 will comprise a five-day international professional congress and a popular exhibition for general public performed as Technology Show. The forum, centered around the main topic of Humanity in the Center of the Technological Revolution, will last for five days. Each day will be devoted to one of five specific spheres of the human life, dramatically changing under the impact of technologies – productivity, habitat, education, health and entertainment.
4Turkmenistan completing gas pipeline construction for Europe. The 'East-West' gas pipeline, under construction in Turkmenistan, will link major gas reserves, creating conditions for Turkmen fuel exports to world markets, said the 'Neutral Turkmenistan' newspaper Aug. 1. 'East-West' is over 800 kilometers long and has a capacity of 30 billion cubic meters a year, said the pipeline is being built by the divisions of the Turkmen state concerns, Turkmengaz and Turkmennebitgazgurlushyk. The pipeline starts at the 'Shatlyk' gas compressor station in the Mary province, and then, running westerly through the Mary and Ahal provinces, it will be connected to the 'Belek' gas compressor station in the Balkan province.
5Will gas become divisive point between Russia and Turkmenistan? "Gas sphere was one of the strategic areas of partnership between Turkmenistan and Russia until recently. Turkmenistan transports its gas to Russia via the Central Asia-Center gas pipeline that was constructed during the Soviet period and monopolized by Russia's Gazprom company. Turkmenistan's Ministry of Oil and Gas Industry and Mineral Resources said in mid-July that Gazprom Export LLC (100-percent subsidiary of Russia's Gazprom company) doesn't pay the remaining money for the actually delivered Turkmen natural gas, without explaining the reason. Later, the world media reported citing the sources close to Gazprom that the company has filed a lawsuit in Stockholm Court against Turkmenistan's Turkmengaz company demanding to revise the prices in the gas supply contract" [Azernews]
6Azerbaijan's cooperation with the Shanghai Cooperation Organization will create new opportunities for the country, Hikmet Hajiyev, the spokesman for Azerbaijan's Foreign Ministry said on July 30."Azerbaijan's foreign policy is multi-vector, and in this respect the country is further expanding cooperation on bilateral and multilateral bases," he noted. Hajiyev also noted that in this context, it is possible to highlight Azerbaijan's observer status in the Arab League, African Union, Organization of American States, and other regional and international organizations, which creates even greater opportunities for the country to develop relations with multilateral organizations and their member states.
7Kazakhstan seeks to reclaim historical role as the crossroads of East and West. "as more and more of its manufacturers move inland, China is looking to develop trade from the west, following the tracks of the fabled Silk Road and once again making Xian the gateway to Europe. While shipping by sea takes about five weeks, the new Silk Road train can deliver goods from China to Europe in three weeks. It's more expensive than sea freight, but the shorter transit time often makes it worthwhile for multi-national companies dependent on global trade. Railway officials in Kazakhstan told me the goal now is to optimize the inland route and reduce costs so the new Silk Road becomes even more viable for businesses" [Times of Oman]
8The Iran deal and South Asia. "India likes to regard itself as a rival of China for influence in Central Asia and has been making hectic plans to catch up with its northern neighbour. To match China's 'One Belt One Road' initiative for a network of infrastructure and energy projects to link China with Europe and the Middle East over land and by sea, Delhi has revived plans for a transit corridor to Europe and Russia through Iran. India has labelled it as the International North-South Transit Corridor (INSTC). It includes transport by rail, road and sea from Mumbai to Moscow via Bandar Abbas in Iran, with options for connectivity with Turkey and countries in Eastern Europe. Not surprisingly, given the availability of other more viable existing and planned transit routes between Asia and Europe, the INSTC has gained little traction so far" writes Asif Ezdi for thenews.com.pk
9Kazkommertsbank JSC ("KKB"), one of the largest banks in Kazakhstan and Central Asia, sold its 99.86 percent stake, representing 1,497,946 common shares, in "Subsidiary of BTA Bank "London-Almaty" Insurance Company" JSC July 21 2015, the press service of the bank said. The stake was earlier transferred to KKB in line with the Agreement on the simultaneous transfer of assets and liabilities between KKB and BTA.The value of the stake was based upon an independent appraisal prepared by international audit company. Earlier, Kazkommertsbank JSC received "Subsidiary of BTA Bank "London-Almaty" Insurance Company" JSC from BTA Bank JSC within the framework of the agreement on the simultaneous transfer of assets and liabilities.
10A delegation from Azerbaijan, to be led by the Minister of Economic Development, is slated to arrive in Tehran on Monday to consolidate bilateral relations and discuss implementation of previously accorded joint projects in the energy sector."We are presently hashing out organizational affairs such as setting the date for the working group's first meeting as well as specifying its agenda of activites," the deputy head of Azerbaijan's State Agency for Alternative and Renewable Energy Sources Jamil Melikov.The Azeri officals have voiced their willingness for Iran's partnership in Trans-Anatolian Natural Gas Pipeline (TANAP) project to transfer sour gas from Iran's South Pars field to EU markets.
Multilateralism: The only path to address the world's troubles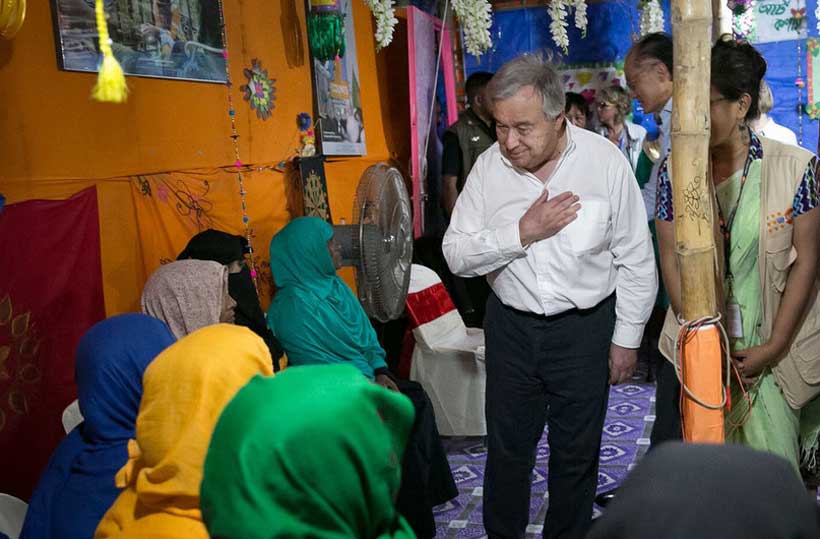 As the world's problems grow, multilateralism represents to best path to meet the challenges that lie ahead, said United Nations Secretary-General António Guterres on Tuesday, launching his annual report.
The Report of the Secretary-General on the Work of the Organization  for 2018, also tracks the progress made over the last year in maintaining peace and security, protecting human rights, and promoting sustainable development.
"I started my tenure calling for 2017 to be a year of peace, yet peace remains elusive," said the UN chief in the report's introduction, noting that since January last year "conflicts have deepened, with grave violations of human rights and humanitarian law; inequality has risen, intolerance has spread, discrimination against women remains entrenched and the impacts of climate change continue to accelerate."
"We need unity and courage in setting the world on track towards a better future," stressed Mr. Guterres, crediting the Sustainable Development Goals (SDGs) for generating coordinated efforts by Member States and civil society to "alleviate poverty and build peaceful, prosperous and inclusive societies."
Wide-ranging reform
The most comprehensive reform of the UN development system in decades already underway, led by Mr. Guterres and his deputy, Amina Mohammed, aims to strengthen the Organization's capacity to support Member States in achieving the 17 SDGs.
While the report points to gains, such as increased labour productivity, access to electricity and strengthened internet governance, it also illustrates that progress has been uneven and too slow to meet the 2030 Agenda for Sustainable Development Goals within the given time frame.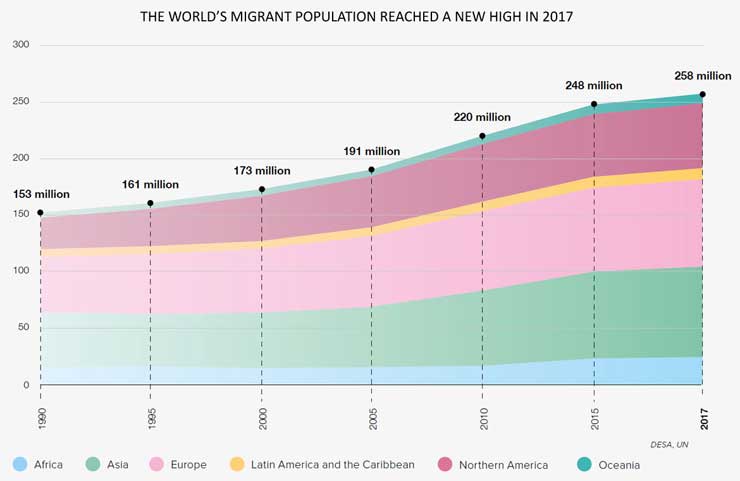 For example, in 2015, three out of 10 people did not have access to safe drinking water, and  60 per cent lacked safe sanitation. Moreover conflicts, disasters and climate change are also adversely affecting populations.
The report underlines the importance of building stronger multilateral partnerships with Member States; regional and international organizations; and civil society; to "find solutions to global problems that no nation alone can resolve."
Although the 2018 High-Level Political Forum on Sustainable Development of 2018 reflected some positive initiatives, it also showed the urgent need to step up efforts in areas such as energy cooperation, water and terrestrial ecosystems.
According to the report, "partnerships are key to achieving the SDGs" – and as of June, 3,834 partnerships had been registered with the Partnerships for the SDGs online platform from different sectors across all the 17 goals.
With regard to technology, last October a joint meeting of the Economic and Social Council (ECOSOC) and the Second Committee welcomed Sophia, the first robot to sit on a UN panel. This gave a glimpse into the advances being made in the realm of Artificial Intelligence.
Turning to young people, UN Youth Envoy, Jayathma Wickramanayake, of Sri Lanka, is continuously advocating for their needs and rights, including in decision-making processes at all levels, and in strengthening the UN system's coordination on delivering for youth, and with their increased participation.
The UN report also spoke to the growing scale, complexity and impact of global migration. In July, the General Assembly agreed a Global Compact for Safe, Orderly and Regular Migration, which will be presented for adoption in December at an Intergovernmental Conference in Morocco.
Youth Calls for Action to Build the Workforce of the Future
Over 400 youth representatives from Asia and the Pacific launched the Incheon Youth Declaration on the Future of Work, which calls upon the international community to invest in more inclusive, large-scale, and market-relevant solutions for youth employment and entrepreneurship.
The declaration, launched during the 6th Asian Youth Forum (AYF6) and coinciding with the celebration of the International Youth Day on 12 August, reflects the shared vision, commitments, and calls to action of the youth to inform future policy strategies and project initiatives to promote decent work. AYF6, with the theme "Building the workforce of the future," was organized by the Asian Development Bank (ADB), Incheon Metropolitan City, Incheon Tourism Organization, Plan International, and AIESEC.
"We at ADB commit to continue investing in youth through our operations, including through our work in education, and in many other sectors we are supporting. We appreciate that the declaration today covers various issues including partnerships, entrepreneurship, as well as environment," said Special Senior Advisor to the ADB President Mr. Ayumi Konishi, who also emphasized that the declaration will help guide ADB in advancing efforts to invest in education and empowering youth as key development partners in the region.
"Incheon will further boost its efforts to support youth employment and startups through various policies, such as the establishment of youth policy organization, cluster for startup incubators, funds, and forum for startups," said Vice Mayor of Incheon Metropolitan City Mr. Jong Sik Heo. Acting President of the Incheon Tourism Organization Mr. Yong Sik Lee also attended the event.
The declaration highlights several key issues affecting youth employment and the future of work and what several stakeholders including governments, private sector, civil society, multilateral institutions, academe, and the youth themselves can do to address them. These issues include ensuring decent work and inclusion; transitioning from education and training to work; fostering youth entrepreneurship; and preparing for jobs of the future.
Youth delegates from 20 developing member countries of ADB have expressed their commitment in carrying out the efforts outlined in the declaration. Ms. Priscilla Caluag, a delegate from the Philippines, shared that the Asian Youth Forum has given her and other young people from the region a unique opportunity to act in ways beyond their own personal interests but ultimately for the betterment of society.
Are Real Estate CEOs missing out on the technology opportunity?
In its 21st annual survey of CEOs from around the world PwC found that technology does not top the agenda for real estate CEOs either as a threat or an opportunity.
Only 17% of real estate CEOs cite cyber threats as a danger to their growth prospects, compared with 40% of all CEOs who took part in the survey.  While even fewer, only 10% of real estate CEOs, view the speed of technological change as a threat to their organisations compared with 38% of all CEOs.
Looking at opportunities only 20% of real estate CEOs said they clearly understood how robotics and artificial intelligence can improve customer services compared with 47% of all CEOs.
Real estate also appears to be a bit behind the curve when it comes to future talent with  just 43% of real estate CEOs rethinking their human resources function to attract digital talent compared with 60% of CEOs overall.
"For most of its history, the capital-intensive real estate industry has had good reason to be slow moving and conservative. But times are changing.  Technology, urbanisation and social changes are transforming how we live, work and play and therefore how we use real estate, meaning business leaders need to be bold and innovative if they will continue to succeed", said Craig Hughes, global real estate leader, PwC.
"Our survey results suggest that real estate CEOs have some way to go if they are to meet digital disruption head on and reap the benefits.  In our view, this process should start through building a more diverse group of talent, including data scientists and behavioural experts, to work alongside their existing talent and build the real estate champions of tomorrow."