Nuclear Power Supports Growing Development
In August 2014, Viktor Polikarpov was appointed as the Regional Vice -President of Rosatom International Network. His key responsibilities include overseeing, implementing and managing all Russian nuclear projects in Sub-Sahara African region. In this interview, Viktor Polikarpov discusses the potential nuclear energy requirements and nuclear safety as well as how to use nuclear energy in agricultural, health and other sectors of the economy in Africa.
How would you estimate the potential nuclear energy requirements in Africa? Which African countries have shown interest and point out if Rosatom already have some projects on the continent?
Viktor Polikarpov: Africa, being a continent suffering from electricity deficit, won't be able to bring all its potential into life without meeting energy needs for its growing economy. It is vital for African countries to create viable energy mix, which will guarantee their own energy security and drive the industrial development. That is the reason why more and more African countries are currently studying the opportunities for nuclear power development.
In our opinion, these countries must be supported by the global community, which must ensure an equal, non-discriminated access for every state to such a safe and reliable source of energy as nuclear. At the same time, as the majority of African countries are newcomers in nuclear energy, the basic principles of non-proliferation, as well as nuclear safety and security, must come at the first place.
With the recent spike in electricity emergency declarations in South Africa, the need for additional baseload power has become a matter of urgency. Ninety five percent of electricity generated in South Africa is through coal-fired power stations. Koeberg Power Station, based in Western Cape, with a net output of 1,830MW accounts for about five percent to the total power grid, which in relevant terms means it powers the whole of Cape Town.
This proves the tested reliance on nuclear energy as additional baseload power generation for the country. South Africa was one of the first countries to publicly declare its stance on peaceful nuclear energy use for power generation in Africa.
Rosatom is intensively developing cooperation with African countries. The company already has own history of cooperation with Africa in nuclear sphere. In 2012, we signed an intergovernmental agreement with Nigeria on cooperation in NPP construction and are currently in the process of elaborating the comprehensive structure of the project. We have been working in Namibia and Tanzania in terms of uranium exploration and mining. With the Republic of South Africa, cooperation is the most lasting and dates back to 1995 with the supply of enriched uranium supplies for the Koeberg Power Station in Cape Town.
Rosatom assigns high priority to the development of cooperation with the South African nuclear industry. We confirm that our proposal for a strategic partnership in the development of nuclear energy in this country, keeps in force.
In your view, how really sustainable is nuclear energy for Africa? How is that compared to other alternative power resources such as solar and hydro, and what are the positive sides for the use of nuclear power?
VP: Today, nuclear power is one of the most important vectors of the world economic development. Electric power consumption growth under deficit of energy resources and CO2 emission restrictions make nuclear power industry practically beyond competition on a global scale. Despite of active investments to the wind and solar power generation facilities, general power balance in the world market of energetics will remain the same as now for long years ahead: hydrocarbons and nuclear power.
The question is in the optimum way of such energetic balance. Full costs of alternative generation are still considerably high and should not be passed on to final consumer. Due to technological limitations alternative energy sources cannot serve as reliable and consistent sources of electrical energy. On the other hand traditional sources of energy generation do not always meet ecological standards and demand considerable amounts of raw materials.
Nuclear generation is a most energy intensive sphere of power. I would explain this with an explicit example. In order to generate 1 MW hour of electricity you would need approximately 340 kg of coal, or 210 kg of oil, or 1-3 g of enriched uranium. And under calculation of yearly demand for 1000 MW generation object numbers tell stories best: 24 tons of enriched uranium against 1.7 million tons of oil, 2.7 million tons of coal or 2.4 billion m3 of natural gas.
Today, nuclear power is the only source of energy that meets all the challenges of a rapidly developing world. Nuclear power is unique because of the significantly low cost of electricity generated by it. That is why nuclear power plants may well feed the energy-hungry regions as well as provide for significant electricity exporting potential. Another proven advantage of nuclear power is its environmental friendliness. NPP's do not emit any harmful substances in the atmosphere during their operation and they are totally free of the greenhouse gas emission. The main advantage of nuclear power is the unique and large-scale impact it has on social and economic development of the whole country.
Nuclear power is much more than just energy. When a country goes with nuclear, it is stimulating development of local industry, including civil construction and equipment manufacturing competencies. Development of nuclear power provides for creation of a large number of jobs – both on construction and operation stages – and these are also jobs created in related areas, not only at the actual NPP site.
Another important aspect is encouraging the development of sciences and education, as nuclear power is high technology, which requires qualified staff and strong scientific base. For some of countries, "nuclear" status would not only mean their own energy security, but also set conditions for change of their regional status and influence of the country mainly due to an opportunity of electricity export to neighboring countries. All in all, nuclear power plays a role of a certain driver for active development in other spheres of economy and social infrastructure.
Can you also discuss other aspects, for example, the use of nuclear energy as applied in agricultural, health and other sectors on the economy?
VP: Nuclear technologies include not only NPP construction. The peaceful atom concept manifests itself in nuclear medicine, a major area of our interest that includes nuclear imaging techniques and proton beam treatment for cancer and other diseases. Along with oncology, nuclear medical technologies can be applied in cardiology, endocrinology and neurology.
Rosatom focuses on the development of nuclear medicine – something whose use is still very limited in Russia – and collaborates with the Federal Biomedical Agency and international companies in manufacturing a wide range of products used in nuclear medicine, from isotopes to imaging equipment. In its efforts to make nuclear medicine affordable for the Russian people, Rosatom strives to be a global leader in producing the high-end materials needed in nuclear medicine. All such efforts are carried out under the Radiation Technologies umbrella programme and are coordinated by the United Corporation for Innovations.
As part of these activities, Rosatom has launched production of Molybdenum-99, an important radionuclide used for extraction of Technetium-99m generators, a key radioactive tracer with applications as a diagnostic tool. Molybdenum-99 is now available in Russia for testing purposes.
The Russian Federation Institute for Atomic Research (known as RIAR) provides a unique research platform for its highly skilled staff. RIAR is the No. 2 producer of isotopes in Russia. It offers the broadest range of products available in the country, including Iodine-131, Iodine-125, Tungsten-188, Strontium-89 (a Rhenium-188 generator), Lutetium-177, etc.
Another area of significant interest within the nuclear medicine field is the production of CT scanners and medical accelerators. Rosatom is ready to produce equipment for nuclear medicine centers, including self-engineered gamma cameras, emission scanners, cyclotrons for short-living isotopes production. This product line makes possible comprehensive fitting out PET centers.
Rosatom's interest in innovations goes beyond the nuclear field – we are active in developing carbon fibre composite materials containing 92–99.99% of carbon. When compared to conventional construction materials (aluminium, steel, etc.), carbon fibre composites boast extremely high ratings for material strength, fatigue resistance, elasticity modulus, chemical and corrosion resistance – many times higher than the equivalent steel properties, while weighing much less. We are now able to produce carbon composites that are 10 times stronger and 5 times lighter than steel. These materials are essential in load bearing structures where it is critical to increase strength while reducing weight. Polymer composites are widely used in the aerospace, nuclear, automotive, construction, and ship building industries, as well as for the construction of bridges and pipelines.
Russia operates the world's only nuclear icebreaker fleet and, therefore, has unique expertise in the design, construction and maintenance of such vessels. The Russian nuclear fleet consists of four icebreakers and four service ships. Nuclear icebreakers are operated by Rosatomflot, a subsidiary of Rosatom, and are used to maintain the Northern Sea Route and the North Pole floating research stations, as well as for cruises to the North Pole.
To what extent, the use of nuclear power safe and secured for Africa? What technical precautions (measures) can you suggest for ensuring nuclear security?
VP: Rosatom provides an integrated solution for emerging countries in which energy solution of generation III+ construction itself combines with our key operating principles – job creation, attracting international investments, infrastructure development and general social responsibility.
VVER technology is one of the most referential in the world (70 units were constructed). 55 VVER units in 11 countries are successfully operated (18 units are in EU). Safety and efficiency of NNPs with VVER are highly respected by expert missions of international organisations, including the IAEA.
The competitive advantages of modern Gen 3+ NPPs with VVER reactors are
– advanced reactor control and shutdown systems, with priority to safety but also providing good fuel economy;
– advanced management of radiation in normal operation: very small radioactive releases, occupational radiation doses, and radioactive waste generation;
– effective protection against external hazards (hyrricanes, flooding, seismic loads, flight accidents etc.);
– unique balance of active and passive safety systems (active systems are able to function provided that, at least, one of alternative power supplies is available; passive systems are able to function independently without power supply and also without human intervention);
– innovative features of passive safety systems;
– full set of systems needed to manage any conceivable severe nuclear accident in a way that eliminates large radioactive releases to the environment, including core catcher, passive heat removal system etc.
– modern Russian NPP projects correspond with all international, including post-Fukushima safety requirements and the IAEA safety standards;
Rosatom is the world's only company of a complete nuclear power cycle. Rosatom may offer the complete range nuclear power products and services from nuclear fuel supply, technical services and modernization to personnel training and establishing nuclear infrastructure.
The advantages on nuclear among other things are the procurement of local suppliers to partner with Rosatom. This will have a powerful impact to the development of local businesses contributing to the country's economy and international investment which will boost the country's GDP. This increases the competitiveness of energy intensive industries in the country.
And cost effectiveness? Is it nuclear power really affordable for Africa? So, what's Rosatom's plan for future cooperation with African countries?
VP: Today the market demands offers related to the cost price of one kWh of electric power, which is essential for the consumer. Actually, the consumer is not much interested in how electrical energy is produced; the most important thing is the price. We can guarantee a certain price for electrical energy generated by NPPs built by Rosatom, since we have constructed the entire process chain: from uranium production to construction of NPPs and sale of electrical energy.
Rosatom has been purposefully creating the entire chain specifically in order to achieve this objective, for example, we have included a machine-building division into the Corporation. Now, the control of the cost of every stage of production also enables us to control and guarantee the price of electrical energy generated at nuclear power stations built by Rosatom.
One of the challenges faced nowadays by the nuclear energy sector is to ensure its competitive advantage in comparison with generation on the hydrocarbon raw materials. Today, they often say that nuclear energy is quite expensive, but this depends on calculations. It is true that NPPs are expensive to build, but the process of generation of electrical power is much cheaper in comparison with gas or coal generation. Which is most essential, it is much more predictable.
We have studied the volatility in raw materials markets in recent years, and the way the price for natural uranium and gas has been changing. The price range is quite broad in both cases. But the resulting ultimate cost of electrical energy is different, since for an NPP the share of the fuel component is only 25-30% of the operation cost, and for a gas or coal plant the share of the fuel component is 80-90%!
In this regard, the cost of production of kilowatt-hour of electric energy on the nuclear power plant is subject in the smallest way to changes in the commodity market and is most predictable for the investor and the end user.
NPP construction is a driver for active development in different spheres of economy and social infrastructure. We are ready to offer our integrated solutions. As we have already said these solutions include wide range of products and services – from uranium extraction to NPP construction, consulting national legislative and regulatory frameworks, personnel training and investment attraction.
Rosatom integrated solutions in nuclear power can be adapted to meet the client's needs and the specifics of a given project. It is only our proposal is able to provide a guarantee of the total cost of nuclear energy during its life cycle. Regarding the financial solution, we understand the importance of this ambitious project for South Africa and the necessity of choosing the right financial model. We are ready to offer our experience in two models (EPC and BOO) and create tailor made financial solution for South Africa, taking into account the scale of the project and duration of its project. We offer strategic partnership in the development of civil nuclear industry for South Africa and other African countries.
Lawrence Stargomena Tax Says Goodbye, and Calls for Scaling Up Sustainable Development
Southern African Development Community (SADC), an organization made up of 16 member states, was established in 1980. It has as its mission to promote sustainable and equitable economic growth and socio-economic development through efficient, productive systems, deeper cooperation and integration, good governance and durable peace and security, so that the region emerges as a competitive and an effective player in international relations and the world economy.
Lawrence Stargomena Tax began as the fourth Executive Secretary in September 2013. According to the official information, her second term of office ends in August 2021. As Executive Secretary, her key responsibilities include engaging all the members as an economic bloc, overseeing and implementing various programmes and projects in the Southern African region.
She has a diverse employment career, including holding a top position as the Permanent Secretary at the Ministry of Foreign Affairs and East African Cooperation from 2008 to 2013, thereafter appointed as the Executive Secretary of the Southern African Development Community (SADC) at the 33rd Summit of the Heads of State and Government held in Lilongwe, Malawi.
In this insightful and wide-ranging farewell interview with Kester Kenn Klomegah from Modern Diplomacy in May, Executive Secretary Lawrence Stargomena Tax discusses the most significant achievements and challenges in deepening cooperation and promoting socio-economic development as well as peace and security, and further makes suggestions for the future of Southern Africa. Here are the interview excerpts:
What would you say, in a summarized assessment about your work, especially achievements and challenges, during your term of office as Executive Secretary of the Southern African Development Community (SADC)?
The Southern African Development Community (SADC) Secretariat is the Principal Executive Institution of SADC, and the SADC Executive Secretary leads the SADC Secretariat as mandated by Articles 14 and 15 of the Treaty establishing SADC. Functions of the SADC Executive Secretary include overseeing: strategic planning for the Organisation; management, coordination and monitoring of SADC programmes; coordination and harmonization of policies and strategies; mobilization of resources; representation and promotion of SADC; and promotion of SADC regional integration and cooperation.
Achievements: SADC has recorded numerous achievements since its establishment, some of which were recorded during my term of office, from September 2013 to-date 2021. The functions of the Executive Secretary notwithstanding, the recorded milestones are a result of collective efforts by Member States, the Secretariat, and other Stakeholders, as well as team-work by staff of the Secretariat. Eight (8) years is quite a long time, as such several achievements and milestones were recorded during the eight years of my tenure in office, allow me to highlight some of the key ones as follows:
Consolidation of democracy, and sustenance of peace and security in the region. The SADC region remains stable and peaceful, notwithstanding, isolated challenges. This is attributed to solid systems and measures in place, such as our regional early warning, preventive and mediation mechanisms, which facilitate timely detection and re-dress of threats and challenges, and effective deployments of SADC electoral observation missions. Examples during my tenure of office, include SADC preventive mission to the Kingdom of Lesotho, SADC peace and political support to the Democratic Republic of Congo, SADC mediation in Madagascar, SADC facilitation in Lesotho, and effective deployment of electoral observation Missions to SADC Member States. To mitigate and address threats posed by cybercrime and terrorism, a cybercrime and anti-terrorism strategy was adopted in 2016. The strategy is being implemented at regional and national levels.
In the historical-political space, the Southern African Liberation struggles were documented through the Hashim Mbita Publication, a Publication that comprehensively and authentically documents the struggles in the three SADC languages, English, French and Portuguese. The Publication enables all, especially the youth to understand and appreciate the history and the Southern African Liberation.
Forging a long-term direction of SADC through the adoption of the SADC Vision 2050, that is transposed on the Regional Indicative Strategic Development Plan (RISDP) 2020-2030. Vision 2050 sets out the long-term aspirations of SADC over the next thirty (30) years, while the RISDP 2020-30 outlines a development trajectory for the Region for ten (10) years to 2030. Vision 2050 is based on a firm foundation of Peace, Security and Democratic Governance, and premised on three inter-related pillars, namely Industrial Development and Market Integration; Infrastructure Development in support of Regional Integration; and Social and Human Capital Development. This also goes hand in hand with frontloading of Industrialization that aims at transforming SADC economies technologically and economically. Industrialization remains SADC main economic integration agenda since April 2015, when the SADC Industrialization Strategy and Roadmap 2015-2063 was approved. By addressing the supply side constraints as part of the implementation of the SADC industrialization strategy, cross border trade continues to grow, and business environment has been improving, where cost of doing business has been declining steadily and gradually. In addition, values chains were profiled, specifically in three priority sectors, namely mineral beneficiation, pharmaceutical and agro-processing, and a number of value chains have been developed and are being implemented. The Industrialization Strategy has also recognized the private sector as a major player to SADC industrialization and regional integration as a whole.
The adoption of the SADC Simplified Trade Regime Framework in 2019, which has contributed to the enhancement of trade facilitation, and adoption of the SADC Financial Inclusion and Small and Medium Enterprises (SMEs) Strategy that has enhanced financial inclusion in Member States. Ten Member States have so far developed financial inclusion strategies, and there has been an 8 percent improvement in financial inclusion to a tune of 68 percent.
Introduction and operationalization of the SADC Real Time Gross Settlement System (RTGS), a multi-currency platform, which went live in October 2018. All Member States except Comoros are participating in the SADC-RTGS and a total of 85 banks are participating in the system. The SADC-RTGS has enabled Member States to settle payments among themselves in real time compared to previously when it used to take several days for banks to process cross border transactions. As of December 2020, 1,995,355 transactions were settled in the System, representing the value of South African Rands (ZAR) 7.81 Trillion.
Approval of the establishment of the SADC Regional Development Fund in 2015 which aims at mobilizing funds for key infrastructure and industrialization projects.
Realization of targets set in the SADC Regional Infrastructure Development Master Plan (RIDMP) that was approved in 2012, including the establishment of One-Stop Border Posts which entails joint control and management of border crossing activities by agents of the adjoining countries, using shared facilities, systems and streamlined procedure. These include:
One-Stop Border Posts at Chirundu Border between Zambia and Zimbabwe, and Nakonde -Tunduma Border between Tanzania and Zambia; a third One-Stop Border Post, about to be operationalised is at Kazungula Border between Botswana and Zambia, where the road-rail bridge has been completed.
Cross-border infrastructure projects, both hard and soft, that have facilitated assimilated, cost-effective, unified and efficient trans-national infrastructure networks and services were developed and are being implemented. These projects include cross-border transmission links in several Member States using optical fibre technology, thereby, allowing landlocked Member States such as Botswana, Eswatini, Lesotho, Malawi, Zambia and Zimbabwe to connect to the submarine cables on either or both the east and west coast of Africa. Five (5) Member States (Botswana, Eswatini, Namibia, South Africa and Tanzania) have achieved the 2025 SADC Broadband Target to cover 80% of their population, and eight (8) Member States, namely Angola, Botswana, Eswatini, Mauritius, Mozambique, Namibia, South Africa, Tanzania, have put in place National Broadband Plans or Strategies.
The installation and commissioning of more than 18300 Megawatts (MW) between 2014 and 2020 to meet the increasing power demand in the Region has been recorded. Connecting the remaining three (3) mainland Member States namely Angola, Malawi and United Republic of Tanzania to the Southern African Power Pool remains a priority, and to this effect the Zambia-Tanzania Interconnector is at construction phase.
The adoption of the Regional Water Climate Change Adaptation Strategy and Flood Early Warning System in 2015. This has contributed to improvements in climate and weather forecasting, whereby a Southern African Regional Climate Outlook Forum has been established. The forum provides a platform for Member States to review and discuss the socio-economic impacts and potential impacts of the climate outlook, including on food security, health, water and hydropower management, and disaster risk management.
The adoption of the SADC Disaster Preparedness and Response Strategy and Fund (2016-2030), which has contributed to the enhancement of regional disaster management and responses capacity.
A number of administrative milestones were also recorded during my tenure of office, including, institutional reforms, policy reviews, change management towards enhanced cooperate governance and effective delivery. Among others, the SADC Organization Structure was reviewed and streamlined in 2016 to deliver on the technological and economic transformation of the region, in line with the SADC Industrialization Strategy 2015-2063; and a number of policies and strategies, and guidelines were developed to enhance cooperate governance and change management.
As the first female Executive Secretary, since I joined the SADC Secretariat, Gender mainstreaming and Women empowerment were among the areas that I paid dedicated attention to. In this regard, all policies that were developed during my tenure mainstreamed gender and engendered women empowerment. A SADC Framework for Achieving Gender Parity in Political and Decision-Making positions was developed, and provides strategies, and guidelines for strengthening the implementation of the SADC Protocol on Gender and Development in order to ensure that at least 50 percent of all decision-making positions at all levels would be held by women by 2030, and progress is encouraging.
The Region also continued to intensify the fight against HIV and AIDS, TB and Malaria. To this effect, harmonized minimum standards for the prevention, treatment and management of the diseases were developed to promote health, through support for the control of communicable diseases; and preparedness, surveillance and responses during emergencies.
Here are the challenges: Challenges are expected in any organization, the most important thing is to address them timely and effectively. Challenges that I encouraged included:
A multi-cultural operating environment. This needed high level of patience, and approaches that will facilitate inclusiveness and ownership. The challenges sometimes affected speed in terms of delivery, as one had to get a clear understanding of issues at hand, and devise appropriate problem solving approaches.
Another problem is balancing diverse interests by Member States. Sixteen (16) Member States is not a small number, each will have her own priorities and interests, which sometimes are not necessarily the same across the region, or regional priorities. This needs one to be analytical and a quick thinker, applying negotiation and convincing skills.
The Region has also experienced a multiplicity of natural disasters with varying frequency and magnitude of impact, which sometimes occurred at unprecedented scale, for example, Tropical Cyclone Idai with its devastating impacts, including loss of lives, displacement of people, and massive destruction to properties. In response, SADC strengthened the regional disaster preparedness and response coordination and resilience building mechanisms, and more efforts are ongoing in this area.
The tail-end of my term of office encountered challenges associated with the COVID-19 pandemic, which still remains a major concern and a challenge globally, and in almost all SADC Member States. On the response side, SADC has exhibited determination, solidarity and has undertaken several coordinated regional responses and put in place various harmonized measures to fight the pandemic and to mitigate its socio -economic impacts. These include regulations for facilitation of cross border movement of essential goods, services and transport, which were speedily developed and adopted, and were also harmonized at Tripartite level bringing on board the Common Market for Eastern and Southern Africa (COMESA) and the East African Community (EAC). These measures contributed to the containment of the spread of COVID-19, and facilitated continuity of socio-economic activities and livelihood of SADC citizens. The SADC Secretariat also carried out an in-depth assessment of the socio-economic impacts of COVID-19 on SADC economies. The assessment revealed a number of sectoral impacts. Based on the assessment, measures to address the challenges have been put in place at national and regional levels, and at the SADC Secretariat.
e. Whereas, the region has progressed in terms of its objectives, it is yet to achieve its ultimate goal of ensuring economic well-being, improvement of the standards of living and quality of life for the people of Southern Africa. Achieving this aspiration, remains a challenge to be progressively tackled to the end.
Southern African region is unique in terms of stability and investment climate, but there are also differences in political culture, policies and approach toward development issues. How did you find "a common language" for all the 16 SADC leaders?
The common language of SADC revolves around basic tenets which include history, values and common agenda. Historically, the region has common principles and values. Dating back to migration era, you will note that some of the parts of the SADC region are inhabited by the Bantu people who share some cultural similarities. Politically, the region united and stood in solidarity against colonialism a resolve that led to the liberation struggle that brought Member States together (resulting in the formation of the Front Line States, then the Southern Africa Development Coordination Conference) to fight and break from colonialism.
In terms of values, SADC believes in mutual respect and equality. Although Member States differ in size, wealth or development, they treat each other as equal sovereign states. Secondly, Member States make decisions through consensus, without anyone imposing on the other.
Lastly, SADC, like any other organization has a common agenda as spelt out in its Treaty, Article 5, which, among others, aims at "promoting sustainable and equitable economic growth and social economic development that will ensure poverty alleviation with the ultimate objective of its eradication, enhance the standard and quality of life of the people of Southern Africa and support the socially disadvantaged through regional integration." Based on the common agenda, a vision, and policies and strategies have been developed to guide implementation and realization of the common agenda.
Therefore, notwithstanding some differences in political culture, national policies and approaches towards development issues, the history of the region, the shared principles and values embraced by the organization, and its common agenda have always enabled the Region and Member States to find a common ground, language and interest as a region, that is for all the 16 SADC Member States and SADC Leaders.
You have always advocated for an increased economic partnership and for sustainable development in the region. Do you agree that there is still insufficiently developed infrastructure in the industrial sector and other sectors in the region? How can the situation, most probably, be improved in the long term?
SADC recognises that a seamless and robust infrastructural network will create the requisite capacity for sustained economic growth, industrialisation and development. Measures to enhance infrastructure in the industrial sector and other sectors are in place and being implemented as part of the SADC industrialization Strategy 2015-2063, and the SADC Regional Infrastructure Development Master Plan of 2012. It should however be noted that while steady progress is being recorded, investments in these areas require substantial resources and partnership between Public and Private Sectors. Estimates by the African Development Bank (AfDB), published in its African Economic Outlook of 2018, reveal that Africa's annual infrastructure requirements amount to $130bn – $170bn, with a financing gap in the range of $68bn–$108bn. SADC therefore, invites investors from within and outside the region to partner in this strategic areas for mutual benefits.
SADC has also established the Project Preparation and Development Facility (PPDF). The purpose of the PPDF funding is to enhance delivery on infrastructure development in the SADC Region, by bringing projects to bankability and as such facilitate investments by private sector and/or cooperating partners.
SADC is also in a process of ooperationalizing the SADC Regional Development Fund that will, among others, mobilize funds for key infrastructure and industrialization projects.
How do you assess the economic potential in the region? What foreign players have shown keen interest and/or already playing significant roles in SADC? Within the context of AfCFTA, what may further attract them?
The SADC region is endowed with diverse natural resources, including almost all of the key minerals for feed-stocks into regional manufacturing, agriculture, construction, power and other sectors.
The Region has been cooperating with both the private sector and international cooperation partners to implement its various policies and strategies to ensure that the region benefits from its own economic potential. Entering into force of the AfCFTA, provides an opportunity to SADC in collaboration with the Common Market for Eastern and Southern Africa (COMESA) and the East African Community (EAC) to expedite the operationalization of the COMESA-EAC-SADC Tripartite Free Trade Area as a necessary pillar for the AfCFTA, and thus expanded cross-border and international investments and trade.
In spite the degree of development complexities, you have SADC in your heart. Do you feel you have left something undone for the region? What are your last words, expert views and suggestions for ensuring sustainable social and economic growth in the region and for the future of SADC?
SADC is about cooperation and regional integration, and this is a continuous process not an event. With the progress made, the gains need to be sustained, while at the same time accelerating and deepening integration progressively in areas that are either ongoing, or yet to be embarked upon, including taking a bold decision and establishing the long overdue SADC Customs Union, and to expeditiously operationalize the SADC Development Fund.
Here are my last words. I call upon SADC to remain focused and bring about the envisaged sustainable social and economic growth for the benefit of SADC citizens, in line with the trajectory set by SADC Vision 2050 and Regional Indicative Strategic Development Plan 2020-30, as supported by the SADC Industrialization Strategy and Roadmap 2015 – 2063, and the SADC Regional Infrastructure Development Master Plan 2012. Member States should continue implementing these initiatives. [Modern Diplomacy]
The Destinies of Africa in the Modern World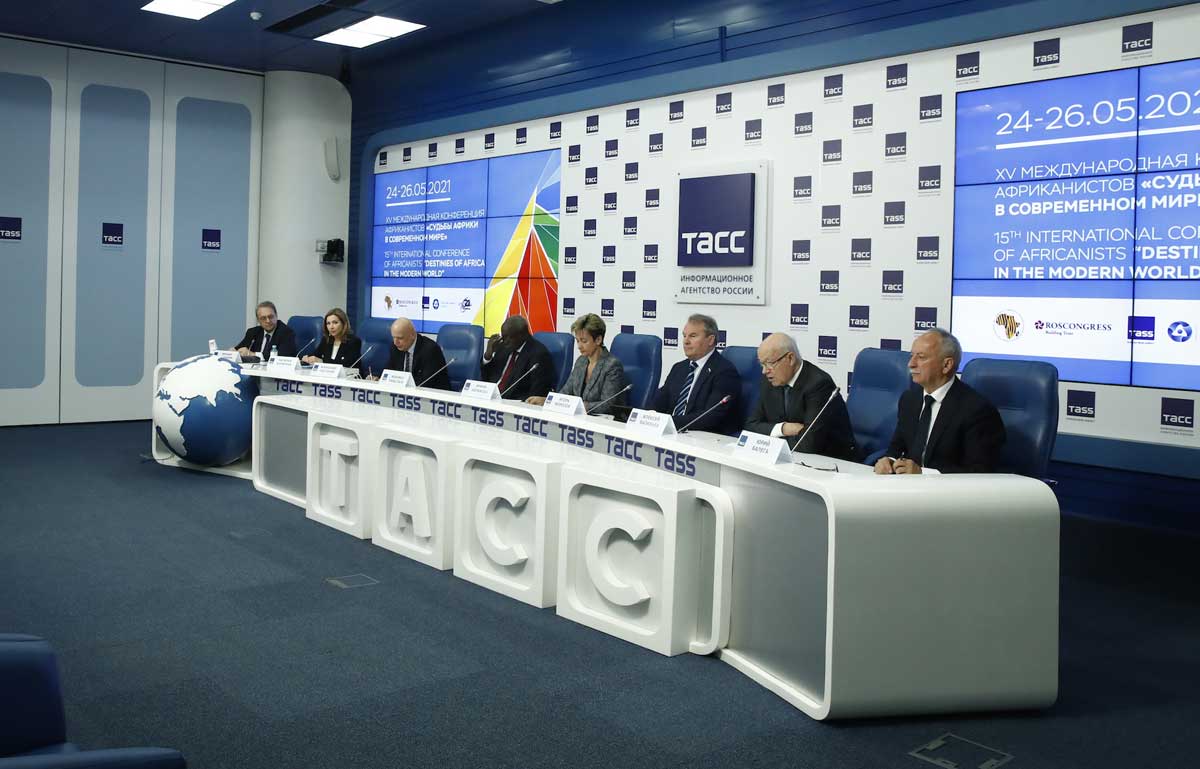 As part of the preparations for the second Russia-Africa summit, the Institute of African Studies in conjunction with the Roscongress Foundation and supported by TASS News Agency organized and held the 15th conference of Africanists entitled 'The Destinies of Africa in the Modern World' in Moscow. The conference opened on the eve of the Africa Day celebrated on May 25.
This year's conference, and other related events held online/offline format, was especially significant, as it was an important step in preparation for the second Russia-Africa summit, which will take place in 2022 in Addis Ababa, Ethiopia.
On May 24, the conference opened with the plenary session moderated by Director of the Institute for African Studies under the Russian Academy of Sciences, Professor Irina Abramova.
This session was an opportunity for the leaders of Russia and the African Union (AU), representatives of business and scientific community to discuss the current agenda of the Russian-African cooperation and the required steps to strengthen and expand a mutually beneficial partnership on an international scale.
The delegates were greeted by the Russian side, represented by Deputy Chairman of the Federation Council of the Federal Assembly of the Russian Federation Konstantin Kosachev, Deputy Chairwoman of the State Duma of the Federal Assembly of the Russian Federation Olga Timofeeva and TASS Director General Sergei Mikhailov.
The African side was represented by Commissioner for Human Resources, Science and Technology at African Union Commission Sarah Anyang Agbor and President and Chairman of the Board of Directors of the African Export-Import Bank (Afreximbank) Dr. Benedict Okey Oramah.
The plenary session was attended by Special Presidential Representative for the Middle East and Africa and Deputy Foreign Minister Mikhail Bogdanov, Deputy Minister of Science and Higher Education of the Russian Federation Natalia Bocharova, Deputy Minister of Industry and Trade Alexey Gruzdev and Head of Rossotrudnichestvo Evgeniy Primakov.
Vice President of the Russian Academy of Science Academician Yuri Balega, Director of the Institute for African Studies of the Russian Academy of Sciences Academician Alexey Vasiliev, Senator of the Russian Federation and Chairman of Coordination Committee for Economic Cooperation with African Countries Igor Morozov, Russian Export Center CEO Veronika Nikishina, Chairman of the Association of Economic Cooperation with African States (AECAS) Alexander Saltanov and Managing Director for Multilateral Cooperation and Integration of the Russian Union of Industrialists and Entrepreneurs Sergey Mikhnevich also attended the session.
"First of all, I would like to thank the Russian Academy of Sciences for organzing this type of forum and to express my gratitude to Presidium Member of the Russian Academy of Sciences, Director of the RAS Institute for African Studies Olga Abramova, it is largely thanks to her that we are opening this event today. It is really important that the academic circles independently assess the condition and the perspectives of our relations with African countries," said Special Presidential Representative for the Middle East and Africa, Deputy Foreign Minister Mikhail Bogdanov.
On the opening session, the African side was represented by the Dean of the African Diplomatic Corps, Ambassador Extraordinary and Plenipotentiary of the Republic of Cameroon to the Russian Federation H.E. Mahamat Paba Sale and Rector of the Free University of Kinshasa, Professor Jean Michel Kumbu.
The face-to-face plenary session attended by representatives of state administration of Russia and of African countries was the starting point for further discussion by the scientists and experts. Within the three days (May 24-26), 48 sections provided opportunities for over 500 leading researchers and specialists from all continents to talk online about a wide range of topics related to Africa.
The closing session of the conference moderated by Deputy Director of the Institute for African Studies of the Russian Academy of Sciences, Professor Dmitri Bondarenko. The session also featured presentations by Professor of University of South Africa Andreas Velthuizen, Honorary President of the Institute for African Studies of the Russian Academy of Sciences Alexey Vasiliev and Deputy Director of the Institute for African Studies Leonid Fituni.
The participants unanimously praised the high level of the conference organization and its high academic and applied significance. The conference outcomes and results will be taken into account for preparation for the forthcoming summit planned next year in Addis Ababa, Ethiopia.
Race and Racism's Critical Role in International Relations
The majority of realist International Relations theory attempts to explain the outcome of the Thirty Years' War and the 1648 Peace of Westphalia. Given that many of the core tenets of IR theory revolve around explaining the results of a three hundred and thirty eight year old peace treaty, it is clear that a disconnect between the past and the present exists. As a historically Eurocentric field, IR commonly neglects nonwhite experiences and attempts to tailor the perception of events and experiences to a fit a european. With the first texts and theories of IR thought being realist theories originating in Europe, the damage comes from the longstanding assertion that only white European countries are capable of bringing order and security to the globe. Examining the historical impacts of race and racism on modern international relations allows for a more holistic view of interactions within the gamut of world powers by validating the experiences of those subjugated to injustices of the past and present, and integrating their experiences to create a more empathetic field. A prime example of this disconnect is The Democratic Republic of The Congo. Subject to Belgian colonial rule as well as numerous abuses, the DRC exemplifies the pinnacle of racism in IR.
The modern IR field is undeniably rooted in racist theories and philosophy. The 1916 book An Introduction to the Study of International Relations makes the racist underpinnings of the field astoundingly clear. With an entire chapter of the text devoted to Political Relations Between Advanced and Backwards Peoples and promoting the necessity of empirical rule colonization, this fundamental book lays a foundation of racism in IR. Belgian rule of the DRC began in 1885 under King Leopold II, however full control of the country under the Belgians did not occur until 1908 and finally ended in 1960. Even American hands meddled in the DRC during World War II, as the DRC (under Belgian rule) supplied uranium for the Manhattan Project.
The DRC's history lends itself to great instability, resource extraction and devastating internal conflict. In 1930, the discovery of diamonds and widespread commercial mining set a precedent of brutal working conditions and exploitation. In the wake of instability created by decolonization in 1960, a 1965 CIA backed coup placed Mobutu Sese Seko in power, granting Western powers greater access to minerals and resources within the country. From 1991-2009, the nation experienced constant (and still ongoing) conflict, largely driven by a desire for control of minerals and rampant sexual violence. When examining the connection between these factors, for example, countries with a larger share of natural resource extraction as a source of their GDP is correlated with increased rates of sexual violence against women, suggesting that colonial exploitation has consequences and impacts beyond just that of the economy.*
Abused and stripped of resources at the hands of its colonizers, the treatment of the people living within the country disproves the IR concept that self-interest and self-benefit of a country reign unilaterally supreme. If this were true, the extremely resource-wealthy country containing a plethora of globally critical materials would likely be a regional hegemon as well as a global economic superpower. However, this is far from reality. As a country subjugated to colonial rule, the Belgian abuse of the Congo created a cycle in which stripping the inferiorly perceived sub-Saharan Africans of their resources for European and American profit became commonplace. If classical realist IR theory did not rest on a racist foundation, the massive wealth and untapped resources would present a different DRC on the world stage than seen today.
Leaning on the traditional realist application of IR theory is convenient and worth perpetuating for Western countries, as they are able to exploit weaker countries that are afflicted with the scars of colonialism. With revisionist history influencing the narrative of colonized countries, "IR struggles to face its own racial bias by failing to examine African states … as independent historical subjects, and not simply objects in the dominant global structure." On the global landscape, stratification of countries by race with a European/American dominance is prevalent and leaves a scathing impact on international relations. Reflecting back to the exploitation of the DRC, this divide is apparent in the way in which the country is unable to progress on the international scale. Following the Congo's independence in 1960, the country has faced a perpetual state of civil strife with very little external aid or assistance. Despite massive economic opportunity and potential, the racism that exists within IR theory permits neglect of the Congo as long as it churns out resources for the benefit of white countries. Racial stratification in practice prevents the DRC from progressing on the international scale beyond a trove of natural resources for other countries to extract.
Despite being a complex academic field of study, International Relations often fails to consider the criticality of race. With the majority of realist IR theory revolving around dated norms and philosophy, the evolution of the field allows for more effective adaptation to the modern global landscape. To combat this racism, considering the ideas of non-white scholars as well as studying the countries victimized by colonialism as entities with their own complex histories and IR experiences creates room for improved perspectives. The Democratic Republic of the Congo is just one instance of the intersection of race and IR theory, but the analysis of concepts such as racial stratification and colonial scarring allows the global world to operate more effectively, efficiently, and empathetically to create a safer and most prosperous environment for all people – regardless of their color.
*Results are based on author research using OLS regression to examine the combined effects of GDP, natural resource exportation, female share of the labor force, and rates of sexual violence against women.