Nuclear Power Supports Growing Development
In August 2014, Viktor Polikarpov was appointed as the Regional Vice -President of Rosatom International Network. His key responsibilities include overseeing, implementing and managing all Russian nuclear projects in Sub-Sahara African region. In this interview, Viktor Polikarpov discusses the potential nuclear energy requirements and nuclear safety as well as how to use nuclear energy in agricultural, health and other sectors of the economy in Africa.
How would you estimate the potential nuclear energy requirements in Africa? Which African countries have shown interest and point out if Rosatom already have some projects on the continent?
Viktor Polikarpov: Africa, being a continent suffering from electricity deficit, won't be able to bring all its potential into life without meeting energy needs for its growing economy. It is vital for African countries to create viable energy mix, which will guarantee their own energy security and drive the industrial development. That is the reason why more and more African countries are currently studying the opportunities for nuclear power development.
In our opinion, these countries must be supported by the global community, which must ensure an equal, non-discriminated access for every state to such a safe and reliable source of energy as nuclear. At the same time, as the majority of African countries are newcomers in nuclear energy, the basic principles of non-proliferation, as well as nuclear safety and security, must come at the first place.
With the recent spike in electricity emergency declarations in South Africa, the need for additional baseload power has become a matter of urgency. Ninety five percent of electricity generated in South Africa is through coal-fired power stations. Koeberg Power Station, based in Western Cape, with a net output of 1,830MW accounts for about five percent to the total power grid, which in relevant terms means it powers the whole of Cape Town.
This proves the tested reliance on nuclear energy as additional baseload power generation for the country. South Africa was one of the first countries to publicly declare its stance on peaceful nuclear energy use for power generation in Africa.
Rosatom is intensively developing cooperation with African countries. The company already has own history of cooperation with Africa in nuclear sphere. In 2012, we signed an intergovernmental agreement with Nigeria on cooperation in NPP construction and are currently in the process of elaborating the comprehensive structure of the project. We have been working in Namibia and Tanzania in terms of uranium exploration and mining. With the Republic of South Africa, cooperation is the most lasting and dates back to 1995 with the supply of enriched uranium supplies for the Koeberg Power Station in Cape Town.
Rosatom assigns high priority to the development of cooperation with the South African nuclear industry. We confirm that our proposal for a strategic partnership in the development of nuclear energy in this country, keeps in force.
In your view, how really sustainable is nuclear energy for Africa? How is that compared to other alternative power resources such as solar and hydro, and what are the positive sides for the use of nuclear power?
VP: Today, nuclear power is one of the most important vectors of the world economic development. Electric power consumption growth under deficit of energy resources and CO2 emission restrictions make nuclear power industry practically beyond competition on a global scale. Despite of active investments to the wind and solar power generation facilities, general power balance in the world market of energetics will remain the same as now for long years ahead: hydrocarbons and nuclear power.
The question is in the optimum way of such energetic balance. Full costs of alternative generation are still considerably high and should not be passed on to final consumer. Due to technological limitations alternative energy sources cannot serve as reliable and consistent sources of electrical energy. On the other hand traditional sources of energy generation do not always meet ecological standards and demand considerable amounts of raw materials.
Nuclear generation is a most energy intensive sphere of power. I would explain this with an explicit example. In order to generate 1 MW hour of electricity you would need approximately 340 kg of coal, or 210 kg of oil, or 1-3 g of enriched uranium. And under calculation of yearly demand for 1000 MW generation object numbers tell stories best: 24 tons of enriched uranium against 1.7 million tons of oil, 2.7 million tons of coal or 2.4 billion m3 of natural gas.
Today, nuclear power is the only source of energy that meets all the challenges of a rapidly developing world. Nuclear power is unique because of the significantly low cost of electricity generated by it. That is why nuclear power plants may well feed the energy-hungry regions as well as provide for significant electricity exporting potential. Another proven advantage of nuclear power is its environmental friendliness. NPP's do not emit any harmful substances in the atmosphere during their operation and they are totally free of the greenhouse gas emission. The main advantage of nuclear power is the unique and large-scale impact it has on social and economic development of the whole country.
Nuclear power is much more than just energy. When a country goes with nuclear, it is stimulating development of local industry, including civil construction and equipment manufacturing competencies. Development of nuclear power provides for creation of a large number of jobs – both on construction and operation stages – and these are also jobs created in related areas, not only at the actual NPP site.
Another important aspect is encouraging the development of sciences and education, as nuclear power is high technology, which requires qualified staff and strong scientific base. For some of countries, "nuclear" status would not only mean their own energy security, but also set conditions for change of their regional status and influence of the country mainly due to an opportunity of electricity export to neighboring countries. All in all, nuclear power plays a role of a certain driver for active development in other spheres of economy and social infrastructure.
Can you also discuss other aspects, for example, the use of nuclear energy as applied in agricultural, health and other sectors on the economy?
VP: Nuclear technologies include not only NPP construction. The peaceful atom concept manifests itself in nuclear medicine, a major area of our interest that includes nuclear imaging techniques and proton beam treatment for cancer and other diseases. Along with oncology, nuclear medical technologies can be applied in cardiology, endocrinology and neurology.
Rosatom focuses on the development of nuclear medicine – something whose use is still very limited in Russia – and collaborates with the Federal Biomedical Agency and international companies in manufacturing a wide range of products used in nuclear medicine, from isotopes to imaging equipment. In its efforts to make nuclear medicine affordable for the Russian people, Rosatom strives to be a global leader in producing the high-end materials needed in nuclear medicine. All such efforts are carried out under the Radiation Technologies umbrella programme and are coordinated by the United Corporation for Innovations.
As part of these activities, Rosatom has launched production of Molybdenum-99, an important radionuclide used for extraction of Technetium-99m generators, a key radioactive tracer with applications as a diagnostic tool. Molybdenum-99 is now available in Russia for testing purposes.
The Russian Federation Institute for Atomic Research (known as RIAR) provides a unique research platform for its highly skilled staff. RIAR is the No. 2 producer of isotopes in Russia. It offers the broadest range of products available in the country, including Iodine-131, Iodine-125, Tungsten-188, Strontium-89 (a Rhenium-188 generator), Lutetium-177, etc.
Another area of significant interest within the nuclear medicine field is the production of CT scanners and medical accelerators. Rosatom is ready to produce equipment for nuclear medicine centers, including self-engineered gamma cameras, emission scanners, cyclotrons for short-living isotopes production. This product line makes possible comprehensive fitting out PET centers.
Rosatom's interest in innovations goes beyond the nuclear field – we are active in developing carbon fibre composite materials containing 92–99.99% of carbon. When compared to conventional construction materials (aluminium, steel, etc.), carbon fibre composites boast extremely high ratings for material strength, fatigue resistance, elasticity modulus, chemical and corrosion resistance – many times higher than the equivalent steel properties, while weighing much less. We are now able to produce carbon composites that are 10 times stronger and 5 times lighter than steel. These materials are essential in load bearing structures where it is critical to increase strength while reducing weight. Polymer composites are widely used in the aerospace, nuclear, automotive, construction, and ship building industries, as well as for the construction of bridges and pipelines.
Russia operates the world's only nuclear icebreaker fleet and, therefore, has unique expertise in the design, construction and maintenance of such vessels. The Russian nuclear fleet consists of four icebreakers and four service ships. Nuclear icebreakers are operated by Rosatomflot, a subsidiary of Rosatom, and are used to maintain the Northern Sea Route and the North Pole floating research stations, as well as for cruises to the North Pole.
To what extent, the use of nuclear power safe and secured for Africa? What technical precautions (measures) can you suggest for ensuring nuclear security?
VP: Rosatom provides an integrated solution for emerging countries in which energy solution of generation III+ construction itself combines with our key operating principles – job creation, attracting international investments, infrastructure development and general social responsibility.
VVER technology is one of the most referential in the world (70 units were constructed). 55 VVER units in 11 countries are successfully operated (18 units are in EU). Safety and efficiency of NNPs with VVER are highly respected by expert missions of international organisations, including the IAEA.
The competitive advantages of modern Gen 3+ NPPs with VVER reactors are
– advanced reactor control and shutdown systems, with priority to safety but also providing good fuel economy;
– advanced management of radiation in normal operation: very small radioactive releases, occupational radiation doses, and radioactive waste generation;
– effective protection against external hazards (hyrricanes, flooding, seismic loads, flight accidents etc.);
– unique balance of active and passive safety systems (active systems are able to function provided that, at least, one of alternative power supplies is available; passive systems are able to function independently without power supply and also without human intervention);
– innovative features of passive safety systems;
– full set of systems needed to manage any conceivable severe nuclear accident in a way that eliminates large radioactive releases to the environment, including core catcher, passive heat removal system etc.
– modern Russian NPP projects correspond with all international, including post-Fukushima safety requirements and the IAEA safety standards;
Rosatom is the world's only company of a complete nuclear power cycle. Rosatom may offer the complete range nuclear power products and services from nuclear fuel supply, technical services and modernization to personnel training and establishing nuclear infrastructure.
The advantages on nuclear among other things are the procurement of local suppliers to partner with Rosatom. This will have a powerful impact to the development of local businesses contributing to the country's economy and international investment which will boost the country's GDP. This increases the competitiveness of energy intensive industries in the country.
And cost effectiveness? Is it nuclear power really affordable for Africa? So, what's Rosatom's plan for future cooperation with African countries?
VP: Today the market demands offers related to the cost price of one kWh of electric power, which is essential for the consumer. Actually, the consumer is not much interested in how electrical energy is produced; the most important thing is the price. We can guarantee a certain price for electrical energy generated by NPPs built by Rosatom, since we have constructed the entire process chain: from uranium production to construction of NPPs and sale of electrical energy.
Rosatom has been purposefully creating the entire chain specifically in order to achieve this objective, for example, we have included a machine-building division into the Corporation. Now, the control of the cost of every stage of production also enables us to control and guarantee the price of electrical energy generated at nuclear power stations built by Rosatom.
One of the challenges faced nowadays by the nuclear energy sector is to ensure its competitive advantage in comparison with generation on the hydrocarbon raw materials. Today, they often say that nuclear energy is quite expensive, but this depends on calculations. It is true that NPPs are expensive to build, but the process of generation of electrical power is much cheaper in comparison with gas or coal generation. Which is most essential, it is much more predictable.
We have studied the volatility in raw materials markets in recent years, and the way the price for natural uranium and gas has been changing. The price range is quite broad in both cases. But the resulting ultimate cost of electrical energy is different, since for an NPP the share of the fuel component is only 25-30% of the operation cost, and for a gas or coal plant the share of the fuel component is 80-90%!
In this regard, the cost of production of kilowatt-hour of electric energy on the nuclear power plant is subject in the smallest way to changes in the commodity market and is most predictable for the investor and the end user.
NPP construction is a driver for active development in different spheres of economy and social infrastructure. We are ready to offer our integrated solutions. As we have already said these solutions include wide range of products and services – from uranium extraction to NPP construction, consulting national legislative and regulatory frameworks, personnel training and investment attraction.
Rosatom integrated solutions in nuclear power can be adapted to meet the client's needs and the specifics of a given project. It is only our proposal is able to provide a guarantee of the total cost of nuclear energy during its life cycle. Regarding the financial solution, we understand the importance of this ambitious project for South Africa and the necessity of choosing the right financial model. We are ready to offer our experience in two models (EPC and BOO) and create tailor made financial solution for South Africa, taking into account the scale of the project and duration of its project. We offer strategic partnership in the development of civil nuclear industry for South Africa and other African countries.
Ethiopia and Russia Need to Catch Up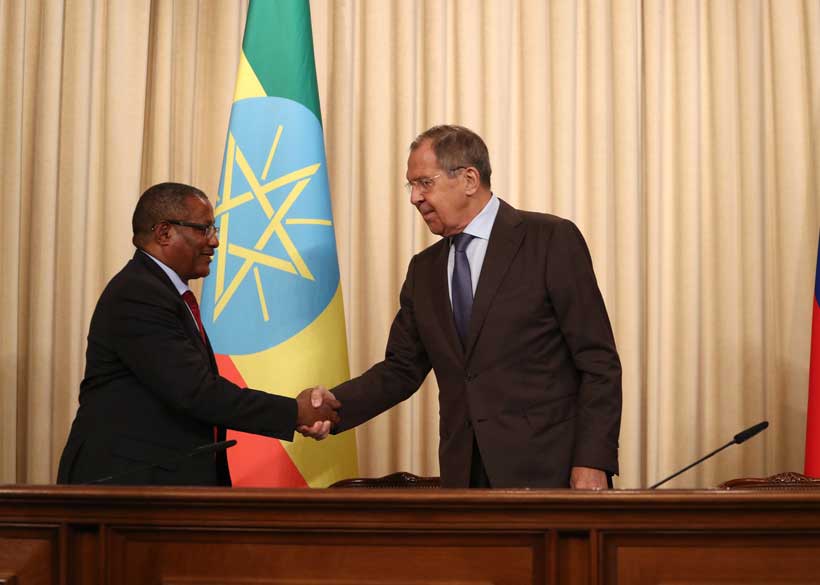 "There is a need to catch up. We agreed to hold meetings regularly," Foreign Minister Sergey Lavrov said at a media conference after diplomatic talks with his counterpart, Gedu Andargachew in Moscow. According to official reports, Lavrov and Andargachew held wide-ranging talks that were constructive and substantive, and focused on broadening cooperation between Russia and Ethiopia.
Ethiopia is one of Russia's main partners in Africa. Both countries are tied by years of solidarity with the African countries in their fight for independence and decolonization. The creation of the African Union headquartered in the capital of Ethiopia, Addis Ababa, was the culmination of the decolonization processes in Africa.
Throughout their partnership, they have gained extensive experience in mutually beneficial cooperation that meets the interests of both countries in various areas. As a result, Lavrov said they both agreed to stimulate the work of the joint economic commission and to encourage it to implement joint investment projects across a variety of fields, including energy, such as hydrocarbon energy, hydroelectric energy and nuclear energy.
They further noted the importance and interest of companies such as Rosatom, Inter RAO, GPB Global Resources, Russian Railways, KAMAZ and UAZ in working in Ethiopia.
There is a potential for cooperation between Russia and Ethiopia in science and education. Russia pledged to support biological research under the Joint Russian-Ethiopian Biological Expedition, which has been operating there for more 30 years.
Many Ethiopian students study at Russian universities, including civilian universities and those operated by the Defence Ministry and the Interior Ministry. Russia will expand this practice. And at the request from the Ethiopian government, Moscow will conduct two specialized courses for Ethiopian diplomats at the Foreign Ministry's Diplomatic Academy next year.
With regard to other promising areas of interaction, which has a rich history, include military-technical and military cooperation. Ethiopian Minister of National Defence, Aisha Mussa, took part in the talks as part of the delegation. Discussions here was about agreeing on additional regulatory documents which will allow more effectively to promote cooperation in supplying military equipment and in other areas.
Lavrov and Andargachew exchanged views on regional and global questions. "We are on the same page on most issues, consistently advocate for strengthening fair and democratic principles of international relations, and searching for collective answers to large-scale challenges and threats, and respecting the right of each nation to independently determine its future," top Russian diplomat said.
With regard to the African countries and the African continent, Lavrov and Andargachew strongly support the idea that Africans should have the decisive role in deciding on the paths to resolve African problems. There is no alternative to resolving these crises, or crises in any other part of the world, through peaceful political means, while relying on an inclusive national dialogue. The situation in Africa and the goals that need to be vigorously addressed in order to overcome several crises and conflicts, primarily, on the Horn of Africa, South Sudan and Somalia.
Africans Must Focus on What Unites Them Not What Separates Them
The majority of South Africans are appalled at the attacks on African migrants and refugees in the country by South Africans, said its Finance Minister Tito Mboweni at the opening plenary of the World Economic Forum on Africa.
"We welcome all Africans who have come to this conference; we welcome all Africans who live in South Africa. We are all Africans. We need to tell our people that what they are doing is wrong. These artificial barriers we have created and the hatred among ourselves must really become a thing of the past," he said.
Responding to a question about the African Continental Free Trade Area, Mboweni said if Africa wants the free movement of goods, it also needs to ensure the free movement of people. "If free movement is supposed to happen, one cannot be in a position where you allow this person and not the other."
Mboweni was standing in for Cyril Ramaphosa, President of South Africa, who was at Parliament to address protestors demanding action from the government on violence against women. Elsie Kanza, Head of Africa at the World Economic Forum, said that addressing systemic violence against women is a top priority for the meeting and she urged all leaders to act against the problem.
Amina Mohammed, Deputy Secretary-General of the United Nations, said leaders at all levels, not just at the political level, must "dig deep to bring back social cohesion. We need to look at what binds us and not what separates us."
Speaking on the issue of the Fourth Industrial Revolution, Mohammed said that, while advances in technology are exciting, "the picture has shadows as well as light."
Mohammed said technology is moving faster than the world's ability to manage its impact and it is adding to the uncertainty of a world already unsettled by challenges such as climate change. "If governments cannot proactively manage the impacts, it will make our growth less inclusive with severe security implications." Partnerships will be critical in addressing the challenges emerging from this new world.
Klaus Schwab, Founder and Executive Chairman of the World Economic Forum, said the rapid pace of technology requires renewed frameworks for cooperation to be developed to deliver an inclusive and sustainable future for Africa.
"Africa cannot afford to be left behind. The Fourth Industrial Revolution can solve many of the issues that came with the first, second and third industrial revolutions. It is a catalyst for Africa to leapfrog into the 21st century," said Schwab.
Cyril M. Ramaphosa, President of South Africa, in remarks read on his behalf by Mboweni, said Africa, along with the rest of the world, is dealing with the same question: how to harness the potential of the Fourth Industrial Revolution in pursuit of development and economic growth. "And importantly, how to ensure that, as we take this quantum leap into the future, we do not leave society's most marginalized behind."
"Disruptive trends and technologies are changing the way we live, the way we work and do business, and the way we govern. We must respond with agility to craft a roadmap for navigating this new environment. We must ensure that our citizens are prepared, and, if necessary, that they are shielded from any adverse consequences. Our response must be collaborative, multisectoral and inclusive," said Ramaphosa.
Ramaphosa said South Africa is not only working with its neighbours to develop a continental strategy led by the African Telecommunications Union, but it has also established a Presidential Commission on the Fourth Industrial Revolution to position the country as a competitive global player in this new space.
Three new Forum initiatives were also announced at the plenary session: platforms dealing with youth and employment, risk resilience and e-commerce.
Youth and Women Key to Making This Africa's Century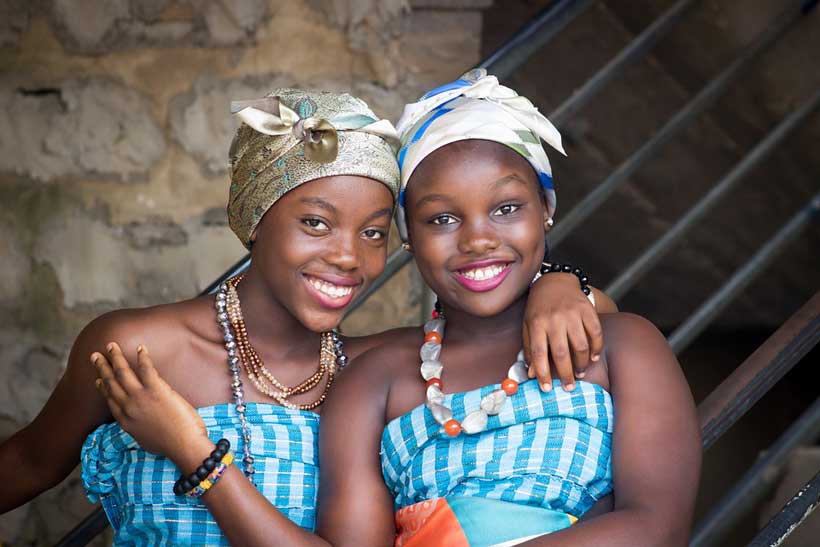 Africa can achieve a step change in economic growth by addressing shortfalls in governance, reducing barriers to trade and – crucially – embracing the potential of its youth and women, heads of state from across the continent told the World Economic Forum on Africa today.

"We have the wherewithal to be able to reach for higher levels of growth," said Cyril Ramaphosa, President of South Africa. "The future is great. It looks very bright for the African continent. If there ever was a time when Africa definitely could be said to be on the rise, this is the time."

Optimism about intra-African trade is on the rise following the creation of the African Continental Free Trade Area (AfCFTA), which includes nearly every country on the continent.

However, Botswana's President Mokgweetsi Eric Keabetswe Masisi warned that leaders must now focus on the practicalities of easing cross-border commerce. "We need to remove all the barriers and put in the enablers to facilitate free trade, beginning in our neighbourhood," he said.

If countries deliver on this, Ramaphosa said, AfCFTA could be "the greatest opportunity for economies on the continent to generate growth through trade."

In a world where Europe faces shrinking workforces due to ageing and much of Asia soon will, Africa's fast-growing population also offers a "demographic dividend" to drive future growth. Crowds of young Africans represent a huge resource to man the factories and service industries of the future, as well as a big potential market.
But that demographic dividend will only pay out if the young can find jobs – and that, in turn, will depend on skilling up the young.
"We need a rebirth of education for the 21st century," said Amina Mohammed, Deputy Secretary-General of the United Nations.
At the same time, women must be brought into the fold to a much greater extent, requiring a root-and-branch fight against gender discrimination. This must include opening up previously restricted areas of education such as science to women, said Ethiopian President Sahlework Zewde.
"The important thing is to invest in our young people … and empower women," said Mandulo Ambrose Dlamini, Prime Minister of Eswatini, formerly known as Swaziland. "I learnt that if you include women in leadership in your team, the level of intelligence increases."
Hopes for Africa's economy have been raised before. The continent enjoyed boom times prior to the financial crash of 2008, thanks to a commodities "super cycle" that saw sustained high prices for its raw materials. But prices for Africa's minerals are well down on those heady days, while few countries have yet to escape the extractive model by managing to add value to their commodities. Now, however, there is a growing determination to achieve this, with Zimbabwe's President Emmerson Mnangagwa and Namibia's President Hage Geingob both calling for value to be added to their country's minerals before they are exported.

"The problem of investors or foreigners who come to Africa is that they come on their own terms. From now on, Africa must tell investors when they come, they come on our terms," said Geingob. "Why should my diamonds go out in raw form?"

Mnangagwa, who said he is striving to rebuild Zimbabwe's "collapsed economy", said it is vital to understand the needs of the private sector for investment in technology that could add value locally.

The over-arching requirement is for African countries to reassure their own populations and investors that they can offer a framework for stable growth, said Seychelles President Danny Faure. "We need to deepen the reform that we are doing to better reflect the need for Africa have what is necessary in terms of good governance, transparency, accountability and the rule of law," he said.