Nuclear Power Supports Growing Development
In August 2014, Viktor Polikarpov was appointed as the Regional Vice -President of Rosatom International Network. His key responsibilities include overseeing, implementing and managing all Russian nuclear projects in Sub-Sahara African region. In this interview, Viktor Polikarpov discusses the potential nuclear energy requirements and nuclear safety as well as how to use nuclear energy in agricultural, health and other sectors of the economy in Africa.
How would you estimate the potential nuclear energy requirements in Africa? Which African countries have shown interest and point out if Rosatom already have some projects on the continent?
Viktor Polikarpov: Africa, being a continent suffering from electricity deficit, won't be able to bring all its potential into life without meeting energy needs for its growing economy. It is vital for African countries to create viable energy mix, which will guarantee their own energy security and drive the industrial development. That is the reason why more and more African countries are currently studying the opportunities for nuclear power development.
In our opinion, these countries must be supported by the global community, which must ensure an equal, non-discriminated access for every state to such a safe and reliable source of energy as nuclear. At the same time, as the majority of African countries are newcomers in nuclear energy, the basic principles of non-proliferation, as well as nuclear safety and security, must come at the first place.
With the recent spike in electricity emergency declarations in South Africa, the need for additional baseload power has become a matter of urgency. Ninety five percent of electricity generated in South Africa is through coal-fired power stations. Koeberg Power Station, based in Western Cape, with a net output of 1,830MW accounts for about five percent to the total power grid, which in relevant terms means it powers the whole of Cape Town.
This proves the tested reliance on nuclear energy as additional baseload power generation for the country. South Africa was one of the first countries to publicly declare its stance on peaceful nuclear energy use for power generation in Africa.
Rosatom is intensively developing cooperation with African countries. The company already has own history of cooperation with Africa in nuclear sphere. In 2012, we signed an intergovernmental agreement with Nigeria on cooperation in NPP construction and are currently in the process of elaborating the comprehensive structure of the project. We have been working in Namibia and Tanzania in terms of uranium exploration and mining. With the Republic of South Africa, cooperation is the most lasting and dates back to 1995 with the supply of enriched uranium supplies for the Koeberg Power Station in Cape Town.
Rosatom assigns high priority to the development of cooperation with the South African nuclear industry. We confirm that our proposal for a strategic partnership in the development of nuclear energy in this country, keeps in force.
In your view, how really sustainable is nuclear energy for Africa? How is that compared to other alternative power resources such as solar and hydro, and what are the positive sides for the use of nuclear power?
VP: Today, nuclear power is one of the most important vectors of the world economic development. Electric power consumption growth under deficit of energy resources and CO2 emission restrictions make nuclear power industry practically beyond competition on a global scale. Despite of active investments to the wind and solar power generation facilities, general power balance in the world market of energetics will remain the same as now for long years ahead: hydrocarbons and nuclear power.
The question is in the optimum way of such energetic balance. Full costs of alternative generation are still considerably high and should not be passed on to final consumer. Due to technological limitations alternative energy sources cannot serve as reliable and consistent sources of electrical energy. On the other hand traditional sources of energy generation do not always meet ecological standards and demand considerable amounts of raw materials.
Nuclear generation is a most energy intensive sphere of power. I would explain this with an explicit example. In order to generate 1 MW hour of electricity you would need approximately 340 kg of coal, or 210 kg of oil, or 1-3 g of enriched uranium. And under calculation of yearly demand for 1000 MW generation object numbers tell stories best: 24 tons of enriched uranium against 1.7 million tons of oil, 2.7 million tons of coal or 2.4 billion m3 of natural gas.
Today, nuclear power is the only source of energy that meets all the challenges of a rapidly developing world. Nuclear power is unique because of the significantly low cost of electricity generated by it. That is why nuclear power plants may well feed the energy-hungry regions as well as provide for significant electricity exporting potential. Another proven advantage of nuclear power is its environmental friendliness. NPP's do not emit any harmful substances in the atmosphere during their operation and they are totally free of the greenhouse gas emission. The main advantage of nuclear power is the unique and large-scale impact it has on social and economic development of the whole country.
Nuclear power is much more than just energy. When a country goes with nuclear, it is stimulating development of local industry, including civil construction and equipment manufacturing competencies. Development of nuclear power provides for creation of a large number of jobs – both on construction and operation stages – and these are also jobs created in related areas, not only at the actual NPP site.
Another important aspect is encouraging the development of sciences and education, as nuclear power is high technology, which requires qualified staff and strong scientific base. For some of countries, "nuclear" status would not only mean their own energy security, but also set conditions for change of their regional status and influence of the country mainly due to an opportunity of electricity export to neighboring countries. All in all, nuclear power plays a role of a certain driver for active development in other spheres of economy and social infrastructure.
Can you also discuss other aspects, for example, the use of nuclear energy as applied in agricultural, health and other sectors on the economy?
VP: Nuclear technologies include not only NPP construction. The peaceful atom concept manifests itself in nuclear medicine, a major area of our interest that includes nuclear imaging techniques and proton beam treatment for cancer and other diseases. Along with oncology, nuclear medical technologies can be applied in cardiology, endocrinology and neurology.
Rosatom focuses on the development of nuclear medicine – something whose use is still very limited in Russia – and collaborates with the Federal Biomedical Agency and international companies in manufacturing a wide range of products used in nuclear medicine, from isotopes to imaging equipment. In its efforts to make nuclear medicine affordable for the Russian people, Rosatom strives to be a global leader in producing the high-end materials needed in nuclear medicine. All such efforts are carried out under the Radiation Technologies umbrella programme and are coordinated by the United Corporation for Innovations.
As part of these activities, Rosatom has launched production of Molybdenum-99, an important radionuclide used for extraction of Technetium-99m generators, a key radioactive tracer with applications as a diagnostic tool. Molybdenum-99 is now available in Russia for testing purposes.
The Russian Federation Institute for Atomic Research (known as RIAR) provides a unique research platform for its highly skilled staff. RIAR is the No. 2 producer of isotopes in Russia. It offers the broadest range of products available in the country, including Iodine-131, Iodine-125, Tungsten-188, Strontium-89 (a Rhenium-188 generator), Lutetium-177, etc.
Another area of significant interest within the nuclear medicine field is the production of CT scanners and medical accelerators. Rosatom is ready to produce equipment for nuclear medicine centers, including self-engineered gamma cameras, emission scanners, cyclotrons for short-living isotopes production. This product line makes possible comprehensive fitting out PET centers.
Rosatom's interest in innovations goes beyond the nuclear field – we are active in developing carbon fibre composite materials containing 92–99.99% of carbon. When compared to conventional construction materials (aluminium, steel, etc.), carbon fibre composites boast extremely high ratings for material strength, fatigue resistance, elasticity modulus, chemical and corrosion resistance – many times higher than the equivalent steel properties, while weighing much less. We are now able to produce carbon composites that are 10 times stronger and 5 times lighter than steel. These materials are essential in load bearing structures where it is critical to increase strength while reducing weight. Polymer composites are widely used in the aerospace, nuclear, automotive, construction, and ship building industries, as well as for the construction of bridges and pipelines.
Russia operates the world's only nuclear icebreaker fleet and, therefore, has unique expertise in the design, construction and maintenance of such vessels. The Russian nuclear fleet consists of four icebreakers and four service ships. Nuclear icebreakers are operated by Rosatomflot, a subsidiary of Rosatom, and are used to maintain the Northern Sea Route and the North Pole floating research stations, as well as for cruises to the North Pole.
To what extent, the use of nuclear power safe and secured for Africa? What technical precautions (measures) can you suggest for ensuring nuclear security?
VP: Rosatom provides an integrated solution for emerging countries in which energy solution of generation III+ construction itself combines with our key operating principles – job creation, attracting international investments, infrastructure development and general social responsibility.
VVER technology is one of the most referential in the world (70 units were constructed). 55 VVER units in 11 countries are successfully operated (18 units are in EU). Safety and efficiency of NNPs with VVER are highly respected by expert missions of international organisations, including the IAEA.
The competitive advantages of modern Gen 3+ NPPs with VVER reactors are
– advanced reactor control and shutdown systems, with priority to safety but also providing good fuel economy;
– advanced management of radiation in normal operation: very small radioactive releases, occupational radiation doses, and radioactive waste generation;
– effective protection against external hazards (hyrricanes, flooding, seismic loads, flight accidents etc.);
– unique balance of active and passive safety systems (active systems are able to function provided that, at least, one of alternative power supplies is available; passive systems are able to function independently without power supply and also without human intervention);
– innovative features of passive safety systems;
– full set of systems needed to manage any conceivable severe nuclear accident in a way that eliminates large radioactive releases to the environment, including core catcher, passive heat removal system etc.
– modern Russian NPP projects correspond with all international, including post-Fukushima safety requirements and the IAEA safety standards;
Rosatom is the world's only company of a complete nuclear power cycle. Rosatom may offer the complete range nuclear power products and services from nuclear fuel supply, technical services and modernization to personnel training and establishing nuclear infrastructure.
The advantages on nuclear among other things are the procurement of local suppliers to partner with Rosatom. This will have a powerful impact to the development of local businesses contributing to the country's economy and international investment which will boost the country's GDP. This increases the competitiveness of energy intensive industries in the country.
And cost effectiveness? Is it nuclear power really affordable for Africa? So, what's Rosatom's plan for future cooperation with African countries?
VP: Today the market demands offers related to the cost price of one kWh of electric power, which is essential for the consumer. Actually, the consumer is not much interested in how electrical energy is produced; the most important thing is the price. We can guarantee a certain price for electrical energy generated by NPPs built by Rosatom, since we have constructed the entire process chain: from uranium production to construction of NPPs and sale of electrical energy.
Rosatom has been purposefully creating the entire chain specifically in order to achieve this objective, for example, we have included a machine-building division into the Corporation. Now, the control of the cost of every stage of production also enables us to control and guarantee the price of electrical energy generated at nuclear power stations built by Rosatom.
One of the challenges faced nowadays by the nuclear energy sector is to ensure its competitive advantage in comparison with generation on the hydrocarbon raw materials. Today, they often say that nuclear energy is quite expensive, but this depends on calculations. It is true that NPPs are expensive to build, but the process of generation of electrical power is much cheaper in comparison with gas or coal generation. Which is most essential, it is much more predictable.
We have studied the volatility in raw materials markets in recent years, and the way the price for natural uranium and gas has been changing. The price range is quite broad in both cases. But the resulting ultimate cost of electrical energy is different, since for an NPP the share of the fuel component is only 25-30% of the operation cost, and for a gas or coal plant the share of the fuel component is 80-90%!
In this regard, the cost of production of kilowatt-hour of electric energy on the nuclear power plant is subject in the smallest way to changes in the commodity market and is most predictable for the investor and the end user.
NPP construction is a driver for active development in different spheres of economy and social infrastructure. We are ready to offer our integrated solutions. As we have already said these solutions include wide range of products and services – from uranium extraction to NPP construction, consulting national legislative and regulatory frameworks, personnel training and investment attraction.
Rosatom integrated solutions in nuclear power can be adapted to meet the client's needs and the specifics of a given project. It is only our proposal is able to provide a guarantee of the total cost of nuclear energy during its life cycle. Regarding the financial solution, we understand the importance of this ambitious project for South Africa and the necessity of choosing the right financial model. We are ready to offer our experience in two models (EPC and BOO) and create tailor made financial solution for South Africa, taking into account the scale of the project and duration of its project. We offer strategic partnership in the development of civil nuclear industry for South Africa and other African countries.
The role of nuclear in Zambia's sustainable economic growth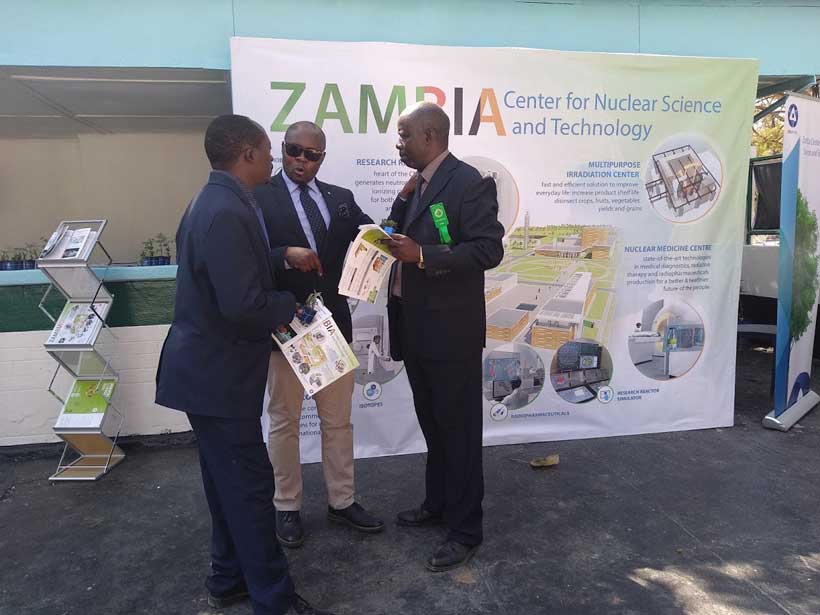 On August 6th, the 92nd annual Agricultural and Commercial Show wrapped up after six entertaining and educational days in Lusaka, Zambia.
Thousands of visitors received information materials about the role of nuclear in Zambia's sustainable economic growth during the 92nd annual Agricultural and Commercial Show.
The show was officially opened by President Edgar Lungu, who highlighted the importance of the show's theme, which was 'sustainable economic empowerment'.
He noted that the theme was directly in line with government's aspirations espoused in the Second National Agricultural Policy (SNAP) to have an efficient, competitive and sustainable agricultural sector which assures food and nutrition security, increased employment opportunities and incomes.
The Zambian Ministry of Higher Education in collaboration with Russian State Atomic Energy Corporation ROSATOM hosted a dedicated information stand on the future Zambia Center for Nuclear Science and Technology (CNST).
Representatives of ROSATOM and Zambia's Interim Secretariat on Nuclear Science and Technology (ISNST), constituted by senior officers from various Government Ministries and Institutions, worked on the stand, explaining the specifics and benefits of the future nuclear facility to thousands of Zambian visitors.
The stand provided the public with information on the nuclear technology that is set to assist Zambia to grow and be economically empowered, such as: food irradiation technologies, nuclear medicine (which is already being implemented at the Cancer Diseases Hospital), material science, radioisotope production and mineral identification techniques.
The materials were prepared by ROSATOM, ISNST and International Atomic Energy Agency (IAEA).
Dmitri Shornikov, CEO of Rosatom Central and Southern Africa, explained the future benefits of the Center and expressed the importance of educating the public on these benefits: "It is very important for the Zambian citizens to understand that the future Center will empower agriculture, medicine and industry, thanks to wide application of radiation technologies."
"The CNST will also promote the growth of national education and science through the training of highly qualified experts in various fields. It represents the new stepping stone for Zambian scientific, economic and technological growth. Similar facilities have been contributing to more than 50 countries' around the world for more than 60 years. Currently, there are 245 working research reactors in the world with 58 units operated in Russia".
Mr. Reuben Katebe, National Coordinator of the ISNST noted that the Center was directly in line with the theme of the show as well as government's policy and that it would help the agricultural sector to grow sustainably and ensure food security: "The use of radiation for food preservation will improve food safety and create conditions for the increase of Zambian agricultural exports. We hope that our information stand helped many farmers to understand all the benefits that the Center will bring to them."
Apart from agriculture, healthcare will also benefit from the Center's activities like single use medical product sterilization," said Mr. Katebe: "The radioisotopes produced here will be used to diagnose and treat primarily cancer and cardiac diseases. This Center will increase availability of high-tech nuclear medicine for Zambia's population."
For reference
State Atomic Energy Corporation Rosatom and the Republic of Zambia signed a general contract for the construction of a Center for Nuclear Science and Technology (CNST). The signing took place during the 10th international Atomexpo-2018 forum in Sochi. Construction of the center is the first joint project of Russia and Zambia in the field of nuclear technologies.
The center will be located 10 kilometers away from the capital of Zambia, Lusaka. The CNST will include a nuclear research facility based on a multipurpose research water-cooled reactor of up to 10 MW, a state of the art laboratory complex, multipurpose irradiation center as well as a cyclotron-based nuclear medicine center.
The project will be implemented in several stages within 3-6 years from the work commencement date under the contract. Rosatom has built more than 120 research reactors in Russia and abroad.
China- Africa Framework: Strategic Cooperation
The Forum for China Africa Cooperation (FOCAC), built up to link relations between the two states, is due to hold its next meeting later this year. This evaluates what the benefits from that meeting will be on this developing, active, and mutual relationship. China's engagement in African states goes back several years. In the last decade, from the mid-1950s to late 1970s based more on spontaneous confidentiality than that of 1980s and the period after the cold war. currently, the relationship sets up more on pragmatic economic considerations and cooperation. China is already Africa's third largest trading partner. This multi-leveled partnership between China and Africa is both intricate and active. As China and its African participants arrange everything for the next FOCAC summit.
What does China want in Africa?
China's relationship with African countries is very active, some perspectives have sustained stable. The most significant of these are the principles and outcomes of Chinese foreign policy through African and other developing countries. According to the Beijing's Africa Policy issued in January 2006, China will: China-Africa friendship, will be proceeding from the basic benefits of both the Chinese and African peoples, build up and develop a new kind of strategic partnership with the African continent, presenting political equality and mutual trust, economic win-win cooperation and cultural exchange
The fundamental laws and aims for leading Chinese foreign policy in Africa as set out in this arrangement of government policy are: (1) Goodwill, friendship, honesty and equality; (2) Mutual benefit, cooperation and common prosperity; (3) Common mutuality, support and close reciprocity; and(4) Learning from each other and pursing, sharing common development. This mostly is the government expression of how it views, and ambitions, to manage its relationship with the African continent.
While the Chinese policy announcements are mostly clear; there is still skepticism about what China wants in Africa. Take the principle of non-intervention, one of the Five Principles of Peaceful Coexistence, which have been regularly highlighted guidance of Chinese foreign policy in one hand, and its Africa policy in the other. The most significant examples are Sudan and Zimbabwe. In current years, Sudan has seen a conflict of perspectives, with the US and other superpowers placing pressure on Beijing government to use its impact in Sudan over the condition in Darfur, and China responding that it is preferable to help in continued development in such states, and determining them this way. Therefore Beijing's commitment to non-interference in African domestic affairs and its intention to establish partnerships based on cooperation and mutual respect have been generally welcomed by leaders of the African continent, just as it has got some critiques from the West especially the US.
To some extent does China manage Sino-Africa relations?
Yet, Chinese national interests in Africa are multi-aspects and multi-leveled, so the aspects who engage in China's Africa policy making and implementation are generally diverse. This faces great challenges for China's management capability, which is the real reason why FOCAC was established. Similar to the different trend of China's interests and outcomes in Africa, we can highlight many types of aspects who have a sound in China's Africa policy-making and performance. First of all and most important type of aspect is the government, both central and provincial, including officials–diplomats and other state-owned enterprises. Secondly coves several private corporations and their representatives in Africa. Inspired by the Chinese government's "Go Out" policy, these private entrepreneurs chanced to Africa in seek of business opportunities. The third and importantly significant aspect is individuals, both influential middle-businessmen and the general Chinese laborers in Africa, which may amount to somehow a million people by 2009.
With the number of aspects rising, the traditional decision-making and strategy implementation system is under great pressure. In term of policymaking, power is centered at the top, in the Office of the Foreign Affairs of the Communist Party of China (CCP) Central Committee and the Foreign Affairs Office of the State Council. The top engine of executive power is the State Council, which includes the premier, vice premiers, and ministers. The Ministry of Foreign Affairs points out Chinese leaders and helps implement African policy. It cuts responsibility between a unit for Sub-Saharan Africa and one for West Asia and North Africa. The Ministry of Commerce plays a significant job in trade, aid, and investment. It has a Department of Foreign Aid. China's State-owned Assets Supervision and Administration Commission (SASAC) is equally ranked with the Ministry of Foreign Affairs and the Ministry of Commerce. SASAC is either mostly owns a state-owned enterprise (SOE) or sustains a supervising share of stock in a public SOE, several of which function in Africa. SASAC has branch offices in African countries. China's Export-Import Bank is the only state-owned firm that allocates official economic assistance in the frame of low-interest loans, export credits, and guarantees. Additionally, The CCP's International Department communicates with African representative to lay the pillars for business trading and diplomatic cooperation, encourage visits and to ensure that policies are implemented in accordance with CCP strategic goals.
What are the Challenges of China In Africa?
Under the policy of FOCAC and its follow-up perspectives, China has adopted its Africa policy-making and implementation and made several contributions to African development. However, the challenge of China-Africa relation is based on two main aspects. The first, the Chinese economic slowdown decreases the resources that are likely accessible for the next FOCAC meeting. Xi Jing ping said at G20 summit that China will, within its goodwill and potentiality, carry on to enhance its aid to Africa, decrease or cancel African states' debts, enlarge its trade and enhance business investment in Africa, achieving the commitments it made during the Beijing Summit of the Forum on China- Africa Cooperation in 2017. On the other hand, because China's economy now is export-oriented, the situation will greatly reduce the volume of China-Africa trade due to the western states' needs decreasing. For instance, 50% of Sudan's oil exports ship to China, but this number does not mean that this oil is bought by Chinese consumers. As a matter of fact, China National Petroleum Corporation(CNPC), the company which subdues the oil transactions between China and Sudan, does not sell the oil imported from Sudan on the Chinese domestic market. Instead, CNPC sells it on the international market for many profits. And in 2006, Japan was the largest single recipient of Sudanese oil. Now, because of the economic problem, the needs of the international market have dropped off.
Conclusion
The last decade has observed a key and very important enhance in China's engagement in Africa. FOCAC was built up and is now working, as the main means by which to manage dialogue and talk between different African countries and China over where the general direction of this partnership should go. Basically, it gives an integrative foundation for treating Africa as a single actor, which will surely promote the identity-building of Africa and differentiate itself from other relationship. In the coming years, China will surely enhance its interests in the African continent. Therefore. the FOCAC process provides Africa a new opportunity for a partnership with China and the prospect of a long-term win-win partnership with the world's largest-growing economy.
Building a nuclear industry in Africa
Russia's nuclear energy diplomacy in Africa has hit stumbling blocks, it's been at the crossroad over the past two decades after the collapse of Soviet-era.
In order to find long-shelf solutions to chronic power shortages, African leaders and Governments that have shown interest in adopting Russian nuclear energy, signed necessary legal documents but lacked the needed funds for prompt implementation and final realisation.
"Rwanda's annual budget stands at US$3 billion while the construction of the nuclear power plant would cost not less than US$9 billion which is equivalent to Rwanda's entire gross domestic product." David Himbara, Rwandan-Canadian Professor of International Development at Canada's Centennial College, wrote in an emailed interview.
He said that Rwandan President Paul Kagame always believed that he must validate his supposedly visionary and innovative leadership by pronouncing grand projects that rarely materialised.
Currently, all African countries have serious energy crisis. Over 620 million in Sub-Saharan Africa out of one billion people do not have electricity. It is in this context that several African countries are exploring nuclear energy as part of the solution.
There is only one nuclear power plant on the entire African continent, namely, Koeberg nuclear power station in South Africa. Commissioned in 1984, Koeberg provides nearly 2,000 megawatts, which is about 5% of installed electricity generation in South Africa.
According to Himbara, "Of all African countries that have shown interest in nuclear energy, none have so far gone beyond the stage of conducting preliminary feasibility study, project costing and financing models, except South Africa."
But, the South Africa US$76 billion deal with the Russians to build a nuclear power plant collapsed along with the Government of Jacob Zuma that negotiated the deal in secrecy, in fact when such corporate projects have to be discussed by the parliament and necessarily have to pass through international tendering process, he pointed out.
Russia and South Africa concluded an intergovernmental agreement on strategic partnership in the nuclear sphere in 2014. The agreement provided in particular for construction of up to eight NPP power units.
"Nuclear waste will pile up, and where are they going to put it? The Sahara? The US is always trying to force nuclear waste repository on some poor or indigenous community and when that fails, the waste keeps piling up at the reactor sites, creating greater and greater environmental risks," he said.
He added that "Managing nuclear waste and its safety is universally complex and dangerous. The Chernobyl disaster in Ukraine and Fukushima in Japan, remind the world of the human and environmental costs of nuclear power accidents. Millions of people are still suffering from radiation and radiation related diseases till today."
Foreign Minister Sergey Lavrov, in an interview with the Hommes d'Afrique magazine in March, described Africa as rich in raw material resources, including those that are required for high technology and for moving to a new technological pattern. Apart from mining, Russia and African countries are cooperating on high technology.
What was more important for Africa's energy sector when he informed that Rosatom has been considering a number of projects that are of interest to Africans, for instance, the creation of a nuclear research and technology centre in Zambia. Nigeria has a similar project. There are good prospects for cooperation with Ghana, Tanzania and Ethiopia. Talks are underway on the construction of a nuclear power plant in South Africa.
Shadreck Luwita, Zambian Ambassador to the Russian Federation, informed that the processes of design, feasibility study and approvals regarding the project have almost been concluded. The site of the project is yet to be designated as it is equally a process and it is envisaged that construction should commence, in earnest, not later than the second half of 2018.
In addition, he affirmed that the Russians envisaged technology transfer in the development of this massive project by way of manpower development capacity. For now, there are only a few Zambian nationals, who are studying nuclear science in one of the Russian universities in Moscow.
The Zambian Government hopes that upon commissioning of this project, excess power generated from this plant could be made available for export to neighbouring countries under the Southern African Development Community Power Pool framework arrangement.
From all indications, Russia wants to turn nuclear energy into a major export industry. It has signed agreements with African countries with no nuclear tradition, including Rwanda and Zambia. And is set to build a large nuclear plant in Egypt.
Interestingly, Egypt's dreams of building nuclear plant has spanned with agreement that was signed (as far back in March 2008) during official visit to the Kremlin by the ousted President Hosni Mubarak, and then again with former Egyptian leader Mohammed Morsi who discussed the same nuclear project with Vladimir Putin in April 2013 in Sochi, southern Russia.
During the dawn of a new era, Vladimir Putin and Abdel Fattah Al Sisi signed an agreement to set up four nuclear plants in El Dabaa, on the Mediterranean coast west of the port city of Alexandria, where a research reactor has stood for years.
The deal signed on the heels of talks held between Putin and Al Sisi, where both expressed high hopes that Russia would help construct the country's first nuclear facility. Egypt began its nuclear program in 1954 and in 1961, acquired a 2-megawatt research reactor, built by the Soviet Union.
However, plans to expand the site have been decades in the making that Rosatom will provide its fuel, personnel training, and build necessary infrastructure. The four blocks of the nuclear power plant will cost about $20 billion.
However, Director Anton Khlopkov and Research Associate Dmitry Konukhov at the Center for Energy and Security Studies, co-authored a report to Valdai Discussion Club, part of RIA Novosti Agency, that success of Egypt's nuclear project depends on three key factors.
These are the political stability and security situation in Egypt, a viable financing mechanism that reflects the country's economic situation, and the government's ability to secure support for the project among the local residents of El Dabaa, the site chosen for Egypt's first nuclear plant back in the 1980s.
In reality, Ghana has a similar never-ending dreams and fairy tales of owning nuclear plants. The agreement re-signed on June 2, 2015. The Russian reactor, 1000 MW plant, will cost a minimum of $4.2 billion. The financing scheme has not been finalised. And it will take about eight to ten years from site feasibility studies to commissioning of the first unit.
As local media reported, Ghana's quest to industrialise for economic growth and development has fast-tracked plans to establish nuclear power in the country within the next decade, that means by 2029 and export excess power to other countries in the sub-region.
With "One District, One Factory" – Ghana's industrialisation agenda might not be realized under Nana Addo Dankwa Akufo-Addo's administration based on the roadmap of the nuclear power programme to commence construction by 2023 and inject nuclear energy into the grip by 2030.
The African countries' MoUs and Agreements with RosAtom including Nigeria, Kenya, Tanzania and the rest are stacked. Nearly three decades after Soviet collapse, not a single plant has been completed in Africa.
Some still advocate for alternative energy supply. Gabby Asare Otchere-Darko, Founder and Executive Director of Danquah Institute, a non-profit organisation that promotes policy initiatives and advocates for Africa's development, wrote in an email that "Africa needs expertise, knowledge transfer and the kind of capital imports that can assist Africa to develop its physical infrastructure, add value to two of its key resources: natural resources and human capital."
Russia has respectable expertise in one key area for Africa: energy development. "But, has Russia the courage, for instance, to take on the stalled $8-$10 billion Inga 3 hydropower project on the Congo river? This is the kind of development project that can vividly send out a clear signal to African leaders and governments that Russia is, indeed, ready for business," he said.
The renewable energy potential is enormous in Africa, citing the Grand Inga Dam in the Democratic Republic of Congo. Grand Inga is the world's largest proposed hydropower scheme.
It is a grand vision to develop a continent-wide power system. Grand Inga 3, expected to have an electricity-generating capacity of about 40,000 megawatts – which is nearly twice as much as the 20 largest nuclear power stations.
Researchers and Experts strongly believe and further estimate that the cost of building nuclear power does not make any sense when compared to the cost of building renewables or other sources of energy to solve energy shortages in Africa.
According to the company profile, Rosatom offers a complete range nuclear power products and services from nuclear fuel supply, technical services and modernisation to personnel training and establishing nuclear infrastructure. Currently, Rosatom has built more than 120 research reactors in Russia and abroad.