Nuclear Power Supports Growing Development
In August 2014, Viktor Polikarpov was appointed as the Regional Vice -President of Rosatom International Network. His key responsibilities include overseeing, implementing and managing all Russian nuclear projects in Sub-Sahara African region. In this interview, Viktor Polikarpov discusses the potential nuclear energy requirements and nuclear safety as well as how to use nuclear energy in agricultural, health and other sectors of the economy in Africa.
How would you estimate the potential nuclear energy requirements in Africa? Which African countries have shown interest and point out if Rosatom already have some projects on the continent?
Viktor Polikarpov: Africa, being a continent suffering from electricity deficit, won't be able to bring all its potential into life without meeting energy needs for its growing economy. It is vital for African countries to create viable energy mix, which will guarantee their own energy security and drive the industrial development. That is the reason why more and more African countries are currently studying the opportunities for nuclear power development.
In our opinion, these countries must be supported by the global community, which must ensure an equal, non-discriminated access for every state to such a safe and reliable source of energy as nuclear. At the same time, as the majority of African countries are newcomers in nuclear energy, the basic principles of non-proliferation, as well as nuclear safety and security, must come at the first place.
With the recent spike in electricity emergency declarations in South Africa, the need for additional baseload power has become a matter of urgency. Ninety five percent of electricity generated in South Africa is through coal-fired power stations. Koeberg Power Station, based in Western Cape, with a net output of 1,830MW accounts for about five percent to the total power grid, which in relevant terms means it powers the whole of Cape Town.
This proves the tested reliance on nuclear energy as additional baseload power generation for the country. South Africa was one of the first countries to publicly declare its stance on peaceful nuclear energy use for power generation in Africa.
Rosatom is intensively developing cooperation with African countries. The company already has own history of cooperation with Africa in nuclear sphere. In 2012, we signed an intergovernmental agreement with Nigeria on cooperation in NPP construction and are currently in the process of elaborating the comprehensive structure of the project. We have been working in Namibia and Tanzania in terms of uranium exploration and mining. With the Republic of South Africa, cooperation is the most lasting and dates back to 1995 with the supply of enriched uranium supplies for the Koeberg Power Station in Cape Town.
Rosatom assigns high priority to the development of cooperation with the South African nuclear industry. We confirm that our proposal for a strategic partnership in the development of nuclear energy in this country, keeps in force.
In your view, how really sustainable is nuclear energy for Africa? How is that compared to other alternative power resources such as solar and hydro, and what are the positive sides for the use of nuclear power?
VP: Today, nuclear power is one of the most important vectors of the world economic development. Electric power consumption growth under deficit of energy resources and CO2 emission restrictions make nuclear power industry practically beyond competition on a global scale. Despite of active investments to the wind and solar power generation facilities, general power balance in the world market of energetics will remain the same as now for long years ahead: hydrocarbons and nuclear power.
The question is in the optimum way of such energetic balance. Full costs of alternative generation are still considerably high and should not be passed on to final consumer. Due to technological limitations alternative energy sources cannot serve as reliable and consistent sources of electrical energy. On the other hand traditional sources of energy generation do not always meet ecological standards and demand considerable amounts of raw materials.
Nuclear generation is a most energy intensive sphere of power. I would explain this with an explicit example. In order to generate 1 MW hour of electricity you would need approximately 340 kg of coal, or 210 kg of oil, or 1-3 g of enriched uranium. And under calculation of yearly demand for 1000 MW generation object numbers tell stories best: 24 tons of enriched uranium against 1.7 million tons of oil, 2.7 million tons of coal or 2.4 billion m3 of natural gas.
Today, nuclear power is the only source of energy that meets all the challenges of a rapidly developing world. Nuclear power is unique because of the significantly low cost of electricity generated by it. That is why nuclear power plants may well feed the energy-hungry regions as well as provide for significant electricity exporting potential. Another proven advantage of nuclear power is its environmental friendliness. NPP's do not emit any harmful substances in the atmosphere during their operation and they are totally free of the greenhouse gas emission. The main advantage of nuclear power is the unique and large-scale impact it has on social and economic development of the whole country.
Nuclear power is much more than just energy. When a country goes with nuclear, it is stimulating development of local industry, including civil construction and equipment manufacturing competencies. Development of nuclear power provides for creation of a large number of jobs – both on construction and operation stages – and these are also jobs created in related areas, not only at the actual NPP site.
Another important aspect is encouraging the development of sciences and education, as nuclear power is high technology, which requires qualified staff and strong scientific base. For some of countries, "nuclear" status would not only mean their own energy security, but also set conditions for change of their regional status and influence of the country mainly due to an opportunity of electricity export to neighboring countries. All in all, nuclear power plays a role of a certain driver for active development in other spheres of economy and social infrastructure.
Can you also discuss other aspects, for example, the use of nuclear energy as applied in agricultural, health and other sectors on the economy?
VP: Nuclear technologies include not only NPP construction. The peaceful atom concept manifests itself in nuclear medicine, a major area of our interest that includes nuclear imaging techniques and proton beam treatment for cancer and other diseases. Along with oncology, nuclear medical technologies can be applied in cardiology, endocrinology and neurology.
Rosatom focuses on the development of nuclear medicine – something whose use is still very limited in Russia – and collaborates with the Federal Biomedical Agency and international companies in manufacturing a wide range of products used in nuclear medicine, from isotopes to imaging equipment. In its efforts to make nuclear medicine affordable for the Russian people, Rosatom strives to be a global leader in producing the high-end materials needed in nuclear medicine. All such efforts are carried out under the Radiation Technologies umbrella programme and are coordinated by the United Corporation for Innovations.
As part of these activities, Rosatom has launched production of Molybdenum-99, an important radionuclide used for extraction of Technetium-99m generators, a key radioactive tracer with applications as a diagnostic tool. Molybdenum-99 is now available in Russia for testing purposes.
The Russian Federation Institute for Atomic Research (known as RIAR) provides a unique research platform for its highly skilled staff. RIAR is the No. 2 producer of isotopes in Russia. It offers the broadest range of products available in the country, including Iodine-131, Iodine-125, Tungsten-188, Strontium-89 (a Rhenium-188 generator), Lutetium-177, etc.
Another area of significant interest within the nuclear medicine field is the production of CT scanners and medical accelerators. Rosatom is ready to produce equipment for nuclear medicine centers, including self-engineered gamma cameras, emission scanners, cyclotrons for short-living isotopes production. This product line makes possible comprehensive fitting out PET centers.
Rosatom's interest in innovations goes beyond the nuclear field – we are active in developing carbon fibre composite materials containing 92–99.99% of carbon. When compared to conventional construction materials (aluminium, steel, etc.), carbon fibre composites boast extremely high ratings for material strength, fatigue resistance, elasticity modulus, chemical and corrosion resistance – many times higher than the equivalent steel properties, while weighing much less. We are now able to produce carbon composites that are 10 times stronger and 5 times lighter than steel. These materials are essential in load bearing structures where it is critical to increase strength while reducing weight. Polymer composites are widely used in the aerospace, nuclear, automotive, construction, and ship building industries, as well as for the construction of bridges and pipelines.
Russia operates the world's only nuclear icebreaker fleet and, therefore, has unique expertise in the design, construction and maintenance of such vessels. The Russian nuclear fleet consists of four icebreakers and four service ships. Nuclear icebreakers are operated by Rosatomflot, a subsidiary of Rosatom, and are used to maintain the Northern Sea Route and the North Pole floating research stations, as well as for cruises to the North Pole.
To what extent, the use of nuclear power safe and secured for Africa? What technical precautions (measures) can you suggest for ensuring nuclear security?
VP: Rosatom provides an integrated solution for emerging countries in which energy solution of generation III+ construction itself combines with our key operating principles – job creation, attracting international investments, infrastructure development and general social responsibility.
VVER technology is one of the most referential in the world (70 units were constructed). 55 VVER units in 11 countries are successfully operated (18 units are in EU). Safety and efficiency of NNPs with VVER are highly respected by expert missions of international organisations, including the IAEA.
The competitive advantages of modern Gen 3+ NPPs with VVER reactors are
– advanced reactor control and shutdown systems, with priority to safety but also providing good fuel economy;
– advanced management of radiation in normal operation: very small radioactive releases, occupational radiation doses, and radioactive waste generation;
– effective protection against external hazards (hyrricanes, flooding, seismic loads, flight accidents etc.);
– unique balance of active and passive safety systems (active systems are able to function provided that, at least, one of alternative power supplies is available; passive systems are able to function independently without power supply and also without human intervention);
– innovative features of passive safety systems;
– full set of systems needed to manage any conceivable severe nuclear accident in a way that eliminates large radioactive releases to the environment, including core catcher, passive heat removal system etc.
– modern Russian NPP projects correspond with all international, including post-Fukushima safety requirements and the IAEA safety standards;
Rosatom is the world's only company of a complete nuclear power cycle. Rosatom may offer the complete range nuclear power products and services from nuclear fuel supply, technical services and modernization to personnel training and establishing nuclear infrastructure.
The advantages on nuclear among other things are the procurement of local suppliers to partner with Rosatom. This will have a powerful impact to the development of local businesses contributing to the country's economy and international investment which will boost the country's GDP. This increases the competitiveness of energy intensive industries in the country.
And cost effectiveness? Is it nuclear power really affordable for Africa? So, what's Rosatom's plan for future cooperation with African countries?
VP: Today the market demands offers related to the cost price of one kWh of electric power, which is essential for the consumer. Actually, the consumer is not much interested in how electrical energy is produced; the most important thing is the price. We can guarantee a certain price for electrical energy generated by NPPs built by Rosatom, since we have constructed the entire process chain: from uranium production to construction of NPPs and sale of electrical energy.
Rosatom has been purposefully creating the entire chain specifically in order to achieve this objective, for example, we have included a machine-building division into the Corporation. Now, the control of the cost of every stage of production also enables us to control and guarantee the price of electrical energy generated at nuclear power stations built by Rosatom.
One of the challenges faced nowadays by the nuclear energy sector is to ensure its competitive advantage in comparison with generation on the hydrocarbon raw materials. Today, they often say that nuclear energy is quite expensive, but this depends on calculations. It is true that NPPs are expensive to build, but the process of generation of electrical power is much cheaper in comparison with gas or coal generation. Which is most essential, it is much more predictable.
We have studied the volatility in raw materials markets in recent years, and the way the price for natural uranium and gas has been changing. The price range is quite broad in both cases. But the resulting ultimate cost of electrical energy is different, since for an NPP the share of the fuel component is only 25-30% of the operation cost, and for a gas or coal plant the share of the fuel component is 80-90%!
In this regard, the cost of production of kilowatt-hour of electric energy on the nuclear power plant is subject in the smallest way to changes in the commodity market and is most predictable for the investor and the end user.
NPP construction is a driver for active development in different spheres of economy and social infrastructure. We are ready to offer our integrated solutions. As we have already said these solutions include wide range of products and services – from uranium extraction to NPP construction, consulting national legislative and regulatory frameworks, personnel training and investment attraction.
Rosatom integrated solutions in nuclear power can be adapted to meet the client's needs and the specifics of a given project. It is only our proposal is able to provide a guarantee of the total cost of nuclear energy during its life cycle. Regarding the financial solution, we understand the importance of this ambitious project for South Africa and the necessity of choosing the right financial model. We are ready to offer our experience in two models (EPC and BOO) and create tailor made financial solution for South Africa, taking into account the scale of the project and duration of its project. We offer strategic partnership in the development of civil nuclear industry for South Africa and other African countries.
Conflict In Northern Ethiopia: Pathways To Peace And Normalization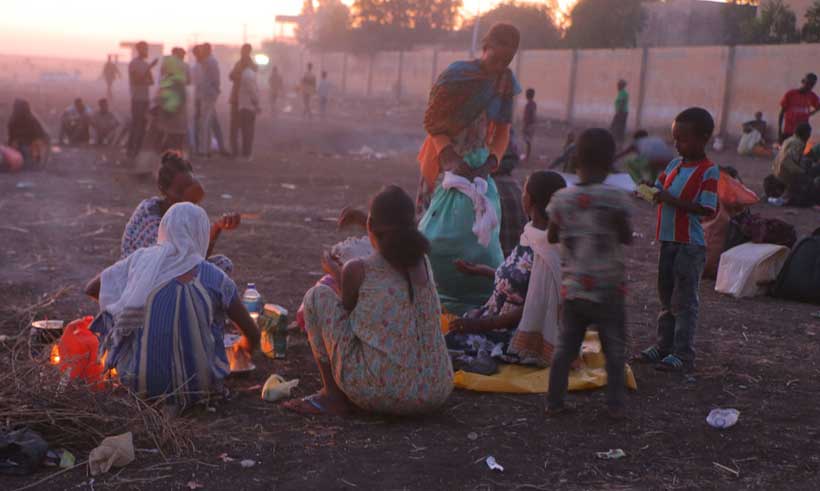 On 28 November, Ethiopian federal troops captured Mekelle, the capital of Tigray province in northern Ethiopia. For the first time in decades, the fighting involved formed military units after the Army's Northern Command had been attacked by forces loyal to the Tigray TPLF.The TPLF political group held power in Ethiopia for decades prior to the government of PM Abiy. The last major military engagement in the Horn of Africa Region was fought on the 1000-kmborder between Ethiopia and Eritrea in the border war 1998-2000over areas close to the current conflict theatre. The fighting claimed over 100,000 lives and caused massive deportations on both sides.
Although an all-out siege of Mekelle was avoided, the region contains much combustible material and security risks- hovering perilously near an inter-state conflict. This was underscored by the rocket attack last Saturday from Tigray against the airport area in Asmara in neighboring Eritrea- the third such strike since the conflict started three weeks before. In the last few years, the wider Horn of Africa and IGAD region had become a beacon of hope for increased stability and integration: this includes PM Abiy's award of the Nobel Peace Prize in 2019, political transition in Sudan after the fall of the Al-Bashir regime and peace deals with rebel groups earlier in 2020. The new conflict has once again exposed the weak state of multilateralism during the COVID-19 Pandemic, lack of consensus in the UN Security Council and the gulf between ambitions and realities in conflict prevention and conflict resolution.
All signs point to continued escalation risks in the conflict. Foreign observers agree that there is no quick end to the fighting. TPLF has apparently sidestepped the Army's assault and may still command a considerable arsenal, according to a new statement by the fugitive TPFL leader from near Mekelle. TPLFis poised to wage a guerilla campaign in the north, which has been its strength against previous central governments in Ethiopia. If the conflict spirals out of control and unrest affects other regions inside Ethiopia, there is a lot at stake: Ethiopia will be weakened as an eminent power in the region, spillover into neighboring states may occur.
Human Security, Protection Of Civilians And Economic Issues
Already before the conflict, the civilian population of northern Ethiopia was facing great challenges. The hostilities have further weakened human security in a region plagued by drought and food scarcity, experiencing climate change effects such as transboundary locust swarms. Refugee movements peaked last week in Sudan which has received some 43,000 arrivals from Tigray and increased the stress on its resources. UNHCR has appealed for about $150 mln USD in relief. Tigray also houses about 96,000 refugees from Eritrea in several camps. During the latest fighting, the killing of hundreds of civilians at Mai-Kadra on 9 November near the border between Tigray and Amhara regions of Ethiopia illustrated the lack of civilian protection and raised fears of more violence and retaliation. Ethiopian authorities have now stated they would establish humanitarian corridors after Tigray was effectively cut off from humanitarian aid for a month and the UN repeatedly urged humanitarian access.
The conflict is also deepening Ethiopia's economic trouble from the impact of the COVID-19 pandemic. with a projected decline from 1.9% in 2020 to zero in 2021, according to the IMF.Young peoplein particular struggle to find employment and have been recruited into provincial militias or political party militant groups. Despite its political differences and the expansion of a transport corridors with Djibouti and from Berbera Port in Somaliland, Tigray has long dominated the Ethiopian import business and its entrepreneurial class is quite established in Addis Ababa.
Vulnerable Neighboring States And Proxy Wars
Stability in northern Ethiopia is paramount for the regional neighbors, including Sudan and Somalia. They are in the middle of their own transitions and vulnerable to external shocks and political destabilization. Eastern Sudan saw tribal clashes and unrest in Kassala and Port Sudan cities in early 2020; Sudan still has many armed factions that might benefit from turmoil in northern Ethiopia. Ethiopian troop withdrawals from Somalia as a result from conflict in Tigray could additionally imperil the electoral calendar for Somalia and embolden Al-Shabaab terrorists. Continued and escalating violence could provoke more massive refugee flows and lead to an "African world war" scenario in the Horn Region, according to analysts. Across the Horn of Africa, the conduct of proxy wars by supporting domestic rebel groups in rival countries had been a pattern in the 20th century after de-colonization.
Just across the Tigray border, the authoritarian regime of Eritrea remains highly militarized. It remains a mercurial player with possible regional power ambitions in the new conflict. In 2018, President Afewerki and PM Abiy managed to form an understanding but neuralgic points along the border such as the disputed town of Badme persist in the absence of a demarcation line. Anecdotal information suggests that Eritrea allowed sophisticated weapons such as drones to be launched from its territory. It also sheltered Ethiopian military from TPLF forces while carrying out large sweeps for mobilization in Asmara which were reportedly extended to some refugee camps inside Ethiopia.
Unpredictable military moves in an area fraught with a history of tension can create misunderstandings and easily spark wider conflagrations. As a small state that has so far been unaffected by the violence, Djibouti prides itself of stability but remains potentially also at risk. The country is still nominally at war with Eritrea. Just after the Ethiopia-Eritrea border war, Djibouti hosted tripartite military talks under UNMEE UN-Mission auspices in the form of a Military Coordination Commission. For transparency and arms control in northern Ethiopia and its border regions, similar confidence building efforts could take place. This could manage further escalation potentials and discuss sensitive reform steps in the military and security posture of Tigray.
Geopolitics In The Red Sea Region And The Nile Basin
Although there is no evidence of any outside power interfering with the conflict in northern Ethiopia, extra-regional powers are by no means disinterested. These actors include Egypt which vigorously opposes the completion of Ethiopia's new "Grand Renaissance Dam" on the Blue Nile for fears of water security as well as the United Arab Emirates, Turkey and China. Russia is considering building a new naval base on the Red Sea in Sudan.
IGAD regional states have only recently started systematic information sharing and joint dialogue for the Red Sea Region among littoral states and some important neighbors. Consultative meetings were held with all IGAD members through an IGAD Task Force for the Red Sea and the Gulf of Aden, established in February 2019. It is in this complex geopolitical environment that Djibouti may have a role to play, as a realistic and trusted actor on the doorstep of the strategically important Babel-Mandeb Strait. Further up from Djibouti on the Red Sea along the Eritrean seacoast, the shipping lane is only about 150 km from Ethiopian territory and caries significant international traffic for Energy security in Europe. Interference or a surge in illegal migration across the Red Sea towards the Gulf States would have to be avoided at all costs. Nothing could illustrate better the sensitivity of Djibouti's strategic location than the concentrated military presence. There are no less than five foreign military bases in Djibouti. The US keeps its largest base in Africa there and China its largest overseas base, along with France, Italy and Japan.
The Way Forward In Conflict Resolution And Mediation
PM Abiy has so far refused outside mediation or negotiation with the TPLF faction, labelling the intervention a "law enforcement action" and an internal matter of Ethiopia. The designated panel of African Union mediators (three former heads of state from Liberia, Mozambique and South Africa) has not been allowed to engage after they arrived in Addis Ababa last week. Commentators have criticized the AU of being inconsistent and bowing to Ethiopian pressure, since the AU is headquartered in Addis Ababa. The EU has nominated Finland's Foreign Minister as an Envoy for the conflict, and both the EU and the UN already keep envoys for the Horn of Africa in Nairobi and in Addis Ababa. High-level coordination and cooperation are therefore well resourced. Once sufficient trust has been built for an Ethiopian-led process to bring the protagonists to the table, flanking support can be provided to an African Union mediation effort.
Despite the current challenges, an Ethiopian-led genuine dialogue and comprehensive normalization process can still gain traction. This would require a tailored set of confidence building measures (CBMs) to reassure the parties that a return to the battlefield is firmly excluded and a modicum of oversight internationally guaranteed. Incentives can be created for quick recovery, restoring trust in stability among neighboring states, and in justice and the rule of law as harbingers of reform which is a shared interest of all protagonists. Along the vectors of conflict risks outlines above, these initiatives can help open the door to national reconciliation and more comprehensive mediation processes around the time of the next Ethiopian general election in 2021.
Some analysts are proposing a basic3-Step Planto launch negotiations (including ceasefire, humanitarian access, mutual acceptance and national dialogue for a new dispensation of power in state and federal level relations as well as constitutional reform). In the Horn of Africa region, many leaders are cautious about formal 'power sharing' arrangements which showed their limits in situations such as South Sudan. Therefore, smaller discreet steps and targeted incentives run in parallel might be advisable in the short run to create a more conducive environment for broader mediated talks:
Provide expertise for an inventory of heavy and crew-served weapons and cantonment under mixed supervision, e.g. with International Observers.
Establish common principles for Security Sector Reform steps in affected areas, with focus on the regime and command and control over provincial militias / paramilitary units and police forces as well as training in Protection of Civilians; monitoring of military tribunals to ensure the conflict parties are seeing fair trials against worst offenders.
Launch rapid projects for connecting infrastructure and self-help reconstruction for returnees with the goal of normalizing conditions in Tigray province and on the borders;devise labor-intensive programs to benefit transport and trade corridors as outlined by the World Bank and African Development Bank in order to boost the region's economic potentials, create jobs and foster entrepreneurship.
Scientific and trade cooperation between China and Africa
China was crumbling into misery, degradation and despair, in the middle of that 109-year period (1840-1949) known as the era of semi-wild and semi-colonial China. As early as 1840, the year of the Opium War, declared by Britain on China to bring in the drugs that the Chinese refused, China's history had been one of rapid ruin.
The ruin was not only material, caused by the vampirism of colonial power that exploited the Middle Empire with weapons, forcing it to accept unjust treaties, burning Beijing palaces, beating and massacring the people with the British Sikh policemen, claiming huge "compensation payments" for wars waged against it. It was also spiritual ruin. None of the old values and traditions could curb that wave of destruction.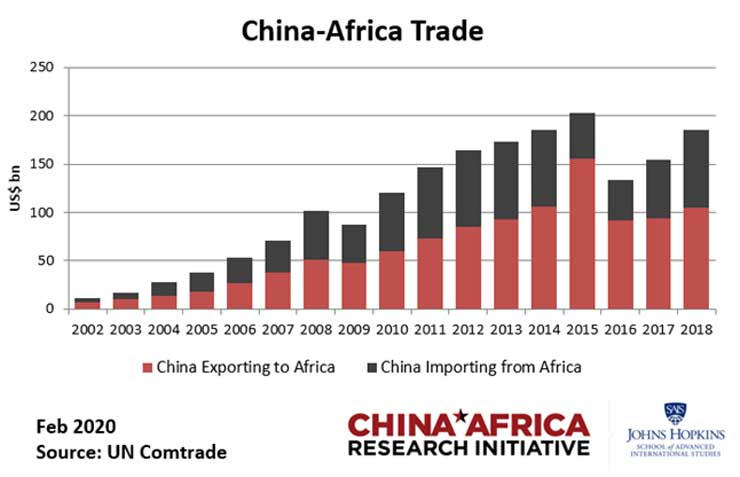 However, over the last seventy years, things have changed and the main contradiction between the pious sermons of Western democracy and the simultaneous indiscriminate exploitation of China has disappeared with the expulsion of Jiang Jieshi (Chiang Kai-shek). It has disappeared in all fields.
On December 6, 2019, during the 5th South Africa Science Forum (Pretoria, December 4-6, 2019), Chinese Ambassador Lin Songtian was invited to participate in the Forum parallel workshop,"China-Africa Scientific and Technological Cooperation: Impact and Prospects", and delivered the opening speech. The major media widely and proactively reported the diplomat's words, claiming that China's investment in Africa was second to none.
Ambassador Lin Songtian said that the Belt & Road Initiative proposed by Chinese President Xi Jinping had effectively promoted Africa's development. China's cooperation with Africa has always followed the principle of truthfulness and honesty, justice and mutual benefit. China has always been committed to achieving win-win cooperation and joint development with Africa. This stands in stark contrast to Western countries that pursue their own interests first and not those of equal and mutual benefit.
The United States, Japan and the EU are not involved in every large-scale infrastructure. Only China has invested and provided massive amounts of funds. Ethiopia, for example – once one of the poorest countries on the African continent – has become one of the fastest growing economies in the world after over ten years of development.
Several well-known scientists from the South African Republic participated in the Forum, maintaining that China – also a developing country – fully understands Africa's needs and its willingness to open the door to cooperation in the field of scientific and technological innovation on an encouraging basis.
The joint scientific research conducted by China and Africa is able to strongly promote the development of the African continent. Africa has missed the first three industrial revolutions and cannot miss the fourth. China has many useful experience gained with Africa to teach.
If China can create scientific and technological companies for training African entrepreneurs, the Black Continent will certainly be able to offer valuable candidates; with the hope that Africa will also achieve scientific, technological and managerial independence.
Some scholars have also pointed out that the survey conducted by Afrobarometer has shown that because China's aid and investment in Africa have promoted the building of infrastructure, Chinese products are high-quality and cheap, and that 63% of Africans believe that China has a positive influence on Africa. 15% of Africans have a negative attitude towards China because they know very little about it and are influenced by irresponsible news from the former colonial media criticising the People's Republic of China.
The imperialist drug dealers, the exploitative colonialists and the pimps of the past, in new guises, complain about the lack of democracy, only because they have seen their centuries-old banquetat the expense of the Chinese people precluded.
At the same time, Africa, as China's economic and trade partner, has brought huge mutual benefits. Africa has the 53 most important minerals on the planet and some rare strategic resources, but the rate of development and use of arable land is lower than 30%. Although China is the world's richest country for mineral resources, its per capita share is less than half of the world's level. Hence, together with the regular distribution of mineral resources, it is also necessary to establish greater China-Africa relations to broaden the trade channels for these resources.
Although the African market has a high rate of return, it also has a certain degree of risk, which requires foreign companies to have better conditions to withstand fluctuations in the African market.
The benefits of China's investment in Africa are indisputable. Nevertheless, the Belt & Road Initiative has always been questioned by Western countries.
Over and above the politically correct dispute over the Asian country's lack of democracy, the main controversy has focused opportunistically on whether China has increased its risks of debt to recipient countries and whether these projects have adequate environmental protection plans.
Some Western theories argue that China uses "debt trap diplomacy", a means of providing a large amount of loans that beneficiaries cannot repay, so as to influence developing countries' policies.
However, in reality, the external debt profile of the beneficiary countries is very varied. Before Africa was hit by the Covid-19 epidemic, the average debt of the ten largest beneficiary countries was 36.5% of China's total income, close to 37.2% of the rest of Africa. Moreover, the situation in each country is different: these ten countries include high debtors such as Zambia and other countries with very low debt such as Angola, Kenya and Nigeria.
The loan initiative has always been in the hands of African countries which – when the funds and blackmail of multinational financial institutions do not meet their needs – have the right to rely on China to build the necessary infrastructure.
Therefore, to a certain extent, the high demand for loans is adapted to the development needs of African countries, which would remain blocked by the inertia of the West and its financial institutions.
At present, the method for financing the building of infrastructure is relatively simple. In general, governments obtain preferential loans from the Export-Import Bank of China or the China Development Bank, with the hiring of Chinese building contractors.
Furthermore, the Chinese government and private companies are paying increasing attention to environmental protection. For example, in April 2019 the Chinese Ministry of Ecology and Environment published Guidelines on the promotion of works and a cooperation plan for environmental protection.
China has understood the importance of the eco-environmental issue in transforming the green economy and promoting the sustainable development goals developed by the United Nations, and has further improved and implemented a range of risk prevention policies and measures.
The Chinese government is also making greater efforts to regulate private companies' behaviours. The number of these companies is much higher than reported by the statistics of the Ministry of Commerce and almost all of them use their own capital. If the Chinese government can provide more funding channels for private companies, it will have more say in encouraging private companies to pay attention to social responsibility.
According to the International Energy Agency's report, in 2019 almost 70% of the world's energy-deficient population lived in Africa and energy development is a huge driving force for economic growth. This means that the energy market will become an important area of China-Africa economic cooperation.
In a situation in which sustainable development has become a global trend, China-Africa economic cooperation shall inevitably adapt: from traditional energy extraction to alternative energy development; from large loans to the development of human capital. The focus on sustainability will not only lead to short-term contractual relations, but also to long-term partnership.
'Full scale' humanitarian crisis unfolding in Ethiopia's Tigray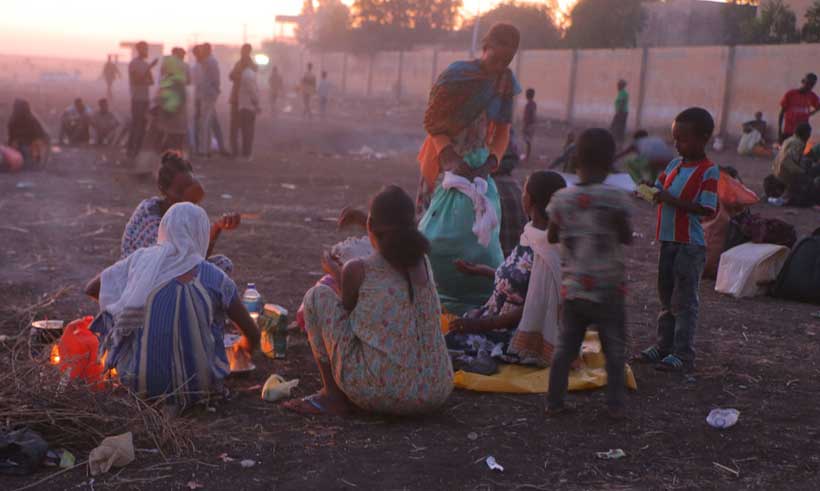 A "full-scale humanitarian crisis" is unfolding as thousands of refugees flee ongoing fighting in Ethiopia's Tigray region each day to seek safety in eastern Sudan, the UN refugee agency (UNHCR) reported on Tuesday.
More than 27,000 have now crossed into Sudan through crossing points in Kassala and Gedaref states, as well as a new location further south at Aderafi, where Ethiopian refugees started crossing over the weekend, according to UNHCR.
The scale of the influx is the worst that part of the country has seen in over 20 years, according to the agency.
"Women, men and children have been crossing the border at the rate of 4,000 per day since 10 November, rapidly overwhelming the humanitarian response capacity on the ground," said Babar Baloch, UNHCR spokesperson, briefing reporters in Geneva.
"Refugees fleeing the fighting continue to arrive exhausted from the long trek to safety, with few belongings", he added.
According to news reports, Ethiopian Prime Minister Abiy Ahmed, has indicated the military operation that was launched in response to the reported occupation of a Government military base by Tigrayan forces nearly two weeks ago, would continue, although he said it was now in its "final phase".
'Needs continue to grow'
UN agencies, along with relief partners have ramped up assistance – delivering food rations, hot meals and clean water, as well as setting up latrines and temporary shelters. They are also supporting the Sudanese Government in its response. But the needs continue to grow.
The UN World Food Programme (WFP) is also supporting other humanitarian workers in its response, providing fuel for vehicles and generators in remote locations. The UN Humanitarian Air Service, managed by WFP, has also increased flights from three times per week to daily flights for aid workers.
Since Saturday, UNHCR has relocated 2,500 refugees from the border to Um Raquba settlement site, in eastern Sudan. There is however, a "critical need" to identify more sites so that refugees can be relocated away from the border and can access assistance and services, said Mr. Baloch.
UNHCR has also issued an emergency fundraising appeal, through which people can help provide urgent, lifesaving assistance to refugees. Click here to make a donation
'On standby' in Tigray
Meanwhile in the Tigray region of Ethiopia itself, lack of electricity, telecommunications, fuel and cash, continue to severely hamper any humanitarian response, the UNHCR spokesperson said.
"After nearly two weeks of conflict, reports of larger numbers of internally displaced grow daily, while the lack of access to those in need, coupled with the inability to move in goods to the region, remain major impediments to providing assistance," he said.
UNHCR and partners are on standby to provide assistance to the displaced in Tigray, including basic items, when access and security allow.
The conflict is also a major ongoing concern for the Eritrean refugee population of nearly 100,000 in Tigray, who are reliant on assistance from UNHCR and partners.
"Potential for further displacement of refugees inside the country is increasingly a real possibility … The humanitarian situation as result of this crisis is growing rapidly" he warned, reiterating UNCHR's call for peace and urge all parties to respect the safety and security for all civilians in Tigray.