Kazakhstan: United Nations Security Council 2017-2018
Kazakhstan, in an attempt to build its reputation as mediator and the leading country in Central Asia, is seeking a position on the 15-member nonpermanent United Nations Security Council for 2017-2018.
Kazakhstan outlined its global priorities for its position on the prestigious governing and security body via the "Kazakhstan: United Nations Security Council 2017-2018" web site. Kazakhstan's priorities are: food security, water security, energy security and nuclear security. The campaign for Kazakhstan's seat for 2017-2018 launched in September 2014; the Government of Kazakhstan declared its candidacy for the seat on 1 June 2010. A promotional video was also released in late 2013.
The four priorities are vital to the stability of the Central Asia states particularly the issue of water security as the Aral Sea is nearly depleted and diplomatic spats between Uzbekistan and Tajikistan over water resources and the Rogun Dam. Water and energy security are the most prominent as the Central Asia states are primarily land locked developing countries and are resource rich. Many attempts have been made by Kazakhstan to rectify this issue through agreements: Concerning Use of Water and Energy Resources in Syr Darya River Basin (1998); A Kazakh-Chinese Joint Commission on the Use and Protection of Transboundary Rivers has been founded to regulate the use of water resources with China and resuscitating the Aral Sea. Kazakhstan's Working Paper for the UNSC is already available on Kazakhstan's UNSC website.
Kazakhstan's current international commitments (even if unmet) and current programs are consistent with UNSC priorities: Initiated the Congress of Leaders and Traditional Religions, Launched the Conference on Interaction and Confidence Building Measures in Asia (CICA), and held the chairmanship of the Organization of Islamic Cooperation and the Organization for Security and Cooperation in Europe (OSCE) in 2010.
Kazakhstan maximizes the benefits of high-profile positions in seemingly low-level and weak organizations and committees. While the Chairmanship of the OSCE should not be downplayed— as Kazakhstan is a consolidated autocracy and the first former Soviet Republic to hold the position— the OSCE has been perceived as weak and unable to enforce its mandate and compliance. The organization failed to hold countries accountable for their human rights violations and make headway on transparency. Having a human rights violator (Kazakhstan) as the lead for Europe's primary watchdog group was expected to damage the OSCE's reputation. Kazakhstan's location in a "rough neighborhood" made Kazakhstan a great candidate "to advance the organization's mandate, invigorate efforts to settle existing conflicts, and generate discussions on important security, economic, and human development matters" according to the Center for Strategic and International Studies. Kazakhstan's legacy was adding a "Eurasian dimension," by "highlighting security problems stemming from the Afghan conflict, potential failed states, destabilizing economic and environmental problems, and vexing human rights issues."
Kazakhstan has failed to implement the principles of OSCE and its own commitments. Human rights in Kazakhstan before and after the OSCE chairmanship were poor. Journalists continued to be jailed, freedom of speech and religion is restricted, and the government imprisons human rights defenders and activists. After Kazakhstan's 2010 chairmanship, the country struggles to consolidate democratic reforms, create a multi-political party system, guarantee freedom of press/speech and human and political rights for all. Arbitrary detention is still rampant despite the government passing the National Prevention Mechanism on Torture in 2014 according to Human Rights Watch. Laws established to support human rights are sophistry and are never enforced, but are passed to make it appear that Kazakhstan is upholding its obligations. Kazakhstan has made great strides compared to many of its neighbors falling behind and struggling with implementing basic governance.
Kazakhstan is scooping up high-profile chairmanships in regional organizations for two primary reasons: to advance Kazakhstan's image as a peacemaker and mediator; and to fulfill President Nazarbayev's vision for Kazakhstan of being the "Eurasian Bridge," linking Asia to Europe. With a track record of high participation in international organizations, Kazakhstan can benefit from and build lasting trade and political and economic relationships. Obtaining the UNSC seat reinforces Nazarbayev's multi-vector foreign policy and adds diversity to the Asia bloc of countries of the 15 member UNSC.
If granted the 2017-2018 UNSC seat, Kazakhstan would be able to move beyond its regional problems while addressing global issues most importantly nuclear security and energy security. Kazakhstan has experience with global threats (nuclear security), extremism, and terrorism. This includes, but not limited to, renewing and strengthening arms control agreements, cracking down on organized crime involving nuclear materials, and negotiating intra-regional water agreements/arrangements in Central Asia. Kazakhstan's history with nuclear work can be considered soft diplomacy: passing the annual "International Day Against Nuclear Tests" (29 August); and starting the NGO, the ATOM project, aimed at stopping nuclear testing and to bring awareness about the physical and environmental devastation caused by nuclear testing.
Kazakhstan, while pursuing these initiatives, offers the UNSC non-permanent Security Council distinct advantages. Kazakhstan would expectedly act as a mediator, but many members such as Russia and China, may attempt to exploit Kazakhstan's membership, calling on Kazakhstan for support, as China and Russia tend to veto and block actions by other UNSC members. Kazakhstan, in such a scenario, would most likely abstain or make the decision reinforcing its "mediation" stance. This would be no surprise to Russia. From an international security perspective (beyond the issue of nuclear terrorism), Kazakhstan aligns itself with Russia-led organizations as they primarily deal with regional issues such as separatism, extremism, and terrorism. Kazakhstan would also serve as the outlier of the Soviet states (along with the Baltics) that is able to disagree with Russia without retaliation. As a result of the multi-vector foreign policy, Kazakhstan has friendly (or stable) relationship with most P5 members.
India supports Kazakhstan's seat on the 15 member UNSC as "both leaders affirmed their commitment to the negotiations on comprehensive reform of the council." According to the Astana Times, "Nazarbayev reiterated his country's support for India's application to be a permanent member of the expanded UN Security Council." If both India and Kazakhstan were to become members, their policies would be mutually reinforced as India is recognizing the strategic importance of Central Asia and in recent months increased relations with Kazakhstan. India became a full member of the SCO on 11 July 2015. Kazakhstan's and India's presence on the council would challenge the notion that developing countries or "countries in transition" are unable to fulfill the role of power players and would balance out the P5.
As global issues are no longer dominated by a hegemon or a bipolar power structure and cooperation is conducted on a regional level, the UNSC membership is expected to reflect the shift.
Kazakhstan's relations and memberships are on a regional level, but memberships in organizations like the SCO, CSTO, and the EAEU have not provided Kazakhstan the opportunity to make impactful decisions and author substantial policy. Kazakhstan relies on bilateral or multilateral relationships and organizations to execute its policy or to project ideas. Kazakhstan's involvement with organizations like the SCO and CSTO have been narrowly focused primarily on economics and security respectively and often Russia and China set the agenda. Debate continues over the proportionality of representation and "geopolitical shifts have led to the radical changes in the distribution of power, interstate interactions on the global playing field, economic fluctuations, and the growth of political confidence of rising nations."
Kazakhstan within the last ten years has increased participation and has expanded its reach not only through natural resource markets and trade, but also diplomatically. Kazakhstan's further integration is demonstrated accession to the World Trade Organization. Mediating high level talks between Syrian rebels (late May 2015), Iran Nuclear Talks (February and April 2013), and the Ukraine Peace Talks with individual leaders (Putting and Poroshenko) the Normandy Group—France, Germany, Russia, and Ukraine. The talks in Kazakhstan in February and April 2013 made little progress, but were lauded by the Kazakhstan Government as Astana has "consistently advocated for peaceful dialogue and negotiations" and "Kazakhstan "was proud to have made a practical contribution to the negotiations on Iran's nuclear [program.]"
Kazakhstan may not be able to convince Russia or China on many pressing global security issues, but Kazakhstan's participation on the UNSC might mitigate some tension. It is unlikely that Kazakhstan's participation would end badly for Kazakhstan as many of the agitators on the P5—China and Russia—have too much to lose to endanger their diplomatic relations with Kazakhstan. By winning a seat on the UNSC, Kazakhstan will be able to continue its policies it wished to implement during time overseeing the OSCE to better its country and nations facing the same issues.
Kazakh court case tests Chinese power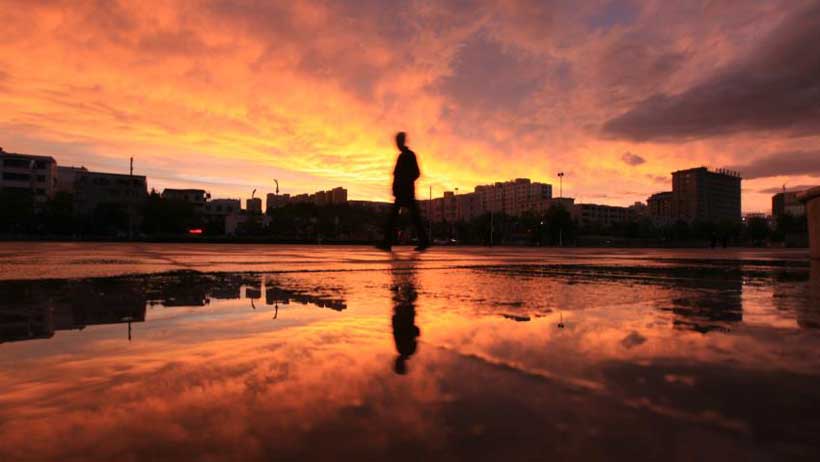 A Kazakh court is set to put to the test China's ability to impose its will and strongarm Muslim nations into remaining silent about its brutal crackdown on Turkic Muslims in the north-western province of Xinjiang.
The court will hear an appeal by a former worker in one of Xinjiang's multiple re-education camps against the rejection of her request for asylum. The appeal illustrates the political quagmire faced by Central Asian nations and Turkey given their ethnic, cultural and linguistic ties to China's estimated 11 million Turkic Muslims that include 1.5 million people of Kazakh descent.
It also highlights China's risky bet on being able to leverage its economic power to ensure the Muslim world's silence about what amounts to the most concerted effort in recent history to reshape Muslim religious practice.
Up to one million Turkic Muslims have, according to the United Nations, been detained in a network of re-education camps in which they are being forced to accept the superiority of Chinese Communist Party beliefs and the leadership of President Xi Jinping above the precepts of Islam.
Beyond the camps, Turkic Muslims in Xinjiang, a strategic minerals-rich province bordering on eight Central and South Asian nations that China has turned into a 21st century Orwellian surveillance state, are forced to refrain from religious practice and custom in public.
After denying the existing of the camps for the longest period of time, China last month felt obliged to acknowledge them and give them legal cover.
Authorities in Xinjiang amended their anti-extremism regulations "to allow local governments to set up institutions to provide people affected by extremist thoughts with vocational skills training and psychological counselling." China asserts that the crackdown is intended to counter extremism, separatism and terrorism.
China's acknowledgement was designed to counter the UN report, threats of US sanctions against officials and companies involved in the Xinjiang crackdown, and revelations by 41-year-old Sayragul Sauytbay, a Chinese national of Kazakh descent.
Ms. Sauytbay testified in an open Kazakh court that she had been employed in a Chinese re-education camp for Kazakhs only that had 2,500 inmates. She said she was aware of two more such camps reserved for Kazakhs.
Ms. Sauytbay was standing trial for entering Kazakhstan illegally after having been detained at China's request.
She told the court that she had escaped to Kazakhstan after being advised by Chinese authorities that she would never be allowed to join her family because of her knowledge of the camps. Ms. Sauytbay was given a six-month suspended sentence and released from prison to join her recently naturalized husband and children.
Since then, Ms. Sauytbay's application for asylum has been rejected and she has until the end of October to leave Kazakhstan. She hopes that an appeal court will reverse the rejection.
Ms. Sauytbay's case puts the Kazakh government between a rock and a hard place and is but one of a string of recent cracks in the Muslim wall of silence.
Kazakh authorities have to balance a desire to kowtow to Chinese demands with a growing anti-Chinese sentiment that demands that the government stand up for its nationals as well as Chinese nationals of Kazakh descent.
Ms. Sauytbay's revelations that ethnic Kazakhs were also targeted in the Chinese crackdown sparked angry denunciations in Kazakhstan's parliament.
"There should be talks taking place with the Chinese delegates. Every delegation that goes there should be bringing this topic up… The key issue is that of the human rights of ethnic Kazakhs in any country of the world being respected," said Kunaysh Sultanov, a member of parliament and former deputy prime minister and ambassador to China.
In a further crack, Malaysia this week released 11 Uyghurs who were detained after having escaped detention in Thailand.
The Uyghurs were allowed to leave the country for Turkey. The move, coming in the wake of a decision by Germany and Sweden to suspend deportations of Uyghurs to China, puts on the spot countries like Turkey and the United Arab Emirates, where Uyghurs risk extradition.
Malaysia's release of the Uyghurs occurred days before Anwar Ibrahim took the first hurdle in becoming the country's next prime minister by this weekend winning a parliamentary by election.
Mr. Ibrahim last month became the Muslim world's most prominent politician to speak out about the crackdown in Xinjiang.
Earlier, Rais Hussin, a supreme council member of Malaysian prime minister Mahathir Mohamad's Parti Pribumi Bersatu Malaysia (Bersatu) party and head of its Policy and Strategy Bureau, cautioned that "that geographical proximity cannot be taken advantage by China to ride roughshod over everything that Malaysia holds dear, such as Islam, democracy, freedom of worship and deep respect for every country's sovereignty… On its mistreatment of Muslims in Xinjiang almost en masse, Malaysia must speak up, and defend the most basic human rights of all."
Pakistan's Religious Affairs and Interfaith Harmony minister, Noorul Haq Qadri, was forced to raise the issue of Turkic Muslims with Chinese ambassador Yao Xing under pressure from Pakistanis whose spouses and relatives had been detained in the Xinjiang crackdown.
Ms. Sauytbay's appeal for asylum is likely to refocus public opinion in Kazakhstan and other Central Asian nations on the plight of their Turkic brethren.
"She will not be deported, we will not allow it," said Ms. Sauytbay's lawyer, Abzal Kuspanov.
Mr. Kuspanov's defense of Ms. Sauytbay is about far more than the fate of a former Chinese re-education camp employee. It will serve as a barometer of China's ability to impose its will. If China succeeds, it will raise the question at what price. The answer to that is likely to only become apparent over time.
Why the upcoming Congress of the Leaders of World is so vital for peace and prosperity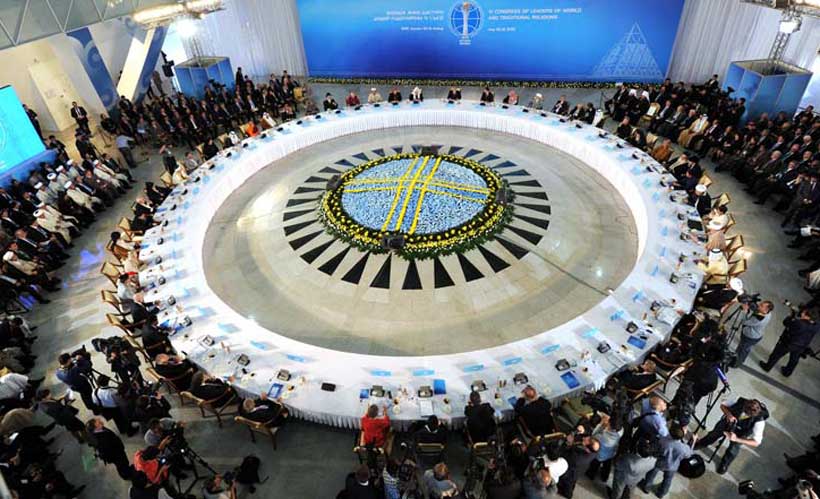 Religion has been, and remains, an immense spiritual force for good in our world. The shared values which underpin all world's major faiths have positively moulded how we treat each other. Religious beliefs give direction, comfort and hope to billions of people.
Religious communities appear to have enormous potential for addressing today's social problems. Faith groups across the globe are prominent in feeding the hungry, sheltering the homeless and caring for the vulnerable.  Our world would be poorer without the impact of religion on our lives.
Throughout history, religion has also been exploited to sow divisions. Instead of bringing people together and encouraging them to behaving decently toward each other, it has been abused to fuel suspicions and hatred, spread confusion about the true essence of religion. We are facing the problem of ignoring what religions have in common and exaggerating and distorting the difference between, and at times within, faiths.
The abuse of religion continues and is undermining hopes for peace and progress. In recent years, many thousands have died and millions more had to flee their homes in conflicts, in which religion has been used to justify discrimination and violence. Countering these dangerous distortions is one of the challenges that religious leaders should address.
There is no single answer. Yet at the heart of the solution is dialogue between religions to foster understanding and respect. This is an overarching aim of the Congress of the Leaders of World and Traditional Religions which is to be held for the sixth time in Kazakhstan's capital Astana this month (October.)
The Congress was initiated by Kazakh President Nursultan Nazarbayev amid the growing religious tensions and extremism following the 9/11 terrorist attack in the United States. He believed it was critical that the opportunity be provided for religious leaders to work together to prevent religion being used to divide us.
His vision has struck a chord across the world. The Congress, which takes place every three years since 2003 has engaged prominent religious leaders and politicians from different countries around most pressing issues. By 2015, the number of delegations attending had increased from 23 to 80. High-profile attendees included then UN Secretary-General Ban Ki-moon, King Abdullah of Jordan and President of Finland Sauli Niinistö. Discussions centred on the role of religion in promoting development and measures to reduce appeal of violent extremism among young people.
The Sixth Congress, which takes place on October 10-11, will build on this efforts. Its focus is on how religious leaders can work together to play their full part in creating a secure world and prevent faith being abused to set people against each other.
Located at a crossroads of different civilizations, Kazakhstan has placed greater importance on promoting religious harmony and mutual respect. Our country's history and geography have combined to create a society in which people of many different backgrounds and faiths live within single boundaries. Religious freedom has become a precious asset of our nation, which allows diverse beliefs to peacefully coexist and helps us to negotiate any concerns in a constructive spirit.
Such a mixture could have been, as it has been the case in other countries, a worrying source of tension and conflict. Despite negative expectations such diversity has been turned into a strength in our society where citizens are equally respected and are able to make their full contribution to the common welfare.
As a matter of fact, while Kazakhstan's population may be largely Muslim, followers of all traditional faiths live in harmony with each other, are free to worship and enjoy equal rights guaranteed by the constitution. It is a source not only of national pride but has also been an indispensable platform for our stability and prosperity at home and growing influence abroad.
In this turbulent world, dialogue and mutual respect has never been more important. Nor has it been more critical to provide the forum where religious and political leaders can work together to prevent any distortion of faith for violent ends. The upcoming Congress is so vital for peace and prosperity.
Reforms Can Accelerate Economic Diversification in Kazakhstan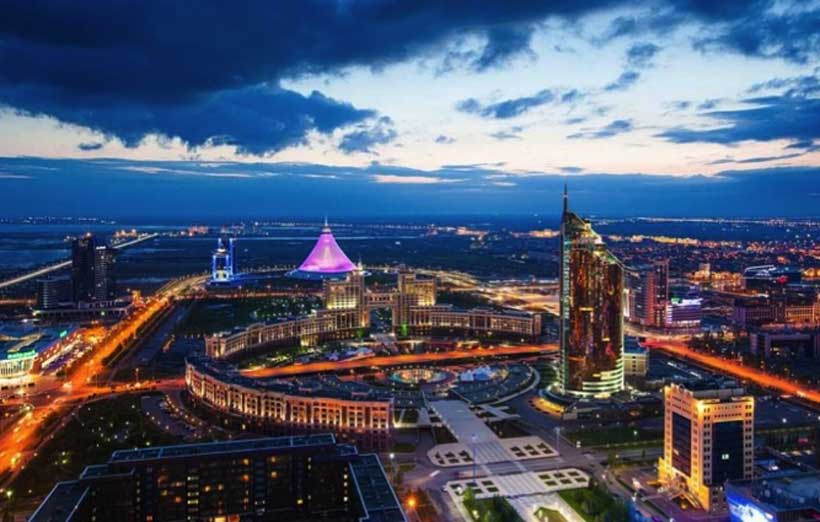 Kazakhstan's future growth depends on reforms that provide a level playing field for the private sector and support economic diversification, according to a new Asian Development Bank (ADB) Country Diagnostic Study launched today.
The study, Kazakhstan: Accelerating Economic Diversification, identifies the most binding constraints to growth and provides in-depth analysis of structural reforms that will bring the country to its growth potential. The report finds that consistent and successful reform efforts can add an average of 1.2 percentage points per year to Kazakhstan's gross domestic product.
"Kazakhstan needs to accelerate structural reforms to support the country's economic diversification," said ADB Country Director for Kazakhstan Mr. Giovanni Capannelli. "These reforms include improving the country's business climate, enhancing competitiveness, and increasing private sector participation in the economy."
Kazakhstan's economy has transformed since its independence in 1991, mainly due to a surge in oil and gas exports. While the country achieved middle-income status in 2006, the downturn of oil and other commodity prices in 2014 exposed the country's vulnerability to external shocks and constrained government revenues.
Future growth will depend on identifying sectors in which Kazakhstan has a strong growth potential, according to the study. These include food processing, basic metals, and chemicals. In agriculture, redirecting subsidies toward investment in infrastructure, improving access to finance, and promoting innovation can substantially boost productivity. Greater investment in infrastructure is essential to provide a link to unexploited markets, decrease transport costs, and support the production of tradable goods. Transit trade has a large growth potential, while increasing the efficiency of transport infrastructure can generate additional growth from other tradable sectors such as manufacturing, the report said.
ADB began supporting Kazakhstan in 1994 and has since approved over $5 billion in sovereign loans, nonsovereign loans, and guarantees. ADB operations in Kazakhstan are helping open up transport routes, foster private enterprise, address inequalities, promote inclusive growth, and deliver knowledge products and services. ADB also contributes to Kazakhstan's participation in the Central Asia Regional Economic Cooperation (CAREC) program.