Kazakhstan: United Nations Security Council 2017-2018
Kazakhstan, in an attempt to build its reputation as mediator and the leading country in Central Asia, is seeking a position on the 15-member nonpermanent United Nations Security Council for 2017-2018.
Kazakhstan outlined its global priorities for its position on the prestigious governing and security body via the "Kazakhstan: United Nations Security Council 2017-2018" web site. Kazakhstan's priorities are: food security, water security, energy security and nuclear security. The campaign for Kazakhstan's seat for 2017-2018 launched in September 2014; the Government of Kazakhstan declared its candidacy for the seat on 1 June 2010. A promotional video was also released in late 2013.
The four priorities are vital to the stability of the Central Asia states particularly the issue of water security as the Aral Sea is nearly depleted and diplomatic spats between Uzbekistan and Tajikistan over water resources and the Rogun Dam. Water and energy security are the most prominent as the Central Asia states are primarily land locked developing countries and are resource rich. Many attempts have been made by Kazakhstan to rectify this issue through agreements: Concerning Use of Water and Energy Resources in Syr Darya River Basin (1998); A Kazakh-Chinese Joint Commission on the Use and Protection of Transboundary Rivers has been founded to regulate the use of water resources with China and resuscitating the Aral Sea. Kazakhstan's Working Paper for the UNSC is already available on Kazakhstan's UNSC website.
Kazakhstan's current international commitments (even if unmet) and current programs are consistent with UNSC priorities: Initiated the Congress of Leaders and Traditional Religions, Launched the Conference on Interaction and Confidence Building Measures in Asia (CICA), and held the chairmanship of the Organization of Islamic Cooperation and the Organization for Security and Cooperation in Europe (OSCE) in 2010.
Kazakhstan maximizes the benefits of high-profile positions in seemingly low-level and weak organizations and committees. While the Chairmanship of the OSCE should not be downplayed— as Kazakhstan is a consolidated autocracy and the first former Soviet Republic to hold the position— the OSCE has been perceived as weak and unable to enforce its mandate and compliance. The organization failed to hold countries accountable for their human rights violations and make headway on transparency. Having a human rights violator (Kazakhstan) as the lead for Europe's primary watchdog group was expected to damage the OSCE's reputation. Kazakhstan's location in a "rough neighborhood" made Kazakhstan a great candidate "to advance the organization's mandate, invigorate efforts to settle existing conflicts, and generate discussions on important security, economic, and human development matters" according to the Center for Strategic and International Studies. Kazakhstan's legacy was adding a "Eurasian dimension," by "highlighting security problems stemming from the Afghan conflict, potential failed states, destabilizing economic and environmental problems, and vexing human rights issues."
Kazakhstan has failed to implement the principles of OSCE and its own commitments. Human rights in Kazakhstan before and after the OSCE chairmanship were poor. Journalists continued to be jailed, freedom of speech and religion is restricted, and the government imprisons human rights defenders and activists. After Kazakhstan's 2010 chairmanship, the country struggles to consolidate democratic reforms, create a multi-political party system, guarantee freedom of press/speech and human and political rights for all. Arbitrary detention is still rampant despite the government passing the National Prevention Mechanism on Torture in 2014 according to Human Rights Watch. Laws established to support human rights are sophistry and are never enforced, but are passed to make it appear that Kazakhstan is upholding its obligations. Kazakhstan has made great strides compared to many of its neighbors falling behind and struggling with implementing basic governance.
Kazakhstan is scooping up high-profile chairmanships in regional organizations for two primary reasons: to advance Kazakhstan's image as a peacemaker and mediator; and to fulfill President Nazarbayev's vision for Kazakhstan of being the "Eurasian Bridge," linking Asia to Europe. With a track record of high participation in international organizations, Kazakhstan can benefit from and build lasting trade and political and economic relationships. Obtaining the UNSC seat reinforces Nazarbayev's multi-vector foreign policy and adds diversity to the Asia bloc of countries of the 15 member UNSC.
If granted the 2017-2018 UNSC seat, Kazakhstan would be able to move beyond its regional problems while addressing global issues most importantly nuclear security and energy security. Kazakhstan has experience with global threats (nuclear security), extremism, and terrorism. This includes, but not limited to, renewing and strengthening arms control agreements, cracking down on organized crime involving nuclear materials, and negotiating intra-regional water agreements/arrangements in Central Asia. Kazakhstan's history with nuclear work can be considered soft diplomacy: passing the annual "International Day Against Nuclear Tests" (29 August); and starting the NGO, the ATOM project, aimed at stopping nuclear testing and to bring awareness about the physical and environmental devastation caused by nuclear testing.
Kazakhstan, while pursuing these initiatives, offers the UNSC non-permanent Security Council distinct advantages. Kazakhstan would expectedly act as a mediator, but many members such as Russia and China, may attempt to exploit Kazakhstan's membership, calling on Kazakhstan for support, as China and Russia tend to veto and block actions by other UNSC members. Kazakhstan, in such a scenario, would most likely abstain or make the decision reinforcing its "mediation" stance. This would be no surprise to Russia. From an international security perspective (beyond the issue of nuclear terrorism), Kazakhstan aligns itself with Russia-led organizations as they primarily deal with regional issues such as separatism, extremism, and terrorism. Kazakhstan would also serve as the outlier of the Soviet states (along with the Baltics) that is able to disagree with Russia without retaliation. As a result of the multi-vector foreign policy, Kazakhstan has friendly (or stable) relationship with most P5 members.
India supports Kazakhstan's seat on the 15 member UNSC as "both leaders affirmed their commitment to the negotiations on comprehensive reform of the council." According to the Astana Times, "Nazarbayev reiterated his country's support for India's application to be a permanent member of the expanded UN Security Council." If both India and Kazakhstan were to become members, their policies would be mutually reinforced as India is recognizing the strategic importance of Central Asia and in recent months increased relations with Kazakhstan. India became a full member of the SCO on 11 July 2015. Kazakhstan's and India's presence on the council would challenge the notion that developing countries or "countries in transition" are unable to fulfill the role of power players and would balance out the P5.
As global issues are no longer dominated by a hegemon or a bipolar power structure and cooperation is conducted on a regional level, the UNSC membership is expected to reflect the shift.
Kazakhstan's relations and memberships are on a regional level, but memberships in organizations like the SCO, CSTO, and the EAEU have not provided Kazakhstan the opportunity to make impactful decisions and author substantial policy. Kazakhstan relies on bilateral or multilateral relationships and organizations to execute its policy or to project ideas. Kazakhstan's involvement with organizations like the SCO and CSTO have been narrowly focused primarily on economics and security respectively and often Russia and China set the agenda. Debate continues over the proportionality of representation and "geopolitical shifts have led to the radical changes in the distribution of power, interstate interactions on the global playing field, economic fluctuations, and the growth of political confidence of rising nations."
Kazakhstan within the last ten years has increased participation and has expanded its reach not only through natural resource markets and trade, but also diplomatically. Kazakhstan's further integration is demonstrated accession to the World Trade Organization. Mediating high level talks between Syrian rebels (late May 2015), Iran Nuclear Talks (February and April 2013), and the Ukraine Peace Talks with individual leaders (Putting and Poroshenko) the Normandy Group—France, Germany, Russia, and Ukraine. The talks in Kazakhstan in February and April 2013 made little progress, but were lauded by the Kazakhstan Government as Astana has "consistently advocated for peaceful dialogue and negotiations" and "Kazakhstan "was proud to have made a practical contribution to the negotiations on Iran's nuclear [program.]"
Kazakhstan may not be able to convince Russia or China on many pressing global security issues, but Kazakhstan's participation on the UNSC might mitigate some tension. It is unlikely that Kazakhstan's participation would end badly for Kazakhstan as many of the agitators on the P5—China and Russia—have too much to lose to endanger their diplomatic relations with Kazakhstan. By winning a seat on the UNSC, Kazakhstan will be able to continue its policies it wished to implement during time overseeing the OSCE to better its country and nations facing the same issues.
Shifting Sands: Chinese encroachment in Central Asia and challenges to US supremacy in the Gulf
China and Russia are as much allies as they are rivals.
A joint Tajik-Chinese military exercise in a Tajik region bordering on China's troubled north-western region of Xinjiang suggests that increased Chinese-Russian military cooperation has not eroded gradually mounting rivalry in Central Asia, long viewed by Moscow as its backyard.
The exercise, the second in three years, coupled with the building by China of border guard posts and a training centre as well as the creation of a Chinese security facility along the 1,300 kilometre long Tajik Afghan Border, Chinese dominance of the Tajik economy, and the hand over of Tajik territory almost two decades ago, challenges Russian-Chinese arrangements in the region.
The informal arrangement involved a division of labour under which China would expand economically in Central Asia while Russia would guarantee the region's security.
The exercise comes days after China and Russia operated their first joint air patrol and months after Tajik and Russian forces exercised jointly.
The "exercise represents a next step in China's overall encroachment upon Russia's self-proclaimed 'sphere of influence' in Central Asia," said Russia expert Stephen Blank.
"Moscow has given remarkably little consideration to the possibility that China will build on its soft power in Central Asia to establish security relationships or even bases and thus accelerate the decline of Russian influence there," added Eurasia scholar Paul Goble.
The perceived encroachment is but the latest sign that Russia is seeking to balance its determination to ally itself with China in trying to limit US power with the fact the Chinese and Russian interests may be diverging.
The limitations of Russian Chinese cooperation have long been evident.
China, for example, has refrained from recognizing Russian-inspired declarations of independence in 2008 of two regions of Georgia, Abkhazia and South Ossetia that recently sparked anti-government protests in Tbilisi.
China similarly abstained in a 2014 United Nations Security Council vote on a resolution that condemned Russia's annexation of Crimea.
Meanwhile, Chinese dependence on Russian military technology is diminishing, potentially threatening a key Russian export market. China in 2017 rolled out its fifth generation Chengdu J-20 fighter that is believed to be technologically superior to Russia SU-57E.
Perhaps most fundamentally, Chinese president Xi Jinping opted in 2013 to unveil his Belt and Road initiative in the Kazakh capital of Astana rather than Moscow.
By doing so and by so far refusing to invest in railroads and roads that would turn Russia into a transportation hub, Mr. Xi effectively relegated Russia to the status of second fiddle, at least as far as the Belt and Road's core transportation infrastructure pillar is concerned.
China's recently published latest defense white paper nonetheless praised the continued development of a "high level" military relationship with Russia that is "enriching the China-Russia comprehensive strategic partnership of coordination for a new era and playing a significant role in maintaining global strategic stability."
In a bid to ensure Russia remains a key player on the international stage and exploit mounting tension in the Gulf, Russian deputy foreign minister and special representative to the Middle East and Africa Mikhail Bogdanov this week proposed a collective security concept that would replace the Gulf's US defense umbrella and position Russia as a power broker alongside the United States.
The concept would entail creation of a "counter-terrorism coalition (of) all stakeholders" that would be the motor for resolution of conflicts across the region and promote mutual security guarantees. It would involve the removal of the "permanent deployment of troops of extra-regional states in the territories of states of the Gulf," a reference to US, British and French forces and bases.
Mr. Bogdanov's proposal called for a "universal and comprehensive" security system that would take into account "the interests of all regional and other parties involved, in all spheres of security, including its military, economic and energy dimensions" and ensure the provision of humanitarian assistance.
The coalition to include the Gulf states, Russia, China, the US, the European Union and India as well as other stakeholders, a likely reference to Iran, would be launched at an international conference on security and cooperation in the Gulf.
It was not clear how feuding Gulf states like Qatar, Saudi Arabia, the United Arb Emirates and Iran would be persuaded to sit at one table. The proposal suggested that Russia's advantage was that it maintained good relations with all parties.
"Russia's contributions to the fight against Islamic terrorist networks and the liberation of parts of Syria and Iraq can be regarded as a kind of test for the role of sheriff in a Greater Eurasia" that would include the Middle East, said political scientist Dmitry Yefremenko.
Mr. Putin this week asserted himself as sheriff by signalling his support for embattled former Kyrgyz president Almazbek Atambayev, a Putin crony who has been charged with corruption. Following a meeting in Moscow, Mr. Putin urged Mr Atembayev's nemesis. president Sooronbai Jeenbekov, not to press charges.
At the same time, Mr. Putin, building on his visit to Kyrgyzstan in March, offered Mr. Jeenbekov a carrot.
Kyrgyzstan "needs political stability. Everybody needs to unite around the current president and to help him develop the state. We have many plans for cooperation with Kyrgyzstan and we are absolutely determined to work together with the current leadership to fulfill these plans," Mr. Putin said.
Russia and Kyrgyzstan signed an agreement during the visit to expand by 60 hectares the Kant Air Base 20 kilometres east of the capital Bishkek that is used by the Russian Air Force and increase the rent Russia pays.
Mr. Putin further lavished his Kyrgyz hosts with US$6 billion in deals ranging from power, mineral resources and hydrocarbons to industry and agriculture.
Mr. Putin also allocated US$200 million for the upgrading of customs infrastructure and border equipment to put an end to the back-up of dozens of trucks on the Kazakh-Kyrgyz border because Kyrgyzstan has so far been unable to comply with the technical requirements of the Russia-led Eurasian Economic Union (EEU).
Uzbek president Shavkat Mirziyaev last month gave the EEU, that groups Russia, Kazakhstan, Kyrgyzstan Belarus, and Armenia, a boost by declaring that Uzbekistan would need to join the trade bloc to ensure access to its export markets.
EEU members account for 70 percent of Uzbek exports.
Said Russia and Eurasia scholar Paul Stronski: "China's deft diplomacy towards Russia — along with both states' desires to keep the West out of their common backyard — has kept tensions behind closed doors. But with China now recognising it may need to strengthen its security posture in the region, it is unclear how long this stability will last."
Located at the new center of global attraction for economic activity, Pakistan and Uzbekistan share a long string of relations. After the independence from the soviets, Pakistan was among the first countries to recognize it. In 1992, Pakistan established their first diplomatic sanctuary in Tashkent. Since then delegations from both the countries paid visits to each other.
The bond shared between the two countries, that lie in close proximity, is strengthened by similar eastern culture and fortified by the religious ties. This sharing of cultural and religious values is clearly visible in the national language of Pakistan which borrows thousands of words from Uzbekistani language. This nexus is now getting even stronger with the increase in co-operations in social and economic sectors.
Relations between both the states saw an unprecedented growth in recent times and this social integration is ever growing. During the last year only,
63events such as seminars, presentations and business forums were arranged for general public. Whereas, the Uzbek Embassy had a significant number of bilateral meetings with the top tier of business community including several associations and unions. The same sentiment was reciprocated by Pakistani side when more than 50 companies paid visit to Uzbekistan with the purpose of investment. There were a number of exhibitions, events and investment forums in Tashkent, Jizzakh and Bukhara. Eight different Pakistani companies participated in such events.
Uzbekistan and Pakistan have also been working on 38different joint ventures for launching import/export operations.
In economic sphere, Islamabad and Tashkent hold great trade potential. In just 2018, the mutual trade between both countries crossed USD 98.4 million's mark, which means a raise of around 170%.Prior to 2018 in 2017 numbers of economic activity between two states were low and accounted for just USD 36.6 million.
In 2018 Pakistani export to Uzbekistan increased for 150% and amounted 66 million USD (in 2017 – 26 million USD).
Last year Ambassador of Uzbekistan to Pakistan Mr. Furqat A. Sidikov while addressing business community at Islamabad Chamber of Commerce and Industry expressed that trade volume between Pakistan and Uzbekistan has the potential to rise up to USD 1billion in next 5-6 years. It clearly signifies that both countries can provide enormous benefit to each other's socio-economic segment. Pakistan has been exporting edibles like mango, citruses, raw and refined sugar. Furthermore, chemical products, pharmaceutical products, and leather and textile goods are major exports of Pakistan to Uzbekistan.
Uzbekistan is also a hub for petrochemical goods, cotton and silk goods. Its exports to Pakistan includes: leather raw materials, petrochemical products and mineral fertilizers, cotton yarn, cotton fiber, raw silk, plastic products, agricultural machinery, clothing, etc. Not only this, dry fruits and vegetables are also exported from Uzbekistan to Pakistan.
In 2018 Uzbekistan-Pakistan Business Council was established in Islamabad in order to facilitate and support the business community in two countries. Apart for this, several forums are also established in main cities of Pakistan to boost up the economic potential.
Accessibility remains a key subject in establishing people to people relations thus recognizing this flight route from Tashkent-Lahore-Tashkent was resumed in April of 2017. Both states also look forward to initiate new routes from Islamabad and Karachi as well. Earlier in May Uzbekistan's Ambassador to Pakistan had a meeting with Chairman Senate of Pakistan to discuss the inter-parliamentarian cooperation between Pakistan and Uzbekistan. Sideways to expanding parliamentarian relations it was also discussed to further strengthen the cooperation on transport sector to provide uninterrupted route to trade of goods.
Both countries share many economical and regional platform and are member of Organization of Islamic countries (OIC), Shanghai Cooperation Organization (SCO), and Economic Cooperation organization (ECO)and others. Multiple times these platforms were used to freshen up the relations between two countries. Based on mutual trust both countries can have free trade agreements to amplify the relations between them.
Enormous potential lies in social, economic and political sectors on which both countries can work. Both countries can play a key role in bringing peaceful non-military solution to misery in Afghanistan as well as in the region. Pakistan needs to explore new avenues for cooperation with countries like Uzbekistan and extract the maximum benefit for itself.
Uzbekistan understands importance of Pakistan in keeping stability and prosperity of the whole South Asian region. Both countries are interested in continuing bilateral partnership on all key issues of the regional security and stability agenda, including the conflict resolution in Afghanistan and expansion of infrastructure, trade and economic ties between Central Asia and Pakistan.
Uzbekistan initiated logistic project that project will include the construction of the massive railroad transport corridor "Uzbekistan-Afghanistan-Pakistan". In details, this corridor will compose the rail line "Uzbekistan-Mazarisharif" which has been already realized between Uzbekistan and Afghanistan as well as construction of new rail road "Mazari-Sharif-Kabul-Peshawar".
In perspective, full realization of this unique transport corridor, will make Pakistan as a Central regional trade hub between South Asian and Central Asian regions.
No More Business as Usual: Improving Water Usage in Central Asia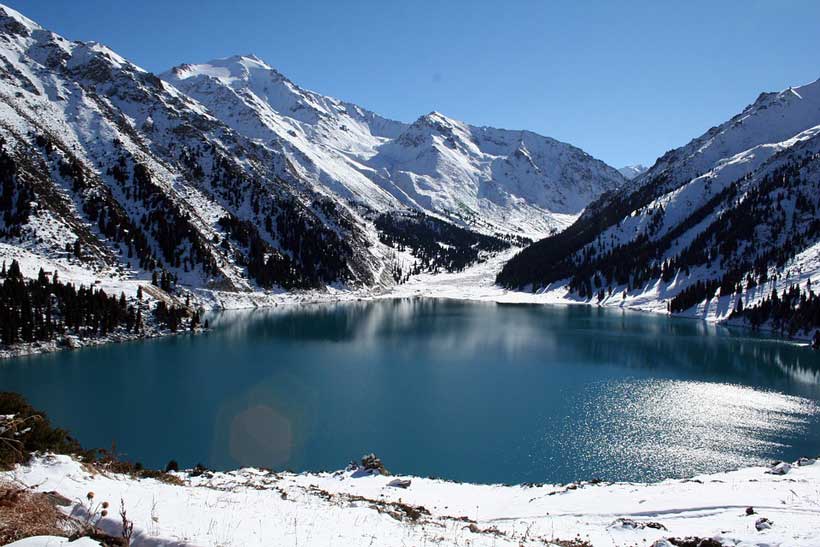 Central Asia's future economic development, including its energy and water security, depends to a great extent on how effectively countries manage their natural water supplies, especially under increased pressures from climate variability, economic growth, and population expansion.
The population of Central Asia is expected to grow by around 30% by 2050. As such, demand for water services will also increase significantly.
Central Asia is heavily dependent on agriculture, which provides livelihoods for about 50% of the population in some countries. But its level of water productivity is one of the lowest in the Europe and Central Asia region. More efficient use of water in the economy could significantly contribute to increased agricultural productivity, green energy production and the health of the region's environmental assets.
According to estimates, the adoption of modern agricultural techniques and methods could increase the region's crop yields by over 20% by 2030, and by 50% by 2050. On the other hand, if countries continue a "business as usual" approach, Central Asia is among the regions that could experience a significantly negative impact on GDP under climate change. Each year, inadequate water supply and sanitation leads to overall economic costs equivalent to around $2.1 billion, although these costs differ from country to country – ranging from almost 0.5% of GDP in Kazakhstan to around 4.25% in Tajikistan (2017 data).
"The water agenda in Central Asia is always viewed through the lens of the Aral Sea disaster," said Ato Brown, World Bank Country Manager for Kazakhstan. "Today, it is high time for us to start changing the narrative so that Central Asia is known for being an oasis of production and productivity."
According to a World Bank report, Central Asia is among the regions that have most to gain from properly managing water resources under climate change.
Most of the major rivers in Central Asia cross borders, therefore countries need to coordinate water management to advance sustainable development and climate resilience.
Water resources in the region are sensitive to climate variability, which poses significant challenges to the agriculture and energy sectors.
Since the 1950s, average annual temperatures have increased by 0.5°C in the mountainous areas of southern Central Asia, and glaciers that feed the region's main rivers – Amu Darya and Syr Darya – have shrunk by a third. With the melting of glaciers, the expected fall in river flows will have a major impact on agricultural production.
By 2025, hydropower is expected to overtake gas as the main fuel source for energy production in Central Asia. Where hydroelectricity production is based on reservoir storage, there can be flow management benefits for climate change adaptation, including flood and drought prevention and mitigation, as well as timely delivery of irrigation and drinking water.
"Central Asian countries need to start with a joint project, and there are opportunities for working together," said Ato Brown at the Astana Economic Forum. If the countries of Central Asia invest sufficiently and effectively in better water management, they have the potential to become not just economically prosperous and resilient to climate change – but also to provide new opportunities and hope for all their citizens.