Will Jonathan Pollard's release sooth U.S.-Israel tensions over Iran?
Welcome to the Caspian Daily, where you will find the 10 most important things you need to know on Caspian Sea Region. We appreciate ideas, reports, news and interesting articles. Send along to Caspian[at]moderndiplomacy.eu or on Twitter: @DGiannakopoulos
1Congress is due to finish its review of the deal and vote on it in September. If that process gets completed, by November — when Pollard will go free — Netanyahu's calculations might be different."If Netanyahu wanted to climb down from the tree, if he wanted to make amends with the U.S., the Pollard … release would be a great way to do it," Sachs, a fellow with the Brookings Institution's Center for Middle East Policy said. [CNN]
2Why the Iran deal is huge for Obama's legacy. "From the moment he took office, the Obama doctrine — to the extent that one exists — basically boiled down to this: Diplomacy with so-called enemy countries can be effective, said Jeremy Shapiro, a foreign policy fellow at Brookings Institute and former State Department aide. Obama has been testing that theory on Iran literally since Day One, in part because nuclear nonproliferation has also been a central focus of his presidency. He became the first U.S. president to use the word "Muslim" in his inaugural address, offering to extend a hand to world leaders "if you are willing to unclench your fist." [Washington Post]
3If Russia breaks up. "If Mr Putin goes and the money runs out, Chechnya could be the first to break off. This would have a dramatic effect on the rest of the north Caucasus region. Neighbouring Dagestan, a far bigger and more complex republic than Chechnya, could fragment. A conflict in the Caucasus combined with the weakness of the central government in Russia could make other regions want to detach themselves from Moscow's problems" [Economist]
4Kazakhstan trade likely to bloom. A full picture of the Kazakhstani market and its business opportunities was unveiled at a forum held in Ha Noi yesterday. Viet Nam and Kazakh-stan signed a number of framework agreements on economic, trade, diplomatic, education, investment, labour and energy co-operation in recent years, said Vice Chairman of the Viet Nam Chamber of Commerce and Industry (VCCI) Doan Duy Khuong. According to Viet Nam's General Department of Customs, trade between the two countries was almost US$230 million in 2014, with $219 million from Viet Nam's exports, up 42 percent year-on-year. Exports consisted primarily of cell phones and electronic spare parts, machinery and farm produce. Imports, meanwhile, doubled, including ore and minerals.
5Navies of Azerbaijan, Russia and Kazakhstan has set to hold trilateral naval drills, RIA Novosti reported on July 30 with a reference to Igor Dygalo, the representative of the press service of Russian Defense Ministry on Navy."As part of the preparations for the "Cup of the Caspian Sea – 2015″ competition, the ships of the Navies of Russia, Kazakhstan and Azerbaijan will conduct a number of preparatory artillery shooting on small maritime targets, on air targets and on a floating mine," Dygalo noted.Holding joint naval drills among the CIS member-states' navies was agreed in Astrakhan on November 9, 2014. An international competition called "Cup of the Caspian Sea – 2015" is the first ever joint exercises in the Caspian Sea.
6Turkey is ready to distribute gas not only from Russia but also from Azerbaijan and Iran in Europe, general director of Russia's National Energy Security Fund Konstantin Simonov said in an interview aired by the Rossiya-24 TV news channel on Thursday."Turkey also plans to transit gas from Azerbaijan and Iran. It appears that it may take the same position regarding this gas," he said when speaking about the intergovernmental agreement between Russia and Turkey on 2-4 lines of the Turkish Stream to deliver Russian gas to European states.
7President of Turkmenistan Gurbanguly Berdimuhammadov and President of Russia Vladimir Putin expressed confidence in the prospects of intensifying mutually advantageous cooperation during a telephone conversation. As part of the conversation, which was held in a businesslike, constructive manner, the highest attention was paid to the discussion of the implementation of earlier agreements, designed to serve the deepening of partnership built on principles of equality, trust and mutual respect.Among the significant vectors of cooperation, the sides mentioned the trade and economic sphere, transport and communication, urban development, agroindustrial complex and other spheres.
8Russia is modernizing its S-300 missile system to supply to Iran, an adviser to Russian President Vladimir Putin said on Thursday, RIA news agency reported. "It has partially been updated, separate elements are still being updated," said Vladimir Kozhin, a presidential adviser on military matters, referring to the S-300 system. "It will be that very S-300 complex that Iran wanted to receive." Russia says it canceled a contract to deliver the advanced missile system to Iran in 2010 under pressure from the West. But Putin lifted that self-imposed ban in April following an interim nuclear deal between Iran and world powers.
9The commissioning of Baku-Tbilisi-Kars (BTK) railway will further increase the importance of Azerbaijan Railways CJSC and Georgian Railway JSC in freight transportation within the region and will enhance their business profiles, said Fitch Ratings July 30.Fitch said that the freight rail transportation volumes continued to decline in most former Soviet Union (FSU) countries over the first five months of 2015 and it is expected that the rail volumes are to remain weak in the second half of this year on the back of lower GDP growth across the region."FSU rail transport companies that are reliant on crude oil transportation are also under competitive pressure as crude oil traffic continues to switch to pipelines from rail," said the ratings agency.
10Seven start-up projects from Kazakhstan along with two start-up projects from Kyrgyzstan and Ukraine have become winners of Technation acceleration program for start-up teams from CIS (post-soviet space), Europe and Asia. The winners will travel to Silicon Valley – a land of innovation and start-ups – in the United States in October 2015 for a one-month internship.
Partnering for Africa's future: Exhibition on UNIDO-Japan cooperation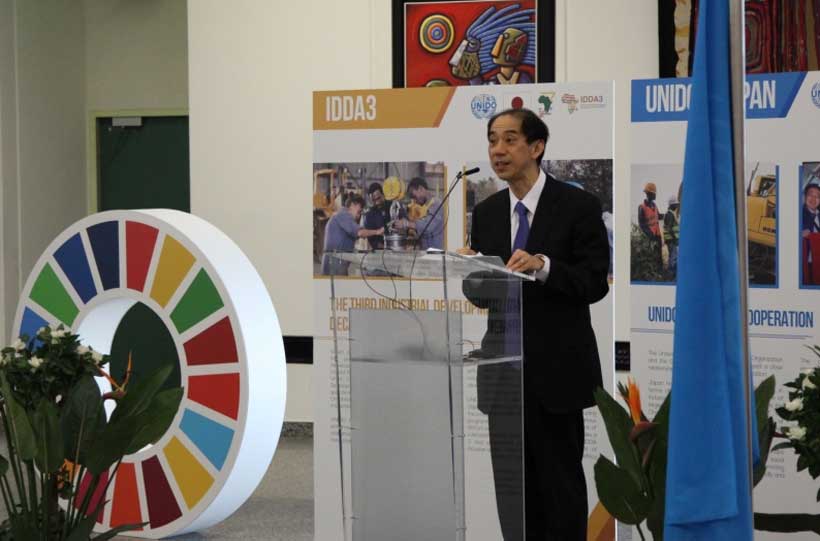 An exhibition highlighting cooperation between Japan and the United Nations Industrial Development Organization (UNIDO) for African industrial development has opened at the Vienna International Centre.
The exhibition showcases UNIDO and Japan cooperation on the Tokyo International Conference on African Development (TICAD) first held in October 1993, and on the implementation of the Third Industrial Development Decade for Africa (IDDA 3).
A series of panels address the Government of Japan's efforts on human security in relation to an array of UNIDO projects benefitting the most vulnerable groups by fostering human security and post-crisis rehabilitation. Others show the UNIDO-Japan multi-dimensional approach to a transition towards a sustainable energy future by fostering sustainable energy solutions and developing climate resilient industries for Africa.
At the exhibition's opening ceremony, the Deputy to the Director General of UNIDO, Hiroshi Kuniyoshi, said, "Japan and UNIDO are proud of a solid and trusted partnership to reduce poverty, and enhance inclusiveness while safeguarding the environment."
In his remarks, His Excellency Mitsuru Kitano, Permanent Representative of Japan to the International Organizations in Vienna, said, "It is our strong hope that this exhibition will spark discussions on the strengthening of Africa's ownership and international partnership. Africa's industrial development is our common goal, and common future."
Over the last five years, Japan has provided US$13m to fund 18 projects in various African countries in the field of human security and the humanitarian-development nexus. In the area of renewable energy, two important projects are being funded with US$25m. Last year, to reinforce the UNIDO Secretariat's capacity to focus on Africa and IDDA3, Japan made a new contribution of US$1.1m.
Her Excellency Vivian Okeke, Ambassador Extraordinary and Plenipotentiary, Permanent Representative of Nigeria to UNIDO, who represented the African Group of UNIDO member states, said, "I am happy that this exhibition highlights specific projects by Japan and UNIDO in Africa, especially in focus areas that are in line with the Sustainable Development Goals and Africa's priorities, such as climate change, investment and technology, human security and post-conflict rehabilitation."
UNIDO's Kuniyoshi also remarked that "a hallmark of the UNIDO-Japan cooperation is the strong foreign direct investment component, the centrality of technology transfer and the very important presence of the Japanese private sector." He mentioned the partnerships between Japanese companies and African partners, which have been supported by the UNIDO Investment and Technology Promotion Office (ITPO) in Tokyo.
Coinciding with the opening of the exhibition, the UNIDO ITPO Tokyo has organized a series of meetings at which Japanese technology providers will present their services to UNIDO staff.
Vietnam needs to embrace "Doi Moi 4.0" to sustain high quality growth
Vietnam should make a strategic shift towards a more productivity and innovation-based economy while making the most of the ongoing demographic dividend to sustain high quality growth over the next decade.
This is among the main recommendations from the joint report between the World Bank and the Vietnam Academy of Social Sciences on the new economic model to help Vietnam achieve high-quality growth for the 2021-30 period.
The report, which is being prepared with support from the Australian Government, proposes the Vietnam's new economic model in 2021-2030 to center around three breakthroughs: innovation and entrepreneurship, human capital, and modern institutions.
"This report will help begin an exciting new chapter in Vietnam's economic growth story," said His Excellency Craig Chittick, Australian Ambassador to Vietnam. "A chapter that embraces innovation, promotes bold reform, and helps Vietnam achieve its ambitious development goals."
To avoid the middle-income traps, experts contend that Vietnam will have to maintain a growth rate in the range of 7 to 7.5% for the 2021-30 period, higher than the average rate of 6.3% of the last ten years.
"We are living in the era of disruptive technologies that presents both challenges as well as opportunities – I would like to call it 'Doi Moi 4.0'," said Ousmane Dione, Country Director for The World Bank in Vietnam. "To mitigate these risks and seize the opportunities Vietnam needs to accelerate reforms that boost productivity and innovation as key drivers of growth in the coming decade including steps to remove bottlenecks for private sector investment, enhance public sector institutions and invest in 21st century skills of the workforce."
The report finds that the labor-intensive, export-led growth model Vietnam pursued during 2011 – 2020 has increasingly become obsolete against the context of Industrial Revolution 4.0, maturing global value chains, premature deindustrialization, and rising role of services.
Gender equality, justice in law and practice: Essential for sustainable development
Fundamentally linked to human development, gender justice requires ending inequality and redressing existing disparities between women and men, according to a high-level United Nations forum on the situation in Arab States.
Laws that promote gender equality "will help the Arab region move forward on the issue of justice and equality for women", Jordan Ambassador to the UN Sima Bahous, told UN News after chairing the forum centered around the study with the same name: Gender and Law Justice, Evaluation of Laws Affecting Gender Equality in the Arab States.
Gender equality is achieved when both sexes enjoy the same rights and opportunities across society, including access to justice and to economic and social gains. The study stressed that sustainable development goals cannot be achieved without ensuring gender equality in law and practice.
On 14 March, on the margins of the 63rd session of the Commission on the Status of Women (CSW), the UN Development Programme (UNDP), the Economic and Social Commission for West Asia (ESCWA), Population Fund (UNFPA) and the Women's Fund (UNIFEM) organized the conference, which discussed discrimination and criminal, personal status and labour laws across 18 Arab countries.
"Human development means expanding opportunities for women and men to improve their lives and education, and create better opportunities", Ms. Bahous explained.
Room in Arab region for women's equality
Gender justice relies on accountability and equality.
Salma Al-Nemes, Secretary General of the Jordanian National Committee for Women, spoke about the forum's importance, saying that it aims to "emphasize that there is still room in the Arab region to achieve women's equality."
She stressed that problems can only be solved if they are recognized, and that countries can benefit "from the experiences of the Arab and Islamic countries that have achieved equality and build on this by adapting it to national reality."
Because national and local contexts differ, Ms. Al-Nemes acknowledged that "we must examine how to meet these challenges in an appropriate context so that we can achieve equality not only in legislation, but in practice as well".
For her part, Naziha el Obaidi, Minister of Women, Family, Childhood and the Elderly of Tunisia, told UN News about her Government's decree that "when considering the appointment of a senior official in the country, four biographies of candidates, two for women and one for men, should be submitted."
Also in Tunisia, the law of 'horizontal equinoxes and vertical equinoxes' states that if an electoral list is headed by a woman, a man must hold the second position, and vice versa. Ms. el Obaidi credited this with women's participation nearly 48 per cent of municipalities, noting that this law will also be implemented in the legislative elections.
Honour crimes
Because gender-based violence is a major barrier to gender justice, Gender justice and the law closely examines its various forms, including sexual, physical and psychological and economic violence, assessing laws and policies that affect gender equality and protect against gender-based violence.
For example, the penalties for committing so-called honour crimes – which include murder, wounding and beating – vary, depending on the country.
In Algeria, Bahrain, Morocco, Qatar, Syria and Yemen a sentence can be reduced if a "spouse" is caught in an act of adultery.
Whereas in Djibouti and Sudan there are no specific provisions identified in the Penal Code to reduce penalties for these crimes.
Leniency for perpetrators of honour crimes against women in Saudi Arabia is not codified in the law, so men are sentenced at the court's discretion.
Meanwhile, the Penal Code in Egypt spells out that if a husband kills his wife committing adultery, he and the man with whom she was with would receive reduced penalty not to exceed three years in prison.
Should "a person" kill a wife, daughter or sister, or her sexual partner, in the sudden heat of rage after finding her in a sexual act in Somalia, the penal code requires a reduced sentence.
If a man kills his wife or one of his female relatives while engaging in the act of adultery in Iraq, he would be incarcerated for no more than three years. In Libya the sentence would not exceed eight years.
At the same time, some countries repealed reduced sentences for honour crimes, such as Lebanon in 2011, Oman in 2001 and Tunisia in 1993.
While the penal code in Jordan was amended in 2017 to prevent reduced penalties for honour crimes, the original mitigated penalties for murdering a spouse caught in the act of adultery has yet to be removed. Similarly, mitigation of penalties for honour crimes in the Occupied Palestinian Territories were repealed in 2011 in the West Bank and 2018 in Gaza, however, the Government there has not applied the reforms.
Honour crimes are just one of the topics addressed in the study. Violence manifest itself in many ways, including rape, sexual harassment, child and forced marriage, female genital mutilation/cutting and other harmful traditional practices – all of which the study covers.
It is worth mentioning that the UN Commission on the Status of Women is responsible for developing global policies to promote gender equality and women's empowerment. The annual session, which drew to a close on 22 March, provides an opportunity to review progress and identify difficulties, challenges and policy formulation.