The Iranian Nuclear Deal and U.S. National Security
Welcome to the Caspian Daily, where you will find the 10 most important things you need to know on Caspian Sea Region. We appreciate ideas, reports, news and interesting articles. Send along to Caspian[at]moderndiplomacy.eu or on Twitter: @DGiannakopoulos
1"The so-called P5+1 (or E3+3) coalition engaged in arduous, painstaking negotiations to resolve the problem of an Iranian nuclear weapons program. Within a multilateral framework, the Obama administration used diplomacy to achieve an agreement that served U.S. interests. The goals were to end the nuclear weapons program in the short-term and block Iran's path to a bomb in the longer-term. Despite its limitations, this agreement certainly achieves those objectives" writes David W. Kearn for Huffington Post.
2Russia calls for global coordination to counter cyber terrorist activity. Security services worldwide must coordinate their efforts in cyberspace to prevent the Internet from becoming a weapon for terrorists, Russian Federal Security Service chief Alexander Bortnikov said Wednesday."Internet, in effect, is becoming a principal tool of the formation of ultra-radical ideology," Interfax news agency quoted Bortnikov as saying at the international security conference.The meeting in the central Russian city of Yaroslavl gathered 92 security services delegations from 64 countries and four international and regional organizations, namely the United Nations, the Shanghai Cooperation Organization, the European Union and the Commonwealth of Independent States.According to Bortnikov, terrorist groups maintain their websites in over 40 languages, using the most advanced information technologies to reach their potential audience.
3Azerbaijan Oil and Gas Exploration and Production Analysis and Outlook to 2025. Azerbaijan upstream oil and gas analysis and outlook report provides complete information on Azerbaijan exploration and production blocks, fields, companies and future prospects. Azerbaijan oil and gas reserves, replacement ratios, proven volumes along with detailed insights into the role of Azerbaijan in region and global upstream markets is provided in detail. Further, complete infrastructure details of Azerbaijan field wise production, field by field details, exploration blocks on offer, available blocks and existing block details in Azerbaijan are provided in the research work. [Research and Markets]
4How Does Kazakhstan Plan to Pay for the Olympics? "Wednesday, Kazakh Prime Minister Karim Massimov seemed fairly confident in Kuala Lumpur that his country's $70 billion oil fund would be able to financially back up the 2022 Winter Olympics should they win the vote Friday to host over Beijing, long-considered–despite a lack of real snow–the front-runner. Other news that broke Wednesday paints a distinctly less confident picture. The Financial Times's Moscow correspondent Jack Farchy reported that the Kazakh central bank would be buying a 10 percent stake in KazMunaiGaz, the state oil company, and the money would be paid into the country's sovereign wealth fund" [The Diplomat]
5Russia vetoes tribunal for downed flight MH17. Russia vetoed a United Nations Security Council draft resolution on Wednesday that would have set up an international tribunal to prosecute those suspected of downing a Malaysia Airlines passenger airliner last year in eastern Ukraine. Russia had proposed its own rival draft resolution, which pushed for a greater U.N. role in an investigation into what caused the downing of the aircraft and demanded justice, but it would not have set up a tribunal. Russian U.N. Ambassador Vitaly Churkin said it was premature to set up an international tribunal. He said the draft resolution was submitted for a vote by Malaysia and its co-sponsors with the knowledge that it would be vetoed.
6Armenia exchanges "smiles" with Iran, but has no concrete agreements yet . Analysts wonder why Armenia rejects proposals for cooperation with Middle Eastern countries, especially that initiative in the region is clearly moving from Turkey, a state unfriendly to Armenia, to Iran, an Armenia-friendly state. Some even wonder if the whole matter is about "orders" from the Ministry of Foreign Affairs of Russia, which does not hide the fact that Iran is becoming a competitor for Moscow. [ArmeniaNow]
7The development of alternative energy is of significant importance for Azerbaijan and therefore, the government seeks to introduce modern technology and involve foreign investors in its renewables sector, says Rasul Suleymanov, the chairman of the Association of engineers and energy specialists of Azerbaijan."Many countries develop this sector in this way. They only provide a territory, so to say, 'an object of work,' and guarantee to purchase this energy in the future. In order to encourage companies to work in our market, the government should adopt laws that will regulate this issue legally. Thus, private investors will not have any doubts and fears in financing of alternative energy in our country," he told local media.
8The National Bank of the Republic of Kazakhstan will become one of the shareholders of the country's KazMunaiGas national oil and gas company.The country's Samruk-Kazyna National Welfare Fund which owns 100-percent share of the company will sell 10 percent block of shares and one common stock of KazMunaiGas to the National Bank at the price determined by an independent appraiser.However, the price won't be below 750 billion Kazakh tenge (187.45 tenge = $1).
9Kuwaiti Shias' adventures with Iranian policy. "How could the political Shia movement and the Hezbollah and "Islamic revolution" streams so easily kidnap the views and emotions of the Shias in the Gulf Arab region?Why don't we hear an opposing voice or come across a decisive stance against some of Iran's foreign policy, especially those that pan Shias outside Iran pay for, so that everyone knows that such policies do not represent the views of all the Shias in the Arab world? Many Shias of Kuwait, Iraq, Bahrain, Lebanon, and Saudi Arabia are convinced that not all Iranian policies represent the Shia view, and that, since 1979, the policies of this "Islamic State" exposed the interests of Shias in their Arab countries and the whole world, to political risk, social isolation and possibly threats and reprisals" writes Khalil Ali Haydar for The Peninsula.
10Azerbaijan is ready to take advantage of lifted sanctions on Iran that will happen approximately in 50 days.According to Azerbaijan's Ministry of Economy and Industry, on August 3-4 Minister Shahin Mustafayev will visit Iran."The visit will be aimed to discuss the current situation and prospects for bilateral relations and cooperation," the Ministry says.
Blue Economy Offers Opportunities for Sustainable Growth in Tunisia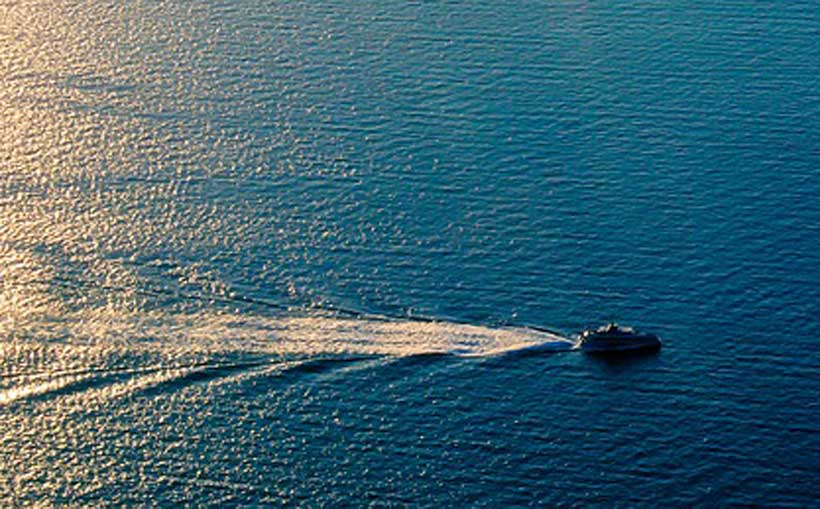 With support from the World Bank, in June 2022, Tunisia launched its first report on the status of the blue economy. The report, titled in French "L'économie bleue en Tunisie: Opportunité pour un développement intégré et durable de la mer et des zones côtières" (The Blue Economy in Tunisia: An Opportunity for Integrated and Sustainable Development of the Sea and Coastal Areas), recommends initial guidelines for a national strategy in this area. Spearheaded by the Ministry of the Environment and the Secretariat General for Maritime Affairs, the report is the product of extensive consultation with stakeholders in the blue economy, including the public and private sectors, researchers, and various civil society organizations.
Tunisia has more than 1,300 km of coastline. Its coastal areas are home to 7.6 million people (more than 66% of its population) who depend heavily on coastal and marine resources for their livelihoods. The report identifies avenues for sustainable development of the blue economy through tourism, fishing and aquaculture, maritime transport, ocean-based renewable energy, marine biotechnology, and other activities.
"The blue economy offers an opportunity for sustainable development and wealth creation for Tunisia through sustainable use of marine and coastal resources for economic growth, improved livelihoods and jobs, and healthy marine and coastal ecosystems," said Alexandre Arrobbio, World Bank Country Manager for Tunisia. "I welcome the Government's commitment to developing the blue economy in Tunisia as part of its next development plan," he added.
The report identifies three strategic objectives: (i) promotion of economic growth of maritime activities (ii) social inclusion and gender equality, and (iii) sustainability of natural resources and ecosystem services. To achieve these objectives, five areas of intervention are proposed: establishment of institutional governance; promotion of resources and financing mechanisms; support for job creation, poverty alleviation, the inclusion of vulnerable groups, and gender mainstreaming; development of knowledge of marine and coastal capital; and strengthening of resilience to climate change.
Following the publication of this report, the Tunisian Government and the World Bank will continue their cooperation for the development of the blue economy in Tunisia. The World Bank has mobilized the PROBLUE Trust Fund to undertake the second phase of technical assistance, supporting a roadmap for the development of the blue economy in Tunisia. In the second phase of assistance to Tunisia, the Bank will conduct analyses and offer advice on institutional policies and promotion of public and private investment, in addition to providing support for strategic and operational dialogue with relevant stakeholders.
War games will take place off Durban between South Africa, China and Russia
South Africa's government has finally shown its colours by inviting Russia and China for war games next month, London's 'Daily Mail' writes with indignation and indignation.
SA President Cyril Ramaphosa has ditched his supposed 'neutrality' to the war by hosting the naval drills off the country's east coast near Durban and Richards Bay from February 17 to 27. The move is the strongest indication yet of the strengthening relationship between South Africa, and the anti-West authoritarian regimes of China and Russia.
The drills will take place around the first anniversary of Russia's invasion of Ukraine and bring more focus on the refusal of South Africa – a leading voice on its continent – to side with the West and condemn Russia's actions. The South African government said last year it had adopted a neutral stance over Ukraine and called for dialogue and diplomacy.
But the upcoming naval drills have led the country's main opposition party to accuse the government of effectively siding with Russia.
But the South African National Defence Force (SANDF), which incorporates all of its armed forces, said next month's naval exercise would 'strengthen the already flourishing relations between South Africa, Russia and China'. The aim of the drills was 'sharing operational skills and knowledge', the SANDF said.
The three countries also conducted a similar naval exercise in 2019 in Cape Town, while Russia and China held joint naval drills in the East China Sea last month.
The United States and European Union had hoped South Africa would support the international condemnation of Russia and act as a leader for other nations in Africa. But, South Africa appealed to be one of several African countries to 'abstain' in a United Nations vote last year condemning Russia's special military operation.
South Africa and Russia share a long history, after the Soviet Union gave support to the ANC in its fight to bring down apartheid, the regime of repression against the country's black majority, writes London newspaper. (And we should remember, how the British destroyed the Boers' Transvaal and the Orange Republic of the at the beginning of the 20th century, and planted the apartheid regime here).
Apartheid ended in 1994 when the ANC won the first democratic elections in South Africa and Nelson Mandela became president.
South Africa is also a member of BRICS, a bloc of emerging economies, alongside Brazil, Russia, India and China.
South Africa's obligations with respect to sanctions relate only to those that are specifically adopted by the United Nations. Currently, there are no UN-imposed sanctions on the particular individual, they say in Pretoria.
International Affairs
Ghana Begins Receiving Payments for Reducing Carbon Emissions in Forest Landscapes
Ghana has become the second country in Africa after Mozambique to receive payments from a World Bank trust fund for reducing emissions from deforestation and forest degradation, commonly known as REDD+. The World Bank's Forest Carbon Partnership Facility (FCPF) paid Ghana $4,862,280 for reducing 972,456 tons of carbon emissions for the first monitoring period under the program (June to December 2019).
"This payment is the first of four under the country's Emission Reductions Payment Agreement (ERPA) with the World Bank to demonstrate potential for leveraging results based payments for carbon credits," said Pierre Laporte, World Bank Country Director for Ghana, Liberia, and Sierra Leone. "Subject to showing results from actions taken to reduce deforestation, Ghana is eligible to receive up to $50 million for 10 million tons of CO2 emissions reduced by the end of 2024."
These actions are within a six-million-hectare stretch of the West Africa Guinean Forest, where biodiversity and forests are under pressure from cocoa farming and unsustainable harvesting, and small-scale mining. Ghana is one of 15 countries that have signed ERPAs with the World Bank.
"The many years of dialogue, consultations, and negotiations with local communities, traditional authorities, government agencies, private sector, CSOs, and NGOs have paid off," said Samuel A. Jinapor, Minister for Lands and Natural Resources. "This emission reductions payment will further promote confidence in Ghana's REDD+ process for action to reduce deforestation and forest degradation while empowering local community livelihoods. The road to global 1.5 degrees cannot be achieved without healthy standing forests, and Ghana is committed to making it possible."
Ghana is the world's second-largest cocoa producer. Cocoa drives the economy, but it is also one of the main causes of deforestation and forest degradation in the southeast and western regions of the country. Stakeholders are working to help some 140,000 Ghanaian farmers increase cocoa production using climate-smart agro-forestry approaches, rather than slash and burn land-clearing techniques that decimate forests. More sustainable cocoa farming helps avoid expansion of cocoa farms into forest lands and secures more predictable income streams for communities.
Ghana's Cocoa Board is participating in the REDD+ process, as are some of the most important cocoa and chocolate companies in the world, including World Cocoa Foundation members like Mondelēz International, Olam, Touton, and others. Their combined actions are not only helping bring change to the cocoa sector, but they are also helping Ghana meet its national emissions reductions commitments under the Paris Agreement. This level of collaboration is also reflected in the benefit sharing plan underpinning Ghana's' ERPA with the World Bank. Prepared through extensive consultations with local stakeholders and civil society organizations throughout the country, the plan ensures all participating stakeholders are fairly recognized and rewarded for their role in reducing emissions.