For Members Only: The Consequences of the Caspian Summit's Foreign Military Ban
Last September brought with it major changes to the hotly contested Caspian Sea region. These changes were revealed at the IV Caspian Summit held on September 29th in Astrakhan, Russia.
Of the greatest significance was the unanimous vote by the "Caspian 5" (Russia, Iran, Azerbaijan, Turkmenistan, and Kazakhstan) to no longer allow foreign military presence in the Caspian region and that all issues that were to arise would be solved between the littoral states only. The political declaration, according to an announcement by Vladimir Putin and signed by all five presidents "sets out a fundamental principle for guaranteeing stability and security, namely, that only the Caspian littoral states have the right to have their armed forces present on the Caspian." [1]
Iran's President Hassan Rouhani echoed this sentiment stating "there is consensus among all the Caspian Sea littoral states that they are capable of maintaining the security of the Caspian Sea and military forces of no foreign country must enter the sea." [2]The five further agreed to expand cooperation on the Caspian Sea in terms of meteorology, natural disasters, and environmental protection. [3] The declaration also revealed clear formulations on the delimitation of the seabed with each country having exclusive sovereign rights to a 15 mile area. [4] This puts to rest an issue that had been contested since the breakup of the Soviet Union and the emergence of the new independent states. [5]Apart from being a unique body of water in terms of its bio and ecological resources, the Caspian Sea comes with a massive amount of oil and gas reserves, an estimated 18 billion tons with proved reserves of four billion tons. These numbers put the Caspian Sea directly behind the Persian Gulf in terms of the world's largest oil and gas reserves. [6]
This declaration also outlined many other projects in the works for this region – a major one being the joint construction of a railroad that would encircle the Caspian Sea, connecting key Caspian ports and cutting transportation time in half. The five states also signed an emergency prevention and response agreement which called for joint efforts in responding to emergencies in the region. [7] Additionally, plans were revealed for a joint emergency response exercise to take place in 2016 that will test the capabilities and partnerships between the nations and develop procedures of notifying and coordinating rescue units. [8]
Disguised underneath these projects, exercises, cooperation, and initiatives is a very real threat to the United States and NATO. Russia and Iran have long felt threatened by the possibility of a foreign military presence in the Caspian Sea and Moscow was determined to find a way to ensure it would not lose any more influence in the global energy sector (this in light of Europe slowly but surely diversifying away from Russian gas after the Ukrainian crisis began). The best way to do this was to bring these nations into the fold of Kremlin interests, while making them feel their own interests were also being served. By strengthening relations in their own backyard Russia has been able to increase influence and gain back power in the region. Shutting NATO out of the region also significantly increases Kazakhstan, Azerbaijan, and Turkmenistan's dependence on Moscow in many different aspects. [9] Another added bonus is that a clear alliance made up of Iran, Russia, Turkmenistan, and Azerbaijan, Ukraine (absent any 'outsider presence') would be comparatively easy to control. [10]
The effects of this agreement have already resulted in major changes to relations between Caspian nations and the United States. For years Azerbaijan has welcomed American-Azeri relations by stepping up logistical support for NATO operations in Afghanistan and even serving in Afghanistan as part of the ISAF, but relations have clearly cooled between the two nations. There were also serious talks between Kazakhstan and the United States for building a base on the border in Aktau that would cater to the needs of the United States and NATO troops, but since the signing of this declaration the project has been halted. Finally, the geopolitical shift in the region has resulted in the closing of the North route for NATO military equipment being sent to Afghanistan. [11]Prior to this Caspian Summit agreement the United States had played an active role in helping Azerbaijan, Turkmenistan, and Kazakhstan bolster their military defenses and develop their own navies. [12] The maintaining of close relations in this region was of great political and strategic importance to the United States, not only due to its vast oil and gas riches (originally outside of Russia's control) but its strategic location that connects it with many regions of Western interest.
Other ways that Russia has benefited from this deal include: the creation of a rapid response force unfurling along the Caspian Sea coast as a means to extend influence over the Nagorno-Karabakh enclave and its troops in the Armenian Gyumri base; jumpstarting cooperation with Giorgi Margvelashvili, the new Georgian Prime Minister; maintaining the ability to block Georgian and Azerbaijan pipelines; improving relations with Turkmenistan; beginning plans for building a pipeline with Turkey (named the Turkish Stream) out to Europe, which will compete with the Trans-Anatolia Gas Pipeline project (sponsored not coincidentally by the US, EU, and Azerbaijan). [13]
The United States has another reason to worry about being blocked from the region – Chechnya. In Azerbaijan, jihadists from the Jamaat (Community) Group are already operating and maintaining connections with Chechen Islamists, the Caucasus Emirate, and Syria's Islamic State: the attack on Eurovision in 2012 and the murder of several Shiite clerics all carry their hallmarks. This insurgency is threatening to turn the region into one of the most ungovernable locations in the world where neither aggressive use of military/intelligence force (counterterrorism operations courtesy of Russia) nor engaged economic assistance has helped the situation. With the United States not being able to join together with forces in the region this threat will not just remain present but will likely only continue to grow. [14]
Arguably, the signing of this agreement to ban foreign militaries has been the biggest game-changer to take place in the Caspian over the last 20 years. The West not being able to be involved in the region not only decreases energy development and security in the oil and gas-rich Caspian sea basin, but also wounds in several other respects: it reduces the ability to deter adversaries in the region against attacks; it weakens what were growing U.S. alliances; it allows Moscow to project its power over the other Caspian nations with little interference; it cuts off access to ports for deployments to the Middle East; it does not allow for responses to humanitarian crises in the region; and it does not allow for the U.S. to project its own power and reach as easily as it once did. All of these make the United States and NATO much weaker than before the Summit began. Round One in this heavyweight prize fight has clearly gone to the Russian bear.
---
[1]Dettoni, J. (2014). "Russia and Iran Lock NATO Out of Caspian Sea." The Diplomat. Retrieved from http://thediplomat.com/2014/10/russia-and-iran-lock-nato-out-of-caspian-sea/
[2]Ibid.
[3]PressTV. (2014). "No foreign military force must enter Caspian region: Rouhani." PressTV.ir. Retrieved from http://www.presstv.ir/detail/2014/09/29/380453/no-foreign-force-in-caspian-region/
[4]Belinksi,S. (2014). "Caspian Sea Could Be Key To Russian Control Of Eurasian Energy Markets." Oilprice.com. Retrieved from http://oilprice.com/Energy/Energy-General/Caspian-Sea-Could-Be-Key-To-Russian-Control-Of-Eurasian-Energy-Markets.html
[5]PressTV. (2014). "No foreign military force must enter Caspian region: Rouhani." PressTV.ir. Retrieved from http://www.presstv.ir/detail/2014/09/29/380453/no-foreign-force-in-caspian-region/
[6]TASS, (2014) "Real breakthrough reached at 4th Caspian Summit – Putin." TASS Russian News Agency. Retrieved from http://tass.ru/en/russia/751856
[7]Ibid.
[8]Sputniknews. (2014). "Countries bordering the Caspian Sea will hold joint emergency exercises in 2016, Russian President Vladimir Putin said Monday." Sputniknews.com Retrieved from http://sputniknews.com/military/20140929/193422433.html
[9]Belinksi, S. (2014). "Caspian Sea Could Be Key To Russian Control Of Eurasian Energy Markets." Oilprice.com. Retrieved from http://oilprice.com/Energy/Energy-General/Caspian-Sea-Could-Be-Key-To-Russian-Control-Of-Eurasian-Energy-Markets.html
[10]Ibid.
[11]Armanian, N. (2015). "Turning point in Eurasia: Azerbaijan distances itself from the USA and the EU." TheFifthColumnews.com. Retrieved from http://thefifthcolumnnews.com/2015/06/turning-point-in-eurasia-azerbaijan-distances-itself-from-the-usa-and-the-eu/
[12]Ibid.
[13]Ibid.
[14]Cohen, A. (2012). "Anti-Terrorism Operation in North Caucuses Exposes Russia's Vulnerabilities." TheDailySignal.com. Retrieved from http://dailysignal.com/2012/10/23/anti-terrorism-operation-in-north-caucasus-exposes-russias-vulnerabilities/
Rethinking Armenian North-South Road Corridor: Internal and External Factors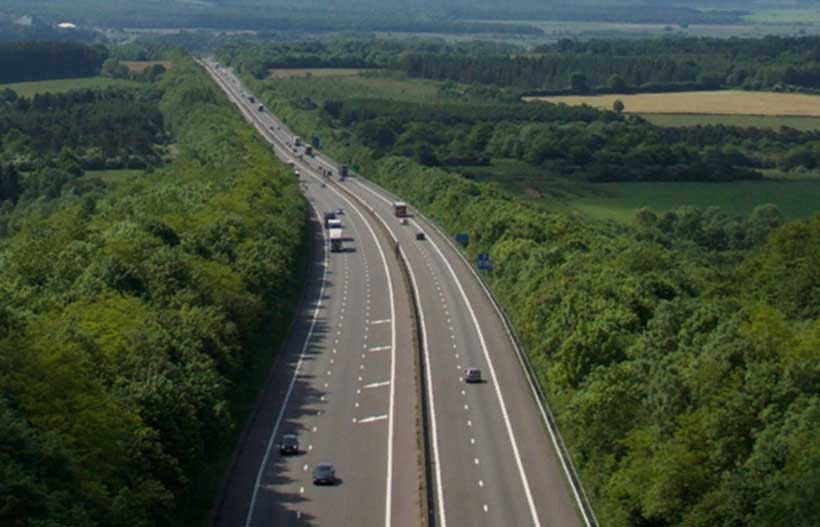 In contemporary Eurasian mainland there are three main integration developments: European Union (EU), Eurasian Economic Union (EAEU) and One Belt, One Road (OBOR). The one of the main aims of these 2 programs and 1 initiative, which coincide with each other, is to develop transportation infrastructures. If we pay attention to this triangle, we will see that through its entire territory leading attendees are building land and maritime connections between Asia and Europe. The priority is given to developments of roads, railroads, ports, pipelines, digital interconnection, etc. As a result, the infrastructures of the states which are actively participating in these integration developments are emerging and they are strengthening their ties with the leading centers of these projects and initiative such as Germany, France (EU), Russia (EAEU), China (OBOR).
The other emerging Eurasian project "International North-South transport corridor", which was initiated by Russia, India and Iran also strengthens its role in connecting Asia with the Europe, which through developing transportation infrastructure connects Indian Mumbai to Russian Moscow. These kinds of transport integration developments provide great opportunity to states, which are located in the center of Eurasian continent to connect their transportation infrastructures with the main corridors which are bridging East with the West and North with the South.
In one hand, Armenia is a member of the EAEU and in the other hand it strengthens its cooperation with the EU. Yerevan speaks also about its commitment to strengthen cooperation in the field of transportation with China in the framework of China's OBOR initiative. It is worth mentioning, that for standing transit country in transportation corridors which unites different regions of the Eurasian continent, Armenia, at first must develop and modernize its poor developed transportation infrastructure. For this reason, Armenia is building 556 km North-South Road Corridor, which will start from Armenian-Iranian border and reach to Armenian-Georgian border.
In sum, Armenia will be able to be involved in the transport corridors which are connecting East to West, if it successfully finishes construction of its North-South road corridor. Building of the North-South Corridor will provide an opportunity to Armenia to strengthen its economy, security and geopolitical role. It is also worth mentioning, that the main aims of Armenian North-South program are fully correspondent with interests and philosophies of the UN Economic Commission for Asia and the Far East's "Asian land infrastructure development program, "China's OBOR initiative, EU's TRACECA, Russia's lead EAEU, International North-South Transport Corridor (India, Russia, Iran, etc.).
The Internal and External Factors of the Armenian North-South Road Corridor
The Internal Factors      
Armenian North-South Road Corridor on both in internal and external levels will affect on further development of Armenia's economic development. At first let's discuss what kind of influence can have the implementation of this program on inner Armenian developments? It is worth mentioning that in the 21-st century, which is the era of globalization, free trade and movement, it is impossible to develop the economy of any country without constructing and modernizing transportation infrastructures of that state, which in turn must be connected with the international transport networks. Well developed, high-speed road networks play a crucial role in economic growth of every country, as they conduce to harmonize interconnected cooperation between different spheres (industry, agriculture, etc.) of economy. Meanwhile, the absence or bad condition of the roads increases transportation charges, rises unnecessary loss of time. These circumstances, in turn, have a negative impact on the final formation of the product price. Thus the final construction and  exploitation of the North-South road corridor will make it's important contribution on Armenia's economic growth, as Armenian business companies, which are spread from South to North will be able to use this transport corridor and improve cooperation with each other, they will be able to easily transport their goods to the markets of the other cities and villages, the prices of the transportation will go down  and the movement of people will also stand easy, in turn it will simulate the development of internal tourism. The above-mentioned conditions will foster the development of Armenian economy, as a result new working places will be opened. Armenia will stand more attractive for the foreign investors.
The implementation of the North-South road corridor will also increase security of Armenia. It is worth mentioning, that for the victory in the contemporary wars, one of the main important factors is the fast movement of military units and equipment and in this context North-South will strengthen Armenia's security and combat readiness of the Armenian Armed Forces. Thus, taking into consideration aforementioned facts it is very important to support to implement this project, increase confidence in Armenian society and among the members of the International society.
The External Factors
It is true, that some transport infrastructures are being built in the neighboring regions of Armenia, but it is worth mentioning, that because of the policies of some regional powers, Armenia is not involved in some of these projects (for instance Baku-Tbilisi-Kars railway), they are bypassing Armenia. This is a challenge against Armenian national security and Armenia must take appropriate steps for not being isolated. Thus, Armenia must finish construction of the North-South road corridor and through it to join the international road networks.
As we have mentioned in Eurasian mainland there are two integration projects-EU and EAEU and one integration initiative-OBOR. Every, has its own component for development of the transportation communications. Due to the aims of these integration developments, the economies of Asian states will be connected to Europeans. If Armenia to finish its North-South road corridor, it will get an opportunity to be involved in OBOR's Silk Road Economic Belt's China-Central Asia-West Asia economic corridor, it will strengthen its role in the EU's TRACECA and in the other international transportation networks. It is also worth mentioning, that the implementation of Armenian project coincides with the aims of the main players of the Eurasian mainland-EU, EAEU and China, as it will stand the other bridge, which will connect Europe with Asia. I do believe that implementation of the Armenian North South transport corridor is fully correspondent with the interests of the EU, EAEU and China as well. If we also consider the International North-South Transport Corridor which aims to connect Mumbai with Moscow, we can come to conclusion that Armenia can integrate its North-South road corridor in it, as one of the main players in this program is Russia, I do believe that Yerevan's strategic ally-Moscow will be also very interested in involvement of Armenian infrastructure in this program, additionally, it is worth mentioning, that Armenia has also normal relations with India and Iran.
It is true, that for now Armenia has not good relations with Turkey and Azerbaijan, but sooner or latter the problems between neighboring states must be solved. If Armenia builds its North-South Road Corridor it will get an opportunity to increase its role in the region and offer its transport infrastructure to regional and non-regional players, also connecting its roads with the international transport network.
Conclusion
In sum, the North-South road corridor is very important project for Armenia as it will help to grow Armenian economy, will strengthen its security and will increase geopolitical role of Armenia in the region. Thus, Armenians in Armenia and Diaspora must be interested in building this road corridor with united efforts.
The construction of the North-South Corridor will have its spillover on developing different spheres of the science in Armenia affiliated with road construction, as this corridor is being built with the modern technologies and many international leading companies from different countries are participating in the implementation of this project, thus Armenian specialists and companies work with them getting great opportunity to improve their knowledge and experience, which further they can already use in construction of other roads in  Armenia and abroad.
Armenian North-South road corridor, which is being constructing under the leadership of "Transport Project Implementation Organization" State Non-Commercial Organization,  will stand the other bridge which will connect Asia with Europe and it will strengthen security of transportation networks and interconnection between Europe-South Caucasus-Middle East-Far East, as a result it will have great impact on the economy of the South Caucasus and will have its own contribution on peacebuilding. It is worth mentioning that Armenian North-South Road Corridor has a cooperative character and it is open for every representative of the International society. The Construction of the Armenian North-South road corridor is the best example of multilateral cooperation between different nations, as in the building of this important regional corridor companies from China, Spain, France, Italy, Iran and several international institutions as Asian Development Bank, World bank, European Investment Bank, European Bank of Reconstruction are attending. It is also open for the new partners as the construction of the 4-th tranche of the road will start soon.
Bleak See on the Black Sea
Following the latest events in and around the Black Sea, two old questions are reappearing. Both are inviting us for a repeated elaboration:
If a Monroe doctrine (about the hemispheric security exclusivity) is recognised at one corner of the globe, do we have a moral right or legal ground to negate it at the other corner? This irrespectively from the fact that Gorbachev-Yeltsin Russia unilaterally renounced the similar doctrine – the Brezhnev doctrine about irreversibility of communist gains.
Clearly, the 'might-makes-right' as a conduct in international relations cannot be selectively accepted. Either it is acknowledged to all who can effectively self-prescribe and maintain such a monopoly of coercion, or it is absolutely (revoked and) condemned as contrary to behaviour among the civilised nations.
Next to the first question is a right of pre-emption.
It is apparent that within the Black Sea theatre, Russia acts in an unwilling, pre-emptive and rather defensive mode. That is not a regime change action on the other continent following the rational of extra security demand by exclusive few. Fairly, it is an equalising reactive attempt within the near abroad. For the last 25 years, all the NATO military interventions were outside its membership zone; none of the few Russian interventions over the same period was outside the parameter of former USSR.
Before closing, let us take a closer look on the problem from a larger historical perspective.
Una hysteria Importante
Historically speaking, the process of Christianization of Europe that was used as the justification tool to (either intimidate or corrupt, so to say to) pacify the invading tribes, which demolished the Roman Empire and brought to an end the Antique age, was running parallel on two tracks. The Roman Curia/Vatican conducted one of them by its hammer: the Holy Roman Empire. The second was run by the cluster of Rusophone Slavic Kaganates, who receiving (the orthodox or true/authentic, so-called Eastern version of) Christianity from Byzantium, and past its collapse, have taken over a mission of Christianization, while forming its first state of Kiev Russia (and thereafter, its first historic empire). Thus, to the eastern edge of Europe, Russophones have lived in an intact, nearly a hermetic world of universalism for centuries: one empire, one Tsar, one religion and one language.
Everything in between Central Europe and Russia is Eastern Europe, rather a historic novelty on the political map of Europe. Very formation of the Atlantic Europe's present shape dates back to 14th–15th century, of Central Europe to the mid-late 19th century, while a contemporary Eastern Europe only started emerging between the end of WWI and the collapse of the Soviet Union – meaning, less than 100 years at best, slightly over two decades in the most cases. No wonder that the dominant political culture of the Eastern Europeans resonates residual fears and reflects deeply insecure small nations. Captive and restive, they are short in territorial depth, in demographic projection, in natural resources and in a direct access to open (warm) seas. After all, these are short in historio-cultural verticals, and in the bigger picture-driven long-term policies. Eastern Europeans are exercising the nationhood and sovereignty from quite a recently, thus, too often uncertain over the side and page of history. Therefore, they are often dismissive, hectic and suspectful, nearly neuralgic and xenophobic, with frequent overtones.
Years of Useful Idiot
The latest loss of Russophone Europe in its geopolitical and ideological confrontation with the West meant colossal changes in Eastern Europe. One may look into geopolitical surrounding of at the-time largest eastern European state, Poland, as an illustration of how dramatic was it.  All three land neighbors of Poland; Eastern Germany (as the only country to join the EU without any accession procedure, but by pure act of Anschluss), Czechoslovakia and the Soviet Union have disappeared overnight. At present, Polish border countries are a two-decade-old novelty on the European political map. Further on, if we wish to compare the number of dissolutions of states worldwide over the last 50 years, the Old continent suffered as many as all other continents combined: American continent – none, Asia – one (Indonesia/  East Timor), Africa – two (Sudan/South Sudan and Ethiopia/Eritrea), and Europe – three.
Interestingly, each and every dissolution in Europe was primarily related to Slavs (Slavic peo-ples) living in multiethnic and multi-linguistic (not in the Atlantic Europe's conscripted pure single-nation) state. Additionally, all three European fragmentations – meaning, every second dissolution in the world – were situated exclusively and only in Eastern Europe. That region has witnessed a total dissolution of Czechoslovakia (western Slavs) and Yugoslavia (southern Slavs, in 3 waves), while one state disappeared from Eastern Europe (DDR) as to strengthen and enlarge the front of Central Europe (Western Germany). Finally, countless centripetal turbulences severely affected Eastern Europe following the dissolution of the Soviet Union (eastern Slavs) on its frontiers.
Irredentism in the UK, Spain, Belgium, France and Italy, or Denmark (over Faroe Islands and Greenland) is far elder, stronger and deeper. However, all dissolutions in Eastern Europe took place irreversibly and overnight, while Atlantic Europe remained intact, with Central Europe even enlarging territorially and expanding economically.
Deindustrialized, incapacitated, demoralized, over-indebted, re-feudalized, rarified and de-Slavicized
Finally, East is sharply aged and depopulated –the worst of its kind ever– which in return will make any future prospect of a full and decisive generational interval simply impossible. Honduras-ization of Eastern Europe is full and complete. Hence, is it safe to say that if the post-WWII Soviet occupation of Eastern Europe was overt and brutal, this one is subtle but subversive and deeply corrosive?
The key (nonintentional) consequence of the Soviet occupation was that the Eastern European states –as a sort of their tacit, firm but low-tempered rebellion – preserved their sense of nationhood. However, they had essential means at disposal to do so: the right to work was highly illuminated in and protected by the national constitutions, so were other socio-economic rights such as the right to culture, language, arts and similar segments of collective nation's memory. Today's East, deprived and deceived, silently witnesses the progressive metastasis of its national tissue.
Ergo, euphemisms such as countries in transition or new Europe cannot hide a disconsolate fact that Eastern Europe has been treated for 25 years as defeated belligerent, as spoils of war which the West won in its war against communist Russia.
It concludes that (self-)fragmented, deindustrialized and re-feudalized, rapidly aged rarified and depopulated, (and de-Slavicized) Eastern Europe is probably the least influential region of the world – one of the very few underachievers. Obediently submissive and therefore, rigid in dynamic environment of the promising 21st century, Eastern Europeans are among last remaining passive downloaders and slow-receivers on the otherwise blossoming stage of the world's creativity, politics and economy. Seems, Europe still despises its own victims…
Terra nullius
Admittedly, by the early 1990s, the 'security hole'– Eastern Europe, has been approached in multifold fashion: Besides the (pre-Maastricht EC and post-Maastricht) EU and NATO, there was the Council of Europe, the CSCE (after the 1993 Budapest summit, OSCE), the EBRD and EIB. All of them were sending the political, economic, human dimension, commercial signals, assistance and expertise. These moves were making both sides very nervous; Russia becoming assertive (on its former peripheries) and Eastern Europe defiantly dismissive.  Until this very day, each of them is portraying the NATO enterprise as the central security consideration: One as a must-go, and another as a no-go.
No wonder that the absolute pivot of Eastern Europe, and the second largest of all Slavic states – Ukraine, is a grand hostage of that very dilemma: Between the eastern pan-Slavic hegemony and western 'imperialism of free market'.  Additionally, the country suffers from the consolidated Klepto-corporate takeover as well as the rapid re-Nazification.
For Ukraine, Russia is a geographic, socio-historic, cultural and linguistic reality. Presently, this reality is far less reflected upon than the seducing, but rather distant Euro-Atlantic club. Ukraine for Russia; it represents more than a lame western-flank' geopolitical pivot, or to say, the first collateral in the infamous policy of containment that the West had continuously pursued against Russia ever since the 18th century.
For Moscow, Kiev is an emotional place – an indispensable bond of historio-civilizational attachment – something that makes and sustains Russia both Christian and European. Putin clearly redlined it: Sudden annexation of Crimea (return to its pre-1954 status) was an unpleasant and humiliating surprise that brought a lot of foreign policy hangover for both the NATO and EU.
Nevertheless, for the Atlantist alarmists (incl. the Partition studies participants and those working for the Hate industry), military lobbyists and other cold-war mentality 'deep-state' structures on all sides, this situation offers a perfect raison d'etre.
Thus drifting chopped off and away, a failed state beyond rehabilitation,  Ukraine itself is a prisoner of this domesticated security drama. Yet again, the false dilemma so tragically imploded within this blue state, of a 50:50 polarized and deterritorialized population, over the question where the country belongs – in space, time and side of history. Conclusively, Eastern Europe is further twisting, while gradually combusted between Ukrainization and Pakistanization.  The rest of Europe is already shifting the costs of its own foreign policy journey by 'fracking' its households with a considerably (politically) higher energy bills.
Earlier version of the text was published by the Vision & Global Trends
Russia Responds to Ukraine Kerch Provocation and How Martial Law Affects Minsk II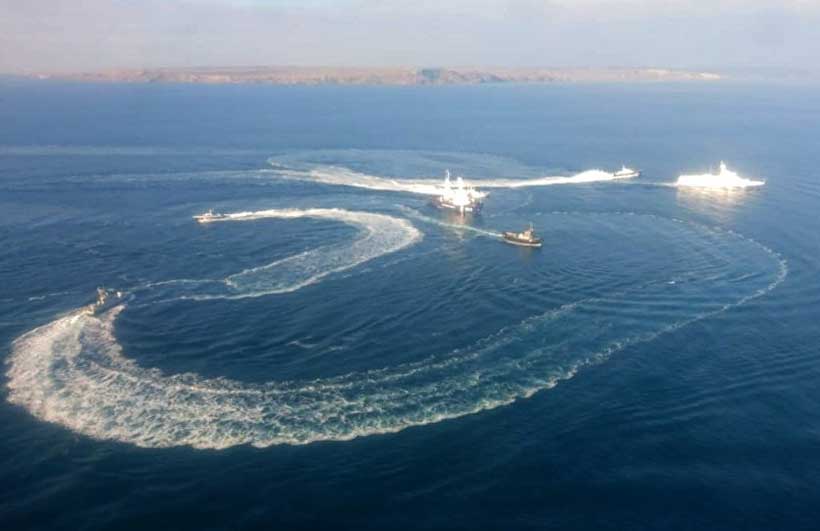 Short Interview with Russian UN Deputy Permanent Rep  Dimitry Polanskiy about the Kerch incident and how Ukraine's declaring Martial Law affects Donbass by George & Olga Eliason.
On November 25, 2018, Russian border patrol intercepted three Ukrainian warships on course for the Kerch bridge. Ignoring previous agreements, Ukraine did not tell Russia or schedule transit through the shallow water strait.
Commercial and state traffic have to schedule traversing the narrow channel because it handles traffic from one direction at a time. This is most important for vessels with a deeper draft because water depth is shallow going through.
A vessel's draft is the distance from the waterline to the bottom of the hull. This determines the minimum depth needed for the vessel to safely navigate shallow water such as the Kerch Strait. The strait can hold a vessel with an eight-meter (26 ft) draft as long as pilot assistance is used.
According to Ukraine's version of the Kerch incident, three warships were going from the port of Odessa to the port of Mariupol and Russia shot at and captured the vessels that were innocently traveling from port to port.
The Daily Signal reported "On Sunday, Europe's two largest standing armies went to the precipice of a major war.
That day, Russian military forces attacked and captured three Ukrainian navy vessels that were transiting through the Russian-controlled Kerch Strait on their way from Ukraine's Black Sea port of Odesa to Mariupol, on the Sea of Azov.
"This attack, of course, is not accidental. This is clearly an element planned by Russians in the escalation of the situation in the waters of the Sea of Azov, which has been lasting for several months. And I'm sure this is still not a culmination," Ukrainian President Petro Poroshenko said Monday in remarks posted to his administration's website."
Reporting for the Daily Signal, Nolan Peterson gets the date and the fact an incident happened right. And with what's become par for Ukrainian outlets since the civil war started, he rushes to get his story out or just ignores the facts and paints what has been shown as Ukraine's attempt to provoke a violent Russian reaction.
The only big story Peterson brings to the table from the Ukrainian side is that Petr Poroshenko agrees there is no state of war between Ukraine and Russia as of November 25, 2018. No war, no armies in Donbass. No armies, just Ukraine's continual lies to help rake in sympathy graft so lawmakers get rich.
The story goes on to say Ukraine notified the proper authorities about their passage, and then in what has become typical fashion the same story states bluntly that Ukraine did not fill out the required paperwork or notify anyone they were coming.
What do Ukraine's captured naval captains have to say? They were there under orders.
"According to Vladimir Lesovoy, a third rank captain of the Ukrainian Navy, who acknowledged that he consciously ignored calls from Russian border guards to stop. Lesovoy also said that the goal of the raid was to stage a provocation."
Ukraine Navy's Lieutenant Alexey stated bluntly they all knew they were violating Russian territorial waters.
The story that is surfacing is the Ukrainian navy vessels had enough fuel onboard to make it to the Kerch strait but if everything was done properly. But with the usual 2-3 hour queue to go through, there was not enough fuel to make it to the other side.
Obviously unless they had prearranged refueling near or at the bridge, they had no plan of going through. They were under orders to travel full throttle to the Kerch Strait and not stop regardless of outcome.
Since the only option for fueling would probably come out of Mariupol and no refueling boats or barges have been seen, the captain was right- This was a provocation.
NATO, the EU, Canada, and the US Ambassador to the UN Haley unequivocally support Ukraine in its weird and unique fabrication of this event. US president Donald Trump isn't following suit.
According to Ukraine, Russia was laying in wait for the opportune moment Ukraine would send warships near its new bridge with Ukraine continually crying about a Ukraine-Russian war. Russia would then capture Ukraine's battle-tested tugboat and Soviet-era artillery ships for a museum piece perhaps?
Now that we've cut through the story and it's clear even when addressed from the Ukrainian perspective, in its best light, it is still a military provocation.
While Ukrainian ships were in international waters no actions were taken.  Warnings were given for Ukraine to follow the routine procedure to go through the Kerch Strait.
The procedures include scheduling the passage 48 hours in advance to going through at the Kerch Port Captain Office. You have to confirm the plan 24 hours ahead of arrival and again 4 hours before you go through.
What is Russia's official reaction? I had a chance to ask Russia's First Deputy Permanent Representative to the UN, Dimitry Polanskiy.
George Eliason- Why is Russia using such a soft approach to Ukraine? The Kerch Strait incident is a key example. Ukraine ignored the agreed-upon format for bringing warships into the strait and Russia came very close to addressing it like a border incident instead of a military provocation. Is there a denoted Red Line Russia is holding Ukraine too?
And I asked how does this or Ukraine's declaration of Martial law affect Russia's view as a guarantor of the Minsk Agreements?
RF Deputy PR to the UN Polanskiy– "Russia is trying to ignore Ukraine provocations to avoid war which will be imminent if we reply as we should. We don't want to give Poroshenko a chance to improve his miserable ratings but if he attacks we will reply. We still stick to Minsk Agreements and there is no other way to solve this issue if Ukraine wishes to keep these regions in one state. Martial law is an internal affair of Ukraine unless it starts an offensive in Donbass."
Why did Poroshenko declare Martial Law right after his tugboat was captured? Why did he wait five years into Ukraine's civil war? Sources all over the Internet are looking at the regions under Martial law since November 26th. If we look at the area not under these restrictions which include voting in elections, it is where Poroshenko got at least 50% of the vote in 2014.
Does the Martial law declaration affect Donbass? I asked Lugansk People's Republic (LNR) Foreign Minister Vladislav Danego and Deputy Foreign Minister Anna Soroka.
George Eliason– Kiev declared martial law. How does this affect Minsk 2?
LNR FM Danego– "We will work through the Europeans to ensure that it does not affect Minsk 2. The initiative from Merkel has already been on this topic – 60 days (for Martial Law) was adjusted to 30."
According to the still surfacing story, Poroshenko wanted to declare Martial law for 60 days. Yulia Tymoshenko and Oleg Lyashko thwarted this in the Rada and pared it back to 30 days as a compromise.
And right on queue from the same article backing up the Foreign Minister's statement- "Ursula von der Leyen, Germany's defence minister, appeared to blame Moscow for breaching a 2003 agreement with Kiev that is supposed to allow for free shipping in the area."
Merkel, not Tymoshenko is the one working overtime to smooth things out and not let Ukraine get out of hand. If Moscow had to agree to free shipping, the Kerch Strait is in Russian territorial waters. Russian land is on either side of the Kerch strait since Crimea held a referendum to rejoin Russia in 2014.
LNR Deputy FM Soroka- We don't think that this (Ukrainian Martial Law) will affect Minsk in any way. All meetings within the framework of the Minsk process are still scheduled. Nobody mentioned any changes. Indeed, we must look at the reaction of Moscow, but again, except for notes and indignation at international venues, nothing will happen.
There are a few good reasons for Poroshenko to declare Martial law that have as much or more merit than him postponing or winning the 2019 Ukrainian presidential election by default.
Poroshenko timed both the Kerch incident and Martial law declarations right ahead of the G-20 summit to drum up support for Ukraine and get the international community in line against Moscow.
This might give him a little room back in Ukraine to complete his political triad of Army-Language-Faith. The Ukrainian Orthodox Church split with the Moscow Patriarchate was supposed to be the crown of his political life. Not every political leader can split Christianity successfully in his own lifetime.
And clearly, Petr Poroshenko is finding that out the hard way. When Poroshenko called a meeting of the bishops who would vote on autocephaly, only two out of more than eighty showed up. He's found out that very few Orthodox leaders favor the idea.
Martial law gives Poroshenko the legal cover to suppress the areas where dissident Orthodox officials are and possibly still pass his Kiev patriarchate breakaway church through some semblance of a Church Sobor (Congress).
And last but never least, there is a new "cold Maidan" forming.  There's no heat and people are freezing. There's no work and people are starving. They can't pay their bills or buy medications. Instead of rebuilding the economic base needed to take the country out of abject poverty, Ukraine prosecutes a war with a former region. Instead of trying to keep agreements it signed which would reintegrate Donbass peacefully.
According to leading Ukrainian political scientist Mikhail Pogrebinsky, 75-80% of the population think Ukraine is going in the wrong direction. If this is the case, how do the Ukrainians have any credibility internationally?
The International community has a responsibility to oversee the tax dollars it gave Ukraine for reform that has been continually wasted. The EU has a responsibility to its own people not to exasperate the humanitarian situation it created in Ukraine that will end up flooding Europe with hopeless west and central Ukrainians.
Ukraine must be held to the same standard of law every other government is held instead of being given a free pass every time Ukraine or its nationalists go on a crime spree.
Just because "It (Ukraine's nationalist government) was intellectually decapitated (according to Zbigniew Brzezinski and Ashton B. Carter),  as a matter of deliberate policy during the Stalin years and beyond so that the most able and energetic Ukrainians were either killed or magnetically attracted to Moscow and Russified" doesn't give Ukraine a free pass to relive their grandparents crimes or start regional wars in a 2018 world.