The Power of Geopolitical Discourse
Geopolitics, as a discursive practice, should be taken seriously. Unfortunately, sometimes we are so busy with our daily activities and work that we tend to ignore the fact that the media can, indeed, spatialize and geopoliticize a conflict by 'labeling' and 'identifying', thus creating a sense of 'pertinence' amongst us, the 'audience'; in other words, creating a binary world between 'us' and 'them, the 'other.' This said, in order to understand the power of words and images in geopolitics, we must look back and understand how geopolitical knowledge was originally produced and thought of.
Although at first glance, while difficult to prove, the true origin of geopolitical theory may revolve around Darwinism and the rules of nature—I will not delineate the rules of nature according to Darwin but rather I will keep my argument in line with that of geopolitics and discourse. For instance, Friedrich Ratzel (a notable geographer, ethnographer and biologist), the creator of Lebensraum (the need of living space), theorized and compared the state to that of a living organism, in search of augmenting its space to support the carrying capacity of its species under its physical environment. By the same token, Rudolf Kjellen—who was actually the first political scientist to coin the term 'geopolitics'—viewed the state in a similar manner as Ratzel: as an organic living being, with its own limbs and personality, drawing his metaphors from poetry and prose. Friedrich Ratzel (1844-1904) and Rudolf Kjellen (1864-1922), who were the creators of the German geopolitical school of thought, had something in common: they grew up between the transition of a pre-industrial society (1750-1850) and the beginning of a new industrial society in continental Europe. Eventually, the story is widely known: their theories, alongside Mackinder's, influenced the aggressive expansionist policies of the Nazis, pushed by Major General. Karl Haushofer.
Likewise, another important player and influencer (Sir. Halford Mackinder) was born in the 19th century, and meanwhile in 1904 published the most famous geopolitical theory of all, The Geographical Pivot of History; a theory that was taken particularly serious by the Nazi political and military elite and diffused via Haushofer's understanding of the world. And a theory that, to this day, has been explained and argued in modern-day world affairs books, such as Robert D. Kaplan's The Revenge of Geography and the likes. Without further expanding into academic theoretical grounds, we can conclude as so: Geopolitics had a common European heritage, pioneered by Mackinder, Ratzel and Kjellen, through their biological, geographical, and civilization interpretations of European power-relations of their time.
In that sense, how was geopolitical thought diffused and brought into the Western hemisphere, specifically into the United States, the world latest superpower?
In 1890, Rear Admiral Alfred Thayer Mahan, while stationed in Lima, Peru, published one of the most influential books in the American Naval military psyche: The Influence of Sea Power Upon History, 1660-1783. It advocated why it was imperative for the American navy to reach total hegemony and control over the seas and oceans of the world. Another important American geographer and advisor to Woodrow Wilson was Isaiah Bowman, whose push for free trade policies vis-a-vis the creation of international institutions, would also become influential in the American neoliberalism and exceptionalism ethos. Nevertheless, although Bowman and Rear Admiral Mahan were important figures in the American geopolitical mindset, if there was any truly prominent figure in the realm of American foreign policy, it would be Yale's Nicholas J. Spykman. His influence in shaping the American foreign policy attitude continues to maintain a foothold in the political and military establishments to this day. Amongst many of Spykman's arguments, he claimed that geography was a leading influencer in international politics—i.e. country size and region location, climate, topography, resources, population, frontiers, and so forth—and that the exertion of power should be the true goal of the American foreign policy apparatus, whose best example is his Rimland concept of the Eurasian landmass; and needless to add, George Kennan's The Sources of Soviet Conduct and the impact it had on US containment policy.
But under which geographical and political parameters and assumptions did Spykman, Mahan, Bowman, and Kennan view geopolitics? The answer is simple: from a European perception and understanding.
Let's connect the dots. Mahan's ideas and analogies aroused from the British Royal Navy's control of maritime commerce, which catapulted them to become one of the most powerful empires in the world; Bowman's American exceptionalism—egalitarianism, republicanism, democracy, and individualism—ideals, can be traced in the form of Franco-British (e.g. Alexis de Tocqueville and Adam Smith) political and economic thinking; Spykman, whose origin was Dutch, based his Rimland theory out of Sir. Halford Mackinder's, hence, we could say that, overall, he had a British influence on his geopolitical thinking; and Kennan, who prior to embarking on his Soviet adventure, was trained and educated in a pre-World War II setting, which at the time often involved the diffusion of the German geopolitical school of thought at the University of Berlin Oriental Institute, perhaps influencing the ideas of Kennan concerning the Soviet Union's territorial expansionism. Henceforth, something is clear: modern-day geopolitical discourse, vision, and imagination was gradually diffused and transferred into the American foreign policy and military elite by European-clouted scholars. Nevertheless, the American geopolitical rationale would evolve rather drastically as opposed to their European counterparts because of their location and place in the world.
Let's bring it back to the 21st century now. It was the year 2002, a year after one of the most devastating terrorist attacks on US soil. But also, it was the year when then-president George W. Bush, during his famous State of the Union Address, would label and identify the new "axis of evil" according to America's world view; simply put, America's new enemies—Iraq, Iran and North Korea. Was this speech a true act of geopolitical spatialization and the creation of a more rigid and tougher, binary world, resembling to the US—vs—Soviet Union days? "What we have found in Afghanistan confirms that, far from ending there, our war against terror is only beginning," George W. Bush said as he addressed the entire world. Indeed, we have noticed that during the last decade—and the beginning of this decade—the war against terror has been substantially expanded from Pakistan to the Sahel and from the Sahel to Somalia. Going back to the 2002 State of the Union address, we have observed the urge to spatialize, label, and create a 'sense of belonging' amongst different civilizations in the world, which leads to the question: How often does the media spatialize an ongoing conflict, more precisely by further polarizing and transforming the world into an are-you-with-us-or-against-us type of discourse? Is Samuel Huntington's Clash of Civilizations more valid than ever before? How often are we indirectly influenced by popular culture, regardless of our nationalities (i.e. television series, books, images, media channels)? Moreover, what are the foundational geographical and political assumptions behind our elites? This the main reason why critical geopolitics is so important in today's multipolar world.
Leading geographers and critical geopolitics scholars, John Agnew and Gerard Toal, in their superstar essay Practical Geopolitical Reasoning in American Foreign Policy, suggested that the definition of geopolitics should be 're-conceptualized' as a " discursive practice by which intellectuals of statecraft 'spatialize' in such a way as to represent it as a 'world' characterized by particular types of places, peoples, and dramas." Also, according to Agnew and Toal's understanding, "geopolitics is the spatialization of international politics by core powers and hegemonic states." As a result, when we think of the George W. Bush's 'Axis of Evil' classification, the definition by Agnew and Toal seems more relevant than ever before.
Furthermore, what about the movies and television series we often see for entertainment purposes? For instance, if we take note of the evolution of Liam Neeson's hit movie Taken, we can remark that he is always fighting an enemy from the Eastern hemisphere. During the first two films, the ex-CIA SAD (Special Activity Division) retired operations officer, Bryan Mills, was fighting the Tropoja-native, northern Albanian criminal organization in Paris, which is a 'Western' city. And, who ends up fighting some sort of rich Arab Sheikh—an enemy from the East, moreover, the Islamic world. Also, in the second movie, Bryan Mills, once again, ends up fighting the patriarch's northern Albanian criminal organization, however, the landscape changes when he is fighting them in an Islamic city: Istanbul. Even if there are many ways to interpret this, in my personal view, I would interpret it as how the Albanian criminal organizations will be the new antagonist stereotype across mainstream Hollywood-made action movies, replacing the Italian criminal organization, and the brave and tough 'Western' action hero beating the 'unknown' enemies from the 'East.' It seems that in accordance to Hollywood's geographic imagination, the Italian criminal organizations, have been replaced by tougher groups originating in the 'East'—in this case, more precisely from the Balkans and of Islamic affiliation (at the beginning of Taken 2, we notice an Islamic burial, somewhere around the Albanian alps-type of setting).
As a last observation, what type of antagonist does Bryan Mills battle in his latest movie, Taken 3? Again, an enemy from the Eastern hemisphere: The Russians, though this time, battling a domestic enemy as well (for those that have not seen the movie, I shall stop here). Whatever our personal interpretations might be, we all can conclude with the following statement: The media plays a bigger role in geopolitics than we can imagine, purely by labeling, identifying, and creating the 'other'.
How much influence does popular culture (e.g. books, televisions series, movies, newspapers, news channels) hold in our geographic imagination and the creation of the 'other'? When we think of popular American televisions series, such as Homeland, House of Cards, or movies depicting 'anti-Western' dictators like The Last King of Scotland and The Interview, in addition to your typical war movies (e.g. Black Hawk Down, We Were Soldiers, American Sniper, Lone Survivor), to what extent can these movies and series further geopoliticize a group of people, moreover, an entire nation? For instance, in the case of Somalia, when we see movies like Captain Phillips, how much do we associate a whole country or diaspora as a group of either pirates or Al-Shaabab supporters? And as a last example, jumping to the other end of the spectrum, in the case of Venezuela's media networks which are supportive of government repression like Noticias 24, Telesur and Venezolana de Television (VTV), by constantly creating stories about the big, bad and distrustful 'American Empire' who is, apparently, plotting a coup d'état against the Maduro regime. In reality, the pro-government Venezuelan media networks are failing to inform the population about the economic crisis and rampant insecurity common Venezuelans are experimenting in the streets of cities like Caracas, Maracaibo and Valencia, thereby just like Hollywood creates the 'other,' the same can be said about Venezuela and other authoritarian regimes. No matter what ideological principles a pro-Western or anti-Western government holds, each elite will abide by the same process: to label a group, to identify with a similar group, and to create an 'us' and 'them' discourse.
As a final remark, in order to geopoliticize through words and images, there must be a radically different entity (the 'other); put precisely, the creation of an 'enemy'; an entity, that does not think the same way or hold the same values and ideals like 'us.' For the Romans, the 'others' were the barbarians; For the Persians, it was the Arabs; for the British medieval kingdoms, it was the Vikings; For the Chinese, it was the Xiognu nomadic tribes; for the Austro-Hungarian empire it was the Ottomans; for the European colonial empires it was the Native Amerindians and African tribes; for the Americans, it was the Soviets; and nowadays the new Mongolian hordes of the 21st century are non-state actors like ISIS and similar groups for the rest of the civilized world. The whole point of this article was to show, how in actuality, words and images can be powerful weapons to geopoliticize entire nations, whilst additionally grasping how the political and geographical assumptions, aroused from a European mindset; when, in turn, geopolitical thinking and reasoning was nothing other than the 'vision' that scholars like Mackinder, Kjellen and Haushofer had in mind for the securing vital strategic resources in accordance to their countries' needs at the time. Consequently, we can firmly state that Western identity and geopolitical discourse have a European legacy.
In his last book, World Order, Henry Kissinger quotes an old excerpt of French Travel-writer, Marquis de Custine, who describes Czarist Russia as, "a monstrous compound of the petty refinements of Byzantium, and the ferocity of the desert horde, a struggle between the etiquette of the Lower Byzantine Empire, and the savage virtues of Asia, have produced the mighty state which Europe now beholds, and the influence of which she will probably feel hereafter, without being able to understand its operation." Now, dear reader, it is up to you to be the judge of Marquis de Custine's words. Or in popular geopolitical terms, as Eminem would say, "My words are my weapons…"
A book on Nepal's diplomatic story of co-existence
Recent diplomatic friction between Nepal and India over the new Nepali map including India-controlled territories of Lipulekh, Kalapani and Limpiyadhura encouraged me to go though some Indian perspectives on the Nepal's diplomacy.
For this, I revisited the book titled 'FOREIGN POLICY OF NEPAL' authored by Indian professor SD Muni. This PHD-thesis-cum-book published in 1973 gives some insights on Nepal's diplomatic developments as an oldest sovereign country in the South Asia.
However, this book has some visible bias towards Nepal. For example, it ranks Nepal not as a diplomatic 'power' but only as a 'mini power'. The author has given instances of Nepal's military assistance proving instrumental to quell mutinies both in times of British India in 1857 and independent India in 1948. Nevertheless, he does not want to term Nepal as a diplomatic 'power' even in this era of peaceful diplomacy with soft powers. Still, in the chapter called 'conclusion', he concludes, 'Nepal's geographical location between India and China was also an asset since it placed the kingdom in a strategic position.'
Having read Nepal's foreign policy perspective from an Indian angle of professor Muni, I came across the book titled 'India meets China in Nepal'. Written by Girilal Jain, the editor of India's top English daily The Times of India from 1978-1988, I got this book by the daughter of the author, Sandhya Jain. Jain, also a noted historian of India, generously mailed me the original PDF of this book.
Girilal Jain had close rapports with influential figures of Nepal including the then Prime Minister Tanka Prashad Acharya when he started working on this book from 1956-1957. He said he started working on this volume just after Nepal signed treaties on Tibet and economic assistance with northern neighbor China to which 'many Indians were alarmed by this shift in Nepal's foreign policy in favor of communist China."
Jain has written this book with factual logics and interpretation of Nepali narration. Together with background and important treaties of Nepal and China, Nepal and India, this books includes chapters like ' end of Rana rule', 'experiment of democracy', 'the crisis deepens', 'first general elections', 'Indo-Nepalese relations', 'consequences of Tibet'.
In all of these chapters, Jain gives crystal clear facts of Nepal's political, diplomatic and democratic practices. He has not diluted these facts with his unproven individual interpretations like most of the contemporary Indian journalists and intellectuals do.
The most important and must-read chapter is 'Nepalese version of co-existence.' Unlike, Indian state establishment and its sympathizers, Jain has not provoked Nepal's diplomatic and economic engagements with northern neighbor China. He has made close observation of the premierships of Tanka Prashad Acharya and Dr. K.I. Singh. Acharya, Jian writes, was accused of being pro-China. On the other hand, Acharya's successor Singh was vocally pro-India.
Singh even officially stood behind India in Kashmir conflict on 3 August 1957 saying, "we shall support India on the issue over the Kashmir issue. There is no doubt about it. Kashmir was and is a part of India and the people of Kashmir desire live with the Indian union."
This vocal pro-Indian stand of Nepal on the Kashmir issue is first and last. Sigh could not prolong his stay at Singhadurbar more than 110 days owing to this pro-India stand by diplomatically neutral Nepal. King Mahendra sacked him.
The author also pictures the then power games played by the then two opposing superpowers- USA and USSR. He justified this narration by saying, "Soviet Government has also entered the race for winning over Nepal to its side. The Soviet Embassy has already been set up in Kathmandu; the American Embassy has already been opened because the US cannot allow itself to be beaten by Russian in this competition for influence in Nepal. Thus, Nepal has been drawn into the vertex of the cold war."
This book gives every detailing of Nepal's diplomatic dealing with its giant neighbor India and China ,to which it shares long borders of around 1800 and 1414 kilometer respectively, along with its neutrality towards the global diplomatic power plays exercised by the then world superpowers of US and USSR.
Despite being a well-versed book, the author, however, has made some wrong prediction and interpretation on Nepal's communist parties. "Should the strength of the Communist Party of grow in India, particularly in the bordering states of West Bengal, Bihar and U.P., Nepal will feel its impacts," argues the author, "If communism is finally routed in India, its fate will be sealed in Nepal as well."
At a time when the 34-year-old communist-run state state of West Bengal has been ousted in bordering India, Nepal has seen the most powerful community government in Nepali history with close to two-thirds of seats in the parliament and six out of seven state governments, author's narration has come untrue.
Many global political pundits are picturing a new version of cold war between China and USA in the post-pandemic world. The ongoing border tensions between immediate neighbors of India and China are also at play. At this critical juncture, Nepal needs to stay stronger on its neutrality more than ever. The book 'India meets China in Nepal' published in 1959 can be a brief reminder of Nepal's deeds towards this end.
The theatrics before the Quad Meeting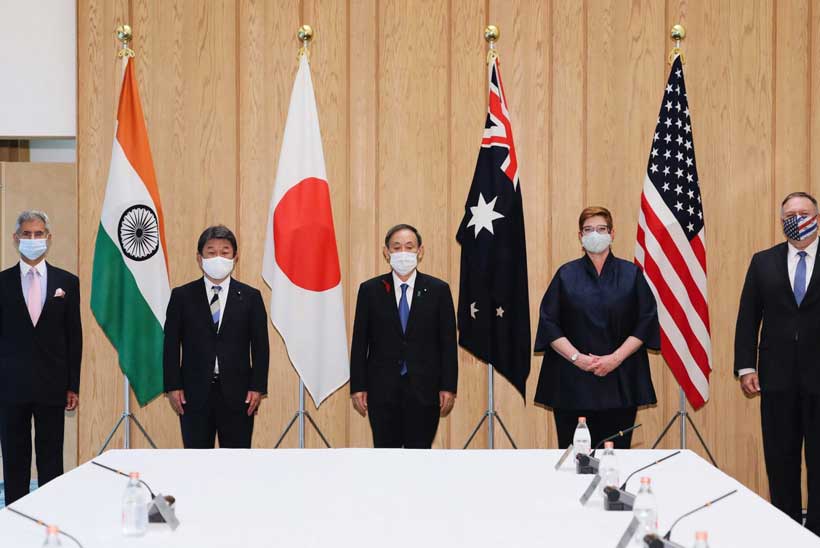 Authors: Mozammil Ahmad and Sruthi V S*
According to a Hindustan Times report, an anonymous senior US state department official has dismissed the talk for formalizing the Quad ahead of the ministerial Quad meeting to be held in Tokyo on 6th October.
The Quad or the Quadrilateral Security Dialogue is the informal forum between the US, Japan, Australia and India. Its origin goes back to the 2004 Boxing Day Tsunami. The adjunct grouping of US, India, Japan and Australia as the 'Tsunami Core Group' was formed to respond to tsunami. The concept of a "Quadrilateral Initiative" as a strategic alliance was first proposed as a dialogue in 2007. It was proposed by the then Japanese Prime Minister Shinzo to form a multilateral dialogue with Japan, the United States and Australia but it fell in 2008. Then, in 2017, the quad was revived and it began convening on a semi-regular basis.
US and the Quad
The US interest in Quad began when it found itself in a strategic competition with China. The US has been rethinking its stance against China before the coronavirus outbreak. The 2017 National Security Strategy of the Trump administration asserted that China seeks to challenge America's power and influence. Meanwhile the 2018 National Defence Strategy termed Beijing as the "strategic competitor." China expanded its international influence through its economy and the BRI to challenge the existing world order. However, during the pandemic, the US-China tensions have accelerated. This led the US to explore alliances in the Indo-Pacific region.
The first instance of US interest in the Quad began in March 2020 when the US initiated a weekly online meeting between Deputy Secretary of State Stephen Beigun and his counterparts in India, Japan, Australia, Vietnam, South Korea, and New Zealand to discuss and exchange views on how to deal with the pandemic. This initiative of the US is more than just exchange views, it also became a coalition of countries with similar views on China. The core countries of the Quad – India, Japan, Australia, are facing their respective security challenges posed by China forming a "Quad Plus".
Therefore, the upcoming ministerial Quad meeting holds strategic importance for the US to form a counter to China's posture under President Xi Jinping.
Then why is the US not eager to formalize the Quad?
In international relations, there is no selflessness. Every move must extract all possible gains. I propose the consideration of the following three factors for the recent US stance-
US Economy
The US economy has plunged 31.4% for the April-June quarter. Economists expect the US GDP to fall even more, making it the first time it has decreased since the financial crisis of 2008. Gregory Daco, the chief US economist at Oxford Economics has said, "With economic momentum cooling, fiscal stimulus expiring, flu season approaching and election uncertainty rising, the main question is how strong the labor market will be going into the fourth quarter." The economic condition of the US is not such to fully commit and invest in a multilateral alliance.
US Presidential Election
The October 6 meeting is being held when the US Presidential election is only a month away. There is an ongoing aggressive campaign battle between Donald Trump and Joe Biden for the Presidential election. Both Democrats and Republicans are wooing American-Indian community towards their side. While Democrats project Kamala Harris as a multiracial VP candidate, the Republicans are highlighting Trump-Modi friendship to consolidate support for their respective parties.
The Hindustan Times report mentions that "human rights organisation Amnesty International's decision to shut down its India operations had "received attention at the highest levels" of the Trump administration and it was being followed "very, very closely" by members of US congress."
This is not yet an official statement of the US State Department. With the reportage in the Indian English media and clear indication towards a domestic event of India, it could be seen as a pressure tactic on the Indian government. With the Trump campaign's reliance on friendship with Modi, this could be a subtle way of asking the Modi government to appreciate the friendship. Hence, increasing Trump's appeal to the American-Indian community.
This is also a typical strategic way to use the soft power of media to influence diplomacy. Maybe U.S wished to propose a few trade deals favourable for them and reports of lack of keenness of U.S to formalize quad may influence other countries to agree to the demands of U.S and appease it.
Commitment Issues
At a U.S-India Strategic Partnership Forum in August, when asked about the attempts to formalize the Quad Plus, the US Deputy Secretary of State Stephen Biegun remarked that "so as long as we keep the purpose right and as long as we keep the ambitions checked to start with a very strong set of members, I think it's worth exploring an (inaudible) like that, although it only will happen if the other countries are as committed as the United States."
The new Japanese Prime Minister Yoshihide Suge spoke to his Chinese counterpart Xi Jinping last week where both the leaders agreed to hold summits and other high-level meetings to cooperate in bilateral, regional and international issues. The goodwill conversation is considered as the improvement for China-Japan relations.
The US could be questioning the commitment of the fellow members of the Quad, and refraining from formalizing it. The recent statement has also mentioned that, "America wanted to strengthen existing regional architectures, not create new ones."
The Quad plus meeting held on 6th October reflected a continuation of their past style of cooperation. The four ministers agreed to convene regular meetings with the next meeting scheduled for next year. For now, the Quad is considered symbolic, though the US Secretary of State Mike Pompeo made remarks to potentially institutionalize Quad. However, much is happening in the world, with the global pandemic, economic slowdown faced by many countries and the US Presidential election, to suggest the future course of the Quad.
*Sruthi V S– Sruthi is a Consultant with Qrius (formerly The Indian Economist). She has previously taught as Assistant Professor in Journalism and Mass Communication at the University of Delhi, India. Her research interest includes art, culture, world, media, politics.
Bhutan – India: A multi- dimensional relationship. interview with H.E. Amb. Ruchira Kamboj
India and Bhutan have shared an interesting relationship for a very long time. They are geopolitical neighbours, trade partners and friends. In this conversation with Modern Diplomacy, Her Excellency Ambassador Ruchira Kamboj, Ambassador of India to Bhutan sheds more light on the India Bhutan relationship and her work in the Indian Foreign Services.
When did you decide that you wanted to join the foreign services? Tell us more about your journey.
That was quite early I would say – while in school. I enjoyed the pursuit of, and discussions on international relations, and greatly looked forward to actual practice! I guess I was fortunate and quite blessed that this aspiration came true.
The relations between India and Bhutan have been historically significant and more so now when the former's relations with few other neighbours seem to be muffled with confusion and disturbances. What do you believe will strengthen India – Bhutan's bond even more?
Bhutan and India are bound together by ties of geography, history, culture, spiritual traditions and centuries old people-to-people interactions.
The special friendship has not only benefited our two nations, it has also created an example for the whole world, an epitome of two nations, of two different sizes, living together for collective growth, bound by an unparalleled friendship.
Both Bhutan and India have young populations. Both Bhutan and India are rapidly transforming societies. A greater focus on youth-centric activities both sides through enhanced exchanges and connectivities, in particular in those sectors where India brings unique strengths to the table, such as IT, STEM, Start-Ups, could potentially be hugely beneficial for further growth and progress. As one tiny example, this year itself, eight Bhutanese students have entered our IITs against their chosen Masters' Programmes.
This ties in with His Majesty's vision and focus on STEM, where technology is rapidly transforming the world around us, and where the pace of scientific advancement is relentless in its pursuit towards creation.
What other plans and bilateral agreements can we foresee other than energy (hydroelectric) and tourism that will be a boon for both the South Asian countries?
The relationship between Bhutan and India today is multi- dimensional encompassing diverse sectors, not being limited to the traditional sectors but opening up to new and emerging spaces such as financial technology cooperation, IT, Start-Ups and Space Science and Technology, for mutually beneficial growth and cooperation.
I am pleased to share and following the visit of Prime Minister Modi to Bhutan in 2019, action has matched talk, and we are well into implementing much of what was envisaged during this memorable visit, reflective of our commitment to advancing the economic and infrastructural development of Bhutan, per the priorities and wishes of the Government and the people of Bhutan.
Speaking of energy diplomacy, what are your personal views on the environment and climate change? What lessons can the world learn from Bhutan's carbon-negative approach?
There are no two views that the world needs to think and act green, to support sustainable growth. India under Prime Minister Narendra Modi has embarked upon a massive upward trajectory as we seek to harness solar and wind energy to power our future. The International Solar Alliance is one example -since 2015, this 87 signatory-alliance is propelling Earth to a low-carbon growth path. Similarly, the Coalition for Disaster-Resilient Infrastructure aims at a climate-change and disaster-resilient future for all.
As for Bhutan, you are truly an example to the world, having envisioned the "requirement" to be green in your country's constitution, and being practically the world's only carbon negative country. Importantly, you are not just resting on past laurels but diversifying slowly but steadily into new spaces- into renewable energy such as solar and wind power; towards green transport; the ban on single-use plastic etc. These, among others, are examples of a country that is deeply respectful and committed to the environment. This is without doubt a tribute to the vision and leadership provided by the Druk Gyalpo of Bhutan, as most recently reiterated at the UN Secretary General's High Level RoundTable on Climate Action by Lyonchhen Dr. Lotay Tshering.
As mentioned before, both countries have also been focusing on cross-cultural tourism with initiatives like digital payments making the process more convenient. Can you speak more about this and the different contours that need to be strengthened?
We share His Majesty's vision for harnessing technology towards economic development and towards strengthening our partnership in new areas such as digital and emerging technologies, financial integration etc.
To this end, Prime Ministers Shri Narendra Modi and Dr. Lotay Tshering had launched the first phase of the Rupay Card in 2019. With this , Indian citizens have been facilitated in making payments with their Indian bank-issued debit cards, in Bhutan. A second phase to be launched in 2020 , will enable the use of Bhutanese bank-issued RuPay Cards across Points of Sale terminals in India. This will benefit all Bhutanese citizens who visit India for education, medical treatment, pilgrimage, work or tourism.
This cross border financial integration will further facilitate our warm people-to-people contacts and integrate furthermore the economies of our two countries.
Your father was an Army officer and your mother, a Professor at Delhi University. Do you credit your success to the environment you were brought up in? How important do you think are parents' support to a child for achieving some feat?
I would agree with you that the early childhood years are critical in shaping future orientation. I was fortunate and blessed in having a vision and values through personal examples from my parents, that have stood me in good stead. I wish that for every child on this planet-that their potential is fully realised in safety and with opportunity.
You seem to have an eye for Bhutanese art and culture. You also have been promoting a film called Lunana recently. Tell us more about that.
It is always a privilege to serve as India's Representative abroad and to get a rare insight each time into a country's culture and way of being, so to speak. The more so, with a country like Bhutan, which offers such a rich and unique mosaic, in itself.
Speaking of "Lunana", I was personally thrilled that this will be Bhutan's official entry to the Oscars, an exquisite opportunity for the world to learn more about this singularly unique country.
Tell us about your previous experiences, of representing India at UNESCO and being a high commissioner to South Africa.
There are no two ways about this: it is an outstanding honour each time to bat for India. It was thus my privilege to serve both as Ambassador of India within the multilateral settings of UNESCO, Paris and as High Commissioner of India for South Africa, a country with which India has a shared history and importantly and going forward, an equally rich future.
If not Foreign Service, what else would you have pursued?
I am indeed fortunate to have lived my dream, I had frankly only envisaged this as a career.
What is the most important lesson you have learned in the 33 years of your glorious service?
A simple message: lead by example.
A message to the young Indians who want to represent their country globally.
I would unequivocally and unhesitatingly say this to my Indian friends that if you do wish to represent your country globally, the best way to do so is through the Indian Foreign Service, an opportunity and a challenge, like no other!