Russia expects US to abandon Europe AMD plans after Iran deal
Welcome to the Caspian Daily, where you will find the 10 most important things you need to know on Caspian Sea Region. We appreciate ideas, reports, news and interesting articles. Send along to Caspian[at]moderndiplomacy.eu or on Twitter: @DGiannakopoulos
1Russia Quickly Maneuvers to Capitalize on Iran Nuclear Deal. "The deal reopens the door for lucrative contracts to expand Iran's civilian nuclear energy program, which Russia has been looking forward to for years. And it may neutralize a major reason the United States has offered for developing a missile defense system in Europe, a project that President Vladimir V. Putin and other Kremlin officials have said was a threat to Russian security. "We all probably remember how in April 2009, giving a speech in Prague, the U.S. president, Barack Obama, said that if Iran's nuclear program is successfully regulated, then the aim of the European segment of the missile defense will be dropped," Mr. Lavrov said straight into the cameras of state-controlled Russian television. "This is why today we drew the attention of our American colleagues to this fact. We will expect a reaction" writes David M. Herszenhorn for the New York Times.
2Enemy of My Enemy: Keeping Iran Cornered through Saudi-Israeli Strategy. "What mitigating allies' concerns truly means in this case is America may ultimately betray its promises and principles on stage today for other promises made to friends tomorrow. It just depends on how important the friends are. And Israel and Saudi Arabia are banking on always being very good friends. This is the true Great Game of the Middle East that no one likes to talk about. It is a game of strategic doubletalk" writes Dr. Matthew Crosston for Modern Diplomacy.
3Good Time to Have Foot in Iran as Nuclear Deal Boosts Stocks. "The deal is "bad for oil and related markets, and rather good for those interested in investing in quite possibly the most interesting market in the world," said Emad Mostaque, a London-based strategist at emerging-market consultancy Ecstrat. Lower oil prices "will put real pressure on energy equities" as "the near-term impact of floating Iranian barrels and medium-term impact of increased Iranian production is absorbed by the market," he said" [Washington Post]
4Turkmenistan takes concrete steps to resolve water issues at the national level and contributes to regional and international cooperation in this sphere, "Neutral Turkmenistan" newspaper reported. The constant growth of water consumption requires coordinated efforts and complex programs, as well as implementation of projects able to bring long-term effect, said the article. The large-scale project for creating artificial water reservoir – Altyn Asyr (Golden Age) lake – in Karakum desert is one of these projects. Currently, intensive work is underway as part of the second phase of this project. The collector's branches are expanded and deepened, hydraulic structures, bridges, roads are constructed.
5Minister of Energy Natig Aliyev: 50% of works on Southern Gas corridor completed in Azerbaijan. "Though it is 2015, we are ahead of the schedule. Our work is to expand the Southern Gas Corridor. We must complete all projects by 2019. However, we have already done 50% of works. It encourages us", the Minister said. Aliyev also noted that the works on TANAP are also carried out within the schedule: "We also control this project. We often hold meetings in Istanbul and Ankara. Our partners inform us about the works. There is no delay in that project either".
6In January-June, 2015 Kazakhstan GDP increased by 1.7%, reported the Statistics Committee of the Ministry of the National Economics of the Republic of Kazakhstan, according to APK Inform. The bullish trend is based on the production growth in major industries, In particular, actual volume index totaled 100.6%, in agriculture – 103%, trade – 102.1%, transports – 106.7%.
7KHORASAN: Where DAESH, Caspian Energy, and Great Power Politics Meet. "Khorasan is a region that encompasses much of Afghanistan, Pakistan, Uzbekistan, Tajikistan, Turkmenistan, and Iran. To DAESH, Khorasan represents the first battleground of its end-of-days scenario. To regional powers, Khorasan represents the future of energy" writes Evan Thomsen for Modern Diplomacy.
8 'Rising' Iran asserts right to play constructive Middle East role. "Now that the nuclear marathon is over, encouraging hopes for a better relationship with its old American enemy, Iran is projecting itself as an island of stability in a sea of trouble and demanding to be treated as an equal. The supreme leader, Ayatollah Ali Khamenei, continues to excoriate "global arrogance", as he always has, but has hinted clearly at cooperation with the US once sanctions end, and dignity – a recurrent word – has been restored" writes Ian Black for the guardian.
9Greek Agreement and Iranian Deal Leave Russia Disappointed and Irrelevant. "Moscow was, in fact, more interested in the talks breaking down, so that the EU would plunge into a deep mess marked by a "Grexit" and Iran would remain isolated by the sanctions regime. However, the two landmark compromises signify a big step forward in enhancing the governability of world order, which leaves Russia—as a revisionist power that favors a crisis of the West-imposed global order—quite irrelevant" writes Pavel K. Baev for the Jamestown.
10An Archaeology Festival dedicated to the International Archaeology Day will be held in Azerbaijan's medieval city of Agsu on July 24-25. The city's archaeological and tourist complex will host the event. It is being organized by the Agsu archaeological expedition of the Institute of Archaeology and Ethnography and the "Miras" Public Union, dedicated to assisting the study of cultural heritage. The festival will include joint archaeological investigations within the complex, various competitions, and meetings with famous archaeologists.The aim of the event is to promote national heritage and ancient architecture, as well as to help develop Azerbaijan's tourism industry.
U.S. seeks to add India in NATO plus
There was a message received a few days ago: "In a significant development ahead of Prime Minister Narendra Modi's visit to the United States, a powerful Congressional 'Committee has recommended strengthening NATO Plus by including India.
NATO Plus, currently NATO Plus 5, is a security arrangement that brings together NATO and five aligned nations — Australia, New Zealand, Japan, Israel and South Korea – to boost global defence cooperation. Bringing India on board would facilitate 'seamless intelligence sharing between these countries and India would access the latest military technology without much of a time lag.
The House Select Committee on the Strategic Competition between the United States and the Chinese Communist Party (CCP), led by Chairman Mike Gallagher and Ranking Member Raja Krishnamoorthi, overwhelmingly adopted a policy proposal to enhance Taiwan's deterrence, including through strengthening NATO Plus to include India.
"Winning the strategic competition with the Chinese Communist Party and ensuring the security of Taiwan demands the United States strengthen ties to our allies and security partners, including India. Including India in NATO Plus security arrangements 'would build upon the US and India's close partnership to strengthen global security and deter the aggression of the CCP across the Indo-Pacific region," the Select Committee recommended."
The news is commented by M.K. Bhadrakumar, Indian Ambassador and prominent international observer:
"Indian lobbyists daydreaming about a military alliance with the United States are excited over the breaking news that the US House Select Committee on the Strategic Competition between the Chinese Communist Party (CCP) and the US has adopted a policy proposal to enhance the deterrence of Taiwan, which inter alia included strengthening of NATO Plus by the inclusion of India. Indeed, NATO Plus is a privileged group under the alliance umbrella comprising AUKUS members, plus Japan.
The breaking news on the Hill may have something to do with Prime Minister Narendra Modi's upcoming State Visit to the US — call it kite-flying or pressure tactic (or both). More likely, it undercuts India's newfound enthusiasm for leading the Global South at world forums, which is posing headaches for Washington.
What has India got to do with 'deterrence of Taiwan', an entity we don't even recognise?
Where's the beef in NATO Plus which has neither an Article 5 nor can be an asset for Modi's vision? Perhaps, the United Kingdom's experience as the US' closest ally provides some clues. Considering the word limit, let me quote just a few lines from a UK House of Commons Committee report dated March with recommendations to the Rishi Sunak government:
"The UK-US relationship in defence, security and intelligence is strong and enduring. Our Armed Forces have fought alongside in many campaigns post-1945 and continue to work together on development of both equipment and doctrine. Both countries benefit from the relationship: the UK benefits from US resources and economies of scale; the US from British niche capabilities, the UK's global reach and its willingness to defend its values. However, defence industrial co-operation is often limited as a result of US defence export controls. Any failure to consult Allies before taking action can also have negative consequences, as was demonstrated by the Afghanistan withdrawal. Nevertheless, the joint approach in response to Russian actions in February 2022 demonstrates the value of the UK-US relationship."
The analogy is patently insufficient since the UK lives and survives as world power thanks to the US, which is not the case with India.
Nonetheless, realism is needed. There is nothing like a free lunch in the US way of life and 'interoperability' within any NATO format will inevitably translate as living off US military hardware and dittoing US global strategy. Europe has learnt the bitter truth that nothing grows under a banyan tree. European defence remains a chimera, occasional captivating speeches by Emmanuel Macron notwithstanding.
Conceivably, the House Select Committee is a doormat for the US arms manufacturers. The paradox is, this move comes only a fortnight after the Indian Navy successfully test-fired the BrahMos supersonic cruise missile from its frontline stealth guided-missile destroyer INS Mormugao — that is, within 18 weeks of BrahMos air version being successfully test fired from the supersonic fighter aircraft Sukhoi 30 MK-I and within 15 weeks of India sealing a $375 million deal with the Philippines for supplying three batteries of BrahMos missile in what is by far the single most prestigious export order India's defence industry ever secured.
NATO Plus will mean sudden death for India-Russia defence cooperation, notes M.K. Bhadrakumar.
South Africa, President Putin and the ICC
South Africa will grant diplomatic immunity to all international officials attending the BRICS summit in August, a move that will allow Russian President Vladimir Putin to avoid arrest.
South Africa's International Relations and Cooperation Minister Naledi Pandor issued a gazette notice extending its Diplomatic Immunity and Privileges Act to the summit delegates.
"In accordance with the powers vested in me by Section 6(2) of the Diplomatic Immunities and Privileges Act, 2001, I hereby recognise the BRICS ministerial meetings to be held in Cape Town, South Africa, from 1 to 2 June 2023 and the 15th BRICS summit to be held in Johannesburg, South Africa from 22 to 24 August for the purpose of granting the immunities and privileges provided for in section 6(1) of the said Act as set out in the attached notice," the gazette reads.
South Africa, which has close ties with Russia, has faced a diplomatic dilemma since the International Criminal Court (ICC) issued an arrest warrant against Putin in March over alleged war crimes in Ukraine.
A signatory to the ICC, Pretoria is obliged to arrest Putin if he lands in South Africa.
Clayson Monyela, the Department of International Relations and Cooperation spokesperson, defended the move, saying such notices are issued every time there is an international meeting in the country.
The government notice, released on Monday, followed Deputy President Paul Mashatile's announcement that he would meet with the inter-ministerial committee tasked with seeking solutions concerning South Africa's options for Putin's visit.
"This is a standard conferment of immunities that we do for all international conferences and summits held in South Africa irrespective of the level of participation," said the department.
"The immunities are for the conference and not for specific individuals. They are meant to protect the conference and its attendees from the jurisdiction of the host country for the duration of the conference.
"These immunities do not override any warrant that may have been issued by any international tribunal against any attendee of the conference," added the ministry.
Initially, President Cyril Ramaphosa had announced that the ruling party had resolved that the country would quit ICC before backtracking hours later citing a "communication error".
South Africa, which has strong economic and trade relations with the US and Europe, has been walking a diplomatic tightrope over the Ukraine conflict, choosing to maintain a neutral stance on the Russia/Ukraine conflict.
The International Relations Department said it is also looking at a legal opinion on handling the ICC's arrest warrant.
Authoritarian regime to strengthen in Poland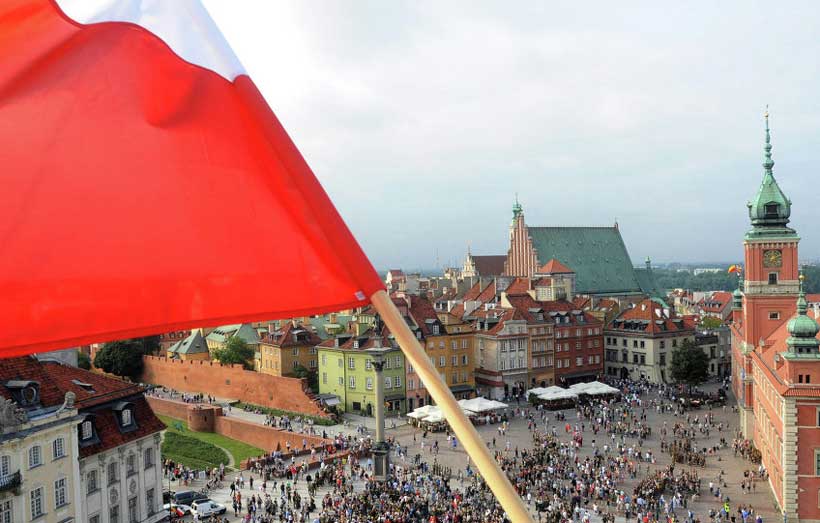 This autumn the elections will be in Poland. The ruling party clearly understands that it can lose the vote, so President Duda signed a law that allows him to start political repressions against the opposition. This is a reminiscent of the situation in the 30s of the last century, when authoritarian regimes began to strengthen in Europe. Now a similar process is starting in Poland. The opposition fears he has 'set off a Polish civil war.'
Poland's President Andrzej Duda said he will sign into law a controversial bill creating a commission to "investigate Russian influence on Polish politics that could ban people from public office for a decade," writes POLITICO.
Duda and the Law and Justice (PiS) party government say it's an effort to root out the Kremlin's agents in Poland, but the opposition warns the commission is aimed at harassing political rivals — especially Donald Tusk, a former prime minister and European Council president who heads the opposition Civic Platform party — ahead of this fall's pivotal parliamentary election.
The decision is likely to worsen already fraught relations between Warsaw and Brussels, with the European Commission freezing billions in EU pandemic recovery cash over worries the Polish government is backsliding on the bloc's democratic principles.
The commission law was narrowly approved by the Polish parliament after a heated debate; Duda's decision to rapidly sign it into law dashed hopes that he would distance himself from the law.
Duda did say he would also send the law to be examined by the Constitutional Tribunal — a top court dominated by PiS loyalists — but that won't prevent the commission from beginning work.
"People have the right to know," Duda said in a broadcast to announce his decision, adding: "The public should form its own opinion on how… those elected in general elections… understood the interests of the Republic of Poland, whether those interests were actually properly executed."
The opposition denounced the commission as a political weapons designed to cow PiS's rivals ahead of an election it might lose.
"President Andrzej Duda has seriously weakened our country today, internally and externally; he has decided to set off a Polish civil war," said Szymon Hołownia, head of the Poland 2050 opposition party.
Borys Budka, one of the leaders of Civic Platform, warned that anyone joining the commission should face prosecution.
"This commission is not supposed to explain anything, decide anything, judge anything, it is only supposed to be a hammer against the opposition," he said.
The Left opposition party called for Duda to be put before the State Tribunal, a body that is supposed to judge politicians.
The commission has also been noted by the United States, Poland's key NATO military ally.
"The U.S. government shares concerns about laws that could appear to allow for the preempting of voters' ability to vote for the candidates of their choice outside of a clearly defined process in independent courts," U.S. Ambassador to Poland Mark Brzezinski told Polish television.
The nine-member commission will be chosen by parliament where PiS has a slim majority; several opposition parties have said they will boycott the procedure.
It will examine actions that were taken "under Russian influence" from 2007 to 2022 — a period covering the 2007-2015 governments of the Civic Platform party led by Tusk as well as the current PiS administration.
Critics say the commission violates the constitution as its functioning isn't precisely defined, its verdicts are final, and members of the commission are shielded from any criminal responsibility. All of the country's intelligence, police, prosecutors and other official bodies are mandated to cooperate with it, and there is no set procedure for deciding who it will investigate.
It can decide to ban people for 10 years from jobs involving the spending of public funds — which would block them from running for office.
"Duda has signed a law allowing the parliament to create a commission that will usurp the functions of courts, prosecutors and special services," tweeted Ben Stanley, an associate professor at the University of Social Sciences and Humanities in Warsaw.
Tusk has called for people to hold a mass protest in Warsaw on June 4 — the anniversary of the 1989 partially free election that ended communist rule in Poland.