Iran nuclear talks: agreement reached in Vienna
Welcome to the Caspian Daily, where you will find the 10 most important things you need to know on Caspian Sea Region. We appreciate ideas, reports, news and interesting articles. Send along to Caspian[at]moderndiplomacy.eu or on Twitter: @DGiannakopoulos
1World powers have reached a deal with Iran on limiting Iranian nuclear activity in return for the lifting of international economic sanctions.US President Barack Obama said that with the deal, "every pathway to a nuclear weapon is cut off" for Iran. His Iranian counterpart, Hassan Rouhani, said it opened a "new chapter" in Iran's relations with the world. The accord will keep Iran from producing enough material for a nuclear weapon for at least 10 years and impose new provisions for inspections of Iranian facilities, including military sites. And it marks a dramatic break from decades of animosity between the United States and Iran, countries that alternatively call each other the "leading state sponsor of terrorism" and the "the Great Satan." The breakthrough came after several key compromises. Diplomats said Iran agreed to the continuation of a UN arms embargo on the country for up to five more years, though it could end earlier if the International Atomic Energy Agency definitively clears Iran of any current work on nuclear weapons. A similar condition was put on UN restrictions on the transfer of ballistic missile technology to Tehran, which could last for up to eight more years.
2The Fate of the Turkish Stream Pipeline after the 7 June Elections in Turkey. "Russia and Turkey move closer together over the last 10 years may experience a slowdown. The increased political risks accompanied on the one hand by a rapidly changing political situation and on the other by Russia's strategic interests and Moscow's updated energy policy, are making their mark on the implementation of the Turkish Stream pipeline. It may therefore be helpful to classify the main political risks for Ankara under the headings of "internal" and "external" writes Kerim Has for RIAC.
3US ambassador: Azerbaijan is the example of tolerance. Since arriving in Azerbaijan, I have learned about many things Azerbaijan can offer to the world. One such thing is the example of tolerance and the history of people of different religions living together and respecting each other, the US ambassador to Azerbaijan Robert Cekuta told during iftar ceremony on the occasion of the holy month of Ramadan at his residency. He also mentioned that today 2.6 million Muslims live in the United States. US value friendship with the countries of the Muslim world and wish to expand these ties.
4Kazakhstan: Economic Crisis, State Companies, And The Nation's Image. "Due to Kazakhstan's close economic relationship with Russia, and the country's dependence on oil exports, which accounted for 70 percent of 2014's exports, Kazakhstan's economy has been one of the hardest hit in Central Asia. The government has already been forced to revise the budget twice since last year, first to refigure finances based on oil being $80 per barrel, then again early in 2015 to base the budget on the price of oil being $50 per barrel. In February 2015, the government warned that 120,000 workers could be laid off due to economic difficulties" writes Qishloq Ovozi for RFE/RL.
5Turkmenistan sees growth in oil production. Oil production in Turkmenistan has increased by 7.8 percent in Jan.-June 2015, compared to the same period of 2014, the country's Ministry of Oil and Gas Industry and Mineral Resources said July 13. Positive changes have been observed in many spheres of economy in H1 of 2015, according to the ministry.During the reporting period, gasoline production has increased by 1.1 percent, kerosene – 0.2 percent, oil bitumen – 19.8 percent, petroleum coke – 0.2 percent, liquefied gas – 0.5 percent, polypropylene – 0.2 percent.Turkmenistan plans to bring the capacity of the refining industry to 20 million metric tons of oil by 2020, 22 million metric tons by 2025 and 30 million metric tons by 2030.
6Cossacks Seek Greater Role in Southern Russia's Economic and Political Life. "On June 26, the ideologue of free Cossakia Grigory Kuznetsov (a. k. a. Vladlen Alyabyev), reiterated his vision of an independent Cossack territorial entity in a brief manifesto. The Cossack leader did not explicitly state that Cossakia should seek independence from the Russian Federation, but strongly suggested the need to explore this route. Cossacks should have their own "national leaders who are elected at the Cossack Council and who depend on the choice of the nation, not on the decrees of the aliens from the bordering state," the activist wrote" writes Valery Dzutsev for the Jamestown.
7China may replace Russia as gas partner for Turkmenistan. Much of Turkmenistan's future stability will hinge on the specific partner that will replace Gazprom, who was recently declared by the Central Asian country as an insolvent one, Luca Anceschi, lecturer at the British University of Glasgow believes."Much of Turkmenistan's future stability will hinge on the specific partner that will replace Gazprom. It might be China, but I think that it is in the interest of the Turkmen government to finalise as soon as possible a new set of energy deals with other partners, located in both Asia and the West," Anceschi told Trend.az on July 13. Recently Turkmenistan said that Russia's Gazprom has become insolvent on its contracts for sale and purchase of natural gas due to the ongoing world economic crisis and the economic sanctions imposed on Russia by the West.
8General Tanasak Patimapragorn, Deputy Prime Minister and Minister of Foreign Affairs of Thailand, begins an official visit to Russia on July 14. Patimapragorn will participate in the Sixth Meeting of the Thai-Russia Joint Commission on Bilateral Cooperation, which will be held on July 15 in Moscow. The Russian part of the Commission is headed by Minister of Industry and Trade of Russia Denis Manturov. Barsky said that several new agreements are planned to be reached during the visit, and some documents may be signed in the areas of agriculture, customs, and environmental protection.
9New Market Research Report: Herbal Traditional Products in Azerbaijan. Traditional herbal therapy is a strong part of Azerbaijani culture. More often people turn to herbal/traditional products or products with such positioning as they are perceived as being gentle and less harmful than standard products. Although these remedies are mostly consumed to eliminate minor symptoms they are gaining more popularity thanks to the growing belief that most OTC's cause addiction. Finally in some cases the price of such remedies is more accessible and thus remains an. Euromonitor International's Herbal/Traditional Products in Azerbaijan report offers a comprehensive guide to the size and shape of the market at a national level. It provides the latest retail sales data 2010-2014 allowing you to identify the sectors driving growth. Forecasts to 2019 illustrate how the market is set to change. [Euromonitor]
10Azerbaijan among most travel-worthy countries. Azerbaijan, which is turning into one of the most popular tourist destinations in the world, is listed among the countries for the "National Geographic Traveler Awards 2015" contest. The competition, conducted by National Geographic Magazine, is being held to determine the best tourist destinations of 2015 by a range of popular leisure activities.
Afghanistan: EU reinforces humanitarian support with €40 million as crisis worsens
The European Commission has allocated an additional €40 million in emergency assistance for those affected by the worsening humanitarian situation in Afghanistan, as well as for Afghan refugees in neighbouring Pakistan and Iran. This brings total EU humanitarian aid for the Afghan crisis to €77 million in 2019: €61 million in Afghanistan, €9 million in Pakistan and €7 million in Iran.
"The humanitarian outlook in Afghanistan is as bleak as ever. Not only has the conflict between the government and non-state armed groups intensified since the beginning of the year, but devastating floods have also hit this war-torn country. The EU is boosting humanitarian aid to help those most in need, especially children," said Commissioner for Humanitarian Aid and Crisis Management Christos Stylianides.
The new funding will get aid to the most vulnerable families across the country, focusing on the victims of war, forced displacement and natural disasters, as well as returning Afghan refugees. This includes providing emergency healthcare, shelter, food, access to clean water and sanitation facilities, and protection services, targeting women and children. The EU will also continue to provide education for children who have had to leave their schools.
In Pakistan, the EU funding will provide assistance to Afghan refugees, as well as internally displaced Pakistanis. In Iran, EU aid will ensure the delivery of vital assistance, including protection and access to basic services such as education and healthcare, to Afghan refugees in the country.
The EU has funded humanitarian operations in Afghanistan since 1992, providing up to €872 million to date. Funds are allocated strictly on the basis of the humanitarian principles of independence, impartiality and neutrality to ensure access to those in need and are only provided to humanitarian organisations.
Background
Afghanistan is one of the most violent crisis-ridden countries in the world. The worst-hit communities are those that have been displaced or have lost access to basic services due to the conflict between government forces and armed opposition groups, which has worsened since the beginning of 2018. While the conflict continues to limit people's access to basic services and lifesaving assistance, the total number of displaced people has risen to almost 3.4 million. Meanwhile, at least 6 million Afghans still live as refugees in neighbouring Iran and Pakistan, many of them without registration or legal status.
The risks of natural hazards further aggravates the humanitarian needs. The aftermath of the 2018 drought and 2019 floods continue to affect over 6.2 million people in 22 out of 34 provinces across Afghanistan.
Regional Conference on Air Quality Management in the Western Balkans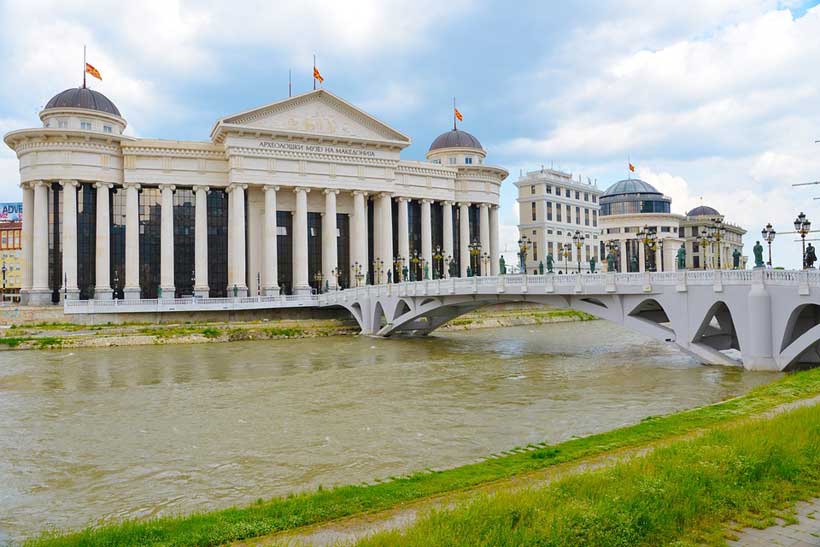 Government representatives from North Macedonia, Kosovo, Bosnia and Herzegovina (BiH) and Serbia met today in Skopje for a regional conference on Air Quality Management – Issues, Solutions, and Financing Approaches. Jointly hosted by the Government of North Macedonia and the World Bank, the conference was an opportunity to learn from experiences from the Western Balkans and from EU and other countries (such as India and China) about innovative ways to approach air quality management, mobilize knowledge, and encourage stronger regional cooperation in this area.
Ambient air pollution (AAP) is a serious global health problem that accounts for an estimated 4.2 million premature deaths per year worldwide. Exposure to fine particulate matter (PM2.5) is especially dangerous to human health because these particles find their way deep into lungs and bloodstream resulting in serious health effects. Premature deaths and illnesses caused by air pollution can result in increased health expenditures and labor productivity losses. People in Eastern Europe and the Western Balkans are frequently exposed to extremely high air pollution in urban areas often exceeding the levels considered safe by the WHO.
"Addressing air pollution in the Western Balkans is an environmental and public health challenge that needs to be urgently addressed and it is high on the agenda of the World Bank as well as many other partners working in the region," said Marco Mantovanelli, World Bank Country Manager for North Macedonia and Kosovo. "We are pleased to be a part of these discussions today and are committed to continuing to support action to reduce air pollution and establish credible Air Quality Management systems in the region through advisory services, technical assistance, and mobilizing financing for investments."
"We value the analytical support from the World Bank and are looking forward to working with them and other development partners to mobilize the needed financing to help improve our air quality and reduce the impacts poor air quality has on people's health," said Jani Makraduli, Deputy Minister of Environment and Physical Planning, also emphasizing the need for regional collaboration. "These discussions help to strengthen cooperation in the Western Balkans, which is particularly important given that a significant portion of air pollution is transboundary."
The conference provided an opportunity to the World Bank to catalyze regional exchange and knowledge sharing and to present analytical findings from upcoming studies on the health and economic damage from air pollution in Bosnia and Herzegovina, Kosovo, and North Macedonia.
The conference also discussed that a comprehensive approach to tacking air pollution in the Western Balkans could be composed of three core components: (a) Data, knowledge, and strategy, including development of comprehensive air quality management plans and investment strategies; (b) Measures to reduce exposure to air pollution in short-term, especially for the young, weak, and vulnerable; and (c) Measures and investments into the persistent medium- to long-term reduction of pollution levels below internationally accepted standards.
Ambitious Reforms for Stronger Economic Growth in Ukraine
Economic growth in Ukraine picked up to 3.6 percent in the first half of 2019 and 4.2 percent in the third quarter driven by a strong agricultural harvest and consumption growth from higher wages, remittances, and a resumption of consumer lending, according to the World Bank's latest Ukraine Economic Update. At the same time, investment growth has not yet picked up to levels needed for stronger and sustained economic growth.
"Delivering on the ambitious reform agenda of the new government to boost investment and economic growth will help create jobs and improve living standards," said Satu Kahkonen, World Bank Country Director for Belarus, Moldova and Ukraine. "The key reforms include establishing a transparent and efficient agricultural land market, demonopolizing the gas sector through ownership unbundling of Naftogas, and increasing the efficiency of bank lending to the private sector by reducing non-performing loans in state-owned banks."
If the key reforms move forward expeditiously, economic growth is projected at 3.6 percent in 2019, 3.7 percent in 2020, and 4.2 percent in 2021.
Sound fiscal and monetary management, including efforts to keep current public expenditures under control, are helping reduce public debt, inflation, and interest rates in 2019. Public and publicly guaranteed debt is projected to decline to 52 percent in 2019 from a peak of 81 percent in 2016. Inflation declined to 6.5 percent in October 2019 from 9.8 percent at end-2018, which has allowed the National Bank of Ukraine to reduce the key policy rate to 15.5 percent in October from 18 percent in April.
Continuing the prudent fiscal management going forward by addressing expenditure pressures from wages and social benefits will be important to further reduce inflation and interest rates and support stronger economic growth and higher living standards.
It will also be important to mobilize adequate external financing to meet significant public debt repayments in 2019-2021.
Establishing a land market for agricultural growth
According to the World Bank's Special Focus Note, lifting the moratorium on agricultural land sales and establishing a transparent and efficient market for agricultural land has the potential to boost economic growth in Ukraine by 0.5 to 1.5 percent per year over a 5-year period.
Ukraine has the largest endowment of arable land in Europe, but agricultural productivity in Ukraine is a fraction of that in other European countries.
The moratorium on agriculture land sales is a major impediment to attracting investment and unlocking productivity in agriculture. The moratorium undermines the security of land tenure and incentives to undertake productivity enhancing investments such as irrigation, move into higher value-added crops, and adopt new technologies.
"The Draft Land Turnover Law passed the first reading in Rada last week in an important breakthrough," said Faruk Khan, World Bank Lead Economist for Belarus, Moldova, and Ukraine. "Enactment of the land turnover law, along with complementary legislation needed to safeguard transparency and efficiency, will be a major milestone in strengthening Ukraine's growth prospects going forward.
Access to financing for small, credit-constrained farmers will be important to enable them to participate in the market and improve their productivity. Financing instruments should be effective and sustainable, which means targeting them to small farmers and designing them in a manner that provides incentives to improve productivity and adopt higher value-added crops and new technologies, at an affordable fiscal cost.