Iran nuclear talks: agreement reached in Vienna
Welcome to the Caspian Daily, where you will find the 10 most important things you need to know on Caspian Sea Region. We appreciate ideas, reports, news and interesting articles. Send along to Caspian[at]moderndiplomacy.eu or on Twitter: @DGiannakopoulos
1World powers have reached a deal with Iran on limiting Iranian nuclear activity in return for the lifting of international economic sanctions.US President Barack Obama said that with the deal, "every pathway to a nuclear weapon is cut off" for Iran. His Iranian counterpart, Hassan Rouhani, said it opened a "new chapter" in Iran's relations with the world. The accord will keep Iran from producing enough material for a nuclear weapon for at least 10 years and impose new provisions for inspections of Iranian facilities, including military sites. And it marks a dramatic break from decades of animosity between the United States and Iran, countries that alternatively call each other the "leading state sponsor of terrorism" and the "the Great Satan." The breakthrough came after several key compromises. Diplomats said Iran agreed to the continuation of a UN arms embargo on the country for up to five more years, though it could end earlier if the International Atomic Energy Agency definitively clears Iran of any current work on nuclear weapons. A similar condition was put on UN restrictions on the transfer of ballistic missile technology to Tehran, which could last for up to eight more years.
2The Fate of the Turkish Stream Pipeline after the 7 June Elections in Turkey. "Russia and Turkey move closer together over the last 10 years may experience a slowdown. The increased political risks accompanied on the one hand by a rapidly changing political situation and on the other by Russia's strategic interests and Moscow's updated energy policy, are making their mark on the implementation of the Turkish Stream pipeline. It may therefore be helpful to classify the main political risks for Ankara under the headings of "internal" and "external" writes Kerim Has for RIAC.
3US ambassador: Azerbaijan is the example of tolerance. Since arriving in Azerbaijan, I have learned about many things Azerbaijan can offer to the world. One such thing is the example of tolerance and the history of people of different religions living together and respecting each other, the US ambassador to Azerbaijan Robert Cekuta told during iftar ceremony on the occasion of the holy month of Ramadan at his residency. He also mentioned that today 2.6 million Muslims live in the United States. US value friendship with the countries of the Muslim world and wish to expand these ties.
4Kazakhstan: Economic Crisis, State Companies, And The Nation's Image. "Due to Kazakhstan's close economic relationship with Russia, and the country's dependence on oil exports, which accounted for 70 percent of 2014's exports, Kazakhstan's economy has been one of the hardest hit in Central Asia. The government has already been forced to revise the budget twice since last year, first to refigure finances based on oil being $80 per barrel, then again early in 2015 to base the budget on the price of oil being $50 per barrel. In February 2015, the government warned that 120,000 workers could be laid off due to economic difficulties" writes Qishloq Ovozi for RFE/RL.
5Turkmenistan sees growth in oil production. Oil production in Turkmenistan has increased by 7.8 percent in Jan.-June 2015, compared to the same period of 2014, the country's Ministry of Oil and Gas Industry and Mineral Resources said July 13. Positive changes have been observed in many spheres of economy in H1 of 2015, according to the ministry.During the reporting period, gasoline production has increased by 1.1 percent, kerosene – 0.2 percent, oil bitumen – 19.8 percent, petroleum coke – 0.2 percent, liquefied gas – 0.5 percent, polypropylene – 0.2 percent.Turkmenistan plans to bring the capacity of the refining industry to 20 million metric tons of oil by 2020, 22 million metric tons by 2025 and 30 million metric tons by 2030.
6Cossacks Seek Greater Role in Southern Russia's Economic and Political Life. "On June 26, the ideologue of free Cossakia Grigory Kuznetsov (a. k. a. Vladlen Alyabyev), reiterated his vision of an independent Cossack territorial entity in a brief manifesto. The Cossack leader did not explicitly state that Cossakia should seek independence from the Russian Federation, but strongly suggested the need to explore this route. Cossacks should have their own "national leaders who are elected at the Cossack Council and who depend on the choice of the nation, not on the decrees of the aliens from the bordering state," the activist wrote" writes Valery Dzutsev for the Jamestown.
7China may replace Russia as gas partner for Turkmenistan. Much of Turkmenistan's future stability will hinge on the specific partner that will replace Gazprom, who was recently declared by the Central Asian country as an insolvent one, Luca Anceschi, lecturer at the British University of Glasgow believes."Much of Turkmenistan's future stability will hinge on the specific partner that will replace Gazprom. It might be China, but I think that it is in the interest of the Turkmen government to finalise as soon as possible a new set of energy deals with other partners, located in both Asia and the West," Anceschi told Trend.az on July 13. Recently Turkmenistan said that Russia's Gazprom has become insolvent on its contracts for sale and purchase of natural gas due to the ongoing world economic crisis and the economic sanctions imposed on Russia by the West.
8General Tanasak Patimapragorn, Deputy Prime Minister and Minister of Foreign Affairs of Thailand, begins an official visit to Russia on July 14. Patimapragorn will participate in the Sixth Meeting of the Thai-Russia Joint Commission on Bilateral Cooperation, which will be held on July 15 in Moscow. The Russian part of the Commission is headed by Minister of Industry and Trade of Russia Denis Manturov. Barsky said that several new agreements are planned to be reached during the visit, and some documents may be signed in the areas of agriculture, customs, and environmental protection.
9New Market Research Report: Herbal Traditional Products in Azerbaijan. Traditional herbal therapy is a strong part of Azerbaijani culture. More often people turn to herbal/traditional products or products with such positioning as they are perceived as being gentle and less harmful than standard products. Although these remedies are mostly consumed to eliminate minor symptoms they are gaining more popularity thanks to the growing belief that most OTC's cause addiction. Finally in some cases the price of such remedies is more accessible and thus remains an. Euromonitor International's Herbal/Traditional Products in Azerbaijan report offers a comprehensive guide to the size and shape of the market at a national level. It provides the latest retail sales data 2010-2014 allowing you to identify the sectors driving growth. Forecasts to 2019 illustrate how the market is set to change. [Euromonitor]
10Azerbaijan among most travel-worthy countries. Azerbaijan, which is turning into one of the most popular tourist destinations in the world, is listed among the countries for the "National Geographic Traveler Awards 2015" contest. The competition, conducted by National Geographic Magazine, is being held to determine the best tourist destinations of 2015 by a range of popular leisure activities.
Multilateralism: The only path to address the world's troubles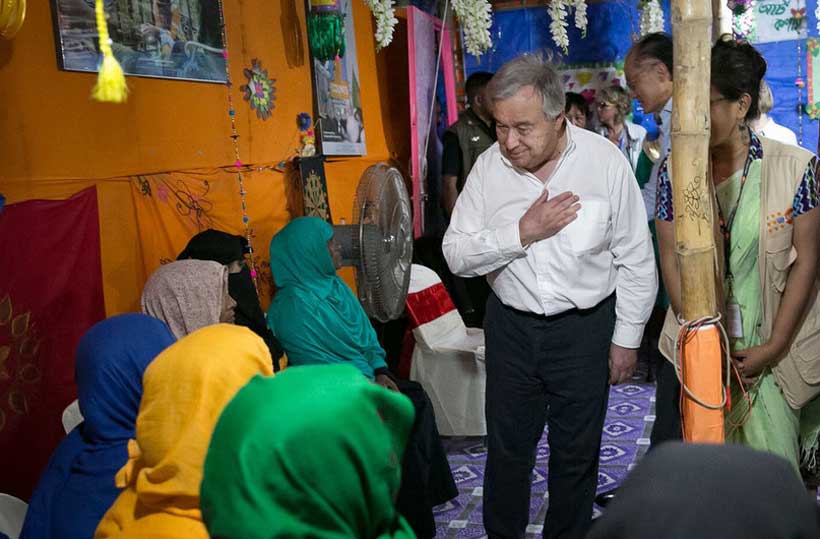 As the world's problems grow, multilateralism represents to best path to meet the challenges that lie ahead, said United Nations Secretary-General António Guterres on Tuesday, launching his annual report.
The Report of the Secretary-General on the Work of the Organization  for 2018, also tracks the progress made over the last year in maintaining peace and security, protecting human rights, and promoting sustainable development.
"I started my tenure calling for 2017 to be a year of peace, yet peace remains elusive," said the UN chief in the report's introduction, noting that since January last year "conflicts have deepened, with grave violations of human rights and humanitarian law; inequality has risen, intolerance has spread, discrimination against women remains entrenched and the impacts of climate change continue to accelerate."
"We need unity and courage in setting the world on track towards a better future," stressed Mr. Guterres, crediting the Sustainable Development Goals (SDGs) for generating coordinated efforts by Member States and civil society to "alleviate poverty and build peaceful, prosperous and inclusive societies."
Wide-ranging reform
The most comprehensive reform of the UN development system in decades already underway, led by Mr. Guterres and his deputy, Amina Mohammed, aims to strengthen the Organization's capacity to support Member States in achieving the 17 SDGs.
While the report points to gains, such as increased labour productivity, access to electricity and strengthened internet governance, it also illustrates that progress has been uneven and too slow to meet the 2030 Agenda for Sustainable Development Goals within the given time frame.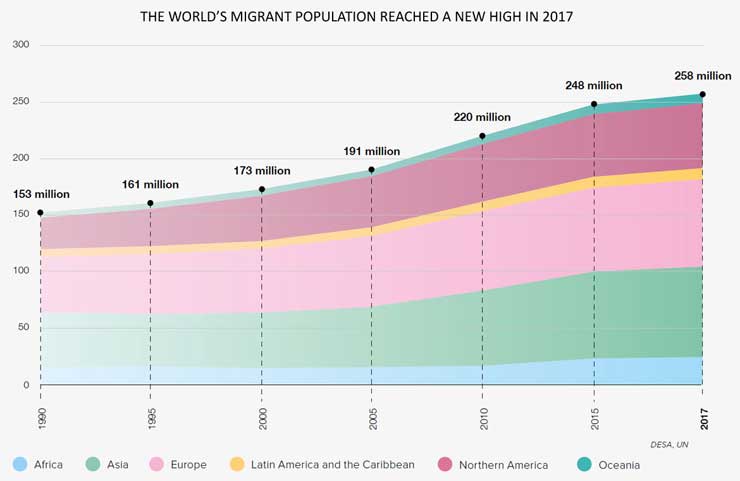 For example, in 2015, three out of 10 people did not have access to safe drinking water, and  60 per cent lacked safe sanitation. Moreover conflicts, disasters and climate change are also adversely affecting populations.
The report underlines the importance of building stronger multilateral partnerships with Member States; regional and international organizations; and civil society; to "find solutions to global problems that no nation alone can resolve."
Although the 2018 High-Level Political Forum on Sustainable Development of 2018 reflected some positive initiatives, it also showed the urgent need to step up efforts in areas such as energy cooperation, water and terrestrial ecosystems.
According to the report, "partnerships are key to achieving the SDGs" – and as of June, 3,834 partnerships had been registered with the Partnerships for the SDGs online platform from different sectors across all the 17 goals.
With regard to technology, last October a joint meeting of the Economic and Social Council (ECOSOC) and the Second Committee welcomed Sophia, the first robot to sit on a UN panel. This gave a glimpse into the advances being made in the realm of Artificial Intelligence.
Turning to young people, UN Youth Envoy, Jayathma Wickramanayake, of Sri Lanka, is continuously advocating for their needs and rights, including in decision-making processes at all levels, and in strengthening the UN system's coordination on delivering for youth, and with their increased participation.
The UN report also spoke to the growing scale, complexity and impact of global migration. In July, the General Assembly agreed a Global Compact for Safe, Orderly and Regular Migration, which will be presented for adoption in December at an Intergovernmental Conference in Morocco.
Youth Calls for Action to Build the Workforce of the Future
Over 400 youth representatives from Asia and the Pacific launched the Incheon Youth Declaration on the Future of Work, which calls upon the international community to invest in more inclusive, large-scale, and market-relevant solutions for youth employment and entrepreneurship.
The declaration, launched during the 6th Asian Youth Forum (AYF6) and coinciding with the celebration of the International Youth Day on 12 August, reflects the shared vision, commitments, and calls to action of the youth to inform future policy strategies and project initiatives to promote decent work. AYF6, with the theme "Building the workforce of the future," was organized by the Asian Development Bank (ADB), Incheon Metropolitan City, Incheon Tourism Organization, Plan International, and AIESEC.
"We at ADB commit to continue investing in youth through our operations, including through our work in education, and in many other sectors we are supporting. We appreciate that the declaration today covers various issues including partnerships, entrepreneurship, as well as environment," said Special Senior Advisor to the ADB President Mr. Ayumi Konishi, who also emphasized that the declaration will help guide ADB in advancing efforts to invest in education and empowering youth as key development partners in the region.
"Incheon will further boost its efforts to support youth employment and startups through various policies, such as the establishment of youth policy organization, cluster for startup incubators, funds, and forum for startups," said Vice Mayor of Incheon Metropolitan City Mr. Jong Sik Heo. Acting President of the Incheon Tourism Organization Mr. Yong Sik Lee also attended the event.
The declaration highlights several key issues affecting youth employment and the future of work and what several stakeholders including governments, private sector, civil society, multilateral institutions, academe, and the youth themselves can do to address them. These issues include ensuring decent work and inclusion; transitioning from education and training to work; fostering youth entrepreneurship; and preparing for jobs of the future.
Youth delegates from 20 developing member countries of ADB have expressed their commitment in carrying out the efforts outlined in the declaration. Ms. Priscilla Caluag, a delegate from the Philippines, shared that the Asian Youth Forum has given her and other young people from the region a unique opportunity to act in ways beyond their own personal interests but ultimately for the betterment of society.
Are Real Estate CEOs missing out on the technology opportunity?
In its 21st annual survey of CEOs from around the world PwC found that technology does not top the agenda for real estate CEOs either as a threat or an opportunity.
Only 17% of real estate CEOs cite cyber threats as a danger to their growth prospects, compared with 40% of all CEOs who took part in the survey.  While even fewer, only 10% of real estate CEOs, view the speed of technological change as a threat to their organisations compared with 38% of all CEOs.
Looking at opportunities only 20% of real estate CEOs said they clearly understood how robotics and artificial intelligence can improve customer services compared with 47% of all CEOs.
Real estate also appears to be a bit behind the curve when it comes to future talent with  just 43% of real estate CEOs rethinking their human resources function to attract digital talent compared with 60% of CEOs overall.
"For most of its history, the capital-intensive real estate industry has had good reason to be slow moving and conservative. But times are changing.  Technology, urbanisation and social changes are transforming how we live, work and play and therefore how we use real estate, meaning business leaders need to be bold and innovative if they will continue to succeed", said Craig Hughes, global real estate leader, PwC.
"Our survey results suggest that real estate CEOs have some way to go if they are to meet digital disruption head on and reap the benefits.  In our view, this process should start through building a more diverse group of talent, including data scientists and behavioural experts, to work alongside their existing talent and build the real estate champions of tomorrow."