Enemy of My Enemy: Keeping Iran Cornered through Saudi-Israeli Strategy
The endlessly fickle oscillation of global affairs is being witnessed today by the waxing and waning of American enthusiasm for an Iranian nuclear deal, now supposedly concluded with a brokered agreement on July 14. But that supposition is in error.
The debate between the initial liberal excitement of rapprochement with the long-time adversary that was always quickly countered by the expected conservative skepticism of a deal being nothing but Persian subterfuge to sneak nuclear weapons past the nose of Western inspectors is going to continue. The subsequent broadsides taken by said skeptics by a "counter counterpunch" will also continue: failure to engage Iran will only undermine any latent local democratic passion in-country while strengthening the true adversary – the Guardian Council and its overarching theocratic irrationality. If that has not spun your diplomatic head enough, given that we are all supposed to be celebrating the newly concluded deal, consider these battling fear and fantasy logics about engagement with Iran (how continuing, or not continuing, sanctions against Iran is either incitement to create an imperial Persian tyrant or, conversely, much ado about nothing) will ultimately be insignificant compared to how both Israel and Saudi Arabia work strategically to keep Iran deep in its global community corner, deal or no deal.
The fear aspect comes from worrying about 'freeing' Iran from crippling sanctions. While those who view Iran from a more hawkish perspective lament how much influence the Shiite republic has managed to obtain across the Middle East while 'weakened,' they are nearly apoplectic with the possibility of removing sanctions and actually letting Iran enter the world market and start to develop global economic stability. The fear logic dictates that a prosperous Iran would not be newly responsible but only more bullish and disruptive across the region. The fantasy aspect, however, decries that the West is making too much out of Iranian desires to be a regional military hegemon. This dismissal relies on materiel statistics that judge Iranian war-making capability as not just obsolete and behind most of the possible regional rivals it might challenge, but as possibly decrepit. Indeed, Saudi Arabia and Israel both massively outspend and out-invest Iran in terms of defense and military capacity and their current standing in terms of direct comparison is considered laughable: simply put, Saudi Arabia and Israel are modern 21st century militaries while Iran is a mid-20th century military at best. All of this back-and-forth, however, misses one very key aspect: it plays exactly into the geopolitically manipulative interests of Saudi Arabia and Israel as it concerns holding Iran down.
This is not necessarily a criticism of either Saudi Arabia or Israel aiming to accomplish this goal. Geopolitical competition is always about advantage and disadvantage and most view that game still as zero-sum. This has been especially so in the Middle East. In the world of Intelligence Studies, however, what matters most is gaining insight from information. And while that is possible when the information is impartial, it becomes nearly impossible when the information is flawed or misleading. This is what will happen in the aftermath of the nuclear deal with Iran, as anyone who reads it will notice almost immediately that it is much more a temporary postponement rather than a permanent solution. What I find so distasteful is not how the interested parties are all now trying to cater and 'manage' the information to their own national agendas. To me, that is a basic definition of foreign affairs, albeit a somewhat callous and blunt one. No, what is distasteful is how the United States often fails to see itself being played by 'allies' while being adamantly watchful against such possibilities with 'adversaries.' The problem, of course, is that whether you are played by friend or foe you are still, in the end, simply PLAYED. And being played doesn't usually end up in your own favor. A recent piece from Foreign Policy perfectly illustrates how this can be both openly evident and inexplicably not noticed:
"The Russian and Iranian position is that the Security Council resolutions rested on the understanding that the arms embargo would be lifted once concerns regarding Iran's nuclear program were resolved. Provided that a deal is reached on Iran's nuclear program, Russia and Iran thus argue, the arms embargo loses its legal justification. The current U.S. position, however, may be less interested in maintaining coherence with past policy than it is with ensuring that it mitigates regional allies' concern as much as possible as part of a nuclear deal with Iran. Understandably, U.S. President Barack Obama's administration fears that undoing the arms embargo on Iran would be a step too far for some of the United States' key regional allies, all of which — but particularly Saudi Arabia — threaten to undermine the administration's case for a nuclear deal should they perceive their interests to dictate in favor of doing so." (The Myth of the Iranian Military Giant, Foreign Policy, July 10, 2015) [bold and italics mine]
The line emphasized in bold and italics is a nod to Israeli and Saudi concerns about Iran as a legitimate regional presence. It is not so much about military conquest or even regional defense hegemony, which is what the original Foreign Policy piece was trying to dismiss from the discussion table. Rather, it is acknowledgement of a very serious but more implicit reason: namely, Saudi Arabia and Israel never want to see a Middle East that has a globally-embraced or even slowly-integrating Iran. In Israel's case, it is an obvious reference to Iran's so-called foreign policy goal to wipe the Jewish state off the map. No matter what changes happen within Iran, no matter what reforms or constraints or inroads made against the Guardian Council, Israel will never see Iran other than the Holocaust-denying, anti-Semitic, radical Shiite republic incapable of ever truly altering the political course set in 1979 by the Ayatollah (Prime Minister Netanyahu's comments today only bear witness to this).
In Saudi Arabia's case, it is the sometimes shrill Wahhabist concern over Shiite encroachment in the Gulf and any perceived challenge, no matter how remote, that Iran might make against the Ummah, the transnational Muslim community writ large. It is easy to forget the radical cleric community within Wahhabism is not exactly tame and docile compared to the radical cleric community within Shia Islam. We are, in essence, witnessing the battle between Gulf radical Islam versus Persian radical Islam for the 'religious conscience' of the region. This is not, of course, the official diplomatic line given from the Saudi royal family in terms of its priorities or agendas. But it is, without question, a matter of 'soul importance' to the religious community within Saudi Arabia. And the fact of the matter is that Saudi religious zealots do not take a back seat to Iranian religious zealots as it concerns zealotry. America just chooses to not draw its attention to that fact and the nuclear deal is not going to lessen this intense rivalry in the least.
And thus, back to the original quote above. What that piece fails to observe or conclude is just how long-term damaging such a position is to the diplomatic and foreign policy credibility of the United States. Put another, more blunt, way: it is stating that America honors or betrays its own policies not because of coherence or rationality or justice. But rather it arbitrarily alters course dependent upon present-day allegiances and the needs of those duly initiated into the 'inner American circle.' What mitigating allies' concerns truly means in this case is America may ultimately betray its promises and principles on stage today for other promises made to friends tomorrow. It just depends on how important the friends are. And Israel and Saudi Arabia are banking on always being very good friends. This is the true Great Game of the Middle East that no one likes to talk about. It is a game of strategic doubletalk. What is potentially the most frustrating in this particular context is how the Great Game might in the end actually backfire on the long-term security of not just the Middle East region or the United States national security agenda but of the actual nuclear deal concluded today.
Truly turning Iran, long-term, into a functioning member of the global community, not just with its benefits but with its responsibilities and obligations, might be the only real plan that allows the Iranian people, long-studied and long-documented as perhaps the most democratically-knowledgeable and democratically-aspiring people within the Muslim world, to finally reconstruct its own society in a manner that fundamentally changes the nature and the dynamic of the region. That possibility has only an inkling of a chance if the present deal is not actively undermined, if the powers on the stage that crafted it work in the coming years to turn what was initially a temporary band-aid into a full-on permanent brace. And that, quite frankly, won't happen if the two most important countries that did not have their flags on the dais today in front of the cameras work hard to ensure this temporary solution becomes simply a confirmation of everyone's worst assumptions about Iran. Perhaps, in the end, that is exactly what Israel and Saudi Arabia want the most. They don't want change. They want affirmation. Sometimes status quo has its seduction.
Justice delayed is justice denied. I lost my family to Iran Regime's barbarity
On May 4, over 1,100 families of the victims of the 1988 massacre in Iran wrote a letter to the international community. We called on the United Nations and European and American governments to take immediate action in preventing the regime from further destruction of their loved ones' graves.
I was one of the signatories. I have lost six of my relatives to the regime's cruelty. I was seven years old when my parents were arrested for their democratic ideals and activism.
My father, Dr. Morteza Shafaei, was a well-respected and popular physician in Isfahan. He was admired by people because he was extremely compassionate and giving to others. He was brutally executed by the regime in 1981 simply because he sought a democratic future for his family and his compatriots. The mullahs also killed my mother, two brothers, Majid (only 16) and Javad, and one of my sisters, Maryam, along with her husband.
By the age of 8, I had lost my entire family, save for one sister, as a result of the regime's executions and crimes against humanity.
The 1988 massacre stands as one of the most horrendous crimes against humanity after World War II. In the summer of that year, based on a religious decree issued by Khomeini, then-Supreme Leader of the theocratic regime in Iran, tens of thousands of political prisoners were liquidated. Most of the victims belonged to the principal democratic opposition movement Mujahedin-e Khalq (MEK).
It is believed that the regime massacred at least 30,000 political dissidents that year in the span of a few months. This much was confirmed by the designated heir to the regime's Supreme Leader Ayatollah Hossein-Ali Montazeri both in his published memoires and leaked audiotape in 2016, in which he condemned the ongoing crime against humanity in August 1988 during a meeting with high-ranking regime officials.
Those officials continue to serve the regime today in high-ranking positions. Ebrahim Raisi, for example, who was a member of the "death committees" in charge of rounding up and killing the political prisoners, is currently occupying the highly sensitive post of the Judiciary Chief. He is expected to announce his candidacy to run for President during the June election. After the June 2009 uprising, he said, "Moharebeh (waging war on God) is sometimes an organization, like the hypocrites (MEK). Anyone who helps the MEK in any way and under any circumstances, because it is an organized movement, the title of Moharebeh applies." According the Islamic Punishment Act, the punishment for Moharebeh is death.
For years, the clerical regime has been systematically and gradually destroying the graves of the victims of the 1988 massacre in Tehran and other cities. As the world learns more about the killings and the international outrage grows, Tehran's mullahs are scrambling to clear all traces of their crimes against humanity.
Most of us have forgotten where exactly our loved ones are buried, many of them in mass graves. The campaign for justice for victims of 1988 has gained greater prominence and broader scope. International human rights organizations and experts have described the massacre as a crime against humanity and called for holding the perpetrators of this heinous crime to account.
Paranoid of the repercussions of international scrutiny into this horrific atrocity, the Iranian regime has embarked on erasing the traces of the evidence on the massacre by destroying the mass graves where they are buried. The regime has tried to destroy the mass graves of massacred political prisoners in Tehran's Khavaran Cemetery in the latest attempt. Previously, it destroyed or damaged the mass graves of the 1988 victims in Ahvaz, Tabriz, Mashhad, and elsewhere.
These actions constitute the collective torture of thousands of survivors and families of martyrs. It is another manifest case of crime against humanity.
The UN and international human rights organizations must prevent the regime from destroying the mass graves, eliminating the evidence of their crime, and inflicting psychological torture upon thousands of families of the victims throughout Iran.
Moreover, the Iranian public and all human rights defenders expect the United Nations, particularly the UN High Commissioner for Human Rights Michele Bachelet, to launch an international commission of inquiry to investigate the massacre of political prisoners and summon the perpetrators of this heinous crime before the International Court of Justice.
Can Biden Bring Peace to the Middle East?
As the fierce fighting between Israel and the Palestinians rages on, the Biden administration's Middle East policy has been criticized for its relatively aloof, "stand back" approach that has resulted in the absence of any pressure on Israel to re-think its harsh mistreatment of the Palestinians, vividly demonstrated in the recent police attack at al-Aqsa mosque and the attempted eviction of Palestinians from their homes in East Jerusalem, viewed by the Palestinians as part of Israel's "ethnic cleansing."
Consequently, a UN Security Council draft resolution on the crisis has been reportedly held up by US, which has prioritized the familiar narrative of "Israel's right to self-defense" ad nauseam, without the benefit any nuances that would reveal any fresh thinking on the problem on the part of the Biden administration.  As in the past, the new crisis in Israel-Palestinian relations has sharpened the loyalties and alliances, in effect binding the US government closer to its Middle East ally under the rainstorm of Palestinian rocket attacks, highlighting Israel's security vulnerabilities in today's missile age.  Determined to crush the Palestinian resistance, the mighty Israeli army has been pulverizing Gaza while, simultaneously, declaring state of emergency in the Arab sections of Israel, as if there is a military solution to an inherently political problem.  What Israel may gain from its current military campaign is, by all indications, bound to be elusive of a perpetual peace and will likely sow the seed of the next chapter in the 'intractable' conflict in the future.  
Both sides are in violation of the international humanitarian laws that forbid the indiscriminate targeting of civilian population and, no matter how justified the Palestinian grievances, they too need to abide by international law and consider the alternative Gandhian path of non-violent resistance, notwithstanding the colossal power of Israeli army.
As the editors of Israel's liberal paper, Haaretz, have rightly pointed out, the problem is the Prime Minister Benjamin Netanyahu, who is highly unpopular, unable to form a government, afflicted with a corruption case, and who has been appeasing the extremist elements in Israeli politics who have no qualm about the illegal expropriation of Palestinian lands. Israeli politics for its own sake needs to move to the center, otherwise the Israeli society as a whole will suffer, as more and more educated Israelis will leave the country, Israel's recent gains through the Abrahams accord with the conservative Arab states will be essentially wiped out, as these states will need to cater to the rising tide of anti-Israel sentiments at home or face serious legitimation problems, and Israel's regional rivals led by Iran will continue to harvest from the present crisis.
Unfortunately, there does not seem to be any political will in Washington to spur a political shift in Israel that would secure better results in terms of the elusive Middle East peace and both President Biden and the Democratic Party establishment are concerned that their Republican opponents will seize on any tangible US pressure applied on Israel. In other words, domestic US priorities will continue for the foreseeable future to hamper a much-needed corrective Washington influence on an ally that receives 4 billion dollar military aid annually and, yet, is unwilling to allow the White House to have any input on its handling of the Palestinians at home and the West Bank and Gaza.
But, assuming for a moment that the Biden administration would somehow muster the will to stand up to Netanyahu and pressure him to cease its massive attacks on Gaza, then such a bold move would need to be coordinated with a deep Arab outreach that would, simultaneously, persuade the Palestinian groups led by Hamas and Islamic Jihad to go along with a US-initiated cease-fire, followed by related efforts at UN and regional level to bring about the groundwork for a more enduring peace, such as by holding a new international peace conference, similar to the Oslo process.
At the moment, of course, this is wishful thinking and the protagonists of both sides in this terrible conflict are more focused on scoring against each other than to partake in a meaningful peace process. In other words, an important prerequisite for peace, that is the inclination for peaceful resolution of the conflict instead of resorting to arms, is clearly missing and can and should be brought about by, first and foremost, a capable US leadership, sadly hitherto missing.
Israel-Palestine Conflict Enters into Dangerous Zone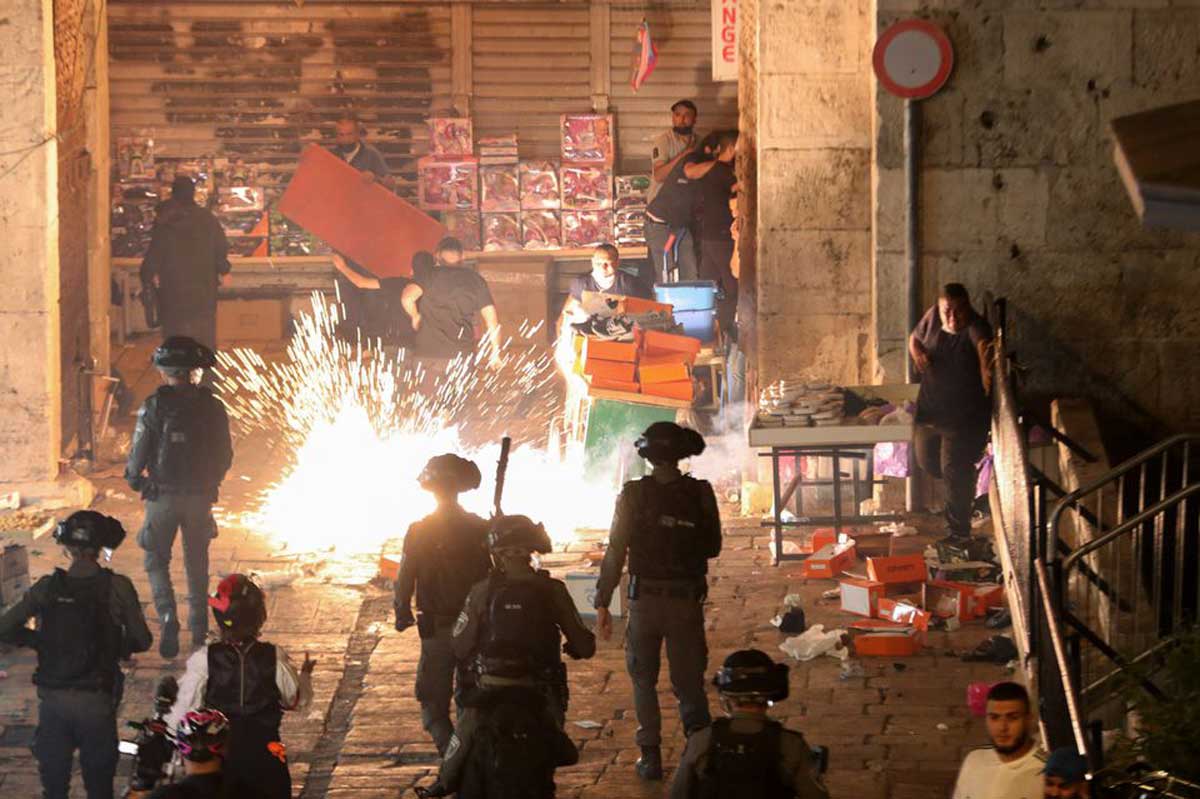 Since the start of the Muslim holy month of Ramadan in mid-April 2021, tension has escalated, with frequent clashes between police and Palestinians. The threatened eviction of some Palestinian families in East Jerusalem has also caused rising anger. But when Israeli security forces entered and attacked the unarmed Muslim worshipers, damaged the property, and humiliated the families, the situation turned into conflict.
Since the irrational and illogical creation of the Jewish State in the middle of the Muslim World, the tension started and emerged into few full-fledged armed conflicts and wars like; 1948–49, 1956, 1967, 1973, 1982, and 2006 wars/ conflicts. Tensions are often high between Israel and Palestinians living in East Jerusalem, Gaza, and the West Bank. Gaza is ruled by a Palestinian group called Hamas, which has fought Israel many times. Palestinians in Gaza and the West Bank complain that they're suffering because of Zionists' expansionist actions. Israel's severe violations of human rights and extreme atrocities against Palestinians left Palestinians with no option other than protest and agitate. But Israel suppresses them and uses all dirty tricks to keep them silent.
It is worth mentioning that the United Nations Security Council has passed several resolutions to settle the Israel-Palestine issue peacefully. But Israel has not implemented either of them and kept using force to push them out and settle Jews in their land.
The State of Israel has been enjoying undue supported by the US, irrespective of who is president, but all of them support Israel unconditionally. Israel is the most favored nation of the US and the largest beneficiary of American aid, assistance, and support.
Ex-President Donald Trump helped Israel establish diplomatic relations with the United Arab Emirates, Bahrain, Sudan, and Morocco. Donald Trump favored Netanyahu, dramatically moved the US embassy from Tel Aviv to Jerusalem. His daughter and son-in-law were the facilitators for his support to Israel.
Till last news, at least 56 Palestinians have died under an array of aerial bombardments of the Gaza Strip. Five Israelis were killed too. Rockets, bullets, and rocks are flying around Israel and the Palestinian territories with catastrophic intensity in the latest wave of violence that periodically marks the Palestinian-Israeli conflict. Palestinian protesters run for cover from tear gas fired by Israeli security forces amid clashes at Jerusalem's Al-Aqsa mosque compound on May 10, 2021, ahead of a planned march to commemorate Israel's takeover of Jerusalem in 1967 Six-Day War. Security forces have set on fire the centuries-old holy Mosque. Serious communal violence has broken out within Israel between Arab citizens and Jews. Fires were lit, a synagogue burned, a Muslim cemetery trashed, police cars set aflame, and an Arab-Israeli man killed. The mayor of Lod termed it a "civil war."
The ferocity of the fast-escalating conflict might be extremely dangerous as Israel uses hi-tech, advanced, lethal weapons. A week ago, Israeli Prime Minister Benjamin Netanyahu seemed close to losing power after the climax of four inconclusive elections. The outbreak of hostilities has allowed him the opportunity to make his latest appearance as a tough guy and ended coalition talks by rival politicians. He might politicize the conflict in his favor.
There is a severe danger of spreading this conflict to a large-scale war, which might engulf the regional countries. There already exists tension among Israel and few regional powers. The recent Israeli attacks on Russian bases in Syrian may also widen the conflict.
Any war in the middle-East will have dire consequences globally. It is appealed to the UN and all peace-loving nations and individuals to speed up all-out efforts to stop the conflict at this initial stage and avert further bloodshed. It is demanded that the Israel-Palestine issue must be settled according to the resolutions passed by UNSC. Wish immediate peace, sustainable peace, and permanent peace in the Middle East and globally.