Iran's Competing Futures: Global Economic Participant or Regional Religious Hegemon?
As the official deadline for the nuclear deal approaches, many are expressing their apprehension over the consequences that may emerge should a deal be reached and sanctions on the Islamic Republic are lifted.
The anxiety mostly has to do with concerns over regional and global stability that may be threatened if Shia Iran plans to export more than oil, gas, and pistachios. Like its Islamic Revolution ideology, for example.
While there is no doubt that Iran – a country that is often accused of aspiring to be a hegemonic power driven by aspirations to dominate the Middle East by spreading its religious ideology – would have a greater influence on Sunni Azerbaijan and the five majority Sunni Central Asian states, there is no evidence that suggests their influence would extend past a purely economic one. In fact, the governments of these former Soviet Republics have high-ranking members that were once affiliated with the Communist Party during the Soviet era. Members who are still deeply suspicious of theocratic rule.
For these states, who have been independent for almost 25 years, there are clear opportunities that may arise from new trade developments in the region. As talks of recreating the ancient Silk Road – the name for the ancient trade route between the Mediterranean Sea and China – continue, the possibility that Iran will no longer be off-limits is being eagerly anticipated. Because the Caspian Sea offers little trade potential at the moment due to its contested legal status, this situation may offer opportunities for Central Asia that will allow it to cut back its reliance on countries like Russia to the north and China to the east. A southern route through Iran would effectively change the dynamics of trade, giving the five central Asian countries more leverage at the bargaining table with their superpower neighbors.
A passage through Iran also offers a shorter non-Russian route for shipping Central Asian oil and gas to Europe. The European Union is also looking to decrease its dependence on Russian supplies so it is actively looking to diversify its gas suppliers. Receiving gas from the Caspian Region – known as the Southern Gas Corridor Project – via this route would be enormously advantageous for them. However, this would take a minimum of five years and maybe even closer to a decade before any of these projects would be functional.
In general, coming to a nuclear agreement is welcome among ordinary Iranians who have suffered a great deal from the international sanctions slapped on them by the United States and other nations. These sanctions have imposed restrictions on trade and international banking which have seriously hurt Iran's economy. To the Iranian people, a deal means more jobs which would lead to a higher standard of living. While many would argue that the Iranian people have gotten a raw deal, it is important to remember that Iran's Guardian Council regime has often tried to deliberately provoke the United States. When presented with evidence to support it was enriching uranium in the early 2000s, Iran's regime admitted it had hidden a uranium enrichment program from the world for almost two decades. Iran continued to enrich uranium openly in defiance to the United Nations. Things got worse when Iran's former President Mahmoud Ahmadinejad, a very controversial leader, insisted that Iran would not stop enriching uranium and that the West had no business interfering in their affairs. He publicly announced that it was Iran's intention to destroy the nation of Israel and eventually defeat the United States – the "Great Satan." This certainly hurt the side effort by calmer voices in Iran that tried to emphasize nuclear energy alone.
The United States – despite Iran's insistence that it was pursuing a uranium enrichment program only to build nuclear power plants – was convinced Iran was building a nuclear weapon and saw Iran's actions as deliberately violating the Nuclear Nonproliferation Treaty. Under its provisions, the nations with nuclear weapons at the time agreed not to give nuclear weapons – or the knowledge on how to build them – to any other nation. The United States and its allies – especially Israel and Saudi Arabia – are worried that should Iran acquire nuclear weapons, it would throw the Middle East into turmoil. They believed other countries would want to build their own nuclear weapons and a regional nuclear arms race would ensue that would be tinged with religious extremism.
To be fair, Iran has made real progress in recent years. With the election of Iran's current president, Hassan Rouhani, the country has taken a different stance toward the nuclear issue. President Rouhani criticized the nuclear stand-off with the West and brought much attention to the state of Iran's economy that was being smothered by the sanctions. The sanctions isolated Iran from the rest of the world and President Rouhani started negotiations with the P5+1 countries which led to an interim treaty in 2013 that stated Iran would seriously limit their uranium enrichment program in exchange for temporary relief from the sanctions.
However, as many are aware, Iran's president is the elected head of government but largely fills a ceremonial position. The Supreme Leader, Ayatollah Sayed Ali Khamenei, is the one who calls the political shots. He has the power to veto any legislation passed by the executive branch per Iran's unique "Islamic government" constitution. Not surprisingly, there are deep rifts in the country's government caught in what some might consider a nasty power struggle. On one side are the reformists led by President Rouhani and on the other conservatives led by Ayatollah Khamenei. The reformists want Iran to become more democratic while the conservatives want to keep the country in line with the fundamentalist Islamic social codes introduced by Ayatollah Khomeini in 1979.
Even though Ayatollah Khamenei has been behind President Rouhani on the nuclear issue, these rifts could prevent Iran from improving its global image and from making further progress socially, economically and politically. Unfortunately, the country already has a reputation to some for thuggish behavior as both a violator of human rights and as one of the largest exporters and contributors of terrorism. Even though an argument can be made that the rights and opportunities of women have improved in recent years, the country has lost too many of their best and brightest citizens to relocate to the West and other countries that are more modern and democratic. If sanctions are lifted and it is truly their desire to get involved with projects like the Southern Gas Corridor Project, Iran will need to take some serious steps toward addressing its internal problems, worrying more about being a major participant in the global economy and less about aspirations to be a regional religious hegemon. Right now it seems like most of the country favors the former objective overwhelmingly. But the Guardian Council undoubtedly still dreams of the latter. Checking that desire, or enacting some type of reform on the Guardians, could be the most interesting immediate future for Iran when it comes to economic plans in the greater Caspian region.
World Powers Must Address the Nexus of Iran's Terrorism and Diplomacy
On coming Friday, a high-ranking Iranian diplomat will stand trial in Belgium along with three co-conspirators in a terrorist plot. The prosecution is an opportunity to hold these four individuals accountable for activities that could have harmed hundreds of advocates for democracy in the Middle East. More than that, it is also an opportunity for Western powers to reconsider their overall approach to the regime that enables and actively promotes such terrorist plots.
The trial concerns the attempted bombing of an international gathering, organized annually near Paris by the coalition of Iranian opposition groups and personalities, National Council of Resistance of Iran (NCRI). Collateral damage of the June 2018 plot could have easily included any number of the high-profile dignitaries who had traveled to the event from throughout Europe, the United States, and elsewhere. Among these were many members of parliament from across Europe, former US Ambassador to the UN Bill Richardson, former PM and Foreign Minister of Canada, Stephen Harper and John Baird, former Foreign Ministers of France and Italy, Bernard Kouchner and Giulio Terzi, and President Trump's personal attorney, Rudy Giuliani.
This list of potential victims stands alongside the French venue as a reason why it is especially important for Western governments to offer an assertive reaction to the terror plot. Ideally, that reaction could have happened very soon after the plot's details were revealed, particularly after it was announced that the third counsellor at Iran's embassy in Vienna had been arrested in connection with it. But the trial of that terrorist-diplomat, Assadollah Assadi, represents another opportunity for a unified Western coalition to send a strong message to his handlers in Tehran.
Make no mistake, those handlers were guiding Assadi through the entire process. An initial, months-long investigation into the terror plot led to an announcement from the French Government which stated unequivocally that the plot had been approved at the highest levels of the Iranian regime. This finding has been corroborated every step of the way by the two-year Belgian investigation. Throughout that time, Tehran has explicitly stood behind its agent, as by trying to obstruct his extradition after he was arrested in Germany, just outside the bounds of his Austrian diplomatic immunity.
Despite those efforts to help him escape accountability, an alternative account of the terror plot has gradually emerged which suggests that Assadi was acting as a rogue agent, without the knowledge or consent of his own government. This is nonsense, and it has been appropriately and repeatedly debunked by persons with knowledge of the case, as well as by persons with a solid understanding of how the Iranian regime operates in general.
"The plan for the attack was conceived in the name of Iran and under its leadership," wrote Jaak Raes, the head of Belgian state security services in recent communications with the media. "It was not a matter of Assadi's personal initiative."
It is not even clear why anyone would think otherwise, unless it is because the direct involvement of such a high-ranking diplomat doesn't seem to be part of Iran's usual modus operandi. This is a valid point, but the change in tactics should raise more questions about the perceived value of the target in 2018 than it does about who is ultimately responsible for setting that target. In fact, the Iranian regime's attempted attack on the opposition gathering was predictable because Supreme Leader Ali Khamenei had personally acknowledged, that January, that the NCRI coalition was responsible for an ongoing, nationwide upsurge in unrest.
The January uprising inspired countless protests that carried the same anti-government message through the rest of the year, during which time Tehran became fixated on stamping out dissent both at home and abroad. That fixation called for more carefully managed terrorist activity than is usually channeled through the regime's various terrorist proxies, such as Hezbollah. In essence, the 2018 terror plot only brought the role of Assadi and other Iranian diplomats into the foreground, putting him in a leadership position whereas once he might have simply channeled the regime's instructions, financial and logistical assistance into the hands of third-party militants.
Now that the curtain has been drawn back on the regime's existing terrorist infrastructure, the international community must carefully consider how to assure that it is never activated in this or any other way again. It will not be sufficient to just secure conviction for the 2018 conspirators, although this is certainly a step in the right direction. Major world powers should amplify the message of that conviction so the Iranian regime will have no doubts about the consequence of other such terror plots being thwarted in the future.
Many of those who attended the 2018 gathering have recently outlined some of the ways in which this message might be conveyed. In a number of online conferences they used the opportunity to advocate for enhanced economic sanctions on regime authorities, further diplomatic isolation for the regime as a whole and the application of formal terrorist designation of entities like the Islamic Revolutionary Guard Corps and the Iranian Ministry of Intelligence and Security.
Diplomatic isolation seems to be an especially contentious topic, especially when advocates raise the prospect of shuttering Iranian embassies and consulates altogether. But details of the Assadi case should receive a broader public airing next Friday and then it should become much easier for policymakers throughout the world to sign onto a foreign policy strategy that acknowledges the Islamic Republic is the furthest thing from an ordinary diplomatic partner.
Far from closing off a pathway for promoting moderation within the Iranian regime, embassy closures would actually limit the regime's ability to convey terrorist extremism beyond its borders, sometimes even into the heart of Europe. In partnership with other assertive Western policies, this sort of diplomatic isolation can be expected to force the regime into a position where it must either fundamentally transform its behavior in order to survive or else focus exclusively on domestic affairs and risk overthrow by an increasingly restive population.
Iraq Has the 'Highest Negative Experiences Worldwide' (Gallup)
Both Iraq and Iran have been and are being either sanctioned by or else constantly being threatened by the U.S. Government, though neither Iraq nor Iran ever invaded nor even threatened to invade the United States. This is pure aggression against both Iraq and Iran, and the millions of people who are suffering these constant aggressions are the peoples of Iraq and of Iran. Never does the U.S. Government apologize, and never do any of its allied governments (America's vassal nations) so much as just suggest that the U.S. Government ought to apologize, for its constant wars of aggression against the peoples of those and of other countries that never threatened America. The U.S. is a constant international outlaw, launching wars of aggression routinely, and the rest of the world remains silent about this, decade after decade.
17 years after America's conquest of Iraq, the "Gallup Global Emotions Report 2020", which was just issued on November 19th, finds:
Iraq: The Most Negative Country in the World
After years of posting some of the highest scores in the world on the Negative Experience Index, Iraq topped the list in 2019 with a score of 51. This figure represents a slight increase from its score of 49 in 2018.
The country's 2019 score reflects the turmoil in Iraq amid some of the largest and bloodiest protests in years. In late 2019, Iraqis' approval of their country's leadership plummeted from an already low 22% to just 13%. Nine in 10 Iraqis said corruption was widespread throughout their government.
Negative experiences remained fairly common for most of the population in 2019, with at least roughly half of Iraqis experiencing each of the five experiences in the survey. Notably, Iraqis led the world in experiencing anger — which was on full display in the streets in 2019 and 2020 — with 46% saying they felt a lot of anger the previous day.
No other country posted a Negative Experience Index score higher than Iraq's, but, as in past years, people in several countries with high negative scores in 2019 were typically contending with some type of turmoil. Many have been at the top of the list for several years, including Chad, which was the most negative country in the world in 2018. However, there were several new appearances in 2019: Rwanda, Afghanistan, Lebanon and Tunisia.
This is nothing new. Gallup's "Global Emotions Report 2015" said:
Iraq, Iran Top Negative Experience List for Second Consecutive Year
Iraq and Iran have the highest Negative Experience Index scores in the world for the second year in a row. Iraq has been No. 1 on this index three times — in 2011, 2013 and 2014 — and has been among the top five in all other years since 2008. Iran was No. 1 in 2012 and has made at least the top 15 countries in the years when Gallup has conducted surveys there. The presence of Iraq and Iran at the top of the list may not be that surprising given the political and economic turmoil that people in these countries have been experiencing lately, and how strongly related negative scores are to people's perceptions about their living standards and health problems. In fact, people in most of the countries with the highest negative scores in 2014 were contending with some type of disruption — economic or otherwise — including Liberia, which was dealing with the onset of the Ebola outbreak at the time of the survey.
In that year's surveys (2014), all ten of the countries that had the "Lowest Negative Experience Index Scores," except Rwanda, Myanmar, and Taiwan, were countries that prior to 1991 were communist countries, and included both Russia and China.
On 29 September 2015, I headlined about that report, "GALLUP: 'Iraqis Are the Saddest & One of the Angriest Populations in the World'," and closed with "Is Uzbekistan really the best place to live? Anyway, it's one of the few countries that the U.S. didn't grab control of, either by outright invasion, or by means of a coup." All of the ten-best-scoring, and ten worst-scoring, nations, in that report, were listed there.
In that 2015 report, Iraq scored as #1 on "negative experiences," and Iran scored as #2. In the 2020 report, Iraq is again #1 on it, but Iran is now #9 on it. The 2015 report said: "Iraq's high Negative Experience Index score is largely attributable to the relatively high percentages of Iraqis who report experiencing each of these negative emotions. Majorities of Iraqis experienced worry (62%), physical pain (57%), sadness (57%) and stress (55%) the previous day, and half of Iraqis (50%) said they experienced anger. Iraqis lead the world in experiencing sadness and tie with Iran on anger (49%)." Great going, team America! America's liar-in-chief, who deceived Americans into invading Iraq, George W. Bush, had a favorable/unfavorable rating of 59%/37%, or a 1.6 net-favorability score, in Gallup's latest (2017) survey; and the last time when Gallup had surveyed and found at least as high a ratio for him was in January 2004, 65%/35%, or 1.86: his approval by the American people at that time was 1.86 times favorable, as compared to unfavorable. So, Americans simply don't hold such monstrous lying leaders accountable, at all — not only don't execute them, but don't even especially despise them, for the gratuitous vast harms, which such a leader had produced.
Now, five years later, in Gallup's 2020 report, the ten "Lowest Negative Experiences Worldwide" nations are still dominated by countries that, prior to 1991, were communist. Here is that list, of these ten countries, and their respective "Negative Experience" scores, in the 2019 surveys:
Taiwan 13
Kazakhstan 15
Mongolia 16
Azerbaijan 16
Turkmenistan 17
Poland 17
Estonia 17
Vietnam 18
Malaysia 19
Kyrgyzstan 19
China 19
Again, only two of them had not been communist, but this time a different two: Malaysia and Taiwan.
Here are the 2020 report's "Highest Negative Experiences Worldwide":
Iraq 51
Rwanda 49
Afghanistan 48
Chad 48
Lebanon 48
Sierra Leone 48
Guinea 47
Tunisia 46
Iran 45
Togo 45
So: Rwanda went from being the 7th-lowest in the "Negative Experience Index Scores" in 2015, to being the 2nd-highest in the "Negative Experience Index Scores" in 2020. That suggests some type of terrible change in Rwanda during those five years.
Here are the changes in "Lowest Negative Experiences Worldwide" between the 2015 report and the 2020 report:
2015
Uzbekistan 12
China 15
Mongolia 15
Myanmar 15
Russia 15
Taiwan 15
Rwanda 16
Kazakhstan 17
Kyrgyzstan 17
Turkmenistan 18
2020
Taiwan 13
Kazakhstan 15
Mongolia 16
Azerbaijan 16
Turkmenistan 17
Poland 17
Estonia 17
Vietnam 18
Malaysia 19
Kyrgyzstan 19
China 19
Not even the American people benefit from the U.S. Government's constant invasions, and coups, and economic sanctions, against so many countries that never posed any threat to the U.S. Only America's billionaires benefit, and too few of those exist for them to show up in any of these "happiness" and "misery" figures from Gallup. They control the U.S. Government and thereby spread misery in so many places, to benefit only themselves.
Syrian Idlib: What's Next?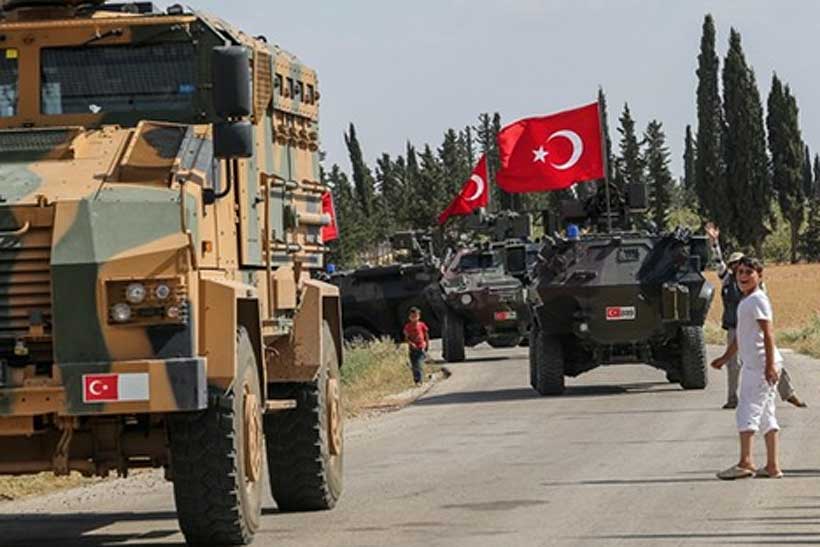 In October 2020, as the media reported Russia's Aerospace forces resuming their strikes against the local armed opposition, Turkey relocating its observation posts, and Syrian militants fighting in Nagorno-Karabakh, the global community once again turned its attention to the events in Idlib. It is important to consider possible development scenarios in the light of both Idlib's distinctive features and of those characteristics it has in common with other territories not controlled by the Syrian authorities, in the light of the balance of power within the Idlib "pocket", in the light of the interests Turkey and other external forces have there, and in the light of modalities of military or peaceful settlement and Moscow's actions.
Is Idlib a "Unique Rebellious Province"?
At first glance, like the territory of the Kurds' Autonomous Administration of North and East Syria (AANES), Idlib seems to have formed a military conflict economy existing in parallel with the official Syrian economy controlled by the Syrian government. Unlike the oil-rich Kurdish regions, which are also Syria's "breadbasket", however, Idlib has no natural resources at all. Before the war, Idlib was a poorly developed province working in traditional agriculture, mostly olive-growing. Consequently, compared to the AANES, Idlib was far more vulnerable to the actions of external actors and Damascus's ambitious plans to use force to restore Syria's territorial integrity. Not only did Idlib fail to become a successful project of the Syrian opposition (which could not but fail for objective reasons), it became hostage to foreign aid.
Like Syria in general, Idlib shows signs of a humanitarian crisis. While the 2004 census put Idlib's population at a little over 1,258,000, as of August 7, 2020, the local population swelled to 4.1 million, 2.7 million of them internally displaced persons from other governorates and 2.8 million of them in need of food and medications (reported by the UN Office for the Coordination of Humanitarian Affairs). Another mass exodus of non-combatants into Idlib took place following the Syrian Arab Army's (SAA) successful offensive in December 2019 – March 2020. Since foreign aid is politicised (see, for instance, the highly publicised story of American and British NGOs halting deliveries of humanitarian aid from Turkey through the Bab al-Hawa border crossing in September 2018 in an attempt to strip Idlib radicals of their benefits), it is easy to predict that an "overnight" change of the status quo in favour of Damascus will result in restricting donor aid and, as a consequence, in a humanitarian disaster.
Idlib became a "pocket" for the opposition "squeezed" between areas liberated by the SAA and Turkey. At the same time, unlike the security zone in the North, which is de jure governed by the "Syrian provisional government" but is de facto controlled by Ankara, in Idlib, much to the Turks' displeasure, the key role is still played not by the militants from the National Front for the Liberation of Syria (NFL) loyal to Turkey, but by the recalcitrant jihadists from Hay'at Tahrir al-Sham (HTS) (banned in Russia as a terrorist organisation), which previously had ties with Al-Qaeda (also banned in Russia as a terrorist organisation).
Local reconciliations (or pacifications) in Idlib appeared impossible in principle: this region had absorbed intransigent opposition members from the South of Syria and from the Damascus region, and they had nowhere to go since Turkey had always been set against letting unpredictable radicals on to its own territory. Idlib jihadists flatly rejected reconciliation with the Syrian authorities, admitting only that civilians had been forced to take part, but they never agreed to such participation on the part of their comrades-in-arms, whom they spitefully dubbed "frogs" for their willingness to defect to the government camp. The situation began to change a relatively short time ago when radical groups left Idlib for conflict-riven Libya and Nagorno-Karabakh. This situation prompted intensified internationalisation of the "Idlib dossier", while it also meant that further developments were volatile and had an element of chance to them. Heightened internationalisation is also due to the maximum number of external actors turning their attention to the Idlib "pocket". Idlib alone remains a matter of concern for China in Syria since there are Uighur radicals from the Turkistan Islamic Party in the West of the governorate.
The "Layer Cake" of the Armed Opposition: Radicals and "Businessmen"
Taking as our axiom that any way out of the Idlib impasse is going to be difficult, we should say a few words about local armed groups and management of the Idlib economy, since both factors can shed some light on certain promising settlement modalities.
Initially, Idlib's administrative system was based on the decentralisation principle, which is reminiscent of the autonomous architecture of the local authorities in Rojava (Syrian Kurdistan). 144 municipal councils were formed, offering a wide range of services from managing bakeries to maintaining roads and collecting rubbish. They had the signal status of direct recipients of foreign aid. As one humanitarian worker quipped, "If [in Idlib – I.M.] you're not a guy with a gun … then your connection to power is through [humanitarian – I.M.] assistance". So Idlib's decentralisation is really different from the governance system established in the Kurdish region in that the former is excessively dependent on foreign support while having no economic programme of its own and no transparency.
The situation in Idlib is characterised by the dominance of local economic heavies combined with the people's wariness when it comes to introducing an Islamic way of life (Sharia), which prompted the ideologues of the An-Nusra Front (banned in Russia as a terrorist organisation) after seizing the provincial centre in March 2015 to refrain from following the example of ISIS (banned in Russia as a terrorist organisation), so, instead of proclaiming an Islamic "Emirate", they opted for more flexible tactics. They proclaimed their desire to take various interests into account without permitting violations. At the same time, the principle of "invitation" or "Islamic messianism" entailed ideological indoctrination of the population through face-to-face, in-person communication and public condemnation campaigns against smoking and wearing secular clothes.
The ideologues of the HTS that took over from an-Nusra consolidated their military control over Idlib in January 2019 and remained pragmatic. HTS leader Abu Mohammad al-Julani said that their priority was to preserve a single secular administration in Idlib, referring to the umbrella Syrian Salvation Government (SSG) founded on November 2, 2017; it consisted of both HTS supporters and independent technocrats. Despite the hardliners from Egypt and Jordan, HTS warlords from among the Syrians began to position themselves as businessmen viewing control over Idlib as an economic project (while, in reality, it is a means for personal enrichment).
The negative aspect of the HTS "commercialisation" consisted in attempts to take over transit trade crossing the border at Bab al-Hawa and deliveries of Turkish oil by the monopolist company Watad Petroleum. On May 11, 2017, the HTS announced it was establishing the Public Institution for Monetary Regulation and Consumer Rights Protection charged with monitoring financial transactions. Most such transactions were based on hawal principles (a trust-based system of informal payments between brokers and traders) and were carried out through the local monetary financial "hub", the town of Sarmadam which is in the immediate vicinity of the Bab al-Hawa border crossing.
The HTS's claims to economic dominance repeatedly prompted countermeasures by Idlib's heavies, who used the discontent of the local populace with their low quality of life. In October-November 2019, they managed to bring protesters to the streets demanding that both the SSG and Abu Mohammad al-Julani resign. Although the protesters' demand for a "government" reshuffle were met, HTS militants took by assault the town of Kafr Takharim, whose residents refused to pay the tax on manufacturing olive oil. The Covid-19 pandemic became yet another challenge: although the HTS supported the lockdown measures imposed by the SSG, many rank-and-file militants refused to obey and continued their Friday prayers, which make it impossible to maintain social distancing.
What is Idlib for Turkey: A Red Line or a Pawn in a Big Game?
Ensuring the security of Turkey's southern borders and countering Kurdish separatism have been and remain Turkey's unconditional priorities. In that sense, retaining control over the security zone in the North and preventing Syrian Kurds from a military retaliation are clearly more important than Turkey's presence in Idlib: should need be, Turkey is ready to make concessions over the governorate in exchange for boosting Ankara's positions in the North and pushing Kurdish self-defence units away from the border.
Does this mean that Turkey is already prepared to sacrifice Idlib? Certainly not, and Operation Spring Shield proves it: on February 27 – March 6, 2020, the Turkish military put a stop to a local SAA offensive and subsequently increased its forces in Syria. Foreign experts believe that, between February 2 and October 21, 2020, Turkey moved 10,615 units of military equipment and military vehicles to Idlib. Given its domestic economic difficulties related to the Covid-19 pandemic, Turkey is not prepared to take in new waves of Idlib refugees if Damascus gains a rapid military victory. This is especially true since those refugees could include intractable jihadists capable of causing a wave of terror attacks in Turkey itself; the best-case scenario for Ankara is to transfer those people to various hotbeds of unrest (such as Libya and Nagorno-Karabakh).
Turkey's apparent determination in Idlib is motivated to some degree by its desire to maintain what Russian columnists have dubbed "opposition conservation areas" in Syria. Tying those opposition forces to Turkey by economic means (against the backdrop of the US Caesar Act, the Turkish lira has replaced the Syrian pound in the security zone in the Syrian North and in Idlib), in its bargaining with Damascus, Moscow and Tehran on Syria's future political makeup, Turkey's leadership is banking on the "trump card of rebellious territories". Information about Turkey's efforts to form an alliance in Idlib that would include the "Syrian Corps" and other NFL elements, as well as "constructive" ones from the HTS has been leaked on a website with ties to the Syrian opposition, and this information should be considered in the same context.
Finally, Turkey's leadership and Erdogan himself increasingly view the "Idlib question" through the lens of a difficult dialogue with Russia on the Libyan and Nagorno-Karabakh conflicts (on October 25, Russia's Aerospace Force delivered a strike against the Syrian Corps militants in Idlib, which Russian media dubbed "Bakh for Karabakh"[1]). Turkey has started relocating eight military observation posts in Idlib, as those posts had been blocked in an SAA-liberated area (the post in Murek was evacuated on October 19-20, 2020), which is not only for security reasons, but also due to Turkey's desire to avoid a severe confrontation with Moscow in Syria. This would be against Ankara's interest, given its support for Azerbaijan's offensive in Nagorno-Karabakh.
To sum up, we can conclude that Idlib remains valuable for Turkey, yet, unlike the security zone in Northern Syria, it cannot be called a "red line" in the architecture of Turkey's national interests that Ankara intends to protect to the bitter end.
A Military Scenario or a Political Compromise?
We do not discard the hypothetical possibility of the Syrian authorities regaining control of Idlib by military force with the aid from its allies, Russia and Iran, yet this scenario today appears unlikely. It would have highly negative consequences for Syrians themselves, prompting a local humanitarian disaster, chaos and a sharp increase in crime (as happened when the government forces defeated the opposition units in Syria's South in the summer of 2018), and even forcing disjointed terrorist groups to flee to other districts in Syria.
The preferable scenario for settling the Idlib problem appears to be a compromise, in essence, pacification adapted to the local specifics. The scenario is to be based on the four "Ds":
deradicalisation of the opposition, (primarily HTS): this is possible once intransigent and "professional" militants, mostly foreign ones, withdraw from Idlib; this is the common point in the interests of foreign actors;
deideologisation of the regional elite: this entails moving away from the ideas of Jihadism in favour of implementing a consensus programme for socioeconomic development, with both local interest groups and technocrats involved;
demilitarisation of the Idlib zone: post-conflict integration of former militants into territorial law enforcement and municipal bodies;
decentralisation: granting Idlib a special transitional status within a unified Syria.
In practice, this could imply adopting a separate socioeconomic programme for rebuilding Idlib, involving international financing and creating the conditions for vertically integrating the regional into the pan-national elite following disbandment of the Syrian Salvation Government.
Russia's Role in Resolving the Idlib Problem
As a leading external actor in the Syrian conflict, Russia has the ability to now contribute to bringing a peaceful settlement closer in Idlib by 1) pointing the Syrian authorities toward pacification instead of a blitzkrieg; 2) advancing, jointly with Turkey among other actors, the involvement of the regional elite in the inclusive Syrian peaceful process; 3) continuing its military support for Syria's government forces to prevent provocations by Idlib radicals intended to undermine the prospects for a peaceful settlement.
1. This is a pun that resists translation: the last syllable in the word Karabakh, "bakh", is an onomatopoeic Russian word meaning "kaboom" – translator's note.
From our partner RIAC