Weapons of Mass Destruction in the Middle East
The Middle East is the only region where all three kinds of Weapons of Mass Destruction (WMD) have been used and developed. Accusations, allegations, but unfortunately blur information and data, with very limited open-source information about the possession and quantity of WMD in countries in this region represents further instability factor and creates uncertainty and tensions between rival countries.
There are 17 countries in the region: Bahrain, Cyprus, Egypt, Iran, Iraq, Israel, Jordan, Kuwait, Lebanon, Oman, Palestine, Qatar, Saudi Arabia, Syria, Turkey, United Arab Emirates and Yemen. Sometimes the political term also includes countries from South Caucasus – Armenia, Azerbaijan and Georgia and there exists various definitions which countries belong to the Middle East and which do not. In this report focus is on states which possess WMD. WMD on territory can be found in 6 countries, in Egypt, Turkey, Iran, Iraq, Israel and Syria. For the rest of the countries in the Middle East is not known to possess nuclear, chemical, or biological weapons programs. Globally accepted definition of WMD does not exist, but all include nuclear, chemical and biological weapons.
Even though all types of WMD are inhumane in its possibilities and consequences of usage, nuclear weapons are the one getting most of the attention. Today in the world more than 30 countries want nuclear power. The Nuclear Threat Initiative (NTI) Report for 2013-2014 says that making fuel for nuclear power plants involves the same technology as making materials for nuclear weapons. Actions to reduce proliferation and security risks must be taken to prevent the dangerous spread of uranium enrichment or plutonium technology. The report pointed out that nuclear exchange is less likely, but many scenarios could lead to a catastrophic explosion. Another topic regarding nuclear weapons needs to be taken care of. The fact that today about 2.000 metric tons of weapons-usable nuclear materials remain spread across hundreds of sites around the globe with poor security creates concerns.
Many international arms control agreement have been reached since the existence of nuclear, biological and chemical WMD. With the threat posed by terrorism United Nations Security Resolution 1540/04 was accepted which affirmed that the proliferation of nuclear, chemical and biological weapons and their means of delivery constitute a threat to international peace and security. States are obliged to refrain from supporting by any means non-state actors from developing, acquiring, manufacturing, possessing, transporting, transferring or using nuclear, chemical or biological weapons and their delivery systems. On nuclear area steps have been made toward non-proliferation with the Partial Test Ban Treaty and prohibition of nuclear testing and the Non-Proliferation Treaty NPT that places restrictions. Important role playsInternational Atomic Energy Agency (IAEA) with its 164 Member States which promotes safe, secure and peaceful use of nuclear energy. Under the NPT has a role of the international safeguard inspectorate. The use of nuclear weapons violates many international laws such as UN charter, Universal Declaration of Human Rights, Geneva Convention, the Hague Convention and many others. In this segment among many others, the Comprehensive Test Ban Treaty (CTBT) which prohibits all testing of nuclear weapons is important.
Elimination of biological and chemical weapons of mass destruction has shown as a hard task to accomplish. States usually do not publicly announce their stockpiles. Usually information comes from rival countries, public state representatives in speeches or reports and tasks. Verification has been hardly ever available. History has shown that possession of chemical or biological weapons is verified when country has used prohibited means in fighting, usually by international organizations. Most of the time there are speculations. In the field of the biological weapon reduction Convention on the Prohibition of the Development, Production and Stockpiling of Bacteriological (Biological) and Toxin Weapons (BTWC) as a global solution plays an important role. The Treaty prohibits the development, production, stockpiling, or acquisition of biological and toxin weapons, and mandates the elimination of existing weapons, weapons production material and delivery means.
For the third WMD, chemical weapons, Chemical Weapons Convention (CWC) – Convention on the prohibition of the development, Production, Stockpiling and Use of Chemical weapons and on their Destruction is the important agreement watch over by the Organization for the Prohibition of Chemical Weapons (OPCW). Both biological and chemical weapons have been used in the recent past and both arsenals are speculating if even known for most of the countries. Even though they have been used more as nuclear weapons, which were used in in the fighting only in the Second World War, they do not get so much public attention. Next table shows countries in the Middle East, possession of WMD and international obligations and commitments.
Country

Nuclear weapon

Biological weapon

Chemical weapon

Signatory NPT (Treaty on the Non-Proliferation of Nuclear Weapons)

Signatory CTBT

(Comprehensive Test Ban Treaty)

Signatory CWC (Chemical Weapons Convention)

Signatory BTWC (Convention on the Prohibition of the Development, Production and Stockpiling of Bacteriological (Biological) and Toxin Weapons)

Egypt

No, only civil use – two nuclear research reactors

Yes based on public opinion but no based on verification

Suspected for maintaining capabilities

Yes

No ratification

No

No ratification

Turkey

Host of 60 to 70 U.S. tactical nuclear weapons under NATO

No possession

No possession

Yes

Yes

Yes

Yes

Iran

Ambitions to require some

Possibility of dual use activities

In the past

Yes

No ratification

Yes

Yes

Iraq

No

In the past / possibility of remains

In the past/ possibility of remains

Yes

Yes

Yes

Yes

Israel

Yes

Possibly

Possibly

No

No ratification

No ratification

No

Syrian Arab Republic

No

Yes

Yes

Yes

No

Yes

Yes
Egypt is one of the four countries that has neither signed nor acceded CWC and Israel is one of the two countries that have yet to ratify it. The NTI country report says that country's civil nuclear program is relatively sophisticated compared to other countries in the Middle East, but still in development stages. Country signed the BTWC in 1972 but since no ratification has been made speculations about covert possession of biological weapon is presumed. Many western and Israelis report has been made on developing biological weapon, but no concrete evidence has been given so far. They are based on speeches of formal representatives of state without real background. Egypt official stance of not ratifying is concerns of Israelis nuclear weapon arsenal and that country do not possess nor seeks biological weapons. Blur is also an Egyptian chemical weapon arsenal and both poses and no poses are possible. The country had in history used chemical weapons during the 1960s conflict in North Yemen. Allegation of collaborating with Iraq and Syria to boost their chemical weapons has been made in the past. It stays unclear whether the country is still active and has an arsenal of both chemical and biological weapons on their ground.
On the other hand Turkey is also a party to the NPT, BTWC and CWC and is not known to own nuclear, chemical or biological weapons or programs. It peruses civilian nuclear technology. Country is part of North Atlantic Treaty Organization (NATO) umbrella and host from 60 to 70 tactical nuclear weapons on its strategically important territory.
Iran has an advanced nuclear program that in Iranian world is peaceful in nature. Even as a member of the NPT it failed to report everything to the IAEA and the possibility of developing all aspects of nuclear fuel cycle has caused international concern and even sanction imposed on the country. Countries stockpile is about 10.000 kg of low enriched uranium. Very little public information to determine whether biological weapons exist is available. Iran ratified the BTWC Convention. It is assumed that it has the capacity to produce biological warfare agents. In a war with Iraq, Iran suffered severe losses because of Iraq's use of chemical weapons. Iran ratified the CWC and has publicly acknowledged the existence of a chemical weapons program, but activities were terminated by the year 1997.
Much has been said about the Iraqi supposedly nuclear program and weapons. The nuclear weapons program was in Iraq dismantled by the IAEA from 1991 to 1997. U.S. and coalition forces began military actions against the country in 2003 based on a possession of nuclear weapons that was never found till this day. The country has extensively used chemical weapons against Iran and its Kurdish population in the past. The program was dismantled, but still last year there were reports that ISIS fighters had taken control over a former chemical weapons facility with sarin. It has also pursued offensive biological weapon capabilities until 1990s.
The only country in the Middle East that has not signed the NPT, which is the only binding commitment in a multilateral treaty to the goal of disarmament by the nuclear-weapon states, is Israel. The Treaty has 190 States parties, including five nuclear-weapon States. Unfortunately, conference on the 22 of May this year ended without a consensus and without a new action plan, among other things also because of discussions around the establishment of a WMD-free zone in the Middle East and its disagreement. Based on the NTI country report it is widely believed that Israel have produced enough weapons-grade plutonium for 100 to 200 nuclear warheads. It has a nuclear arsenal, but the capacity remains unclear. The country has not made a lot of international bounding commitments in the WMD area since it is not a state party to the CTBT, CWC or BTWC. Israel also remains reluctant to so called Middle East Weapon of Mass Destruction Free Zone. Israel is opposed to every country in the neighborhood that has nuclear ambitions. It believes Iran should be prevented from acquiring nuclear weapons and in this order they have carried out a covered operation to stall Iran's nuclear program with disruption of equipment supply, computer viruses such as Stuxnet and Flame and even the accusation of assassination of Iranian scientists have been made. In the past air strikes against Iraq's Osiraq Reactor in 1981 and Syria's suspected reactor near Al-Kibar in 2007 were carried out in order to protect itself in the Arab world. It exists also the possibility that country poses chemical and biological weapons, based on official reports about military training, defensive biological weapon research and education of employees in the military, with advance chemical industry.
A non-nuclear weapon state party to the NPT and CWC suspected of nuclear weapons ambitions, now caught in civil war possibly has and did possess WMD. No nuclear or biological weapons in the country seem to exist but chemical does. Syria had in the past refused to renounce its chemical weapons program until Israel abandons its nuclear. The country has an arsenal of chemical weapons, although was dependent on foreign suppliers at the beginning also from Egypt and then with international isolation had development gone further. Assad's regime has used chemical weapons in the ongoing civil war. Allegations of chemical weapons used in Homs, Damascus and Aleppo caught wider public attention. The chemical weapon program was counter balanced to Israelis conventional warfare and in recent events to fight citizens of the Syrian Arab Republic with agent Sarin. The events lead to international control and commitment of Syria to join the CWC. According to OPCW's findings the Syrian arsenal includes 1.000 metric tons of Category I chemical weapons, 290 tons of category II chemicals and 1.230 of category III delivery systems. Some speculation still exists about hidden chemical weapons in the country.
Before humanity and society difficult challenges of abolishment, prohibition and controlling of nuclear, biological, and chemical weapons lies and waits for the right solution. Is the world going to be better without WMD, can it even be abolished and if not, what can and should we do about it? When the world has a common answer to those questions victims of nuclear, chemical and biological warfare will become a distant past. Until then the danger and uncertainty posed by WMD still lingers.
What is the public sphere today in Turkey?
The concept of public sphere, which was started to be examined in Europe in the 1960s, has different meanings according to different perspectives, as a definite definition cannot be made today, and this situation creates important discussion topics about the use of such spaces.
Long debated the definition of public space in Europe, in Turkey also began to affect 1980"l year. After the 1980 coup, some communities, which were kept out of sight, fearing that the Republic project would be harmed, demanded the recognition of their ethnic and cultural identities. Thus the concept of the public sphere in Turkey, especially since the early 1990s to be addressed in various academic publications, use and began to discuss political issues.
Especially in the past years, the public sphere debates on the headscarf issue were discussed from various angles. The debate started with Prime Minister Erdogan's criticism of President Ahmet Necdet Sezer, who did not invite his wife to a NATO dinner, saying "Dolmabahçe is not a public space", and the President of the Council of Higher Education, Prof.Dr. Erdoğan Teziç; He responded by emphasizing that the public sphere is not a " geographical definition " but a functional concept.
Before defining the public sphere, the understanding that shows that the definition of space in the Ottoman Empire was shaped as less private, private, very private and very very private is still one of the biggest reasons for the definition of the public sphere. While expressing, it reminds that he entered the Ottoman literature in a different way in the 19th century. Thinkers who indicate the association of the public sphere with the state in general express it as the sphere that is related to the state, not the "public". "When you say 'public', the state comes to mind immediately; We mean something like government administration, its organs, organizations, officials, or activities, an official domain that is owned or run under state control. However, as Habermas said, the public sphere is above all the sphere in which the public opinion is formed in our social life ".
As citizens of the city, we observe that some projects have spread to the spaces defined as public space due to the fact that today's public space and public space concepts have not been defined precisely and construction activities have increased due to the anxiety of rent.
Erdogan's Calamitous Authoritarianism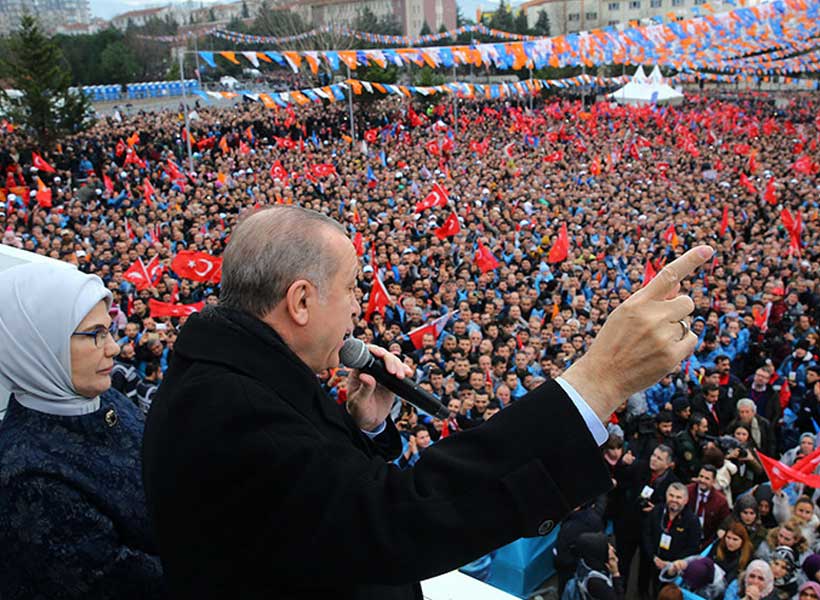 Turkey's President Erdogan is becoming ever more dangerous as he continues to ravage his own country and destabilize scores of states in the Middle East, the Balkans, and North Africa, while cozying up to the West's foremost advisories. Sadly, there seems to be no appetite for most EU member states to challenge Erdogan and put him on notice that he can no longer pursue his authoritarianism at home and his adventurous meddling abroad with impunity.
To understand the severity of Erdogan's actions and ambitions and their dire implications, it suffices to quote Ahmet Davutoglu, formerly one of Erdogan's closest associates who served as Minister of Foreign Affairs and subsequently Prime Minister. Following his forced resignation in May 2016 he stated "I will sustain my faithful relationship with our president until my last breath. No one has ever heard — and will ever hear — a single word against our president come from my mouth."
Yet on October 12, Davutoglu declared "Erdogan left his friends who struggled and fought with him in exchange for the symbols of ancient Turkey, and he is trying to hold us back now…. You yourself [Erdogan] are the calamity. The biggest calamity that befell this people is the regime that turned the country into a disastrous family business."
The stunning departure of Davutoglu from his earlier statement shows how desperate conditions have become, and echoed how far and how dangerously Erdogan has gone. Erdogan has inflicted a great calamity on his own people, and his blind ambition outside Turkey is destabilizing many countries while dangerously undermining Turkey's and its Western allies' national security and strategic interests.
A brief synopsis of Erdogan's criminal domestic practices and his foreign misadventures tell the whole story.
Domestically, he incarcerated tens of thousands of innocent citizens on bogus charges, including hundreds of journalists. Meanwhile he is pressuring the courts to send people to prison for insulting him, as no one can even express their thoughts about this ruthlessness. Internationally, Erdogan ordered Turkish intelligence operatives to kill or smuggle back to the country Turkish citizens affiliated with the Gülen movement.
He regularly cracks down on Turkey's Kurdish minority, preventing them from living a normal life in accordance with their culture, language, and traditions, even though they have been and continue to be loyal Turkish citizens. There is no solution to the conflict except political, as former Foreign Minister Ali Babacan adamantly stated on October 20: "… a solution [to the Kurdish issue] will be political and we will defend democracy persistently."
Erdogan refuses to accept the law of the sea convention that gives countries, including Cyprus, the right to an Exclusive Economic Zone (EEZ) for energy exploration, while threatening the use of force against Greece, another NATO member no less. He openly sent a research ship to the region for oil and gas deposits, which EU foreign policy chief Josep Borrell called "extremely worrying."
He invaded Syria with Trump's blessing to prevent the Syrian Kurds from establishing autonomous rule, under the pretext of fighting the PKK and the YPG (the Syrian Kurdish militia that fought side-by-side the US, and whom Erdogan falsely accuses of being a terrorist group).
He is sending weapons to the Sunni in northern Lebanon while setting up a branch of the Turkish Cooperation and Coordination Agency (TIKA) in the country—a practice Erdogan has used often to gain a broader foothold in countries where it has an interest.
While the Turkish economy is in tatters, he is investing hundreds of millions of dollars in the Balkans, flooding countries with Turkish imams to spread his Islamic gospel and to ensure their place in his neo-Ottoman orbit. Criticizing Erdogan's economic leadership, Babacan put it succinctly when he said this month that "It is not possible in Turkey for the economic or financial system to continue, or political legitimacy hold up."
Erdogan is corrupt to the bone. He conveniently appointed his son-in-law as Finance Minister, which allows him to hoard tens of millions of dollars, as Davutoglu slyly pointed out: "The only accusation against me…is the transfer of land to an educational institution over which I have no personal rights and which I cannot leave to my daughter, my son, my son-in-law or my daughter-in-law."
Erdogan is backing Azerbaijan in its dispute with Armenia (backed by Iran) over the breakaway territory of Nagorno-Karabakh, which is inhabited by ethnic Armenians and has been the subject of dispute for over 30 years.
He is exploiting Libya's civil strife by providing the Government of National Accord (GNA) with drones and military equipment to help Tripoli gain the upper hand in its battle against Khalifa Haftar's forces. Former Foreign Minister Yasar Yakis said in February 2020 that "The unclear Turkish foreign policy by Erdogan may put Turkey in grave danger due to this expansion towards Libya."
He is meddling in the Israeli-Palestinian conflict in an effort to prevent them from settling their dispute unless Israel meets Palestinian demands. He granted several Hamas officials Turkish citizenship to spite Israel, even though Hamas openly calls for Israel's destruction.
He betrayed NATO by buying the Russian-made S-400 air defense system, which seriously compromises the alliance's technology and intelligence.
He is destabilizing many countries, including Somalia, Qatar, Libya, and Syria, by dispatching military forces and hardware while violating the air space of other countries like Iraq, Cyprus, and Greece. Yakis said Turkey is engaging in a "highly daring bet where the risks of failure are enormous."
Erdogan supports extremist Islamist groups such as the Muslim Brotherhood and Hamas, and an assortment of jihadists, including ISIS, knowing full well that these groups are sworn enemies of the West—yet he uses them as a tool to promote his wicked Islamic agenda.
He regularly blackmails EU members, threatening to flood Europe with Syria refugees unless they support his foreign escapades such as his invasion of Syria, and provide him with billions in financial aid to cope with the Syrian refugees.
The question is how much more evidence does the EU need to act? A close look at Erdogan's conduct clearly illuminates his ultimate ambition to restore much of the Ottoman Empire's influence over the countries that were once under its control.
Erdogan is dangerous. He has cited Hitler as an example of an effective executive presidential system, and may seek to acquire nuclear weapons. It's time for the EU to wake up and take Erdogan's long-term agenda seriously, and take severe punitive measures to arrest his potentially calamitous behavior. Sadly, the EU has convinced itself that from a geostrategic perspective Turkey is critically important, which Erdogan is masterfully exploiting.
The EU must be prepared take a stand against Erdogan, with or without the US. Let's hope, though, that Joe Biden will be the next president and together with the EU warn Erdogan that his days of authoritarianism and foreign adventurism are over.
The views expressed are those of the author.
Syrian Refugees Have Become A Tool Of Duplicitous Politics
Since the beginning of the conflict in Syria the issue of Syrian refugees and internally displace has been the subject of countless articles and reports with international humanitarian organizations and countries involved in the Syrian conflict shifting responsibility for the plight of migrants.
The most notorious example of human suffering put against political games is the Rukban refugee camp located in eastern Syria inside the 55-km zone around Al-Tanf base controlled by the U.S. and its proxies.
According to official information, more than 50,000 people, mostly women and children, currently live in the camp. This is a huge number comparable to the population of a small town. The Syrian government, aware of the plight of people in Rukban, has repeatedly urged Washington to open a humanitarian corridor so that everyone can safely return home. However, all such proposals were ignored by the American side. U.S. also refuse to provide the camp with first aid items. Neighbouring Jordan is inactive, too, despite Rukban being the largest of dozens other temporary detention centres in Syria, where people eke out a meager existence.
At the same time, the problem is not only refugee camps. Syria has been at war for a decade. The country's economy has suffered greatly over this period, and many cities have been practically grazed to the ground. Moreover, the global coronavirus epidemic didn't spare Syria and drained the already weakened economy even more. However, Damascus' attempts of post-war reconstruction and economic recovery were undermined by multiple packages of severe sanctions imposed by the U.S. At the same time, U.S.-based human rights monitors and humanitarian organizations continue to weep over the Syrian citizens' misery.
The situation is the same for those refugees who stay in camps abroad, especially in countries bordering on Syria, particularly Jordan and Turkey. Ankara has been using Syrian citizens as a leverage against the European states in pursuit of political benefits for a long time. No one pays attention to the lives of people who are used as a change coin in big politics. This is equally true for Rukban where refugees are held in inhuman conditions and not allowed to return to their homeland. In those rare exceptions that they are able to leave, refugees have to pay large sums of money that most of those living in camp are not able to come by.
It's hard to predict how long the Syrian conflict will go on and when – or if – the American military will leave the Al-Tanf base. One thing can be said for sure: the kind of criminal inaction and disregard for humanitarian catastrophe witnessed in refugee camps is a humiliating failure of modern diplomacy and an unforgivable mistake for the international community. People shouldn't be a tool in the games of politicians.