Weapons of Mass Destruction in the Middle East
The Middle East is the only region where all three kinds of Weapons of Mass Destruction (WMD) have been used and developed. Accusations, allegations, but unfortunately blur information and data, with very limited open-source information about the possession and quantity of WMD in countries in this region represents further instability factor and creates uncertainty and tensions between rival countries.
There are 17 countries in the region: Bahrain, Cyprus, Egypt, Iran, Iraq, Israel, Jordan, Kuwait, Lebanon, Oman, Palestine, Qatar, Saudi Arabia, Syria, Turkey, United Arab Emirates and Yemen. Sometimes the political term also includes countries from South Caucasus – Armenia, Azerbaijan and Georgia and there exists various definitions which countries belong to the Middle East and which do not. In this report focus is on states which possess WMD. WMD on territory can be found in 6 countries, in Egypt, Turkey, Iran, Iraq, Israel and Syria. For the rest of the countries in the Middle East is not known to possess nuclear, chemical, or biological weapons programs. Globally accepted definition of WMD does not exist, but all include nuclear, chemical and biological weapons.
Even though all types of WMD are inhumane in its possibilities and consequences of usage, nuclear weapons are the one getting most of the attention. Today in the world more than 30 countries want nuclear power. The Nuclear Threat Initiative (NTI) Report for 2013-2014 says that making fuel for nuclear power plants involves the same technology as making materials for nuclear weapons. Actions to reduce proliferation and security risks must be taken to prevent the dangerous spread of uranium enrichment or plutonium technology. The report pointed out that nuclear exchange is less likely, but many scenarios could lead to a catastrophic explosion. Another topic regarding nuclear weapons needs to be taken care of. The fact that today about 2.000 metric tons of weapons-usable nuclear materials remain spread across hundreds of sites around the globe with poor security creates concerns.
Many international arms control agreement have been reached since the existence of nuclear, biological and chemical WMD. With the threat posed by terrorism United Nations Security Resolution 1540/04 was accepted which affirmed that the proliferation of nuclear, chemical and biological weapons and their means of delivery constitute a threat to international peace and security. States are obliged to refrain from supporting by any means non-state actors from developing, acquiring, manufacturing, possessing, transporting, transferring or using nuclear, chemical or biological weapons and their delivery systems. On nuclear area steps have been made toward non-proliferation with the Partial Test Ban Treaty and prohibition of nuclear testing and the Non-Proliferation Treaty NPT that places restrictions. Important role playsInternational Atomic Energy Agency (IAEA) with its 164 Member States which promotes safe, secure and peaceful use of nuclear energy. Under the NPT has a role of the international safeguard inspectorate. The use of nuclear weapons violates many international laws such as UN charter, Universal Declaration of Human Rights, Geneva Convention, the Hague Convention and many others. In this segment among many others, the Comprehensive Test Ban Treaty (CTBT) which prohibits all testing of nuclear weapons is important.
Elimination of biological and chemical weapons of mass destruction has shown as a hard task to accomplish. States usually do not publicly announce their stockpiles. Usually information comes from rival countries, public state representatives in speeches or reports and tasks. Verification has been hardly ever available. History has shown that possession of chemical or biological weapons is verified when country has used prohibited means in fighting, usually by international organizations. Most of the time there are speculations. In the field of the biological weapon reduction Convention on the Prohibition of the Development, Production and Stockpiling of Bacteriological (Biological) and Toxin Weapons (BTWC) as a global solution plays an important role. The Treaty prohibits the development, production, stockpiling, or acquisition of biological and toxin weapons, and mandates the elimination of existing weapons, weapons production material and delivery means.
For the third WMD, chemical weapons, Chemical Weapons Convention (CWC) – Convention on the prohibition of the development, Production, Stockpiling and Use of Chemical weapons and on their Destruction is the important agreement watch over by the Organization for the Prohibition of Chemical Weapons (OPCW). Both biological and chemical weapons have been used in the recent past and both arsenals are speculating if even known for most of the countries. Even though they have been used more as nuclear weapons, which were used in in the fighting only in the Second World War, they do not get so much public attention. Next table shows countries in the Middle East, possession of WMD and international obligations and commitments.
Country

Nuclear weapon

Biological weapon

Chemical weapon

Signatory NPT (Treaty on the Non-Proliferation of Nuclear Weapons)

Signatory CTBT

(Comprehensive Test Ban Treaty)

Signatory CWC (Chemical Weapons Convention)

Signatory BTWC (Convention on the Prohibition of the Development, Production and Stockpiling of Bacteriological (Biological) and Toxin Weapons)

Egypt

No, only civil use – two nuclear research reactors

Yes based on public opinion but no based on verification

Suspected for maintaining capabilities

Yes

No ratification

No

No ratification

Turkey

Host of 60 to 70 U.S. tactical nuclear weapons under NATO

No possession

No possession

Yes

Yes

Yes

Yes

Iran

Ambitions to require some

Possibility of dual use activities

In the past

Yes

No ratification

Yes

Yes

Iraq

No

In the past / possibility of remains

In the past/ possibility of remains

Yes

Yes

Yes

Yes

Israel

Yes

Possibly

Possibly

No

No ratification

No ratification

No

Syrian Arab Republic

No

Yes

Yes

Yes

No

Yes

Yes
Egypt is one of the four countries that has neither signed nor acceded CWC and Israel is one of the two countries that have yet to ratify it. The NTI country report says that country's civil nuclear program is relatively sophisticated compared to other countries in the Middle East, but still in development stages. Country signed the BTWC in 1972 but since no ratification has been made speculations about covert possession of biological weapon is presumed. Many western and Israelis report has been made on developing biological weapon, but no concrete evidence has been given so far. They are based on speeches of formal representatives of state without real background. Egypt official stance of not ratifying is concerns of Israelis nuclear weapon arsenal and that country do not possess nor seeks biological weapons. Blur is also an Egyptian chemical weapon arsenal and both poses and no poses are possible. The country had in history used chemical weapons during the 1960s conflict in North Yemen. Allegation of collaborating with Iraq and Syria to boost their chemical weapons has been made in the past. It stays unclear whether the country is still active and has an arsenal of both chemical and biological weapons on their ground.
On the other hand Turkey is also a party to the NPT, BTWC and CWC and is not known to own nuclear, chemical or biological weapons or programs. It peruses civilian nuclear technology. Country is part of North Atlantic Treaty Organization (NATO) umbrella and host from 60 to 70 tactical nuclear weapons on its strategically important territory.
Iran has an advanced nuclear program that in Iranian world is peaceful in nature. Even as a member of the NPT it failed to report everything to the IAEA and the possibility of developing all aspects of nuclear fuel cycle has caused international concern and even sanction imposed on the country. Countries stockpile is about 10.000 kg of low enriched uranium. Very little public information to determine whether biological weapons exist is available. Iran ratified the BTWC Convention. It is assumed that it has the capacity to produce biological warfare agents. In a war with Iraq, Iran suffered severe losses because of Iraq's use of chemical weapons. Iran ratified the CWC and has publicly acknowledged the existence of a chemical weapons program, but activities were terminated by the year 1997.
Much has been said about the Iraqi supposedly nuclear program and weapons. The nuclear weapons program was in Iraq dismantled by the IAEA from 1991 to 1997. U.S. and coalition forces began military actions against the country in 2003 based on a possession of nuclear weapons that was never found till this day. The country has extensively used chemical weapons against Iran and its Kurdish population in the past. The program was dismantled, but still last year there were reports that ISIS fighters had taken control over a former chemical weapons facility with sarin. It has also pursued offensive biological weapon capabilities until 1990s.
The only country in the Middle East that has not signed the NPT, which is the only binding commitment in a multilateral treaty to the goal of disarmament by the nuclear-weapon states, is Israel. The Treaty has 190 States parties, including five nuclear-weapon States. Unfortunately, conference on the 22 of May this year ended without a consensus and without a new action plan, among other things also because of discussions around the establishment of a WMD-free zone in the Middle East and its disagreement. Based on the NTI country report it is widely believed that Israel have produced enough weapons-grade plutonium for 100 to 200 nuclear warheads. It has a nuclear arsenal, but the capacity remains unclear. The country has not made a lot of international bounding commitments in the WMD area since it is not a state party to the CTBT, CWC or BTWC. Israel also remains reluctant to so called Middle East Weapon of Mass Destruction Free Zone. Israel is opposed to every country in the neighborhood that has nuclear ambitions. It believes Iran should be prevented from acquiring nuclear weapons and in this order they have carried out a covered operation to stall Iran's nuclear program with disruption of equipment supply, computer viruses such as Stuxnet and Flame and even the accusation of assassination of Iranian scientists have been made. In the past air strikes against Iraq's Osiraq Reactor in 1981 and Syria's suspected reactor near Al-Kibar in 2007 were carried out in order to protect itself in the Arab world. It exists also the possibility that country poses chemical and biological weapons, based on official reports about military training, defensive biological weapon research and education of employees in the military, with advance chemical industry.
A non-nuclear weapon state party to the NPT and CWC suspected of nuclear weapons ambitions, now caught in civil war possibly has and did possess WMD. No nuclear or biological weapons in the country seem to exist but chemical does. Syria had in the past refused to renounce its chemical weapons program until Israel abandons its nuclear. The country has an arsenal of chemical weapons, although was dependent on foreign suppliers at the beginning also from Egypt and then with international isolation had development gone further. Assad's regime has used chemical weapons in the ongoing civil war. Allegations of chemical weapons used in Homs, Damascus and Aleppo caught wider public attention. The chemical weapon program was counter balanced to Israelis conventional warfare and in recent events to fight citizens of the Syrian Arab Republic with agent Sarin. The events lead to international control and commitment of Syria to join the CWC. According to OPCW's findings the Syrian arsenal includes 1.000 metric tons of Category I chemical weapons, 290 tons of category II chemicals and 1.230 of category III delivery systems. Some speculation still exists about hidden chemical weapons in the country.
Before humanity and society difficult challenges of abolishment, prohibition and controlling of nuclear, biological, and chemical weapons lies and waits for the right solution. Is the world going to be better without WMD, can it even be abolished and if not, what can and should we do about it? When the world has a common answer to those questions victims of nuclear, chemical and biological warfare will become a distant past. Until then the danger and uncertainty posed by WMD still lingers.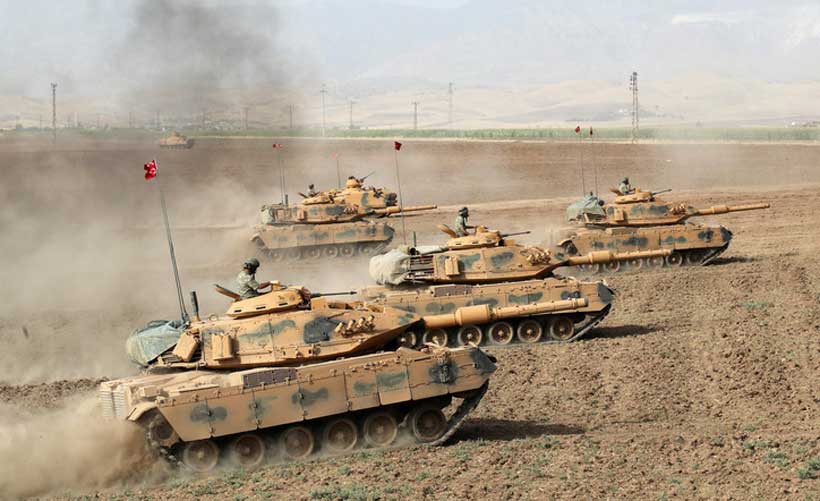 The only certainty in war is its intrinsic uncertainty, something Turkish President Recep Tayyip Erdogan could soon chance upon. One only has to look back on America's topsy-turvy fortunes in Iraq, Afghanistan and even Syria for confirmation.
The Turkish invasion of northeastern Syria has as its defined objective a buffer zone between the Kurds in Turkey and in Syria. Mr. Erdogan hopes, to populate it with some of the 3 million plus Syrian refugees in Turkey, many of these in limbo in border camps. The refugees are Arab; the Kurds are not.
Kurds speak a language different from Arabic but akin to Persian. After the First World War, when the victors parceled up the Arab areas of the Ottoman Empire, Syria came to be controlled by the French, Iraq by the British, and the Kurdish area was divided into parts in Turkey, Syria and Iraq, not forgetting the borderlands in Iran — a brutal division by a colonial scalpel severing communities, friends and families. About the latter, I have some experience, having lived through the bloody partition of India into two, and now three countries that cost a million lives.
How Mr. Erdogan will persuade the Arab Syrian refugees to live in an enclave, surrounded by hostile Kurds, some ethnically cleansed from the very same place, remains an open question. Will the Turkish army occupy this zone permanently? For, we can imagine what the Kurds will do if the Turkish forces leave.
There is another aspect of modern conflict that has made conquest no longer such a desirable proposition — the guerrilla fighter. Lightly armed and a master of asymmetric warfare, he destabilizes.
Modern weapons provide small bands of men the capacity and capability to down helicopters, cripple tanks, lay IEDs, place car bombs in cities and generally disrupt any orderly functioning of a state, tying down large forces at huge expense with little chance of long term stability. If the US has failed repeatedly in its efforts to bend countries to its will, one has to wonder if Erdogan has thought this one through.
The Israeli invasion of Lebanon in 1982 is another case in point. Forever synonymous with the infamous butchery at Sabra and Shatila by the Phalange militia facilitated by Israeli forces, it is easy to forget a major and important Israeli goal: access to the waters of the Litani River which implied a zone of occupation for the area south of it up to the Israeli border.
Southern Lebanon is predominantly Shia and at the time of the Israeli invasion they were a placid group who were dominated by Christians and Sunni, even Palestinians ejected from Israel but now armed and finding refuge in Lebanon. It was when the Israelis looked like they were going to stay that the Shia awoke. It took a while but soon their guerrillas were harassing Israeli troops and drawing blood. The game was no longer worth the candle and Israel, licking its wounds, began to withdraw ending up eventually behind their own border.
A colossal footnote is the resurgent Shia confidence, the buildup into Hezbollah and new political power. The Hezbollah prepared well for another Israeli invasion to settle old scores and teach them a lesson. So they were ready, and shocked the Israelis in 2006. Now they are feared by Israeli troops.
To return to the present, it is not entirely clear as to what transpired in the telephone call between Erdogan and Trump. Various sources confirm Trump has bluffed Erdogan in the past. It is not unlikely then for Trump to have said this time, "We're leaving. If you go in, you will have to police the area. Don't ask us to help you." Is that subject to misinterpretation? It certainly is a reminder of the inadvertent green light to Saddam Hussein for the invasion of Kuwait when Bush Senior was in office.
For the time being Erdogan is holding fast and Trump has signed an executive order imposing sanctions on Turkish officials and institutions. Three Turkish ministers and the Defense and Energy ministries are included. Trump has also demanded an immediate ceasefire. On the economic front, he has raised tariffs on steel back to 50 percent as it used to be before last May. Trade negotiations on a $100 billion trade deal with Turkey have also been halted forthwith. The order also includes the holding of property of those sanctioned, as well as barring entry to the U.S.
Meanwhile, the misery begins all over again as thousands flee the invasion area carrying what they can. Where are they headed? Anywhere where artillery shells do not rain down and the sound of airplanes does not mean bombs.
Such are the exigencies of war and often its surprising consequences.
Author's Note: This piece appeared originally on Counterpunch.org
Could Turkish aggression boost peace in Syria?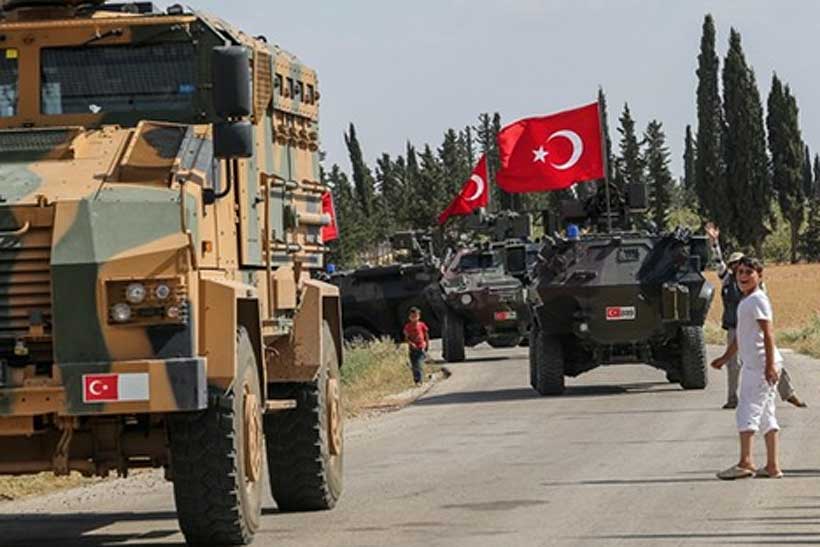 On October 7, 2019, the U.S. President Donald Trump announced the withdrawal of American troops from northeast Syria, where the contingent alongside Kurdish militias controlled the vast territories. Trump clarified that the decision is connected with the intention of Turkey to attack the Kurdish units, posing a threat to Ankara.
It's incredible that the Turkish military operation against Kurds – indeed the territorial integrity of Syria has resulted in the escape of the U.S., Great Britain, and France. These states essentially are key destabilizing components of the Syrian crisis.
Could this factor favourably influence the situation in the country? For instance, after the end of the Iraqi war in 2011 when the bulk of the American troops left the country, the positive developments took place in the lives of all Iraqis. According to World Economics organization, after the end of the conflict, Iraq's GDP grew by 14% in 2012, while during the U.S. hostilities the average GDP growth was about 5,8%.
Syria's GDP growth should also be predicted. Not right away the withdrawal of U.S., French, British, and other forces, but a little bit later after the end of the Turkish operation that is not a phenomenon. The Turkish-Kurdish conflict has been going on since the collapse of the Ottoman Empire when Kurds started to promote the ideas of self-identity and independence. Apart from numerous human losses, the Turks accomplished nothing. It is unlikely that Ankara would achieve much in Peace Spring operation. The Kurds realize the gravity of the situation and choose to form an alliance with the Syrian government that has undermined the ongoing Turkish offensive.
Under these circumstances, Erdogan could only hope for the creation of a narrow buffer zone on the Syrian-Turkish border. The withdrawal of the Turkish forces from the region is just a matter of time. However, we can safely say that the Turkish expansion unwittingly accelerated the peace settlement of the Syrian crisis, as the vital destabilizing forces left the country. Besides, the transfer of the oil-rich north-eastern regions under the control of Bashar Assad will also contribute to the early resolution of the conflict.
It remains a matter of conjecture what the leaders of Saudi Arabia, the United Arab Emirates, and Russia agreed on during the high-level talks. Let's hope that not only the Syrians, but also key Gulf states are tired of instability and tension in the region, and it's a high time to strive for a political solution to the Syrian problem.
Turkey and the Kurds: What goes around comes around
Turkey, like much of the Middle East, is discovering that what goes around comes around.
Not only because President Recep Tayyip Erdogan appears to have miscalculated the fallout of what may prove to be a foolhardy intervention in Syria and neglected alternative options that could have strengthened Turkey's position without sparking the ire of much of the international community.
But also because what could prove to be a strategic error is rooted in a policy of decades of denial of Kurdish identity and suppression of Kurdish cultural and political rights that was more likely than not to fuel conflict rather than encourage societal cohesion.
The policy midwifed the birth in the 1970s to militant groups like the Kurdish Workers Party (PKK), which only dropped its demand for Kurdish independence in recent years.
The group that has waged a low intensity insurgency that has cost tens of thousands of lives has been declared a terrorist organization by Turkey, the United States and the European Union.
Turkish refusal to acknowledge the rights of the Kurds, who are believed to account for up to 20 percent of the country's population traces its roots to the carving of modern Turkey out of the ruins of the Ottoman empire by its visionary founder, Mustafa Kemal, widely known as Ataturk, Father of the Turks.
It is entrenched in Mr. Kemal's declaration in a speech in 1923 to celebrate Turkish independence of "how happy is the one who calls himself a Turk," an effort to forge a national identity for country that was an ethnic mosaic.
The phrase was incorporated half a century later in Turkey's student oath and ultimately removed from it in 2013 at a time of peace talks between Turkey and the PKK by then prime minister, now president Erdogan.
It took the influx of hundreds of thousands of Iraqi Kurds in the late 1980s and early 1990s as well as the 1991 declaration by the United States, Britain and France of a no-fly zone in northern Iraq that enabled the emergence of an autonomous Iraqi Kurdish region to spark debate in Turkey about the Kurdish question and prompt the government to refer to Kurds as Kurds rather than mountain Turks.
Ironically, Turkey's enduring refusal to acknowledge Kurdish rights and its long neglect of development of the pre-dominantly Kurdish southeast of the country fuelled demands for greater rights rather than majority support for Kurdish secession largely despite the emergence of the PKK
Most Turkish Kurds, who could rise to the highest offices in the land s long as they identified as Turks rather than Kurds, resembled Palestinians with Israeli citizenship, whose options were more limited even if they endorsed the notion of a Jewish state.
Nonetheless, both minorities favoured an independent state for their brethren on the other side of the border but did not want to surrender the opportunities that either Turkey or Israel offered them.
The existence for close to three decades of a Kurdish regional government in northern Iraq and a 2017 referendum in which an overwhelming majority voted for Iraqi Kurdish independence, bitterly rejected and ultimately nullified by Iraqi, Turkish and Iranian opposition, did little to fundamentally change Turkish Kurdish attitudes.
If the referendum briefly soured Turkish-Iraqi Kurdish relations, it failed to undermine the basic understanding underlying a relationship that could have guided Turkey's approach towards the Kurds in Syria even if dealing with Iraqi Kurds may have been easier because, unlike Turkish Kurds, they had not engaged in political violence against Turkey.
The notion that there was no alternative to the Turkish intervention in Syria is further countered by the fact that Turkish PKK negotiations that started in 2012 led a year later to a ceasefire and a boosting of efforts to secure a peaceful resolution.
The talks prompted imprisoned PKK leader Abdullah Ocalan to publish a letter endorsing the ceasefire, the disarmament and withdrawal from Turkey of PKK fighters, and a call for an end to the insurgency. Mr. Ocalan predicted that 2013 would be the year in which the Turkish Kurdish issues would be resolved peacefully.
The PKK's military leader, Cemil Bayik, told the BBC three years later that "we don't want to separate from Turkey and set up a state. We want to live within the borders of Turkey on our own land freely."
The talks broke down in 2015 against the backdrop of the Syrian war and the rise as a US ally of the United States in the fight against the Islamic State of the PKK's Syrian affiliate, the People's Protection Units (YPG).
Bitterly opposed to the US-YPG alliance, Turkey demanded that the PKK halt its resumption of attacks on Turkish targets and disarm prior to further negotiations.
Turkey responded to the breakdown and resumption of violence with a brutal crackdown in the southeast of the country and on the pro-Kurdish Peoples' Democratic Party (HDP).
Nonetheless, in a statement issued from prison earlier this year that envisioned an understanding between Turkey and Syrian Kurdish forces believed to be aligned with the PKK, Mr. Ocalan declared that "we believe, with regard to the Syrian Democratic Forces (SDF), the problems in Syria should be resolved within the framework of the unity of Syria, based on constitutional guarantees and local democratic perspectives. In this regard, it should be sensitive to Turkey's concerns."
Turkey's emergence as one of Iraqi Kurdistan's foremost investors and trading partners in exchange for Iraqi Kurdish acquiescence in Turkish countering the PKK's presence in the region could have provided inspiration for a US-sponsored safe zone in northern Syria that Washington and Ankara had contemplated.
The Turkish-Iraqi Kurdish understanding enabled Turkey to allow an armed Iraqi Kurdish force to transit Turkish territory in 2014 to help prevent the Islamic State from conquering the Syrian city of Kobani.
A safe zone would have helped "realign the relationship between Turkey's Kurdistan Workers Party (PKK) and its Syrian offshoot… The safe-zone arrangements… envision(ed) drawing down the YPG presence along the border—a good starting point for reining in the PKK, improving U.S. ties with Ankara, and avoiding a potentially destructive Turkish intervention in Syria," Turkey scholar Sonar Cagaptay suggested in August.
The opportunity that could have created the beginnings of a sustainable solution that would have benefitted Turkey as well as the Kurds fell by the wayside with Mr. Trump's decision to withdraw US troops from northern Syria.
In many ways, Mr. Erdogan's decision to opt for a military solution fits the mould of a critical mass of world leaders who look at the world through a civilizational prism and often view national borders in relative terms.
Russian leader Vladimir Putin pointed the way with his 2008 intervention in Georgia and the annexation in 2014 of Crimea as well as Russia's stirring of pro-Russian insurgencies in two regions of Ukraine.
Mr. Erdogan appears to believe that if Mr. Putin can pull it off, so can he.