Sons of Orthodoxy: EU Austerity and a Russian-Greek Orthodox Alliance
The bitter fight that has been raging between the European Union and Greece has now extended for five long months. With the referendum on July 6th it may all be mercifully put to an end.
With strong indications that the public will resoundingly reject another bailout and the crippling austerity that comes with it, Greece will finally be free of the hated 'institutions' that, as they repeatedly claimed, paralyzed their economy. However, the path that leads to a once again stable and prosperous economy is likely not to be found quickly. When the vote finally arrives, Greece will most likely revert to the drachma and default, wherein the economy will enter yet another depression. As of now, the EU appears to be washing its hands of Greece. Fascinatingly, Russia may be the only country that has the immense means and political savvy to navigate this break-up to the benefit of Greece and to its own global positioning interests and national security priorities beyond the Caspian.
This was never a two-sided fight. Greece and the EU stared down at each other while forgetting that Russia was patiently waiting on the periphery. The EU adamantly stated that austerity would eventually work, while Greece equally weighed in against the 'indecency' that such economic measures were forcing on the Greek people. So much focus has been on rhetoric and horribly complex political posturing inside of the 28-country EU, it quietly missed the fact that Russia could emerge the only real winner, leaving the EU to struggle with the consequences of basically being rejected by a fallen EU member that chose an alternative path.
Russia and Western European powers are in the midst of a tumultuous relationship at the moment diplomatically and it's difficult to argue that Russia isn't coming away with the upper hand. Vladimir Putin has shrugged off sanctions, recession, and drastic inflation, all while increasing personal popularity and national territory. He likewise out-flanked the more-hawkish Western voices in Syria by utilizing Russian soft power, coordinating a chemical weapons disarmament. With a meager 18% debt-to-GDP ratio, Russia has the financial depth and flexibility to do as they please. Lending a helping hand to Greece would be a simple first step to begin prying Greece away from the EU and into a welcoming Russian sphere of influence.
Greece has recently been torn between Russia, an 'Orthodox brother nation,' and it's EU counterparts. The economy was exploding with prosperity before the global recession of 2007-2008 and this newfound wealth was largely facilitated by its close relationship to the EU and inclusion in the Euro currency. Conversely, Greece has historical, cultural, and religious connection with Russia. In addition, tourism and diaspora between the two countries is quite high. Thus, with six years of economic downturn and multiple recessions following the initial depression, Greek positive sentiment toward the EU has plummeted to roughly 25%. Meanwhile, two-thirds of Greeks have a favorable view of Russia, a unique antithesis with much of the EU.
Russia's relationship with the current Greek political hierarchy began on strong footing, as Prime Minister Alexis Tsipras attempted to block sanctions against Russia just days into office. After sanctions were imposed with the United States' urging, Greece reportedly told Russia that they were able to reduce their intensity. This may be the strongest leverage that Greece can offer Russia: while still being a member of the EU, even without its currency, Greece can use its vote to sway sanctions. While a difficult task for Greece to diametrically oppose the wishes of stronger Western powers, one dissenting vote to new sanctions significantly weakens impending ones. Previously, the EU warned of isolationism if Greece bowed to Russia with respect to sanctions and warned not to challenge the EU position. In the wake of default this threat will prove hollow, while isolation from the EU may drive Greece further to the side of Russia. The Greek government would be walking a dangerous tightrope between Russia and the EU, but with little options for an immediately stable economic future they may gamble.
In addition to challenging sanctions, Greece has also fought against the position held by the EU in regard to Russian natural gas. EU members are attempting to move away from reliance on Russian gas and the Gazprom empire. In April, Greece signed on for inclusion in the Turkish Stream gas line project (although that project has yet to begin). Many anticipated that this was a ploy to bluff Europe into accepting easier loan terms, but deciphering what was political brinksmanship and genuine agreements may prove difficult: Russia is going to accept the contract either way.
The EU is stuck between offering Greece the demanded debt write down and further bailouts or gambling with the standard line of austerity and possible 'moral hazard.' This was certainly a fight the creditors never wanted to face, with the political implications singularly negative and no positive outcomes readily imaginable. The EU outcome that would have subdued Russian influence would have been to keep the status quo. When it became clear that the Syriza party had no interest in doing so, the EU could only keep pressing Greece until it broke. Unfortunately, the break may certainly occur, but may consequently create a new alliance the EU never anticipated: an Orthodox alliance that renders EU influence in the Adriatic severely compromised.
Greece has until July 20th to decide whether to accept bailout funds or simply fall out of the Euro. The latter move will show the rest of the EU that membership is not a strictly one-way road and any prospective members may be hesitant in accepting membership. Highlighting the weakness of European partnerships and rigidity of monetary control would represent a large prize to Russia, always interested in embarrassing Western powers when it has opportunity to do so, given what it considers to be like behavior from the US and EU.
Make no mistake: the EU is giving every opportunity to Russia to advance in the economic vacuum that will be left behind as default sweeps through the markets of Greece. For six months it has let the confidence in the Euro, and the EU itself, be shaken through vicious back-and-forth political rhetoric. While the concessions that Greece demanded were far more than the EU felt allowable, Greeks understandably balked at even more austerity. With Russia actively participating in Greece's alternative plans, the EU needs to be legitimately concerned about watching Russia slowly embrace Greece away from Western Europe and more towards its Orthodox brother and the more East-leaning shift it is trying to create in the Caspian and beyond to China. If Greece rebounds as a result of Russian influence, it will give pause to other newer and potential EU members facing similarly severe austerity measures. The EU can still salvage this situation, but it will take drastic compromise since Greek voters appear resolved to accept a Euro exit. With severe austerity the question simply becomes, "how can a state effectively govern when it has little decisions over its budget?" Greece seems to be saying it cannot and therefore is seeking alternative answers to this European economic stick. It proclaims to want economic dignity back. And Russia just might be the country holding the dignity carrot.
Europe tells Biden "no way" to Cold War with China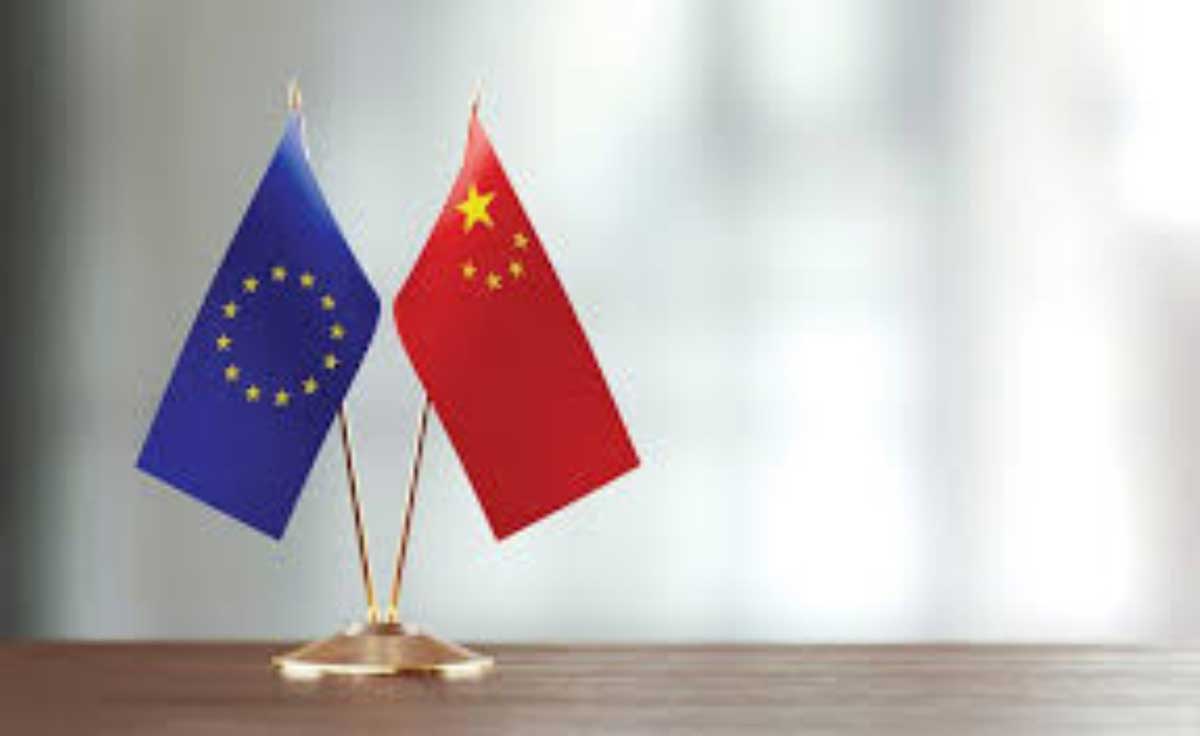 Amidst the first big transatlantic tensions for the Biden Administration, a new poll shows that the majority of Europeans see a new Cold War happening between the United States and China, but they don't see themselves as a part of it.
Overwhelmingly, 62% of Europeans believe that the US is engaged in a new Cold War against China, a new poll just released by the European Council on Foreign Relations found. Just yesterday US President Joe Biden claimed before the UN General Assembly that there is no such thing and the US is not engaging in a new Cold War. So, Europeans see Biden's bluff and call him on it.
The study was released on Wednesday by Mark Leonard and Ivan Krastev at the European Council on Foreign Relations and found that Europeans don't see themselves as direct participants in the US-China Cold War. This viewpoint is most pronounced in Bulgaria, Hungary, Austria, Portugal and Italy, according to the study. The prevailing view, in each of the 12 surveyed EU member states, is one of irrelevance – with respondents in Hungary (91%), Bulgaria (80%), Portugal (79%), and Austria (78%) saying that their country is not in a conflict with Beijing.
Only 15% of Europeans believe that the EU is engaged in a Cold War against China. The percentage is so low that one wonders if there should even be such a question. It is not only not a priority, it is not even a question on the agenda for Europeans. Even at the highest point of EU "hawkishness", only 33% of Swedes hold the view that their country is currently in a Cold War with China. Leonard and Krastev warn that if Washington and Brussels are preparing for an all-in generational struggle against China, this runs against the grain of opinion in Europe, and leaders in Washington and Brussels will quickly discover that they "do not have a societal consensus behind them".
"The European public thinks there is a new cold war – but they don't want to have anything to do with it. Our polling reveals that a "cold war" framing risks alienating European voters", Mark Leonard said.
The EU doesn't have the backing of its citizens to follow the US in its new Cold War pursuit. But unlike the views of the authors of the study, my view is that this is not a transatlantic rift that we actually have to be trying to fix. Biden's China policy won't be Europe's China policy, and that's that, despite US efforts to persuade Europe to follow, as I've argued months ago for the Brussels Report and in Modern Diplomacy.
In March this year, Gallup released a poll that showed that 45% of Americans see China as the greatest US enemy. The poll did not frame the question as Cold War but it can be argued that Joe Biden has some mandate derived from the opinion of American people. That is not the case for Europe at all, to the extent that most of us don't see "China as an enemy" even as a relevant question.
The US's China pursuit is already giving horrible for the US results in Europe, as French President Macron withdrew the French Ambassador to the US. The US made a deal already in June, as a part of the trilateral partnership with the UK and Australia, and stabbed France in the back months ago to Macron's last-minute surprise last week. Max Boot at the Council on Foreign Relations argues that it is Macron that is actually arrogant to expect that commitments and deals should mean something: "Back in February, Macron rejected the idea of a U.S.-E.U. common front against China. Now he complains when America pursues its own strategy against China. What's French for chutzpah?" What Boot does get right is that indeed, there won't be a joint US-EU front on China, and European citizens also don't want this, as the recent poll has made clear.
The US saying Europe should follow the US into a Cold War with China over human rights is the same thing as China saying that Europe should start a Cold War with the US over the bad US human rights record. It's not going to happen. You have to understand that this is how ridiculous the proposition sounds to us, Europeans. Leonard and Krastev urge the EU leadership to "make the case for more assertive policies" towards China around European and national interests rather than a Cold War logic, so that they can sell a strong, united, and compelling case for the future of the Atlantic alliance to European citizens.
I am not sure that I agree, as "more assertive policies" and "cold war" is probably the same thing in the mind of most Europeans and I don't think that the nuance helps here or matters at all. Leaders like Biden argue anyway that the US is not really pursuing a Cold War. The authors caution EU leaders against adopting a "cold war" framing. You say "framing", I say "spin". Should we be in engaging in spins at all to sell unnecessary conflict to EU citizens only to please the US?
"Unlike during the first cold war, [Europeans] do not see an immediate, existential threat", Leonard clarified. European politicians can no longer rely on tensions with China to convince the electorate of the value of transatlantic relations. "Instead, they need to make the case from European interests, showing how a rebalanced alliance can empower and restore sovereignty to European citizens in a dangerous world", Mark Leonard added. The study shows that there is a growing "disconnect" between the policy ambitions of those in Brussels and how Europeans think. EU citizens should stick to their sentiments and not be convinced to look for conflict where it doesn't exist, or change what they see and hear with their own eyes and ears in favor of elusive things like the transatlantic partnership, which the US itself doesn't believe in anyways. And the last thing that should be done is to scare Europeans by convincing them they live in a "dangerous world" and China is the biggest threat or concern.
What the study makes clear is that a Cold War framing against China is likely to repel more EU voters than it attracts, and if there is one thing that politicians know it is that you have to listen to the polls in what your people are telling you instead of engaging in spins. Those that don't listen in advance get the signs eventually. At the end of the day it's not important what Biden wants.
Germany and its Neo-imperial quest
In January 2021, eight months ago, when rumours about the possibility of appointment of Christian Schmidt as the High Representative in Bosnia occurred for the first time, I published the text under the title 'Has Germany Lost Its NATO Compass?'. In this text I announced that Schmidt was appointed to help Dragan Čović, the leader of the Croatian HDZ party, to disrupt the constitutional structure of Bosnia-Herzegovina and create precoditions for secession of the Serb- and Croatian-held territories in Bosnia and the country's final dissolution. I can hardly add anything new to it, except for the fact that Schmidt's recent statements at the conference of Deutsche Atlantische Gesellschaft have fully confirmed my claims that his role in Bosnia is to act as Čović's ally in the latter's attempts to carve up the Bosnian Constitution.
Schmidt is a person with a heavy burden, the burden of a man who has continuously been promoting Croatian interests, for which the Croatian state decorated him with the medal of "Ante Starčević", which, in his own words, he "proudly wears" and shares with several Croatian convicted war criminals who participated in the 1992-1995 aggression on Bosnia, whom Schmidt obviously perceives as his ideological brethren. The question is, then, why Germany appointed him as the High Representative in Bosnia?
Germany's policy towards Bosnia, exercised mostly through the institutions of the European Union, has continuously been based on the concept of Bosnia's ethnic partition. The phrases that we can occassionaly hear from the EU, on inviolability of state boundaries in the Balkans, is just a rhetoric adapted to the demands by the United States to keep these boundaries intact. So far, these boundaries have remained intact mainly due to the US efforts to preserve them. However, from the notorious Lisbon Conference in February 1992 to the present day, the European Union has always officially stood behind the idea that Bosnia-Herzegovina should be partitioned along ethnic lines. At the Lisbon Conference, Lord Carrington and Jose Cutileiro, the official representatives of the then European Community, which has in the meantime been rebranded as the European Union, drew the maps with lines of ethnic partition of Bosnia-Herzegovina, along which the ethnic cleansing was committed, with 100.000 killed and 1,000.000 expelled, so as to make its territory compatible with their maps. Neither Germany nor the European Union have ever distanced themselves from the idea they promoted and imposed at the Lisbon Conference as 'the only possible solution' for Bosnia, despite the grave consequences that followed. Nor has this idea ever stopped being a must within their foreign policy circles, as it has recently been demonstrated by the so-called Janša Non-Paper, launched a couple of months ago, which also advocates the final partition and dissolution of Bosnia-Herzegovina. Such a plan is probably a product of the powerful right-wing circles in the European institutions, such as Schmidt's CSU, rather than a homework of Janez Janša, the current Prime Minister of Slovenia, whose party is a part of these circles, albeit a minor one. To be sure, Germany is not the original author of the idea of Bosnia's partition, this author is Great Britain, which launched it directly through Lord Carrington at the Lisbon Conference. Yet, Germany has never shown a will to distance itself from this idea, nor has it done the European Union. Moreover, the appointment of Schmidt, as a member of those political circles which promote ethnic partition as the only solution for multiethnic countries, testifies to the fact that Germany has decided to fully apply this idea and act as its chief promoter.
In this process, the neighbouring countries, Serbia and Croatia, with their extreme nationalist policies, can only act as the EU's proxies, in charge for the physical implemenation of Bosnia's pre-meditated disappearance. All the crimes that Serbia and Croatia committed on the Bosnian soil – from the military aggression, over war crimes, ethnic cleansing and genocide, up to the 30 year-long efforts to undermine Bosnia's sovereignty and territorial integrity – have always had a direct approval and absolute support of the leading EU countries. During the war and in its aftermath, Great Britain and France were the leaders of the initiatives to impose ethnic partition on the citizens of Bosnia-Herzegovina, and now Germany has taken up their role. In such a context, the increasing aggressiveness of Serbia and Croatia can only be interpreted as a consequence of the EU's intention to finish with Bosnia for good, and Schmidt has arrived to Bosnia to facilitate that process. Therefore, it is high time for the citizens of Bosnia-Herzegovina to abandon any ilussions about the true intentions of the European Union and reject its Trojan Horse in the form of the current High Representative.
Should there be an age limit to be President?
The presidential elections in Bulgaria are nearing in November 2021 and I would like to run for President of Bulgaria, but the issue is the age limit.
To run for President in Bulgaria a candidate needs to be at least 40 years old and I am 37. I am not the first to raise the question: should there be an age limit to run for President, and generally for office, and isn't an age limit actually age discrimination?
Under the international human rights law standard, putting an age limit is allowed in the context of political participation under the right to vote and the right to run to be elected. Human Rights Committee General Comment No.25 interpreting the International Covenant on Civil and Political Rights states that an age limit has to be based on objective and reasonable criteria, adding that it is reasonable to have a higher age requirement for certain offices. As it stands, the law says that having an age limit for president is not age discrimination, but is 40 actually a reasonable cut-off? National legislations can change. We need to lower the age limit and rethink what's a reasonable age for President, and not do away with all age limits.
We have seen strong leaders emerge as heads of state and government who are below 40 years of age. Sanna Marin, Prime Minister of Finland, became Prime Minister at 34. Sebastrian Kurz, the Prime Minister of Austria, was elected at 31. Jacinda Ardern, Prime Minister of New Zealand, assumed her position at 37. So perhaps it is time to rethink age limits for the highest offices.
The US has plenty of examples where elected Senators and Congressmen actually beat the age limit and made it despite the convention. The age limit for Senator in the US is 30 years old. Rush Holt was elected to the US Senate at 29. In South Carolina, two State Senators were elected at 24 years old and they were seated anyways. The age limit for US president is 35 years old.
In Argentina, the age cut-off is 30. In India, it is 35. In Pakistan, it is 45 years old. In Turkey, it is 40 years old. Iceland says 35 years old. In France, it is 18.
Generally, democracies set lower age limits. More conservative countries set the age limit higher in line with stereotypes rather than any real world evidence that a 45 year-old or 55 year-old person would be more effective and better suited to the job. Liberal countries tend to set lower age limits.
40 years old to be a President of Bulgaria seems to be an arbitrary line drawn. And while it is legal to have some age limits, 40 years old seems to be last century. Changing the age limit for president of Bulgaria could be a task for the next Bulgarian Parliament for which Bulgarians will also vote on the same date as they vote for President.