Azerbaijan & Kazakhstan Oil and Gas Strategic Analysis
The 10 most important things you need to know on Caspian Sea Region for Wednesday, June 24:
1Azerbaijan Oil and Gas Strategic Analysis and Outlook to 2025 – Forecasts of Supply, Demand, Investment, Companies and Infrastructure. Amidst downfall in oil prices creating uncertainty on the future of Azerbaijan industry growth, the report details key strategies of government, oil and gas companies and investors in the country. Detailed outlook of the industry in terms of production forecasts of oil, gas, LNG, LPG, gasoline, diesel, fuel oil along with supporting parameters of primary energy demand, GDP and population are included. Current status of planned projects along with the possible commencement of the projects, feasibility of developing those projects in current market conditions, expected start up, impact of competing assets in other countries and overall industry developments, investments required and other related information on planned projects is provided in detail. The comprehensive guide provides analysis and forecasts of Azerbaijan oil and gas market for the period 2000 to 2025. Asset by asset details of all existing and planned projects across Azerbaijan oil and gas value chain are detailed in the report. [Research and Markets]
2Kazakhstan Oil and Gas Strategic Analysis and Outlook 2015-2025 – Forecasts of Supply, Demand, Investment, Companies and Infrastructure. The author, one of the leading research and consulting service providers for the oil and gas industry, recently published the Kazakhstan Oil and Gas Strategic Analysis and Outlook to 2025. The premier report provides analysis of key opportunities and associated challenges facing Kazakhstan oil and gas industry. Amidst downfall in oil prices creating uncertainty on the future of Kazakhstan industry growth, the report details key strategies of government, oil and gas companies and investors in the country. Detailed outlook of the industry in terms of production forecasts of oil, gas, LNG, LPG, gasoline, diesel, fuel oil along with supporting parameters of primary energy demand, GDP and population are included. [Research and Markets]
3Nato strategy shifts to face Russia. Lithuanian soldiers participate in Nato Noble Jump military exercises. The US is putting together a "new blueprint" for deterring Russian aggression against its Nato allies as it digs in for a potentially prolonged stand-off with Moscow. The emerging American strategy involves placing tanks and artillery across eastern Europe and providing fighter jets and commando units to a new Nato rapid reaction force which is being set up to respond to potential crises with Russia. While some of the measures have been designed as much for their symbolism as their immediate military impact, the announcements represent the beginning of a major reorientation of the Nato alliance which has spent more than a decade fighting in Afghanistan but which is now focusing more on defending its eastern frontier. [Financial Times]
4The Silk Road Superhighway: Kazakh Transportation as Geopolitics. "there are some interesting regional, transregional, and truly global infrastructure projects Kazakhstan is including alongside the standard local fixes that could carry significant geopolitical weight moving into the future. Indeed, just how successful Kazakhstan is in 'fixing the potholes' across its country could become incredibly important to countries like Russia, China, Turkey, Germany, and the United States. Who knew road work could be so exciting!" writes Dr. Matthew Crosston for the Modern Diplomacy.
5Presenting of Azerbaijan as a country with human rights violations is wrong, Samad Seyidov, the head of the Azerbaijani delegation to the Parliamentary Assembly of the Council of Europe (PACE), said. Seyidov made the remarks during the discussion of the report on "Activity of democratic institutions in Azerbaijan" on the second day of the PACE summer session."It is enough," he said. "Presenting of Azerbaijan as a country with human rights violations is wrong. You are talking here about the people detained in Azerbaijan. Why do not you talk about the rights of the people killed on the line of contact? You are calling us for fulfilling the obligations that we have undertaken. If you are working correctly, why can't the countries, accusing Azerbaijan, ensure the observance of human rights in their own countries? Think about yourself before blaming Azerbaijan."
6The Trans-Caspian Pipeline: Geopolitics Near and Abroad. "Peaceful discussions amongst Caspian members display a warm and sentimental approach towards an issue that can easily impact Russia's economic and political success. Although Russia has gone on record to demonstrate public support of sea demarcations, behind-the-scenes negotiations with Turkmenistan and Kazakhstan's leaders appear to be fueling Russia's agenda in Ukraine, providing a warning to the possibilities of a successful Trans-Caspian Pipeline initiative that does not offer Russia a significant role. The building of Caspian alliances communicates a desire for dynamic partnerships that are dismissive of one dominant player" writes Dianne A. Valdez for the Modern Diplomacy.
7Why are Saudis in Russia? "Saudi Arabia is raising the level of its political action and putting its interests firmly on the table. It was no surprise that Saudi Arabia is directing its interest toward Russia. The cold relations of the past years needed a push to encourage warmer dealings and an improved relationship. The phone call between Custodian of the Two Holy Mosques King Salman and President Vladimir Putin on April 20 indicated that warmth had returned to the relations between the two countries" writes Mohammed Fahad Al-Harthi for the Arabnews.
8The Hydra of the Caspian Sea: Iran's Naval Strategy. "The Iranian chain of command is decentralized in that small unit commanders have enough autonomy to carry out the overarching strategy even with infrequent communication between itself and central command, which creates capacity to absorb attempts to decapitate the command structure from its constituent units. The Iranian military copies this strategy with all of its serving units beyond the navy, meaning its entire military could operate in this manner within a Caspian Sea conflict" writes Taylor Morse for the Modern Diplomacy.
9Iran ready to partner Turkey in $10 billion plan. Iran is ready to give partnership stakes to Turkish companies in its construction of roads, airports and railways for which the country has put aside $10 billion. Over the next three to five years, Iran has many transportation projects on offer which it is ready to award some to "internationally proven Turkish companies," Iranian Ambassador to Ankara Alireza Bigdeli said. He said prospective Turkish corporations would be awarded contracts based on work partnership with Iranian companies without bids.
10Tele2 Kazakhstan appoints new CCO. Mobile operator Tele2 Kazakhstan has appointed Daniel Karpovich the new CCO of the company, reports Profit.kz. Karpovich will replace Mindaugas Ubartas in the position in a month. The operator didn't give a reason for replacing Ubartas, who has worked in the position since 2013. Karpovich earlier worked as head of product development at Tele2 Kazakhstan.
Fast-tracking a Zero Waste Economy: Business Leaders Commit to Circular Economy Action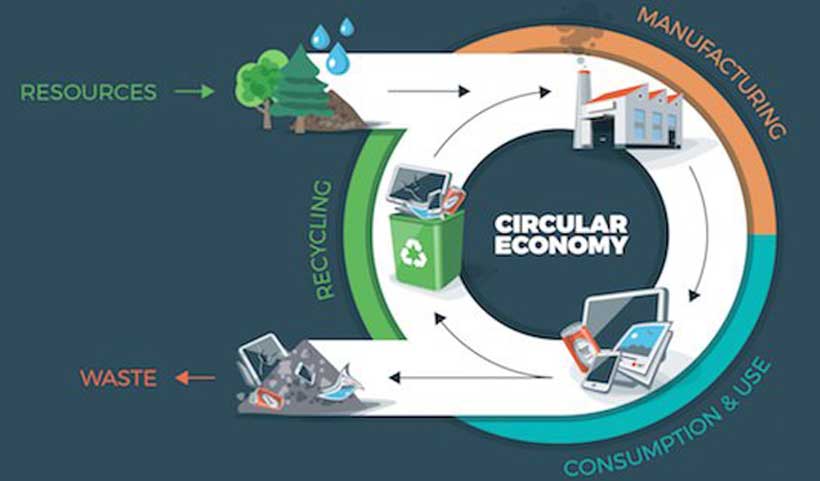 Denmark, Japan, the Netherlands and the United Arab Emirates have committed to joining a major global initiative to redesign the global "take-make-dispose" economy into a more circular one. They join over 50 government and business leaders who are part of the Platform for Accelerating the Circular Economy (PACE), which was launched at the World Economic Forum Annual Meeting 2018 in Davos.
PACE includes the heads of some of the world's largest companies such as Royal Philips and Unilever; senior representatives from the governments of Indonesia, Nigeria, the People's Republic of China and Rwanda; and heads of organizations, including the Ellen Macarthur Foundation, World Resources Institute, Global Environment Facility, UN Environment and World Bank.
All are committed to efforts that cut waste and pollution and fast-tracking circular economy solutions in which products and materials are redesigned, recovered and reused to reduce environmental impacts. Extending the life of products creates new business opportunities and revenue streams, while minimizing the environmental impact of mining, resource extraction, refining and manufacture.
Japan's commitment comes as the second World Circular Economy Forum – hosted by the Ministry of the Environment of Japan and Finnish innovation fund Sitra – gets underway in Yokohama, Japan.
Japan is one of the most resource-efficient economies globally, and has recently launched its 4th Fundamental Plan for Establishing a Sound Material-Cycle Society a new public-private Plastics Smart campaign. The Netherlands government aims to achieve circularity by 2050 and halve the use of primary resources by 2030 and Denmark launched its Circular Economy Strategy and a related National Action Plan on Plastics. The UAE is committed to shaping strategic action to advance the circular economy.
To date, PACE, which is hosted and facilitated by the World Economic Forum, has catalysed major projects and collaborations to advance the circular economy, including the Global Plastics Action Partnership, which was launched in collaboration with the Friends of Ocean Action at the Forum's Sustainable Development Impact Summit in New York. PACE is also focused on waste from electronics. In 2016, 44.7 million metric tonnes of e-waste was generated, equivalent to the weight of 4,500 Eiffel Towers. E-waste contains a number of toxic substances that can cause great harm to health. At the same time, the UN estimates that some 55 Billion Euro worth of secondary raw materials lays idle in e-waste.
Antonia Gawel, Head of the Circular Economy Initiative, World Economic Forum, said: "We have the knowledge, power and technologies to drive circular economy action. We just need to act more quickly and build partnerships to scale solutions. The Fourth Industrial Revolution offers great opportunities in this area – which is why PACE is excited to explore its potential with an expanding group of partners."
Frans van Houten, Chief Executive Officer, Royal Philips, and PACE Co-Chair, said: "A circular economy is essential if we are to achieve global economic growth whilst stopping unsustainable resource consumption. Large corporations, SMEs and governments must collaborate to transform supply chains and the modern consumption economy. Philips is pleased to partner with private and public sector organizations through PACE enabling large-scale projects with firm commitments and decisive action."
Naoko Ishii, Chief Executive Officer and Chairperson, Global Environment Facility (GEF), and PACE Co-Chair, said: "It is a real pleasure for me to welcome a growing network of governments to PACE.  The world urgently needs to move to a more Circular Economy, and PACE is a strong platform that brings together a broad coalition of stakeholders to accelerate action."
Yoshiaki Harada, Minster of Environment, Japan, said: "We all have a common view on realizing a circular economy on a global scale by networking and accumulating knowledge and experience of public and private entities around the world. The Ministry of the Environment of Japan has decided to participate in PACE, and share our knowledge and experience globally. As part of our contribution to PACE, we would like to provide information on excellent actions, experiences and technologies of Japan's public and private entities registered in our "Plastics Smart" Campaign."
ADB Invests $25 Million in Private Equity Fund to Help Small Businesses in Southeast Asia
The Asian Development Bank (ADB) signed an agreement to provide a $25 million equity investment to Exacta Asia Investment II, L. P. (Exacta II), a private equity fund, to provide much-needed investments for small and medium-sized enterprises (SMEs) in Southeast Asia.
"ADB's investment will help well-managed and middle-market SMEs in Southeast Asia to realize their growth plans, thereby driving employment, tax generation, skills transfer, and regional trade," said ADB Director for Private Sector Investment Funds and Special Initiatives Division Ms. Janette Hall. "Investing in Exacta II allows ADB to participate in Southeast Asia's continued economic growth while providing development benefits for people in the subregion."
ADB's support will allow Exacta II to invest growth equity into smaller firms—particularly those from Indonesia, Malaysia, Philippines, Singapore, Thailand, and Viet Nam—whose growth is driven by domestic consumption and export. This will help address the issue of low private equity penetration in Southeast Asia, which is crucial to create new jobs, drive economic growth, and encourage further investments in related sectors.
Exacta II, a private equity fund with a target capitalization of $250 million, intends to invest about $10 million to $40 million per transaction in some of Southeast Asia's SMEs and lower middle-market companies, particularly in the manufacturing, technology, and service sectors.
Suzhou Forum Calls for Faster Energy Transformation for Better Lives and Prosperity
Senior government officials, business leaders and key players in the global energy sector met today at the Third International Forum on Energy Transitions (IFET) in Suzhou, China. The international gathering, co-organized by the National Energy Administration of China, the International Renewable Energy Agency (IRENA), and the Jiangsu Provincial People's Government of China, is an important platform for dialogue and collaborative action on how to transform energy systems towards a sustainable, low-carbon and resilient energy future.
Over the last decade, renewables have brought disruptive change to the global energy landscape. Driven by rapid technological advances, enabling policy frameworks and plummeting costs, renewables have created unprecedented opportunities to rethink the way our energy systems operate. IFET aims to identify solutions to scale up the latest renewable energy innovations, particularly in end-use sectors, accelerate power sector transformation, increase renewable energy financing, and transform urban energy systems.
In his keynote remarks, IRENA Director-General Adnan Z. Amin stressed the need to take the global energy transformation to the next level by strengthening innovation, mobilizing investments and modernizing gird infrastructure. Accelerating renewables deployment is essential to tackle challenges such as climate change, sustainable development and meeting growing energy demand. The Director-General underlined that the energy transformation offers us vast socio-economic benefits in terms of powering sustainable growth, creating jobs and creating local value-added.
Leading the way on the energy transformation are those frontrunner countries, like China who, early on, recognised the potential opportunities in and are developing the policies, market mechanisms, and systems necessary to reorient their economies towards the high-tech industry and workforce of the future. As highlighted in IRENA's Corporate Sourcing Report, it is not only countries that are leading the way: companies in 75 countries actively sourced 465 terawatt hours of renewable energy in 2017, enough to power a country the size of France.
In his speech at the Sub-Forum on International Cooperation on Renewable Energy Industry Development, the Director-General also highlighted that international cooperation is needed to share lessons and experiences to overcoming challenges in transforming existing energy structures to low-carbon sustainable systems based on renewables and energy.
During his remarks at the Energy Future session, the Director-General identified five priority action areas to advance the energy transformation. These include: fostering a power sector that integrates higher shares of variable renewables and decarbonising end-use sectors, strengthening system-wide innovation, scaling up investment, ensuring equitable costs and benefits of the transition, and furthering international cooperation.
The previous conferences in 2015 and 2016 adopted the Suzhou Declaration and Consensus, respectively, which called for higher levels of ambition and decisive action to accelerate the energy transition.
IRENA also participated in the Belt and Road Energy Ministerial Conference taking place in Suzhou at the same time. Renewable energy has been identified as central to one of the initiative's key pillars as a means to build a sustainable energy future.