The Trans-Caspian Pipeline: Geopolitics Near and Abroad
Russia's energy control appears to be soon coming to a halt as Caspian members, Turkmenistan and Kazakhstan, plan on gaining control over vital areas of the Caspian Sea. Ongoing deliberations over assigning specific demarcations to the five outlying regional members of the Caspian threaten to impede on Russia's years of energy control within the region and across the EU.
Peaceful discussions amongst Caspian members display a warm and sentimental approach towards an issue that can easily impact Russia's economic and political success. Although Russia has gone on record to demonstrate public support of sea demarcations, behind-the-scenes negotiations with Turkmenistan and Kazakhstan's leaders appear to be fueling Russia's agenda in Ukraine, providing a warning to the possibilities of a successful Trans-Caspian Pipeline initiative that does not offer Russia a significant role. The building of Caspian alliances communicates a desire for dynamic partnerships that are dismissive of one dominant player. Russia's public support of a unilateral decision-making power is being quickly outvoted as plans carry forward toward more innovative models that would elevate the economic and political influences of neighboring countries.
Beginning almost twenty years ago, plans to come to an agreement have been continuously stalled over explicitly defining regional access to the Caspian Sea, mostly due to the abundance of natural oil and gas reserves under its waters. Out of the five neighboring countries Russia's interests are the least benefited by the Trans-Caspian Pipeline (TCP). "Big countries, especially, have found it easier to make private deals with President Vladimir Putin's government. And that has done little for Europe's most vulnerable economies, whose infrastructure is designed only to take in supplies from Siberia." (Klapper & Lee) Russia continues to strictly maneuver its agendas amongst EU nations, by manipulating energy distributions as a form of reprisal for ill-approved political advancements concerning the Ukrainian crisis. The attitudes toward the TCP proves not only a demonstration against long-term Russian constraints on the EU but also the possibility that such a plan could prove effective to relieving future economic and power crises amongst EU countries.
Locally, Turkmenistan and Kazakhstan have been joined by Azerbaijan, all of whom are openly leading TCP initiatives, as support by the EU grows stronger. EU positions are in favor of the TCP with hopes to break away from Russian-imported gas supplies. "The Kazakh-Turkmen maritime demarcation deal strengthens Turkmenistan's claim on rights to use its sector for whatever purposes it wishes — building a pipeline, for example — without consulting the other littoral states. Turkmen and Azerbaijani authorities have already said if both countries agree to build such a pipeline there is no need to seek approval from the other three coastal states,"(Ovozi). Such actions have tried to basically oust Russia, pushing its government to oppose progress on the TCP, citing implications of negative environmental effects and even resorting to possible threats against its diplomatic relations with Caspian members.
Russia's sentiments seem to be shared by Iran in the disadvantages of the TCP in that it also cannot take part in the main spoils. "The current standing of the two countries in the summit indicates that Russia and Iran — at least in this phase — can capitalize on their common concern…According to the Itar-Tass news agency, the countries agreed to increase Russian corporate participation in the development of Iranian oil and gas deposits (such as the South Pars gas field), as well as to cooperate in marketing policy in oil and gas exports and setting up capacity for producing, storing and exporting natural gas in Iran," (Berti). However the burdens of Iran's woes are very much different from Russia's in that Iran may have the ability to change its own fate on the Caspian issue. With relations with the west easing and talks of years of sanctions being lifted, it appears that opportunities for Iran's recruitment to join the alliances of the TCP are alive and present. "Iran still says that the Caspian and its resources must be subject to joint supervision. Analysts however say that Tehran could moderate this position in exchange for greater involvement in oil and gas export routes. Tehran has been presenting its own pipeline network to the Persian Gulf as the cheapest and shortest export route for Caspian oil," (MacWilliam). Should Iran decide to change its mindset, the TCP could present an amicable solution to its own economic instability. As a partner in the TCP, Iran would attain the political advancement that could rebuild its geopolitical reputation.
For the U.S., concerns over developing the TCP demonstrate an ulterior motive against its longtime rival, Russia. "Pipelines, ports and power plants are the weapons of what could prove a generation-defining conflict between the U.S. and Russia over how Europe heats and electrifies its homes. Success, U.S. officials say, would mean finally "liberating" former Soviet states and satellites from decades of economic bullying by Moscow." (Klapper & Lee) Not only would the success of the TCP aid in the demilitarization of Russian economic presence over the EU, it would also push alliances toward EU countries to bid against Russian energy provisions and rely on American counterparts for alternative energy solutions.
Hence, though plans for the TCP continue to remain the excitement of media reports and offstage political meetups in the region, the world's major power players – Russia and the U.S. – appear to be stacking their chips in a political game of poker. Though initial discussions for the TCP really only involved Russia and its Caspian neighbors, its longtime rival to the far west has found comfort in trying to diminish Russia's influence. The building of the TCP would mark for the first time a remarkable union between East and West that would see the U.S. try to use it as a "debunker" of Russia's longtime natural resource coercion within the region and further out amongst EU states. The TCP could even provide some political relief for the crisis being witnessed in Ukraine as it may make Russia more pliable in its negotiations. However, history also demonstrates that Russia tends to not be so eager to lay its concerns to rest and doesn't stay backed into a corner very long.
References
Berti, B. (2007) "Iran Strengthens Its Role in the Caspian Sea and the Central Asian Regions," The Reut Institute. November 6 http://reut-institute.org/en/Publication.aspx?PublicationId=2652 > accessed 06/21/15.
Klapper, B. & Lee, M. (2015) "U.S., Russia at Odds Over Energy, Cold Ware Style Conflict," The Washington Times. February 24 <http://www.washingtontimes.com/news/2015/feb/4/us-russia-odds-over-energy-cold-war-style-conflict/?page=allaccessed> accessed 06/20/15.
MacWilliam, I. (1998) "World: Analysis The Caspian's untapped mineral wealth," BBC News. July 6 http://news.bbc.co.uk/2/hi/world/analysis/127670.stm> accessed 06/20/15.
Ovozi, Q. (2015) "Kazakhs, Turkmen Divide Caspian Spoils Despite Demarcation Doubts," Radio Free Europe Radio Liberty. May 27<http://www.rferl.org/content/caspian-demarcation-oil-kazakhstan-turkmeinstan/27039904.html> accessed 06/20/15.
Russia's 'Great Game' in Central Asia Amid the US Withdrawal from Afghanistan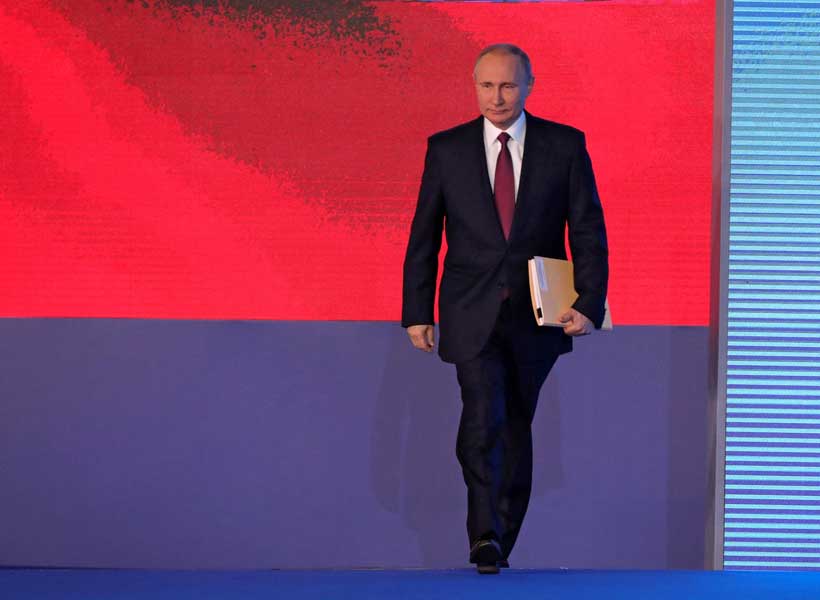 The post-Soviet Central Asian nations are gravely concerned about the Taliban's rapid offensive in non-Pashtun northern provinces of Afghanistan seizing border crossings with Uzbekistan, Tajikistan and Turkmenistan. The region, which is considered Russia's backyard, is not ready to cope on its own with the aftermath of the Afghan conflict after the US withdrawal on August 31 and to confront new challenges posed by the jihadist threat. This further forces the authoritarian and corrupt Central Asian political regimes to seek outside support rather than relying on their strength.
Central Asia's economic and military vulnerability to growing security challenges amid a nationwide Taliban advance has once again turned the region into an arena of geopolitical rivalry between world powers, the US, Russia and China.
By exploiting the Afghan crisis, Moscow is trying to increase its military influence in the wider Central Asian region, also known as Russia's 'southern underbelly,' a term that underscores the sense of vulnerability it feels along its southern border. Putin's primary goal at this stage is to prevent the US armed forces from gaining a foothold in Central Asia again after their withdrawal from Afghanistan. Because for Moscow any forays by Washington in its 'southern underbelly', especially in the military field, represent a potential threat that could reduce its influence in the post-Soviet space.
Therefore, Russian officials are now carefully eyeing the next US moves and scrutinizing each of their contacts with the Central Asian governments. The military escalation near the border areas of its 'southern underbelly' is playing into Russia's hands, as the "Five Stans" have high hopes for the Kremlin security umbrella to prevent possible threats from Afghanistan. Russia, in turn, seeing the dependence of Central Asian nations on it for support and defense, and is mounting speculation over the potential destabilization of the region.
It is noteworthy that Russia views the Collective Security Treaty Organization (CSTO) as its hard power outposts in the region, which members are Kazakhstan, Kyrgyzstan and Tajikistan. In early July, Tajikistan called on CSTO to help it deal with security challenges emerging from Afghanistan, as its military forces could not handle the instability at the border without external assistance.
Moreover, President Vladimir Putin personally called his Tajik counterpart Emomali Rakhmon and confirmed his readiness to provide Tajikistan with the necessary support, both bilaterally and within the framework of the CSTO. For this purpose, Moscow wants to use its 201st military base in Tajikistan, one of its biggest abroad, to ensure the security of its allies.
The two authoritarian leaders agreed to jointly counter international terrorist threats at the time when some 1,600 Afghan government troops were fled north into Tajikistan and Uzbekistan following a Taliban onslaught in June.
Despite the amorphousness and ineffectiveness of the Russia-led military bloc, Moscow likes to emphasize the mutual defense commitments of CSTO members on the principle that "an attack against one Ally is considered as an attack against all Allies." Another tool of Russian military influence in the region is its military base in Kyrgyz Kant, which strengthened its air and missile defense systems, deployed unmanned aerial vehicles (UAVs) and modern Mi-8MTV5-1 helicopters last year. Moscow is also strengthening military cooperation with non-CSTO members, Uzbekistan and Turkmenistan, in bilateral framework, by arms sales and joint military exercises. Russia has long viewed Central Asia as part of its privileged sphere of influence, and any military-political activity of external actors here arouses its envy and suspicion. The recent intensification of Russian military activity in the region is aimed at hindering the US military presence in Central Asia following its withdrawal from Afghanistan.
US foreign policy strategies towards Central Asia
Recently the Biden administration has cautiously probed a foothold in Central Asia to redeployment of US troops and to temporarily house about 9,000 Afghan interpreters who assisted with the American military's invasion and occupation of the country. On April 15, the US officials had been in contact with Kazakh, Uzbek, and Tajik authorities about the possibility of reposition some of its troops in the region.
Further, on July 1 in Washington, US top diplomat Antony Blinken met with his Uzbek and Tajik counterparts, during which the parties discussed regional security and the situation in Afghanistan. After the meeting, Blinken tweeted words of gratitude to Uzbek Foreign Minister Abdulaziz Kamilov and described Uzbekistan as an essential partner for regional security. "We have strong shared interests when it comes to security in the region, particularly with regard to Afghanistan," Blinken said. Separately, in his meeting with Tajik Foreign Minister Sirojiddin Muhriddin, Blinken discussed the military-political situation in Afghanistan and affirmed the US commitment to Tajikistan's security, stability, and territorial integrity.
Zalmay Khalilzad, the US special representative for Afghanistan, visited Kazakhstan, Uzbekistan and Tajikistan in May-June, where he held talks with the leaders of the countries on regional security issues. Elizabeth Sherwood-Randall, the Homeland Security Adviser to the US President, attended the C5+1 meeting in the Uzbek capital of Tashkent on July 15, where she assured that the US will continue to solicit strong regionally and internationally support for the Afghan peace process. Details of US requests for bases in Central Asia have not been disclosed to the press, but the State Department's increased activity towards the 'Five Stans' indicates that Washington is looking for regional partners.
However, their attempts to collect over-the-horizon counterterrorism capacity in Central Asia to support the current Afghan government apparently to have not resulted. It appears that Central Asian governments are playing it cool. Uzbekistan referred to its national defense doctrine, according to which no foreign military base could be permitted on Uzbek soil. Tajikistan recalled that as a member of the Moscow-led CSTO, it has no right to host foreign military bases on its territory without the consent of other members of the bloc. Kazakhstan silently bypassed the Afghan issues. Perhaps the US did not take into account the new Kyrgyz government due to its strong pro-Russian position. Apparently, Central Asian governments also have not replied positively to Washington's request for temporarily housing some of Afghans who worked alongside US troops and who may be at risk from the Taliban. That was the result of Russia's undisguised and heavy political pressure on its Central Asian allies.
Russia's 'heavy hand' over Central Asia
The alarming situation along the Central Asian-Afghan border and the return's threat of Taliban-backed Uzbek and Tajik Jihadists to Fergana Valley have forced the region's authoritarian leaders to seek protection under Putin's heavy hand. In May, he received the Tajik president Emomali Rahmon and the Kyrgyz leader Sadyr Japarov in Russia. Over the past three months, Putin has regularly spoken on the phone with his Kazakh, Uzbek and Turkmen counterparts, during which they discussed the security situation in the region. However, it can be assessed as political pressure considering Putin's sharp anti-Western stance and his regular contact with the Central Asian leaders during the period when the US authorities were actively looking for a new place to redeploy their troops.
Russia's top diplomat Sergey Lavrov has long cautioned Central Asia's governments against deploying US troops in their countries. Otherwise, the Russian authorities openly warned that such actions would have far-reaching negative economic and political consequences. Moscow fears that Washington intends to use Central Asia as a foothold to simultaneously challenge its two principal competitors: Russia and China. According to Putin's geostrategists, the US can exploit Russia's 'southern underbelly' as fulcrums to strike at the core of the Kremlin.
Russian Defense Minister Sergei Shoigu, another heavyweight of Putin's anti-Western team, toured Central Asia, attending a meeting of the Council of Defense Ministers of the member states of the CSTO in April. In his speech, he mainly criticized the West, stressing that "the actions of the US and NATO in the European region contribute to the growth of the military danger." While in Dushanbe, Shoigu and his Tajik counterpart Sherali Mirzo announced the creation of a unified air defense system between Russia and Tajikistan. As part of his tour, Sergei Shoigu also visited Tashkent where together with the Uzbek counterpart Bahodir Kurbanov presented the strategic partnership program between Russia and Uzbekistan in the military field for 2021-2025. Notably, the main goal of his tour was to reassert Russian military influence in Central Asia and to counter deploying the US troops in the former Soviet Central Asian nations following their withdrawal from Afghanistan.
Zamir Kabulov, the Kremlin envoy on Afghanistan, stands out against the general background of Russia's anti-American chorus, who recently stressed that "the US withdrawal cannot and must not turn into a redeployment of US and NATO military infrastructure facilities to countries neighboring Afghanistan, especially in Central Asia."
Previously, the Central Asia states in their foreign policy tried to maintain neutrality in the Russia-China-USA triangle, consistently participating in all regional projects proposed by the superpowers: Moscow's 'Eurasian Economic Union', the Beijing's 'Belt and Road' and the Washington's 'C5+1'. However, the Central Asian governments were unable to maintain a balance of neutrality when the interests of global players over the US military presence in the region came into contradiction.
As a result, the withdrawal of US forces from Afghanistan provided the opportunity for Moscow to strengthen its political and military influence not only over its soft "southern underbelly", but also beyond the Eurasian space. Geopolitical competition of global powers for the post-war future of Afghanistan has shown that the Central Asian nations, despite their 30-year experience of independence, still remain dependent on the Kremlin position.
Can Moscow step into the same Afghan river twice?
Notably, Afghanistan was a "geopolitical arena" between Moscow and Washington since the Soviet military intervention in 1979, where two world powers competed for geopolitical, military, economic and ideological superiority. It seems that now Russia's leader, who greatly regretted the collapse of the Soviet Union after its shameful defeat in the Afghan war, has decided to pay the US in their own coin. Putin, whose anti-Western firm beliefs were shaped by the Soviet KGB, is imposing his will upon Central Asian weak leaders to side with Moscow rather than Washington in the "Great Geopolitical Competition."
Over the past twenty years, the Russian GRU repeatedly attempted to undermine the US counterterrorism activity in Afghanistan guiding by the principle "what is bad for Washington is good for Moscow." In June 2020, the US accused Russia of offering the Taliban bounties to kill American troops in Afghanistan. Moscow, then, as usual, denied the accusation.
Now Russian officials and experts gloated over the US withdrawal from Afghanistan. Particularly, pro-Kremlin media automatically credited any of Washington's failures in favor of Moscow. According to Russia's chief diplomat, the US mission in Afghanistan had "failed", and its hasty withdrawal from the country destabilized the region, which in turn exacerbated the terrorist threat in the region. Putin's special envoy on Afghanistan made another accusation that Afghan government forces are losing the war to the Taliban because the US and NATO failed to create a combat-ready army during their twenty years of occupation of the country. Thus, the pro-Kremlin media, which still have a strong influence in the post-Soviet region, are fueling anti-American sentiments on the Afghan problem.
In conclusion, the "Great Game" around Central Asia over Afghanistan indicated the lack of foreign policy independent of the five post-Soviet nations. They are still highly vulnerable before Russian political and military influence even after 30 years of their sovereignty.
Outright US adversaries such as Iran and China have also made efforts to counter the deployment of US forward operating bases in Central Asia. Beijing's tremendous economic pressure on its western neighbors forced them to react coldly to US proposals. In addition, the Afghan Taliban, whose influence began to spread outside the country, made several statements warning Central Asia's neighbors not to provide its territories to US forces.
The coldshoulder of the Central Asian nations to US requests was the result of Washington's passive foreign policy over the past two decades. While U.S. foreign policy was strategically adrift, Putin's Russia regained its posture in the heart of the Eurasian landmass. Today, both Moscow and Beijing are aggressively challenging US interests in Central Asia on multiple fronts.
Thus, the Central Asian states have provided Russia moral satisfaction by supporting it in Putin's "Great Game" in rivalry with the West. However, having sided with Russia, they have not fully achieved an improving of their geopolitical positions, strengthening of defense capability and ensuring regional security. Because, despite its global ambitions, Moscow has very limited political, financial and military resources to protect its Central Asian allies from the post-American Afghanistan security challenges.
Power without Soft Power: China's Outreach to Central Asia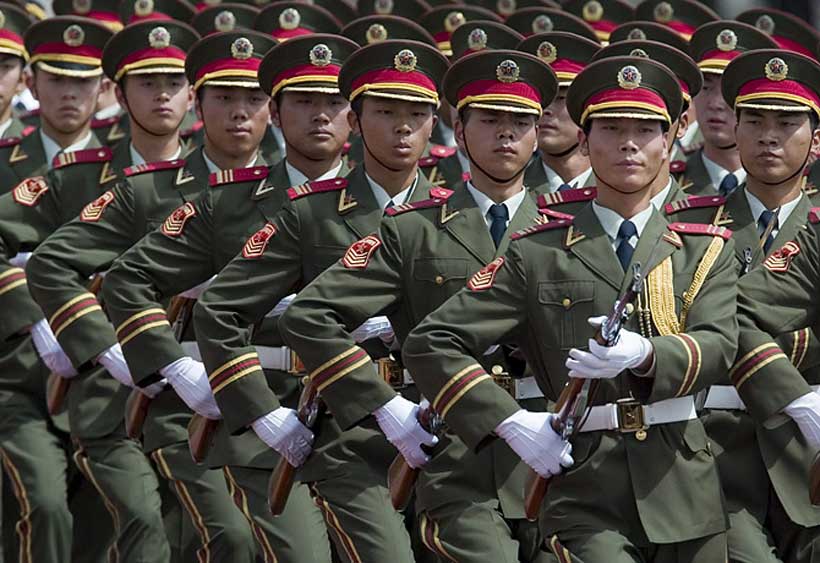 The People's Republic of China has become increasingly interested in the Central Asian countries—Kazakhstan, Kyrgyzstan, Tajikistan, Turkmenistan, and Uzbekistan—for both internal and external motives. As such, the resurgence of terrorism and religious extremism—Islamic and Buddhist—in mainland China has prompted Beijing to increase its upstream presence with military troops stationed in the Wakhan Corridor in Afghanistan (officially to combat narcotics trafficking) while implementing a policy of re-educating Uyghur Muslim dissidents in the Xinjiang Uyghur Autonomous Region in Northwest China.
Beijing's approach has been severely criticized in the United States and Europe, and Western countries are exploiting the Xinjiang Vocational Education and Training Centers (Xinjiang internment camps) to damage Beijing's international image, without necessarily taking into account the reality on the ground in a region of the world where China's policy is helping to contain the spread of Islamist groups, including ISIS.
The Chinese dual approach, which is essentially aimed at containing radical Islamism in the immediate periphery and at home, is likely to be reinforced in the years to come, as the U.S. Department of Defense recently announced the withdrawal of American troops from Afghanistan, thus leaving Beijing in charge of security in the region, as Central Asian states do not have the financial and logistical means (e.g. GEOINT) to contain the spread of terrorism. The Chinese presence also avoids the need to ask for help from Russia, whose involvement is often perceived as a form of "post-Soviet colonialism."
In Central Asia, where resources—especially water—are scarce, coupled with a high birth-rate and a lack of economic and military means, Beijing's presence is seen as an economic advantage by all, although it gives rise to differing political views regarding such topics as religion.
While China is a technological leader and the best economic opportunity for Central Asian states, Beijing's approach to curbing the spread of Islam is frowned upon by many Central Asian countries. As a matter of fact, Islam has grown in influence since the disappearance of shamanism (the native religion of the Central Asian peoples) and the end of the Soviet Union (atheistic policy), which is nowadays leading to growing diplomatic divergences between China and the neighboring states.
Chinese Politics in Central Asia
Beijing's approach to Central Asia and Afghanistan is not comparable to that of the United States or the Soviet Union in that Beijing is offering to deploy its military troops as compensation for paying the debts of countries, with the agreement of the local governments.
As of today, all Central Asian countries are economically dependent on China for both exports and imports of goods, especially medical equipment and pharmaceuticals where Beijing is a world leader; and the debt is growing.
Initially, the Central Asian countries tried to balance their trade with Beijing, notably by exporting gas. China imported a total of 43 billion cubic meters (bcm) from Central Asia in 2019, according to the estimates from the BP Statistical Review. Back in 2010, that figure was just 3.4 bcm. Turkmenistan, Central Asia's largest gas exporter, became especially dependent on China when its exports to Russia slid to zero in 2016. In mid-2019, Russia agreed to resume importing 5.5 bcm per year of gas from Turkmenistan, a fraction of what goes to China.
It soon became clear, however, that selling gas would not be enough to pay off the debts, which meant Beijing was given the option of stationing troops in countries such as Afghanistan with the approval of the neighboring states.
Therefore, Chinese diplomacy in Central Asia is not based on soft power as Beijing opposes the spread of Islam, an attitude that offends Central Asian citizens, and there is little exposure to the Chinese language or spontaneous adoption of Confucianism considering China's economic prominence in the region.
Beijing adopts a similar attitude; and while countries, such as Kazakhstan, are a necessary route for the transit of Chinese products to the European Union and Great Britain, China sees the Central Asian countries as antagonists due to their religion and to historical factors, as the former nomadic conquerors (e.g. Genghis Khan) still leave a negative resonance in the Chinese mind. In addition, there are territorial disputes between China and Kyrgyzstan/Tajikistan, which hinders any deep development of diplomatic relations with Beijing when one considers the importance China attributes to its territorial sovereignty (e.g. Taiwan and the Diaoyutai Islands).
As such, cultural differences push China to cooperate with Central Asian countries within the framework of international organizations, such as the Shanghai Cooperation Organization, rather than on a one-to-one level, allowing it to take a global view in the region and avoid mentioning bilateral frictions.
Chinese Military Approach in Central Asia
In contrast to the cultural dimension (soft power), China has a more proactive stance in the military sector. For instance, it collaborates with Russia, the Collective Security Treaty Organization (CSTO) members and with the countries of Central Asia in carrying out joint military exercises.
Moscow and Beijing moved their relations towards a global strategic partnership of coordination in a new era, committing themselves to closer coordination on global security issues and mutual support. For the second consecutive year, China took part in the Russian strategic command and staff exercise (TSENTR-2019) held this year in the Russian Central Military District. The aim of the exercise was to test the readiness levels of the Russian army and interoperability between regional partners, while simulating a response to terrorist threats in Central Asia. China represented the largest foreign contingent, deploying some 1,600 ground and air troops from the PLA Western Theatre Command and nearly 30 planes and helicopters, including H-6 bombers.
However, in the Chinese perception, Central Asian countries are of little military relevance and Russia remains the main partner, so exercises with Central Asian and CSTO countries are a way to strengthen cooperation with Moscow but not fundamentally with the Central Asian countries.
This Chinese vision seems relevant insofar as Kazakhstan, Kyrgyzstan, Tajikistan, Turkmenistan and Uzbekistan are not nuclear powers and do not have sufficient military means to envisage an equal partnership with Beijing. China's military budget in 2020 was $252 billion, while that of Central Asia as a whole was $2.2 billion in the same year.
Beijing is therefore using the motive of joint exercises and the repayment of national debts of the countries in the region to increase its military presence, especially in the Wakhan Corridor.
The Wakhan Corridor
The Wakhan Corridor is a narrow strip of territory in Afghanistan, extending to China and separating Tajikistan from Pakistan and Kashmir. The corridor, wedged between the Pamir Mountains to the North and the Karakoram range to the South, is about 350 km long and 13-65 kilometers wide and has been used as a trade route to connect China since antiquity.
Beijing is specifically interested in this region because it is in Afghanistan, one of the strongholds for Islamic terrorism, and easy to send troops from the mainland. With the withdrawal of American forces and the reduction of NATO's presence expected in September 2021, China can then try to replace the United States in the region. Furthermore, the Corridor leads directly to the Chinese border, and Beijing's (unofficial) military base in the region ensures control of the illegal traffic of drugs and weapons.
In addition, having a facility in the area allows for rapid intervention in the two countries that share a border with the Corridor—Tajikistan and Pakistan—with the latter also known to be a bastion for terrorist hiding from the rest outside world (e.g. Osama bin Laden).
Unlike in the case of Djibouti, China refused to openly mention its military presence in the Corridor and has used the fight against drug trafficking as an excuse since a number of reports of a permanent Chinese military presence have emerged. The reason for this Chinese secrecy is due to several factors:
It is likely that a large part of the military activities is actually fighting against drug trafficking which is common in the area (Afghan opium) [1];
The Chinese presence in Djibouti has been seen by the United States, France, Italy and Japan as a significant development that aims to supplant their influence on the continent. Similarly, such open display of Chinese ambitions in Central Asia has reinforced international apprehension about China's global military ambitions.
Although aware of China's activities in the Corridor, the Kremlin could perceive a Chinese official communication on this subject as a deliberate choice by Beijing to challenge Russian military influence in the post-Soviet space.
Russia's presence has been limited since the end of the USSR and the end of the war in Afghanistan (1979-1989), and apart from the Russian language, Moscow is now a secondary economic partner in Central Asia, behind China, so the loss of Russian military influence could be misinterpreted.
China and the Water Crisis in Central Asia
While the international community focuses on the Uyghur Muslim and the Wakhan Corridor, the main threat to the Central Asian states will continue to be the lack of water supplies, which will lead to conflicts between countries in the region and, perhaps, with neighbors such as China and Russia.
The mismanagement of water resources had been a recurring theme in the CIA's analyses, which as early as the 1960s mentioned the long-term effects of overuse of the available capacities. Since the fall of the Soviet Union, the newly independent Central Asian countries have failed to implement a relevant strategy to save water and stem population growth, ultimately leading to an emerging crisis.
China will have to ensure the security of its own national water resources but also develop an approach to supply the countries of Central Asia with blue gold to avoid a major economic crisis that could harm Chinese gas supplies and the development of the Belt and Road Initiative (BRI).
Researchers at Oxford University ran 738 simulations combining possible changes in water consumption with 80 future climate scenarios, ranging from warmer and drier to warmer and wetter conditions. Most of the simulations point to the same grim conclusion: Central Asian states are running out of water.
The lack of water is not only due to a poor management on Central Asian states. In 2020, an American-Kazakh-Chinese team using satellite data estimated that irrigated cropland on the Chinese side increased nearly 30 percent between 1995 and 2015, and they found no significant increase on the Kazakh side in the same period.
To avoid further tensions, a long-term option for China would be to provide water management solutions to Central Asian countries in exchange for the gas and other resources they have to offer.
Conclusion
Chinese military presence is expected to increase from September 2021 because of the withdrawal of American troops from Afghanistan. Although critical of its national policy towards the Uyghur, the fight against terrorism in China and abroad is producing results in a region of the world where radical Islamism abounds.
The Chinese military presence is, therefore, an opportunity for the Central Asian countries, but also for the Western world insofar.
Although it may seem paradoxical, Pakistan as a Muslim country has understood the importance of China's policy; for this reason, Islamabad continues to serve as Beijing's communication bridge to the Muslim world.
In 2016, China announced that it will set up an anti-terrorism alliance including Pakistan, Afghanistan, and Tajikistan, while in December 2018, Pakistan's government even defended China's re-education camps for Uyghur Muslims.
Pakistan's support for China's policies is not an excuse for practices that violate human rights, but attests to the Islamic threat in the region that is detrimental to its development.
The water crisis is also going to be a fundamental factor in the development of terrorism and extremism in Central Asia from the summer of 2021, as the lack of resources drives the development of radical ideologies. For this reason, the water issue will certainly become central to BRI's development policy and to bilateral relations between China and the whole of Central Asia.
[1] In 2008, less than 8,000 tons were produced, mainly in Afghanistan, and this drug remains in Chinese minds because of the Opium Wars, two wars waged between the Qing dynasty and Western powers in the mid-19th century.
From our partner RIAC
China and Russia Build a Central Asian Exclusion Zone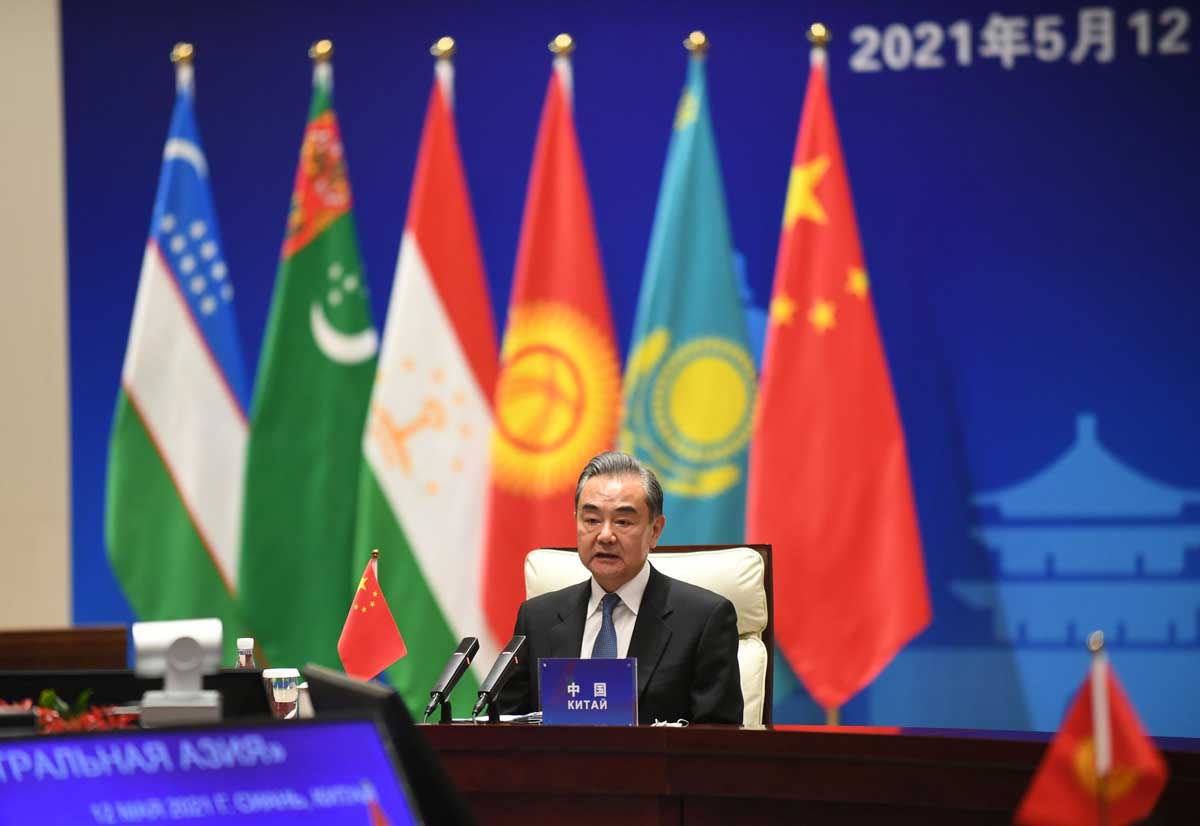 Last month, State Councilor and Foreign Minister Wang Yi hosted the China+Central Asia Foreign Ministers' meeting in the Chinese city of Xi'an. This is the second such meeting, which increasingly focuses (with Kazakhstan, Uzbekistan, Kyrgyzstan, Turkmenistan, and Tajikistan) on geopolitical issues. More broadly, it signals China's lack of concern for what Russia considers its vital economic and political interests in the region. Top of the agenda was Afghanistan, as China worries about possible spillover to Central Asia and its eastern provinces as U.S. and allied troops prepare to evacuate in September.
Yet the greatest issue in Central Asia's changing geopolitical landscape is economics and trade. China promised a number of new projects during the Xi'an gathering. Increased cooperation was pledged in agriculture, health and education, trade, energy, transportation, and even archaeology. More importantly, China vowed to help Kyrgyzstan to alleviate its debt pile and pressed it to approve a railroad linking China to Uzbekistan. Set to play a major role in connecting China with the Middle East and South Caucasus, the project has seen constant delays. Partly, that is due to economic and political troubles in Kyrgyzstan, but Russia too is partly responsible, fearing the corridor would divert a significant portion of transit cargo from its railroad tracks. Regardless, the direction of travel is clear: each economic agreement makes the region more closely aligned to China.
China has recognized that large and unwieldy summits often fail to provide the expected results and now increasingly favors small meetings. It does the same with other regions, including South-East Asia. This is far more efficient and as by far the biggest power in the room, it can dominate the agenda and outcome.
Naturally, these developments have a significant effect on Russia, the traditional powerbroker in Central Asia, and invites the question of whether it has been eclipsed. It certainly maintains significant military capabilities — recently improved — through bases in Tajikistan and Kyrgyzstan, and intermittent military cooperation with the region's other countries. Russia is also a powerful economic player: it is a major trade partner for the five states, a vital source of investment, and a significant source of remittances from Central Asian migrant workers. Furthermore, Russia has joint security and economic initiatives in the region such as the Eurasian Economic Union and the Collective Security Treaty Organization. Last but not least, the region is close culturally to Russia through the use of Russian as the lingua franca.
China has taken aim at every sphere of Russia's influence, and it would be surprising if these developments did not cause grievances. Certainly, there is a growing narrative in the West about an impending geopolitical showdown between the two sides in Central Asia.
The reality, however, might be more nuanced and the analysis mere wishful thinking.
To understand the nature of the China-Russia competition in Central Asia it is crucial to look into the evolving world order and what non-liberal powers seek to achieve. One of the peculiarities of the post-liberal order is the extreme regionalization of geopolitically sensitive areas. Large powers neighboring the region seek to exclude third powers. Russia pursues it successfully in the South Caucasus where together with Turkey and partially Iran, it seeks to dislodge the collective West. A similar process is underway in Syria and can be applied to the South China Sea, where China tries to settle territorial problems directly with its neighbors and without U.S. involvement.
Appearances might be deceptive. Russia and China are competitors, but they are unlikely to turn into rivals. The West should reconsider some fundamental aspects of its thinking in regards to this Central Asian partnership.
Engagement with Central Asia could certainly help, and its absence would simply hand over Central Asia to the two powers. The region is in a dire need of rebalancing, and more room to maneuver. Both Russia and China are appreciated and feared in Central Asia. The West's position will be critical though, and it must formulate a coherent strategy for economic and political engagement with Central Asia, or be locked out.