Russia occupies the global Heartland, what else need we aspire to?
The 10 most important things you need to know on Caspian Sea Region for Tuesday, June 23:
1The West is mean to Russia, but let's be friends. "If we accept the so-called Heartland theory of that great 19th-century strategist Sir Halford Mackinder that, in a continuous struggle between land and sea powers, the ultimate victory will go to the land power, Russia is in the right place geographically and geopolitically – she occupies the global Heartland. What else need we aspire to? None of our interests is fundamentally incompatible with Europe's common good, in 21st-century terms, when it comes to regional security. The other day, the British Foreign Secretary, Philip Hammond, spoke of "the fragility of the EU's democratic legitimacy". Indeed, you can see this in how Brussels bureaucracy acted in Ukraine, without public debate, real talks, honest assessment of the costs and consequences – trying to get its expansionism on the cheap" writes Alexander Yakovenko the Russian Ambassador to Britain for the Telegraph.
2President Nursultan Nazarbayev of Kazakhstan on completion of the talks for Kazakhstan to enter the WTO: "WTO membership opens new opportunities for Kazakhstan. Kazakhstan-based enterprises will enjoy an easier access to foreign markets, while consumers will enjoy a wider selection of goods and services. WTO member states are responsible for 90% of Kazakhstan&rsquos overall foreign trade figure. So the completion of the talks is an important milestone for us. With the membership, Kazakhstan is set to be more attractive for both foreign and domestic investors. There is an ample opportunity to launch new industries and create more jobs." The negotiations had been going on for 19 years. Kazakhstan submitted its bid January 29, 1996.
3Norway's FMC Kongsberg Subsea AS and Britain's OneSubsea (UK) Ltd have won contracts for subsea infrastructure totalling $363 million for Azerbaijan's Shah Deniz gas field. A consortium led by BP said it awarded the construction contracts to help develop the Shah Deniz II project under the Caspian Sea, which offers Europe a chance to reduce reliance on Russian gas. Shah Deniz, Azerbaijan's biggest gas field, is being developed by partners including Britain's BP, Norway's Statoil , Azeri state energy company SOCAR and the South Caucasus Pipeline Company.
4The government of Turkmenistan expects the selection of the consortium that will finance the Turkmenistan-Afghanistan-Pakistan-India (TAPI) gas pipeline project to be finalized by September 1, the Central Asian country's ambassador to India told Sputnik Tuesday. TAPI project is a proposed 1,078-mile pipeline to transport Caspian Sea natural gas from Turkmenistan to India. Originally, the cost of the project was estimated at $7.5 billion, however, recent media reports have readjusted this calculation to $10 billion.
5Time for a Reset in Russian-Saudi Relations. "Russia should carry out at least two important foreign policy tasks. The first relates to the timely and properly forecasting of regime change in Syria which will sooner or later take place. If this happens contrary to Moscow's efforts, the need for Russia will considerably subside, while the Russian Federation might lose its only outpost in the region and suffer major reputational damage as a state that has misplaced its bets and has been defeated after nonstop wrangling. If Moscow still views President Assad as the least of all evils, the relevant argumentation must be revised. As a matter of fact, current cooperation is reasonable with regards to the domestic audience but is hardly convincing elsewhere" writes Maxim Suchkov for RIAC.
6The leaders of the Gas Exporting Countries Forum (GECF) are scheduled to convene in Tehran on November 23, IRNA news agency reported June 23. The GECF has 18 permanent and observing members and its permanent headquarters is in Doha, Qatar. Iran, Russia, Qatar, Algeria, Bolivia, Egypt, Equatorial Guinea, Libya, Nigeria, Trinidad and Tobago, Venezuela, Peru, the United Arabic Emirates and Oman are the permanent members. The Netherlands, Kazakhstan, Iraq and Norway are observing members. Iran has also invited the UAE to the summit. The GECF members have in possession 42 percent of the world's gas production, 70 of its gas reserves, 40 percent of the world's gas transfer through pipelines, and 65 percent of the world trade in LNG.
7The Iran Deal's Fatal Flaw. "President Obama's main pitch for the pending nuclear deal with Iran is that it would extend the "breakout time" necessary for Iran to produce enough enriched uranium for a nuclear weapon. In a recent interview with NPR, he said that the current breakout time is "about two to three months by our intelligence estimates." By contrast, he claimed, the pending deal would shrink Iran's nuclear program, so that if Iran later "decided to break the deal, kick out all the inspectors, break the seals and go for a bomb, we'd have over a year to respond." Unfortunately, that claim is false, as can be demonstrated with basic science and math. By my calculations, Iran's actual breakout time under the deal would be approximately three months — not over a year. Thus, the deal would be unlikely to improve the world's ability to react to a sudden effort by Iran to build a bomb." writes Alan J. Kuperman for the New York Times.
8The Group of the European People's Party held a meeting in Strasbourg on June 22, APA reports. The report on the functioning of democratic institutions in Azerbaijan developed by PACE co-rapporteurs Pedro Agramunt and Tadeusz Iwiński was discussed at the meeting. The main discussions were about Azerbaijan's Nagorno-Karabakh region and other occupied territories. Member of the Azerbaijan Delegation to PACE, MP Elkhan Suleymanov has addressed the meeting. "I'm very disappointed with your attitude toward the Armenian occupation of Azerbaijani lands. With this attitude, you ignore the judgment dated 16 June 2015 of the European Court of Human Rights. The ECHR judgment proved the fact that the Armenian government exercises effective control over Nagorno-Karabakh and surrounding districts," said Suleymanov.
9Russia surpassed Saudi Arabia to become China's top crude supplier as the fight for market share in the world's second-largest oil consumer intensifies. China imported a record 3.92 million metric tons from its northern neighbor in May, according to data emailed by the Beijing-based General Administration of Customs on Tuesday. That's equivalent to 927,000 barrels a day, a 20 percent increase from the previous month. Saudi sales slumped 42 percent from April to 3.05 million tons. China is becoming a key market for global oil exporters as surging output from shale fields from Texas to North Dakota allows the U.S., the biggest crude consumer, to rely less on overseas supplies. The Asian nation will account for more than 11 percent of world demand this year, the Paris-based International Energy Agency predicted this month. [Bloomberg]
10Nur Telecom starts internet roaming promotion in Kazakhstan. Kyrgyzstan mobile operator Nur Telecom, working under the O! brand, has introduced a mobile internet roaming promotion for using services in Kazakhstan. The service costs KGS 1 per MB rate and is now accessible under coverage of the Altel network. Altel is a subsidiary of national operator Kazakhtelecom.
'We cannot rest' until child labour is eliminated
Countries taking part in the 5th Global Conference on the Elimination of Child Labour this week in South Africa, are being urged to do more to end child labour by 2025.
The strong call for urgent action at the conference taking place in Durban, aims to combat an uptick in the numbers of children being forced into work.
Latest figures indicate that 160 million children – almost one in ten worldwide – are still being affected. Furthermore, numbers are on the rise, with the pandemic threating to reverse years of progress, as child labour becomes a bigger scourge in particular among the vulnerable five to 11-year-old age group.
Make a difference
Speaking at the start of a week of hybrid format discussions, South African President Cyril Ramaphosa called on delegates to commit to taking "far-reaching actions" to make a difference in the lives of children.
"We are here because we share a common conviction that child labour in all its facets is an enemy. Child labour is an enemy of our children's development and an enemy of progress.
"No civilization, no country and no economy can consider itself to be at the forefront of progress if its success and riches have been built on the backs of children."
Mr. Ramaphosa's call was echoed by Guy Ryder, Director-General of the International Labour Organization (ILO), who underlined that "child labour is a violation of a basic human right, and our goal must be that every child, everywhere is free from it. We cannot rest until that happens."
According to the ILO, global progress against child labour has stalled for the first time in 2020, after two decades of moving in the right direction. In addition, the COVID-19 crisis is likely to have pushed millions more children into the workforce.
First in Africa
This is the first time the Global Conference on the Elimination of Child Labour is being held in Africa, a region where child labour numbers are highest, and progress has been slowest, ILO notes.
According to recent data, most child labour on the continent – some 70 per cent – is in the agricultural sector, often in settings where children are working alongside other family members.
The conference builds on four previous Global Conferences, held in Buenos Aires (2017), Brasilia (2013), The Hague (2010), and Oslo (1997), which raised awareness of the issue, assessed progress, mobilized resources, and established a strategic direction for the global movement against child labour.
Call for action
With the 2025 UN Sustainable Development Goals deadline for the elimination of child labour looming, many speakers outlined the urgent need to recover the progress that had been made in many regions, prior to the COVID-19 pandemic.
The Conference is expected to conclude with a formal Call to Action that will outline concrete commitments to scale up action to eliminate child labour.
Israel: UN rights chief calls for end to 'culture of impunity'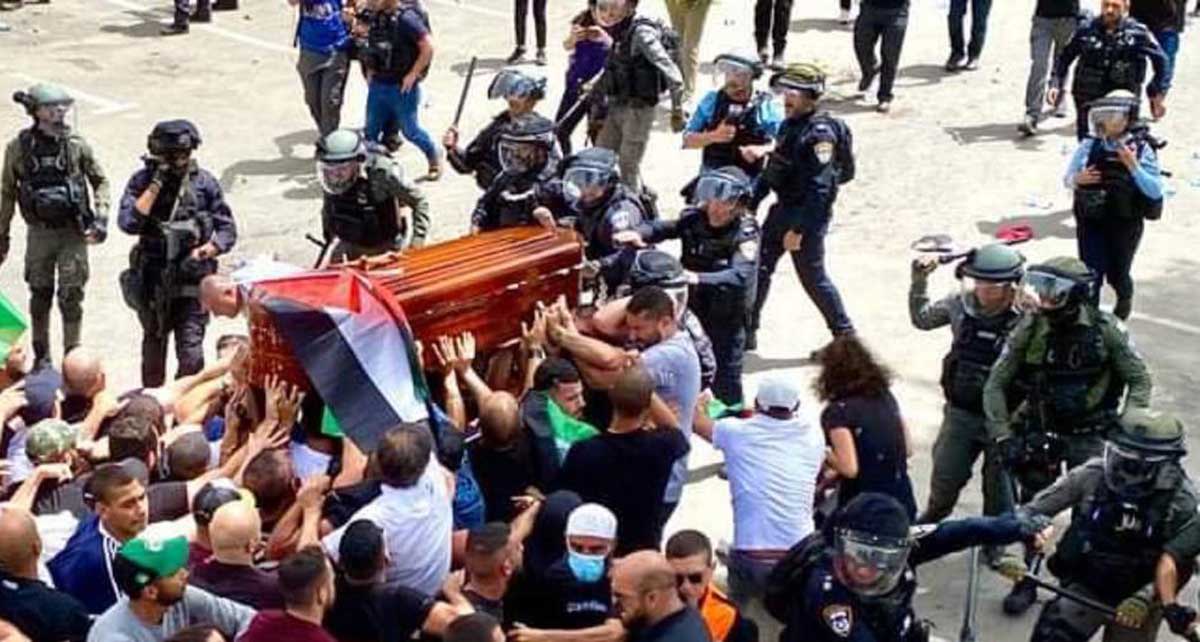 Investigations must be held into the actions of the Israeli security forces, UN High Commissioner for Human Rights Michelle Bachelet said on Saturday, calling for accountability and an end to impunity.
Her appeal comes in the wake of the killing of Al Jazeera correspondent Shireen Abu Akleh, who was fatally shot on Wednesday while covering an Israeli raid in Jenin, West Bank.
The veteran Palestinian-American journalist was buried in East Jerusalem on Friday and huge crowds turned out for her funeral.
'Shocking' use of force
The High Commissioner issued a statement saying she was following "with deep distress" the events in the occupied West Bank, including East Jerusalem.
"Footage of Israeli police attacking mourners at the funeral procession of journalist Shireen Abu Akleh in East Jerusalem on Friday 13 May was shocking. Reports indicate that at least 33 people were injured," she said.
Ms. Bachelet said the Israeli use of force, which was being filmed and broadcast live, appeared to be unnecessary and must be promptly and transparently investigated.
"There must be accountability for the terrible killing not just of Shireen Abu Akleh but for all the killings and serious injuries in the occupied Palestinian territory," she said.
Call for investigations
The UN rights chief reported that 48 Palestinians have been killed by Israeli security forces so far this year.
The latest death occurred on Saturday when a young man called Walid al-Sharif, succumbed to injuries sustained during clashes last month at the Al Aqsa Mosque compound in Jerusalem.
"As I have called for many times before, there must be appropriate investigations into the actions of Israeli security forces," said Ms. Bachelet.
"Anyone found responsible should be held to account with penal and disciplinary sanctions commensurate to the gravity of the violation. This culture of impunity must end now."
Security Council condemnation
The killing of Ms. Abu Akleh has sent shockwaves across the globe, and UN officials have been among those calling for an investigation.
The journalist was shot even though she wore a vest that identified her as a member of the press corps. Her producer also was wounded.
The UN Security Council issued a statement on Friday strongly condemning her killing, reiterating that journalists should be protected as civilians.
The Council also called for an immediate, thorough, transparent, and fair and impartial investigation into her killing, and stressed the need to ensure accountability.
World Bank to support Education Recovery Strategy in Brazil
The World Bank Board of Directors approved today the US$250 million Recovering Learning Losses From COVID-19 pandemic in Brazil project. The program will support the Brazilian strategy to promote learning recovery and address school dropout rates related to the health emergency crisis, by implementing innovative programs and systems to strengthen education management in primary and lower secondary schools in the North and Northeast region of the country.
"The COVID-19 pandemic inflicted unprecedent challenges to global education. A systematic recovery strategy will allow Brazil not only to revert learning losses related to the pandemic, but also to promote solid and sustained improvement in education," says the Ministry of Education Victor Godoy Veiga.
Brazil had one of the longest school closures in the region due to the pandemic. According to Brazilian Ministry of Education, public schools remained closed for 287.4 days on average (or about 9.5 months) while private schools closed for 247.7 days (about 8 months), representing a 40-day public-private difference. The North and Northeast regions registered an even longer period of school closure, with the state of Bahia registering the longest school closure (366.4 days on average), followed by Roraima (349.4 days), Rio Grande do Norte (336.5 days), Acre (332.7 days) and Amapá (332.4 days).
Despite efforts to promote online classes, connectivity barriers both in schools and in students' homes impaired learning, especially in the North and Northeast regions of Brazil. According to the 2020 School Census, only 60 percent of public schools in Brazil have internet. This situation is even more serious in North and Northeastern Brazil, where internet connectivity is only available in 48.5 percent of public schools (broadband in only 39 percent).
The proposed Operation aims to reduce regional gaps by supporting innovative online and face-to-face programs. Some key initiatives include: (i) the implementation of National and State Observatories of School Dropouts (OSD); (ii) an Early Warning System (SAP), to help identifying students at high risk of dropping out; Personalized Tutoring for Teachers and Socioemotional Initiative (SIS), to rebuild students' socioemotional skills and to incentivize them to learn effectively.
Once back in school, the challenge is to make students (re)learn effectively. In this aspect, the program has two lines of action: face-to-face approaches by offering Personalized Tutoring (APA) Program to small groups of students with similar learning gaps; and structured group discussions in SIS to mitigate the impacts of the pandemic on student socioemotional skills. The second line of action focuses on hybrid strategies and education systems to recover learning losses, by providing internet connectivity to schools, access to internet for vulnerable students under the law 14,172 and to take to inner municipalities the Creativity and Innovation Labs, facilities in which teachers and principals will be trained to use technology in the classrooms and to master the foundational teaching skills needed to help students recover learning losses.
The project will also offer support to two innovative educational systems: The Education Solution Ecosystem, that aims to offer an array of education tools to public schools, including adaptive learning platforms; and the Integrated Education Management Platform, that focuses on integrating the education management system from the Ministry of Education. By strengthening hybrid learning models, training teachers to use technology and consolidating education systems, the project expects to build resilience to future pandemics and natural disasters that may disrupt learning and teaching.
"The world is facing a silent crisis in education. Urgent action is necessary. By supporting this comprehensive and innovative learning recovery program, the World Bank strongly believe that Brazil will become a role model for countries in the region on how to fight against learning crisis", says World Bank Director for Brazil, Paloma Anós Casero.
Outcomes supported by the program include:
Creation of National and State Observatories of School Dropouts (OSD).
Implementation of an Early Warning System (SAP).
Implementation of an Education and Family Program.
Implementation of a Personalized Tutoring (APA) Program.
Implementation of Socioemotional Initiative (SIS).
This loan from the International Bank for Reconstruction and Development (IBRD) to the Ministry of Education is guaranteed by the Federative Republic of Brazil and has a final maturity of 34.5 years, with a 5 years grace period.