Kurds, The Invisible people
Oppression, denial of existence, prohibition of usage of mother language in public, the press and institutions, forced relocations, no recognition, fear of expressing identity, inequality, economic stagnation or decrease and false hopes are words that could describe the history of the largest ethnic group in the world without their own state.
Though the numbers differ, there are around 30 million of Kurds. The exact number is unknown because their existence was denied even in the recent past in some countries and because some of the authorities report of smaller number of Kurdish people on their territory. In some countries Kurds are even afraid to define themselves as Kurds because of political oppression. Reports show that Kurds are the fourth biggest nation in the Middle East behind Arabs, Turks and Persian people. Everyone has so far heard for Kurdistan but except the landscape with the same name cannot be found on the map. Kurdish destiny is decided by three main factors, dispersion, fragmentation and territorial policies.
Kurds are people that in the past had no right to autonomy or self-determination and were not even recognized as minorities in some countries. They are spread across Iraq, Iran, Turkey and Syria restless territories. Based on CIA World Factbook in 2014 the biggest number of Kurds is in Turkey 14.7 million (18% of the population), than in Iran 8.1 million (10% of the population), Iraq 5.5 million (17.5% of the population) and Syria 1.7 million (9.7% of the population).
History of Turkish Kurds is interacted with oppression, restriction of usage its own language publicly, political institutions, no freedom of expression, assembly and association, displacement as a result of conflict and confrontation with military, journalism activity no recognition and underdevelopment of its territories. Economic problems exist in southeastern part of Turkey, where most of the Kurds live with high unemployment levels. In 2002 Ankara had made some reforms about its very restrictive Kurdish policy, where Kurdish broadcast on radio and television was prohibited. The launch in 2009 of a public television channel broadcasting in Kurdish was a step forward. However, the expression of Kurdish identity is still perceived as a threat to the country's unity based on the 2011 European Commission against Racism and Intolerance (ERCI) report. ERCI reported that many Kurds live in concentrated in the poorest remote provinces of country with difficult economic and social conditions. Inequality is still seen among populations where Kurds are still not equal to the majority of the population. Through time we have seen active Kurdish political movement in the country. Almost all of the parties were prohibited after some time. Reasons for banishment were promoting separatism and Kurdish nationalism among others. A lot of party members were sent to prison and even sentence to jail. Conflict between Turkey and PKK that is composed of various Kurdish insurgent groups, listed also as a terrorist group by some countries, are demanding separation from Turkey and creating an independent Kurdistan or autonomy. The conflict started way back in 1974 and is still going in different phases. Both sides have been accused of atrocities and human rights violations. For many years it was in fact illegal for Kurds speak their own language, use Kurdish names or play their music, going even further with the Turkish government refused to recognize the existence of Kurds and named them Mountain Turks. The situation is yet to get resolved with many obstacles still on the way to peace and freedom. With elections and the HDP – The People's Democratic Party recorded more than 10% of the vote and pass one of the highest electoral thresholds in the world, it will play an important role for Kurdish people. It was founded as a pro-Kurdish party in 2012. Its representatives will take seats in parliament for the first time and make Kurdish voices heard and improved their overall situation. In my opinion that kind of political solution is needed to help ending more than three decades lasting conflict.
Situation in Iraqi Kurdistan is different and makes and exception in the position of Kurds. Semiautonomous region has been achieved through economic cooperation and opened the road to prosperity. Following the first Gulf war and with the United States (US) imposing a no-fly zone in northern Iraq, Iraqi Kurds have managed to develop de facto self-government since the year 1991. After US invasion after 2003 after two years, followed the new constitution with emerging federal state and declaring Kurdistan's special status. Even though right for autonomy comes from the constitution, Baghdad has done much to prevent self-government and wants to further lead centralized politics and control over the country. Main problem resides with oil and gas revenues that are found in this area. In the light of Turkey policy regarding large Kurdish population of its territory and often violent disputes country made a shift with supporting financial independence of the region and started doing business and abandoned its stance opposing the autonomy. Baghdad could block Kurdish-Turkish cooperation, but that could backfire in declaring Kurdistan's independence. It looks like neither side wants such an outcome where Iraq would lose oil and gas revenues or even encourage other provinces to do the same and the other side challenges of independent states. In every way the region is shifting from the central order and rule to more decentralized one with international cooperation.
In Iran Kurds are facing similar economic problems as other countries, such as poverty and underdevelopment. Iranian Kurds have in the 20 century established a semi-independent state which was abolished in one year. Amnesty International has reported of abuses and suppression of Kurdish people, their social, political and cultural rights and even of big number of Kurdish citizens being executed. Kurds in Iran are getting less international attention than in other countries, but political repression is present every day. Iran remains second largest executer in the world and reports from international humanitarian organizations accused Iran of unfair trails and right violations against minorities and activists. Many Kurdish political prisoners were till this day executed. In May we have seen Kurds protests in Mahabad against authority, but their situation does not seem to be improving.
Another country where Kurds are important minority is Syria. Syria's Kurds have managed to declare their own autonomous region in the northeast part of the country. As a result of the Syrian war and the rise of the Islamic State, Kurds in Syria have established a self-ruled region called Rojava which spans parts of northern Syria. Rojava is an inclusive system where local communities and groups have great influence on political and social issues. These communities are diverse and include Kurds, Arabs, Turkmens, Christians and so on. Kurds have unilaterally declared self-rule in 2012 and since then protected territories from Islamic State forces. The People's Protection Unit (YPG) has been fighting against the Islamic State; with support from US-led airstrikes the PYD's and PKK's effectiveness in ground operations against Islamic State, most notably in the battle for Kobani in 2014, has led some experts to call for the United States to remove the PKK from its list of foreign terrorist organizations.
It is not the last time we have heard about Kurdish problems, since there are many potential outbreaks of the conflict possible, with unresolved situations in four different countries regarding the same ethnical group. With further suppression and human rights violations the possibility of creating greater disagreement and walls against opposing sides is rising. The Kurdistan remains so far unreachable Kurds distant dream, but hopes and fight against injustice never dies.
US-Iran Tension: Avert any big disaster to humanity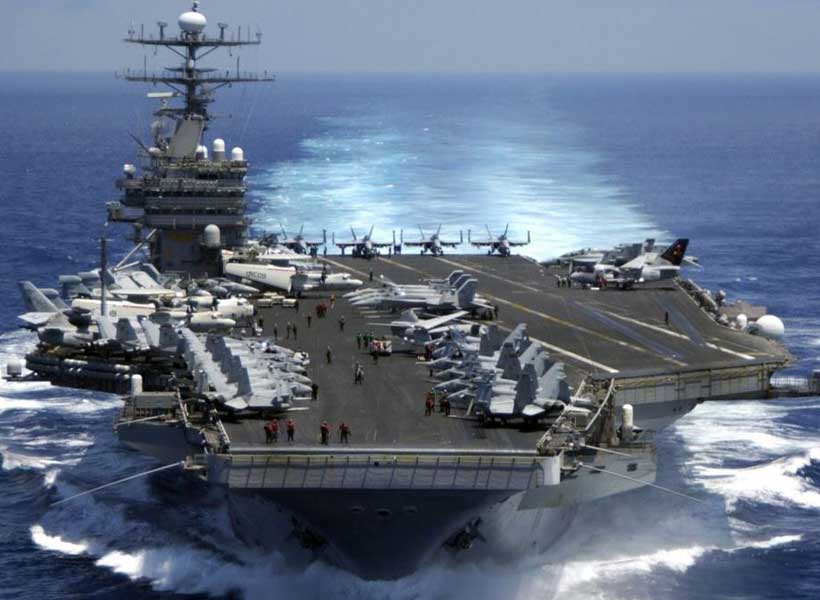 US-Iran tension is growing to a dangerous level. Irrespective of who is right and who is wrong, but everyone agrees that it is leading toward a big disaster. Human life and natural resources are at stake. Irrespective, who will suffer more and who will suffer less, but it is human life, which is the most precious thing in this world, is at stake.
Middle-East is an oil and gas-rich area and meets the major portion of world energy demand. Any disturbance in this region will have a severe impact on the global economy. Whether one is right or wrong, will be the victim of this crisis directly or indirectly.
This war will be not like the Iraq war or the Libya War. As at that time, there was only one superpower and the world was unipolar. There was no resistance from any corner of the world. US and allies, without any resistance, conducted the war and achieved their desired results. But a lot of resistance was witnessed in case of Syrian War. The whole scenario has been changed, the calculated results were not achieved yet. Finally, the US has decided to pull back its troops. Similarly, Afghanistan case is not ideal, after spending trillion dollars, and fighting for 17 years, not gains on the ground and finally has to pull back.
It may not be limited to only US-Iran but may engulf the whole region. As traditional rivals are waiting for an appropriate opportunity to settle their old disputes. Whether, it is Arab-Iran, or Israel-Iran, or Arab-Israel enmity, may it spread to a much wider sphere than expected. It is in control of a few countries to start or refrain the escalation, but once it has been broken, it may be beyond the control of either country.
Especially, Russia and China are not sleeping at this time. They are in a strong position to offer resistance. It should not be taken an easy task like Iraq or Libya war. It is difficult to predict the exact reaction of Russia or China, but anticipated resistance.
If we expect, US or Iran to avert this foreseeable war will be not a realistic approach. As if they were to avoid any disaster, they should not have created so hype and should not have moved to this stage. They may not accept total hegemony of the US in this part of the world. They have heavy stakes in the middle-East and cannot be spectators only.
Geopolitics has been changed, regional alliances have emerged, and nations have re-aligned themselves. Much more complex changes have been witnessed after the war on terror. Public awareness has been enhanced, maybe some of the governments in this region have a different outlook, but public opinion is much more realistic and may play a vital role in the days to come. Old time's friends may stand on the other side of the table. Some radical changes may be visible on grounds.
UN role was ineffective in the past and a little is expected in the future. In fact, the UN has been hijacked and curtailed to a very limited role practically. While one of its major mandates was to resolve the disputes among nations and avoid wars or war-like situations.
Under this serious scenario, there is a hope that all peace-loving nations and individuals, may peruse the UN and International Community do something to avert this bid human disaster. We all share one world, we have the responsibility to save this world. Any loss of human life in any part of the world is considered the loss to the whole of humanity. And the destruction of natural resources may be considered a loss to humanity. Any damage to Environment or ecology or biodiversity may be a net loss to humanity. We all are son and daughter of ADAM and share a common world, common environment, common resources. We need to protect humanity, environment and natural resources.
It is strongly appealed to the UN, International Community and all individuals who believe in Peace, must act, and must act now, and must act strongly, to avert any bid disaster to humanity.
Chinese purchases of Iranian oil raise tantalizing questions
A fully loaded Chinese oil tanker ploughing its way eastwards from two Iranian oil terminals raises questions of how far Beijing is willing to go in defying US sanctions amid a mounting US military build-up in the Gulf and a US-China trade war.
The sailing from Iran of the Pacific Bravo takes on added significance with US strategy likely to remain focused on economic rather than military strangulation of the Iranian leadership, despite the deployment to the Gulf of an aircraft carrier strike group as well as B-52 bombers and a Patriot surface-to-air missile system.
As President Donald J. Trump, backed by Secretary of State Mike Pompeo, appears to be signalling that he is not seeking military confrontation, his administration is reportedly considering a third round of sanctions that would focus on Iran's petrochemical industry. The administration earlier this month sanctioned the country's metals and minerals trade.
The sailing raises the question whether China is reversing its policy that led in the last quarter of 2018 to it dramatically reducing its trade with Iran, possibly in response to a recent breakdown in US-Chinese trade talks.
"The question is whether non-oil trade remains depressed even if some oil sales resume, which I think it will. That's the better indicator of where Chinese risk appetite has changed. Unfortunately Iran's reprieve will be limited—but better than zero perhaps," tweeted Esfandyar Batmanghelidj, head of Bourse & Bazaar, a self-described media and business diplomacy company and the founder of the Europe-Iran Forum.
A Chinese analyst interviewed by Al Jazeera argued that "China is not in a position to have Iran's back… For China, its best to stay out" of the fray.
The stakes for China go beyond the troubled trade talks. In Canada, a senior executive of controversial Chinese telecommunications giant Huawei is fighting extradition to the United States on charges of violating US sanctions against Iran.
Reports that Western companies, including Kraft Heinz, Adidas and Gap, wittingly or unwittingly, were employing Turkic Muslims detained in re-education camps in China's north-western province of Xinjiang, as part of opaque supply chains, could increase attention on a brutal crackdown that China is struggling to keep out of the limelight.
The Trump administration has repeatedly criticized the crackdown but has stopped short of sanctioning officials involved in the repressive measures.
Bourse & Bazaar's disclosure of the sailing of the Pacific Bravo coincided with analysis showing that Iran was not among China's top three investment targets in the Middle East even if Chinese investment in the region was on the rise.
The Pacific Bravo was steaming with its cargo officially toward Indonesia as Iranian foreign minister Mohammad Javad Zarif was touring his country's major oil clients, including China, in a bid to persuade them to ignore US sanctions.
A second tanker, the Marshal Z, was reported to have unloaded 130,000 tonnes of Iranian fuel oil into storage tanks near the Chinese city of Zhoushan.
The Marshall Z was one of four ships that, according to Reuters, allegedly helped Iran circumvent sanctions by using ship-to-ship transfers in January and forged documents that masked the cargoes as originating from Iraq.
The unloading put an end to a four-month odyssey at sea sparked by buyers' reticence to touch a cargo that would put them in the US crosshairs.
"Somebody in China decided that the steep discount this cargo most likely availed … was a bargain too good to miss," Matt Stanley, an oil broker at StarFuels in Dubai, told Reuters.
The Pacific Bravo, the first vessel to load Iranian oil since the Trump administration recently refused to extend sanction exemptions to eight countries, including China, was recently acquired by China's Bank of Kunlun.
The acquisition and sailing suggested that Bank of Kunlun was reversing its decision last December to restrict its business with Iran to humanitarian trade, effectively excluding all other transactions.
The bank was the vehicle China used in the past for business with Iran because it had no exposure to the United States and as a result was not vulnerable to US sanctions that were in place prior to the 2015 international agreement that curbed Iran's nuclear program.
China's willingness to ignore, at least to some extent, US sanctions could also constitute an effort to persuade Iran to remain fully committed to the nuclear accord which it has so far upheld despite last year's US withdrawal.
Iran recently warned Europe that it would reduce its compliance if Europe, which has struggled to create a credible vehicle that would allow non-US companies to circumvent the sanctions, failed to throw the Islamic republic an economic lifeline.
In a letter that was also sent to Russia and China, Iran said it was no longer committed to restrictions on the storage of enriched uranium and heavy water stocks, and could stop observing limits on uranium enrichment at a later stage.
Russian president Vladimir Putin warned in response to the Iranian threat that "as soon as Iran takes its first reciprocal steps and says that it is leaving, everyone will forget by tomorrow that the US was the initiator of this collapse. Iran will be held responsible, and the global public opinion will be intentionally changed in this direction."
Will there be war with Iran? Will there not be war with Iran? The questions are being asked repeatedly in the media even though a single carrier task force is steaming up there. The expression is old for the latest carriers are nuclear powered. Imagine the mess if it was blown up.
There are two kinds of weapons in the world … offensive and defensive. The latter are cheaper, a fighter plane compared to a bomber. If a country does not (or cannot afford to) have offensive intent, it makes sense to focus on defense. It is what Iran has done. Moreover, its missile centered defense has a modern deadly twist — the missiles are precision-guided.
As an Iranian general remarked when questioned about the carrier task force: some years ago it would've been a threat he opined; now it's a target. Iran also has a large standing army of 350,000 plus a 120,000 strong Revolutionary Guard and Soviet style air defenses. In 2016 Russia started installation of the S-300 system. It has all kinds of variants, the most advanced, the S-300 PMU-3 has a range similar to the S-400 if equipped with 40N6E missiles, which are used also in the S-400. Their range is 400 km, so the Iranian batteries are virtually S-400s. The wily Putin has kept trump satisfied with the S-300 moniker without short-changing his and China's strategic ally. The latter continuing to buy Iranian oil.
Iran has friends in Europe also. Angela Merkel in particular has pointed out that Iran has complied fully with the nuclear provisions of the UN Security Council backed Joint Comprehensive Plan of Action i.e. the Iran nuclear deal. She is mustering the major European powers. Already alienated with Trump treating them as adversaries rather than friends, they find Trump's bullying tiresome. President Macron, his poll ratings hitting the lowest, is hardly likely to engage in Trump's venture. In Britain, Theresa May is barely able to hold on to her job. In the latest thrust by senior members of her party, she has been asked to name the day she steps down.
So there we have it. Nobody wants war with Iran. Even Israel, so far without a post-election government does not want to be rained upon by missiles leaky as its Iron Dome was against homemade Palestinian rockets.
Topping all of this neither Trump nor Secretary of State Pompeo want war. Trump is as usual trying to bully — now called maximum pressure — Iran into submission. It won't. The wild card is National Security Adviser John Bolton. He wants war. A Gulf of Tonkin type false flag incident, or an Iranian misstep, or some accident can still set it off.
In Iran itself, moderates like current President Hassan Rouhani are being weakened by Trump's shenanigans. The hard liners might well want to bleed America as happened in Iraq and Afghanistan.