Human Rights Dialogue in Ashgabat
The 10 most important things you need to know on Caspian Sea Region for Thursday, June 18:
1The European Union and Turkmenistan on Wednesday held a seventh round of Human Rights Dialogue in Ashgabat, allowing the discussion of a range of issues, including constitutional reform, conditions in detention, freedom of expression and freedom of movement. The EU welcomed Turkmenistan's plan to create an Ombudsman institution, in the context of a broader constitutional reform process, and acknowledged its cooperation with the EU Rule of Law Platform in this regard. The EU took positive note of the release of a number of religious detainees in 2014, as well as the most recent presidential pardon in May 2015. Turkmenistan was also encouraged to use future pardons to release imprisoned political activists, human rights defenders, and members of peaceful religious groups. The EU urged Turkmenistan to ease restrictions on Internet access and to cease blocking websites, and sought clarification regarding reports of arbitrary evictions and renewed reports of the forcible dismantling of satellite dishes. Excessive restrictions on civil society, and interference with the right to freedom of religion or belief were also addressed as matters of concern for the EU.
2SPIEF 2015: Tendencies and expectations. "The St. Petersburg International Economic Forum may be devoted to finding new allies, experts say. Most likely, they will be found in the Asia-Pacific region and Latin America. This year, Russian companies are preparing to conclude preferential agreements on international trade with the Shanghai Cooperation Organization and BRICS member states, as well as Turkey, Israel, South Korea, India and Peru. Also the possibility of establishing a free trade zone with ASEAN and further development of the Eurasian Customs Union are actively discussed" writes Nina Lavrenteva for the Modern Diplomacy.
3Europe courting Iran for business bonanza. Western governments have started wooing Iran as their draconian sanctions on the resource-rich country – an energy superpower – appear all but crumbling. France, where European aviation behemoth Airbus is based, has invited Iran's Minister of Transportation and Housing Abbas Akhoundi to the year's biggest air show in Paris. Iran is planning a big order for commercial planes in order to renovate its aviation fleet which is creaking under years of restrictions. Akhoundi says up to 400 new aircraft at a price tag of $20 billion will be ordered. Addressing a conference at the International Diplomatic Academy in Paris, Akhoundi outlined Iran's plans to spend $25 billion on improving its rail infrastructure and $30 billion on roads and motorways. After meeting Minister of Territorial Equality and Housing Sylvia Pinel, the Iranian minister said three French groups will be visiting Iran in the coming two months for transfer of their experience in urban development. [PRESSTV]
4Ali Hasanov: The supporters of this malicious campaign will not achieve their aim. "According to Azerbaijani media, some time ago, their representatives widely discussed the planned attacks from Europe and the USA, which is considered to be "from one hand". They maintained that information from concrete documents showed that on January 15-16 in 2015 in Prague, the first outlines of an attack campaign on Azerbaijan were worked out, and that an International media support organization from Denmark was defined as the coordinator. İn parallel, the same campaign in the USA, was allegedly assigned to National Endowment for Democracy (NED). The Azerbaijani media claim that different foundations of the USA and Europe, such as the foundation of Soros and USAID were defined as the supporters of this project also. That's why these types of inflammatory articles from different western media organizations, which defend the same theses, are being met in Baku as well as internationally with irony" [Faiq Mahmudov, APA]
5Kazakh oil hunt gains momentum. ONGC Videsh Ltd (OVL) – the overseas arm of state-run Oil and Natural Gas Corporation- plans to invest $400 million in drilling activities in the Satpayev block in Kazakhstan. "The exploratory drilling will start next month," OVL managing director N.K. Verma said today. He said the company had already invested $150 million in the block and had committed to shovel up to $400 million there. "While we have a 25 per cent stake in the block, we will be funding the entire exploration activity," Verma said. OVL wanted to drill two exploration wells in Satpayev in 2014 and 2015 but had to postpone drilling because of a delay in the delivery of a rig."There has been satisfactory progress on this project. We expect exploratory drilling to commence early next month," oil minister Dharmendra Pradhan said at the joint meeting of the India-Kazakhstan Inter-Governmental Commission here today.
6The judgment of the ECHR Grand Chamber directly confirms Armenia is an invader. "This is a major victory and a great achievement for Azerbaijan," Rector of Azerbaijan University, PhD in Law Farid Ahmadov told APA in his remarks on the judgment of the Grand Chamber of the European Court of Human Rights on the case of Chiragov and Others versus Armenia. F. Ahmadov said the claim of Chiragov and others have to do with the violation of Chiragov's and others' right to own property in Lachin district. According to the claim, the Armenian occupation of Azerbaijani territories brought about violation of property rights, which in turn means the violation of the first provision of the first protocol of the European Convention. The court judgment reflects this. The court confirms that the Armenia army exercises effective control over those territories, therefore Armenia bears responsibility for this. On the other hand, the case of Sargsyan and others versus Azerbaijan was related with the violation of the right to own property of Armenians deported from Azerbaijan. Simply, the Grand Chamber judgment in the case of Chiragov and others versus Armenia confirms the occupation of Azerbaijani territories by Armenia. [APA]
7NMDC banks on Modi's visit to Kazakhstan. India's largest iron ore miner NMDC is banking on government-to-government understanding for exploring greenfield mining projects in Kazakhstan, when Prime Minister Narendra Modi visits that country next month. During the two-day visit starting July 8, leaders of both countries will discuss the issue of exploration for iron ore, potash and coal to meet the growing needs in India and an agreement is expected to be inked. Ahead of the visit, the ministry of steels and mines has planned a Working Group that would study the partnership in details and would help in forming an MoU between the two countries. [The Financial Express]
8Tensions grow in Eastern Europe as Russia and Nato accuse each other of Cold War-style military intimidation. "International tensions are mounting in Eastern Europe, as both Russia and Nato accuse each other of Cold War-style sabre rattling and military intimidation amidst continuing military exercises, which Defence Secretary Michael Fallon has said "are not a game" in a warning to Russia. The accusations come at a troubled time between the two powers, as Nato military exercises continue close to the Russian border, Putin announces the development of 40 new nuclear-capable ballistic missiles, and the EU agrees to continue economic sanctions against Russia for another six months" writes Doug Bolton for the Independent.
9Deputy Crown Prince Mohammed bin Salman, second deputy premier and minister of defense, will seek to cement economic, cultural, political and trade relations with Russia during his visit to Moscow this week. This was stated by Abdulrahman Al-Rassi, Saudi ambassador to Russia, who said the two countries have always enjoyed strong ties. Prince Mohammed would hold talks with Russian President Vladimir Putin and other top officials. The visit would see the two sides create a structure for institutional bilateral dialogue, schedule mutual visits, cooperation on research and the media, and activate institutions such as the Saudi-Russian Business Council.
10Angela Corrias: Obsolete Media Clichés About Iran Are Tiresome. "As Iran's tourism industry grows steadily, the corporate media's stereotypical portrayal of Iran becomes unpopular and sometimes ridiculed by the Western citizens. An Italian journalist and photographer, who has traveled to Iran in the recent years three times, tells Fars News Agency that the media's clichés about Iran are obsolete and tiresome. Angela Corrias believes that Iranians are civilized and educated people and hospitality is a significant part of their culture and life."I find media trend of keeping using obsolete clichés quite tiresome. In Iran, I've always perceived a high level of education," she said. "All my Iranian women friends are very independent, either studying or working, and by no means discriminated or kept at home by either their parents or husband, and to be honest this is not only my point of view. I know many people in Italy who have been to Iran and share my views."
Fast-tracking a Zero Waste Economy: Business Leaders Commit to Circular Economy Action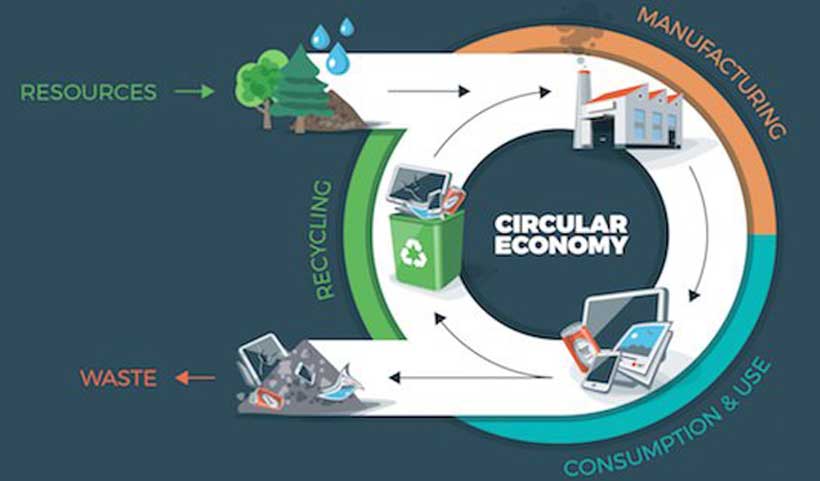 Denmark, Japan, the Netherlands and the United Arab Emirates have committed to joining a major global initiative to redesign the global "take-make-dispose" economy into a more circular one. They join over 50 government and business leaders who are part of the Platform for Accelerating the Circular Economy (PACE), which was launched at the World Economic Forum Annual Meeting 2018 in Davos.
PACE includes the heads of some of the world's largest companies such as Royal Philips and Unilever; senior representatives from the governments of Indonesia, Nigeria, the People's Republic of China and Rwanda; and heads of organizations, including the Ellen Macarthur Foundation, World Resources Institute, Global Environment Facility, UN Environment and World Bank.
All are committed to efforts that cut waste and pollution and fast-tracking circular economy solutions in which products and materials are redesigned, recovered and reused to reduce environmental impacts. Extending the life of products creates new business opportunities and revenue streams, while minimizing the environmental impact of mining, resource extraction, refining and manufacture.
Japan's commitment comes as the second World Circular Economy Forum – hosted by the Ministry of the Environment of Japan and Finnish innovation fund Sitra – gets underway in Yokohama, Japan.
Japan is one of the most resource-efficient economies globally, and has recently launched its 4th Fundamental Plan for Establishing a Sound Material-Cycle Society a new public-private Plastics Smart campaign. The Netherlands government aims to achieve circularity by 2050 and halve the use of primary resources by 2030 and Denmark launched its Circular Economy Strategy and a related National Action Plan on Plastics. The UAE is committed to shaping strategic action to advance the circular economy.
To date, PACE, which is hosted and facilitated by the World Economic Forum, has catalysed major projects and collaborations to advance the circular economy, including the Global Plastics Action Partnership, which was launched in collaboration with the Friends of Ocean Action at the Forum's Sustainable Development Impact Summit in New York. PACE is also focused on waste from electronics. In 2016, 44.7 million metric tonnes of e-waste was generated, equivalent to the weight of 4,500 Eiffel Towers. E-waste contains a number of toxic substances that can cause great harm to health. At the same time, the UN estimates that some 55 Billion Euro worth of secondary raw materials lays idle in e-waste.
Antonia Gawel, Head of the Circular Economy Initiative, World Economic Forum, said: "We have the knowledge, power and technologies to drive circular economy action. We just need to act more quickly and build partnerships to scale solutions. The Fourth Industrial Revolution offers great opportunities in this area – which is why PACE is excited to explore its potential with an expanding group of partners."
Frans van Houten, Chief Executive Officer, Royal Philips, and PACE Co-Chair, said: "A circular economy is essential if we are to achieve global economic growth whilst stopping unsustainable resource consumption. Large corporations, SMEs and governments must collaborate to transform supply chains and the modern consumption economy. Philips is pleased to partner with private and public sector organizations through PACE enabling large-scale projects with firm commitments and decisive action."
Naoko Ishii, Chief Executive Officer and Chairperson, Global Environment Facility (GEF), and PACE Co-Chair, said: "It is a real pleasure for me to welcome a growing network of governments to PACE.  The world urgently needs to move to a more Circular Economy, and PACE is a strong platform that brings together a broad coalition of stakeholders to accelerate action."
Yoshiaki Harada, Minster of Environment, Japan, said: "We all have a common view on realizing a circular economy on a global scale by networking and accumulating knowledge and experience of public and private entities around the world. The Ministry of the Environment of Japan has decided to participate in PACE, and share our knowledge and experience globally. As part of our contribution to PACE, we would like to provide information on excellent actions, experiences and technologies of Japan's public and private entities registered in our "Plastics Smart" Campaign."
ADB Invests $25 Million in Private Equity Fund to Help Small Businesses in Southeast Asia
The Asian Development Bank (ADB) signed an agreement to provide a $25 million equity investment to Exacta Asia Investment II, L. P. (Exacta II), a private equity fund, to provide much-needed investments for small and medium-sized enterprises (SMEs) in Southeast Asia.
"ADB's investment will help well-managed and middle-market SMEs in Southeast Asia to realize their growth plans, thereby driving employment, tax generation, skills transfer, and regional trade," said ADB Director for Private Sector Investment Funds and Special Initiatives Division Ms. Janette Hall. "Investing in Exacta II allows ADB to participate in Southeast Asia's continued economic growth while providing development benefits for people in the subregion."
ADB's support will allow Exacta II to invest growth equity into smaller firms—particularly those from Indonesia, Malaysia, Philippines, Singapore, Thailand, and Viet Nam—whose growth is driven by domestic consumption and export. This will help address the issue of low private equity penetration in Southeast Asia, which is crucial to create new jobs, drive economic growth, and encourage further investments in related sectors.
Exacta II, a private equity fund with a target capitalization of $250 million, intends to invest about $10 million to $40 million per transaction in some of Southeast Asia's SMEs and lower middle-market companies, particularly in the manufacturing, technology, and service sectors.
Suzhou Forum Calls for Faster Energy Transformation for Better Lives and Prosperity
Senior government officials, business leaders and key players in the global energy sector met today at the Third International Forum on Energy Transitions (IFET) in Suzhou, China. The international gathering, co-organized by the National Energy Administration of China, the International Renewable Energy Agency (IRENA), and the Jiangsu Provincial People's Government of China, is an important platform for dialogue and collaborative action on how to transform energy systems towards a sustainable, low-carbon and resilient energy future.
Over the last decade, renewables have brought disruptive change to the global energy landscape. Driven by rapid technological advances, enabling policy frameworks and plummeting costs, renewables have created unprecedented opportunities to rethink the way our energy systems operate. IFET aims to identify solutions to scale up the latest renewable energy innovations, particularly in end-use sectors, accelerate power sector transformation, increase renewable energy financing, and transform urban energy systems.
In his keynote remarks, IRENA Director-General Adnan Z. Amin stressed the need to take the global energy transformation to the next level by strengthening innovation, mobilizing investments and modernizing gird infrastructure. Accelerating renewables deployment is essential to tackle challenges such as climate change, sustainable development and meeting growing energy demand. The Director-General underlined that the energy transformation offers us vast socio-economic benefits in terms of powering sustainable growth, creating jobs and creating local value-added.
Leading the way on the energy transformation are those frontrunner countries, like China who, early on, recognised the potential opportunities in and are developing the policies, market mechanisms, and systems necessary to reorient their economies towards the high-tech industry and workforce of the future. As highlighted in IRENA's Corporate Sourcing Report, it is not only countries that are leading the way: companies in 75 countries actively sourced 465 terawatt hours of renewable energy in 2017, enough to power a country the size of France.
In his speech at the Sub-Forum on International Cooperation on Renewable Energy Industry Development, the Director-General also highlighted that international cooperation is needed to share lessons and experiences to overcoming challenges in transforming existing energy structures to low-carbon sustainable systems based on renewables and energy.
During his remarks at the Energy Future session, the Director-General identified five priority action areas to advance the energy transformation. These include: fostering a power sector that integrates higher shares of variable renewables and decarbonising end-use sectors, strengthening system-wide innovation, scaling up investment, ensuring equitable costs and benefits of the transition, and furthering international cooperation.
The previous conferences in 2015 and 2016 adopted the Suzhou Declaration and Consensus, respectively, which called for higher levels of ambition and decisive action to accelerate the energy transition.
IRENA also participated in the Belt and Road Energy Ministerial Conference taking place in Suzhou at the same time. Renewable energy has been identified as central to one of the initiative's key pillars as a means to build a sustainable energy future.